9.03.2018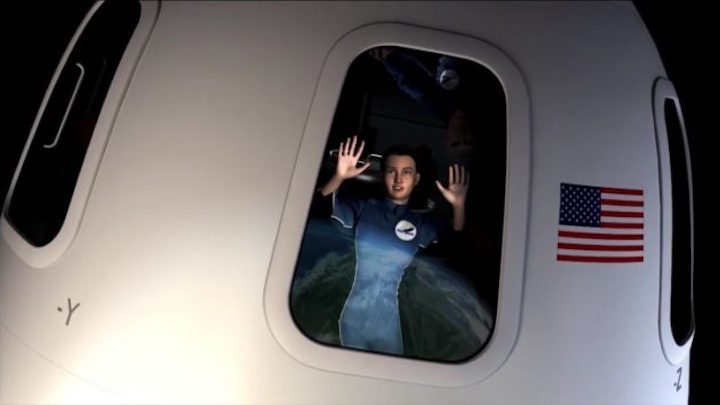 Some of the nearly 200 job opportunities posted by Blue Origin suggest Amazon billionaire Jeff Bezos' space venture is preparing to sign up passengers for its New Shepard suborbital spaceflights.
One listing is looking for an astronaut experience manager to help create "a highly differentiated offering that culminates in the customer becoming an astronaut."
Another listing calls for someone to run a training program for New Shepard flight controllers.
"Over the next year, New Shepard Launch Operations will transition from a development and test operation to a sustaining commercial operation, and you will share in the team's impact on all aspects of reusable launch operations," the listing says.
New Shepard spaceships already have gone through a series of uncrewed tests to the edge of space and back. Depending on how the program proceeds, the first crewed flight tests could take place before the end of this year, and paying customers could start flying next year.
New Shepard is designed to fly up to six passengers to heights above 100 kilometers (62 miles), the internationally accepted boundary of space. There'll be no pilot on board. Instead, the flight will proceed autonomously under the supervision of a mission control team.
Blue Origin says it has openings for New Shepard vehicle operators who can be certified to serve as capsule controllers, booster controllers, ground controllers or flight directors at the West Texas launch site.
The price of a flight hasn't yet been set, and although Blue Origin lets people register their interest in signing up for a space trip, the company says it'll be up to the astronaut experience manager to "create and manage the astronaut manifest."
Blue Origin already has people thinking about what a New Shepard ride will be like. Former NASA astronaut Nicholas Patrick, for example, serves as the company's human integration architect. Last year, Patrick told a Seattle audience about the G-forces and the sequence of events that passengers would experience during an 11-minute flight.
There probably won't be any need for a barf bag — or a potty break, either.
"Listen, if you have to pee in 11 minutes, you got problems," Bezos joked when he was asked about the issue last year, during the unveiling of a mockup of the New Shepard crew capsule. (Later, he said Blue Origin could figure out "how to cram a bathroom in there" if holding it turned out to be a real problem.)
It'll be up to the astronaut experience manager to develop a deep understanding of what Blue Origin's fliers will need and want, and use that knowledge "to help delight customers."
The responsibilities include developing a hospitality program in West Texas, determining precisely what kind of training the fliers will need, helping to define facility requirements, and supporting "definition and hiring of the Blue Origin astronaut experience operations team."
Blue Origin's head of public relations, Caitlin O'Keefe Dietrich, told GeekWire in an email that her company doesn't typically discuss personnel matters in public.
"But we can tell you that it is an exciting time for Blue as we march toward first human flight with New Shepard," she wrote. "The astronaut experience team will be critical to ensuring our customers have an enjoyable and safe ride to space."
When it comes to the astronaut experience, Blue Origin is in competition with Virgin Galactic, which has already signed up about 700 would-be spacefliers for its SpaceShipTwo rocket plane. Virgin Galactic's current ticket price for training and flight is $250,000.
The timeline for Virgin Galactic's commercial operations at Spaceport America in New Mexico is just as much up in the air as Blue Origin's is in West Texas, about 225 miles away. But Virgin has long catered to its "Future Astronauts" by giving them access to behind-the-scenes tours and other glitzy events.
Once they're allowed to put down a deposit, will Blue Origin's customers hobnob with Jeff Bezos the way Virgin Galactic's customers have been able to do with billionaire founder Richard Branson? That decision may be up to the astronaut experience manager (and Bezos, of course).
It's important to point out that managing a human spaceflight program isn't just about the glitz. That fact hit home for Virgin Galactic in 2014 when the first SpaceShipTwo plane broke up during a rocket-powered flight test, killing the co-pilot and injuring the pilot.
The dark side of suborbital spaceflight is reflected in Blue Origin's job postings as well: One of the duties of the training coordinator is to "create and implement simulation drills to test and train the launch crew in the handling of anomalies and casualties."
Quelle: GeekWire
2100 Views