As can be expected, the RSRG focused a lot of its time on the figure in the slide. As I stated in SUNlite 7-2, the size of the body seemed smaller than the claimed 3.5-4 foot height claimed by Bragalia, Schmitt, and Carey (Dew states it is 3-4 feet in his video). The dimensions of the supports indicated a body closer to three feet long, which is the size of a child. Focus quickly turned towards child mummies or some other kind of museum display involving the body of a child. A mummy was the most likely choice and several prime suspects surfaced. The biggest suspect was a mummy with the identification of Wistar catalog number 2397.37 It used to reside at the Wistar Institute in Philadelphia from 1860 to 1958. The mummy was then moved to the National Museum of Natural History, where it has the identifier NMNH-381235. As one can see in the image above (assembled by Curt Collins), it had some very close resemblances to the body in the photograph:
The head had a bright spot on its forehead
The mummy was displayed on its burial shroud (the possible army blanket)
The mummy's body was displayed in a similar position as the body in the photograph
The mummy's physical appearance was similar to the body in the photograph
One eye socket on the mummy was damaged
The abdominal cavity was empty.
Two members of the RSRG contacted Dr. David Hunt, a physical anthropologist at the Smithsonian who had experience with mum- my 2397. He was shown the blurry image of the slide and made the following observations:
The positioning of the body as seen in the boy mummy, and in the 'alien' body are what is seen as the common positioning of the body during mummification in Ptolemaic and Greco-Roman period Egypt. The arms along the side,, the head at the angle with the chin on the chest, most all individuals were not eviscerated and the abdomen would be collapsed (not stuffed)and the chest (ribs cage) would be collapsed (not stuffed); the feet would sometimes be positioned ventrally, or sometimes to one side or the other.
So as is seen in the "alien" body, the positioning is highly consistent with the position of the Egyptian boy mummy. If you were to do searches on unwrapped commoner (or lower status) Egyptian mummies from the Ptolemaic or Greco-Roman periods, they all will have that similar position. Thus I feel that even if it is not the same mummy, it is strikingly similar since this was the convention for positioning the body during the cultural practice period.38
Several of Anthony Bragalia' s arguments were also posed to Dr. Hunt. His response was what one would expect from a professional, who was faced with conclusions made by an individual with no knowledge of the subject:
Two comments, what does the 'erector-set' and non-professional setting have to do with his argument....? NMNH has used minimal type supporting systems before for cost savings and as selection by the design artist for their desired effect, so this does not hold.
As you can see in the images, this child did not suffer from hydrocephaly, and child heads are NORMALLY larger than the body proportion of an adult. So this is not an argument.
I have seen three Egyptian child mummies and two adult mummies from this time period (this one being one) where there is separation of the neck vertebrae from the positioning of the head in the chin-down orientation. Damage can occur to the bones and if the body has had a bit of time to decompose (and this often happened) , the head may begin to separate from the body and the embalmers would have to "reunite" the head by means of wooden rod. So there is no argument on this either.39
The team had good reason to suspect that mummy 2397 was the culprit but several of us had our reservations. I felt that it was hard to prove without a clearer image and there were certain aspects of the photograph that suggested 2397 might not be the source. I think the most important thing to take from the research so far are the observations of Dr. Hunt regarding this being typical of what one would see in mummies that were displayed. Is it just a coincidence or can we consider his opinion something important to consider?
Even more disturbing for the slide promoters was the fact that their planned extravaganza alienated them from some in the UFO- logical community. Jaimie Maussan would state that, other than Kevin Randle and Robert Hastings, he never heard of any of these individuals. Tom Carey would state such individuals were "jealous" of the promoters.40 This group of "jealous" UFOlogists included some prominent names that I did not expect. Some were turned off by the manner in which the slides were being presented and others, who had seen enough of the slides to make a personal judgment, felt they were not as compelling as the promoters were stating.
Revolt of the UFOlogists
It is rather unusual to see quite a few UFOlogists react to the Mexico City extravaganza in a negative manner. Robert Hastings wrote a scathing article about the slides, where he referred to them as a "ticking time bomb".
...that is likely to become one of the most embarrassing missteps in a seven-decade-long effort by ufologists to gather and publicize data pointing to the reality of the UFO phenomenon and its probable extraterrestrial nature....41
He also talked to Tom Carey about the placard. According to Hastings he contacted both Carey and Maussan about deciphering the placard. Carey told him that"not a single word" had been deciphered. Less than a month later, Carey would tell Maussan that enough words had been deciphered by experts that "debunkers" are going to be "disappointed".42
Hastings would end his article by stating:
I will conclude by predicting, perhaps redundantly, that this affair will end badly for the Roswell Slide promoters. If, as I contend, the body in the slides is the mummy of an Inca child, or some such, then Carey, Schmitt and Maussan will owe the whole world an apology. They should also seriously consider returning whatever money they made as a result of their unfortunate, unfounded and misguided claims.43
Meanwhile, Kevin Randle wrote that he had problems with the research and questioned just about everything to do with the slides. His article about provenance was critical.
Without the important questions of provenance and chain of custody answered, there is no real reason to assume the being on the slides 
has anything to do with the Roswell case, or that it is an extraterrestrial creature. This is basically the same stumbling block that so many of us interested in the case have encountered before and there is no reason to assume that anyone outside of the UFO community is going to care about this... and there might not be that many inside who do.44
This brings us to all the other UFOlogists, who Maussan claimed he never heard of before. Frank Warren, of the UFO Chronicles, referred to this as "The Roswell slides fiasco" and expressed skepticism about the slides in several forums:
For the record, there's no doubt in my mind that the image represents a human cadaver, a child, either a mummy, or a mummified/pre- served pathological specimen. I'm confident that this will be proven to everyone's satisfaction in short order.45
Alejandro Rojas, of "Open Minds", was a bit less skeptical and simply stated that
...the most we will have is some interesting pictures. Nothing provable46
Several individuals, who are not unknown in UFOlogy, from MUFON would also chime in with their opinions. Rich Hoffman noted:
Even if you see the film has what looks like an alien, it still could be a fake. How do you qualify it without a body?47
MUFON's photo expert, Marc D'Antonio, would comment:
... the Roswell slides are going to be promoted and shown first by Jaime Maussan ... Such a move on the part of Carrie (sic) and whoever else will only remove credibility from an already tenuous claim...48
Writing in his blog, Paranormal Way point, Jeff Ritzman commented:
-It's a non-story as far as what it tells us about the UFO phenomena. It says nothing about the phenomena, and really can't say anything either. Dead end is a good term.
-It represents a new, depressing turn for UFO inquiry: the presentation of 'evidence' that can't be dis-proven, or proven.
It's a non-story for this reason alone: a photo of a supposed alien is absurd. There is no benchmark for authentication. Where's the com- parison? Where's your yardstick for such a claim? Right. There isn't one. It's an utterly, and completely useless discussion from the get-go – and it's certainly not 'evidence'.49
In order to drum up support, the Maussan team decided to bring in high powered UFOlogists to speak at the presentation. Not sur- prisingly, Richard Dolan gladly accepted the opportunity to appear on television. However, Stanton Friedman did not and publicly stated:
I could find no convincing information that there is any connection between the slides and Roswell...I don't want to appear to add legiti- macy by my presence in Mexico City in the absence of serious evidence of the slides being what is being claimed they are.50
What this means is that the Roswell team has failed to convince very many people, outside their inner circle, that the slides show an alien body recovered at Roswell or, for that matter, any other spaceship crash. The desire for secrecy so they can all make some sort of financial gain or notoriety has been their undoing in drumming up support for their cause.
Circling the wagons
Partly because of the UFOlogical revolt, Jaimie Maussan and Tom Carey decided to launch a publicity campaign to protect their interests. Instead of addressing the commentary by UFOlogists, they chose to vilify those proposing possible explanations for the body in the image. They used the tried and true tactic of "Us against them". That means calling anybody, who suggests that the body is not an alien a "debunker" and that the "debunkers" were trying to stop the event from even happening! Jaimie Maussan would imply that the debunkers were so powerful that, if the slides were not shown in Mexico city, they might not be shown at all:
We are blessed for having this event in Mexico... No one can stop us here.51
Maussan then suggested that skeptics/debunkers were being financed by outside sources to destroy him and the May 5th event:
Well, I've been threatened, they've told me not to do this, that I'll be destroyed...They're very angry that this should be shown, that it's a fiasco, that it isn't true, that it's a hoax...I'm not sure who's financing these people, if there's money involved, but they want to destroy the case and keep it from having any significance....52
I am unaware of anybody involved with the RSRG ever receiving a single penny for their efforts. We were doing this all "pro bono" and we were not the ones making money off the slides.
Tom Carey would echo Maussan's complaint about a conspiracy but concludes the motivation is not money:
....no matter how hard the debunkers try to destroy us and that is what they are trying to do. They are on a seek and destroy mission to take down Roswell, to take down this event, because out of petty jealousy....53
Probably the biggest blow to the Maussan madness was the fact that Stanton Friedman chose not to participate. Don Schmitt stat- ed that it was the "noisy negativists", who were able to influence Stanton Friedman:
Let it be noted, that even though we accept Stanton Friedman's reversal regarding the presentation in Mexico, we totally disagree with his reason for that decision. Upon his initial acceptance, Stan was offered an opportunity to be briefed by us and ask whatever questions 
he felt necessary. As of this posting he has never accepted that privilege. Failing that, we are left to conclude that the only source of in- formation in making his decision was someone outside of our group. It should also be noted that we were not the ones to label the slides as the "Roswell Slides" or register an Internet domain under that same name. That was done by other individuals who apparently did persuade Stan to pre-judge without knowing all the facts. In the same context, we have never suggested that the slides have anything to do with the Plains of San Agustin or Aztec. On May 5, we will allow the actual slides and the entire battery of scientific analysis weigh in as to the authenticity of this discovery. Regretfully, Stan has allowed the "noisy negativists" influence his better judgement and that he also declined a thorough briefing on the situation from those individuals who extended the invitation in the first place. Unlike true scientific methodology, science by proclamation is not true science...something Stan should know as well or better than most.54
If Schmitt and company really wanted Friedman to come, they would have trusted him and shown him the slides. Instead, their secrecy was their undoing and Friedman was unimpressed with what had been presented to him.
Schmitt's comment about his group never calling these the "Roswell slides' is not accurate. Anthony Bragalia has been essentially stating this for over a year and a half. As early as September 2013, Bragalia has been implying that the slides were associated with Roswell.55 While he did not call the "The Roswell slides", he did start using that term openly in February long before the RSRG web site was developed.56 So, when Schmitt says "we" did not label them as "Roswell slides", he is not being honest unless "we" means everyone BUT Anthony Bragalia, who has claimed to be part of this "inner circle" of Roswell investigators.
It was not only Bragalia's writings that indicated these slides were associated with Roswell. In a Maussan Skype conference, Schmitt implied that they were evidence of the Roswell event.57 Maussan has been peddling the idea that the slides showed an alien from Roswell since his original "BeWitness" videos in February!58 To imply that skeptics/debunkers/noisy negativists were the only ones giving them the "Roswell slides" label is nothing more than semantics. Schmitt, in this statement, is employing the same propa- gandist trick Carey and Maussan used. He is trying to vilify those with a differing opinion instead of relying on the strength of his evidence. It makes one wonder if they have their doubts about the outcome of May 5th. On May 6th and beyond, the true verdict will be cast.
Get your popcorn
May 5th is only a few days away. Based on what Adam Dew59 and Anthony Bragalia60 have stated, images and reports will be made available for everyone to examine. However, I have my doubts. Like movie theaters, cameras are not going to be al- lowed at the program, which means the owners of the slides do not want any copies of the slides being made or distributed to protect their financial interests. Once the slides are made available, nobody is going to want to tune into television programs or buy "Kodachrome" DVDs. It will be interesting to see what kind of restrictions they will attempt to employ to prevent the images reaching the Internet. Will the May 5th event be nothing more than a bait and switch, where the high resolution images will not be allowed to be seen? After all the promotion and promises, such a move will result in more negative responses from the UFOlogical and skeptical communities.
I am also skeptical of the promise that extensive reports documenting the research of the group will occur. If they do present anything in writing, it will probably mirror most of the writings we find in the Schmitt/Carey books and Bragalia's bloggings. A lot of flashy stuff will appear that sounds great but, after closer examination, will probably be anecdotal data, biased interpretation, quoting out of context, or just plain inaccurate information. I am sure that, whatever they produce, it will be closely scrutinized by those in the UFOlogical and skeptical communities.
The power of belief
When the dust settles on the slides, we are going to learn something about human behavior. Bragalia criticizes skeptics for our "interference" in his organization's "research". If they did not want people to check up on their claims, they should have kept their mouths shut and let the chips fall on May 5th. Instead, their promotional efforts dared skeptics to prove them wrong.
In my opinion, outside observers probably could not find fault with our skepticism and efforts to discover more. The odds are in our favor that the claims will be shown to be less than convincing. If the evidence is as convincing as the slide promoters state, then they will stand up to scrutiny from outside and the skeptics will have to admit they were wrong. I am not aware of any skeptic, who would not willingly accept the evidence if it is good. The problem remains that what has been presented to date is not very good and it does not look like it will be getting any better.
The opposite will be the case, if the promoters are shown to be wrong in that these slides show an alien body. Outside observers will find fault with the promoters for allowing their beliefs to interfere with critical evaluation of the evidence. Based on their behavior the past three months, the Maussan/Dew organization appeared to d
Tags:
UFO-Forschung
1665 Views
Sonntag, 7. Juni 2015 - 18:00 Uhr
.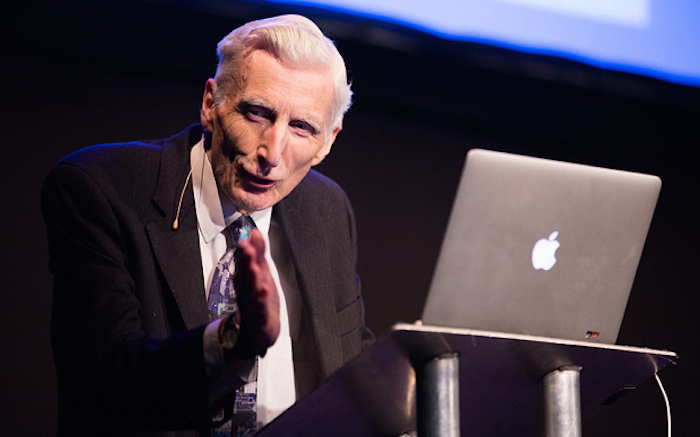 Astronomer Royal Lord Martin Rees gives his talk on 'Mars to the Multiverse' at Cheltenham Science Festival Photo: SWNS
.
Alien contact is likely to come from machines living on other worlds outside of the solar system, the astronomer royal Martin Rees has said.
Prof Lord Rees, 72, told the Cheltenham Science Festival 'I'm not holding my breath' for signs of extraterrestrial life, but said if a signal was picked up it would not be from organic life, like humans.
He said that most space exploration would be carried out by machines, which would not constrained by the physical difficulties of existing in space or on other planets.
"I think it is quite likely that within a few centuries the overriding intelligence will be machines because they will have an easier time spreading beyond the Earth because they are not organic and most exploration will be by machines and not humans," he said.
"If you were to detect a SETI (Search for Extra Terrestrial Intelligence) signal it would be far more likely that it would be from a machine and not an organic creature.
"There has been just a thin sliver of time when organic beings have existed and billions of years after machines will take over, so they will be the future."
Prof Rees said that only a few adventurous humans would ever leave Earth to colonise the solar system, where they would be forced to use technology to adapt to inhabitable worlds and start new civilisations.
He claimed that such cyber adaptations to new planets or moons would mark the start of the 'post-human era.'
Space Adventures Ltd is already planning the first tourist trips to the dark side of the Moon, while SpaceX, the company founded by Elon Musk which regularly delivers payloads to the International Space Station, is hoping to start transporting tourists as well as cargo into space in the near future.
.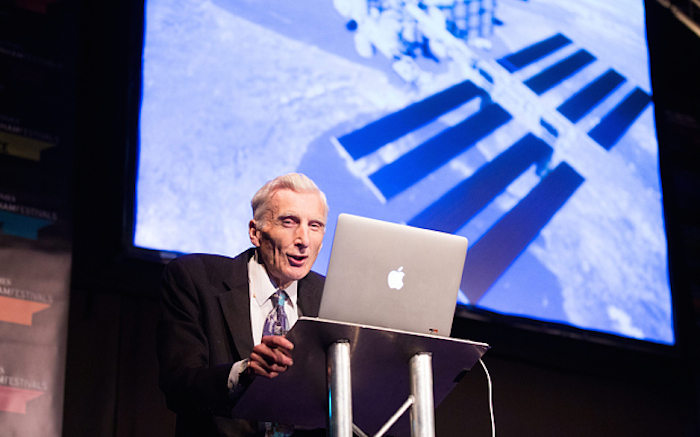 Prof Lord Rees, 72, told the Cheltenham Science Festival 'I'm not holding my breath' for signs of extraterrestrial life
.
Musk has also spoken of his ambitions to start a colony on Mars stating he would like to die on the planet 'just not on impact.'
Astronauts have not ventured beyond low Earth obit since the last manned flight to the Moon in 1972.
Prof Rees said: "We won't see another Apollo mission because that was fuelled by super-power rivalry. I think there will be people who go, but not in the mode of traditional astronauts, but crazy adventurers like Ranulph Feinnes and Elon Musk.
"By the end of the century there will be some people living away from the Earth. We will wish them good look in adapting their progeny who will need genetic adaptations.
"That will be the start of the post-human era because they will evolve to be a new species.
"I would predict that in the next 50 years or so all of the bodies in the solar system will have been mapped and probed by machine and some people will follow."
Prof Rees said he was concerned about the rise in biotechnology and warned that computers and robots will soon be so advanced they will be able to create the next generation of machines without human intervention.
Stephen Hawking recently cautioned that the rise in artificial intelligence could spell the end of mankind.
"Some people think we ought to have guidelines while other people we think we should not worry about that. I am certainly concerned about these sub autonomous military robots which can just put bullets in people" Prof Rees added.
"But Stephen Hawking has pronounced on this in a dogmatic way and got much more traction that the vein deserves," he added.
Quelle: The Telegraph
Tags:
Astronomie
werden es Maschinen sein
1803 Views
Sonntag, 7. Juni 2015 - 17:45 Uhr
.
17.05.2015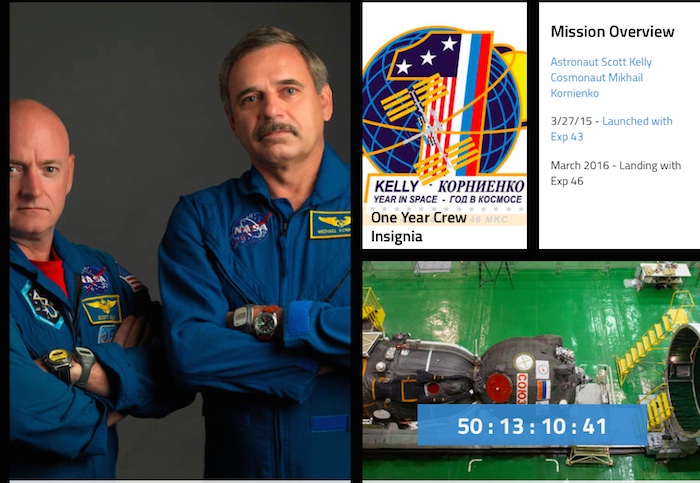 .
Station to Raise Orbit before June Expedition 43 Undocking
.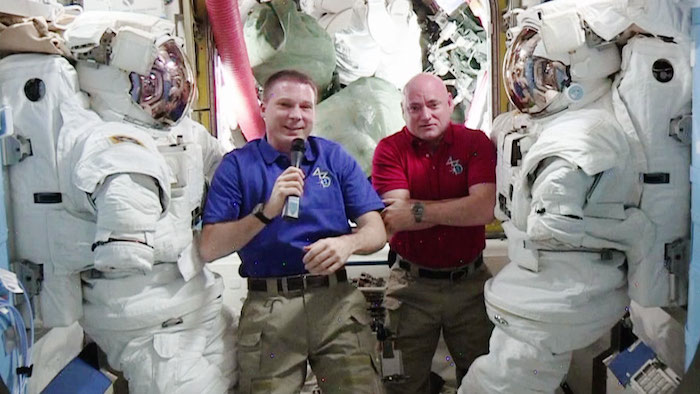 Astronaut Terry Virts and Scott Kelly were inside the Quest airlock Friday morning talking to reporters from The Weather Channel and Time Magazine . Credit: NASA TV
.
The six-member Expedition 43 crew ends its work week with a wide variety of science exploring life in space benefiting both crews in space and humans on Earth. Meanwhile, one space freighter is preparing to fire its thrusters to lift the station's orbit as another is being packed and readied for splashdown.
One-Year crew members Scott Kelly and Mikhail Kornienko participated in the Fine Motor Skills experiment which monitors different phases of a crew member's microgravity adaptation and recovery back on Earth. Commander Terry Virts took samples of air and surface microbes for the Microbial Observatory-1 study which will be analyzed by scientists on the ground.
Samantha Cristoforetti studied the physics of where fluids and gases meet in Japan's Kibo lab module. Flight Engineer Gennady Padalka worked on video gear and tested magnetometers in the station's Russian segment. Flight Engineer Anton Shkaplerov studied chemical reactions in the Earth's atmosphere, checked Russian docking systems and photographed windows in the Pirs and Poisk modules.
The ISS Progress 58 resupply ship docked to the Zvezda service module will fire its engines Friday night. The orbital boost will place the International Space Station at the correct altitude for the undocking of Expedition 43 in early June. The SpaceX Dragon loaded with science and gear will be released from the grips of the Canadarm2 May 21 at 7:05 a.m. EDT for a splashdown in the Pacific Ocean a few hours later.
Quelle: NASA
.
Update: 20.05.2015
.
Three ISS crewmembers to return to Earth on June 11
The landing was initially scheduled for May 14, but was postponed after the Progress M-27M cargo spacecraft crashed earlier in 2015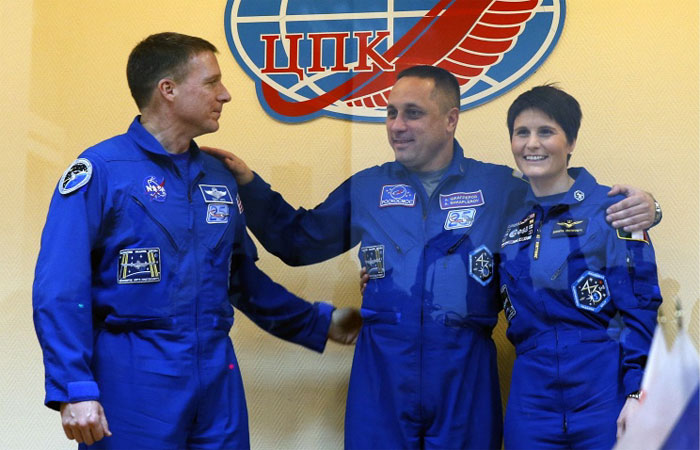 US astronaut Terry Virts, Russian cosmonaut Anton Shkaplerov and European astronaut Samantha Christoforreti
The Soyuz TMA-15M spacecraft with three International Space Station (ISS) crewmembers onboard will land on June 11, a source in the space industry told TASS on Tuesday.
"The spacecraft is planned to undock from the Rassvet module of the station's Russian segment at 1:51am Moscow time. The landing is planned for around 5am," the source said.
Several media reported earlier that the Soyuz will land at 4:40pm on June 11.
The source noted that scheduled landings always take place at dawn, so that the Mission Control Center has enough time to adjust in case of plan changes and rescuers - for search works.
The landing was initially scheduled for May 14, but was postponed after the Progress M-27M cargo spacecraft crashed earlier in 2015.
The Soyuz-2.1a carrier rocket with the Progress space freighter blasted off from the Baikonur space center in Kazakhstan on April 28. However, the carrier rocket failed to put the cargo ship into a designated orbit and Russia's Mission Control lost communications with the space freighter that was intended to deliver supplies to ISS.
The Progress cargo ship burnt up in the dense layers of the Earth's atmosphere over the Pacific Ocean in the morning of May 8. Roscosmos space agency later said the accident had been caused by the "off-nominal separation of the third stage of the Soyuz and Progress space vehicles" as a result of the fuel tanks' depressurization.
Currently working at ISS are Russian cosmonauts Anton Shkaplerov, Gennady Padalka, Mikhail Korniyenko, US astronauts Terry Virts and Scott Kelly and European astronaut Samantha Christoforreti. Shkaplerov, Virts and Christoforetti will return to the Earth on the Soyuz spacecraft.
Three astronauts will be delivered to ISS later this year. Soyuz TMA-17M manned spacecraft will be launched to ISS on July 24, the source told TASS. "For now, the launch is planned for 11:17pm Moscow time on July 24," the source noted, adding that two more Soyuz launches are planned later this year - on September 1 and December 15.
The Soyuz launched on July 24 will take Russian cosmonaut Oleg Kononenko, Japanese astronaut Kimiya Yui and US astronaut Kjell Lindgren to ISS.
Progress M-28M cargo spacecraft will be launched into the orbit on July 3, followed by Progress M-29M on September 21 and new version Progress-MS on November 21.
.
Update: 5.06.2015
.
Russian space agency confirms ISS crew's return due June 11
Originally, the re-entry capsule was to bring back three ISS crewmembers on May 14
The return of the ISS crew is scheduled for June 11, Roscosmos chief Igor Komarov told the media.
"The ISS expedition 42-43 is returning to Earth on June 12," Komarov said.
Three crew members Russia's Anton Shkaplerov, European Space Agency's Samantha Cristoforetti and US astronaut Terry Virts are to return to Earth.
Earlier, a source in the space rocket industry mentioned June 11 as a likely return date.
Originally, the re-entry capsule was to bring back three ISS crewmembers on May 14. The loss of the Progress M-27M cargo vehicle at the end of April caused a postponement.
At the moment the ISS has a crew of six - Russia's Anton Shkaplerov, Gennady Padalka and Mikhail Korniyenko, US astronauts Terry Virts and Scott Kelly and European space agency's Samantha Cristoforetti.
Quelle: TASS
.
Update: 7.06.2015 
.
Italian astronaut on space station sets new mission duration record by a woman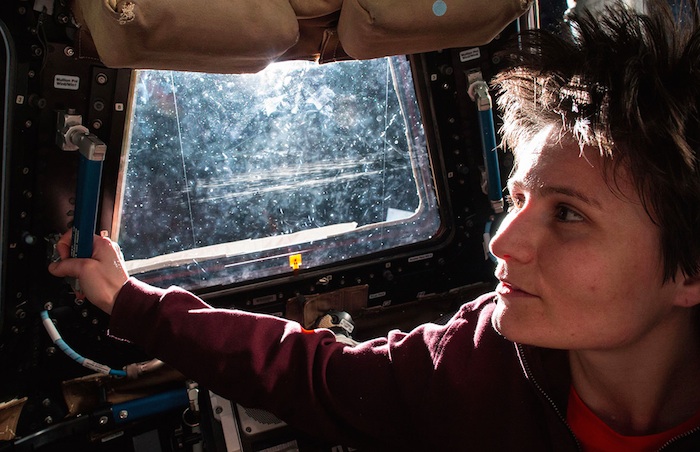 European Space Agency astronaut Samantha Cristoforetti enjoys another sunrise aboard the International Space Station. On June 6, she set a mission duration record for women in space. (NASA)
A 38-year-old Italian astronaut has broken the record for the most time in space on a single mission by a woman. And she still has five more days until she is scheduled to return home to Earth.
Samantha Cristoforetti set the record on Saturday (June 6) at 11:04 a.m. EDT (1504 GMT), surpassing the 194 days, 18 hours and 2 minutes logged by NASA astronaut Sunita "Suni" Williams onboard the International Space Station in June 2007. If Cristoforetti's flight home on Thursday (June 11) proceeds as planned, she will have been in space for 199 days, 16 hours and 42 minutes in total — give or take a few minutes based on when her Soyuz spacecraft lands on the steppe of Kazakhstan.
The record-setting stay wasn't something that Cristoforetti was anticipating when she lifted off for the space station last year.
Flying for the European Space Agency (ESA), Cristoforetti launched with two crewmates — Anton Shkaplerov of the Russian federal space agency Roscosmos and astronaut Terry Virts of NASA – on Nov. 23, 2014 from the Baikonur Cosmodrome in Kazakhstan. They had been scheduled to depart the space station and return to the Earth on May 12 after spending 170 days in orbit.
But the loss of a Russian cargo craft, Progress M-27M, in late April resulted in a delay. Russia postponed the launch of the next Soyuz crew to July and extended Cristoforetti's and her crewmates' stay on orbit as the investigation into the Progress failure continued.
As a result, Cristoforetti not only set the women's record, but also the record for the longest uninterrupted flight by an ESA astronaut. On Friday (June 5), her stay exceeded the 192 days, 18 hours and 58 minutes achieved by Dutch astronaut André Kuipers in July 2012.
Cristoforetti, when she lands, will rank 74th in the world for the most time spent in space, out of the 538 women and men who have orbited the Earth to date. She is the 59th woman to fly in space.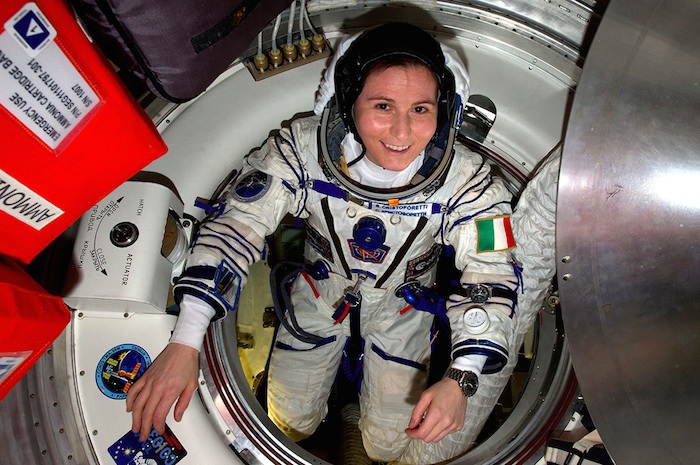 As now scheduled, Samantha Cristoforetti will return to Earth on June 11, 199 days after her launch to the space station. (ESA)
By comparison, the overall record holder for the most time in space on one mission is Soviet-era cosmonaut Valery Polyakov, who logged 437 days, 17 hours and 58 minutes on Russia's space station Mir in 1995. Polyakov was the third person in history to log a year (or more) off the planet on a single flight, of which there have been four in total, all Russian cosmonauts.
Two of Cristoforetti's crewmates, astronaut Scott Kelly of NASA and Roscosmos cosmonaut Mikhail Kornienko, are currently three months into the first yearlong expedition on the International Space Station.
The longest duration achieved on multiple missions, more than two years, was logged by cosmonaut Sergei Krikalev over the course of his six missions. U.S. astronaut Peggy Whitson holds the cumulative female record for most time spent in space on multiple flights with 376 days and she is now training to launch on her third flight in March 2016.
Cristoforetti has set more than duration records during her Expedition 42/43 stay on the station, a mission that ESA named "Futura." The first Italian woman in space, she was also the first astronaut to sip from a freshly-brewed cup of espresso thanks to the orbital outpost's new Italian coffee machine.
Tags:
Raumfahrt
1660 Views
Sonntag, 7. Juni 2015 - 14:00 Uhr
.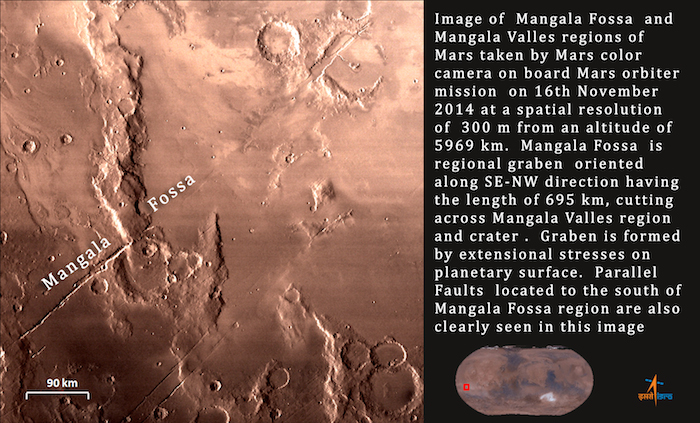 .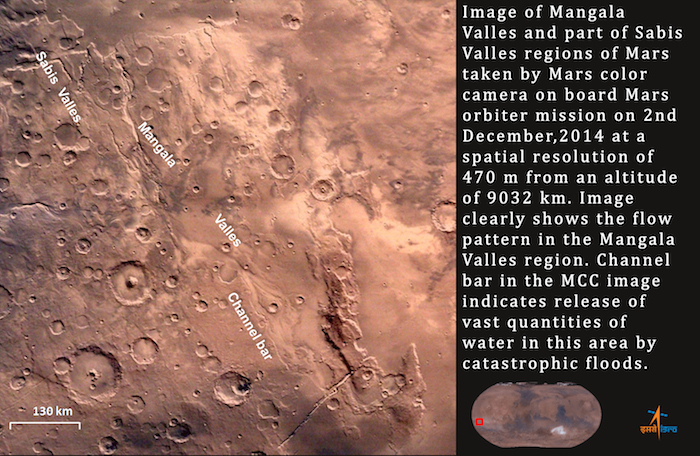 .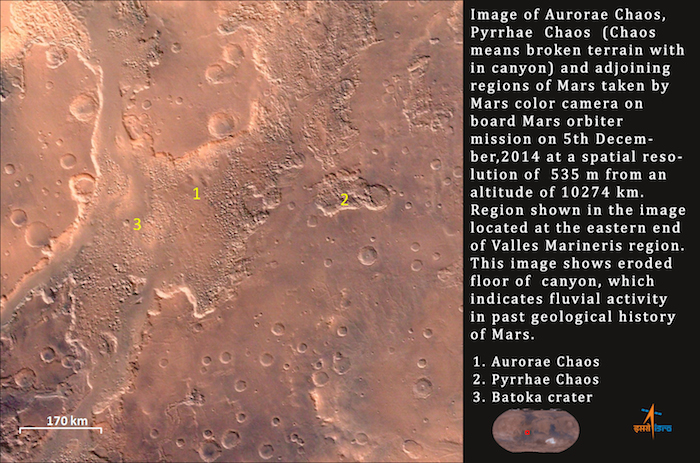 .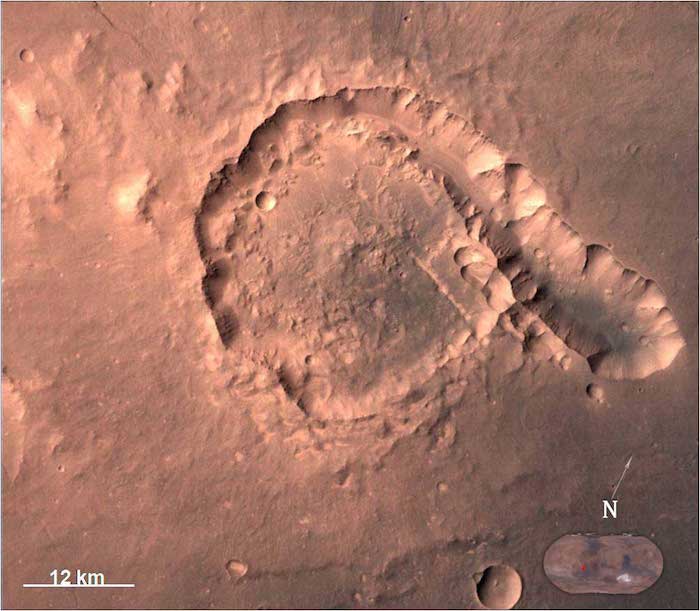 .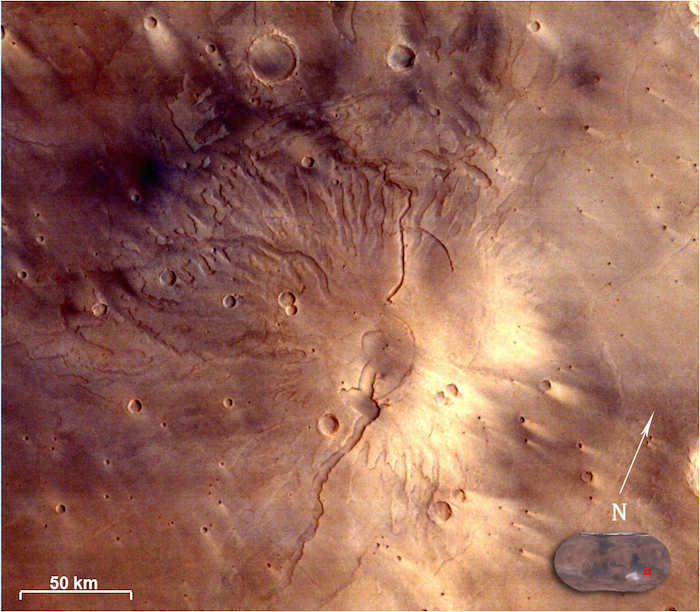 .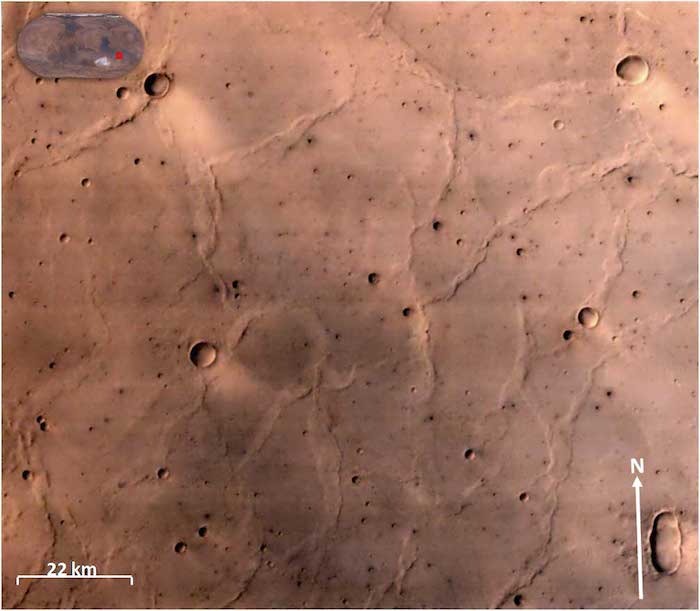 .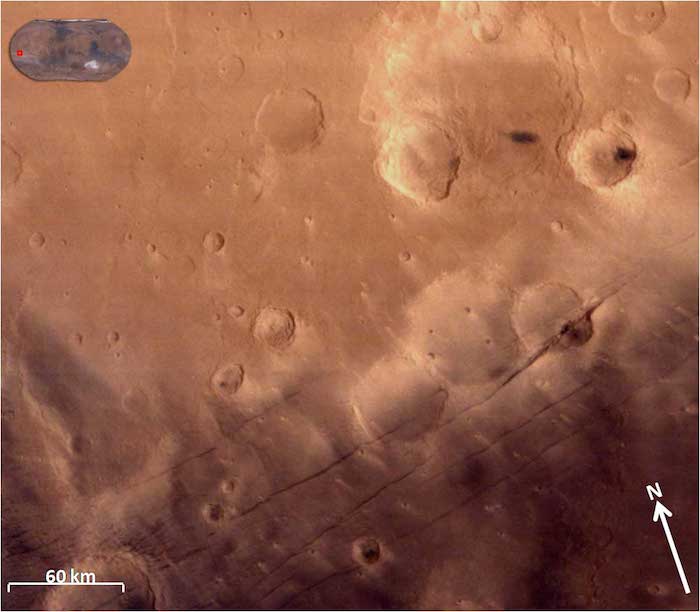 Quelle: ISRO
Tags:
Mars-Chroniken
1724 Views
Sonntag, 7. Juni 2015 - 10:30 Uhr
.
Aus dem CENAP-Archiv:
.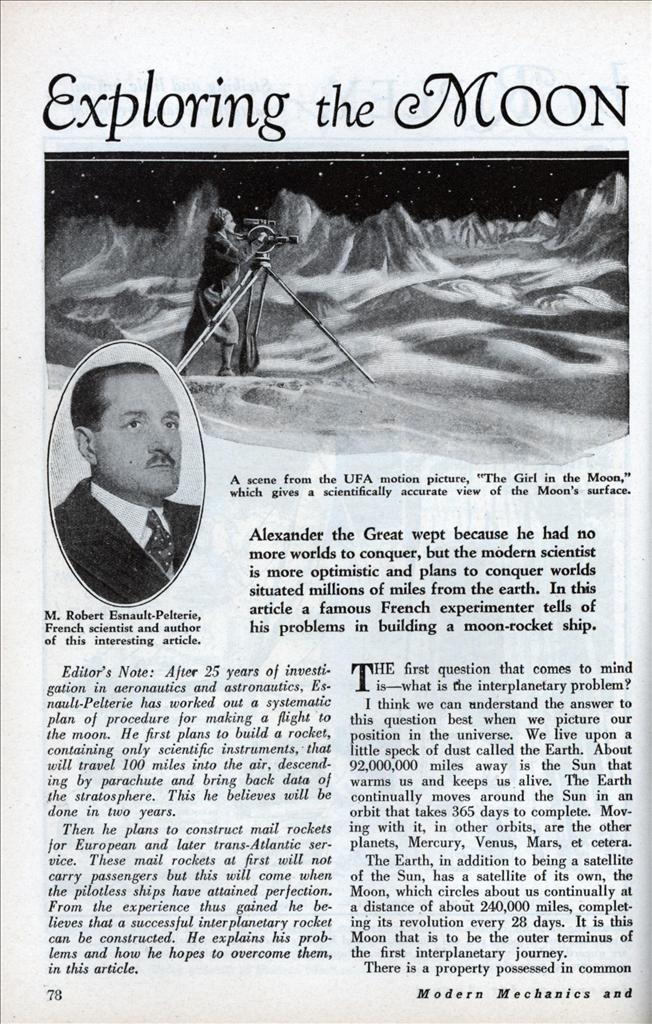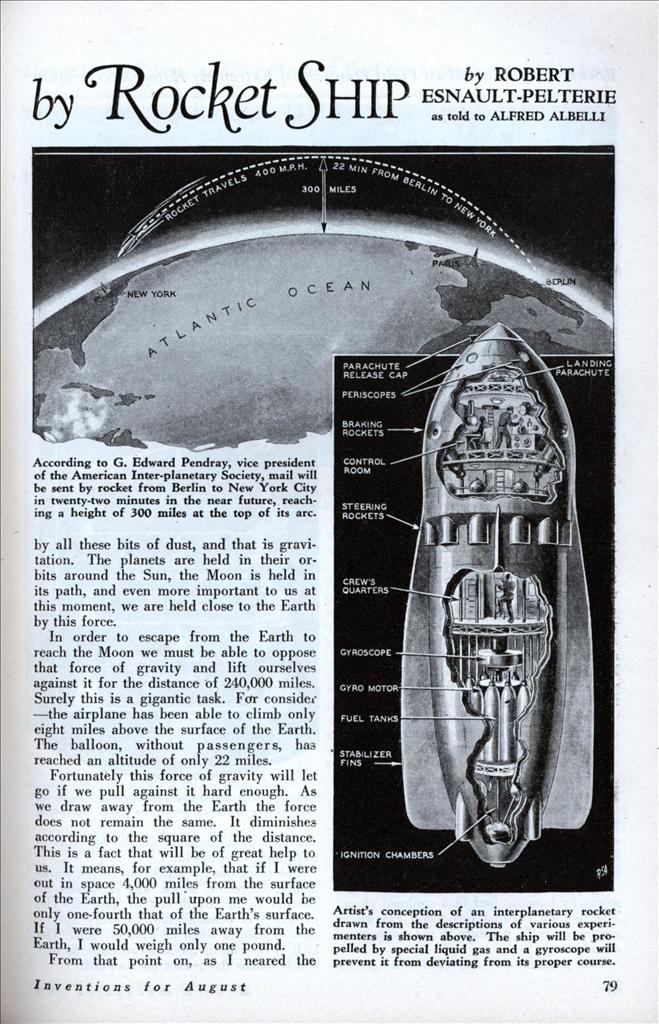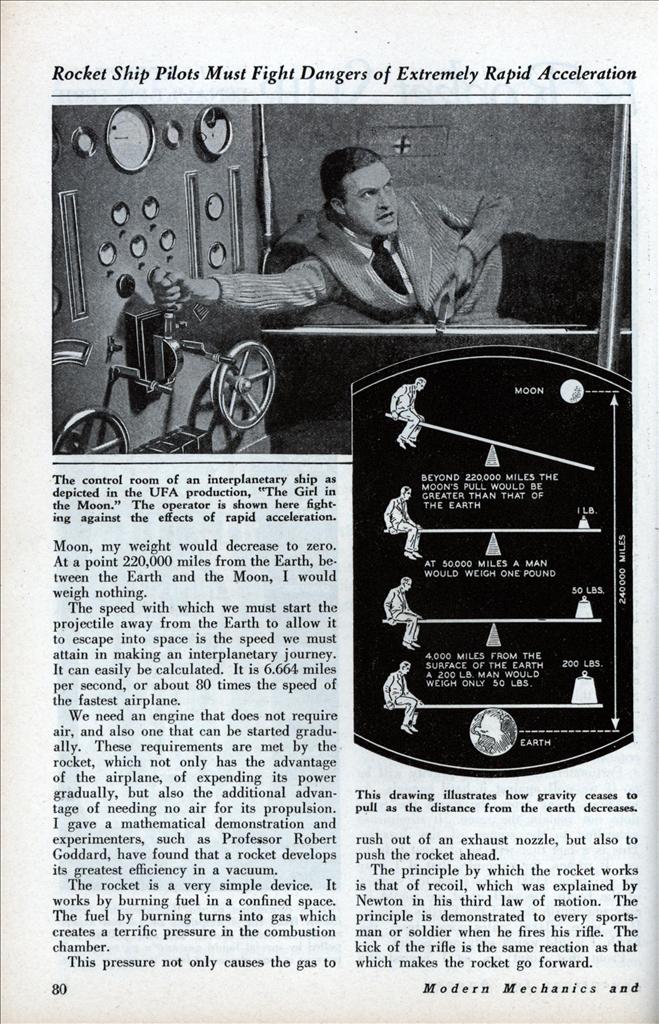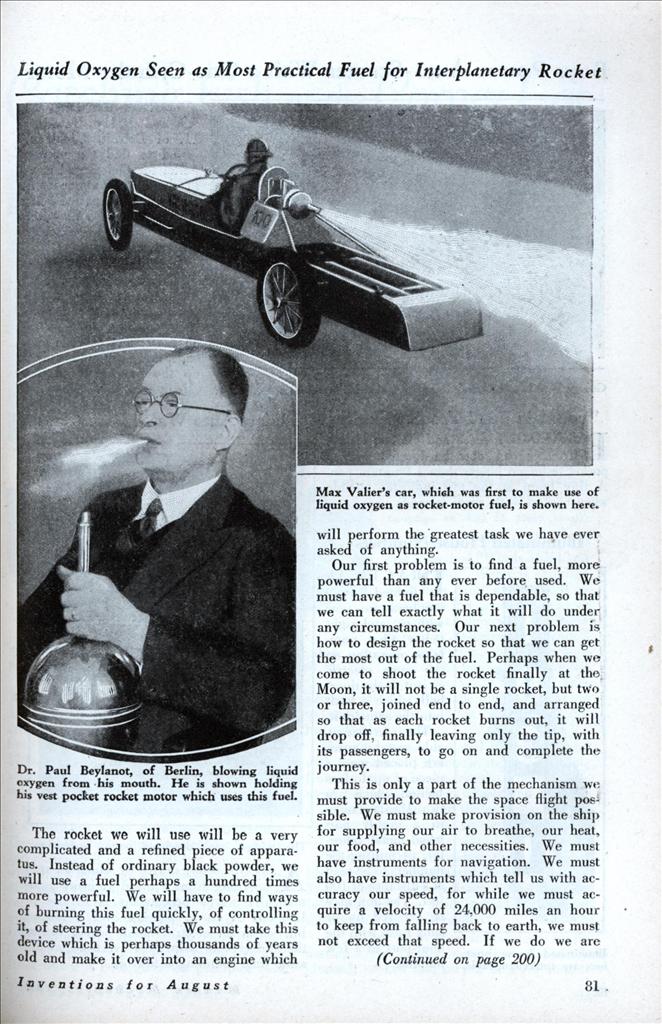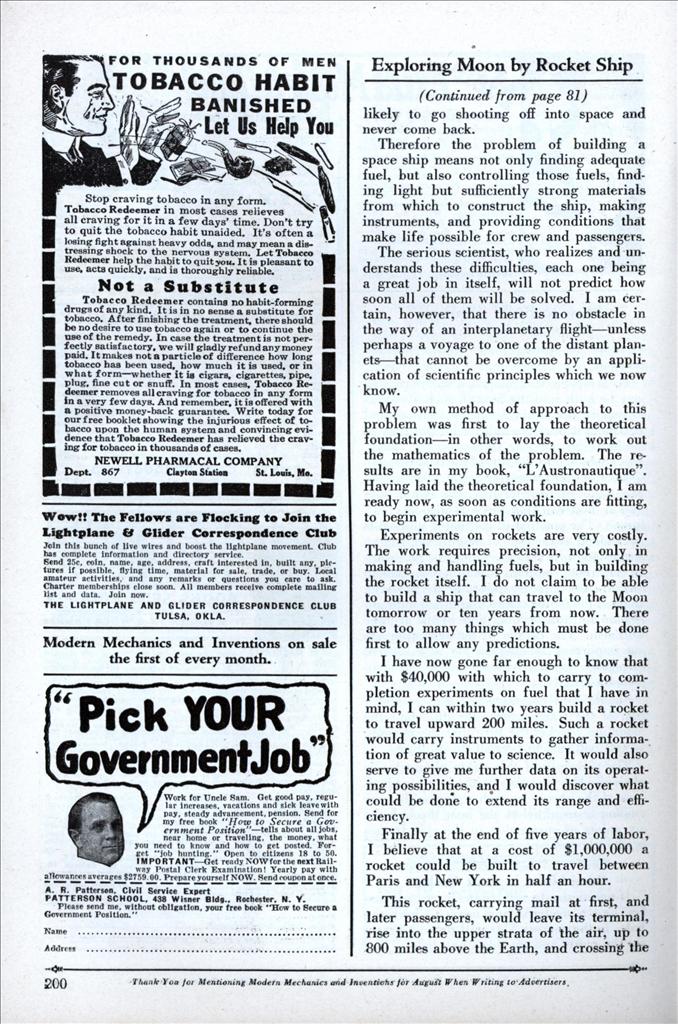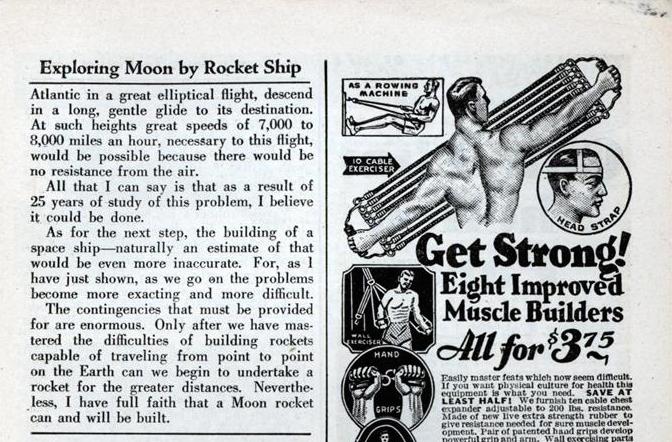 Quelle: Modern Mechanics, CENAP-Archiv
Tags:
Raumfahrt
1610 Views
Sonntag, 7. Juni 2015 - 08:00 Uhr
.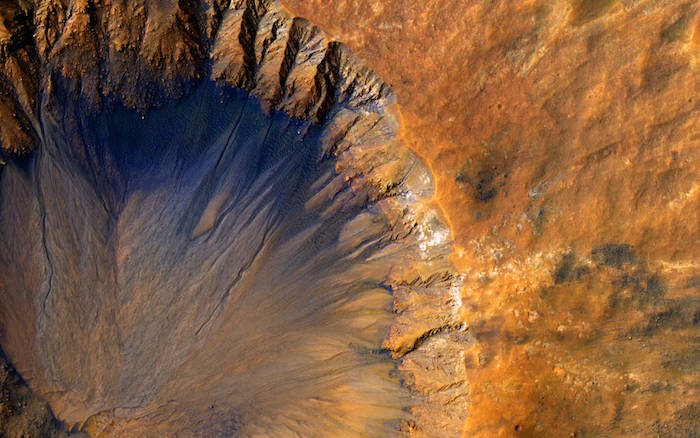 The High Resolution Imaging Science Experiment (HiRISE) camera aboard NASA's Mars Reconnaissance Orbiter acquired this closeup image of a "fresh" (on a geological scale, though quite old on a human scale) impact crater in the Sirenum Fossae region of Mars on March 30, 2015.
This impact crater appears relatively recent as it has a sharp rim and well-preserved ejecta. The steep inner slopes are carved by gullies and include possible recurring slope lineae on the equator-facing slopes. Fresh craters often have steep, active slopes, so the HiRISE team is monitoring this crater for changes over time. The bedrock lithology is also diverse. The crater is a little more than 1-kilometer wide.
Quelle: NASA
Tags:
Mars-Chroniken
1863 Views
Samstag, 6. Juni 2015 - 20:00 Uhr
.
Aus dem CENAP-Archiv:
.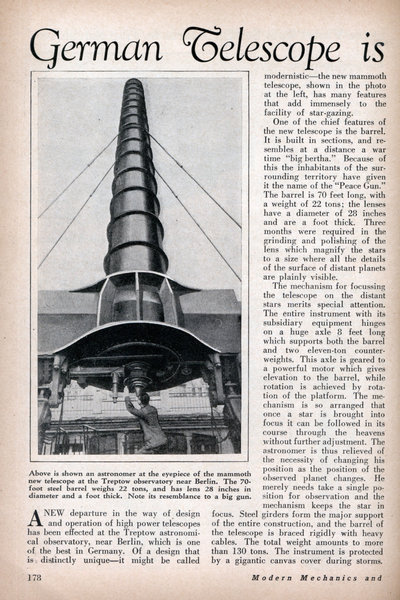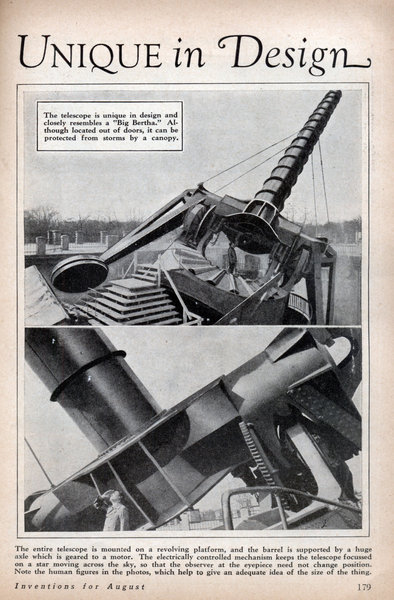 Quelle: Modern Mechanics, CENAP-Archiv
Tags:
Astronomie
1467 Views
Samstag, 6. Juni 2015 - 18:30 Uhr
.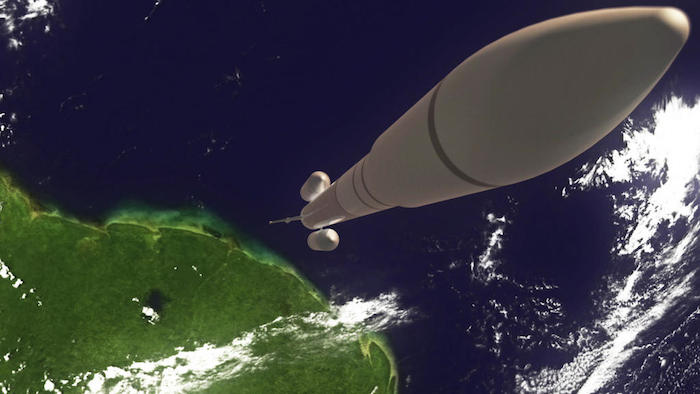 As more commercial companies enter the space business, and it becomes ever more competitive, efforts are being made to cut the costs involved. Examples range from SpaceX's ongoing efforts to bring a Falcon 9 rocket booster back to a vertical landing, and Blue Origin's plans to do the same with their boosters, to the UK's revolutionary Skylon concept of a spacecraft that takes off and lands on a runway. Now one of the world's leading conventional space companies, Europe's Airbus Defence and Space, has revealed that it has been quietly working on its own plans to reduce the expense of accessing orbit by reusing parts of the launch vehicle. Airbus Defence and Space, which is the second largest space business worldwide, is developing a concept called Adeline (ADvanced Expendable Launcher with INnovative engine Economy) that will allow the most costly elements of a rocket to be reused—namely the propulsion system and avionics, which make up between 70 and 80 per cent of its total value. Rather than attempt to return a complete launcher for recycling, Airbus intends to build a special return module that can potentially be fitted to the base of any rocket launcher, though it particulary has in mind the next generation Ariane 6 rocket that is currently being developed by the European Space Agency (ESA). 
.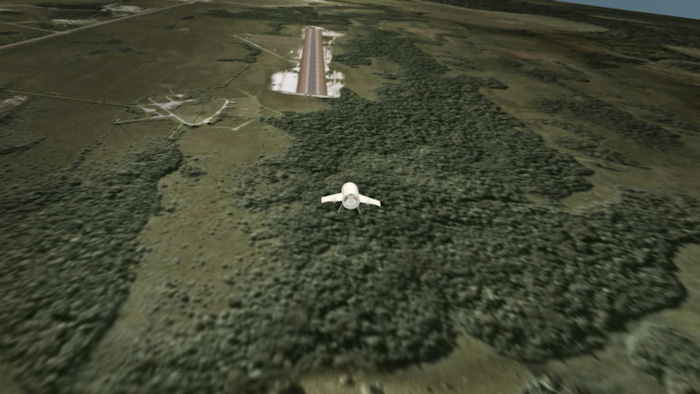 An impression of the Adeline module returning to land on a runway after launch. Image credit: Airbus Defence and Space
.
Following launch, and separation from the rocket's upper stages, the Adeline module would perform an atmospheric re-entry, with the launcher's propulsion system and avionics protected by a heat shield that Airbus has already gained expertise in building for missions including Mars Express and the Huygens probe which landed on Saturn's biggest moon Titan.
Unlike SpaceX's vertical landing solution, Adeline is intended to be brought back to Earth using aeronautical propulsion following re-entry. It will fly like an Unmanned Aerial Vehicle (UAV), thanks to its winglets and deployable propellors, to a landing on an ordinary runway, just like any other aircraft.
Airbus Defence and Space—previously known as EADS Astrium—have been testing the Adeline concept since 2010, first with simulations and then with scaled down demonstrators. The studies are aimed at validating the technical aspects of the concept before a maiden flight of a full module is made in 2025.
The company says their system represents one of the most important ways to reduce the cost of a launch, and estimates that it will allow savings of up to 30 per cent to be made.
.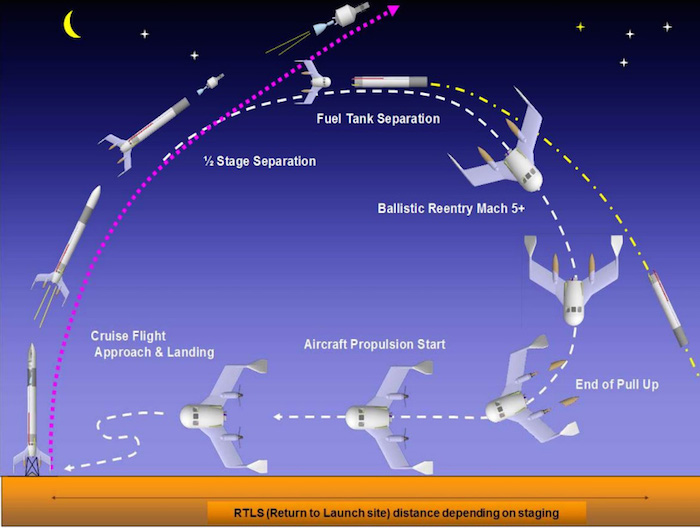 A diagram showing how Adeline might return expensive components to Earth. Image credit: Airbus Defence and Space
Airbus Defence and Space is also studying other solutions to reuse rocket parts, including space tugs that could stay in orbit ready to shift satellites to their required positions. At present, a satellite is put into space by a launcher made up of several stages, with an upper stage that carries it to its orbit before falling back into the atmosphere to burn up.
Under the electric space tug concept, the upper stage will be left in a parking orbit. The next launcher will refuel it with liquid propellant and give it a satellite to place into its own required orbit—possibly a communications satellite that needs to go into a high geostationary orbit. Once the space tug has done this, it will return to its parking orbit to await its next mission.
Airbus Defence and Space say the space tug concept will allow smaller, less costly launchers to be used, plus less fuel. The tugs will also be able to upgrade, repair, resupply or reposition satellites. And when its service life is over, it could be sent on a remote exploration mission or burned up in the atmosphere.
.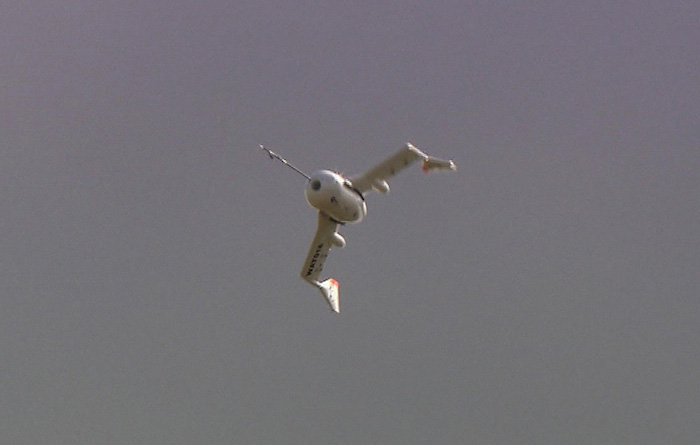 A demonstrator being flown to test the concept behind Adeline. Image credit: Airbus Defence and Space
Quelle: SEN
Tags:
Raumfahrt
1844 Views
Samstag, 6. Juni 2015 - 15:30 Uhr
.
Am Freitag-Mittag gegen 12.30 MESZ war ich selbst mit meinem Fahrezug im Odenwald unterwegs, als ich bei Seckmauern am wolkenfreien Himmel über mir "merkwürdige dicht beianander befindliche 4 Kondensstreifen" sah, welche sich gegen den blauen Himmel stark abhoben. Dachte mir noch, das sieht recht ungewöhnlich aus, gegenüber den "normalen einzelnen oder sich kreuzenden Kondensstreifen wie jeder sie kennt. Nachfolgende Illustration wie ich selbst das Ganze am Himmel wahrnahm:
.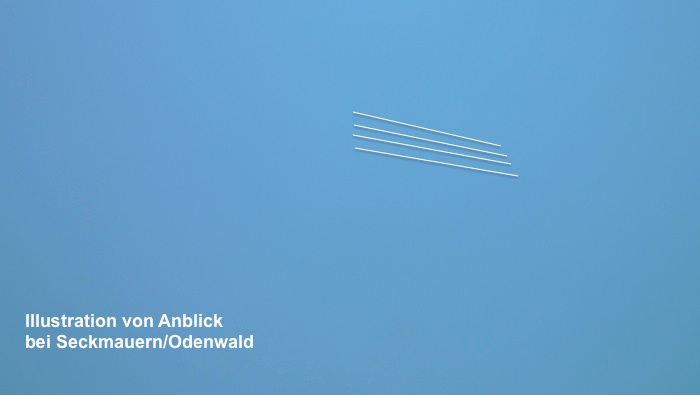 ...
Eine Stunde später klingelte das UFO-Meldestelle Telefon von CENAP und es meldete sich Herr W.Grunenberg aus Heiligkreuzsteinach im Odenwald. Er hatte über ESOG in Darmstadt unsere Telefon-Nummer bekommen, nach dem er ebenfalls am Himmel die merkwürdigen Kondensstreifen gesehen (und auch fotografieren konnte) hatte und an Meteoriten-Niedergang dachte. Inzwischen hatte ich selbst für die merkwürdigen Kondensstreifen eine Erklärung, da wir im letzten Jahr schon so einen Vorfall hatten welcher über der schwäbischen Alb sich abgespielt hatte und es sich dort wie jetzt über dem Odenwald um ein Luftbetankung von Kampfjets gehandelt hat.
Herr Grunewald stellte seine Aufnahmen uns für einen Blogbeitrag zur Verfügung, welche eine viel nähere Position zeigen als meine eigene zum Geschehen:
.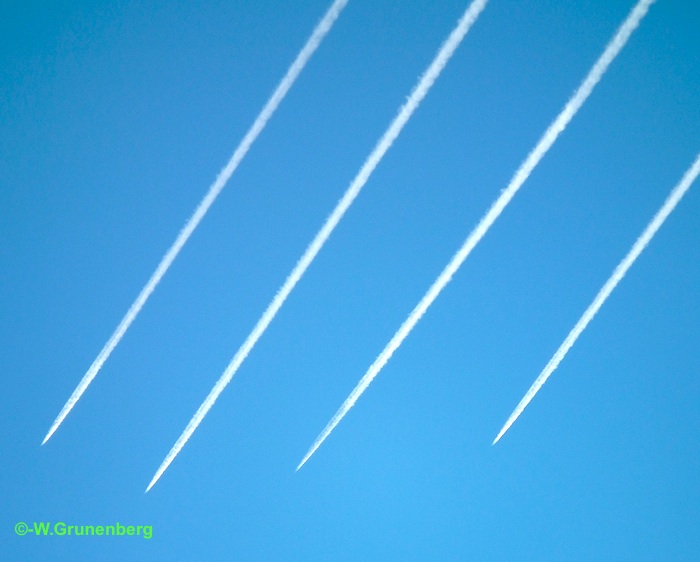 Aufnahme-1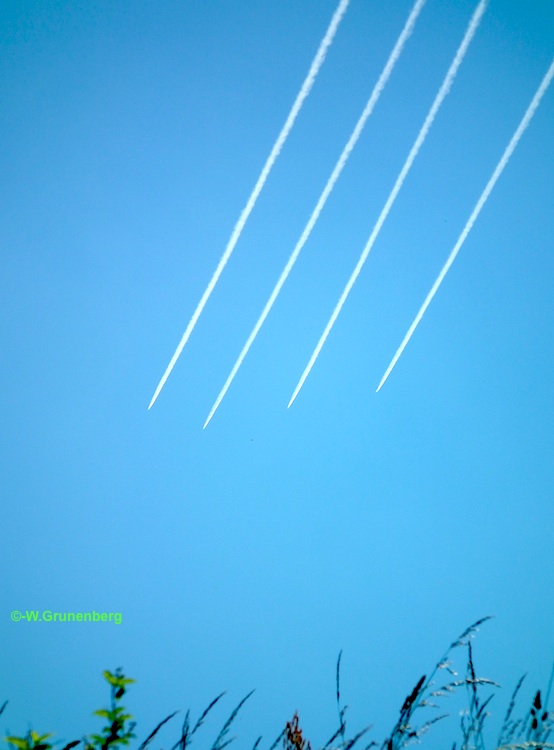 Aufnahme-2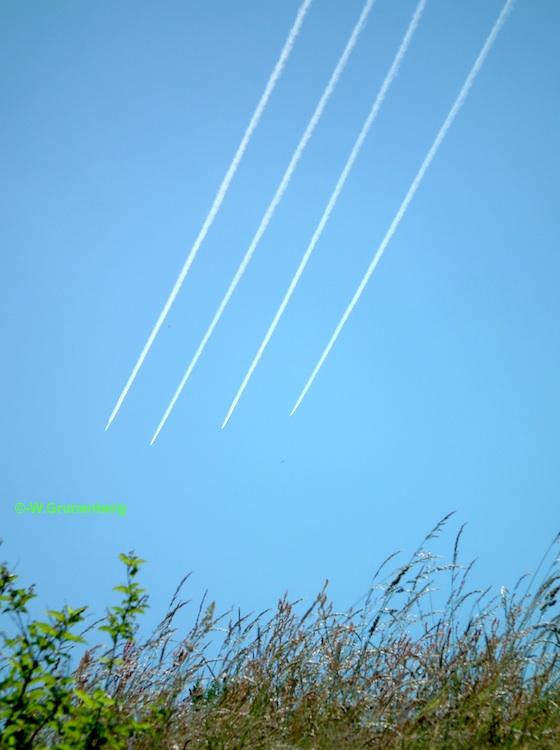 Aufnahme-3
---
Luftbetankungen über Deutschland
.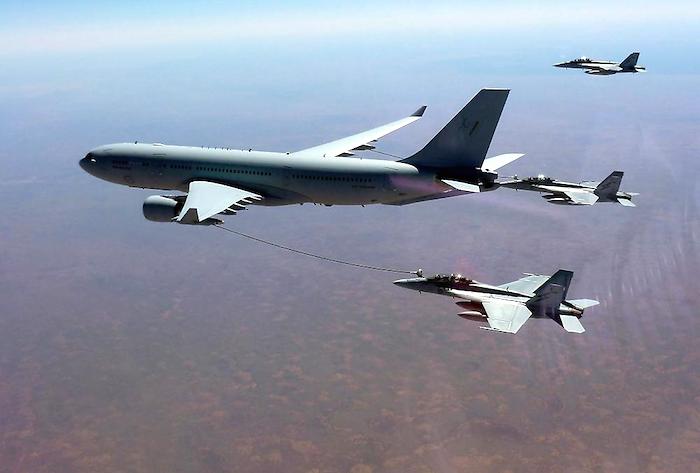 "Luftbetankung dient dazu, die Reichweite von Flugzeugen zu erhöhen. Sie müssen dann nicht landen und am Boden tanken, was Zeit kostet. Dieser Vorgang wird routinemäßig geübt, auch über der Bundesrepublik Deutschland.
Auftanken in 8800 Metern Höhe
Die Luftbetankung findet in speziell dafür vorgesehenen Lufträumen statt, die zu diesem Zweck durch unsere Luftwaffe und Luftstreitkräfte anderer Nationen genutzt werden. Da eine Luftbetankung grundsätzlich in großen Höhen stattfindet, ist der Vorgang nur bei gutem Wetter vom Boden aus zu beobachten.
So dürfte es sich am 5.Juni in einem speziell dafür vorgesehenen Luftraum eine Betankung von mehreren Kampfflugzeugen im Rahmen der routinemäßigen Ausbildung gehandelt haben. Die Kampfflugzeuge werden durch ein Tankflugzeug vom Typ KC-135 betankt. Die Betankung findet in rund 8800 Meter Höhe statt."
Es könnte sich um  F-16 Kampfjets der US Air Force gehandelt haben welche vom Stützpunkt Spangdahlem aus operieren. 
Eine Anfrage bei der deutschen Luftwaffe ging raus, da auch die Luftwaffe solche Luftbetankungen vornimmt:
.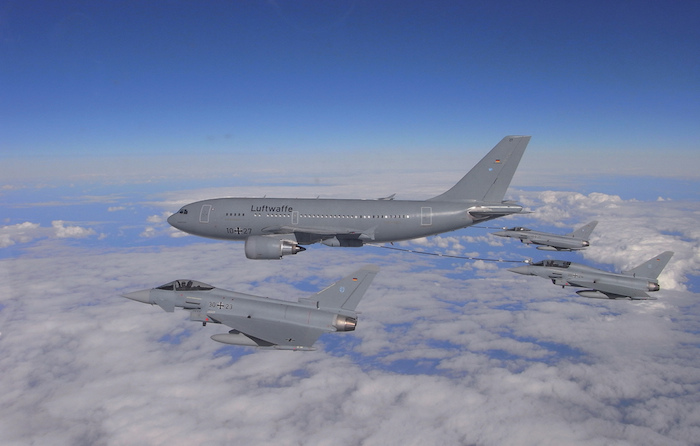 Luftwaffe
.
CENAP-Mannheim
Tags:
UFO-Forschung
1816 Views
Samstag, 6. Juni 2015 - 12:45 Uhr
.
SPACE STATION MARATHON: The annual "space station marathon" is underway. For the next few weeks, the ISS will be almost continuously lit by summer sunlight when it passes over our planet's northern hemisphere. Sky watchers can see the space station gliding among the stars as often as four times every night. On June 3rd, Philip Smith photographed one of several flybys over his backyard in Manorville, New York:
.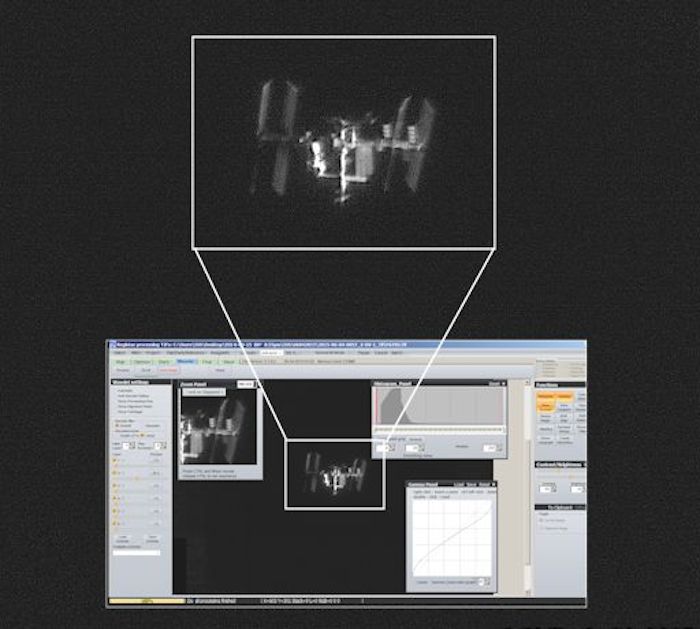 "It was very cloudy during the flyby," he says,"but using my telescope I was able to catch the ISS through a small gap in the clouds almost directly overhead."
To the unaided eye the ISS looks like a bright slow-moving star, often rivaling Jupiter or Venus in luminosity. Small telescopes trained on the spaceship reveal its sprawling solar arrays, labs and living quarters, and retinue of docked supply ships. Smith sharpened these details by aligning and "stacking" multiple video frames. "In this screenshot, I share a part of how I processed this stacked image using RegiStax 5."
Quelle: Spaceweather
Tags:
Raumfahrt
1786 Views


Weitere 10 Nachrichten nachladen...