Samstag, 9. Mai 2015 - 18:00 Uhr
.

-
16.12.1999
Neuer Feuerball-Fall über den USA
Meteor über Georgia und Alabama
In den frühen Morgenstunden (5:15 h Ortszeit) des Sonntag, 5.Dezember 1999, schoß ein großes, bläulich-weißes Licht quer über den Himmel von Alabama und Georgia in Amerika. Die Fox 6 News in Birmingham zeigten die Aufnahme von Anderson Williams, der das Glück hatte die Erscheinung auf seiner Überwachungskamera seines Ladens in Weogufka, Alabama, festgehalten zu haben. Die Videoaufzeichnung zeigt zunächst die völlig Dunkelheit und urplötzlich erscheint ein brilliantes Licht quer über den Himmel welches das Gebiet drei Sekunden taghell ausleuchtet. Sieben Sekunden später kann man dann den Klang einer Art Explosion vernehmen. Unter den vielen Zeugen an diesem Morgen war auch Manager Mike Thompson von dem Radiosender WTRB in LaGrange, georgia. Er befand sich gerade auf dem Weg zur Arbeit als er einen gewaltigen Lichtblitz im Westen ausmachte und ein Sekundenbruchteil später schoß schon ein hellleuchtender Lichtball mit Schweif herbei. Der Meteor zog geradeaus weiter und kam herab. Er sah wie eine Feuerkugel aus, warf aber keine Funken ab. Für ihn war die Größe vergleichbar mit der des Vollmonds während der Schweig kleiner ausfiel. Wie regionalen Zeitungen berichteten, war dies seit dem 2.Februar 1993 das zweite Mal wo in der selben Gegend ein solches Himmelsschauspiel stattfand. Damals hatte ein Mitglied einer TV-Nachrichtensendung in Atlanta das Objekt im Glauben gefilmt, es sei ein gigantisches dreiecksförmiges UFO mit einem Rauchschweif hinter sich.
Bei George Filler, Direktor der US-Ost-Abteilung MUFONs, meldete sich darauf ein Mark Vinsant aus Birmingham, der an diesem Morgen zusammen mit seiner Frau durch einen mächtigen Lichtblitz und einem nachfolgenden Donnerschlag aufgewecket wurde. Als sie dann zum Schlafzimmerfenster gingen und hinausschauten, sahen sie am dunklen Himmel eine Art "Lichterrad" aus dumpf-weißlichem Licht über den naheliegenden Bergen umherkreisen, welches immer wieder die selbe Bahnbewegung am Himmel vollzog und 1 1/2 Stunden lang sichbar war, bis es plötzlich "wie ausgeschaltet" verschwand. Der Zeuge: "Mal sah es aus wie eine dunstige Lichttellererscheinung mit vielen schwarzen Stellen dazwischen, dann wieder mal wie eine komplette Fliegende Untertasse." Er war mit seiner Frau fest der Überzeugung, dass dies keineswegs ein Bolidendurchgang war. Damit hat er sicherlich recht, aber was er sah war ja auch aller Wahrscheinlichkeit nach der Lichteffekt eines Skytrackers. Hier kann man sehen wie schnell kausal völlig unabhängige Erscheinungen per Zufall hin plötzlich für Verwirrung sorgen und als ein durchgängiges Phänomen mißverstanden werden können.
---
21.12.1999
Seltenheitswert: Ein Tag, zwei UFO-Meldungen!
Das UFO von Norddeutschland, Nordeuropa und News zu einem Fall aus Kolumbien
Am Dienstag, den 21.Dezember 1999, wurde die Geschichte dann auf der neuen Pro7-Videotextseite + Kosmos ++ Menschen ++ Phänomene + aufgegriffen: "Aufregung im Norden: UFO, Meteor oder Raketentrümmer?" Gleichsam die ARD auf Videotextseite 157: "Mysteriöser Lichtschein am Himmel." Inzwischen erhielt ich nach einer verfaxten Pressemitteilung von der Redaktion RTL Nord zwei Telefonnummer von Zeugen, die der Sender für sein Programm interviewt hatte. Sofort wurden diese an Sascha Schomacker in Bremerhaven weitergereicht. RTL berichtete in der Magazinsendung "Punkt 12" ebenfalls mit Vorankündigung auf Videoprogrammseite 321 von dem Ereignis: "Feuerball am Himmel! UFO oder Meteorit? Tausende Deutsche rätseln über mysteriöse Lichtkugel." Die Moderatorin versprach sich und erwähnte, dass die Menschen in Norddeutschland 20 Minuten lang gespannt das helle unbekannte Phänomen beobachtet hatten. Gleiches geschah auch in Skandanavien und überall riefen besorgte Bürger die Polizei an. Der Vorspann zeigte einen offenbar aus dem fahrenden PKW heraus aufgenommene mächten "kometenartigen" Schweif hinter Bäumen und Stromleitungen am Tage (?). Das schien ja interessant zu werden. Helmut Treder erscheint als Augenzeuge auf der Mattscheibe: "Gegen 20:14 h sah ich einen hellen Punkt in nordwestlicher Richtung und dachte an ein Flugzeug, aber Flugzeuge blinken in der Regel. Dann wurde dieser immer größer, immer größer und ich sah dann auch einen Feuerschweif hinten dran und wie da richtiggehend Gesteinsbrocken abbrechen." Auch diese Aussage klang sehr nach einer flachen Bahnbewegung, wenn schon der Vergleich mit einem Flugzeug getroffen wurde; Sternschnuppen dagegen haben meist einen spitzen Einsturzwinkel am Himmel, auch wenn es natürlich Boliden gibt die relativ falch hereinkommen. Man blendet eine Übersichtskarte ein, worauf ein Feuerball angedeutet ist der, der scheinbar über Norwegen, Schweden, Dänemark und Norddeutschland erschien und damit eigentlich fast ganz Nordeuropa erfasste. Schönes Archiv-Filmmaterial des sogenanten Catskill-Boliden wurde zur Illustration nachgeschnitten und der Pressesprecher des Hamburger Flughafen machte sein bereits bekanntes Statement. Hier verglich man übrigens die Erscheinung sofort mit dem "Niedersachsen-Boliden" vom vorausgehenden 8.November-Morgen. Björn Voss vom Planetarium Kiel nannte die aktuelle Erscheinung "vermutlich eine Sternschnuppe, ein kleines Steinchen aus dem Weltraum". Knöfel berichtete mir derweilen, dass es ihn verwunderte, ob das gesehene Teil tatsächlich nur ein Bolide gewesen sein soll, weil die betroffene Sichtungszone dafür einfach zu groß war und die Erscheinung sogar bis zu 50 Sekunden lang gesehen worden sein mag. Deswegen tippte er soweit mal auf einen Wiedereintrittskörper, hier müße man also noch abwarten.
Wieder tauchte das alte Dilemma auf: War´s nun ein Bolide oder ein Re-Entry? Und der "Aufreißer"-Film aus der RTL "Punkt 12"-Ankündigung war auch nicht weiter gezeigt worden. Ich setzte sofort auf die CENAP-eMail-Liste eine Vorwarnung über etwaige weitere TV-Beiträge in dieser Sache am laufenden Tage. Tatsächlich brachte Pro7 in "s.a.m." einen UFO-Beitrag in den Kurzmeldungen, aber nicht zu dem uns hier beschäftigenden Vorfall, sondern über den bereits bei RTL kurz gezeigten Film von dem "kometenartigen" Schweif! Wir hatten die einmalige Situation vor uns, an einem Tag gleich zwei UFO-Meldungen aufgetischt zu bekommen. Der stammte von einem Kamerateam des kolumbianischen Fernsehens und wurde über Bogota aufgenommen, nachdem dort Meldungen über ein UFO einliefen. Auf Radar wurde ein UFO jedoch nicht festgestellt, weswegen Experten die Aufnahme angeblich für "Trickspielereien ufobesessener Kameramänner" halten sollen. Doch das jetzt etwas besser gezeigte Filmmaterial läßt ziemlich stark an den dicken Kondensstreifen eines Flugzeugs erinnern, der von der untergehenden Sonne stark aufgehellt am noch hellen Himmel erscheint. Der Astronom William Cepeda wollte nicht in Anbetracht des Films von einem UFO sprechen, "da es zu sehr vielen Fehlinterpretationen führt und die Leute damit immer nur Außerirdische verbinden, ich spreche da lieber von einem Phänomen in der Atmosphäre".
Hierzu erhielten wir Dank André Knöfel parallel eine Nachricht von Robert H.McNaught (Leiter des australischen Feuerball-Überwachungsnetzes) zugestellt, die mehr Erhellung brachte. Hiernach war genau dieser Film auch in den Channel 10-News an diesem Tag gezeigt worden, hier aber hieß es, dass die "Experten total verblüfft" seien. Die dortigen Kommentare waren, dass die aufgenommene Erscheinung "sich deutlich bewegte und sehr heiß gewesen sein muß, wenn sie derartigen Dampf abläßt". Für McNaught war das Ding "deutlich ein Flugzeug-Kondensstreifen im Dämmerlicht". Ihn will es nicht wundern, wenn man die Luftraumüberwachung nach einem UFO fragte und man dort keines zu melden wußte, weil es keines war, sondern ein "sicherlich gemeldetes Flugzeug". Dies erinnert uns stark an die Meldungen von Anfang Dezember aus Schanghai und Peking, wo eigentlich genau die selben Kondensstreifen-Phänomene in der aufziehenden abendlichen Dämmerung zu UFO-Alarm führten. Dies dürfte auch der Grund gewesen sein, weswegen plötzlich die Leute in Bogota durchdrehten.
Zurück zu unserem eigentlichen Fall. Über die EuroUFOList meldete sich kurz nach 14 h Vicente-Juan Ballester Olmos von der "Spanish Anomaly Foundation" und verwies darauf, dass das US SpaceCom unter Registriernummer 19991220 tatsächlich die Raketenstufe einer US Titan 2 aus Vandenberg, die am 20.Juni Tag gestartet war, als Re-Entry zurückerwartete. Alan Pickup, Astronom an der Universität von Edingburgh (Schottland), hatte inzwischen die Situation als "Decay Watcher" für uns geprüft und stellte fest, dass die genannte Raketenstufe tatsächlich gegen 18:10 h UT Norwegen (= 20:10 h CET Dänemark/Deutschland) über dem Meer aus Norden kommend vor Norwegen eintrat und dann gegen Stockholm, Schweden, und weiter über Dänemark nach Deutschland südlich ziehend verglühte. Bjoern Gimle aus Schweden berichtete zeitgleich, dass das Phänomen in der vorausgehenden Nacht tatsächlich im westlichen Teil Schwedens für Aufregung gesorgt hatte, als es dort z.B. aus Gothenburg gesehen wurde, wie es in flacher Bahn hin für 15 bis 20 Sekunden in Richtung Dänemark zog. Leute in Skövde, die den Durchgang beobachteten, hatten dabei den Eindruck, als würde "es in Dänemark niedergehen". Die schwedische Zeitung DN berichtete an diesem Dienstag dazu, dass das Phänomen auch von Östersund aus gesehen worden war und man in Uppsala sogar "eine Art Rauchschweif" gesehen haben will, der sich ein paar Minuten lang am Himmel hielt. Doch sonst sah niemand diesen verbleibenden und sich dann auflösenden Schweif. Wie auch immer, auch die DN meldete bereits, dass das Phänomen auf den Re-Entry einer Titan-Raketenstufe zurückging.
Im deutschen Fernsehen dagegen wußte man nicht so recht weiter. Im ZDF berichtete "Hallo Deutschland" vom Vorfall "Ein unerklärliches Phänomen sorgt für Aufregung" und ließ "wie bei immer bei solchen Fällen verwunderte Augenzeugen" zu Worte kommen. Susanne Kühl war mit ihrem Mann beim abendlichen Spaziergang: "Mir fiel auf das es in so einer Umlaufbahn blieb, es sackte nicht ab und verblasste auch nicht. Es sah kometenartig aus." Ulrich Uffrecht ist ein weiterer Zeuge: "Es zog eine orangefarbene Lichtspur hinter sich her, sodass ich den Eindruck hatte, da oben verglüht irgendein Gegenstand, womöglich ein Satellit. Ich sah abspringende Teile, die für eine zusätzliche Lichterscheinung sorgten." Auch bei Radio Schleswig-Holstein liefen die Drähte heiß - hunderte Radiohörer meldeten ein unerklärliches Phänomen. Es wird der O-Ton eines Berichterstatters eingespielt, der an eine Signalrakete dachte, die "auf mich zukam, groß wie ein Tennisball und in Flammen gehüllt". Inzwischen hatte auch Björn Voss vom Planetarium Kiel mit einigen Augenzeugen gesprochen und mußte seine Erklärung revidieren. Während er bei RTL´s "Punkt 12" noch von einer "Sternschnuppe" gesprochen hatte, stand er nun für einen Re-Entry-Körper ein. Sat1 blieb in einer Kurzmeldung in "17:30" bei einer Sternschnuppe. Die Kabel1-News griffen den Fall von Bogota auf und nannte die Aufnahme "ein abgestoßenes Raketenteil". N3-Dass! machte ebenso ein Kurzmeldung zum norddeutschen Fall und nannte ihn gar einen Kometen. RTL-Aktuell brachte den Fall wieder mit dem bildhaften Beispiel des Catskill-Boliden ins Programm und nannte als "wahrscheinlichste Lösung ein Teil zurückkehrender Weltraumschrott, weil es keinen Krater wie bei einem Meteoritenschlag gegeben" hatte (gezeigt wird der berühmte Arizona-Krater!), "es war also nur eine Sternschnuppe", wobei weiterhin dramatisches Einschlags-Filmmaterials aus dem Kinofilm "Deep Impact" eingespielt wurde (was völlig unnötig war). Hier haben die verantwortlichen Redakteure wildes (unpassendes) Bildmaterial zusammengestellt, was etwas zu kosten der inhaltlichen Sachlichkeit ging.
---
21.12.1999
Eilmeldung: Funkensprühendes Objekt gesehen
Norddeutschland und Dänemark erlebte eine UFO-Nacht
Kurz nach 23 h des 20.Dezember 1999 unterrichtete mich ein GWUP-Mann aus der Nachrichtenredaktion von Radio Bremen über folgende dpa-Tickermeldung für Hamburg/Kiel/Bremen: "Funkensprühender heller Schein über Norddeutschland beobachtet". Ein helles Objekt am Himmel über Norddeutschland, das einem Meteor glich, hat am Montagabend zu zahlreichen besorgten Anrufen bei mehreren Flughäfen geführt. Nach Angaben des Hamburger Flughafensprechers Clemens Finkbeiner-Dege sind seit 20:30 h zahlreiche Anrufe bei Flughäfen in Hamburg, Bremen und Kiel eingegangen, in denen immer die gleiche Beobachtung geschildert worden ist: Ein funkenspühendes Flugobjekt, das einen hellen Schweif nach sich gezogen habe, sei geräuschlos in Richtung Nord-Süd geflogen. "Ich kann definitiv ausschließen, dass es sich um ein Flugzeug gehandelt hat", sagte Finkbeiner-Dege der dpa. Auf den Radarschirmen der jeweiligen Tower sei keinerlei Bewegung festgestellt worden. Dennoch hätten ein oder zwei Piloten von einer ähnlichen Beobachtung berichtet. Möglicherweise handele es sich um einen Meteoriten, der kurzfristig am Himmel zu sehen gewesen sei. Auch eine Sprecherin des Deutschen Wetterdienstes könnte zu den Beobachtungen nicht sagen, da das Wetterradar so etwas nicht erfasse. Soweit also dpa.
Gleichsam aber erhielt ich von dem dänischen UFO-Forscher Ole Henningsen die Meldung, dass eine Sichtung gegen 20:13 h in Dänemark groß eingeschlagen ist. Er selbst zählt zu den Zufalls-Augenzeugen auf der Insel Lolland unweit vom deutschen Fehmarn, für 20-25 Sekunden konnte er sie selbst vom PKW aus beobachten: Eine "raketenartige orangene Erscheinung bewegte sich am westlichen Himmel von NW gegen SO auf Deutschland zu, hierbei wirkte sie so als befände sie sich nicht einmal 1 - 2 km entfernt"! Doch inzwischen war über die UFO-Alarmzentrale der SUFOI (Skandinavisk UFO Information) beim Kopenhagener Tycho Brahe Planetarium die Hölle ausgebrochen und allein bis 23 h waren dort 30 Telefonanrufe über dieses "UFO" aufgelaufen. Bereits um 21:25 h wurde die Wahrnehmung der Erscheinung in den dänischen Fernseh-Nachrichten des DR1-Kanals gemeldet. Auch für Kollege Henningsen war die Erscheinung nichts weiter als ein Meteor, wenn auch von beeindruckender Erscheinung und Gestalt, wobei selbst ihm als erfahrenen UFO-Experten die Suggestion/Illusion packte, dass diese Erscheinung relativ nahe war (1 - 2 km entfernt), während sie sicherlich in aller Realität um den Faktor 100 in den höheren Regionen der Erdatmosphäre verging.
---
24.12.1999
Neue UFO-Online-Zeitschrift
Ab dem 31.Dezember 1999 gibt es eine innovative neue UFO-Online-Zeitschrift im Internet! 
Für die Pilotnummer der von T.A. Günter, CENAP-Havelland herausgegebenen Online-UFO-Zeitschrift Der UFO-Student konnte Christian Sommerer (CENAP-Mecklenburg-Vorpommern) den amerikanischen UFO-Skeptiker Robert Sheaffer interviewen. Dort stellte Sheaffer aus eigener Erfahrung fest: "Oftmals gibt es eine tiefgehende persönliche Abneigung gegenüber UFO-Skeptikern. Ich habe über die Jahre hinweg mehrere Drohungen erhalten, aber meistens bekommen wir nur unfreundliche Worte zu hören. Es ist unüblich, einen UFOlogen zu finden, der mit uns nicht einer Meinung ist und dennoch gute persönliche Kontakte mit einem unterhält. Meistens hassen sie Skeptiker aus bitterer Leidenschaft, und sie sind sogar unfähig, zu dem Thema eine freundliche Konversation abzuhalten. Dies gilt besonders für Leute, die auch echte Gläubige in anderen paranormalen Gebieten sind, zum Beispiel im Falle von PSI. Einige Leute sind echte religiöse Fanatiker, andere wieder haben einen tiefen, passionierten Hang hin zu irrationalen UFO-Glaubensüberzeugungen. Wenn man öffentlich einem dieser Fanatiker-Typen widerspricht, dann wird er oftmals extrem aufgeregt und beleidigend. Es ist so, als wenn Sie versuchen würden, ihm seinen am besten gehüteten Schatz, das wertvollste in seinem Leben, wegzunehmen. In diesem Sinne ist der Skeptiker für eine solche Person extrem gefährlich - wir gefährten die Säulen, auf denen sie ein wahnhaftes Universum errichtet haben."
---
26.12.1999
UFO-Historie, eine Ära abgeschlossen
Vor 30 Jahren dichtgemacht: Pentagon-Projekt Blue Book
Kurz eine Erinnerung, die wir dem UFO-Investigator des NICAP vom Mai 1970 entnehmen. Das Opus der unidentifizierten Flugobjekte wurde am 17.Dezember 1969 durch USAF-Minister Robert C.Seamans jr für seine Streitmacht beendet, als er ankündigte, dass die 21jährige Regierungs-Ermittlung in Sachen UFOs nun beendet werde, nachdem der Condon-Report abgeschlossen, ausgewertet und begutachtet worden war. Minister Seamans: "Die Fortführung des Projektes kann weder im Interesse der nationalen Sicherheit oder der Wissenschaft liegen, es ist aufgrund dessen nicht weiter gerechtfertigt." Mit dieser Terminierung wurde auch die AF Regulation 80-17 (und ihre Vorgängerin AFR 200-2) mit der die Blaubuch-Politik und seine Operation bestimmt wurde aufgehoben. Blue Books Türe schlossen sich dann endgültig um 15:30 h des 30.Januar 1970, als das Projekt-Büro auf der Wright-Patterson Air Force Base letztmals offiziell besetzt war. Bis dahin waren die Blue Book-Akten in Kisten verpackt worden und zum US-Luftwaffenarchiv auf der Maxwell AFB in Alabama abtransportiert. Lt.Col.Hector Quintanilla jr, letzter Blaubuch-Offizier, bekam einen anderen Posten auf Wright-Patterson angeboten, bis er im April 1970 in Pension ging. Im selben Jahr gab auch Donald Keyhoe seinen Job als NICAP-Direktor im Alter von 72 Jahren und nach dreizehn Jahren Position an der NICAP-Spitze auf und trat zurück.
---
02.01.2000
Roswell-Millenniums-Party
Erste UFO-Zeitungsmeldung im neuen Jahrhundert
Der Medien-Mythos Roswell darf nicht zum Absturz kommen. Zum Jahresende 1999 bekam Roswell nochmals einen ordentlichen Schub. Zunächst hieß es auf RTL II am 28.Dezember in der Reihe "X-Factor: Die fünfte Dimension" nochmals in einem Beitrag "Die Kinder von Roswell" bevor auf Pro7 der Fernsehfilm "Roswell: UFO-Absturz über New Mexico" in die xte Wiederholung ging. Die Kabel1-Extra-Reportage "UFOs - Besucher aus dem All" widmete sich am 30.Dezember dann nochmals völlig unnötig in aller Breite dem Fall und den sagenhaften MJ-12-"Akten", obwohl aus dem Vorfall längst die Luft raus ist und man alles widerlegen kann, was dort immer noch behauptet wird, zudem ist ufologisch gesehen Roswell längst beerdigt und kein besonderes Thema mehr. Deswegen sei hier nochmals an Uli Thieme´s Dokumentararbeit "Roswell: Ein UFO-Mythos stürzt ab" erinnert, zwecks der sich Interessenten mit ihm via eMail in Verbindung setzen können: ut.lucifer@t-online.de
Und dann kam tatsächlich der erste Zeitungsbericht aus Amerika im neuen Jahrhundert vom Settle Post-Intelligencer Reporter aus Roswell. Am 1.Januar 2000 berichtete Jim Moore unter der Schlagzeile "Earth to aliens: It´s a new millennium, so give us a call" von der Roswell-Millenniums-Party unter dem Sternenzelt Neu Mexikos! Auf dem alten Raketenstartplatz von Goddard kamen UFO-Gläubige aus allen Teilen des Globus zusammen, weil man ihnen hier die "hellste Lasershow der Welt" versprochen hatte. Und um Mitternacht schickte man bis in 30 km Höhe reichende Lichtstrahlen, die einen wilden Tanz am Himmel vollführten um an das "Raumschiff" zu gedenken, welches hier 1947 abgestürzt sein soll. Die Veranstalter, Charlie Waters (von der Handelskammer in Roswell) und Frank Costantini (Inhaber der Firma Starlite Com und "Lord of the lasers" genannt), wollten mit dieser Lichtschau und unter den Klängen von Jimi Hendrix "And The Gods Made Life" einen neuen Kontakt mit den Aliens herbeiführen und mittels eines Lasers wurden 10.000 elektronische Grüße in den Kosmos geschickt während beständig ein mehr als 7 Meter hoher Grey mit winkenden Händen in Bühnennebel projiziert wurde. Gesponsert wurde die Party von der Toyota-Außenstelle in Roswell. Begleitet wurde die Show von Journalisten der Zeitschriften Time und Newsweek sowie den Fox-News.
---
04.01.2000
Irre UFOlogie der Glaubenskrieger
ET-Magazin erhielt bösartige eMail wg. Werner Walter-Interview
Dennis Kirstein, der junge Stuttgarter Herausgeber der neuen Online-Zeitschrift "ET-Magazin" ( http://www.alien.de/kirstein), erhielt soeben einen bösen Leserbrief von einem UFO-Fanatiker, weil er in seiner Pilotnummer ein Interview mit Deutschland´s meist-gehasstem UFO-Phänomen-Untersucher und -Aufklärer, Werner Walter vom CENAP-Mannheim, führte und gar noch abzudrucken wagte.
Deftig ging es darin zur Sache, ohne inhaltlich irgendetwas rüberzubringen: "...Enttäuscht bin ich, dass ihr solche verlogenen Typen wie Werner Walter, der selbsternannte UFO-Forscher ohne die geringste Ahnung und Durchblick, in eurem Magazin ein Forum bietet. Dieser Hampelmann hat von UFOs und alles was damit zusammenhängt weniger als O-Ahnung und mit soetwas gebt ihr euch ab. Traurig, sehr traurig. Wie runtergekommen muss ein UFO-Magazin sein, sich mit solch einem Dummkopf zu schmücken. Ich habe selbst mehrmals UFOs gesehen und wer UFOs einmal begegnet ist, der weiß was er gesehen hat. Solche Dummschwätzer wie den Walter gehören geteert und gefedert. Er bietet sich als UFO-Skeptiker bei RTL und anderen Verdummungssendern an und ihr in der Redaktion glaubt diesem Taugennichts. Wenn ihr glaubwürdig erscheinen wollt, dann schickt diesen Hanswurst in die Wüste oder hört am Besten auf mit eurem UFO-Magazin."
Einmal mehr sieht man mit welchen Emotionen die blind-naiven UFOlogen und UFO-Abergläubigen reagieren können, wenn man ihre Spielzeuge kaputt macht. Anstelle vernünftig und inhaltlich-sachlich zu diskutieren, werden sofort von den ufologischen Glaubenskriegern schwere Geschütze aufgefahren um einmal mehr ihrem Hass gegenüber nüchterner UFO-Analyse Ausdruck zu verleihen. Auch ein jüngster Eintrag ins Gästebuch (Eintrag Nr.9) der CENAP-Kern-Homepage unter www.alien.de/cenap geht genau in diese (beleidigende, diffamierende) Richtung. Von wissenschaftlich-vorgetragener, nüchterner UFO-Forschung also auch 2000 weitgehendst in der UFOlogie keine Spur, sondern (pseudo)religiöser Glaubensk(r)amp(f) mit Feuer und Schwert. Und ausgerechnet uns nennen dann Promoter des UFO-Aberglaubens "militante Skeptiker", Dogmatiker und "weltanschaulich-motivierte Kritiker" und hetzen damit ihre Gefolgschaft damit auf. UFOlogie, wirklich eine verrückte Welt...
---
04.01.2000
Deutschland: Erster UFO-Bericht des neuen Millenniums
Infolge einer TV-Sendung wurde aus Hockenheim ein UFO gemeldet
Am 3.Januar 2000 strahlte Pro7 in der Wissenschafts-Magazin-reihe "Galileo" einen aufklärenden UFO-Beitrag mit Werner Walter aus und ab dem 4.Januar befindet sich auf Videotextseite 396 des Senders sogar ein Hinweis auf den "Pro7-UFO-Experten" und der nationalen UFO-Hotline. Die Folge: Der erste zumindest deutsche UFO-Bericht im neuen Jahr trudelte ein. Ein Ehepaar aus der Nähe von Hockenheim sah um 0:30 h des 1.Januar 2000 auf dem Heimweg von einem Feuerwerk am Stadtrand ein etwa "mondgroßes" rötlich-orangenes "Feuergebilde" vom Hockenheimer Ring herkommen und stetig an Höhe gewinnen. Es besaß eine Art "gelblich-orangene Aura" und war nicht ganz perfekt rund ausgefallen. In seiner Mitte "schien feuer zu brodeln". Je höher es zog, je kleiner wurde es und verschwand dann außer Sicht wegen a) den Häusern rundum und b) wegen der teilweisen Bewölkung. Die Gesamtsichtung dauerte etwas mehr als eine Minute an, auch wenn der Bub der Familie meinte es schon zwei oder drei Minuten vorher in Sicht gehabt zu haben, "als es am Horizont aufstieg". Doch erst dann machte er seine Eltern und deren Nachbarn darauf aufmerksam, weil es ihm doch komisch vorkam.
Der Fall ist eine wunderschöne Beschreibung eines in seiner Art und Natur mal wieder nicht erkannten Miniatur-Heißluftballons, wie er z.B. von der Firma Schorr-Flugbedarf in Staffelstein als Feuerwerksersatz angeboten wird.
---
12.01.2000
Stuttgart: Neuer UFO-Regionaluntersucher aktiv
Dennis Kirstein untersucht für CENAP regionale UFO-Sichtungen
Jetzt ist auch die badenwürttembergische Metropole und der Stuttgarter Großraum Ziel einer wissenschaftlich-ausgelegten UFO-Studie. Das seit 1976 in Mannheim ansäßige Centrale Erforschungsnetz außergewöhnlicher Himmelsphänomene (CENAP, nationale UFO-Hotline 0621-701370) beruft nun den 19jährigen Stuttgarter in Ausbildung befindlichen Grafikdesigner Dennis Kirstein als ehrenamtlichen regionalen UFO-Sichtungs-Ermittler, der ab sofort seine Telefonnumer 0172/8357259 als regionale Anlaufstelle für UFO-Sichter, UFO-Foto- und -Videografen oder die die sich dafür halten anbietet.
Dennis Kirstein sieht einen Bedarf für dieses Angebot: "Wie das Mannheimer UFO-Lagezentrum feststellt, kommen immer wieder einmal UFO-Reporte aus unserem Raum. Doch bisher mangelte es hier an seriös-gesinnten Ermittlern, die den Dingen auf die Spur gehen und die Spreu vom Weizen trennen. Nun fand CENAP-Chef Werner Walter, dass dieses `fehlende Glied` in der deutschen UFO-Nachforschungsarbeit durch mich geschlossen werden sollte. Naturwissenschaftlich und astronomisch interessiert bin ich aufgeschlossen der UFO-Idee gegebenüber, wer also irgendwann einmal ein UFO gesehen hat und dies weitermelden möchte bzw andersweitige Informationen über UFO-Ereignisse auch aus der Historie besitzt, kann sich gerne an mich wenden."
Die einlaufenden Daten, am besten mit Fotos oder Videoaufnahmen, werden dann mit dem Datenstamm der Mannheimer Zentrale abgeglichen und verglichen, sodass sicherlich auch Erklärungen für die gemeldeten Erscheinungen gefunden werden können. Für die UFO-Phänomen-Untersucher des CENAP-Netzwerkes ist "Aufklärung und nicht Mystifizierung" angesagt, weswegen nur ernsthafte Eingaben erwunschen werden. Das Stuttgarter-"UFO-Telefon" steht nun zur Verfügung, wenn es heißt: "Ich hab da ein UFO gesichtet, Herr Kirstein, was soll ich tun?"
---
13.01.2000
Vandenberg AFB gibt UFO-Vorwarnung
Die kalifornische Raketenplattform der amerikanischen Luftwaffe warnte soeben aufgrund mißlicher Erfahrungen in der Vergangenheit vor einem seltsamen Himmelsschauspiel, welches aufgrund des Starts einer Minotaur-Rakete am Freitagabend, den 14.Januar 2000, im Santa Barbara County und darüber hinaus entlang der US-Westküste erwartet werden muß. Um 19:04 h Ortszeit soll gegen Südwesten hin vom neuen Startkomplex SLC-7 die Minotaur-Rakete gegen Südwesten hin gestartet werden, um vier kleine Satelliten verschiedener Auftraggeber in einen polaren Orbit zu bringen. Das Startfenster ist zwischen 18:54 h und 21:54 h Ortszeit. Wenn das Wetter es zuläßt, wird der Liftoff bis zu 200 Meilen weit im südlichen und mittleren Kalifornien auszumachen sein. Der Start dieser Rakete ist der erste Raketenstart der Erde ins neue Millennium und weist eine technische Neuerung auf: Die Minotaur ist eine Mischung aus Minuteman II-Raketenmotor und einer Pegas XL-Raketenstufe. Verantwortlich für dieses "Orbital Suborbital Programm Space Launch Vehicle" ist das Space and Missile Systems Center Test and Evaluation Directorate an der neumexikanischen Kirtland Air Force Base.
Bereits früher hatten Starts von Vandenberg aus zu "gespenstischen Lichterscheinungen" während der morgendlichen oder abendlichen Dämmerungszeit hervorgerufen und fast immer wurde deswegen auch UFO-Alarm ausgelöst. Der Pressesprecher der Anlage erklärte soeben: "Was man sehen wird hat nichts mit UFOs, außerirdischen Besuchern oder einem verspäteten Nuklearangriff im Zeichen der Y2K-Apokalypse zu tun. Wir nennen diese Erscheinung inzwischen `Twilight Phenomena`."
Der physikalische Hintergrund dieser verdrehten, regenbogenfarbenen Lichtschweife am Himmel ist recht einfach zu erklären: Unverbrannter Treibstoff vermischt sich mit dem Wasserdampfschweif der Rakete zu einem `Start-Kondensat` und kristallisiert sich in der weniger dichten oberen Atmosphäre aus. Darin reflektiert sich das Rest- oder Erstsonnenlicht, welches die obere Etage der Erdatmosphäre noch erhellt. Vom Boden aus ist dann ein spektakulärer, bunter Effekt zu sehen, der völlig ungewohnt ist. Die Erscheinung dieser "Lichtspiralen" ist weltweit in Verbindung mit Raketenstarts zu Zeiten der Dämmerung dem Fachmann bekannt, da ihnen immer die gleichen physikalischen gesetze zugrundeliegen. Oftmals wurden daraus schon spektakuläre UFO-Erscheinungen abgeleitet. Je nach Sichtperspektive erscheint das Himmelsschauspiel immer etwas anders.
Diese `Twilight Phenomena` produzieren grüne, blaue, weiße und rosafarbene Wolken, die wie ein riesiger Korkenzieher ausschauen, sobald sie sich in die Niederungen der Atmosphäre herabbewegen und dort vom Wind erfasst werden. Für gewöhnlich erscheinen diese Gebilde zwei bis drei Minuten nach dem Start und können am Himmel über eine halbe Stunde lang ausgemacht werden bevor sie sich auflösen. Auch wenn seit 1958 an der Vandenberg AFB fast 1.800 Raketen gestartet wurden geschahen die meisten Starts am Tage, nur selten finden sie in Zeiten der Dämmerung statt und sobald dies geschieht tauchen auch diese weitgespannten himmlischen Korkenzieher-Erscheinungen und ähnliches auf. Der Pressesprecher verweist extra noch einmal darauf, dass diese Erscheinungen weder etwas mit UFOs noch mit einem Atomangriff oder einer Raketenfehlunktion zu tun hat.
---
14.01.2000
UFO-Alarm im Erzgebirge und Sachsen
Nächtliches Luftbetankungsmanöver sorgt für Unruhe
Nun haben wir den ersten `größeren` UFO-Zwischenfall des neuen Millenniums für Deutschland. Über dem Erzgebirge war in der glasglaren Nacht des Mittwoch, den 12.Januar 2000, gegen 18 h von vielen Mitbürgern ein "großes, hell leuchtendes Flugobjekt in geringer Höhe" ausgemacht worden. Unter den Zufallszeugen befand sich auch der junge UFO-Forscher Ralf Härtel sowie sein Vater aus Altmittweida, allerdings mit einer Stunde "Spielraum". Bereits am Donnerstagmorgen meledte er uns "unidentifizierte Flugaktivitäten" aufgrund eines merkwürdigen "Flugzeugs", welches im einem Fall von kleineren Lichtquellen angesteuert und im anderen Wahrnehmungsfall von diesen verlassen wurde, um dann parallel mit dem größeren Objekt davonzufliegen. Ein "UFO-Mothership", welches gerade seine "Scouts" herbeirief und dann wieder absetzte?
Härtel ließ die Sache natürlich keine Ruhe (auch weil das Geschehen bereits in den Radiosendungen bis nach Thüringen gemeldet wurde) von schaute sich auf der in Chemnitz erscheinenden Tageszeitung-Webpage der "Freie Presse" um - und wurde noch am selben Abend fündig. Unter der Schlagzeile "Nächtliches Spektakel in glaskarer Luft/Leser schildern Beobachtungen am Nachthimmel" war mehr zu erfahren. Manche Zeugen hatten gesehen, dass das unbekannte Flugobjekt sogar unmittelbar von Kampfjetzt der Bundeswehr begleitet wurde! Mehrere Stunden lang seien die Aktivitäten dieser merkwürdigen, gleichsam aber auch beeindruckenden Formation verzeichnet worden. Erinnerungen an einen Fall aus dem Jahre 1988 über Puerto Rico werden wach, wo man während militärischer See-Luft-Manöver der US-Streitkäfte ebenso am Abend gesehen haben will, wie ein "Fliegendes Dreieck" am Himmel erschien, auf welches US-Kampfflugzeuge zuflogen, mit dem UFO gar verschmolzen und dann der ganze Spuk verschwand. Nun auch ein ähnliches Szenario über dem Erzgebirge? Fast, aber nur fast.
Die Ereignisse aus Ostdeutschland spielten sich nämlich in einem für Übungsflüge reservierten Luftkorridor namens "Saxon Anchor" ab, der ausschließlich in einer Höhe ab 300 Meter genutzt wird. Zu den Beobachtern des Schauspiels gehörte auch Axel Rucktäschel aus Hohenstein-Ernstthal, der nach der ersten Beobachtung sich auf den dortigen Pfaffenberg aufmachte, um das Phänomen besser zu beobachten. Dort hatten sich bereits zahlreiche Schaulustige und Fotografen eingefunden, die sich ebenso ihre Gedanken machten was hier über ihren Köpfen wohl abläuft. Das Wort "UFO" machte die Runde. Kein Wunder wenn am Mittwochmorgen deswegen in den Redaktionen die Telefone heißliefen. Die meisten waren über die "leise" Erscheinung in relativ geringer Höhe von 2.000 bis 3.000 Metern verblüfft gewesen. Hauptsächlich zeichnete sich unter dem Rumpf des Hauptapparates sowie an seinen Flügel besonders grelles Licht ab. Doch am Donnerstagabend kam vom Bundesverteidigungsministerium in Berlin Entwarnung. Die Vorgänge waren völlig real gewesen und es handelte sich um Betankungsmanöver von Flugzeugen in der Luft, ein "ganz normaler, allzäglicher Vorgang, der zur Ausbildungsroutine gehört".
Nach Darstellung des Sprechers gibt es in Deutschland mehrere für Luftbetankungen reserviert Lufträume. Die beteiligten Jets, die zur fliegenden Tankstelle aufschließen werden von der Flugsicherung in die betreffenden Flugflächen eingewiesen. Da die Bundesluftwaffe selbst keine Lufttankflugzeuge besitzt werden hierzu Maschinen der Alliierten Streitkräfte genutzt, aber für die Zukunft plant Berlin die Umrüstung von Airbussen zu himmlischen Zapfsäulen, um unabhängiger zu sein.
Zusätzliche Verwirrung kam durch Boliden auf
Manchmal kann das UFO-Phantom der Lüfte einem schon einen Streich spielen, weswegen äußerster Vorsicht anzuraten ist. Fast gleichzeitig schickte uns nämlich André Knöfel vom deutschen Feuerball-Netzwerk eine Nachricht seines Kollegen Jürgen Rendtel vom Astrophysikalischen Institut in Potsdam, der am Mittwochmorgen des 12.Januar 2000, um 7:27 h MEZ, also schon in der hellen Dämmerung, eine Feuerkugel von der Helligkeit um -7 oder stärker aus dem östlichen Deutschland zwischen Potsdam und dem Erzgebirge reportiert bekommen hatte. Leider war die regionale Himmelsüberwachungskamera am Institut schon vorher abgeschaltet worden. Leicht kann hierbei die irrige Meinung aufkommen, beide unabhängigen Ereignisse gehen auf ein und das selbe UFOs zurück.
---
17.01.2000
Italien: Ein aktueller Engelshaar-Vorfall
Nahe Vercelli fiel am 8.11.1999 UFO-Material herab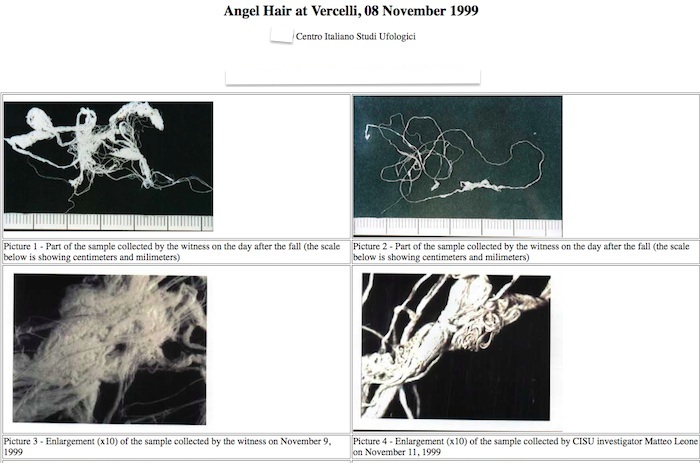 Wie uns soeben Edoardo Russo vom "Centro Italiano Studi Ufologici" in Turin mitteilte gab es am 8.November 199 im italienischen Vercelli den Niedergang von sogenanntem "Engelshaar". Lange Zeit war das Thema in der UFOlogie "in", verschwand dann mangels aktueller Vorfälle aus den Schlagzeilen. Ein Zeuge des aktuellen Vorgangs sah stundenlang an diesem Tag das Material vom Himmel herabkommen, welches sich auf Feldern, Tieren, Häusern etc rund um Vercelli niederschlug und teilweise Materialstreifen von bis zu einem Meter Länge hinterließ. Tags darauf kehrte der Berichtserstatter mit einer Videokamera zurück und nahm die verbleibenden Spuren des himmlischen Niedergangs auf Feldern und Zäunen auf, der befremdlicherweise kaum Aufregung in der Bevölkerung hervorrief. Er griff auch einige Proben auf. Am 10.November besuchte der Mann CISU in Turin und lieferte Muster davon ab. Selbst am nächsten Morgen konnte das CISU-Mitglied Matteo Leone noch Material an Ort bei seiner Inspektion inmitten schweren Regens aufgreifen.
Die Ortszeitung berichtete kurz darüber und in einem Brief den örtlichen Park-Direktors wurde der Niedergang als Spinnweben erklärt, was tatsächlich eine typische Ursache für Engelshaar-Fälle ist. Gleichsam aber kam das Gerücht auf, dass das Ganze auf eine Art "Chemie-Unfall" zurückgeht. CISU ließ die aufgesammelten Proben von einem Profi-Fotografen dokumentieren. Inzwischen hat CISU-Direktor Maurizio Verga, von Beruf Ingenieur in der Textil-Industrie, eine kleine Menge der Proben verbrannt um zu sehen wie es sich verhält - es rollte sich zu einem kleinen Bällchen auf. Der dabei entstehende Gerucht war nicht weiter von ihm zu bewerten. Eine Elektronenmikroskop-Analyse konnte CISU-Vize Paolo Toselli in einem großen Industrie-Laboratorium arrangieren, aber während der Untersuchung fiel das Instrument aus. Matteo Leone brachte eine Probe an die Turiner Universität und der dortigen Abteilung für analytische Chemie, um sie mittels Massen-Spektrometrie und Gas-Chronomatografie untersuchen zu lassen (dies sind Standard-Material-Tests). Aber dort fragte man ihn, nach was speziell zu suchen sei - doch nach was soll man bei schier unbekanntem Material genau suchen lassen? Derzeiten laufen noch Untersuchen um überhaupt einen Unterschied zwischen Spinnenweben und spezifischen Industrie-Nebenprodukten auszumachen.
---
20.01.2000
Area 51-Fanatiker glaubten an UFO-Flug
Rakete sorgt für UFO-Alarm
Wie AP am 19.Januar 2000 aus Reno, Nevada, meldete, war der Teststart einer Rakete von der kalifornischen Vandenberg AFB im Rahmen des experimentellen National Missile Defense Programm (einem Raketenabfangsystem des Pentagon) um 18:19 h des Dienstag zwar ein militärischer Fehlschlag für das Pentagon gewesen, aber hunderte von Menschen in Reno und entlang des Lake Tahoe nahe der Area 51 sahen in dem hell-weißen Licht am westlichen Himmel ein UFO auf Testflug. Einmal mehr wurden die lokalen Polizeibehörden mit Telefonanrufen besorgter Bürger überflutet, die ein UFO meldeten. Unter den Zeugen war Pat Swanson, die in Reno gerade ihren Sohn von der Schule abholte: "Es war gewaltig. Zunächst dachte ich an irgendein Flugzeug, aber dann merkte ich, dass es dafür zu groß zu viel zu hell war. Also was konnte es außer einem UFO sonst sein?" Matt Walther befand sich gerade an Deck seiner Yacht vor der Crystal Bay um ein Barbeque anzurichten, als er eine Serie "gespenstischer Lichtblitze" sah: "Sie illuminierten denb ganzen Himmel. Mir schienen sie recht niedrig zu sein. Ich würde sagen, sie waren kaum mehr als 1.200 Meter hoch gewesen. irgendwie sah es aus wie etwas aus der Akte X." Nun, alle können beruhigt werden. Der Vorfall ist ganz klar irdischer Natur.
---
Quelle: CENAP-Archiv