Freitag, 21. März 2014 - 09:20 Uhr
.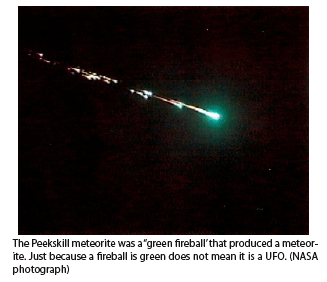 In this installment, I felt it was important to discuss meteors and satellite re-entries. These celestial events are often misinterpreted by observers and UFOlogists
alike. Recent entries by the UFO examiner of MUFON, indicate that even experienced UFOlogists seem to have a lack of knowledge on the subject.
Terminology
I have seen many people use the wrong terminology when discussing meteors. So, it is important to clarify a few terms.
A meteoroid is any small object that is in outer space up to the size of about a boulder. When a meteoroid enters the earth's (or any other planet's) atmosphere,
it becomes a meteor. If the meteoroid survives its passage through the atmosphere and strikes the earth, it is called a meteorite. Any meteor that is considered brighter than the planet Venus is considered a fireball. If the fireball becomes very bright (usually full moon or brighter), it is sometimes referred to as a bolide. These bright fireballs can possibly produce meteorites.
Light display
A common question I have been asked in the past is how can something the size of a grain of sand be so luminous that it can be seen from so far away. This has to do with the meteor's interaction with the earth's atmosphere. What is actually being seen is not only the meteoroid glowing but it's interaction with the surrounding
atmosphere. The meteor's passage excites the atoms of air molecules nearby and this causes them to glow.
Sometimes, a meteor can leave a persistent ion train. This looks like a brief smoke trail that rapidly disappears. In the case of bright fireballs, an ion trail can last for several minutes. 
Meteor colors
The color of a meteor has a lot to do with the composition of the meteoroid and the atmospheric molecules that are disturbed by its passage. If the meteoroid is large, the color of the meteor will probably be dominated by the meteor's composition. However, if it is small, the composition of the meteor may have little  effect and the atmospheric molecules nearby will dominate the color of the meteor. Oxygen and Nitrogen molecules tend to give off a red color.
The Green fireballs and UFOs
Probably the most bizarre part of UFO folklore is the adventures of Lincoln LaPaz and the "Green fireball" phenomena of the late 1940s. LaPaz felt there was something unique about these objects because no meteorites were ever found and they were green in color. They also appeared to be confined to the southwest US but this may have been a case of people looking for them, while in the other parts of the US, there was little interest in doing so. The USAF was concerned because they, like UFOs, were seen as a potential threat/Soviet device. They spent some time and money trying to record these meteors on film with little success. Eventually, they lost interest in the matter but LaPaz continued to ponder
the problem many years later with no satisfactory results. The "green fireball" phenomenon has been linked to UFOlogy because of its unique nature and that some people felt they were not "natural meteors". There never was any evidence presented to rule out these observations as nothing more than bright fireballs that were just green in appearance.
For some reason, when somebody now reports a "green fireball", UFOlogy likes to refer to as a UFO, when it is more likely they just saw a bright green meteor. A good example of a "Green fireball" is the Peekskill fireball/meteorite fall of October 9th, 1992. It was recorded by many people on video tape (some sources list a total of 16 independent recordings including a football game) and was as bright (if not brighter) than the full moon. Its primary color was most definitely green but it was just an ordinary fireball meteor. This was demonstrated by it producing at least one meteorite that struck a parked car. Therefore, just because a fireball is "green" does not mean it qualifies as a UFO or that it is something so exotic as to dismiss it as just a bright meteor.
UFOs or plane crashes
The potential for a fireball to be misidentified as something else is well known. All one has to do is read the UFO reports associated with known fireball events. Many of the comments show the witnesses stating it could not be a meteor for various reasons. The problem is that many observers have never seen a bright fireball before. An ordinary meteor does not appear the same as a bright fireball. I still remember my first. It was a -8 bolide that lit up the ground when I was a young astronomer at Lyrid meteor watch. It left an ion trail that lasted several minutes.
Another comment in these UFO reports is that the meteor looked like a crashing aircraft and it will sometimes be reported as such. If the meteor breaks up and lasts long enough, witnesses may produce reports of a cigar shaped craft with windows.
A good example is the fireball of November 16, 1999. This appears to have been an earth-grazing meteor that lasted 10-20 seconds. The witness reports in the NUFORC database are most interesting:
It first apeared like a large plane with a row of windows. I thought it was a plane atempting to land on the highway. As it grew closer i realized the object was to large to be a plane. In addition it had no flashing lights or landing lights. It was very long in length, possibly 200' to 500' feet. It had a row of what apeared to be windows yellow orange in color, with several lights in the front and rear the same color. It seamed to slow as it got closer to my truck, almost directly in front, about 1/4 mile away. It dipped down behind some trees, and dissapeared.
Does this kind of report sound familiar? You may recall me referring to the Zond IV incident in SUNlite 2-3. In that case it was re-entering space debris. This demonstrates
that fireballs can produce the same effects. One can easily see the similarities between this fireball observation and the famous "Chiles-Whitted" event in July 1948.
Space debris re-entries
An event very similar to fireballs and bolides are satellite/booster rocket re-entries. These enter the earth's atmosphere at much lower speeds and, as a result, they last a lot longer than meteors. While meteors rarely last longer than ten seconds, a satellite re-entry can last for tens of seconds. Because of the nature of these re-entries, there are usually are described as a formation of lights/streaks or one dark object with lights just like in the Zond IV case.
On the 14th of November 1997, there was a display put on by a Russian booster rocket re-entry it the northwest United States. Like Zond IV, a significant percentage
of the witnesses, who submitted reports to the National UFO reporting center (NUFORC), reported a large dark shape behind the lights. They were deceived by the "airship effect" just like the November 16, 1999 fireball.
A large, well lit flying wedged shaped object flying very low over my house without any noise...There were many lights outlining the wedge shape. They seemed to be about the same brightness although some appeared to be reddish while others blue. 2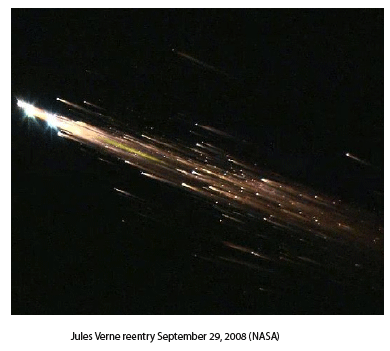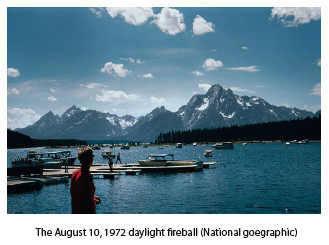 Daylight fireballs
These are rare but do happen. The August 10, 1972 fireball is a good example but a more recent case is the July 23, 2001 event in Pennsylvania. The fireball was estimated at a magnitude of -20 to -26 (almost as bright as the sun) and was photographed by at least one observer. Most of the UFO reports in the NUFORC database referred to it as a fireball or "egg-shaped object". There were a few who stated they saw it as a triangle or V-shaped object.
Data analysis
Curious, I decided to wade into the NUFORC database to see how many could have been caused by fireballs. I used the time period of July 10 to September 27 (for the years 2005-2008). This was chosen because this was when the most people would be out and it was after the fourth of July weekend when fireworks might create UFO reports that sound like meteors. There were a total of 4444 reports (by my count, which may be in error)! I initially started by examining the reports for short duration UFOs (<1 min) that sounded like meteors. I tried to avoid reports that might be Iridium flares or indicated motion that was too exotic to be a meteor. This produced a total of 431 potential fireball reports. I then decided to compare the 4444 reports with the American Meteor Society's database of fireball reports. I received a surprise when a looked at my results. I counted 184 fireball identifications. Some observations from this data revealed:
Potential fireball reports made up about 10% of all the UFO reports filed. This is fairly consistent with Hendry's data of around 9% (Number of meteors/total UFO reports of 1307)
The AMS table had a more limited scope since it involved fireball report made by a small sample of observers, who were only observing in a limited number of areas and not always during bright moon periods. The matching of their data with the NUFORC database revealed about a 4% success rate in identifying UFOs. This does not mean that the remaining 6% were not fireballs. It just means that the 6% were not observed by the AMS observers to make an accurate determination.
Some reports that I would have dis missed as not being a fireball (due to duration and details in the observation) turned out to be observations of bright fireballs.
Some bright fireballs observed by 4. AMS observer did not generate any UFO reports. That may have to do with the time of night or that UFO reporters recognized them as meteors.
Fireballs misperceived
Looking at the NUFORC reports that I identified as bright fireballs from the AMS data, I learned that some witnesses can misinterpret what they saw with all sorts of misperceived characteristics. Many will declare it could not have been a meteor because they know what one looks like. The problem is each fireball is unique and create effects that the observer may or may not be familiar with. Nobody seems to be immune to misperceiving these effects or thinking the fireball they saw was something exotic and not a meteor.
Quelle: SUNlite 5/2010