Dienstag, 31. Dezember 2013 - 14:30 Uhr
.
1978 December 26 - . 15:30 GMT - . Launch Site: Plesetsk. LV Family: R-7. Launch Vehicle: Soyuz 11A511U.
Cosmos 1068 - . Mass: 6,300 kg (13,800 lb). Nation: USSR. Agency: MOM. Class: Surveillance. Type: Military surveillance satellite. Spacecraft: Zenit-4MKM. Duration: 13.00 days. Decay Date: 1979-01-08 . USAF Sat Cat: 11169 . COSPAR: 1978-123A. Apogee: 389 km (241 mi). Perigee: 191 km (118 mi). Inclination: 62.8000 deg. Period: 90.40 min. Summary: High resolution photo reconnaissance satellite; returned film capsule; maneuverable..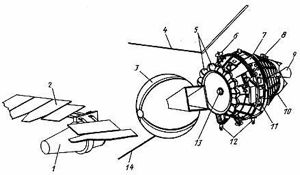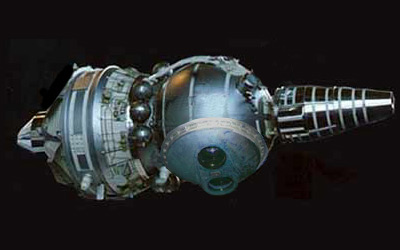 Exploded view-Zenit
Exploded View of Typical Components of a Zenit-class reconnaissance satellite:. 1 - Power module; 2 - Solar panels; 3 - SA re-entry capsule, which returns film and camera to earth; 4 - Command radio antenna; 5 - Cold gas tanks of the pressurisation/thermal control system; 6 - Radar altimeter; 7 - Equipment module; 8 - Orientation system engine; 9 - Solid rocket motor deorbit engine; 10 - Thermoregulation system radiators; 11 - Equipment frame; 12 - Infrared horizon scanner; 13 - Electrical system umbilical; 14 - Mayak system antennae
.
The sheer number of witnesses is another likely indicator of the meteoric origin of the fireball. But in other cases the re-entry into earth's atmosphere of space debris, such as rocket bodies and satellites, have led people to believe they were seeing UFOs. Possibly the best known example from the UK happened on New Year's Eve 1978, as this extract from my book The UFO Files explains:
"….The night of 31 December 1978 was cold and clear, and across the British Isles people were out of doors bringing in the New Year. A few minutes after 7.00 pm many hundreds were amazed to see a bright light with a long trail behind it streaking across the heavens on a northwest to southeast path. In the space of just a couple of hours the MoD received a total of 120 separate sighting reports and civilian UFO groups received hundreds more. The source of this spectacular flap was quickly identified by the RAF's early warning base at Fylingdales in North Yorkshire as the re-entry into Earth's atmosphere of a booster rocket that had launched a Russian satellite, Cosmos 1068, into orbit on Boxing Day. The rocket burned up over northern Europe, with pieces falling to the ground in Germany.
"Although most observers gave a sound description of the New Year's Eve UFO a few provided wildly inaccurate details, particularly of its size and altitude. Exact estimation of the height of an object in the dark sky is extremely difficult, if not impossible. For example, some observers believed the object was as low as 1,000 ft, when in reality it was many miles above the Earth. Others gave a time for their sighting that was one hour or more in error.
"Several described what they had seen in imaginative terms, for example 'cigar-shaped, very bright, with lighted windows' (Manchester), 'similar to a German V-2 rocket' (Bradford) and 'train-shaped, 120 ft long tapering at the front with 40 plus bright lights all along the side' (Newmarket). A few refused to believe the UFO was a Russian rocket at all. One, who served five years in the RAF, said he was familiar 'with meteors and re-entry of space debris [and] found it difficult to accept the [MoD's] explanation for this occurrence.'
Quelle: Dr David Clarke
.
Am 4.Januar 1979 dann in der Klagenfurter ´Kleinen Zeitung´: "Britisches UFO wahrscheinlich Überreste einer sowjetischen Rakete" - Bei dem am Silvesterabend von zahlreichen Personen über der Ostküste Großbritanniens beobachteten unbekannten Flugobjekten (UFO) handelt es sich wahrscheinlich um Überreste einer sowjetischen Rakete, die in der Atmosphäre verglühgten. Diese Ansicht vertrat am Dienstagabend das britische Verteidigungsministerium. In einem Kommunique wies das Ministerium darauf hin, dass die UdSSR am 26.Dezember den Satelliten Kosmos 1068 startete.
Quelle: CENAP-Newsticker 5.01.2009
.
"Teil eines unbekannten Flugkörpers abgestürzt - Kegelförmiger Metallgegenstand schlug in Bruchhagen auf" hieß es aus Steyerberg am 9.Januar 1979 in ´Die Harke´: Nun ist es also doch geschehen: Sicherlich waren es noch keine Besucher unbekannter Welten, die am Vorabend des gerade beendeten Jahres über dem Kreis Nienburg schwebten ("Die Harke" berichtete), doch müssen die zahlreichen Beobachtungen aufmerksamer Bürger am klaren winterlichen Nachthimmel andere, handfestere Hintergründe gehabt haben. jedenfalls schlug in der Nacht vom 31.Dezember zum 1.Januar auf einem Feld des Bruchhagener Landwirts Friedhelm Schumacher ein bisher nicht identifiziertes Teil eines Flugkörpers ein, um den sich zunächst die Polizei und jetzt andere zuständige Stellen den Kopf zerbrechen. Und so soll es sich zugetragen haben: Hilde und Friedhelm Schumacher befanden sich am Silvesterabend kurz nach 20 h auf dem Fußweg von ihrem recht einsam gelegenen Gehöft zu einer Silvesterfeier, als sie am Himmel mehrere leuchtende, still und langsam in großer Höhe vorüberziehende Objekte beobachteten. "Im ersten Moment dachten wir an Silvesterraketen, doch waren diese viel zu hoch und zudem etwa zwei Minuten lang am Himmel", erklärte Hilde Schumacher, die auch beobachtet haben will, daß die leuchtenden Himmelskörper einen leichten Bogen beschrieben. Dabei soll es sich um einen größeren und einige kleinere gelb leuchtende Körper mit rötlichem Schweif gehandelt haben. "Ich hatte Sorge, daß die Dinger auf den Hof fallen", meinte die junge Landwirtsfrau, doch sie war erleichtert, als die sich nach ihren Angaben von Nord nach Süd bewegenden Punkte das Gehöft überflogen hatten. Am anderen Morgen stutzte Hilde Schumacher, als sie etwa 200 Meter entfernt auf freiem Feld einen im Boden steckenden Metallkörper ausmachte, den sie allein kaum schleppen konnte. Gedanken über den teilweise verglühten Metall-Kegel machte man sich indes erst nach der UFO-Glosse in der "Harke", nach deren Lektüre umgehend die Polizei benachrichtigt wurde.
Schwiegermutter Else Schumacher dagegen konnte sich erinnern, in der Neujahrsnacht durch ein undefinierbares Geräusch erwacht zu sein: "Ich habe irgend etwas gehört und konnte daraufhin sehr schlecht wieder einschlafen." Nach der im gefrorenen Boden steckenden Metall-Kapsel muß der Gegenstand von Nordwest nach Südost geflogen sein, doch kann er sich auf dem Boden nach dem Aufschlag auch gedreht haben, meinten die Entdecker, die den etwa zehn Kilomgramm schweren, aus dunkelgrauem Metall in einem Stück gegossenen und am oberen Ende stark geschmolzenen Kugel zeurst sahen. Der an beiden Seiten offene Kegel hat eine Höhe von etwa 110 Zentimetern, unten einen Durchmesser von 77 und oben von 30 Zentimetern. Die doppelt geriffelte Wandung hat einen Durchmesser von etwa fünf Millimetern. Nach Bekanntwerden des Fundes sicherte die Polizei die Absturzstelle. Spezialisten der nahen niederländischen Luftwaffe nahmen danach eine Strahlenmessung vor, die dem Vernehmen nach negtaiv verlief. Wie berichtet, haben auch zahlreiche andere Mitbürger die leuchtenden Erscheinungen am klaren Silvesterhimmel gegen 20 h beobachtet, die zudem von einer Reihe von Anrufen in der Redaktion bestätigt wurden. Der Erichshagener Peter Rautenberg hatte sogar zur Uhr geschaut, als die ungewöhnlichen Himmelskörper auftauchten: "Es war genau 20:05 h, als die leuchtenden Punkte geräuschlos und recht langsam in großer Höhe in Richtung Estorf flogen." Zur gleichen Zeit stand der Steyerberger Geschäftsmann Fritz Dolle auf der dortigen Bahnhofstraße, um auf Silvestergäste zu warten. Er berichtet: "Die Himmelskörper kam aus nordwestlicher Richtung und togen nach Südost ab. Da mich das Geschehen am Firmament interessierte, sah ich genauer hin und stellte fest, daß es zwischen den Flugkörpern irgendwie funkte." Das Ganze habe etwa zehn Sekunden gedauert; dann sei alles vorbei gewesen. Der Nienburger Siegfried Wender war mit zwei Bekannten per Auto auf dem Weg nach Marklohe, als man das Leuchten am Himmel wahrnahm. "Es waren drei untereinander fliegende Leuchtpunkte, die sich ganz langsam über die B 6 in Richtung des Waldes über Wohlenhausen bewegten", sagte er. Die drei Autoinsassen hatten auf dem Lemker Berg gehalten und sahen, wie die Objekte zur Erde gingen. Ihnen war allerdings der Blick durch einen Wald verstellt. Auch in Nienburg, Haßbergen, Hassel, Stöckse, in Liebenau, Mehlbergen und weiter im Südkreis war das unbekannte Himmelstreiben auszumachen. Eine Uchterin berichtete, daß sie gegen 20 h "etwa 25 UFOs" gesehen habe. Obwohl Spekulationen über das Ereignis derzeit wie UFOs aus dem Winterhimmel schießen, wird die Möglichkeit eines nach Eintritt in die Erdatmosphäre verglühenden oder explodierenden Satelliten von vielen Beobachtern in betracht gezogen. Möglicherweise könnte es bereits die amerikanische Raumstation Skylab sein, deren Verglühen vor einiger Zeit bekanntgegeben wurde. Um was für ein Objekt -ob militärisch oder zivil- es sich wirklich handelt, wollen jetzt zuständige Stellen klären.
+ Der lange Artikel wurde von zwei Fotos begleitet, eines ist mit folgendem Text begleitet: "So hat der Metallkegel im Boden gesteckt", erklärte der 13jährige Cord Schumacher, der zusammen mit seinem gleichaltrigen Freund Karsten Windler die Absturzstelle auch bei Dunkelheit wiederfand. Das vom Firmament gefallene unbekannte Objekt wurde sofort nach Bekanntwerden von der Polizei in Sicherheit gebracht." Die zweite Aufnahme zeigt den UFO-Kegel als solches recht gut, der Text hierzu: "Dieser etwa 10 kg schwere kegelförmige, zum Teil geschmolzene Metallkörper ging nachts auf dem Acker des Bruchhagener Landwirts Schumacher nieder. Ob es sich dabei um einen Teil des US-Himmelskörpers SKYLAB oder um ein anderes Objekt handelt, wollen zuständige Stellen jetzt klären." Tatsächlich handelte es sich um einen russischen Re-Entry-Körper.
Quelle: CENAP-Newsticker 5.01.2009
.
"Schubdüse einer Rakete stürzte auf einen Acker" meldete die ´Hannoversche Allgemeine Zeitung´ am 13.Januar 1979: Bei dem etwa 1,10 Meter langen und zehn Kilogramm schweren, teilweise verglühten Metallkegel, der in der Neujahrsnacht in Bruchhagen bei Nienburg auf einem Acker gestürzt ist, handelt es sich nach Angaben des Luftfahrtbundesamtes in Braunschweig um einen Teil einer Schubdüse. Derartige Düsen befinden sich - so das B raunschweiger Amt - an "jeder normalen Rakete". Deshalb könnte über den Typ der Rakete und ihre Herkunft noch nichts gesagt werden. Der Metallkegel war zunächst als Teil eines unbekannten Flugobjekts (UFO) angesehen worden. Er befindet sich gegenwärtig im Bundesverteidigungsministerium, wo er genau analysiert wird. In Nienburg und Umgebung wird damit gerechnet, dass nach der Schneeschmelze weitere Raketenteile im südlichen Kreisgebiet und im angrenzenden Nordrhein-Westfalen gefunden werden.
Quelle: CENAP-Newsticker 5.01.2009
.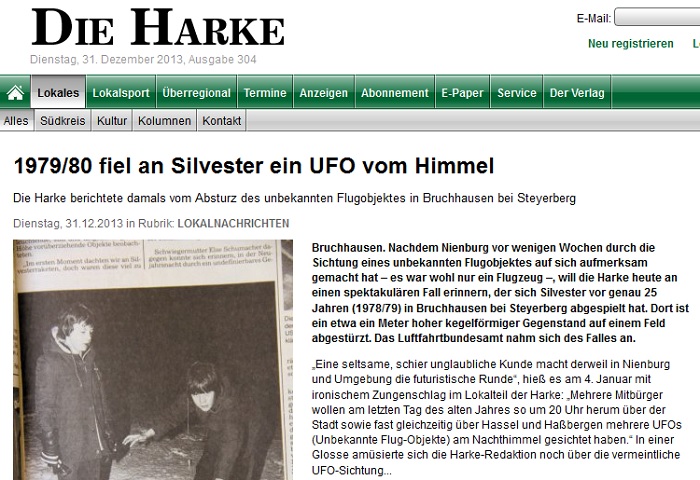 .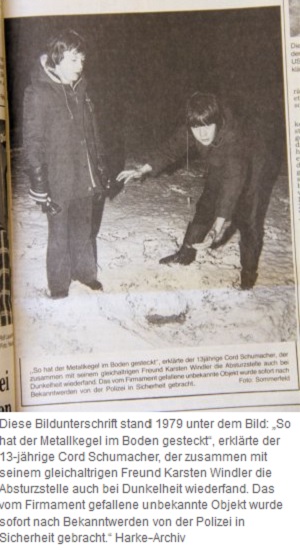 .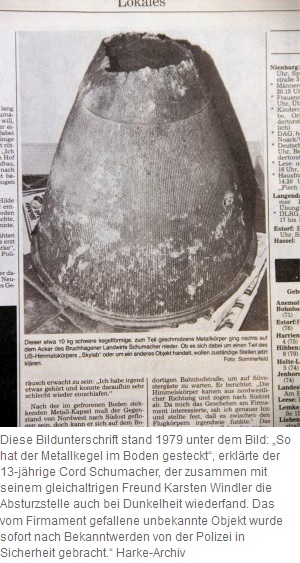 Quelle: Die Harke