ISRO officials point out that there is "no scope of error" during this nail-biting manoeuvre that will help tag India as the first Asian country to successfully reach Mars in it's maiden attempt.
ISRO´s MOM Mangalyaan wird Komet Siding Spring im Mars-Orbit am 19.Oktober beobachten
.
The passage of a comet, Siding Spring, will be the first astronomical event that the Indian Mars ORBITER Mission (MOM) spacecraft or 'Mangalyaan' will encounter once it reaches the red-planet next month. The comet that is scheduled to fly past the red planet on October 19 could pose a potential threat to the survival of the orbiter.
"After the spacecraft is captured in the Mars' ORBIT, we will encounter the Siding Spring comet that will engulf Mars in October," said AS Kiran Kumar, director Space Applications Centre, Indian Space Research Organisation (ISRO) while talking about the spacecraft that is scheduled to enter the orbit of Mars on September 24.
In a spectacular event on October 19, the MOM will encounter comet Siding Spring, that will come closer to the Red planet than any recorded comet has ever passed Earth. The comet was discovered in 2013 by Robert H McNaught at Siding Spring Observatory.
The MOM will be using the instruments onboard to observe the Siding Spring's passage and its effects on the Martian atmosphere which is much thinner that compared to Earth.
When asked if the comet's rendezvous with the red-planet was a cause of concern for the Indian spacecraft's survival, KiranKumar said, "It is one of the events. We are looking if we can take advantage of this opportunity and study the comet."
But there definitely seems to be a case of worry as NASA is already taking steps to protect it's own orbiters and rovers on the red-planet. "The comet's nucleus will miss Mars by about 82,000 miles (132,000 kilometers), SHEDDING material hurtling at about 35 miles (56 kilometers) per second. At that velocity, even the smallest particle -- estimated to be about one-fiftieth of an inch (half a millimeter) across -- could cause significant damage to a spacecraft," states a recent press release by American space agency whose MAVEN (Mars Atmosphere and Volatile Evolution) spacecraft will enter the Mars' orbit on September 21, a few days ahead of ISRO's MOM.
"MAVEN will study gases coming off the comet's nucleus into its coma as it is warmed by the sun. MAVEN also will look for effects the comet flyby may have on the planet's upper atmosphere and observe the comet as it travels through the solar wind," states the NASA's release adding that NASA was repositioning it's Mars Reconnaissance Orbiter and Mars Odyssey orbiter. It however, does not expect any "HAZARD" from the comet to Opportunity and Curiosity rovers positioned on the planet's surface.
Quelle: TFE
.
Update: 11.08.2014
.
Orbiter to reach Mars in 46 days
Hyderabad: The Mars ORBITER, launched in 2013 by  the Indian Space Research Organisation has completed 88 per cent of its journey and will face the most crucial phase on the morning of September 24. "Between 7 am to 9 am on September 24, the Orbiter will have to reduce its velocity and enter the orbit of Mars," said Isro chairman Dr K. Radhakrishnan.
"The challenge is that its propulsion system should restart after being switched off for 300 days," he added
He said there was no fear of the Siding Spring comet that is expected to fly by Mars around the same time. Nasa's Mars Atmosphere and Volatile Evolution will enter Mars' ORBIT three days before Mangalyaan he said, adding that Nasa has said it is taking  steps to prevent damage from the comet.
Chennai: India's Mars Orbiter spacecraft has completed 90 percent of its journey to the red planet while scientists are gearing up to meet the challenge of restarting the onboard liquid fuel engine, an official said on Thursday.
"The spacecraft has completed 90 percent of its journey to Mars. On September 14, its trajectory would be corrected," a senior official of Indian Space Research Organisation (ISRO), said.
According to him, on September 24, the spacecraft is slated to enter into the Mars orbit.
On September 24, the manoeuvring of the spacecraft will begin around 7.30am. The spacecraft's speed will be reduced from the current velocity so that the Mars Orbiter enters into the orbit.
The official said restarting the onboard liquid fuel engine will be a challenging task as it was dormant for nearly 300 days.
"However, necessary redundancy and other measures have been incorporated in the spacecraft design and we hope, not to face much problem in restarting the engine," he said.
The ISRO officials said the spacecraft and its payloads are in good condition.
Of the total Rs450 crore budget on the project, India has spent Rs349 crore on its Mars Orbiter Mission as on March 31, 2014.
The Mars Orbiter was launched on November 5, 2013.
Now 27 days are left for India's Mars Orbiter to enter into the orbit of the Red Planet.
Quelle: F-India
Mars Mission completes 300 days in space
In a major boost to the Indian scientific community, the Mars Orbiter Mission (Mangalyaan), on its maiden tryst with the red planet, has completed 300 days of its journey in space and is just 23 days away from reaching its intended orbit. "Mars Orbiter Mission completes 300 days in space. Just 23 days more to reach Mars", Indian Space Research Organisation said in its micro-blogging site.
It said the spacecraft has travelled 622 million km in its heliocentric trajectory towards Mars. It is now 199 million km away from Earth and is travelling at a velocity of 22.33 km a second with respect to the distance from the Sun. "MoM and its payload are in good health," ISRO said. 
The Rs 450-crore project was launched from Sriharikota in Andhra Pradesh from the old workhorse Polar Satellite Launch Vehicle (PSLV) on November 5, 2013 with the aim of reaching the red planet's atmosphere by Sept 24, traversing 680 million km.
Last week ISRO scientists said the spacecraft had completed 90% of its journey towards Mars. On September 24, the scientists will undertake a "challenging task" when they would restart the on board liquid engine, which has been in sleep mode for nearly 10 months, for Mars Orbit insertion.
The project is expected to provide the scientific community better opportunities in planetary research.
Update: 7.09.2014
.
Isro will do a test fire of engine on Sept 22
Nearly 41 hours ahead of the actual insertion of Mangalyaan into Mars, the Indian Space Research Organisation (Isro) is bracing itself for a test fire of the LIQUID apogee motor (LAM) inside the spacecraft on September 22.
The spacecraft is slated to enter the Mars atmosphere on September 24 at around 7.30am. The 440 Newton engine inside the spacecraft has been lying idle for nearly 300 days. The first prolonged firing of the engine that occurred on November 29 last year,  had catapulted the spacecraft out of its geocentric orbit into a heliocentric orbit.
"Yes, we will do a test fire of the 440N LIQUID apogee motor (LAM) on board the spacecraft on September 22. There are many strategies that have to be planned.
Different groups are working on it and we will finally know the minute details  next week," Isro chairman K Radhakrishnan told HT.
According to sources in Isro, the test firing that will be done for nearly 4 seconds will ascertain  if all the connections are proper. "The oxidiser and fuel VALVES have to be connected to the LAM."
As per the latest update on the facebook page of Isro, Mangalyaan is less than 6 million km away from Mars and is travelling with a velocity  of 22 km/sec.
On November 5 last year, Isro put Mangalyaan on an 11-month journey to find evidence of life on the Red Planet and position itself as a budget player in the global space race.
Probes to Mars have a high failure rate. Of the 51 missions so far, only 21 have been successful. A similar MISSION by China, which beat India to the moon, failed in 2011. Only the US, Europe and Russia have sent probes that have orbited or landed on the planet.
Quelle: hindustantimes
.
Hello Mars, here comes India
Our fingers are crossed as our space scientists prepare to wake the hibernating engine from safe mode on Mangalyaan on Monday. They can rest assured that it is only for good luck that we make the gesture since we have implicit trust in their technological capabilities, which are nearing their apotheosis in putting the Mars Orbiter Mission in place around the Red Planet. It is a moot point whether the height of Indian achievement in the last several thousand years will come to be represented by the Orbiter circling Mars or the composing of the Upanishads.
The cost at which our engineers have pioneered space exploration — the standing joke is the Indian Mars mission cost less than the making of Gravity, the most recent award-winning movie on space travel — is a feather in their caps. The picture of a rocket travelling to the launch pad in Thumba on a bicycle will remind us of the most humble beginnings of India's ambition to become a space power. On Wednesday, Mangalyaan will join Nasa's Maven (Mars Atmosphere and Volatile Evolution Orbiter), which should have synched perfectly into Mars orbit some time on Sunday after a 10-month and 442-million-mile journey.
While Maven will be devoted to studying the upper atmosphere of Earth's neighbour to understand how the Martian climate changed from an assumed life-supporting presence of flowing water and minerals that will form only in water, Mangalyaan will also be checking for methane in the Martian atmosphere since that gas is known to indicate that life may be supported. How satisfying would it be to know that we are not alone in this Universe even if an alien is probably far different from the standard dimensions of life as we know them?
The argument over whether a developing country like India can afford space exploration is too narrow-minded. The importance of a scientific temperament cannot be overstated. The fact that so many countries are reaching out to space to understand more of how we came to be as an intelligent life form should be ample proof of the importance of mankind's exploration of the limits of its knowledge and curiosity about celestial wonders.
And then there is, of course, the theory that Mars is possibly the next most habitable planet if ever we have to abandon Earth. If by studying Mars we can form some idea of how to deal with climate change — a planet that once possessed flowing water is today cold and dry because gas escaped from its atmosphere — then maybe science can help man live better on his own planet. Little wonder then that our eye will, figuratively, be on the sky over the next few crucial days as we wait for Isro to say that it has, once again, executed its mission to perfection.
.

Mangalyaan engine test-fire successful, all set for Mars now
Before the test-firing, Annadurai, programme director at Isro, told Hindustan Times: "The test firing is like a trial. The dormant engine has to be brought back to life. It is a challenge but if one is prepared well for the exam, the confidence for success is higher."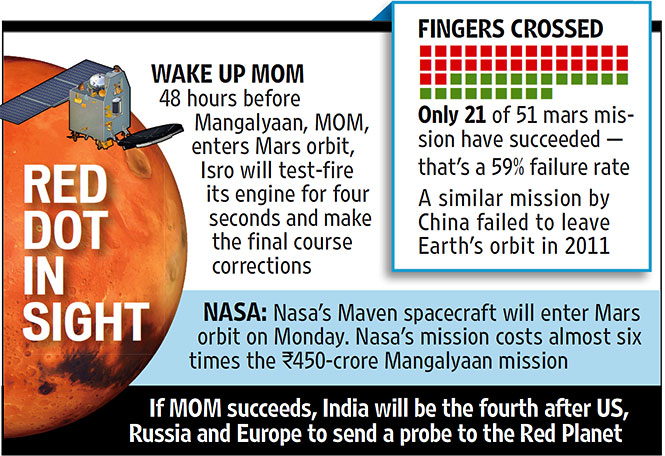 The nail-biting prelim was carried out at 2:30pm when the craft's 440 Newton Liquid Apogee Motor engine, which has been idle for 300 days, was fired up for four seconds. The fourth and final trajectory corrections were also made.
"The engine will be fired for nearly 4 seconds and almost half a kg of fuel will be needed for this operation," says Koteshwar Rao, scientific secretary, Isro before the test-firing
On September 24 it will be put in action along with eight thrusters to slow down Mangalyaan so it can be injected into a safe orbit around the Red Planet.
Isro launched the Mangalyaan on November 5 to find evidence of life on Mars. If the spacecraft makes it, India will be the fourth after US, Russia and Europe to reach the Red planet. Once in orbit, the craft's five payloads will take pictures and collect data for the next six months.
Probes to Mars have a high failure rate. Of the 51 missions so far, only 21 have succeeded. A similar mission by China failed in 2011.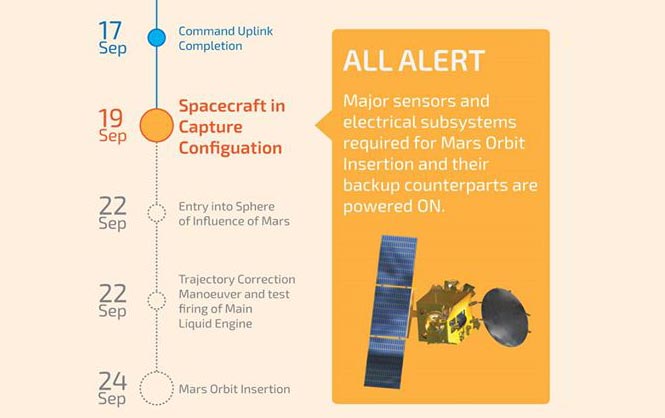 Quelle: Hindustan Times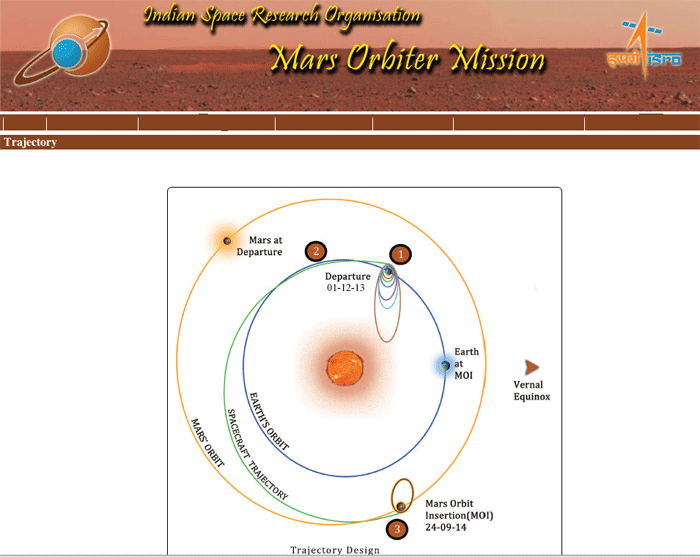 .
The spacecraft configuration is a balanced mix of design from flight proven IRS/INSAT/Chandrayaan-1 bus. Modifications required for Mars mission are in the areas of Communication, Power, Propulsion systems (mainly related to Liquid Engine restart after nearly 10 months) and on-board autonomy.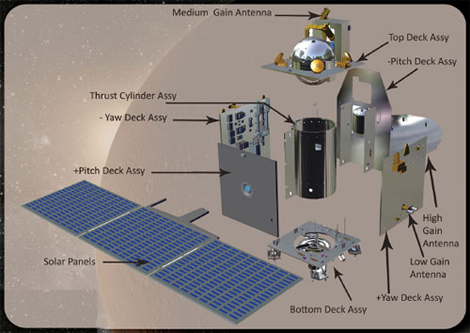 Disassembled View of Spacecraft
390 litres capacity propellant tanks accomodate a maximum of 852 kg of propellant which is adequate with sufficient margins.
A Liquid Engine of 440 N thrust is used for orbit raising and insertion in Martian Orbit.
The spacecraft requires three solar panels (size 1800 X 1400 mm) to compensate for the lower solar irradiance.
Antenna System consists of Low Gain Antenna (LGA), Medium Gain Antenna (MGA), and High Gain Antenna (HGA). The High Gain Antenna system is based on a single 2.2 meter reflector illuminated by a feed at S-band. It is used to transmit/receive the Telemetry, Tracking and Commanding (TTC) and data to/from the Indian Deep Space Network
On-board autonomy functions are incorporated as the large distance does not permit real time interventions.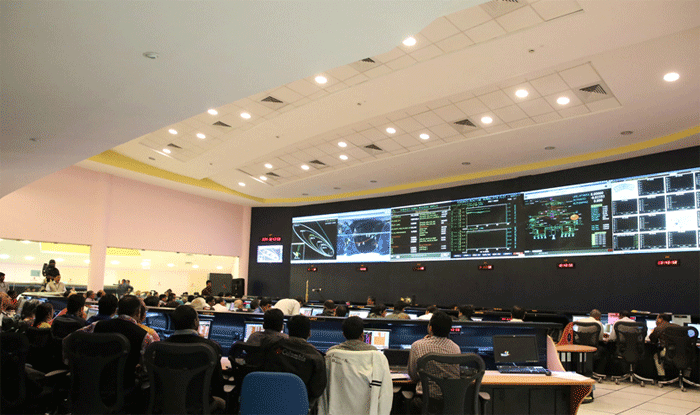 A view of Mars Orbiter Spacecraft Control Centre during Trans Mars Injection Operations

Quelle: ISRO
.
Update: 24.09.2014 
.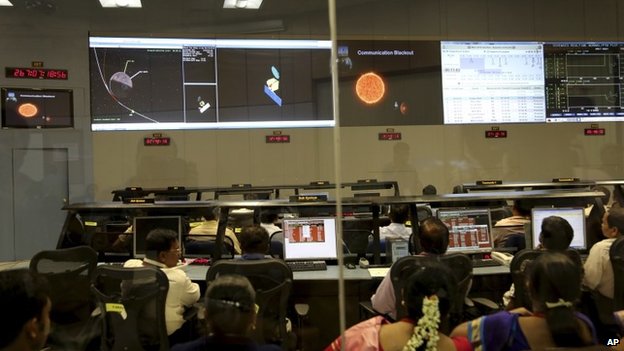 India has successfully put a satellite into orbit around Mars, becoming the fourth country to do so.
The Mangalyaan robotic probe, one of the cheapest interplanetary missions ever, will soon begin work studying the Red Planet's atmosphere.
A 24-minute engine burn slowed the probe down enough to allow it to be captured by Mars' gravity.
Indian Prime Minister Narendra Modi said the country had achieved the "near impossible".
Speaking at the mission control centre in the southern city of Bangalore he said: "The odds were stacked against us. Of 51 missions attempted in the world only 21 have succeeded. We have prevailed."
Only the US, Europe and Russia have previously sent missions to Mars, but India is the first country to succeed on its first attempt.
The latest US satellite, Maven, arrived at Mars on Monday.
US space agency Nasa congratulated its Indian counterpart, the Indian Space and Research Organization (Isro), on Wednesday's success.
"We congratulate @ISRO for its Mars arrival! @MarsOrbiter joins the missions studying the Red Planet," the agency tweeted.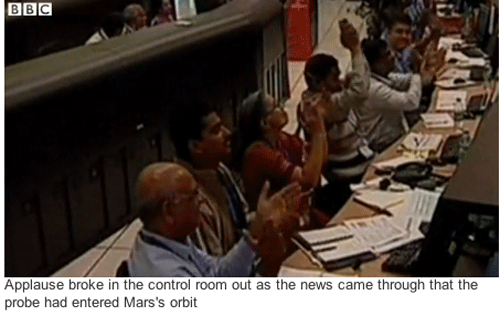 From early in the morning, there was an atmosphere of excitement and tension at the Indian Space Agency's Mission Tracking Centre in Bangalore.
Scientists, many of them women and several of them young, were seated in front of their computer monitors tracking the progress of Mangalyaan.
Giant screens above their heads fed a steady stream of data, graphics and sequence of operations. The first whoops broke out when Mangalyaan successfully fired up its liquid engine, the first in a series of critical moves to make sure that the spacecraft was able to launch into the planet's gravitational pull.
Then there was an agonising 20 minutes, when Mangalyaan disappeared behind Mars and beyond contact.
But there was no mistaking the moment, when the scientists all rose as one, cheered, clapped, hugged each other and exchanged high fives - ­ confirmation that Mangalyaan was now on an elliptical orbit around Mars.
After PM Modi's congratulations, they poured out into the open and the bright sunlight, beaming as they took in the adulation.
"Thrilled to be a part of history," one young scientist told me. "It's like hitting a golf ball from Bangalore to London and getting it into the hole in one go," deputy operations director, BN Ramkrishna said. "It's got to be that precise."
Mr Modi congratulated the scientists and said: "Today all of India should celebrate our scientists. Schools, colleges should applaud this."
"If our cricket team wins a tournament, the nation celebrates. Our scientists' achievement is greater," he said.
The total cost of the Indian mission has been put at 4.5bn rupees ($74m; £45m), which makes it one of the cheapest interplanetary space missions ever. Nasa's recent Maven mission cost $671m.
The Mangalyaan probe will now set about taking pictures of the planet and studying its atmosphere.
One key goal is to try to detect methane in the Martian air, which could be an indicator of biological activity at, or more likely just below, the surface.
Nasa has put four robot rovers on Mars since 1997 - the latest and biggest of them all, the one-tonne vehicle known as Curiosity, landed on the Red Planet in August 2012. Unlike Curiosity, the Indian probe will not land on Mars.
Mangalyaan - more formally referred to as Mars Orbiter Mission (MOM) - was launched from the Sriharikota spaceport on the coast of the Bay of Bengal on 5 November 2013.
Quelle: BBC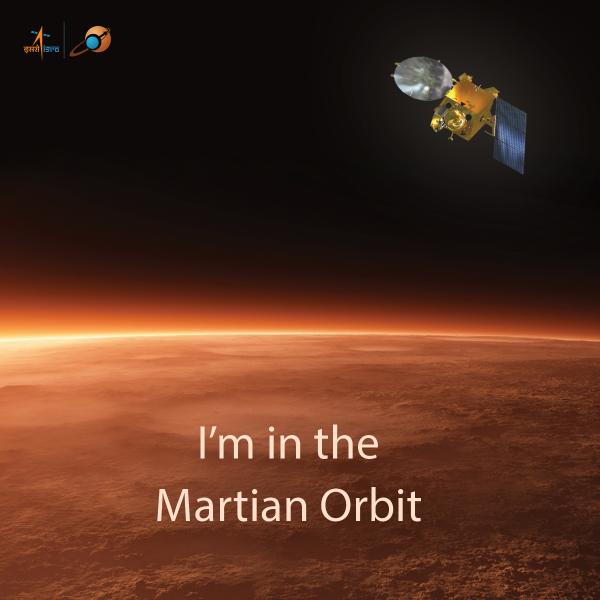 ISRO creates history with Mars Mission
India on Wednesday became the first country to successfully put a spacecraft around Mars in its first attempt. The ambitious Rs. 460 crore Mars Orbiter Mission (MOM), launched on November 5 last year, had a perfect Mars Orbit Insertion (MOI) to get captured into the Mars orbit.
The Liquid Apogee Motor (LAM) and the eight small thrusters on board India's orbiter to Mars ignited on time at 7.17 a.m. The spacecraft's velocity was slowed down 1.09 metres per second against the targeted 1.1 metres per second. At the end of the burn-time of 24 minutes, the spacecraft was inserted into the Martian orbit.
"The periapsis achieved was 427 km and the apoapsis was 78,500 km. The final values will be obtained after several hours," said Mission Director, MOM, V. Kesava Raju.
Prime Minister Narendra Modi, who arrived in Bangalore on Tuesday night for another engagement, spent nearly two hours watching India's moment of glory.
"India has successfully reached Mars. History has been created today. We have reached the unknown and achieved the impossible," Mr.Modi said.
Quelle: The Hindu
.
Mars Orbiter Spacecraft Successfully Inserted into Mars Orbit
.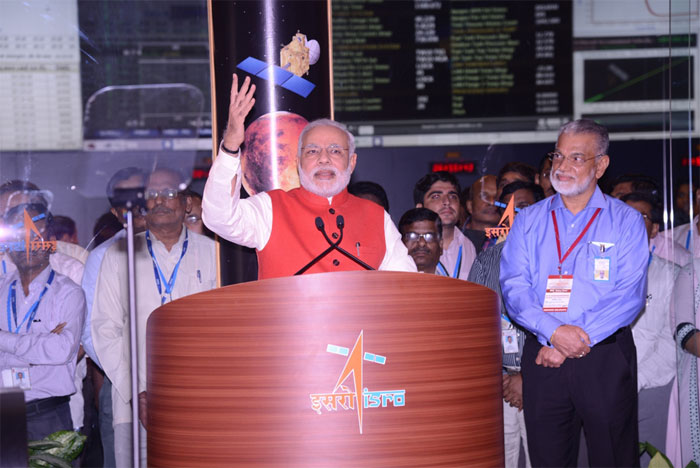 India's Mars Orbiter Spacecraft successfully entered into an orbit around planet Mars today morning (September 24, 2014) by firing its 440 Newton Liquid Apogee Motor (LAM) along with eight smaller liquid engines. This Liquid Engines firing operation which began at 07:17:32 Hrs IST lasted for 1388.67 seconds which changed the velocity of the spacecraft by 1099 metre/sec. With this operation, the spacecraft entered into an elliptical orbit around Mars. Honourable Prime Minister of India, Mr Narendra Modi, was present at ISRO's Telemetry, Tracking and Command Network (ISTRAC) in Bangalore to witness this important event. Other dignitaries who were present at ISTRAC include His Excellency Governor of Karnataka, Mr Vajubhai R Vala, Hon'ble Minister of Railways, Mr D V Sadananda Gowda, Hon'ble Minister of Chemicals and Fertilizers, Mr Ananth Kumar, Hon'ble Chief Minister of Karnataka, Mr Siddaramaiah, Hon'ble Minister of State (Space), Dr Jitendra Singh, Hon'ble Minister of State for Civil Aviation, Mr G M Siddeswara, Hon'ble Member of Parliament, Mr Prahlad V Joshi, Hon'ble Minister of Transport, Government of Karnataka, Mr Ramalinga Reddy and Hon'ble Member of Legislative Assembly, Government of Karnataka, Mr Muniraju S. Prof U R Rao, former chairman, ISRO and Prof Yash Pal, former director, Space Applications Centre, were also present. 
The events related to Mars Orbit Insertion progressed satisfactorily and the spacecraft performance was normal. The Spacecraft is now circling Mars in an orbit whose nearest point to Mars (periapsis) is at 421.7 km and farthest point (apoapsis) at 76,993.6 km. The inclination of orbit with respect to the equatorial plane of Mars is 150 degree, as intended. In this orbit, the spacecraft takes 72 hours 51 minutes 51 seconds to go round the Mars once. 
Mars Orbiter Spacecraft was launched on-board India's workhorse launch vehicle PSLV on November 05, 2013 into a parking orbit around the Earth. On December 01, 2013, following Trans Mars Injection (TMI) manoeuvre, the spacecraft escaped from orbiting the earth and followed a path that would allow it to encounter Mars on September 24, 2014. 
With today's successful Mars Orbit Insertion operation, ISRO has become the fourth space agency to successfully send a spacecraft to Mars orbit. In the coming weeks, the spacecraft will be thoroughly tested in the Mars orbit and the systematic observation of that planet using its five scientific instruments would begin.
Quelle: ISRO
.
Update: 25.09.2014
.
NASA Administrator Statement About India's Mars Orbiter Mission
The following statement is from NASA Administrator Charles Bolden about India's Mars Orbiter Mission (MOM):
"We congratulate the Indian Space Research Organisation for its successful arrival at Mars with the Mars Orbiter Mission.
"It was an impressive engineering feat, and we welcome India to the family of nations studying another facet of the Red Planet. We look forward to MOM adding to the knowledge the international community is gathering with the other spacecraft at Mars.
"All space exploration expands the frontiers of scientific knowledge and improves life for everyone on Earth. We commend this significant milestone for India."