.
17.05.2015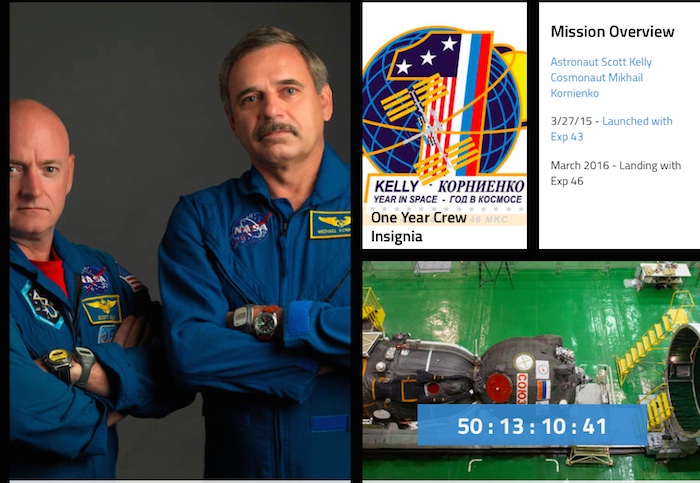 .
Station to Raise Orbit before June Expedition 43 Undocking
.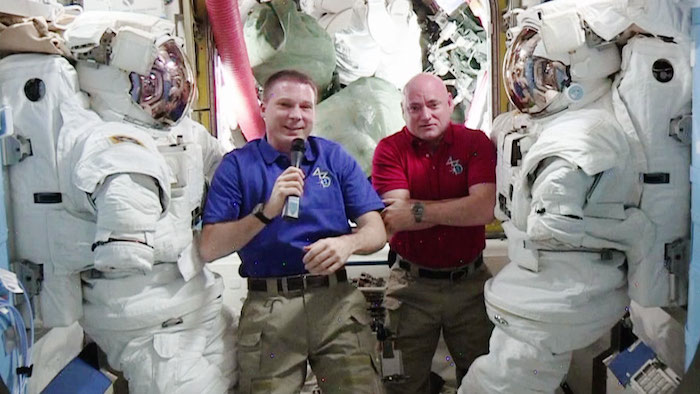 Astronaut Terry Virts and Scott Kelly were inside the Quest airlock Friday morning talking to reporters from The Weather Channel and Time Magazine . Credit: NASA TV
.
The six-member Expedition 43 crew ends its work week with a wide variety of science exploring life in space benefiting both crews in space and humans on Earth. Meanwhile, one space freighter is preparing to fire its thrusters to lift the station's orbit as another is being packed and readied for splashdown.
One-Year crew members Scott Kelly and Mikhail Kornienko participated in the Fine Motor Skills experiment which monitors different phases of a crew member's microgravity adaptation and recovery back on Earth. Commander Terry Virts took samples of air and surface microbes for the Microbial Observatory-1 study which will be analyzed by scientists on the ground.
Samantha Cristoforetti studied the physics of where fluids and gases meet in Japan's Kibo lab module. Flight Engineer Gennady Padalka worked on video gear and tested magnetometers in the station's Russian segment. Flight Engineer Anton Shkaplerov studied chemical reactions in the Earth's atmosphere, checked Russian docking systems and photographed windows in the Pirs and Poisk modules.
The ISS Progress 58 resupply ship docked to the Zvezda service module will fire its engines Friday night. The orbital boost will place the International Space Station at the correct altitude for the undocking of Expedition 43 in early June. The SpaceX Dragon loaded with science and gear will be released from the grips of the Canadarm2 May 21 at 7:05 a.m. EDT for a splashdown in the Pacific Ocean a few hours later.
Quelle: NASA
.
Update: 20.05.2015
.
Three ISS crewmembers to return to Earth on June 11
The landing was initially scheduled for May 14, but was postponed after the Progress M-27M cargo spacecraft crashed earlier in 2015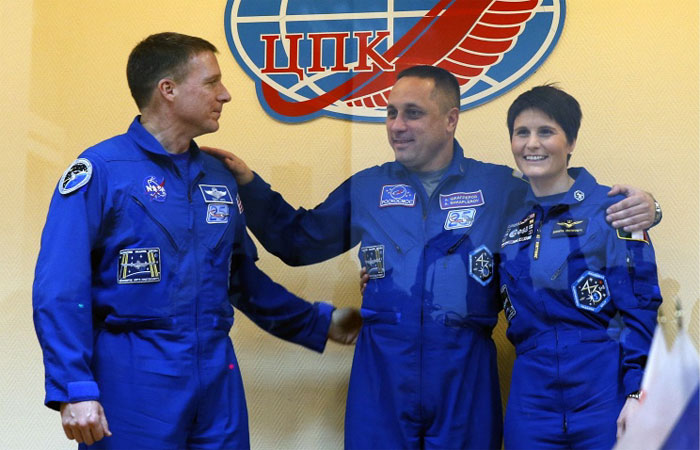 US astronaut Terry Virts, Russian cosmonaut Anton Shkaplerov and European astronaut Samantha Christoforreti
The Soyuz TMA-15M spacecraft with three International Space Station (ISS) crewmembers onboard will land on June 11, a source in the space industry told TASS on Tuesday.
"The spacecraft is planned to undock from the Rassvet module of the station's Russian segment at 1:51am Moscow time. The landing is planned for around 5am," the source said.
Several media reported earlier that the Soyuz will land at 4:40pm on June 11.
The source noted that scheduled landings always take place at dawn, so that the Mission Control Center has enough time to adjust in case of plan changes and rescuers - for search works.
The landing was initially scheduled for May 14, but was postponed after the Progress M-27M cargo spacecraft crashed earlier in 2015.
The Soyuz-2.1a carrier rocket with the Progress space freighter blasted off from the Baikonur space center in Kazakhstan on April 28. However, the carrier rocket failed to put the cargo ship into a designated orbit and Russia's Mission Control lost communications with the space freighter that was intended to deliver supplies to ISS.
The Progress cargo ship burnt up in the dense layers of the Earth's atmosphere over the Pacific Ocean in the morning of May 8. Roscosmos space agency later said the accident had been caused by the "off-nominal separation of the third stage of the Soyuz and Progress space vehicles" as a result of the fuel tanks' depressurization.
Currently working at ISS are Russian cosmonauts Anton Shkaplerov, Gennady Padalka, Mikhail Korniyenko, US astronauts Terry Virts and Scott Kelly and European astronaut Samantha Christoforreti. Shkaplerov, Virts and Christoforetti will return to the Earth on the Soyuz spacecraft.
Three astronauts will be delivered to ISS later this year. Soyuz TMA-17M manned spacecraft will be launched to ISS on July 24, the source told TASS. "For now, the launch is planned for 11:17pm Moscow time on July 24," the source noted, adding that two more Soyuz launches are planned later this year - on September 1 and December 15.
The Soyuz launched on July 24 will take Russian cosmonaut Oleg Kononenko, Japanese astronaut Kimiya Yui and US astronaut Kjell Lindgren to ISS.
Progress M-28M cargo spacecraft will be launched into the orbit on July 3, followed by Progress M-29M on September 21 and new version Progress-MS on November 21.
.
Update: 5.06.2015
.
Russian space agency confirms ISS crew's return due June 11
Originally, the re-entry capsule was to bring back three ISS crewmembers on May 14
The return of the ISS crew is scheduled for June 11, Roscosmos chief Igor Komarov told the media.
"The ISS expedition 42-43 is returning to Earth on June 12," Komarov said.
Three crew members Russia's Anton Shkaplerov, European Space Agency's Samantha Cristoforetti and US astronaut Terry Virts are to return to Earth.
Earlier, a source in the space rocket industry mentioned June 11 as a likely return date.
Originally, the re-entry capsule was to bring back three ISS crewmembers on May 14. The loss of the Progress M-27M cargo vehicle at the end of April caused a postponement.
At the moment the ISS has a crew of six - Russia's Anton Shkaplerov, Gennady Padalka and Mikhail Korniyenko, US astronauts Terry Virts and Scott Kelly and European space agency's Samantha Cristoforetti.
Quelle: TASS
.
Update: 7.06.2015
.
Italian astronaut on space station sets new mission duration record by a woman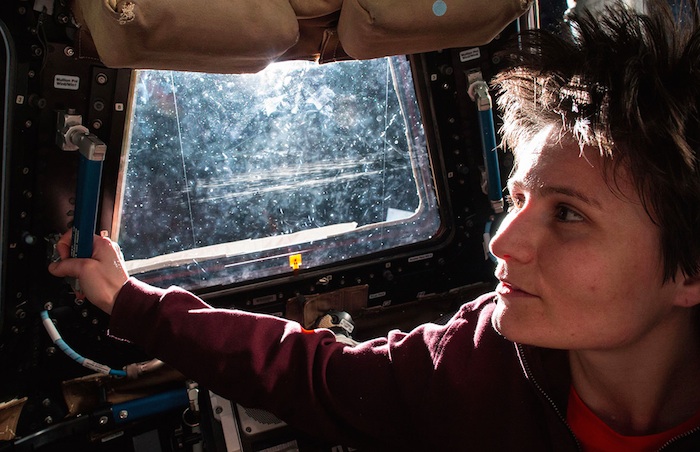 European Space Agency astronaut Samantha Cristoforetti enjoys another sunrise aboard the International Space Station. On June 6, she set a mission duration record for women in space. (NASA)
A 38-year-old Italian astronaut has broken the record for the most time in space on a single mission by a woman. And she still has five more days until she is scheduled to return home to Earth.
Samantha Cristoforetti set the record on Saturday (June 6) at 11:04 a.m. EDT (1504 GMT), surpassing the 194 days, 18 hours and 2 minutes logged by NASA astronaut Sunita "Suni" Williams onboard the International Space Station in June 2007. If Cristoforetti's flight home on Thursday (June 11) proceeds as planned, she will have been in space for 199 days, 16 hours and 42 minutes in total — give or take a few minutes based on when her Soyuz spacecraft lands on the steppe of Kazakhstan.
The record-setting stay wasn't something that Cristoforetti was anticipating when she lifted off for the space station last year.
Flying for the European Space Agency (ESA), Cristoforetti launched with two crewmates — Anton Shkaplerov of the Russian federal space agency Roscosmos and astronaut Terry Virts of NASA – on Nov. 23, 2014 from the Baikonur Cosmodrome in Kazakhstan. They had been scheduled to depart the space station and return to the Earth on May 12 after spending 170 days in orbit.
But the loss of a Russian cargo craft, Progress M-27M, in late April resulted in a delay. Russia postponed the launch of the next Soyuz crew to July and extended Cristoforetti's and her crewmates' stay on orbit as the investigation into the Progress failure continued.
As a result, Cristoforetti not only set the women's record, but also the record for the longest uninterrupted flight by an ESA astronaut. On Friday (June 5), her stay exceeded the 192 days, 18 hours and 58 minutes achieved by Dutch astronaut André Kuipers in July 2012.
Cristoforetti, when she lands, will rank 74th in the world for the most time spent in space, out of the 538 women and men who have orbited the Earth to date. She is the 59th woman to fly in space.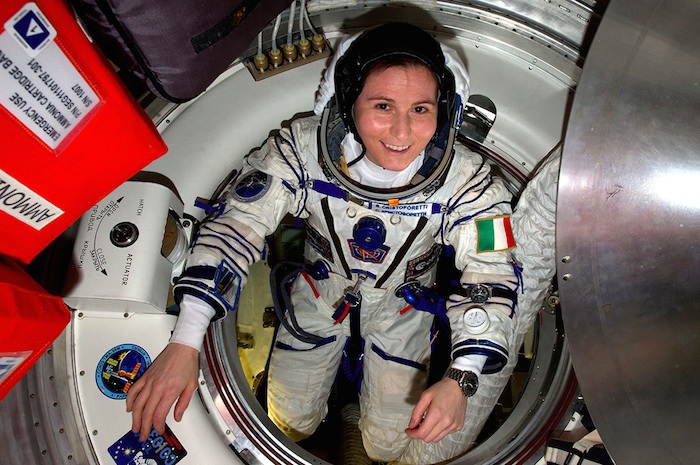 As now scheduled, Samantha Cristoforetti will return to Earth on June 11, 199 days after her launch to the space station. (ESA)
By comparison, the overall record holder for the most time in space on one mission is Soviet-era cosmonaut Valery Polyakov, who logged 437 days, 17 hours and 58 minutes on Russia's space station Mir in 1995. Polyakov was the third person in history to log a year (or more) off the planet on a single flight, of which there have been four in total, all Russian cosmonauts.
Two of Cristoforetti's crewmates, astronaut Scott Kelly of NASA and Roscosmos cosmonaut Mikhail Kornienko, are currently three months into the first yearlong expedition on the International Space Station.
The longest duration achieved on multiple missions, more than two years, was logged by cosmonaut Sergei Krikalev over the course of his six missions. U.S. astronaut Peggy Whitson holds the cumulative female record for most time spent in space on multiple flights with 376 days and she is now training to launch on her third flight in March 2016.
Cristoforetti has set more than duration records during her Expedition 42/43 stay on the station, a mission that ESA named "Futura." The first Italian woman in space, she was also the first astronaut to sip from a freshly-brewed cup of espresso thanks to the orbital outpost's new Italian coffee machine.
3355 Views