11.03.2018
Swarm Technologies reportedly didn't get a license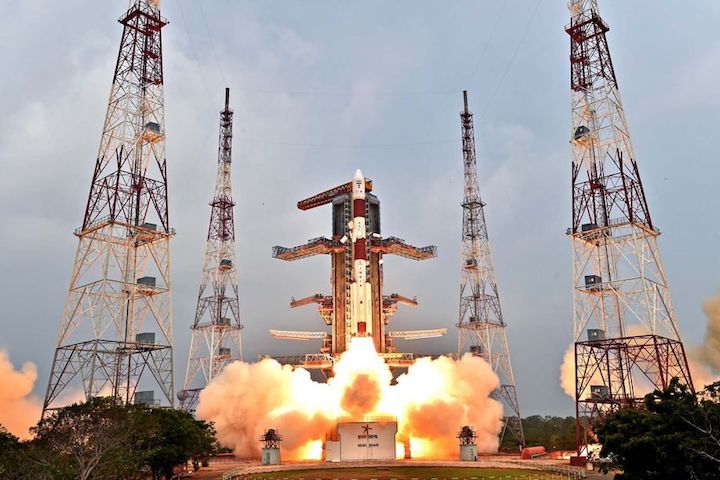 Earlier this year, a space startup from Silicon Valley launched four of its first prototype communications satellites on top of an Indian rocket. Except the FCC says that the company didn't have authorization to send up those spacecraft from the US government, IEEE Spectrum reports. It would seemingly mark the first time a US private company launched un-licensed satellites into orbit — and these rogue spacecraft could pose a danger to other objects in space.
The four satellites reportedly belong to a fledgling company called Swarm Technologies, which was started by former Google and NASA JPL engineer Sara Spangelo in 2016. The probes, dubbed SpaceBees 1, 2, 3, and 4, are meant to test out Swarm's idea for a "space-based Internet of Things" network, according to IEEE, and went up as part of a cluster of 31 satellites aboard an Indian Polar Satellite Launch Vehicle (PSLV) rocket on January 12th. At the time of the launch, India's space agency didn't name the operator of the four satellites.
Whenever US commercial companies want to send a satellite into orbit, they must apply for a license with the Federal Communications Commission, to get access to the radio frequencies needed to communicate with the satellite. The same goes for international companies hoping to do business with their spacecraft in the US, too. Swarm Technologies did initially seek government approval to launch these spacecraft. However, Swarm's application was denied a month prior to the January launch, according to a letter from Anthony Serafini, the chief of the experimental licensing branch at the FCC.
The denial revolved around the size of the SpaceBee satellites. The four satellites are teeny — smaller than the standard CubeSat, which is about 4 inches (10 centimeters) in all three dimensions. The FCC was concerned that this would make the satellites hard to track with the Space Surveillance Network (SSN) — an array of ground-based radar operated by the US military that tracks all of the space debris in orbit. "If they're difficult to track... and you want to know in the future: 'Is it going to hit my satellite?' — the answer might be erroneous because we don't have a good orbit for them or we just don't know where they are," Brian Weeden, space expert at the Secure World Foundation, a nonprofit that specializes in space security, tells The Verge.
Swarm Technologies proposed adding additional tech to its satellites to make them easier to track — such as radar reflectors that would enhance the spacecrafts' signal to the surveillance network — but ultimately the FCC didn't approve. Now, the FCC is looking into the situation and told the company the department is putting Swarm's application for a follow-up mission on hold. Swarm is aiming to launch another batch of four satellites on an upcoming flight of an Electron rocket, a new vehicle from US startup Rocket Lab that takes off from New Zealand. But first the FCC wants to assess the "impact of the applicant's apparent unauthorized launch and operation of four satellites," according to an email from Serafini.
"We're aware of the situation and can confirm that we set aside their grant while we're looking into the matter," the FCC told CNBC in a statement. Additionally, Rocket Lab told CNBC that it won't be launching anyone who doesn't have proper licensing. We've reached out to Swarm Technologies for comment and will update if we hear back.
Swarm's launch with India seems to have been set up by Seattle-based company Spaceflight, which helps satellite operators find ride-shares to space for their vehicles. Spaceflight told IEEE Spectrum that it "has never knowingly launched a customer who has been denied an FCC license. It is the responsibility of our customers to secure all FCC licenses."
Technically, an FCC license is meant to grant companies use of the radio frequency spectrum. However, the agency is allowed to consider how a satellite will add to the space debris problem when issuing these licenses. In fact, the Federal Aviation Administration has partial authority on this too when it issues licenses for commercial rockets. The agencies were given this authority mostly because they've been doing licensing for such a long time — and there was no one else to do it. "Part of getting your license is you need to present compliance with debris mitigation guidelines," says Weeden. "It's just because that was sort of the path of least resistance to actually implement. Giving a new agency a new regulatory authority over just orbital debris would have required changing the law."
Even though both the FCC and FAA can consider space debris during the licensing process, the two agencies do not have full authority over what companies do in space. "At the moment no US entity has oversight over on-orbit activities," says Weeden. "It's all done pre-launch licensing." In fact, this is a good illustration of a strange regulatory gap that's plagued the space industry: there's no framework in place for how the government will oversee ambitious commercial missions in orbit.
The Trump administration has proposed a way to fix this. Officials at the most recent National Space Council meeting, suggested creating "one-stop shop for space commerce" at the Commerce Department, which would come up with regulations to oversee operations in space.
In the meantime, the repercussions for Swarm Technologies are still unclear. There isn't much precedent for this, so it's uncertain whether the government can do more than just withhold future licenses from the company.
Quelle: The Verge
2354 Views