6.03.2018

Experience the Launch of the SpaceX CRS-14 Cargo Mission
Social media users are invited to register to attend the launch of the SpaceX Falcon 9 rocket carrying the Dragon spacecraft from Space Launch Complex 40 at Cape Canaveral Air Force Station (CCAFS) in Florida. This launch, currently targeted for no earlier than April, will be the next commercial cargo resupply services mission to the International Space Station.
If your passion is to communicate and engage the world via social media, then this is the event for you! Seize the opportunity to be on the front line to blog, tweet or Instagram everything about SpaceX's 14th mission to the space station. In addition to supplies and equipment, the Dragon spacecraft will deliver several science investigations to the station.
A maximum of 40 social media users will be selected to attend this one-day event, and will be given access similar to news media.
NASA Social participants will have the opportunity to:
View a launch of the SpaceX Falcon 9 rocket
Tour NASA facilities at Kennedy Space Center
Speak with representatives from NASA and SpaceX
View and take photographs of the Falcon 9 rocket at Space Launch Complex 40
Meet fellow space enthusiasts who are active on social media
NASA Social registration for the CRS-14 launch opens on this page on March 5 and the deadline to apply is on Sunday, March 11 at 11:59 p.m. EST. All social applications will be considered on a case-by-case basis.
Quelle: NASA
---
Update: 8.03.2018
.
Rocket Launch: NET April 2, 2018 | SpaceX Falcon 9 CRS-14
NET April 2 Cape Canaveral Air Force Station, Space Launch Complex 40SpaceX Falcon 9 CRS-14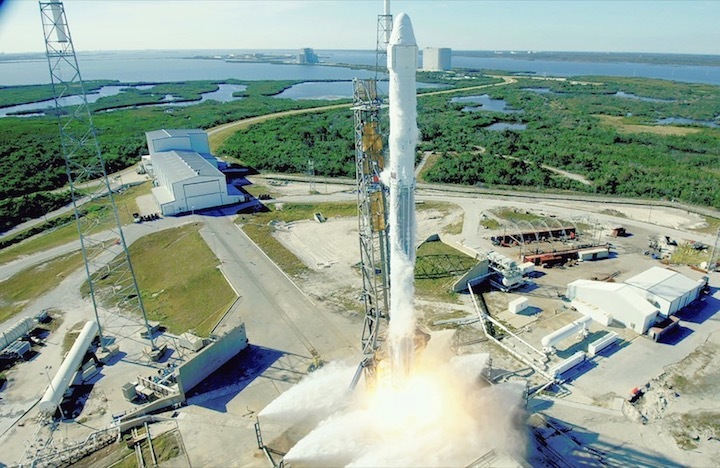 MISSION
SpaceX is scheduled to launch Dragon CRS-14 aboard Falcon 9 for a resupply mission to the International Space Station (ISS). The delivery of supplies and equipment will include science investigations forNational Laboratory research. Highlights include:
The

Atmosphere-Space Interactions Monitor, an Earth observatory that will study severe thunderstorms and their role in the Earth's atmosphere and climate.

An

investigation

that seeks to better understand how the lack of gravity affects a process used to produce high-performance products from metal powders. This research could lead to improved manufacturing techniques.

Continuing research on growing food in space, as the

Veggie Passive Orbital Nutrient Delivery System

experiment tests a new way to deliver nutrients to plants.
This mission will launch from SLC-40 at Cape Canaveral Air Force Station.
Quelle:Kennedy Space Center
3440 Views