3.03.2019
Lockheed Martin getting NASA's EM-1 Orion modules ready for final mate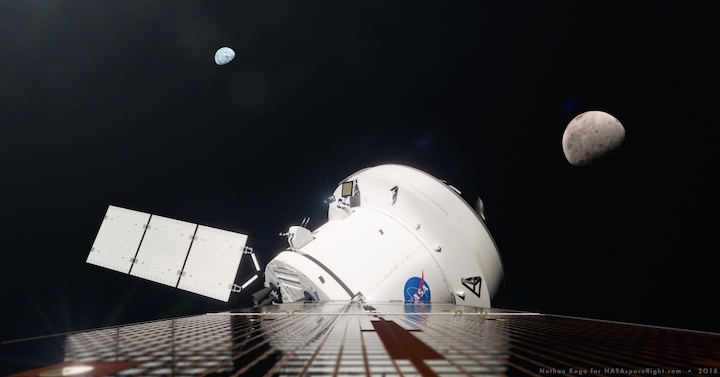 The two modules that will fly NASA's first solo Orion flight into lunar orbit and back are going through standalone testing in the lead up to becoming a mated spacecraft. The Crew and Service Modules for the Exploration Mission-1 (EM-1) flight are being assembled and tested by Orion prime contractor Lockheed Martin in the Operations and Checkout (O&C) Building at the Kennedy Space Center (KSC) in Florida.

The integrated Service Module joining the European Service Module (ESM) with the Crew Module Adapter (CMA) was powered up as a unit for the first time on February 14 to begin a last set of tests before it is ready to mate with the Crew Module. The last pieces due for the Crew Module arrived and are installed, so it can finish its pre-mate testing.
Once the modules are mated to form the in-flight EM-1 Orion, several weeks of pre-launch closeouts will also serve to get the spacecraft ready for space environment tests at Plum Brook Station in Ohio later this year.
Service Module initial power up on Valentine's Day
Following a few months of work joining the ESM and CMA to form the EM-1 Service Module, the integrated unit was powered up for the first time on February 14. "It was about six o'clock in the afternoon when we actually powered up the first PDU (Power Data Unit)," Jules Schneider, Lockheed Martin Orion Assembly, Test, and Launch Operations (ATLO) Director at KSC, said in an interview the next day. "We're into powered-on testing as we speak."
"You've got to power up the avionics system and I believe we do the big elements like the PDUs and the big avionics components one at a time and then we load the software," he added. "We have the active thermal control loops loaded and running so we can cool everything as we're powered up."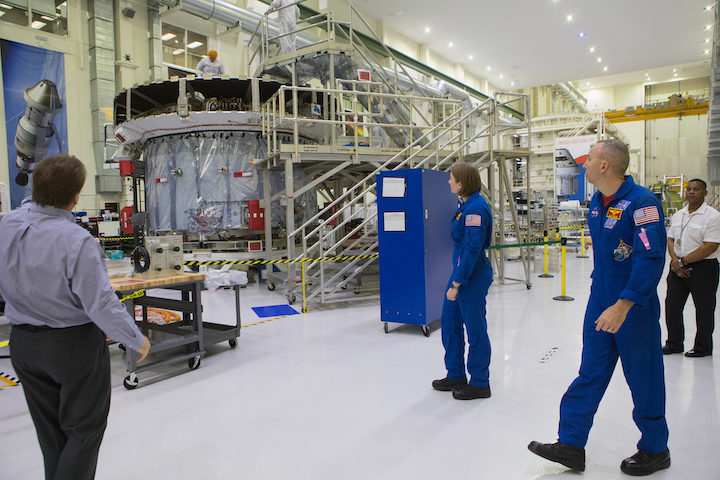 "Prior to actually applying the power we end up loading PGW (propylene, glycol, and water mixture), which is the coolant, and the R134a (refrigerant) we use from the ground side to cool everything," Scott Wilson, NASA's Production Operations Manager for the Orion Program, explained in the same interview. "Like Jules said that lets us bring up the active thermal control, which you need to run all the avionics racks."
5663 Views