4.03.2019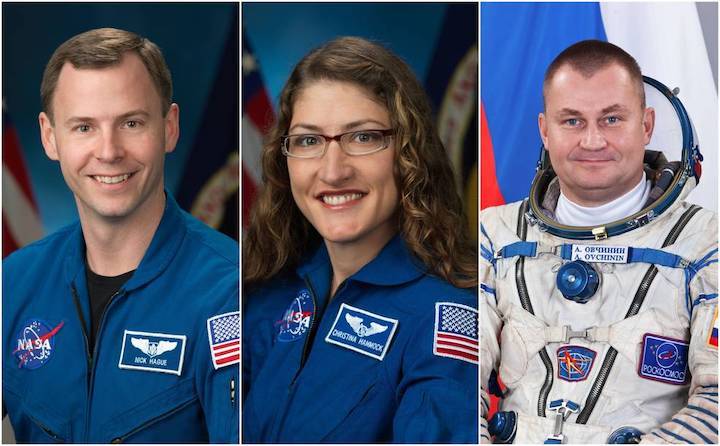 2/11/18 Editor's note: The Expedition 59-60/Soyuz MS-12 launch is now scheduled for March 14, 2019, at 3:14 p.m. EST from the Baikonur Cosmodrome in Kazakhstan.
12/11/18 Editor's note: The sixth paragraph was updated to reflect the accurate reasoning for why NASA recognizes Nick Hague as a flown astronaut. Because Hague and Ovchinin launched and landed in a spacecraft on an intended mission to the International Space Station, NASA considers them to have achieved the status of flown astronauts, making this Hague's second spaceflight and Ovchinin's third.
NASA astronaut Nick Hague, who was forced to abort his recent mission to the International Space Station, is scheduled to launch again Feb. 28, 2019, from the Baikonur​ Cosmodrome in Kazakhstan.
Hague will launch with Alexey Ovchinin of the Russian space agency Roscosmos, who was his commander and crewmate on the aborted mission in October, and NASA astronaut Christina Hammock Koch aboard the Russian Soyuz MS-12 spacecraft. The trio will join the station's Expedition 59 crew and return to Earth in October 2019 as members of Expedition 60. Hague and Koch will serve as flight engineers for Expeditions 59 and 60. Ovchinin will serve as a flight engineer on Expedition 59 and the commander of Expedition 60.
Hague will be available for media interviews at 7 a.m. EST Friday, Dec. 7. To schedule an interview, media must contact Megan Sumner at megan.c.sumner@nasa.gov or 281-483-5111 by noon Thursday, Dec. 4.
All three crew members will participate in a news conference at 3 p.m. Wednesday, Dec. 12, at NASA's Johnson Space Center in Houston. The news conference will air live on NASA TV and the agency's website. To participate in person, media must contact Johnson's newsroom at 281-483-5111 by 5 p.m. on Dec. 11 for credentials. To participate by phone, media must contact Johnson's newsroom by 1:45 p.m. Dec. 12.
During their mission, the station crew will take part in about 250 research investigations and technology demonstrations not possible on Earth to advance scientific knowledge of Earth, space, physical, and biological sciences. Science conducted on the space station continues to yield benefits for humanity and will enable future long-duration human and robotic exploration on missions to the Moon and Mars. The crew also is scheduled to be onboard during the first test flights of NASA's Commercial Crew Program, which will return human spaceflight launches to U.S. soil.
This will be Koch's first spaceflight. Hague and Ovchinin were scheduled to join the station's Expedition 57 crew on Oct. 11, but were forced to abort their mission when their Soyuz's rocket booster experienced a malfunction shortly after launch. Because Hague and Ovchinin launched and landed in a spacecraft on an intended mission to the International Space Station, NASA considers them to have achieved the status of flown astronauts, making this Hague's second spaceflight and Ovchinin's third.
Hague is a native of Hoxie, Kansas, and a colonel in the U.S. Air Force. Prior to his selection as an astronaut in 2013, he was part of the Air Force Fellows Program in Washington, where he worked as an adviser to the U.S. Senate on matters of national defense and foreign policy. He earned a bachelor's degree in astronautical engineering from the U.S. Air Force Academy and a master's degree in aeronautical and astronautical engineering from the Massachusetts Institute of Technology.
Koch, who grew up in Jacksonville, North Carolina, earned bachelor's degrees in electrical engineering and physics and a master's degree in electrical engineering from North Carolina State University in Raleigh. Her career includes experience as an electrical engineer focusing on space science instrument design at NASA's Goddard Space Flight Center in Greenbelt, Maryland, and the Johns Hopkins University's Applied Physics Lab, in Laurel, Maryland. She also worked as a research associate with the United States Antarctic Program, completing several deployments, including spending the winter at the South Pole. Her work at remote scientific research stations went on to include sessions as a field engineer in the Arctic and as station chief with the National Oceanic and Atmospheric Administration in American Samoa. She was selected by NASA as an astronaut in 2013.
Quelle: NASA
+++
Die Hauptmannschaft der ISS-59/60-Kosmonauten Roscussa Alexey Ovchinin und die Astronauten Nick Hague und Christina Cook bereiten sich auf den Flug vor.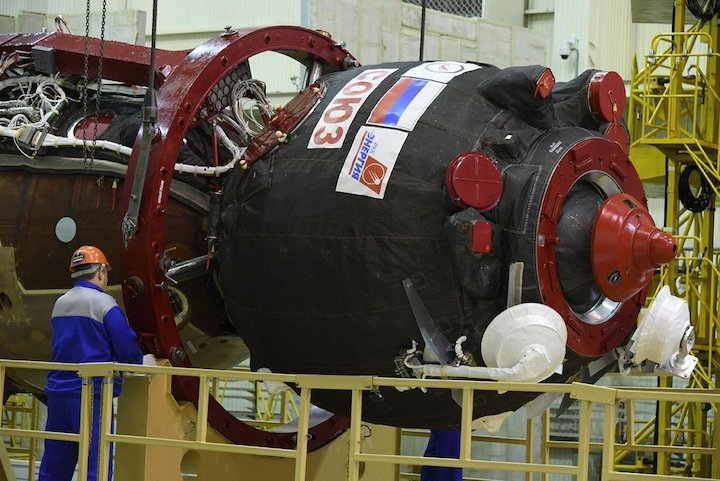 Quelle: Roscosmos
----
Update: 12.03.2019
.
Fotos vom Aufrichten von Sojus-FG-Trägerrakete mit bemannten Raumschiff #СоюзМС12– der Start ist für den 14. März um 22 Uhr geplant. Im russischen wissenschaftlichen Programm mehr als fünfzig biologische, biotechnologische, geophysikalische und medizinische Experimente.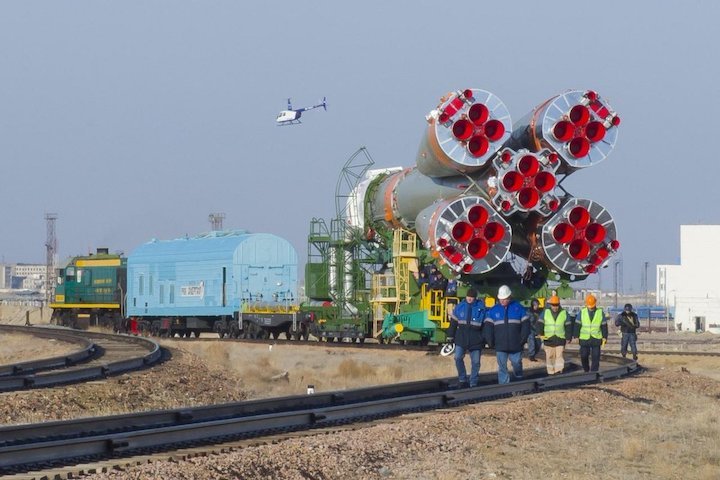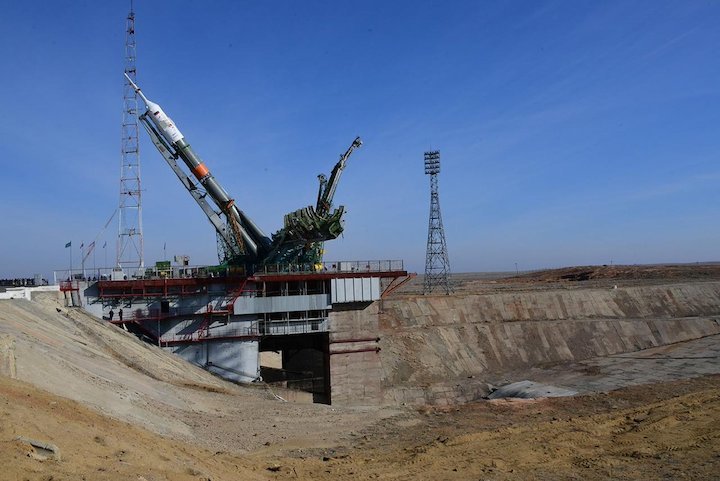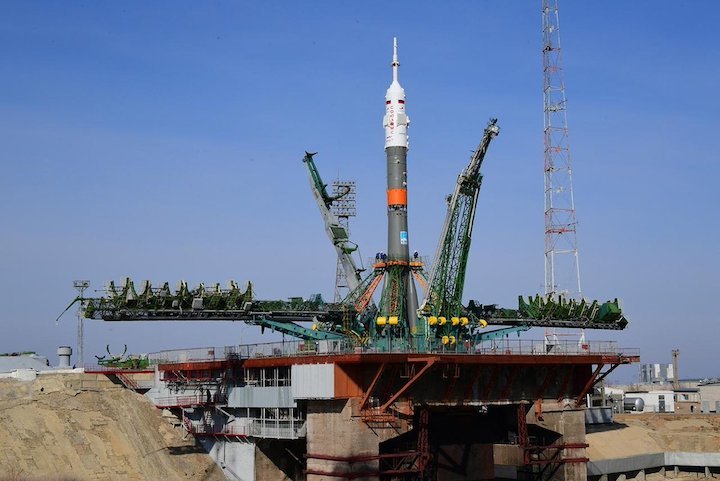 Quelle: Roscosmos
----
Update: 13.03.2019
.
Soyuz launch targets 3:14 p.m. launch on 3/14 — aka Pi Day!
At 3:14 p.m. ET March 14 — or what is commonly referred to as Pi Day — a Soyuz MS-12 spacecraft carrying two American astronauts and a Russian cosmonaut will blast off from Kazakhstan as it makes its way to the International Space Station.
The Pi Day launch will carry NASA astronaut Nick Hague and Russian cosmonaut Alexey Ovchinin, who were forced to abort their last mission to the space station in October when their Soyuz rocket booster experienced a malfunction shortly after launch. Fortunately, the Soyuz abort system did its job, leaving Hague and Ovchinin unharmed.
Also aboard the spacecraft is NASA astronaut Christina Koch. All three crew members are expected to dock at the space station at 8:15 p.m. where they will be greeted a couples hours later by NASA astronaut Anne McClain, Canadian astronaut David Saint-Jacques and Russian cosmonaut Oleg Kononenko.
Koch and McClain are also scheduled to conduct the first all-female spacewalk later this month.
More: Far out! First all female spacewalk (ever) set for March
More: Get to know these fearless female space explorers
Launch schedule: Upcoming Florida rocket launches and landings
This annual celebration of the mathematical constant will not only have three humans launching to space, but it is also Albert Einstein's birthday and this year will mark the one-year anniversary of the death of theoretical physicist and cosmologist, Stephen Hawking.
What exactly is pi?
The mathematical constant represents a series of more than 1 trillion digits starting with three, one and four and is defined as the ratio of a circle's circumference to its diameter. However, it is now used in many mathematical formulas.
The irrational number beginning with 3.14159 and so forth is usually represented by the Greek symbol "π" or is spelled out as "pi." It is also called Archimedes' constant, after the Greek mathematician Archimedes who created the algorithm for calculating it in 250 B.C.
Though the number pi is integral to many mathematical equations, the world will never know the true value of pi since it can never be calculated. This means we can never find the true circumference of a circle.
On March 14, people from all around the world join together to celebrate the achievements in mathematics, and of course, to eat pie.
It's also Einstein's birthday
Seems only fitting that Albert Einstein, the genius theoretical physicist known for developing the theory of relativity — a theory that is still being proven today by scientists — was born on Pi Day in 1879.
The Nobel Prize winner in physics is best remembered for creating the world's most famous equation: E = mc2, according to "E=mc2: A Biography of the World's Most Famous Equation" author David Bodanis.
Today, scientists at NASA are still proving Einstein's theories.
"We're starting to understand physics, astrophysics, in a way that previously was only theory," NASA administrator Jim Bridenstine told reporters March 11 at Kennedy Space Center, where he spoke about NASA's Moon to Mars plans. "Now for the first time, we are proving out the reality of the theory of relativity."
Bridenstine also talked about how NASA's James Webb Telescope — when launched — will allow astrophysicists to learn and discover how the universe formed billions of years ago.
Remembering the legendary cosmologist
On last year's Pi Day, the world lost another genius — English theoretical physicist and cosmologist Stephen Hawking, who died March 14, 2018, at age 76.
Known for the theoretical prediction that black holes emit radiation, Hawking was the first to find a theory that explained the union of the general theory of relativity and quantum mechanics.
Quelle: Florida Today
+++
Soyuz MS-12 Crew Primed for Thursday Launch to Space Station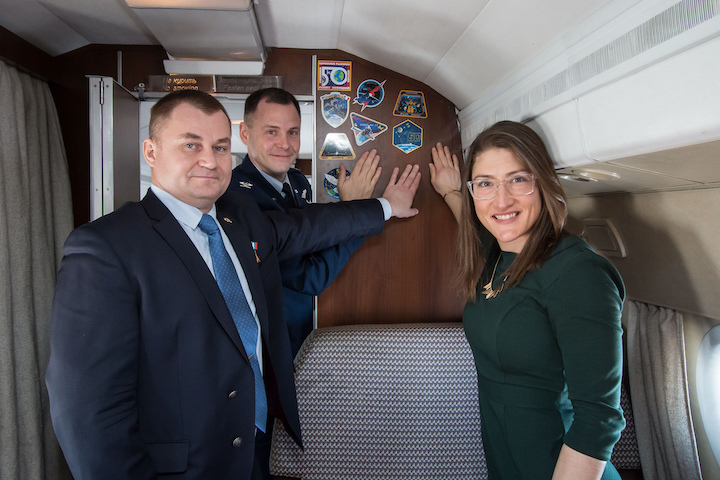 Five months after an abortive attempt to reach the International Space Station (ISS), Russian cosmonaut Alexei Ovchinin and NASA's Nick Hague will have a second chance to get to the sprawling orbital outpost on Thursday, 14 March, when they again launch from the Baikonur Cosmodrome in Kazakhstan. The pair originally flew aboard Soyuz MS-10 last October, but their mission was aborted during ascent and—thanks to the superb functionality of the launch escape system—the two men were plucked away from their failing Soyuz-FG booster and achieved a safe landing on the Kazakh steppe.
With just 154 days having passed between their two flights, Thursday's mission will mark the shortest interval in Russian spaceflight history between two launches by the same crew, pipping the harrowing 1983 experience of Soviet cosmonauts Vladimir Titov and Gennadi Strekalov by just a few days.
Ovchinin and Hague will ride Soyuz MS-12, scheduled to launch from Baikonur's historic Site 1/5—known as "Gagarin's Start"—at 12:14 a.m. local time Friday 15th (3:14 p.m. EDT Thursday 14th), flying shoulder-to-shoulder with NASA astronaut Christina Koch. Interestingly, although Ovchinin and Hague did not achieve low-Earth orbit, it was noted last December that since they "launched and landed in a spacecraft on an intended mission to the International Space Station, NASA considers them to have achieved the status of flown cosmonauts." As such, on Thursday Ovchinin will embark on the third mission of his cosmonaut career, with Hague making his second flight and Koch her first.
THE CREW
Hague and Koch are classmates, having been selected by NASA back in June 2013 as part of its eight-strong "8-Balls" group of astronaut candidates. Hague hails from Belleville, Kan., where he was born on 24 September 1975. He completed high school in Hoxie, Kan., then entered the Air Force Academy and graduated in 1998 with a degree in astronautical engineering. He moved into active military duty as a second lieutenant and, following a master's degree in aeronautical and astronautical engineering from Massachusetts Institute of Technology (MIT), he was assigned to Kirtland Air Force Base in Albuquerque, N.M., in August 2000.
His assignments focused on advanced spacecraft technologies and in 2004 Hague graduated as a flight test engineer at Edwards Air Force Base, Calif. After graduation, he worked on the F-16 Fighting Falcon, F-15 Eagle and T-38 Talon at the 416th Flight Test Squadron, then deployed to Iraq in late 2004 in support of Operation Iraqi Freedom. Two years later, Hague joined the Department of Aeronautics faculty at the Air Force Academy, instructing students in aeronautics, linear control system analysis and design and scuba. He was subsequently selected for the Air Force Fellows program in 2009, served as a member of the personal staff in the U.S. Senate as an advisor on national defense and foreign policy and later was a congressional appropriations liaison for the U.S. Central Command. In 2012, he became deputy division chief for research and development for the Joint Improvised Explosive Device Defeat Organization, before being selected by NASA as an astronaut candidate in June 2013.
Also selected alongside Hague that summer, and beating 6,100 qualified applicants, was Christina Hammock. She was born in Grand Rapids, Mich., on 2 February 1979, although she considers Jacksonville, N.C., as her hometown. She completed schooling in North Carolina and earned a undergraduate degrees in electrical engineering and physics, together with a master's credential in electrical engineering, all from North Carolina State University in Raleigh in 2001-2002. After graduation, Hammock—today surnamed Koch, following her marriage—worked as an electrical engineer at the Laboratory for High Energy Astrophysics at NASA's Goddard Space Flight Center (GSFC) in Greenbelt, Md., and concurrently led a physics laboratory course at Montgomery College. During 2004-2007, she completed a winter-over season at the Amundsen-Scott South Pole Station in Antarctica as a research associate, working as a member of the firefighting and ocean/glacier search-and-rescue teams.
Returning to the United States from Antarctica, she became an electrical engineer at the Space Department of the Johns Hopkins University Applied Physics Laboratory in Laurel, Md., working on the Jupiter Energetic Particle Detector Instrument (JEDI) for NASA's Juno spacecraft, together with radiation instrumentation for the 2012-launched Van Allen Probes. Koch also volunteered as a science and mathematics tutor at Anne Arundel Community College, before returning to Antarctica and Greenland from 2010 and serving as a National Oceanic and Atmospheric Administration (NOAA) field engineer in Barrow, Alaska, and station chief of the American Samoa Observatory. It is perhaps unsurprising that Koch lists travel among her interests and, certainly, with Expedition 59/60, she will travel further than ever before.
Both Hague and Koch graduated from astronaut candidate training in July 2015 and received technical assignments. In March 2017, Hague became the first member of the 8-Balls to receive a flight assignment, teamed with Alexei Ovchinin—and, originally, another Russian cosmonaut, Nikolai Tikhonov—for launch aboard Soyuz MS-10 in fall 2018. Last May, Koch was assigned to Soyuz MS-12, targeted for spring 2019. With the failure of Soyuz MS-10 to achieve orbit, last December NASA announced that Koch would retain her place on Soyuz MS-12 and that Ovchinin and Hague would join her, fast-tracking them back into space at the earliest possible opportunity. Koch's original MS-12 commander, veteran cosmonaut Oleg Skripochka, will now fly in September on Soyuz MS-15.
Commanding Soyuz MS-12 will be veteran cosmonaut Alexei Nikolayevich Ovchinin, who has already logged six months aboard the ISS, having launched aboard the final Soyuz TMA spacecraft in March 2016 and returned to Earth the following September. Born in the ancient city of Rybinsk, on the Volga River, within proximity of Moscow and St. Petersburg, on 28 September 1971, Ovchinin attended high school in his home town, before entering the Russian military. He was initially a cadet at Borisoglebsk Higher Military Pilot School from 1988 through 1990, then a student at Yeisk Higher Military Pilot School in 1990-1992, whereupon he qualified as a pilot-engineer. Ovchinin spent the next six years as a pilot-instructor in the Training Aviation Regiment at Yeisk, before moving on to become an instructor and aviation section commander of Krasnodar Military Aviation Institute. From 2003 until his selection as a cosmonaut candidate, he commanded an aviation unit of the 70th Separate Test Training Aviation Regiment of Special Purpose.
Ovchinin was selected for cosmonaut training in October 2006, qualified in June 2009 and left active duty in the Russian Air Force as a lieutenant-colonel in 2012. A year later, he joined five U.S., Italian and Japanese astronauts in the CAVES extreme environment test mission, deep in the Sa Grutta caves on the island of Sardinia. He launched aboard Soyuz TMA-20M in March 2016 and returned to Earth the following September, after 172 days in space and 2,679 orbits of the Home Planet.
THE MISSION
Following the joint NASA-Roscosmos decision to recycle Ovchinin and Hague to join Koch on Soyuz MS-12, their launch was initially targeted for late February 2019, but has since been moved back by two weeks to mid-March. Last month, vacuum-chamber testing of their three-part spacecraft was completed at Baikonur and the prime crew and their backups—Russian cosmonaut Aleksandr Skvortsov, Italy's Luca Parmitano and NASA astronaut Drew Morgan—flew to the desolate Kazakh launch site on 26 February. In the following days, they participated in final training sessions, raised the national flags of the United States, Russia and Kazakhstan and planted ceremonial trees in the Avenue of Cosmonauts. The 162.4-foot-tall (49.5-meter) Soyuz-FG booster was rolled out to the pad on Tuesday, 12 March.
Assuming an on-time launch Thursday, Soyuz MS-12 will follow a truncated six-hour and four-orbit "fast rendezvous" to reach the ISS, with docking scheduled to occur at the Earth-facing (or "nadir") Rassvet module. Following the completion of pressurization and leack checks, hatches will be opened and Ovchinin, Hague and Koch will be welcomed by the station's incumbent crew of Commander Oleg Kononenko of Russia, Canada's David Saint-Jacques and NASA astronaut Anne McClain, who have been aboard since December.
With more than 250 research investigations planned over the coming months, there will be little time for the new arrivals to settle in, before heading straight to work. Three sessions of Extravehicular Activity (EVA)—featuring McClain, Hague, Koch and Saint-Jacques, and including the first all-female spacewalk in history—are planned in late March and early April to re
Unpiloted cargo ships will visit frequently throughout spring and summer, with Russian Progress freighters slated to fly in April and July, a Northrop Grumman Corp. Cygnus vehicle launching in April, two SpaceX Dragons in April and July—the second of which will transport the second Boeing-built International Docking Adapter (IDA) for Commercial Crew—and a Japanese H-II Transfer Vehicle (HTV), laden with six new lithium-ion batteries for the station's P-6 truss, in September. With the recent completion of SpaceX's unpiloted Demo-1 mission of its Crew Dragon, a similar test of Boeing's CST-100 Starliner is slated for late April or May, before both Commercial Crew partners take aim for their initial crewed test-flights later this year. Present plans call for the SpaceX Demo-2 mission, with veteran NASA flyers Doug Hurley and Bob Behnken aboard, to launch as soon as late summer or fall, with a possibility that the first piloted Starliner may fly with NASA astronauts Mike Fincke and Nicole Mann, together with Boeing test pilot and former shuttle commander Chris Ferguson, later in the summer or fall.
Kononenko, Saint-Jacques and McClain will return to Earth aboard their Soyuz MS-11 spacecraft in late June, after which Ovchinin will take command of the ISS and Expedition 60 will officially commence. Two weeks later, in early July, Skvortsov, Parmitano and Morgan will launch aboard Soyuz MS-13 to restore six-person crew strength and Soyuz MS-14 is scheduled to fly a month-long mission in unpiloted capacity in August-September, in order to evaluate the capabilities—including a modified launch escape system—of the new Soyuz-2 rocket, which is expected to begin flying humans from April 2020.
Much speculation has abounded in recent months about the return schedule for various U.S. and Russian crew members, particularly in light of the fact that the first United Arab Emirates (UAE) spacefarer is expected to fly a short-duration mission of around ten days aboard Soyuz MS-15 in September. To free up a seat aboard Soyuz MS-12 for his return to Earth, it has been suggested—though as-yet unconfirmed by NASA—that one crew member might enjoy a longer than nominal stay aboard the ISS. At one point, several sources suggested that one of the two men could remain on the station for over a year, although this seems increasingly unlikely, and some observers have suggested that Hague will spend nine months in orbit, returning in December aboard Soyuz MS-13, with Morgan in turn returning in the third seat aboard Soyuz MS-15 in April 2020.
However, in comments provided to AmericaSpace, NASA's Rob Navias explained definitively that "Hague returns to Earth in October and, as of now, Morgan returns to Earth in December", although he added that "regardless of when he returns", Hague will serve as the left-seat Flight Engineer-1 aboard the Soyuz.
Launching alongside the UAE spaceflight participant are expected to be Russian cosmonaut Oleg Skripochka—who will rejoin his one-time crewmate Christina Koch—and former NASA Chief Astronaut Chris Cassidy, who will remain aboard the space station until late spring 2020. According to Mr. Navias, "we expect Koch to remain on-board ISS" beyond October, with Ovchinin and Hague joining the UAE astronaut aboard Soyuz MS-12 for the return to Earth on 3 October.
Asked if Koch would land on Soyuz MS-13 in December, or remain aboard even longer, perhaps returning on Soyuz MS-15 in April 2020, Mr. Navias advised us that "the Flight Program is under review". In either case, a landing in December 2019 or later will provide Koch with a minimum-duration mission of nine months aboard the ISS, the second-longest ever achieved by a female spacefarer, after Peggy Whitson
Quelle: AS
----
Update: 14.03.2019
.
NASA Coverage for Next Space Station Crew Launch, Docking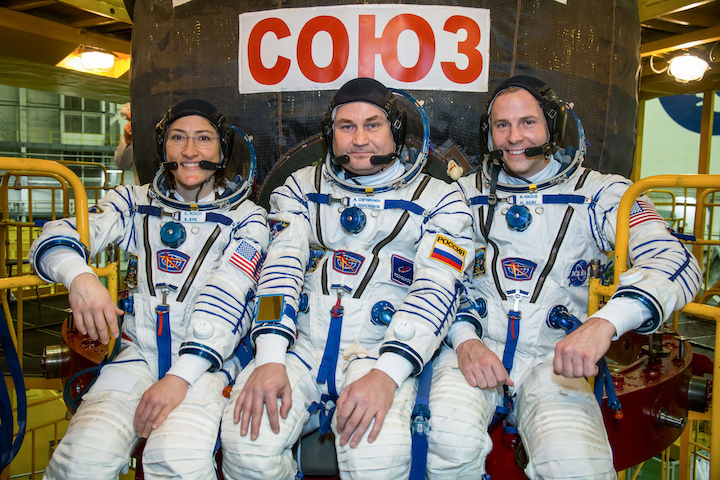 Credits: NASA
Two American astronauts and a Russian cosmonaut are set to join the crew aboard the International Space Station on Thursday, March 14. The trio's arrival will return the orbiting laboratory's population to six, including three NASA astronauts. This launch will also mark the fourth Expedition crew with two female astronauts. Live coverage will air on NASA Television and the agency's website.
NASA astronauts Nick Hague and Christina Koch, and cosmonaut Alexey Ovchinin of Roscosmos, are set to launch aboard the Soyuz MS-12 spacecraft at 3:14 p.m. EDT (12:14 a.m. March 15 Kazakhstan time) from the Baikonur Cosmodrome in Kazakhstan on a six-hour journey to the station.
The new crew members will dock to the Rassvet module at 9:07 p.m. Expedition 59 will begin officially at the time of docking.
About two hours later, hatches between the Soyuz and the station will open and the new residents will be greeted by NASA astronaut Anne McClain, station commander Oleg Kononenko of Roscosmos, and David Saint-Jacques of the Canadian Space Agency. The current three-person crew just welcomed the first American commercial crew vehicle as it docked to the station on March 3, amidst a busy schedule of scientific research and operations since arriving in December.
Coverage of the Expedition 59 crew's launch and docking activities are as follows (all times EDT):
Thursday, March 14:
2 p.m. – Soyuz MS-12 launch coverage (launch at 3:14 p.m.)
8:45 p.m. – Docking coverage (docking scheduled for 9:07 p.m.)
10:30 p.m. – Hatch opening and welcome coverage
A full complement of video of the crew's pre-launch activities in Baikonur will air on NASA TV in the days preceding launch.
The crew members of Expeditions 59 and 60 will continue work on hundreds of experiments in biology, biotechnology, physical science and Earth science aboard the humanity's only permanently occupied microgravity laboratory.
McClain, Saint-Jacques, Hague and Koch also are all scheduled for the first spacewalks of their careers to continue upgrades to the orbital laboratory. McClain and Hague are scheduled to begin work to upgrade the power system March 22, and McClain and Koch will complete the upgrades to two station power channels during a March 29 spacewalk. This will be the first-ever spacewalk with all-female spacewalkers. Hague and Saint-Jacques will install hardware for a future science platform during an April 8 spacewalk.
Hague and Ovchinin are completing a journey that was cut short Oct. 11, when a booster separation problem with their Soyuz rocket's first stage triggered a launch abort two minutes into the flight. They landed safely a few minutes later, after reaching the fringes of space, and were reassigned to fly again after McClain, Kononenko and Saint-Jacques launched in early December. This will be Ovchinin's third flight into space, the second for Hague and the first for Koch. Hague, Koch, and McClain are from NASA's 2013 astronaut class, half of which were women—the highest percentage of female astronaut candidates ever selected for a class.
Quelle: NASA
+++
Live-Launch-Frams: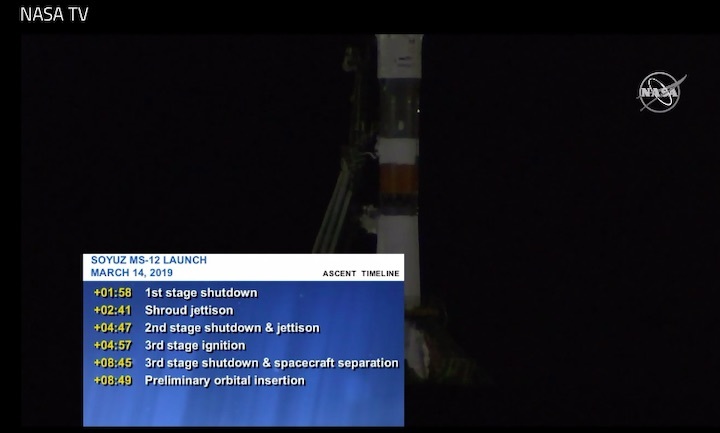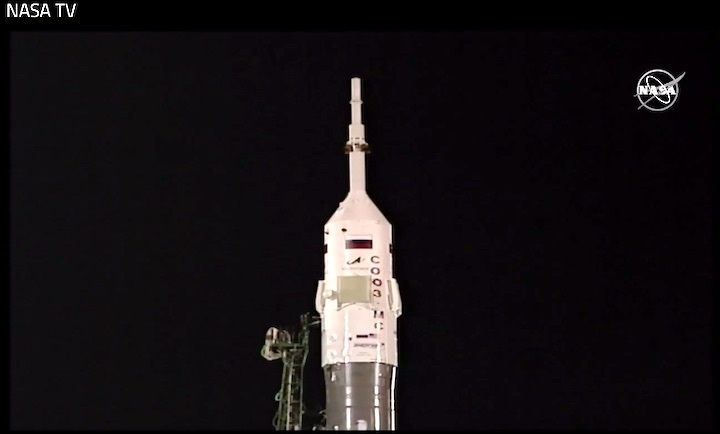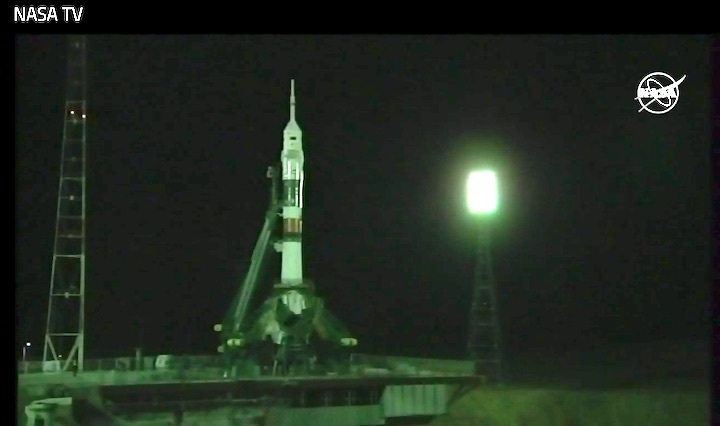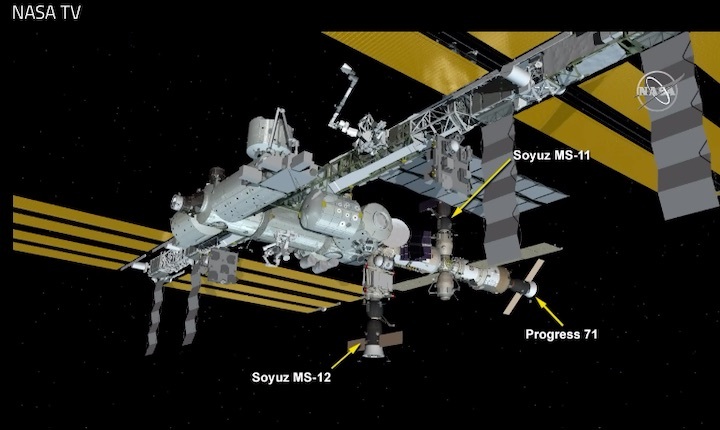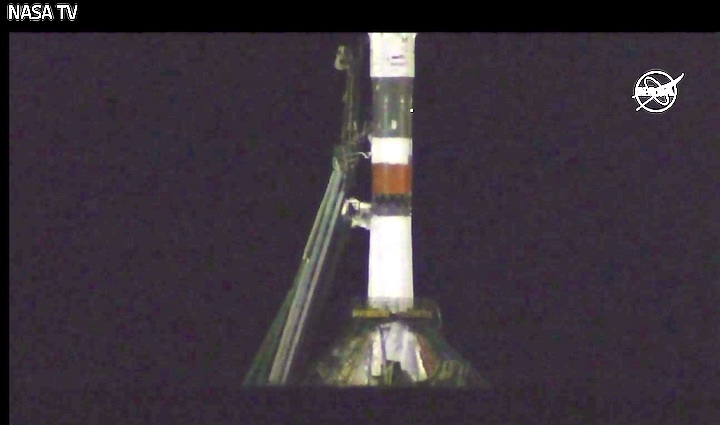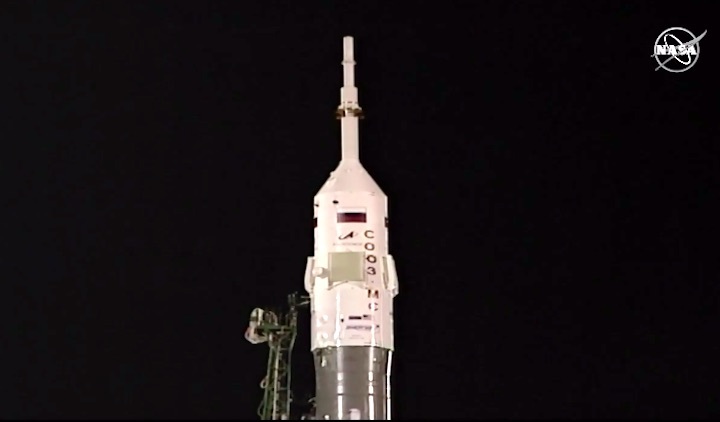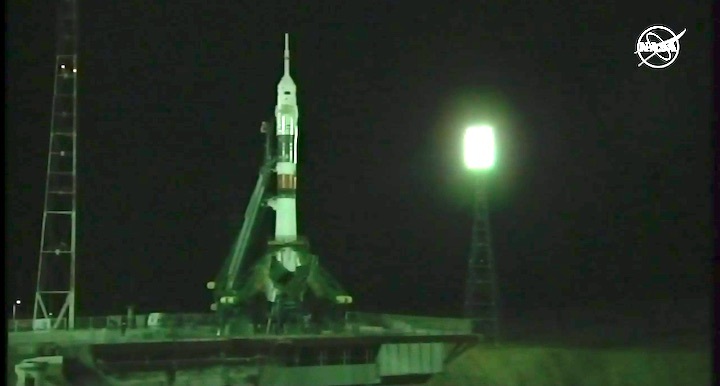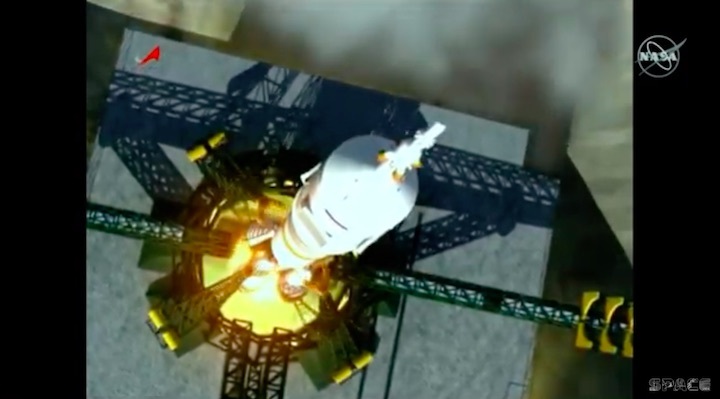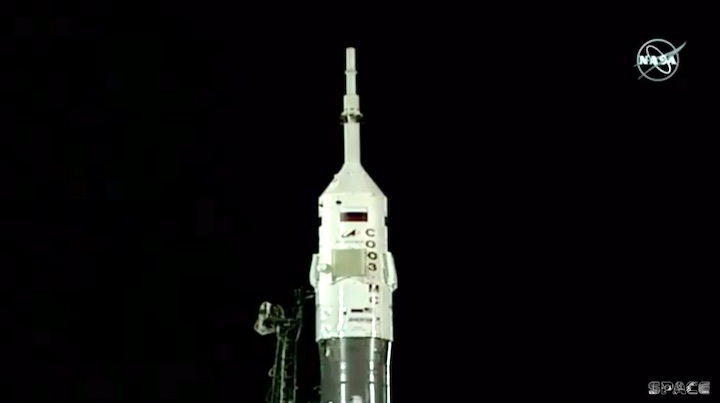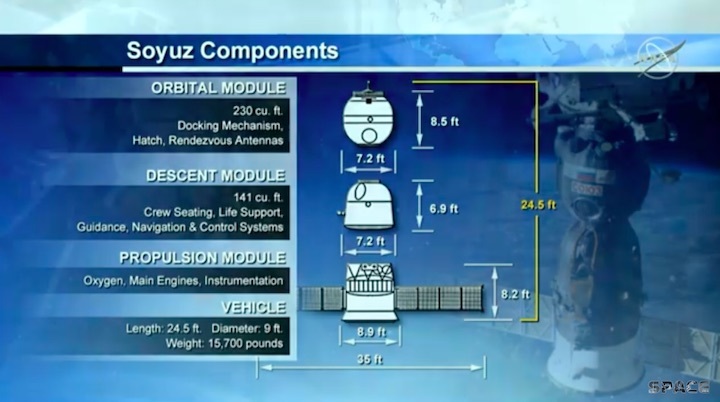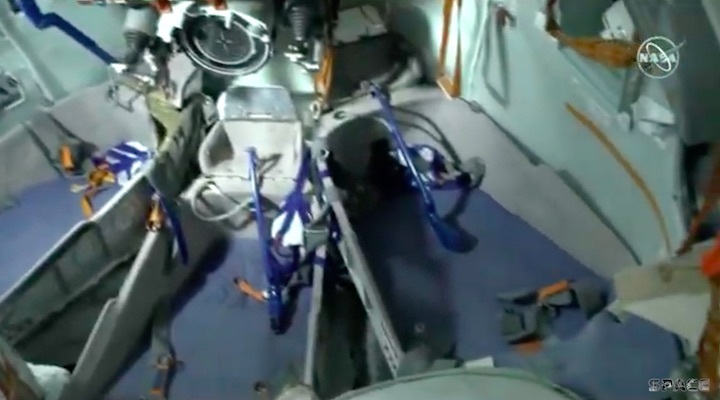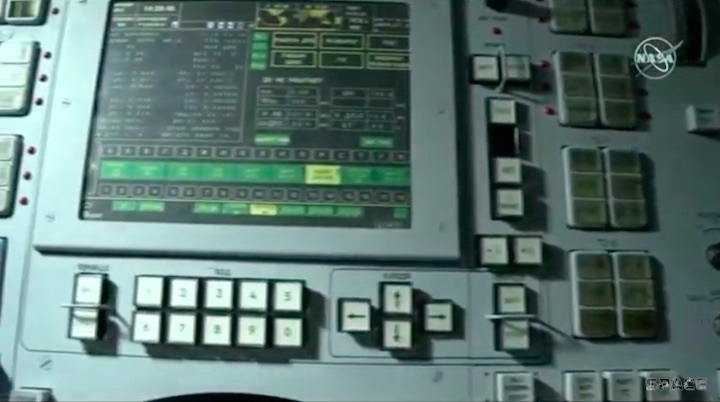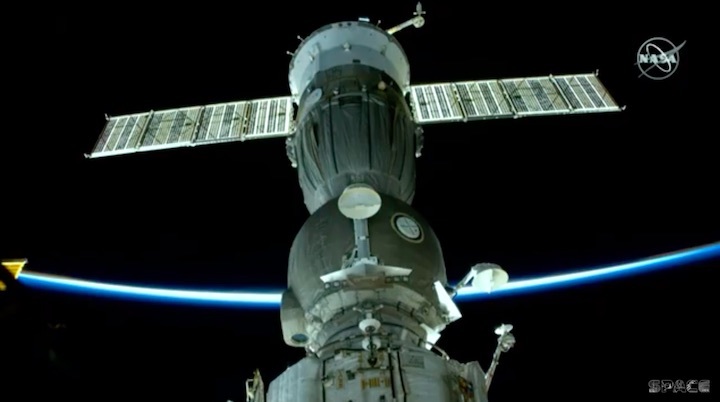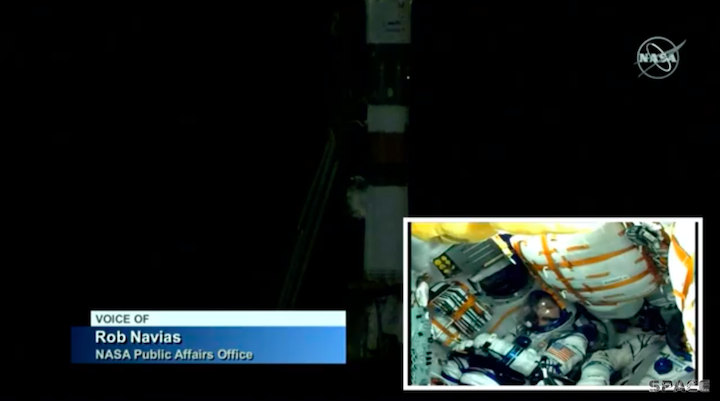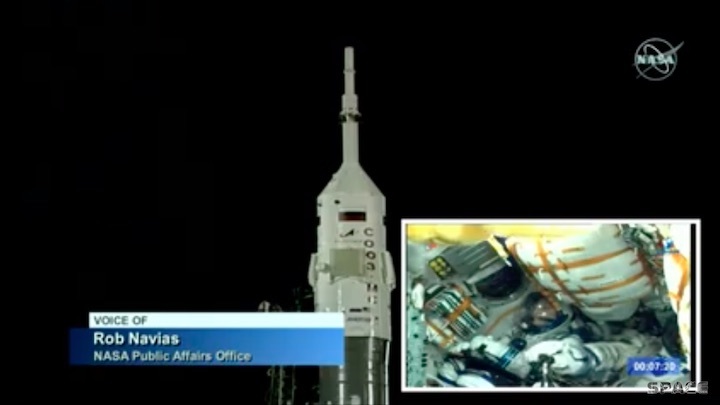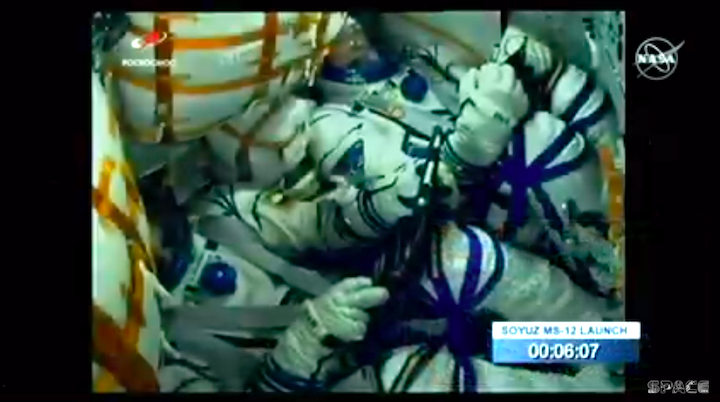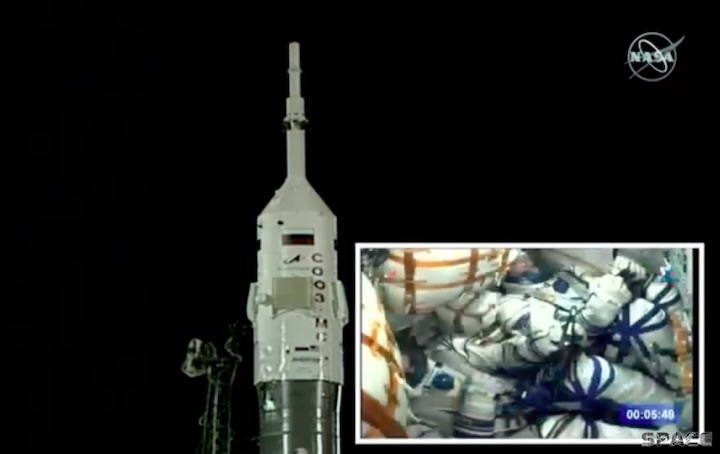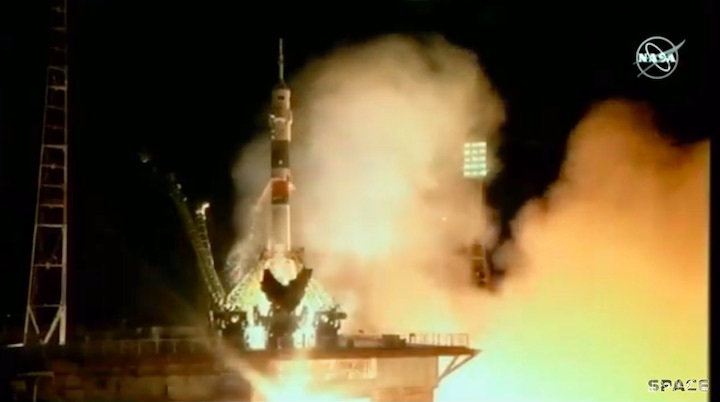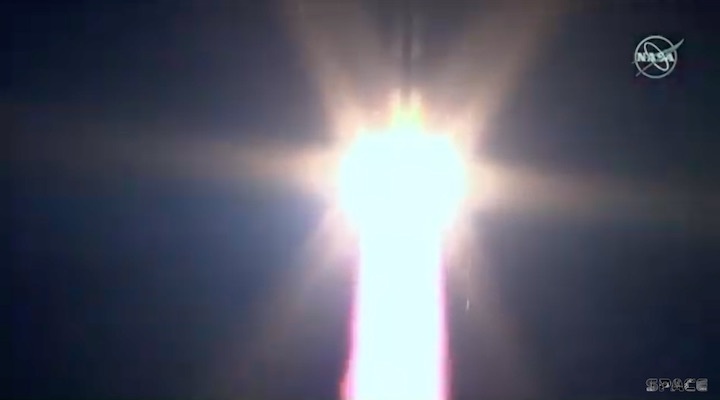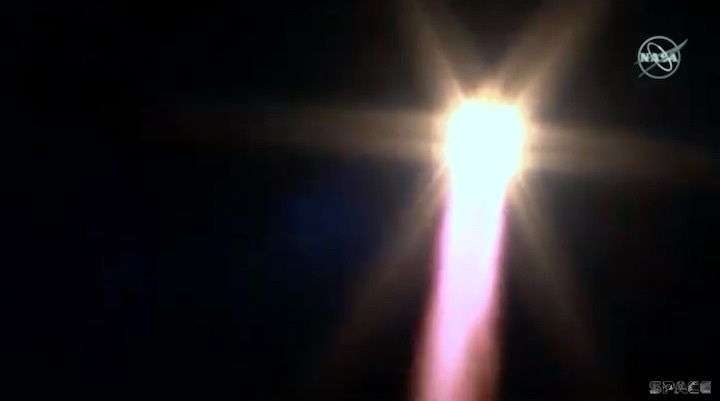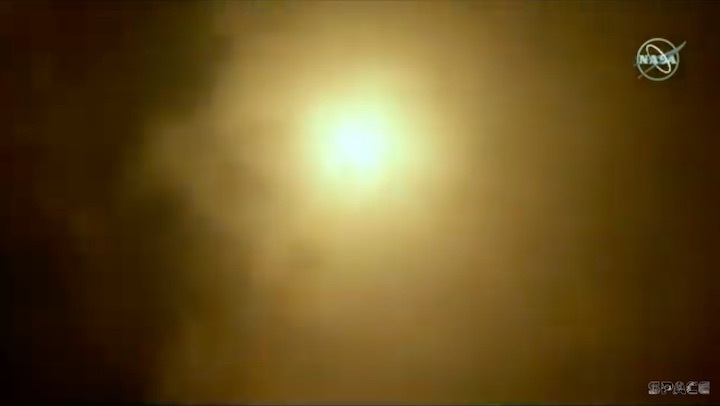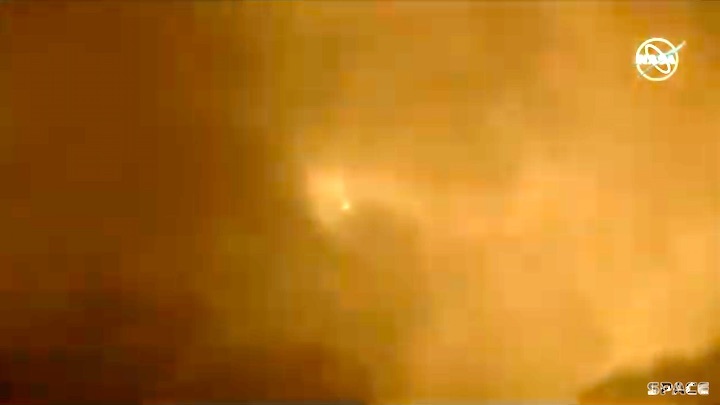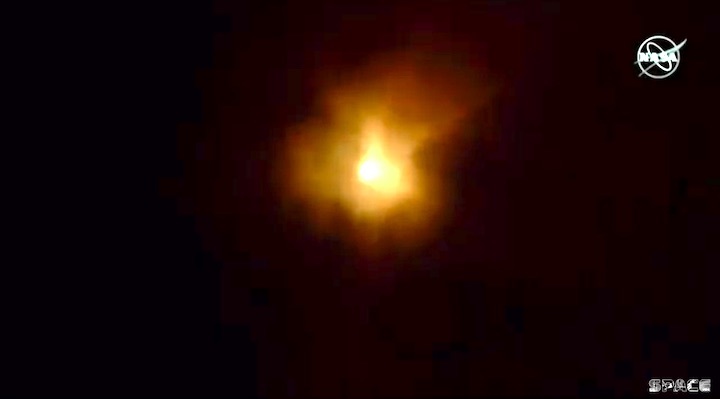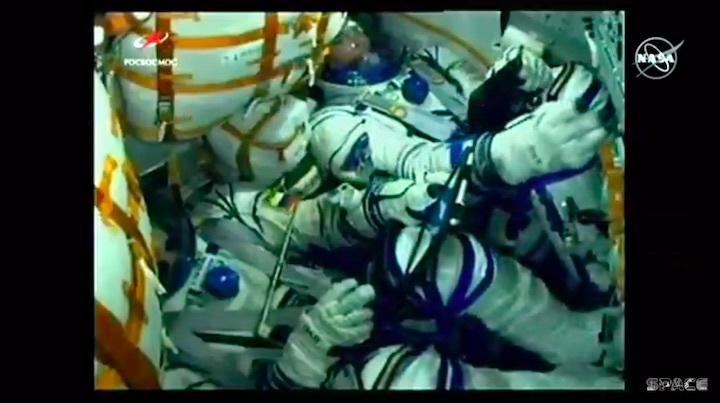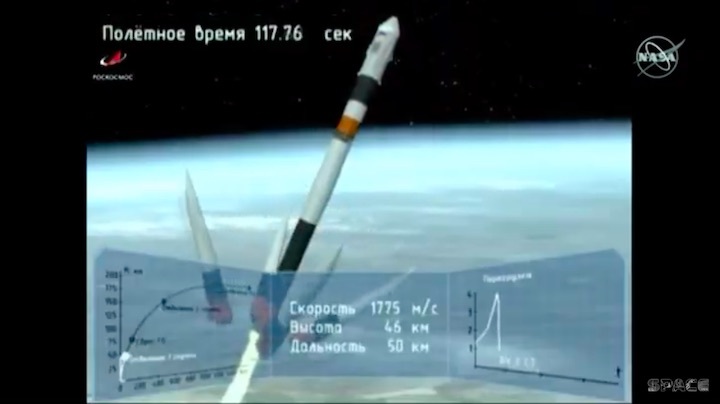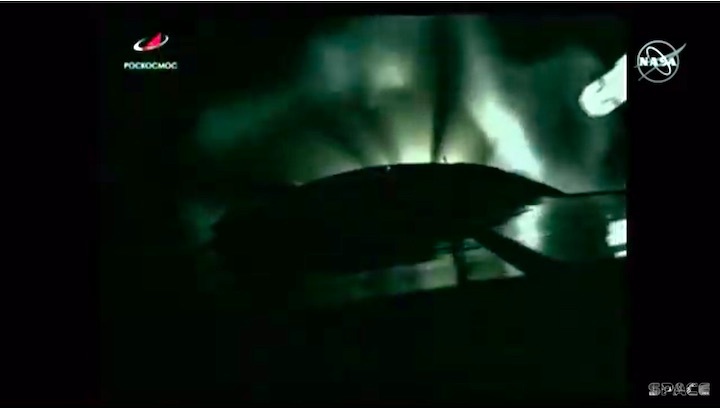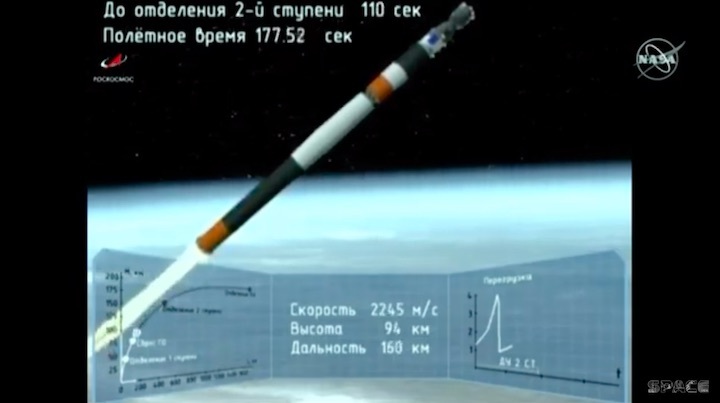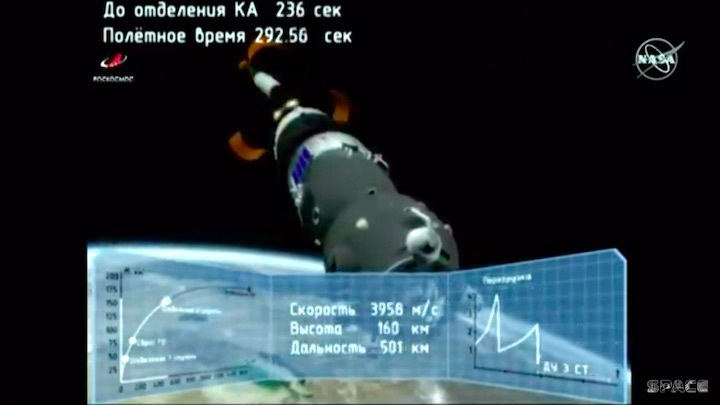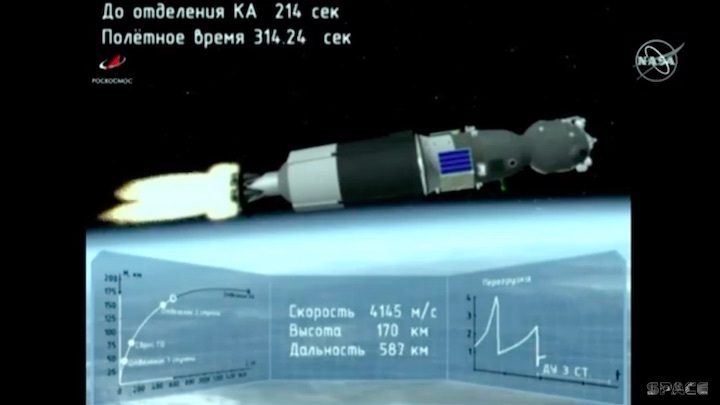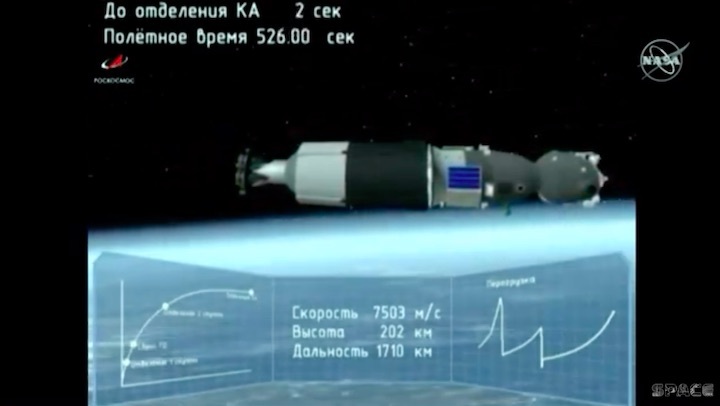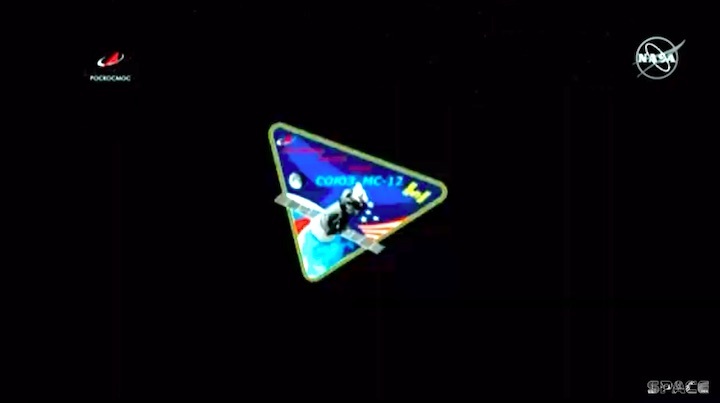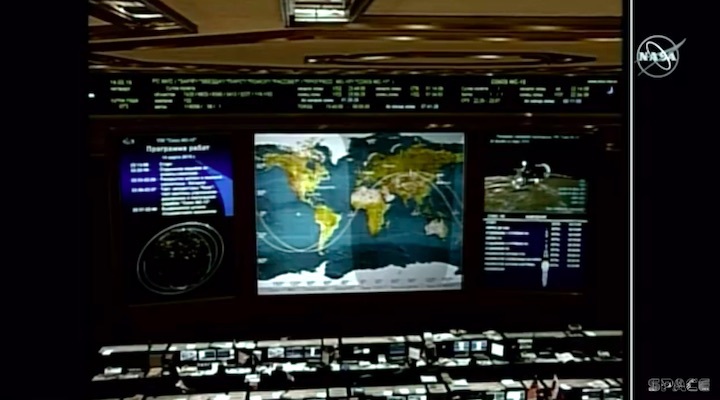 Quelle: NASA
6041 Views