14.05.2023
The as-yet-unnamed spacecraft will also carry a lander for a visit to an unusual asteroid.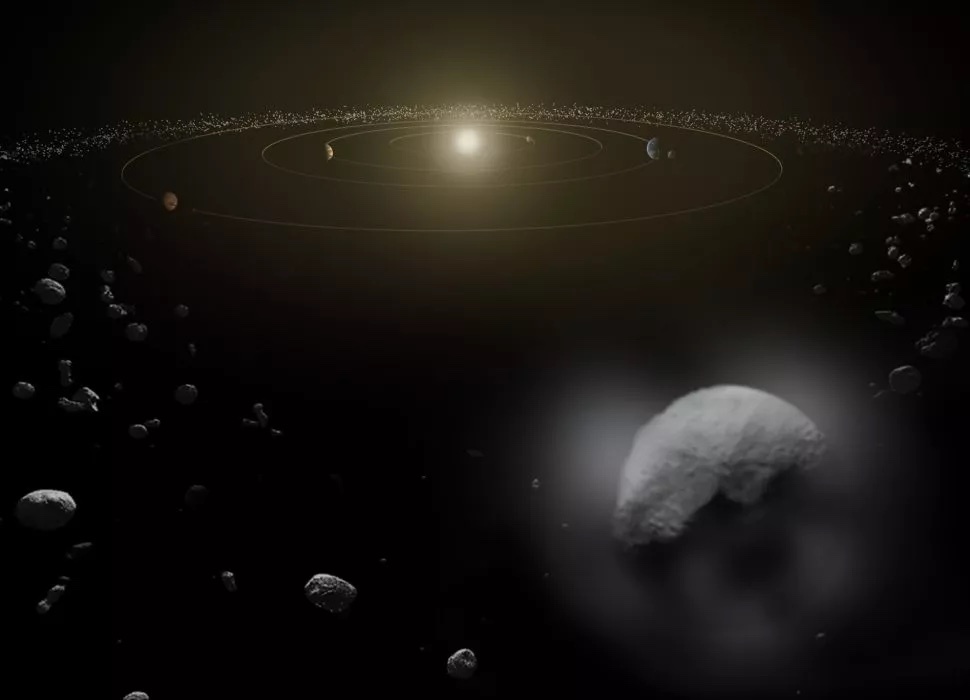 An artist's illustration of the asteroid belt between Mars and Jupiter, the main destination of the United Arab Emirates' second interplanetary mission. (Image credit: ESA/ATG medialab)
The United Arab Emirates is targeting seven different space rocks with its ambitious mission to the main asteroid belt.
The mission was announced back in 2021, but now a poster set to be presented in June at the Asteroids, Comets, Meteors Conference in Arizona has revealed the specific targets for the mission, Ars Technica(opens in new tab) reports.
"The mission will launch in 2028 and visit 7 main belt asteroids, including 6 high-speed flyby encounters en route to a rendezvous with the asteroid 269 Justitia," according to the document, which details the design of the mission.
Here's the full list of targets:
Flyby: 10253 Westerwald
Flyby: 623 Chimaera
Flyby: 13294 Rockox
Flyby: 88055
Flyby: 23871
Flyby: 59980
Rendezvous: 269 Justitia
After rendezvousing with 269 Justitia, the spacecraft will deploy a lander for an attempt to set down on the surface. Notably, only NASA's OSIRIS-REx and the Near-Earth Asteroid Rendezvous (NEAR) Shoemaker spacecraft and Japan's Hayabusa1 and Hayabusa2 probes have succeeded in soft-landing on an asteroid so far.
The target for the landing is another rarity. The roughly 33-mile-wide (53 kilometers) asteroid 269 Justitia has a reddish hue, possibly due to the presence of organic compounds called tholins, which are abundant on Pluto and other icy bodies in the outer solar system, Ars Technica notes.
Another paper on the mission's science objectives notes that the spacecraft will reach 269 Justitia in April 2034. If the asteroid formed in the outer solar system, the UAE mission could provide unique insight into bodies out beyond Neptune.
The overall science objectives are noted as understanding the origins and evolution of water-rich asteroids and assessing their potential use for resources.
The spacecraft will use solar electric propulsion for its six-year-long voyage and will use gravity-assist flybys of Venus, Earth and Mars on its journey.
The UAE will work with the University of Colorado, Boulder, as it did for the Hope Mars mission, the country's first interplanetary endeavor.
While the UAE's first moon lander was recently lost aboard ispace's Hakuto-R lander during a failed touchdown attempt, the Hope probe is still operating in Mars orbit and recently made an unprecedented survey of Deimos, the smaller of the Red Planet's two moons.
Quelle: SC
93 Views