2.03.2023
NASA, Canadian Space Agency to Assign Artemis II Moon Astronauts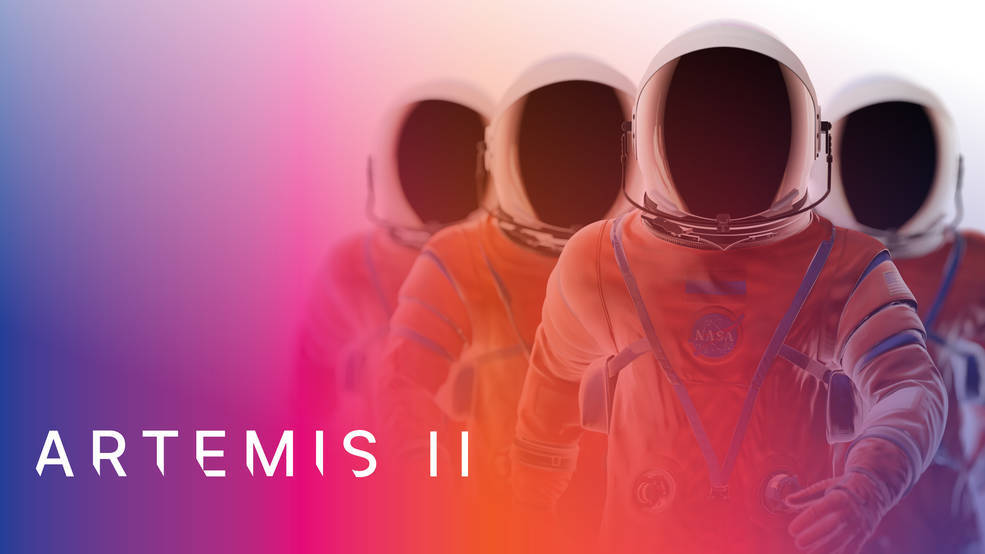 Credits: NASA
NASA and CSA (Canadian Space Agency) will announce during an event at 11 a.m. EDT (10 a.m. CDT) on Monday, April 3, from NASA Johnson Space Center's Ellington Field in Houston, the four astronauts who will venture around the Moon. Traveling aboard NASA's Orion spacecraft during Artemis II, the mission is the first crewed flight test on the agency's path to establishing a long-term scientific and human presence on the lunar surface.
The event will air on NASA Television, the NASA app, and the agency's website.
Media are invited to attend the event and speak with the astronauts about their assignments. Other experts working on Artemis missions also will be available. Additional opportunities to interview crew remotely will be available on Tuesday, April 4.
International media wishing to attend must contact NASA no later than 5 p.m. CDT Friday, March 17. U.S. media must contact NASA no later than 5 p.m. Monday, March 27. Media can RSVP to the Johnson newsroom by calling 281-483-5111 or emailing: jsccommu@mail.nasa.gov.
Artemis II is the first crewed mission aboard NASA's foundational human deep space capabilities: the Space Launch System rocket, Orion spacecraft, and the ground systems needed to launch them. The approximately 10-day mission will test and stress the Orion spacecraft's life-support systems to prove the capabilities and techniques required to live and work in deep space in ways only humans can do.
The crew will include three NASA astronauts and one CSA astronaut, demonstrating the agency's commitment to international partnerships through the Artemis program. Artemis II builds on the successful Artemis I flight test, which launched an uncrewed Orion, atop the SLS rocket, on a 1.4 million-mile journey beyond the Moon to test systems before astronauts fly aboard the systems on a mission to the Moon.
Quelle:NASA
----
Update: 23.03.2023
.
Artemis 2 moon rocket coming together ahead of 2024 astronaut launch (photo)
The Artemis 2 moon rocket's core stage is nearly fully assembled aside from the engines.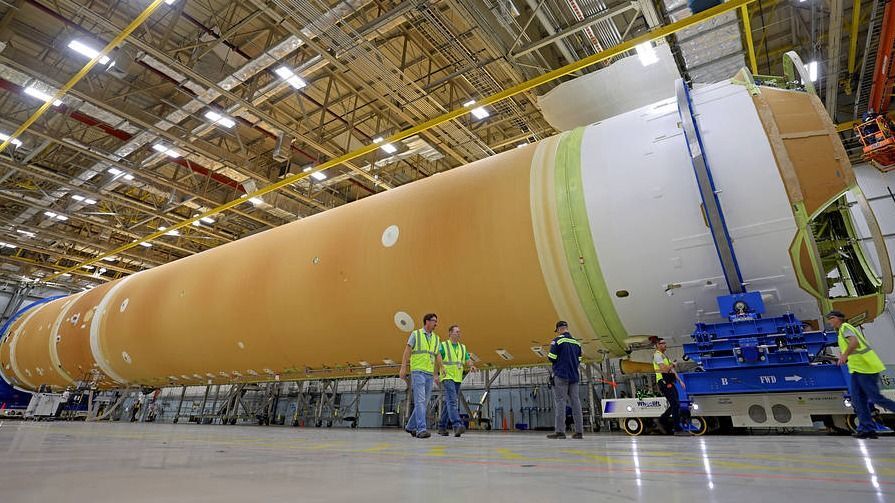 The Space Launch System core stage for the Artemis 2 crewed mission around the moon was assembled on March 17, 2023 and only lacks the engines to complete this tranche of the work. (Image credit: NASA/Michael DeMocker)
NASA just reached a big milestone in moon rocket assembly.
The agency's crewed Artemis 2 mission, which will launch to the moon as soon as 2024, will use a Space Launch System (SLS) rocket core stage that is nearly ready, an update from NASA officials(opens in new tab) indicated on Tuesday (March 21). The core stage is now fully assembled, aside from its four RS-25 engines, which will be popped on shortly.
In less than two weeks, on April 3, NASA will name the three Americans and single Canadian that will fly around the moon for the first crewed mission to Earth's nearest neighbor since Apollo 17 in 1972. Artemis 2 follows on from the successful Artemis 1, which sent an uncrewed Orion capsule to lunar orbit and back late last year.
SLS isn't quite as tall as the 363-foot (111 meter) Saturn V rocket that is most famous for launching six crewed Apollo missions to the lunar surface between 1969 and 1972, along with other missions that orbited or flew around the moon (among other tasks).
But standing at 322 feet (98 m), SLS dwarfs the 184-foot-tall (56 m) space shuttlethat took astronauts to orbit for 30 years, between 1981 and 2011, and the two rockets that take astronauts to the International Space Station today: SpaceX's Falcon 9 (230 feet, or 70 m) and the Russian Soyuz (150 feet, or 46 m).
SpaceX's unflown Starship megarocket stands a shade taller, at around 395 feet (120 m) tall, and will be more powerful, featuring 17 million pounds (7.7 million kilograms) of thrust. But SLS is still quite powerful, generating about 8.8 million pounds (4 million kg) of thrust at liftoff.
SLS is certainly more than strong enough to send four people around the moon and to launch infrastructure toward Earth's nearest neighbor, which is what NASA is counting on.
The larger Artemis program aims to eventually establish a crewed outpost near the lunar south pole. The first astronauts are expected to touch down there in 2025 or thereabouts, on the Artemis 3 mission.
Supporting that work will be NASA's planned Gateway space station, which is how Canada secured its Artemis 2 seat; the Canadarm3 robotic arm will service the orbiting lunar complex in part using artificial intelligence.
Quelle: SC
----
Update: 29.03.2023
.
NASA to name Artemis 2 crew next week, the first moon astronauts in 50 years
Artemis 2 will include three Americans and a Canadian.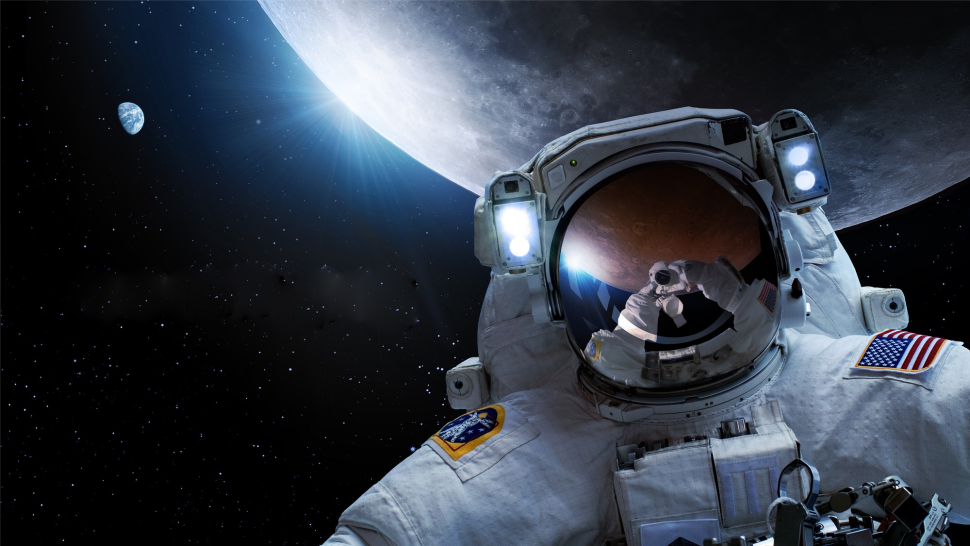 An Artemis astronaut floats near the moon in an artist's impression. (Image credit: NASA)
We're a week away from a once-in-a-generation announcement: The names of the first moonbound astronauts in decades.
On April 3, NASA and the Canadian Space Agency (CSA) will together showcase the three Americans and one Canadian that will go to the moon on Artemis 2, which will launch no sooner than November 2024. The quartet will loop around the moon during the first-ever human lunar mission since the landing of Apollo 17 in December 1972.
The Artemis program will be more representative of the human population than Apollo was, NASA has pledged, with early missions including the first women and the first person of color to go to the moon. But which astronauts exactly will fly are still pure speculation, as all parties are keeping that information closely guarded until the announcement.
The big event will run from Ellington Field (near NASA's Johnson Space Center) in Houston and will be livestreamed on NASA Television(opens in new tab), as well as here at Space.com. The ceremony is scheduled to start at 11 a.m. EDT (1500 GMT) on Monday (April 3).
Artemis 2 is a big moment for NASA, marking the first time in half a century that any human has gone close to the moon. Numerous presidents have tried and failed to start up moon programs in the decades after Apollo, but they lacked bipartisan will as the Cold War that helped spur early moon missions faded into the background.
Things are much different 50 years on. For example, governments don't need to bear the entire cost on their own any longer. Private space companies can supply some of the critical hardware and resell that work to other customers down the road. Examples include SpaceX's Starship that is slated to land Artemis 3 on the lunar surface no earlier than 2025. Companies Axiom Space and Collins Space are also each leading a team to develop spacesuits for lunar excursions.
To further reduce costs, NASA also laid out a different exploration structure through the Artemis Accords currently signed by 23 nations. The agreements are a framework of peaceful space exploration that in the shorter term will pool economic resources of other countries willing to go to the moon.
Unlike in the 1960s when space exploration was a young industry with few participating nations, NASA thus will share the costs of Artemis lunar exploration with big players like the European Space Agency and Japan. Niche players like Canada will also provide critical hardware. Canada, for example, has famously contributed space robotics for NASA for more than 40 years.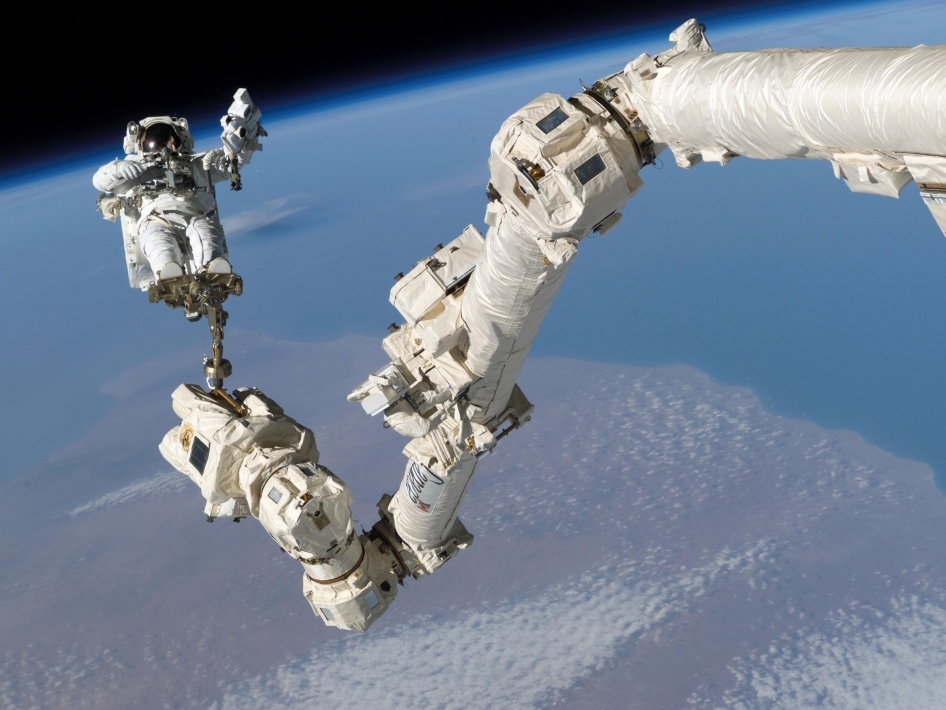 Canadarm2 has been used for International Space Station spacewalks and maintenance since 2001. (Image credit: nasa)
Canada has a long-standing and deep connection with the United States' space program starting with Canada's satellite mission, Alouette, in September 1962. The first Canadian astronauts were named in December 1983. Less than a year later, Marc Garneau was the first Canadian in space aboard space shuttlemission STS-41G in October 1984. (Garneau later went on to become CSA president and has just announced his retirement as a long-running Canadian Member of Parliament.)
Canada's Canadarm, developed in the 1970s, paid for Garneau's seat and many others. It was used on the critical path of space shuttle development, particularly for deploying and retrieving satellites. Canadarm first flew on the second-ever shuttle mission (STS-2) in November 1981 and was a staple of the shuttle program ever after.
Twenty years after Canadarm first flew, Canadian astronaut Chris Hadfieldassisted with the installation of successor Canadarm2 on the International Space Station in April 2001. Canadarm2 and a "handy" robot, Dextre, are still operational on the complex today for space station servicing and maintenance. Canadarm2 was even repurposed for berthing of cargo spacecraft at the space station, a use for which it was not originally envisioned during development.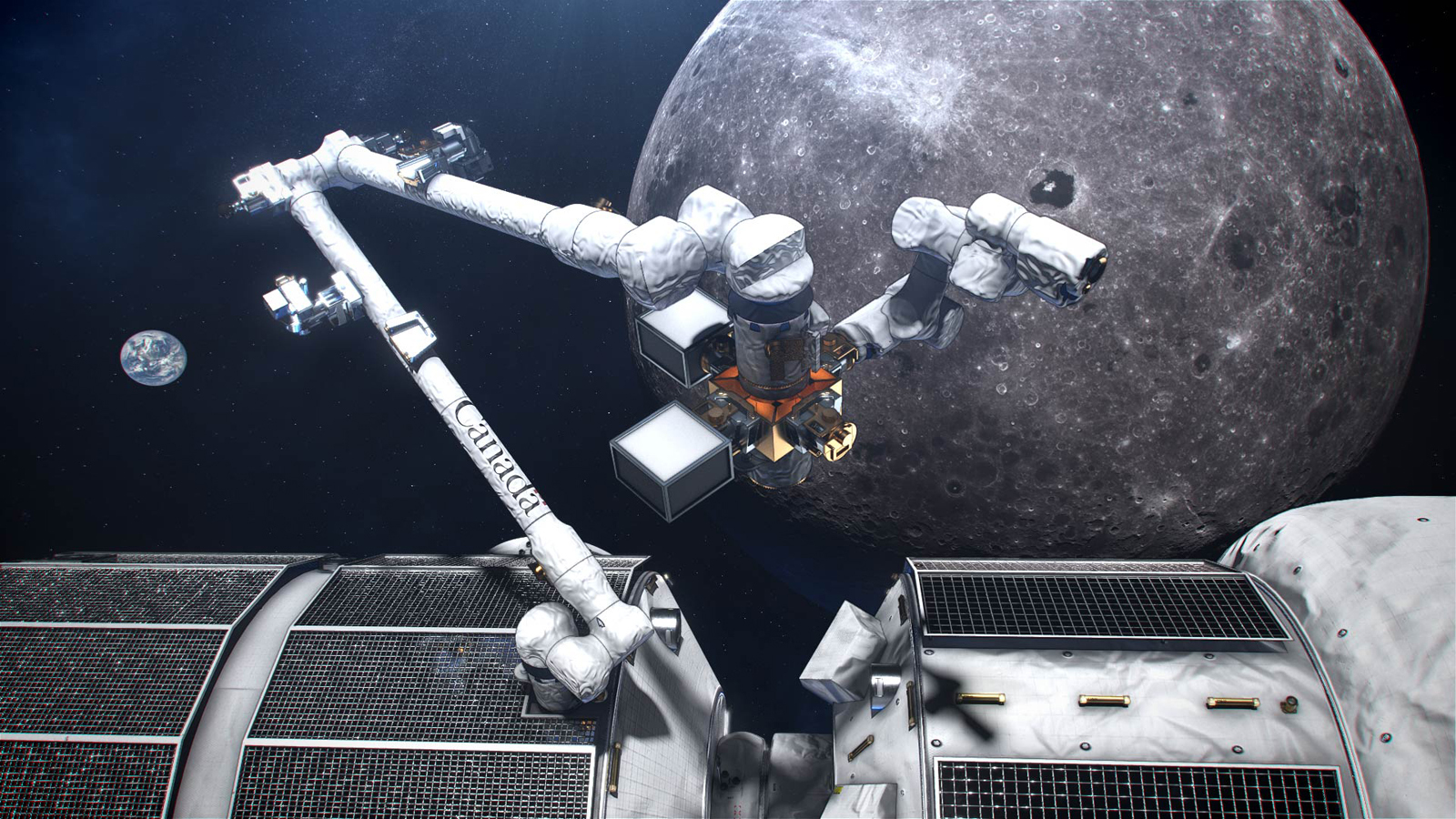 The Canadian Space Agency has joined NASA's Gateway project for moon exploration with its Canadarm3 robotic arm. (Image credit: Canadian Space Agency
Then in 2019, CSA secured future space seats — including the one on Artemis 2 — by committing to building Canadarm3 to service the NASA Gateway space station around the moon. Canadian company MDA is building Canadarm3; the CSA also committed to furnishing lunar experiments, payloads and robots through its Lunar Exploration Accelerator Program (LEAP).
There's far more activity forthcoming as well. The CSA plans its first-ever independent moon rover in 2026; its science team will be led by planetary geology expert Gordon Osinski of Western University, who has brought several astronauts along on geology expeditions on Earth. Last year, CSA also signed a memorandum of understanding that may bring even more professional astronauts to space aboard missions run by Houston-based company Axiom Space.
The April 3 announcement concerning Artemis 2 follows big news for Canada announced in recent days; the country is planning to continue its participation in the ISS another six years to 2030, allowing the consortium to use the Canadian robotics for longer. The announcement was made last week when U.S. President Joe Biden was visiting Canada's capital of Ottawa.
Canada's ISS contribution is small, at just 2.3% according to the CSA(opens in new tab). But the robotics are an essential bit given Canadarm2 is used for spacecraft berthings and spacewalks, and all robotics are used for ISS maintenance.
Canada committed to the ISS extension "to access the unique space environment to conduct a variety of studies that will enhance our ability to live longer and healthier lives on Earth," Canadian Prime Minister Justin Trudeau's office said in a statement(opens in new tab). The White House confirmed the 2030 extension in its own news release(opens in new tab).
Biden also addressed Canada's Parliament(opens in new tab) on Friday (March 26) and mentioned the forthcoming Artemis 2 announcement, noting that it will be the first-ever moon mission including a Canadian.
"We choose to return to the moon together; together we'll return to the moon," Biden said in his Friday speech(opens in new tab), in an echo of a famous moon speech(opens in new tab) by then-President John F. Kennedy in 1962 at Houston's Rice University.
"From there, we look forward to Mars and to the limitless possibilities that lie beyond," Biden added in his remarks.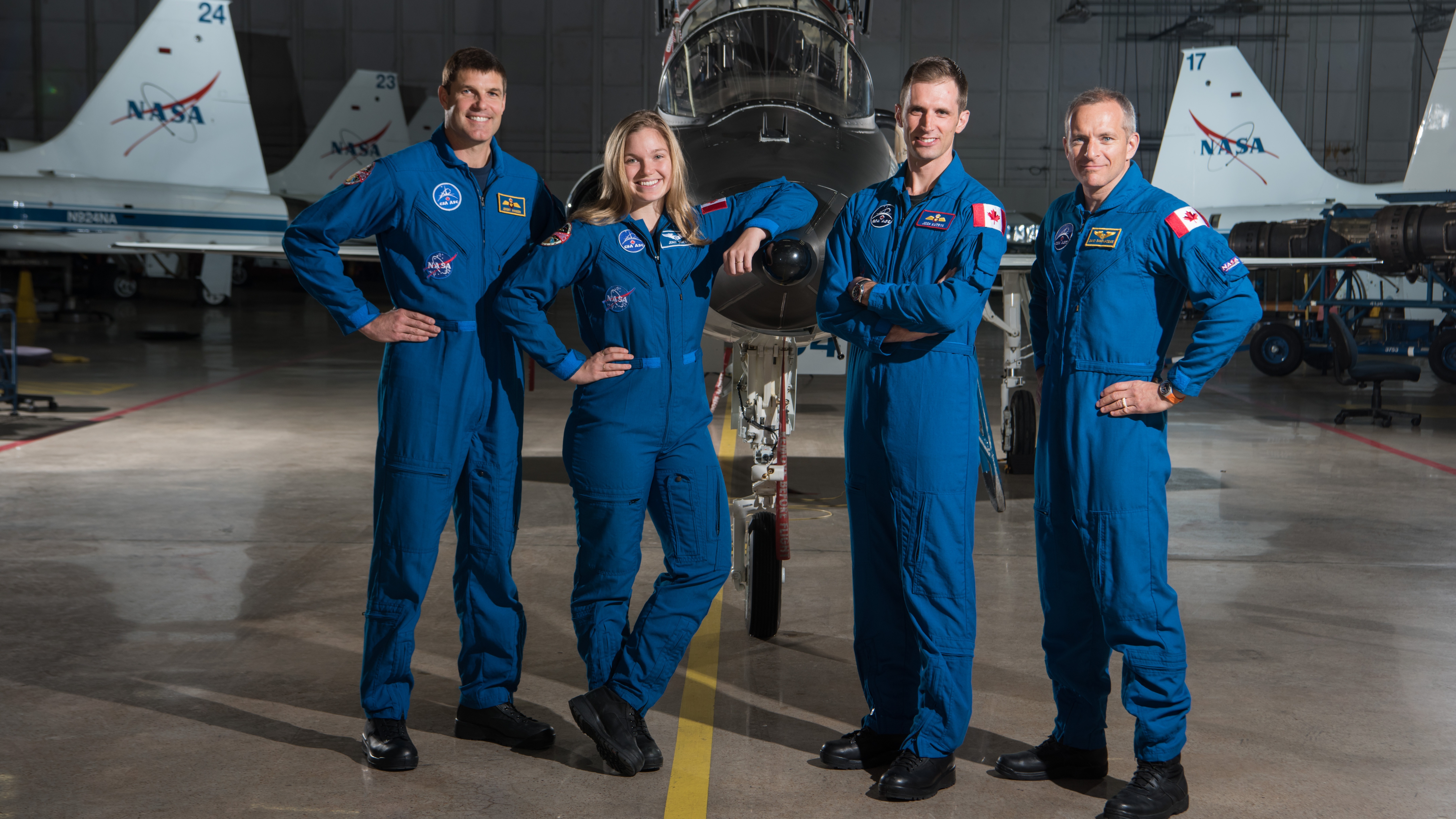 The Canadian astronaut corps; one of the quartet will be named as the prime astronaut for Artemis 2. From left: Jeremy Hansen, Jenni Sidey-Gibbons, Joshua Kutryk, David Saint-Jacques. (Image credit: NASA/Bill Stafford)
With Canada's addition to the ISS extension team, all major partners aside from Russia have committed to work on the orbiting complex past 2024. The White House formally signed NASA's extension in August 2022, shortly followed by Japan and the European Space Agency in November of that year.
Russia, meanwhile, may be leaving as soon as 2028. Most of the country's space partnerships aside from ISS have been severed following Russia's internationally condemned invasion of Ukraine in 2022.
The CSA has not yet made an independent statement about the ISS extension, but it may be holding that until after Canada announces its federal budget late on Tuesday (March 28). Given the top-level attention paid to Canadian space in recent days, it's possible more space announcements may lie in the budget, too.
Quelle: SC
----
Update: 1.04.2023
.
NASA's Artemis 2 trailer builds excitement for moon astronaut reveal with movie flair
'Are you ready to meet your crew?'
A new NASA trailer previews a big moon announcement in movie style.
NASA will join with the Canadian Space Agency (CSA) to announce the four astronauts who will ride around the moon during the Artemis 2 mission. You can watch the big reveal here at Space.com on Monday (April 3) at 11 a.m. EDT (1500 GMT) via a NASA Television feed live from Ellington Field, near NASA's Johnson Space Center in Houston.
"Are you ready to meet your crew?" the NASA trailer on YouTube(opens in new tab) states after boldly showing scenes of spacesuited astronauts walking, parade style, and the Space Launch System rocket dramatically lifting off to start the uncrewed Artemis 1 moon-orbiting mission in 2022.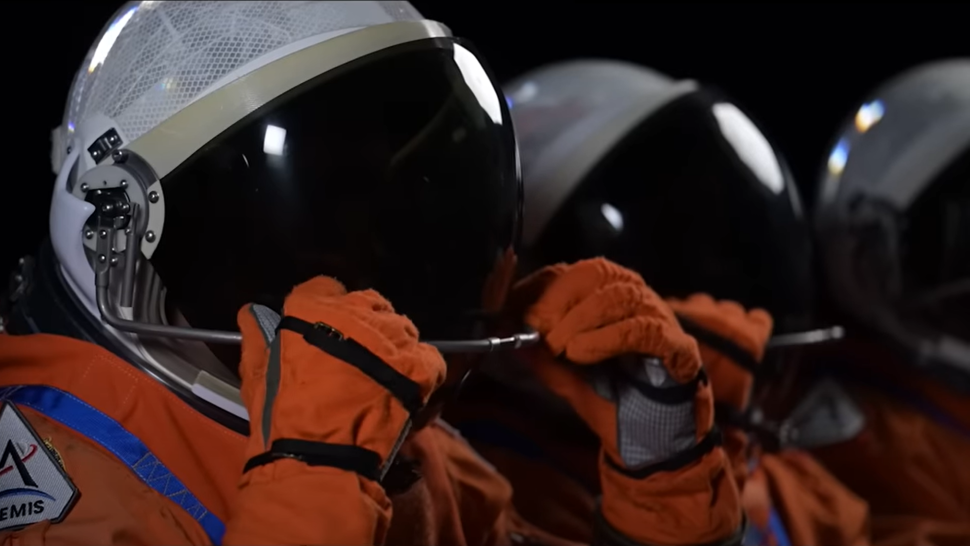 A still from a new NASA "trailer" aims to build excitement for the Artemis 2 crew announcement on April 3, 2023. (Image credit: NASA
"It's a new era of pioneers, star sailors, thinkers and adventurers," NASA administrator Bill Nelson says at the trailer's opening. The quote is a callback to words Nelson said on Sept. 12, 2022(opens in new tab) at Rice University in Houston, on the 60th anniversary of then-president John F. Kennedy giving his famous "we choose to go to the moon" speech at the same location.
In the 1960s, Kennedy was promoting what came to be known as the Apollo program. When Kennedy spoke, NASA had just barely begun the first Earth-orbiting missions and was enaged in a space race with the Soviet Union for scientific and reputational supremacy. That said, even Kennedy was pondering space collaborations with that country before his death.
Today things are much different; Artemis 2 is the leading edge of the NASA-led Artemis Accords, a collaboration of 23 nations (including Canada) working together for peaceful exploration and moon work. Artemis 2 will fly around the moon no sooner than November 2024 on the first crewed visit to lunar realms since Apollo 17 landed on the surface in December 1972.
Canada received its seat aboard Artemis 2 by supplying, via the company MDA, a future Canadarm3 robotic arm that will service NASA's planned Gateway space station in lunar orbit.
The CSA also confirmed in late March that it would extend its International Space Station participation to 2030, alongside major partners NASA, the European Space Agency and Japan. (Russia has said it plans to exit the partnership sometime after 2024.)
Artemis 3, a planned landing mission at the lunar south pole currently set for 2025, will depend on surface spacesuits from Axiom Space (already partially revealed during a recent event) and the Starship landing system from SpaceXthat may be tested in Earth orbit as soon as April.
NASA has pledged Artemis missions will be far more inclusive than those of the Apollo era; Artemis 3, for example, will put the first woman and the first person of color down on the moon, agency officials have said. The CSA astronaut aboard Artemis 2 will be the first non-American to leave Earth orbit.
Quelle: SC
----
Update: 4.04.2023
.
Watch live: NASA set to announce crew of Artemis 2 moon mission
NASA will unveil the four crew members Monday who will fly around the moon on the first piloted flight of the agency's Orion deep space capsule on the Artemis 2 mission as soon as late next year.
Three Americans and one Canadian will fly on the Artemis 2 mission, the next test flight in NASA's Artemis moon program after the successful 25-and-a-half day unpiloted Artemis 1 demonstration mission last year.
Artemis 1 was the first flight of NASA's huge Space Launch System moon rocket, and marked the first time an Orion spacecraft flew to the moon. Artemis 2, the second SLS/Orion moon mission set for liftoff no earlier than November 2024, will be the first time astronauts fly to the vicinity of the moon since NASA's last Apollo mission in 1972.
NASA officials plan to announce who will fly on the Artemis 2 mission in a ceremony in Houston at 11 a.m. EDT (1500 UTC) Monday.
The Artemis program's first attempt to land the first woman and next man on the moon is penciled in for the Artemis 3 mission with a derivative of the Starship vehicle SpaceX is developing in South Texas. That flight is scheduled for 2025, at the earliest, but NASA's inspector general has reported the Starship lander and new moon-ready spacesuits likely won't be ready until 2026 or later.
Under NASA's Artemis architecture, astronauts on moon landing missions will take off from Earth atop NASA's SLS heavy-lift rocket, fly to the moon's vicinity in an Orion capsule, then link up with a human-rated lander for the trip to and from the lunar surface. The astronauts will then return to Earth in the Orion spacecraft.
Before attempting a lunar landing, NASA will send four astronauts on a voyage around the far side of the moon on Artemis 2. The mission will carry the crew farther from Earth than any humans in history.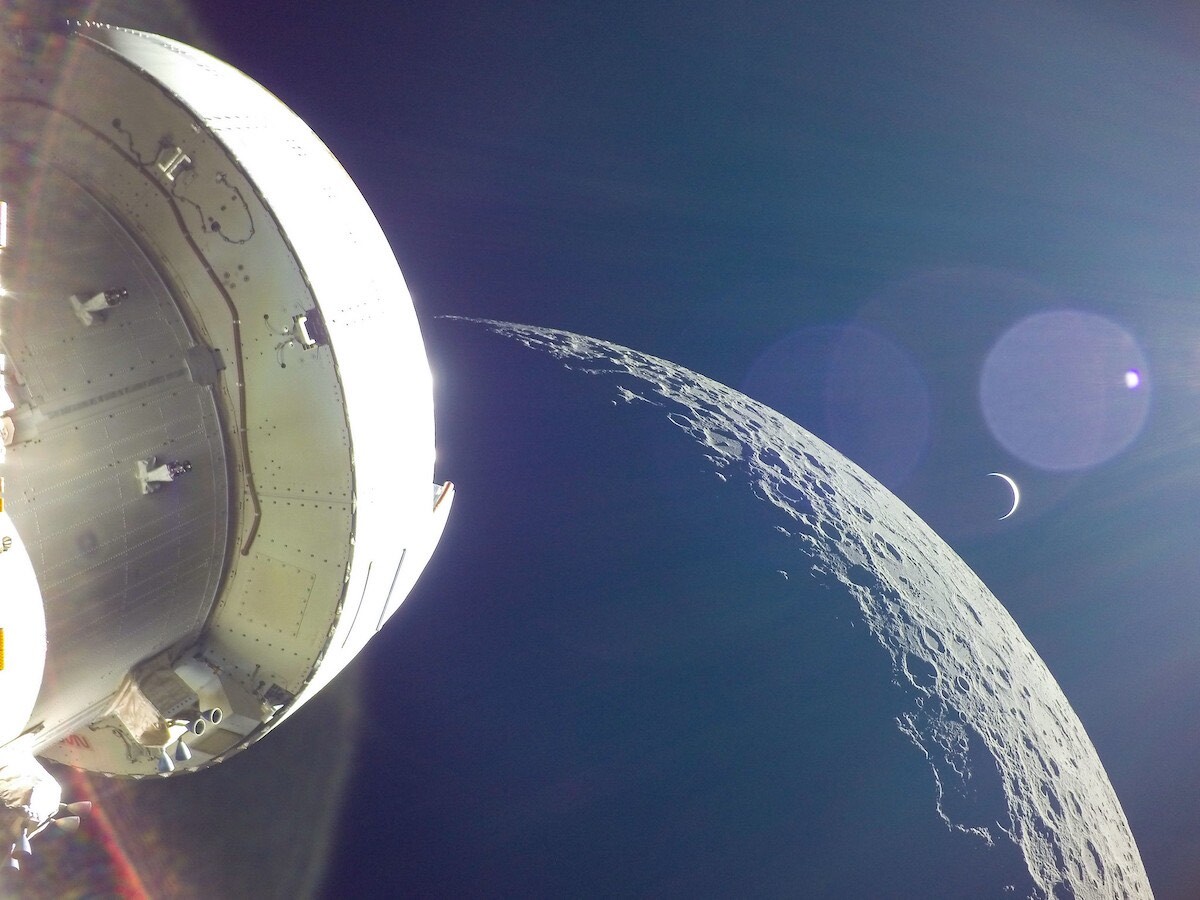 A camera on-board NASA's Orion Spacecraft captured this view of a crescent Earth beyond the lunar horizon on Dec. 5, 2022, when it completed a return flyby of the moon in the final days of the unpiloted Artemis 1 mission. Credit: NASA
NASA and the Canadian Space Agency reached an agreement in December 2020 to put a Canadian astronaut on the Artemis 2 mission, in exchange for Canada's contribution of a robotic arm called Canadarm 3 to the Gateway space station to be assembled in orbit around the moon.
Canada also secured a spot for a Canadian astronaut on a future mission to the Gateway mini-space station, a complex about one-sixth the size of the International Space Station currently orbiting Earth. The Gateway will serve as a waypoint, spacecraft refueling station, and deep space research outpost near the moon where astronauts will conduct scientific experiments, technology demonstrations, and pass through on flights between Earth and the lunar surface.
After launching from the Kennedy Space Center in Florida to begin the Artemis 2 mission, the Space Launch System powered by four space shuttle-era main engines and two solid rocket boosters will generate 8.8 million pounds thrust to begin the astronauts' voyage to the moon. The SLS moon rocket will fly in the same "Block 1" configuration successfully proven on the Artemis 1 launch last November.
The Space Launch System's cryogenic upper stage will first place the Orion moon capsule into a preliminary orbit ranging 1,800 miles (2,900 kilometers) above Earth, according to NASA.
Another burn by the upper stage engine will boost the Orion spacecraft into a higher orbit stretching some 46,000 miles (74,000 kilometers) from Earth, an elliptical loop higher than geostationary communications satellites and the GPS navigation network. In that orbit, the Orion spacecraft will separate from the SLS rocket's upper stage and will take about 23-and-a-half hours to complete one lap around the planet.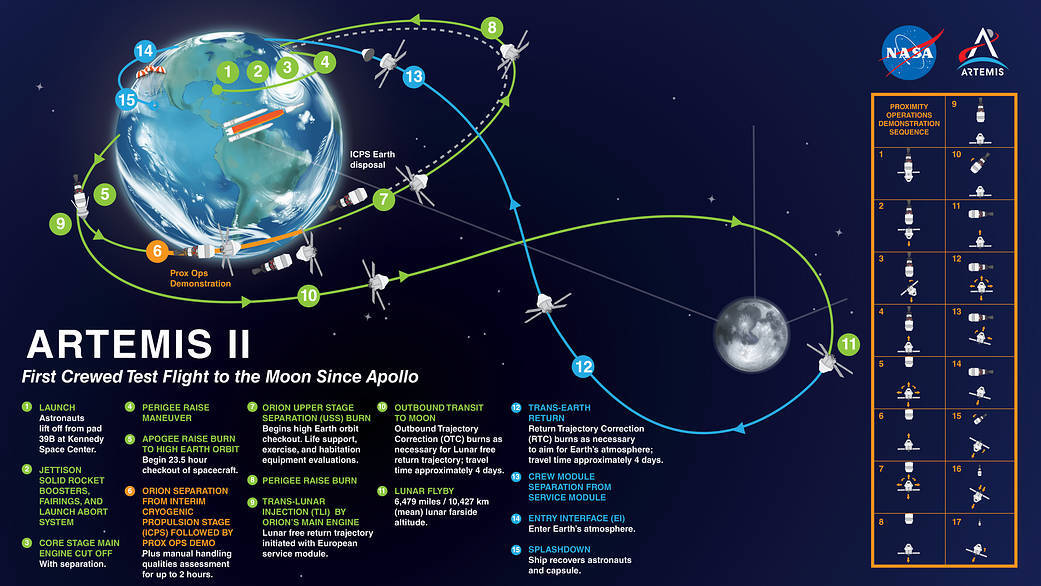 The 10-day Artemis 2 mission will carry four astronauts beyond the far side of the moon, after initial checkouts of their Orion spacecraft in Earth orbit. Credit: NASA
During their time in the high Earth orbit, the Artemis 2 astronauts will take off their protective pressure suits worn during launch, then complete a series of checkouts of spacecraft systems. The astronauts will test out the ship's rendezvous and docking systems by taking manual control to re-approach and then back away from the spent cryogenic upper stage of the SLS moon rocket. The proximity operations demonstration will test the Orion spacecraft's handling qualities during rendezvous and docking maneuvers that will be required on future Artemis moon missions.
The Orion crew capsule set to fly the Artemis 2 mission is being assembled by Lockheed Martin at NASA's Kennedy Space Center in Florida. Unlike the Orion flown on Artemis 1, the next spacecraft in line will debut a complete environmental control and life support system, crew seats for four crew members, and cockpit controls and displays.
NASA managers want to verify the life support systems needed to generate breathable air and remote carbon dioxide and water vapor from the spacecraft's internal atmosphere all function as designed before sending the astronauts to the moon. The day-long high Earth orbit will allow engineers to evaluate how the life support system works when the crew members exercise and sleep, assessing the system's performance during high and low metabolic rates for the astronauts.
Ground teams will also confirm they can communicate with the Orion spacecraft and the Artemis 2 crew through the Deep Space Network, a set of antennas at sites in California, Spain, and Australia usually tasked with contacting robotic probes exploring other planets.
Human spaceflight missions in low Earth orbit, such as the International Space Station, typically communicate with ground controllers through NASA's fleet of Tracking and Data Relay Satellites. But the Artemis 2 mission will fly well beyond the TDRS fleet in geostationary orbit.
Once mission control and the Artemis 2 crew finish their testing in Earth orbit, the Orion spacecraft's service module engine will ignite to propel the capsule and its four-person crew toward the moon a quarter-million miles from Earth.
The Artemis 2 mission will follow a "hybrid free return trajectory" around the moon, with an outbound trip lasting about four days. The Orion crew capsule won't enter orbit around the moon, but still instead loop around the far side of the moon and use the influence of gravity to return directly to Earth for splashdown in the Pacific Ocean, similar to the trajectory the Apollo 13 astronauts flew after an explosion on their spacecraft forced them to cancel a planned lunar landing.
The Orion spacecraft will arc out to a distance of 4,600 miles (7,400 kilometers) beyond the far side of the moon, farther than any humans have ever traveled into space.
The Artemis 2 mission will last around 10 days, paving the way for future landing expeditions and longer-duration flights to the Gateway. NASA hasn't confirmed flight opportunities for Japan and the European Space Agency, the other major partners in the Artemis program. But astronauts from both partners are expected to fly to the moon in the Artemis program.
ESA supplies the service modules for Orion missions, and is developing a refueling and communications module for the Gateway station. Japan is helping work on an international habitation module, along with ESA, and could send resupply ships to the Gateway complex.
Quelle: SN
+++
NASA Names Astronauts to Next Moon Mission, First Crew Under Artemis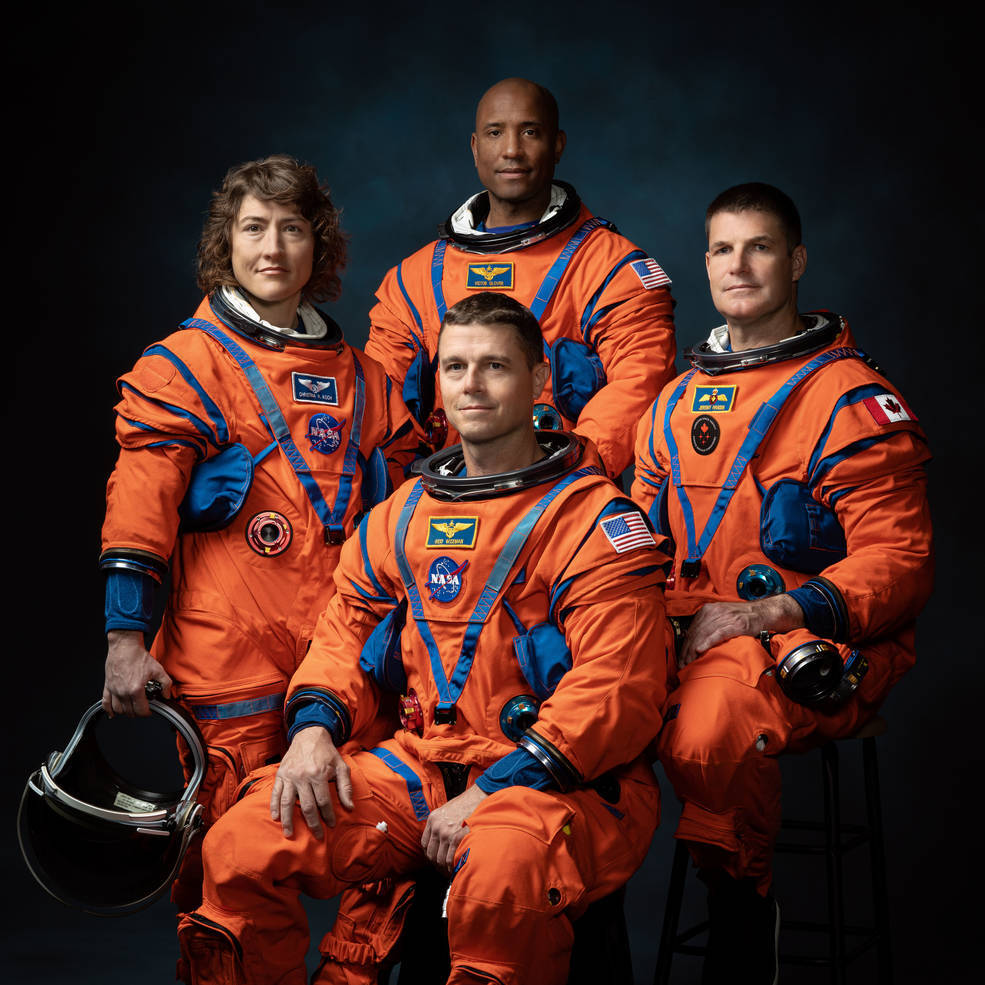 Credits: NASA
NASA and the Canadian Space Agency (CSA) announced the four astronauts who will venture around the Moon on Artemis II, the first crewed mission on NASA's path to establishing a long-term presence at the Moon for science and exploration through Artemis. The agencies revealed the crew members Monday during an event at Ellington Field near NASA's Johnson Space Center in Houston.
"The Artemis II crew represents thousands of people working tirelessly to bring us to the stars. This is their crew, this is our crew, this is humanity's crew," said NASA Administrator Bill Nelson. "NASA astronauts Reid Wiseman, Victor Glover, and Christina Hammock Koch, and CSA astronaut Jeremy Hansen, each has their own story, but, together, they represent our creed: E pluribus unum – out of many, one. Together, we are ushering in a new era of exploration for a new generation of star sailors and dreamers – the Artemis Generation."
The crew assignments are as follows: Commander Reid Wiseman, Pilot Victor Glover, Mission Specialist 1 Christina Hammock Koch, and Mission Specialist 2 Jeremy Hansen. They will work as a team to execute an ambitious set of demonstrations during the flight test.
The approximately 10-day Artemis II flight test will launch on the agency's powerful Space Launch System rocket, prove the Orion spacecraft's life-support systems, and validate the capabilities and techniques needed for humans to live and work in deep space.
"We are going back to the Moon and Canada is at the center of this exciting journey," said the Honorable François-Philippe Champagne, the minister responsible for the Canadian Space Agency. "Thanks to our longstanding collaboration with NASA, a Canadian astronaut will fly on this historic mission. On behalf of all Canadians, I want to congratulate Jeremy for being at the forefront of one of the most ambitious human endeavors ever undertaken. Canada's participation in the Artemis program is not only a defining chapter of our history in space, but also a testament to the friendship and close partnership between our two nations."
The flight, set to build upon the successful uncrewed Artemis I mission completed in December, will set the stage for the first woman and first person of color on the Moon through the Artemis program, paving the way for future for long-term human exploration missions to the Moon, and eventually Mars. This is the agency's Moon to Mars exploration approach.
"For the first time in more than 50 years, these individuals – the Artemis II crew – will be the first humans to fly to the vicinity of the Moon. Among the crew are the first woman, first person of color, and first Canadian on a lunar mission, and all four astronauts will represent the best of humanity as they explore for the benefit of all," said Director Vanessa Wyche, NASA Johnson. "This mission paves the way for the expansion of human deep space exploration and presents new opportunities for scientific discoveries, commercial, industry and academic partnerships and the Artemis Generation."
Meet Artemis II Astronauts
This will be Wiseman's second trip into space, serving previously as a flight engineer aboard the International Station for Expedition 41 from May through November 2014. Wiseman has logged more than 165 days in space, including almost 13 hours as lead spacewalker during two trips outside the orbital complex. Prior to his assignment, Wiseman served as chief of the Astronaut Office from December 2020 until November 2022.
The mission will be Glover's second spaceflight, serving previously as pilot on NASA's SpaceX Crew-1, which landed May 2, 2021, after 168 days in space. As a flight engineer aboard the space station for Expedition 64, he contributed to scientific investigations, technology demonstrations, and participated in four spacewalks.
Koch also will be making her second flight into space on the Artemis II mission. She served as flight engineer aboard the space station for Expedition 59, 60, and 61. Koch set a record for the longest single spaceflight by a woman with a total of 328 days in space and participated in the first all-female spacewalks.
Representing Canada, Hansen is making his first flight to space. A colonel in the Canadian Armed Forces and former fighter pilot, Hansen holds a Bachelor of Science in space science from Royal Military College of Canada in Kingston, Ontario, and a Master of Science in physics from the same institution in 2000, with a research focus on Wide Field of View Satellite Tracking. He was one of two recruits selected by CSA in May 2009 through the third Canadian Astronaut Recruitment Campaign and has served as Capcom in NASA's Mission Control Center at Johnson and, in 2017, became the first Canadian to be entrusted with leading a NASA astronaut class, leading the training of astronaut candidates from the United States and Canada.
"I could not be prouder that these brave four will kickstart our journeys to the Moon and beyond," said Director of Flight Operations Norm Knight, NASA Johnson. "They represent exactly what an astronaut corps should be: a mix of highly capable and accomplished individuals with the skills and determination to take on any trial as a team. The Artemis II mission will be challenging, and we'll test our limits as we prepare to put future astronauts on the Moon. With Reid, Victor, Christina, and Jeremy at the controls, I have no doubt we're ready to face every challenge that comes our way."
Through Artemis missions, NASA will use innovative technologies to explore more of the lunar surface than ever before. We will collaborate with commercial and international partners and establish the first long-term presence on the Moon. Then, we will use what we learn on and around the Moon to take the next giant leap: sending the first astronauts to Mars.
Quelle: NASA
----
Update: 4.05.2023
.
Artemis 2 astronauts flying to the moon could phone home with ham radio
'It is nice to know it makes such a huge impact.'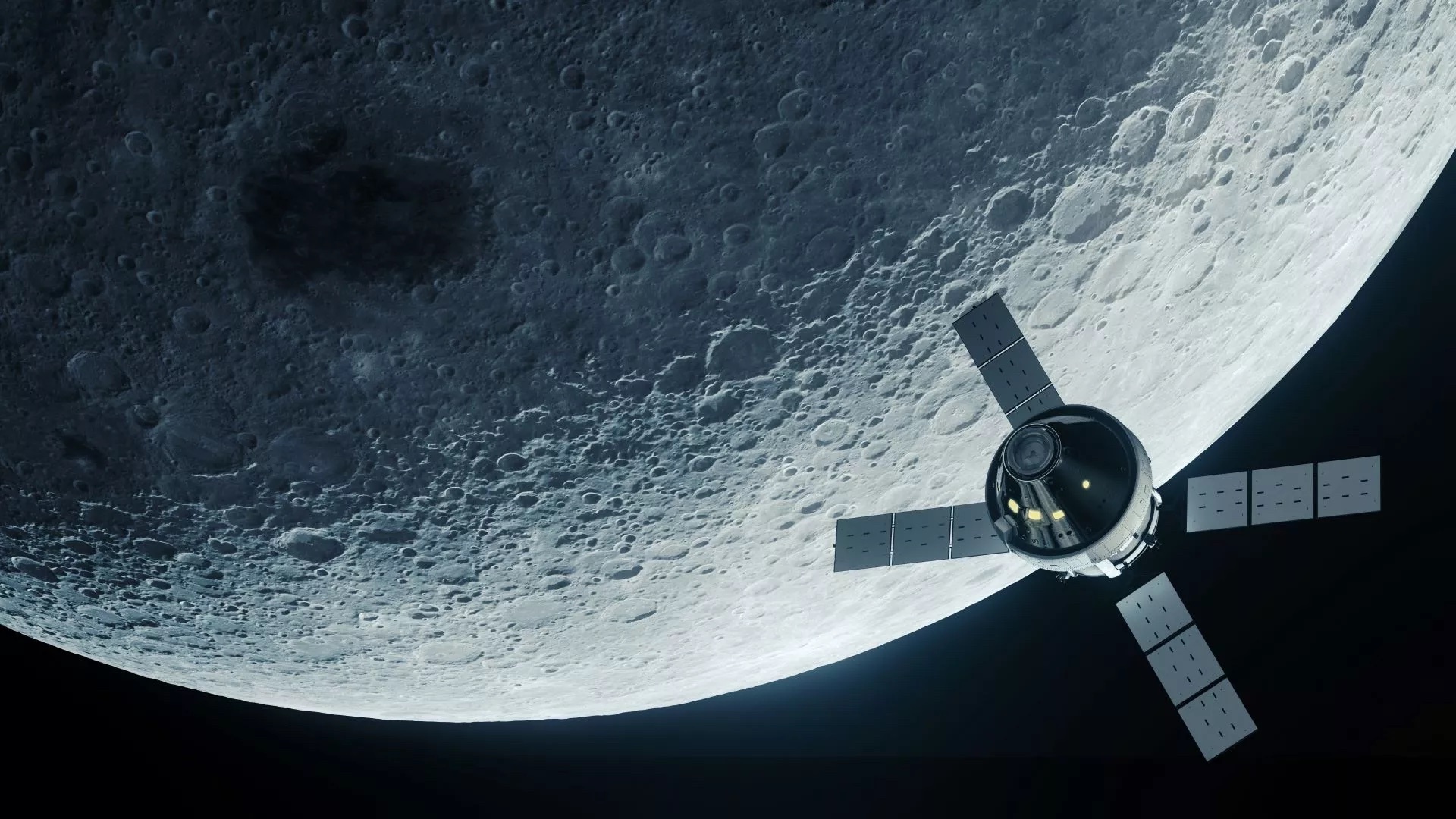 It's been 40 years since the first astronaut called an amateur radio operator on Earth. Now the moon is in the community's sights.
Most of the astronauts aboard the Artemis 2 mission, which will send a quartet of people around the moon in late 2024, are certified ham radio (amateur radio) operators. There's high hopes in the community that the astronauts may call home from deep space, the president of Radio Amateurs of Canada told Space.com.
"We feel it's important that anyone, especially kids as they determine what they want to do with their life, have that opportunity" to talk with astronauts, Phil A. McBride said in a recent interview. After four decades of communication with low Earth orbit, he added, the hope is ham radio will reach further out with the moon.
The first ham radio operator in space was NASA astronaut Owen Garriott (W5LFL), who on Dec. 1, 1983 called Lance Collister (WA1JXN) in Frenchtown, Montana. A ham radio was even aboard the Russian space station Mir, according to NASA(opens in new tab), during the shuttle-Mir program that saw NASA astronauts visit the orbiting complex.
Today's ham operators communicate with astronauts through Amateur Radio on the International Space Station (ARISS), largely aiming to let students directly talk with spaceflyers, according to documentation from the group(opens in new tab). As of 2022, NASA reports that more than 100 crew members(opens in new tab) have connected with 250,000 participants on the ground via ARISS.
It's unclear if ham radio equipment will be onboard Artemis 2 as the mission manifest is not yet decided, Space.com confirmed with Chief Astronaut Joe Acaba and two of the crew members (NASA's Reid Wiseman and the Canadian Space Agency's Jeremy Hansen) in interviews last month. In theory, though, the main requirements would be adequate power and storage space for radio equipment, spare time for the crew to devote to the radio during their 10-day mission and a line of sight with Earth.
Three of the four Artemis 2 astronauts are certified hams, however, with call signs for Wiseman (KF5LKT), Hansen (KF5LKU) and NASA astronaut Victor Glover (KI5BKC). The other crew member, NASA astronaut Christina Koch, was studying for a 2019 amateur license exam when her record-setting one-year flight was abruptly rescheduled six months earlier than expected, according to the National Association for Amateur Radio(opens in new tab). Koch delayed the certification in favor of completing the mission training for her 328-day sojourn that ended on Feb. 10, 2020.
Participating in the ham community requires precious resources: Time to study for the required exams, equipment space to accommodate chatting with others and money to buy said equipment and obtain certification. Costs vary considerably by region. U.S. operators must pay around $35 to get their ham radio license from the Federal Communications Commission, according to Hamtronics.com(opens in new tab). Equipment costs can range from $30 handheld devices to more professional units that start at $400 and climb quickly into the thousands.
The community is an international collective that McBride says is quite welcoming of people from all ages, genders, backgrounds and all countries, to the extent that operators will often donate old equipment to those in need. That said, the barriers of cost and time do tend to favor males worldwide; detailed statistics on diversity are not easily available. Diversity and inclusion were the stated priorities of the American Radio Relay League in a December 2022 communique(opens in new tab) from its CEO, David Minster.
The ham community is starting to think past the apparent conclusion of the ISS program in 2030, to a time when commercial space stations are expected to begin. McBride said conversations are ongoing about bringing hams onto these commercial venues, although the planning for the outposts are still in early stages.
Speaking to his own experience, McBride said ham radio tends to inculcate valuable cross-disciplinary skills in the community. Math skills are a definite must, along with comfort with technology. McBride, 43, said as an example that his interest in ham radio had him studying algebra ahead of his schoolmates around ages 13 and 14.
"It encourages innovation," McBride said of ham radio, which was estimated to have three million participants worldwide(opens in new tab) in 2015. The previous decade before that, based on U.S. statistics, appeared to show that number is growing.
The current ARISS collaboration involves all the major partners: NASA, the European Space Agency, Roscosmos and the Canadian Space Agency. Artemis will have a similarly international approach for its crews, so presumably, if ham radio is brought on board those missions several countries will be involved.
The astronauts themselves have said how much ham radio means to them. "I get choked up every time I read a report about a ham radio contact," NASA astronaut Sunita Williams said in 2015(opens in new tab).
"You go through the questions and it sounds like only 10 kids, then you read a report about how many people were at that event and how much preparation and time the kids took. It is nice to know it makes such a huge impact."
Quelle: SC
----
Update: 9.05.2023
.
Artemis 2 will use lasers to beam high-definition footage from the moon (video)
Artemis 2 astronauts will be testing out laser communications around the moon to enable faster transmission of images and video.
NASA is using lasers to evolve how the agency communicates between spacecraft.
In the past, the space agency has relied on radio signals beamed through its Deep Space Network to transmit any sort of scientific data from deep space probes back to Earth. Lasers, however, have the ability to vastly increase the amount of data spacecraft are able to send, and NASA is ready to send the technology around the moon.
NASA is including laser communications in the form of the Orion Artemis 2 Optical Communications System (O2O) terminal on Artemis 2, the next crewed mission around the moon. "Onboard the Orion capsule, the O2O system will send back high-resolution images and video from the lunar region," a NASA video published in April states. If all goes according to plan, the system should enable viewers on Earth to see the moon in real-time like never before.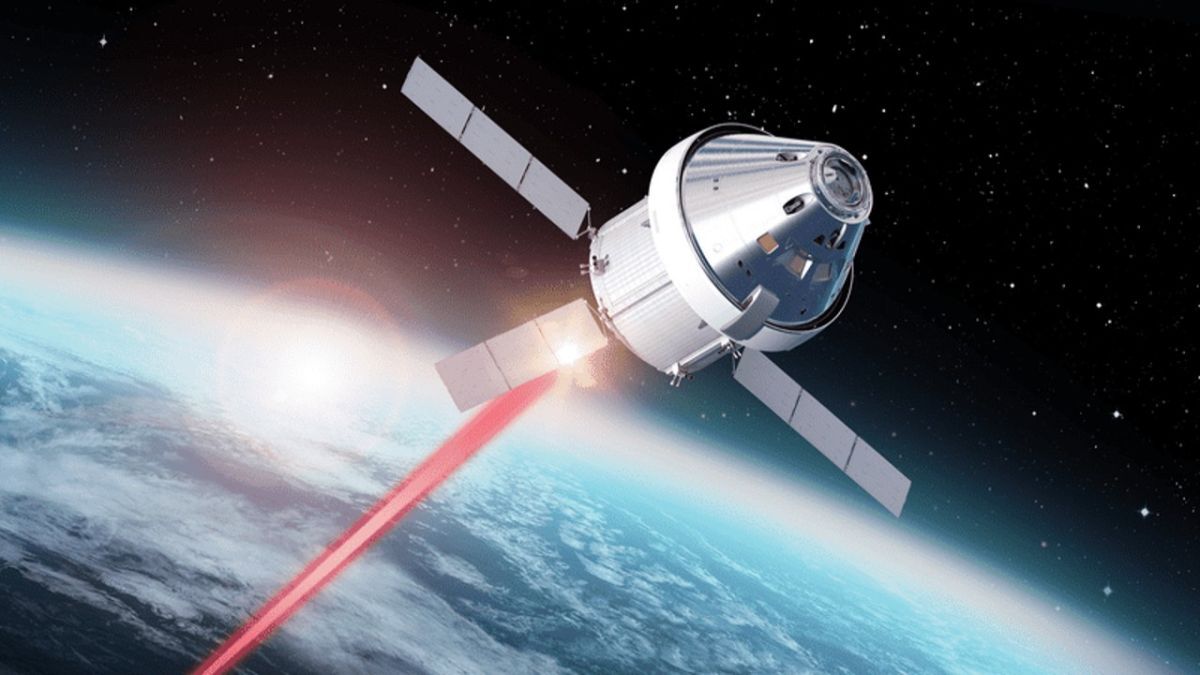 An illustration of the Orion Artemis 2 Optical Communications System in action. (Image credit: NASA
Imagine having dial-up internet for years, then upgrading to gigabit fiber optic speeds. That's essentially what NASA is hoping to accomplish for its future spacecraft.
To lay the groundwork for future laser communications, NASA has launched several demonstration satellites in recent years. The Laser Communication Relay Demonstration (LCRD) launched in December 2021 was the agency's first laser relay. That was followed by the TeraByte InfraRed Delivery (TBIRD) CubeSat launched last year, which reached data transmission rates of 200 gigabits per second.
Now, NASA is preparing the Integrated LCRD Low-Earth-Orbit (LEO) User Modem and Amplifier Terminal (ILLUMA-T), which is expected to launch to the International Space Station (ISS) later this year. ILLUMA-T will attach to the exposed facility on the Japanese Experiment Module.
Once operational, ILLUMA-T will relay data back to Earth through LCRD in NASA's first end-to-end laser relay communications system, laying the groundwork for the O2O system that will be aboard Orion during Artemis 2.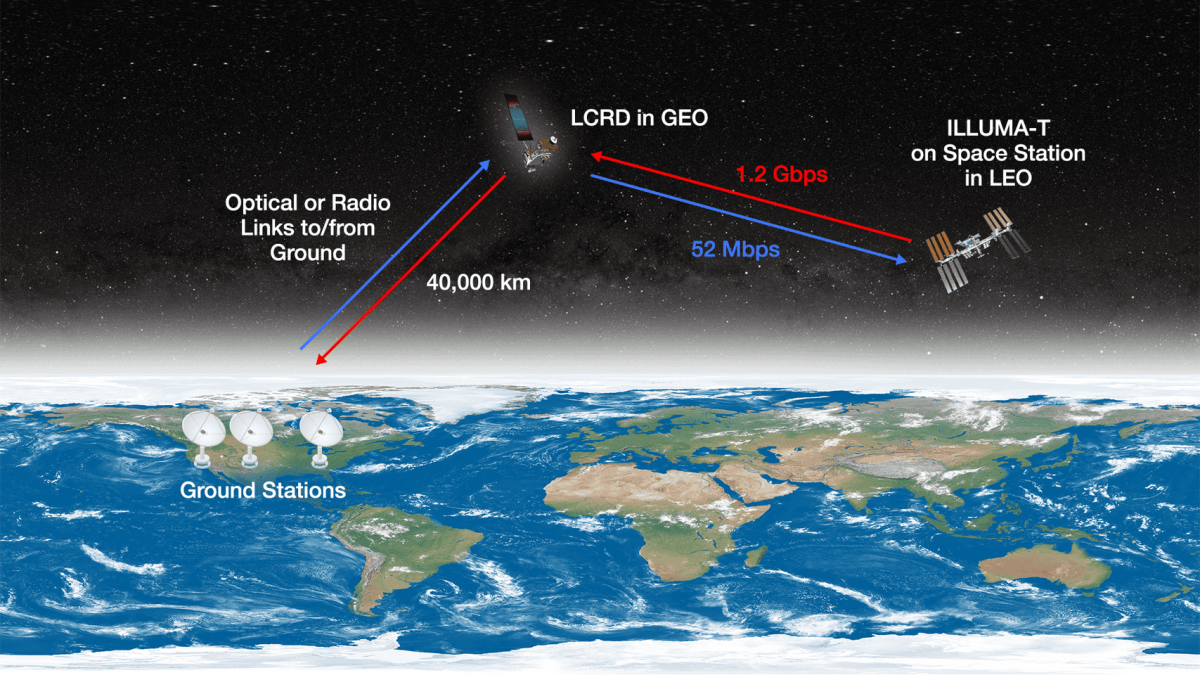 An illustration showing how a variety of satellites, the International Space Station and ground stations will work together as a part of NASA's ILLUMA-T experiment. (Image credit: NASA
Still, as NASA notes in its recent video, these experiments are "only the start of how laser communications are paving the way for advancing our scientific discoveries."
The success of Artemis 1 last year has put Artemis 2 on an imminent path to launch, which will fly the first astronauts to the moon since 1972. Images from the cameras mounted to Orion captivated the world during the spacecraft's first mission to lunar orbit and back.
With a crew onboard for Artemis 2, NASA expects to transmit not just high resolution images, but video as well. If all goes according to plan with these laser communications experiments, we can expect to see plenty of live or nearly live crew updates with the gorgeous background of the lunar surface visible in Orion's windows.
Quelle: SC
469 Views