12.05.2023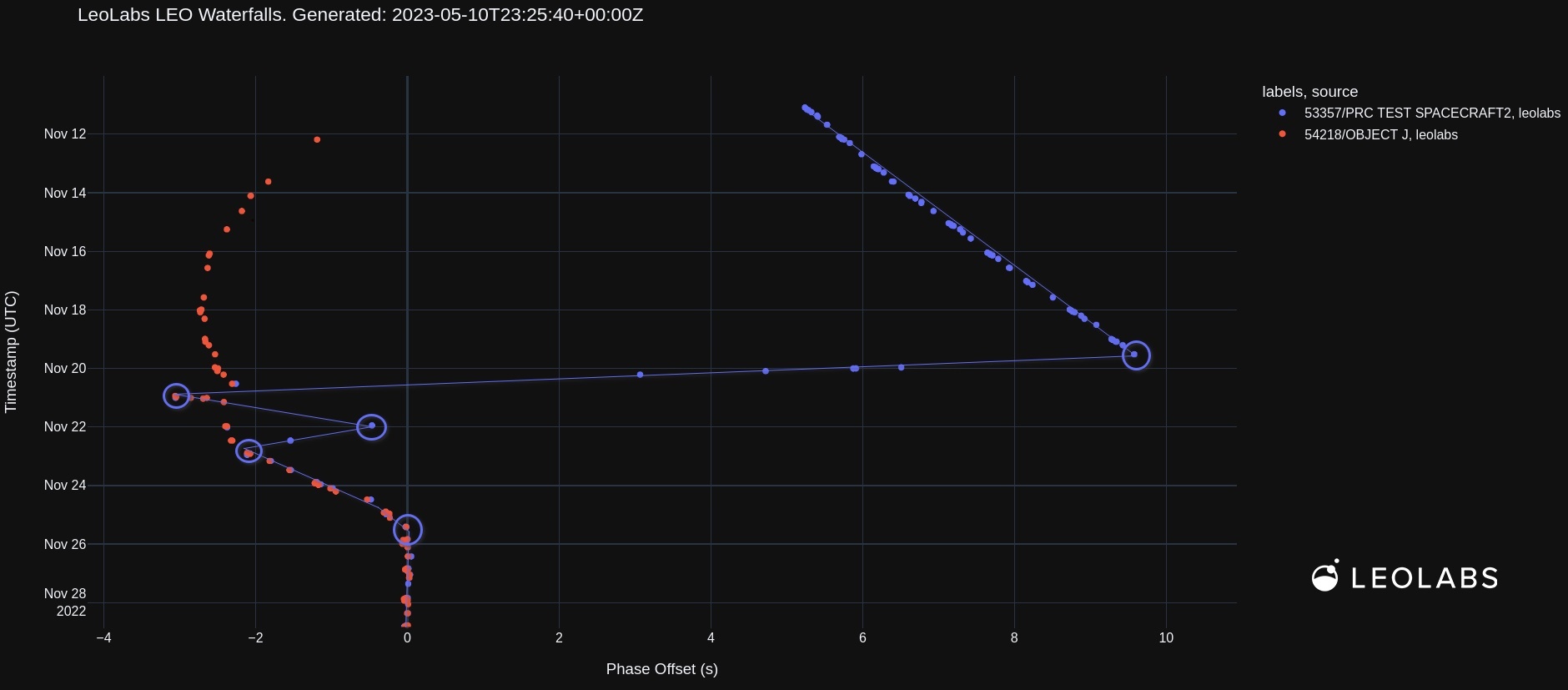 Maneuvers of China's spaceplane and companion subsatellite in November 2022, tracked by Leolabs. Credit: Leolabs
HELSINKI — China's secretive spaceplane may have performed multiple recaptures of an object it released into orbit during its recently completed second flight as part of on-orbit testing.
Private firm Leolabs, which provides space situational awareness data through its global network of radars for tracking objects in low Earth orbit, said its analysis found evidence of what appeared to be at least two and possibly three capture/docking operations with a co-orbiting object.
China's clandestine spaceplane launched Aug. 4, 2022, embarking on its second flight, two years after its first, four-day-long mission. The second flight ended with a horizontal landing May 10, after 276 days in orbit.
China has released very little information about the project, but clues indicate the spacecraft is somewhat similar to the Boeing X-37B.
U.S. Space Force's 18th Space Defense Squadron tracking data revealed an object in a closely-matching orbit to the spaceplane Oct. 31, 2022 (NORAD ID 54218 (2022-093J COSPAR ID)).
This companion subsatellite was then used in a series of rendezvous and proximity operations (RPO) with the spacecraft, according to Leolabs.
"Analyzing data from our global radar network, we've determined that the Test Spacecraft2 has propulsive capability and engaged in proximity operations with Object J, including what appeared to be at least two and possibly three capture/docking operations," a Leolabs statement said.
Leolabs' assessment of on-orbit activities highlights three periods of RPO. One period, between Nov. 25 and Dec. 24 last year, shows that the two spacecraft were either docked or spaced very closely, with a possible docking performed on Nov. 25 or 26. A second docking was noted as taking place Jan. 10, 2023, in a second phase of operations.
A later phase, between Feb. 20 and March 29, was similar to the previous and "featured what appeared to be apparent forced separation, followed by rendezvous and formation flying. 54218 [companion satellite] was once again observed to maneuver independently of the parent craft."
Leolabs notes that, on a minimum of five occasions, the companion satellite demonstrated what appeared to be independent propulsive capabilities.
The spaceplane's operations will likely gain attention outside of China, particularly with regards to docking and capture operations and the possible uses of such capabilities.
"Based on what we do know, it seems like the Chinese and American spaceplane programs are being used in very similar fashions – primarily as testbeds for new technologies and capability demonstrations. It's hard to tell for sure what technologies or capabilities exactly, as both governments are pretty secretive about the details," Brian Weeden, director of program planning for the Secure World Foundation, told SpaceNews via email.
"What I find fascinating is the perceptions surrounding each program. When the X-37B started flying, it generated a lot of concern from the Chinese about the potential for it to be used as a weapon, a concern they've mentioned in recent multilateral discussions on space security.
"Likewise, I expect that these latest reports on the Chinese spaceplane are likely to cause a lot of concern in the US, despite it being pretty similar to capabilities the U.S. is also developing."
A statement from the spaceplane's maker, CASC, released after the May 10 landing claimed that the project "will provide a more convenient and inexpensive way to access space for the peaceful use of space in the future."
"We know the X-37B has also deployed several subsatellites on previous missions, but there isn't the public tracking data to be able to tell if it did RPOs or not," Weeden wrote.
The spacecraft landed at Lop Nur military base in Xinjiang May 8. Leolabs states that their observation data indicated the landing window to be likely between 0018 and 0020 UTC.
CASC's reusable spaceplane project last year acquired national level funding from the Natural Science Foundation of China.
Leolabs previously highlighted that the spaceplane made a large change to its orbit in April, likely in preparation for the spacecraft to land. The mission was used by the company to test its capabilities.
"This event tested LeoLabs object tracking and maneuver detection and characterization capabilities, proving that we can provide critical intelligence on the behaviors and activities of HIOs thanks to our continuous, real-time operations," Leolabs said in a statement.
Quelle: SN
151 Views