21.11.2021
NASA Invites Public to Share Launch of Laser Communications Demonstration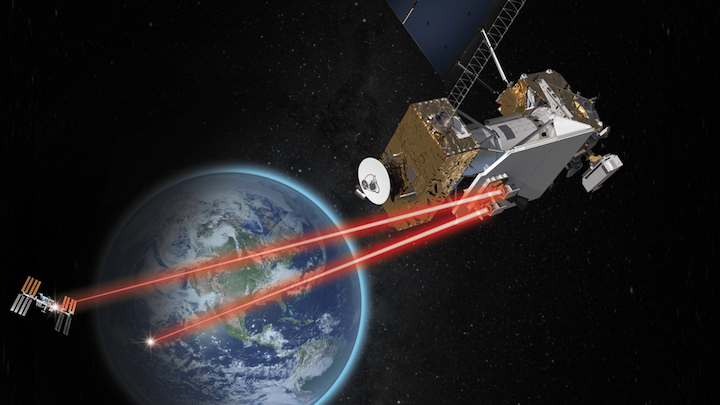 NASA is inviting the public to take part in virtual activities and events ahead of the launch of the agency's Laser Communications Relay Demonstration (LCRD) mission. Launch is scheduled for 4:04 – 6:04 a.m. EST on Saturday, Dec. 4, 2021, aboard a United Launch Alliance Atlas V 551 rocket from Space Launch Complex 41 at Cape Canaveral Space Force Station, Florida.
LCRD will showcase the unique capabilities of optical communications to increase bandwidth for communicating in space while reducing size, weight, and power requirements. LCRD will fly as a payload on Space Test Program Satellite-6 (STPSat-6), the primary spacecraft of the Space Test Program 3 (STP-3) mission for the Department of Defense.
Members of the public can register to attend the launch virtually. NASA's virtual guest program for this launch includes curated launch resources, behind-the-scenes looks at the mission, and a virtual guest passport stamp following a successful launch.
Live coverage and countdown commentary of the launch will begin approximately 35 minutes before launch and air on NASA Television and the agency's website, as well as YouTube, Twitter, Facebook, LinkedIn, Twitch, Daily Motion, Theta.TV and the NASA App.
The Laser Communications Relay Demonstration (LCRD) will be NASA's first end-to-end laser relay system, sending and receiving data over invisible infrared lasers at a rate of approximately 1.2 gigabits per second from geosynchronous orbit to Earth. With data rates 10 to 100 times higher than traditional radio frequency systems, laser communications systems will provide future missions with extraordinary data capabilities.
Engineers will beam data between LCRD and optical ground stations located in Table Mountain, California, and Haleakalā, Hawaii, once it is positioned more than 22,000 miles above Earth. Experiments will refine the transmission process, study different operational scenarios, and perfect tracking systems. The information and data are essential for readying a laser communications system for an operational mission because engineers cannot replicate the same conditions with ground tests.
Members of the public can also share in the journey through a variety of activities, including:
Virtual Launch Passport
Print, fold, and get ready to fill your virtual passport. Stamps will be emailed following launches to those who register.
STEM Toolkit
Teachers and students can explore the LCRD STEM Tool Kit. The kit includes five activity sheets, each designed for a target grade level range, a model of STPSat-6 that students and teachers can 3D print, an overview of LCRD, and several other printables. Many of the toolkit resources are also available in Spanish.
Watch and Engage on Social Media
Stay connected with the mission on social media and let people know you're following it on Twitter, Facebook, and Instagram. Follow and tag these accounts:
LCRD is led by NASA's Goddard Space Flight Center in Greenbelt, Maryland. Partners include NASA's Jet Propulsion Laboratory in Southern California and the MIT Lincoln Laboratory. LCRD is funded through the Technology Demonstration Missions program in NASA's Space Technology Mission Directorate and the Space Communications and Navigation program at NASA Headquarters.
Quelle: NASA
940 Views