20.11.2021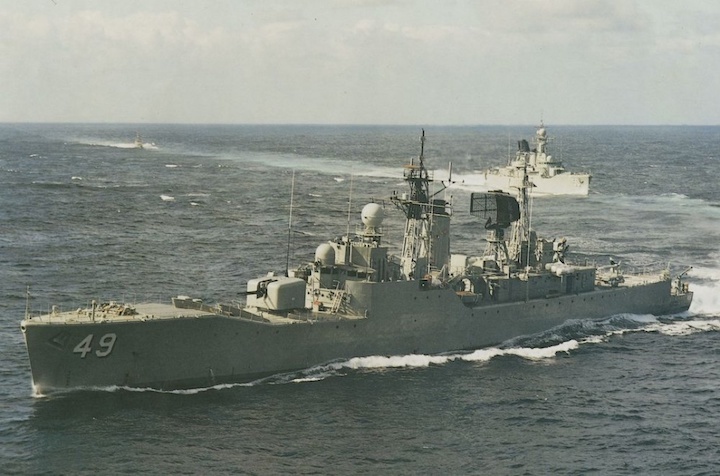 HMAS Derwent leads HMAS Swan and HMAS Geraldton during exercises off the West Australian coast, 1988.
1992 Departing Darwin on 13 March, Derwent participated in Exercise KANGAROO 92 with Swan and Torrens. Pilotage Training for the SEAACs enabled Derwent to visit Noumea and the Whitsunday Group during the months of June July. A Reduced Activity Period commenced from the 15 August until the end of the year.
It is around 2am on a crystal-clear night on the bridge of the Royal Australian Navy destroyer escort HMAS Derwent when Australian Navy serviceman Andrew Roberts and four other colleagues on night watch duty notice the cylindrical object hovering 500m off the ship's port bridge wing.
"I looked up and there was this long cylindrical silver object, about 20m long, with a heat-haze around it," Andrew recalls.
"It was following the ship no more than 500m away. We could see it very clearly in the night sky. I called out to the officer-of-the-watch and five of us all looked up at this thing for at least a good minute.
"As we watched it suddenly instantly accelerated and then disappeared into the distance. The acceleration was amazing, instantaneous. It just disappeared in the blink of an eye."
It was 1992; the destroyer was headed back to its home base of HMAS Stirlingin WA after an 'up-Top' Asian deployment.
Andrew was a sonar technician onboard at the time, but he would later qualify to become one of the elites of the Australian Navy's special forces – a Navy Clearance diver.
Thirty years on, he is adamant that what he saw was not a conventional aircraft, balloon, or drone; indeed, he can think of no prosaic explanation for what he and his shipmates saw.
But he admits it was neither reported to his superiors nor noted in the ship's log, probably because of the stigma associated with reporting such anomalous objects.
Unreported sightings
"I was so intrigued by what we'd seen I went down to the radar room and spoke to the radar ops centre to see if they'd seen it on screen; they hadn't.
"Looking back now, I wish we had reported it but while reporting such things was neither discouraged or encouraged, we were puzzled as to what it was and we kind of let things lie, never passing the sighting on," he says.
629 Views