20.11.2021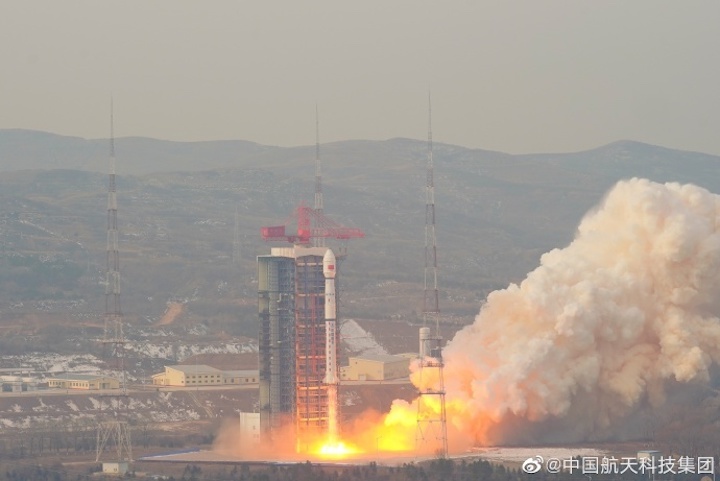 Keeping up a rapid pace of launches this year, China deployed the Gaofen 11-03 satellite Saturday using its Chang Zheng 4B rocket. The launch took place from the Taiyuan Satellite Launch Center at 01:51 UTC (09:51 Beijing Time) and marks China's forty-fourth orbital mission of 2021.
Gaofen 11-03 is the third in a series of high-resolution optical imaging Gaofen 11 satellites, part of the wider Gaofen series which aims to provide China with a global high-definition Earth-imaging capability for civil applications. Gaofen means "high resolution," and the Gaofen constellation is unrelated to the smaller commercial Jilin-1 Gaofen satellites.
China launched the first member of the Gaofen constellation, Gaofen 1, in April 2013. Subsequent launches have added a multitude of capabilities to the system, including high-resolution optical, multispectral and hyperspectral and radar imaging. Gaofen is operated by the state-owned China Aerospace Science and Technology Corporation (CASC) and provides data to support a varied array of applications, including disaster management and prevention, agriculture, and urban planning.
The full capabilities of the Gaofen 11 spacecraft have not been published. However, the satellites are believed to form part of the constellation's optical high-resolution component. The first such satellite, Gaofen 11-01, was launched in July 2016. This was followed by Gaofen 11-02 in September 2020.
The Gaofen 11 satellites operate in sun-synchronous orbits, with a perigee of approximately 450 kilometers, an apogee of around 690 kilometers, and an inclination of 97.4 degrees.
Saturday's launch saw Gaofen 11-03 lift off from the Taiyuan Satellite Launch Center atop a Chang Zheng 4B (CZ-4B) carrier rocket. Also known as the Long March 4B, the CZ-4B is part of China's legacy Chang Zheng family of rockets, derived from the Dongfeng 5 missile. This family includes the Chang Zheng 2, 3, and 4 vehicles. It does not include the earlier Chang Zheng 1, which was based on the Dongfeng 3 missile.
621 Views