2.11.2018
Blimp Boom or Bust? Assessing Airship Business Opportunities for Helicopter Operators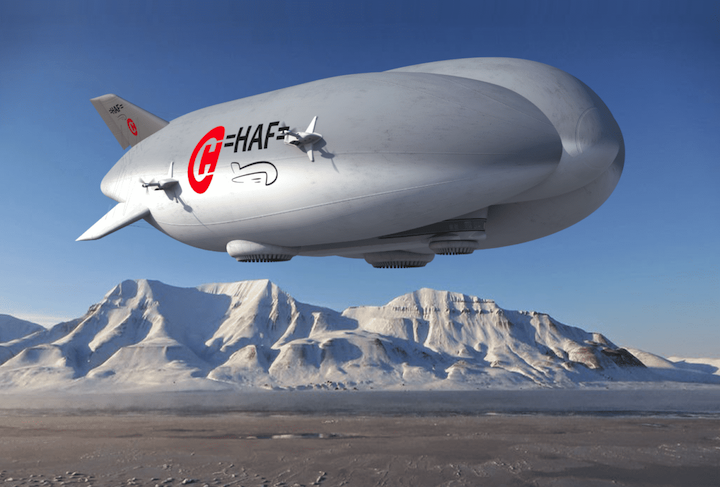 Could airships become part of today's air transportation system, as passenger or cargo haulers? Or is this a pipedream involving a form of transportation whose time has come and gone? A number of developments over the past year seem to suggest that there is more than passing interest in these lighter-than-air vehicles.
In mid-September 2018, Paris-based Hybrid Air Freighters (HAF) and Columbia Helicopters signed a teaming agreement to have the Aurora, Oregon-based rotorcraft operator manage and operate a fleet of 12 Lockheed Martin LMH-1 heavy-lift airships. HAF signed a letter of intent in 2017 for 12 LMH-1s that the team hopes to have operational by 2020. The deal is potentially worth $480 million.
Earlier, U.K.-based Straightline Aviation Ltd. signed a letter of intent to buy up to 12 LMH airships from Lockheed. Several of the LMH-1s will support the mining industry and other ventures in remote locations globally.
London-based Hybrid Air Vehicles (HAV) is promoting its 100-mph, 92-meters/100.6-foot-long Airlander 10 as a vehicle for upper-tier passengers. The $40 million, not-yet-flown Airlander 50, the larger of the two airships, will carry 50 tons of cargo with a cargo bay volume in excess of 500 meters, according to its website. The Airlander 50, now in development, is expected to come to market by 2020.
Elsewhere, there is activity. Flying Whales, with financial backing of the French and China governments, is producing the LCA60T airship with a 60-ton capacity. China's AVIC General owns 24.9 percent of Flying Whales.
West Midland, England-based Varialift Airships Plc is touting its 150-meter-long ARH50, a 50-ton payload cargo airship. The company has a manufacturing base in Châteaudun, France, where it is building its prototype. Plans are to build three different models capable of speeds between 250 and 350 kph.
Since 2015, Russia has been marketing its $15 million Atlant airship for military use.
HAF and Columbia plan to use their 280-foot-long, 148-foot-wide and 78-foot-high LMH-1 airship for cargo service only, in support of onshore oil and gas, mining and large-scale construction businesses.
"We are working exclusively in the cargo market," HAF Partner Frédéric Jouanneau said. "We think the time is right for a safe solution to transport heavy loads to remote areas, such as tropical forests, deserts, parts of Canada and deepest parts of Africa."
Santiago Crespo, VP of business development and marketing for Columbia Helicopters, said the time is right for a cargo airship. "The renewed interest in airships is due to a combination of advanced technologies, such as the hovercraft-like landing system, together with the design as well as stricter environmental requirements," he said.
The 80-percent helium-filled LMH-1 will cruise at 60 kt, with a range of around 1,400 nm. The LMH-1 comes with fly-by-wire (FBW), two-axis vectored thrust propulsion and a tri-hull multiple lobe, helium-filled design. The LMH-1H will have 5,000-gallon cargo fuel tanks built in.
Cargo can be loaded in a 10-foot-by-10-foot-by-60-foot cargo bay that is flexible and customizable, according to Columbia Helicopters. Roll-on-roll-off capability, CAT D6 Caterpillar tractor and ATCO modular mobile office in a trailer configuration will be part of the air cargo setup, said Crespo. The cargo can be palletized or packed in bulk.
The LMH-1 comes with an air cushion landing system, which allows the airship to land on most service, as well as SPIDER, a small robot that scans and patches pinholes found in the airship, according to Lockheed Martin.
Helping make a case for cargo-hauling airships is that they don't need a highway, airport or helipad to receive and transport cargo. Such requirements could raise operational costs to the point that the operation was cost prohibitive.
Crespo said the LMH-1 would not be capable of long-line external load operations. Meaning, they will have no role Columbia's long-line business.
Separately, in answers to submitted questions, Columbia and HAF said they foresee a market for "several hundred" LMH-1s, which would be able to operate remotely with minimal infrastructure needed. The company could not provide projected direct operating costs for air cargo operations, but were making calculations for several potential clients interested in transporting cargo via the LMH-1.
Varying Views
While there have been soft orders for the LMH-1, the picture is murky on how far along is the program led by Lockheed Martin's Skunk Works division.
"The Skunk Works team continues to complete engineering work to support the LMH-1H, but we have not yet launched production," said Craig Johnston, business development director at Lockheed Martin Skunk Works. "We anticipate certification and commercial introduction in late 2021."
Johnston added, "Change is always difficult and the hybrid airship represents not just a change in transport device, but also a major change for how users think about remote access projects."
Lockheed Martin is working with user groups worldwide to build a cargo airship that will be reliable, affordable and sustainable.
There are skeptics on the commercial worth of airships. For years, people have floated the idea of airships as passenger and air cargo carriers and nothing has come of it.
"It comes down to capital equipment utilization," said Richard Aboulafia, VP of analysis for The Teal Group, an aerospace consultancy. There could be a niche market for airships, he said, but much depends on whether the original equipment manufacturers (OEMs) and potential operators can move from the conceptual and design stages to acquiring and operating airships on a scheduled basis.
It also comes down to whether manufacturers and operators can make money with airships. "First, we'll see if any money changes hands, since many commitments are not exactly firm," said Aboulafia. "Then, we'll see whether they can be built profitably, and then operated profitably. Both are open to question. With the first, it's hard to make money building small batches with uncertain pricing. With the second, it's hard to operate specialized cargo movers due to relatively low utilization rates."
Airships' lack of speed is also a factor. For most travelers, the need for speed is an enormous obstacle to selling airships as grandly appointed, yet slow-moving passenger transports.
The renewed interest in slow-moving airships seems to counter developments in other segments of the aircraft manufacturing industry. Foremost is the development of hypersonic, passenger aircraft. Boeing is considering building a twin-engine aircraft that can fly 3,800 mph and cruise at Mach 5. At that speed, the aircraft could cross the Pacific in three hours.
Nevertheless, some in the air cargo community believe the idea of airships as cargo haulers has merit.
"In some ways, the dirigible or airship concept may be more practical than many of the drone delivery ideas now introduced," said Brandon Fried, executive director of the Airforwarders Association (AfA). "An airship could conceivably pick a heavy shipment up in a parking lot near Cleveland, fly it across the ocean and deliver its load on top of a mountain outside Frankfurt, Germany. While slower than a plane, the vehicles are faster than ships, potentially providing quicker, more flexible service without expensive delivery costs."
Blimps, airships or dirigibles. The lighter-than-air vehicles invented by Ferdinand von Zeppelin were most popular in the 1930s and 1940s, but were replaced over time by faster, more capable airplanes.
High-profile accidents, such as the 1930 crash of the British R101 in France and the burning of the Hindenburg (caught on camera with riveting commentary from radio reporter Herbert Morrison onsite) on May 6, 1937 upon docking at Lakehurst, New Jersey didn't burnish the image of airships. The tragedy proved the undoing of airships for sometime, but they've been used occasionally over the years as tools for aerial observation, advertising and geological surveys.
Since the 1960s, airships have been used mainly as billboard for companies and as a platform for aerial footage of sports events.
The Goodyear Tire & Rubber Company began producing airships in March 1917. The Goodyear Blimp, one of the more recognizable company symbols, continues to be used today as an advertising billboard for the company and as an airborne messaging vehicle. The Goodyear Blimp is a common site during sporting events, such as the Super Bowl professional football championship and Indianapolis 500 car race.
Interest in civil-use airships was considered after a U.S. Army program formed to consider their use as aerial surveillance platforms in Afghanistan was canceled in 2010. HAV was part of the project and flew its prototype airship to the U.S. for tests. When the program ended abruptly, HAV flew the dirigible back to the U.K., where it was reborn the Airlander 10.
Despite their lack of speed, airships are sometimes seen as a cleaner alternative to current modes of air travel. "We have no alternative in northern Canada," said Barry Prentice, a professor at the I.H. Asper School of Business at the University of Manitoba. "We cannot build roads in the north; they're too expensive. And climate change is destroying the ice roads."
"We don't necessarily need jet aircraft to ship cargo," said Prentice, who has written several papers and articles on the topic. "I wouldn't dismiss air cargo airships. It is quite possible to have a zero carbon emission airship."
Canada has roughly 292 remote flying communities, Prentice estimated. Some of these hamlets are large enough to receive air cargo shipments three times a week.
Prentice disagrees with those who believe that airships could land anywhere or hover indefinitely, even in remote locations. "I think that is nonsense. You must have ground handling support if you're going to have cargo airships."
While the basic technology of airships comes from an earlier era, their worth as air cargo transports has never been fully explored. If airships are to come back into vogue, so too should their supporting devices.
To steady the airship after docking, a giant turntable that revolves with the wind should be used, said Prentice. Rather than try and force this behemoth to remain still, a go-with-the-flow process of loading and unloading cargo could be used. (The turntable solution was first proposed in the 1920s, and Lockheed Martin offered a version of it again in the 1990s.)
Much of the air transportation industry is taking a wait-and-see attitude toward airships' potential as a viable vessel for air cargo particularly. Yet several companies prefer to move forward with plans to be up and running as others continue to watch and wait. Even the most dispassionate observers believe the next several months will be crucial in determining if airships prove to be a veritable goldmine or of minimal value.
HAF and Columbia Helicopters seem undeterred in their plans to have airships deployed wherever they're needed. Crespo put the long-term value of cargo-carrying airships into perspective.
"Look at the airships like an ocean vessel," he said. "Once, it leaves the manufacturing site, the airship will be in continuous operation 24/7."
Quelle: Rotor&Wing
3152 Views