8.08.2018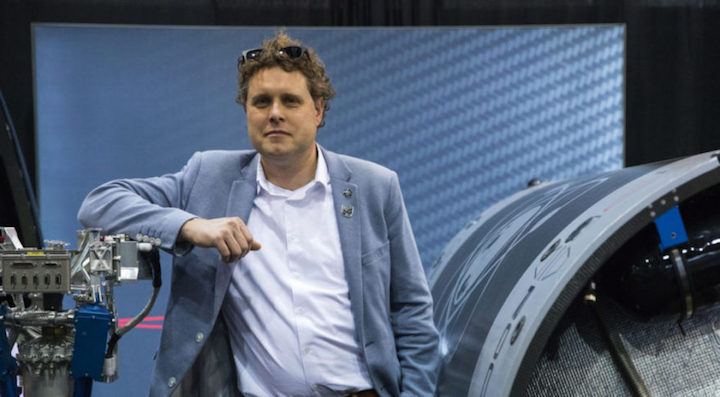 Rocket Lab CEO Peter Beck at the Small Satellite Conference at Utah State University in Logan, Utah. (Keith Johnson for SpaceNews)
-
"We could put a vehicle on the pad right now. But we just don't take risks."
LOGAN, Utah — Rocket Lab announced Aug. 6 that it plans to resume launches of its Electron rocket in November, with two launches scheduled through the end of the year.
The company said the Electron launch of several small satellites, postponed several times from April, is now scheduled for early November from the company's launch site on New Zealand's Mahia Peninsula.
Problems with a motor controller in one of the first stage engines forced the company to postpone a launch attempt in April. A second attempt in late June was scrubbed shortly before liftoff when the problem re-occurred.
"We saw some strange behavior again and we've decided we're going to make a hardware modification to the motor controller," Peter Beck, chief executive of Rocket Lab, said in an interview during the AIAA/Utah State University Conference on Small Satellites here. "We made the decision to bite the bullet. We'll go in there and make some changes to the hardware, some components of the motor controller."
Those changes, he said, will require the company to perform a "complete qualification program" of the engines using the revised controller. That test program, he said, drives the decision to reschedule the launch for November, even though the company has flight hardware "stacked up left, right and center" at its facilities.
"We could put a vehicle on the pad right now," he said. "But we just don't take risks. There's a race on for small launch, but we're not going to race to launch on any timeline. For us, it's about being 100 percent perfect because that's what, at the end of the day, everyone remembers."
The payload manifest for the November launch remains the same as what the company announced in May. The launch will carry two Lemur-2 cubesats for Spire, a company that operates a constellation of such spacecraft for tracking and weather services. A satellite built by Tyvak Nano-Satellite Systems for GeoOptics, another company planning to operate a weather satellite constellation, is on the launch, as well as IRVINE01, a cubesat built by high school students in Southern California.
The mission also carries a hosted payload developed by German company High Performance Space Structure Systems GmBH to test drag sail technologies. That payload, integrated on the Electron's upper stage by Ecliptic Enterprises, will remain attached to the stage after satellite deployment.
Rocket Lab plans to follow that launch in December with its next Electron mission for NASA, fulfilling a Venture Class Launch Services contract the company won in 2015. That launch will carry 10 cubesats from NASA centers and universities, according to a manifest on the NASA CubeSat Launch Initiative website.
The back-to-back launches, which will be the third and fourth to date for the Electron, reflect the company's efforts to ramp up both the production and launch rates of the rocket.
With production of the Electron now approaching a rate of one vehicle a month, a goal a company set early this year, Beck said Rocket Lab is planning as many as 16 launches in 2019. The manifest of those missions is largely full, but with some room for cubesat rideshare payloads.
That 2019 schedule includes at least one launch from a U.S. launch site the company will develop over the next year. The company selected four finalists — Cape Canaveral, Pacific Spaceport Complex – Alaska, Vandenberg Air Force Base and Wallops Flight Facility — in July, and plans to select the winning site soon.
"Right now it's an incredibly even race. There's not one clear winner over anybody else," Beck said of the U.S. launch site selection process. "It's been a fantastic process for us, and you'll see an announcement very shortly."
Quelle: SN
---
Update: 31.10.2018
.
Rocket Lab to launch 2 more satellites, for Australia's Fleet Space, in Nov 11 mission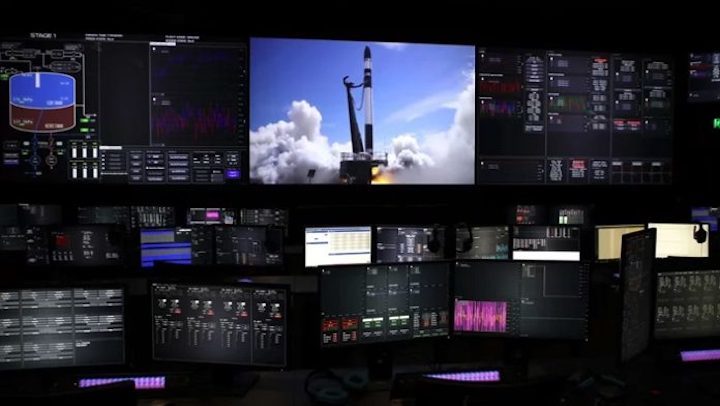 US/New Zealand orbital launch provider Rocket Lab has signed a contract with Australian Internet of Things (IoT) start-up Fleet Space Technologies to launch two satellites from Fleet's Proxima series, which will form the foundation of a global IoT communications constellation.
The satellites have been added to the manifest for Rocket Lab's upcoming mission, 'It's Business Time', scheduled for launch on November 11 from Rocket Lab's Launch Complex-1 on New Zealand's Māhia Peninsula.
The Fleet satellites will join other payloads for the launch: two Spire Global Lemur-2 satellites, the Irvine CubeSat STEM Program (ICSP) IRVINE01 educational CubeSat, NABEO, a drag sail technology demonstrator designed and built by High Performance Space Structure Systems GmBH and a GeoOptics Inc. satellite, built by Tyvak Nano-Satellite Systems.
The Proxima I and II satellites are a pair of identical 1.5 U CubeSats designed and built by Fleet. The satellites will mark the first commercial tests of Fleet's software-defined radios, enabling it to transmit data efficiently across both S-band and L-band frequencies in space. The satellites will ultimately help form the beginning of a constellation of more than 100 nanosatellites that, together, will act as a dedicated Internet of Things (IoT) space network for enterprises across the world.
Fleet's Chief Executive Flavia Tata Nardini said, "We decided to build and launch two more satellites over the past few months and Rocket Lab has moved at the speed of light to incorporate them in this mission, assist us with licensing and complete integration in record time. We will be in space less than few months after making the decision to join the mission. This rapid turnaround time is what the space industry really needs now".
"To see our first commercial CubeSats launched is an incredibly important milestone for us as a business, and it sets us on the path to achieving our goal of connecting Australia, and the world, in ways like never before," she added.
Fleet will also be launching two satellites from its Centauri series in late November, aboard SpaceX's Falcon 9 and India's space agency ISRO's PSLV launch vehicle. Both satellites have already been shipped to the launch sites.
Quelle: spacetech
---
Update: 1.11.2018
.
Rocket Lab completes fit check for NASA VCLS ELaNa XIX mission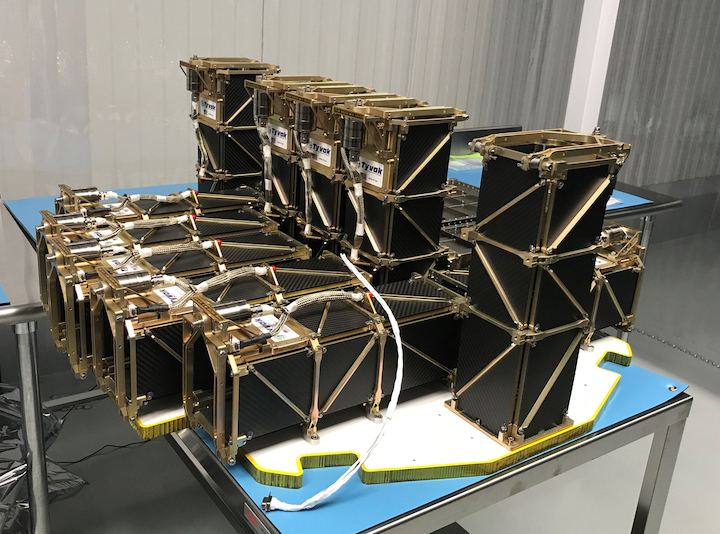 Early this month, Rocket Lab performed a successful fit check of the CubeSat dispensers for the NASA Venture Class Launch Service flight of the CubeSat Launch Initiative Educational Launch of Nanosatellites (ELaNa) XIX mission. The fit check was carried out at Rocket Lab's Huntington Beach payload integration cleanroom.
Venture Class launches aim to provide dedicated launches for CubeSats that would normally fly as secondary payloads, enabling these science missions to get exactly where they need to go on orbit.
The fit check was performed between a Rocket Lab Electron Payload Plate - the interface between Electron and the payloads - and a series of Tyvak Nano-Satellite Systems and Planetary Systems Corporation dispensers. Teams from Tyvak and Rocket Lab participated in the fit check.
Fit checks provide valuable risk reduction in payload integration by verifying physical interfaces and allowing for a dry run of installation procedures prior to the launch campaign.
The Huntington Beach Payload Integration Cleanroom is a Class 100k cleanroom located in our Rocket Lab USA Headquarters. This cleanroom is used for payloads that are processed in the United States before being shipped to their final launch site, such as Launch Complex 1 in Mahia, New Zealand. The facility will be used for the processing of the NASA ELaNa XIX payloads, which will be integrated to their dispensers in the United States before shipment to the launch site later this year for installation on Electron.
The Electron Payload Plate is a customizable interface which can support a variety of CubeSat and Microsatellite dispensers and separation systems. The Payload Plate can be entirely removed from Electron, allowing for integration to occur away from the launch site, such as in our Huntington Beach cleanroom or at a remote customer facility. Rocket Lab can accommodate both single and multipayload configurations on the plate.
The target launch date for the NASA Venture Class Launch Service ELaNa XIX mission is yet to be announced. The launch will see the following CubeSats deployed:
CubeSat: Ceres
Organization: NASA Goddard Spaceflight Center
CubeSat: STF-1
Organization: NASA Goddard Spaceflight Center
CubeSat: CubeSail
Organization: University of Illinois at Urbana-Champaign
CubeSat: CHOMPTT
Organization: University of Florida
CubeSat: NMTSat
Organization: New Mexico Institute of Mining and Technology
CubeSat: DaVinci
Organization: North Idaho STEM Charter Academy
CubeSat: Rsat
Organization: U. S. Naval Academy
CubeSat: ISX
Organization: California Polytechnic State University
CubeSat: Shields-1
Organization: NASA Langley Research Center
CubeSat: ALBus
Organization: NASA Glenn Research Center
CubeSat: SHFT-1
Organization: NASA JPL
+++
Rocket Lab enters high frequency launch operations
It's Business Time launch window confirmed as concurrent launch operations underway for back-to-back missions in November and December
Huntington Beach, California. 30 October, 2018: US orbital launch provider Rocket Lab has today confirmed the launch window for the upcoming 'It's Business Time' mission. The nine-day launch window will open from 11 to 19 November (NZDT), with daily launch opportunities between 16:00 – 20:00 NZDT (03:00 – 07:00 UTC).
The Electron launch vehicle is on site at Launch Complex 1 undergoing final pre-launch checkouts, following a final successful stage one static fire test last week.
As operations for the It's Business Time launch are underway, Rocket Lab has scaled its team and facilities to enable concurrent operations for the upcoming NASA mission, scheduled to launch in December 2018. The Electron vehicle for NASA's ELaNa XIX payloads will undergo final stage testing in the coming weeks before delivery to Launch Complex 1 during It's Business Time launch operations.
Rocket Lab also recently completed two new clean room facilities at Launch Complex 1 to enable payloads for different missions to undergo payload integration simultaneously in separate, secure locations. Each 100k class clean room is equipped with lifting and break-over tools, as well as secure and dedicated customer lounges offering views of payload integration.
The ability to conduct overlapping engine hot fires, full static stage tests, payload integration and launch operations for multiple missions is a key factor in Rocket Lab's ability to meet a high-frequency launch cadence. Following the opening of Rocket Lab's latest production facility this month, the company is scaling operations to build, test and launch an Electron every week by the end of 2020.
Rocket Lab Founder and Chief Executive Peter Beck says that while successfully reaching orbit and deploying payloads this year was a significant milestone for the company, transitioning from this to regular, streamlined production and launch operations cements Rocket Lab's position as leader in the small launch industry.
"This year has been about scaling our team, facilities and processes to enable reliable, high frequency Electron launches to orbit. The ability to build and test multiple vehicles, while operating concurrent launch campaigns, strongly positions Rocket Lab as the industry leader opening access to space for small satellites," says Mr. Beck.
It's Business Time mission details:
It's Business Time will loft six satellites, plus a technology demonstrator, to Low Earth Orbit. The payloads will be launched to a 210 km x 500km parking orbit at 85 degrees, before being circularized to a 500 km x 500 km orbit using Rocket Lab's Curie engine powered kick stage.
The It's Business Time manifest includes satellites from Spire Global, Tyvak Nano-Satellite Systems, Fleet Space Technologies, and the Irvine CubeSat STEM Program (ICSP). The mission will also launch a drag sail technology demonstrator designed and built by High Performance Space Structure Systems GmBH (HPS GmbH).
Launch window:
Sunday 11 November – Monday 19 November 2018, NZDT
Daily launch opportunities:
NZDT: 16:00 – 20:00
UTC: 03:00 – 07:00
PST: 19:00 – 23:00
EST: 22:00 – 02:00
Quelle: Rocket Lab
3114 Views