2.11.2018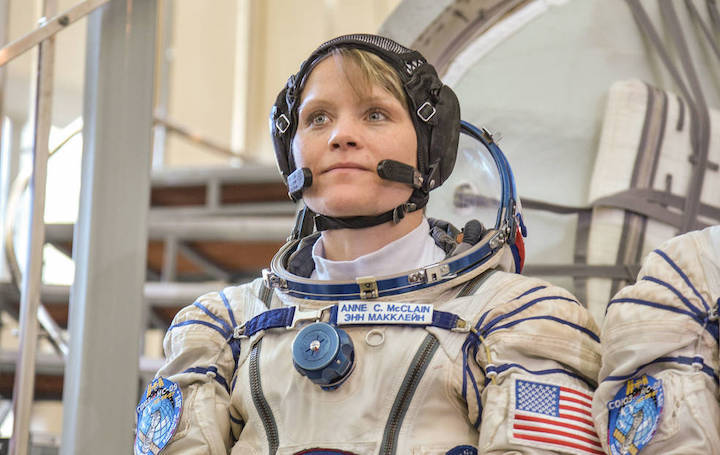 Credits: NASA/Elizabeth Weissinger
NASA astronaut Anne McClain will be available at 9:30 a.m. EST Friday, Nov. 9, for live satellite interviews from Star City, Russia, before she launches to the International Space Station on her first spaceflight.
The interviews will air live on NASA Television and the agency's website following video highlights of McClain's training that begin at 9 a.m.
McClain and crewmates David Saint-Jacques of the Canadian Space Agency and Oleg Kononenko of the Russian space agency Roscosmos are targeted to launch from Baikonur, Kazakhstan, at approximately 6:31 a.m. (5:31 p.m. local time in Kazakhstan) Dec. 3.
To interview McClain, media must contact Mary Beth Boddeker at 281-483-2167 or mary.b.boddeker@nasa.gov no later than 5 p.m. Wednesday, Nov. 7. Media participating in the interviews must tune to the NASA Television's Media Channel (NTV-3). Satellite tuning information is available at:
McClain and her crewmates currently are at the Gagarin Cosmonaut Training Center in Star City preparing for their mission. After arriving at the station, they'll join NASA astronaut Serena Auñón-Chancellor, Expedition 57 Commander Alexander Gerstof ESA (European Space Agency), and Sergey Prokopyev of Roscosmos, bringing the station's crew to six. There will be a short handover period before Auñón-Chancellor, Gerst and Prokopyev depart the station on Dec. 20. McClain, Saint-Jacques and Kononenko are scheduled to return to Earth in June.
During their six-month mission, the crew will facilitate about 250 research investigations and technology demonstrations not possible on Earth to advance scientific knowledge of Earth, space, physical and biological sciences.
Among them, McClain is expected to take part in one of the first Tissues on Chips investigations, which will launch to the station aboard a SpaceX Dragon cargo spacecraft. This investigation will enable researchers to explore the effects of reduced gravity on organs at the cellular and tissue levels. In this research, the complex biological functions of specific organs are replicated using an advanced combination of miniature organ tissue models on transparent microchips. Such research on the space station yields benefits on Earth and will enable future long-duration human exploration into deep space, including the Moon and Mars.
The crew also is scheduled to be on station when NASA's Commercial Crew partners conduct their first uncrewed test flights, bringing NASA a significant step closer to returning human spaceflight launches to U.S. soil.
A member of NASA's 2013 astronaut class, McClain is a native of Spokane, Washington, and a lieutenant colonel in the U.S. Army. As a senior army aviator, she has logged more than 2,000 hours in 20 different rotary and fixed-wing aircraft.
McClain has a bachelor's degree in mechanical and aeronautical engineering from the U.S. Military Academy at West Point and a master's degree in aerospace engineering from the University of Bath, in England, as well as a master's degree in international relations from the University of Bristol, in England.
Quelle: NASA
2682 Views