1.11.2018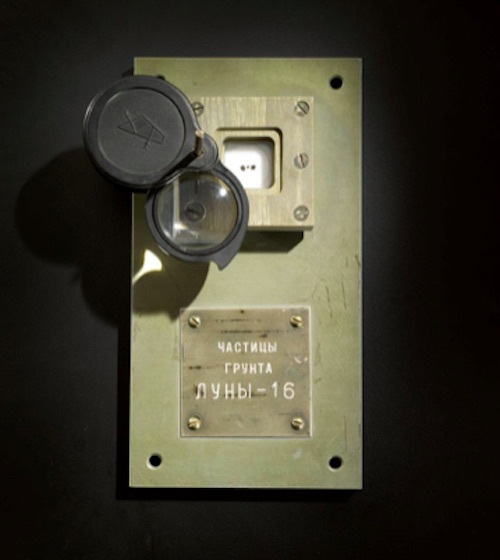 Three lunar samples, which Sotheby's says are the only known documented moon rocks in private hands, from the unmanned Soviet Luna-16 Mission in 1970 which returned to earth, are shown encased under glass below an adjustable lens, in this photo taken in New York City, New York, U.S., October 15, 2018
.
Sotheby's said on Tuesday it expects the fragments, retrieved from the moon by a Soviet space mission in 1970, could fetch between $700,000 to $1 million at the Nov. 29 auction in New York.
The pieces - a basalt fragment, similar to most of the Earth's volcanic rock, and bits of surface debris known as regolith - are being sold by an unidentified private American collector who purchased them in 1993.
Sotheby's said in a statement they were first sold in 1993 by Nina Ivanovna Koroleva, the widow of former Soviet space program director Sergei Pavlovich Korolev.
The fragments, ranging in size from about .079 inch x .079 inch (2 x 2mm) to .039 inch x .039 inch (1 x 1mm), were presented to her as a gift on behalf of the Soviet Union in recognition of her late husband's contributions to the program.
Sotheby's said that the particles, encased under glass with a Russian plaque, are both the only known lunar sample to have ever been officially gifted to a private party, and with documented provenance to be available for private ownership.
Collectors pay huge sums for space exploration artifacts. Last year Sotheby's sold a zippered bag stamped with the words "Lunar Sample Return" laced with moon dust which was used by Neil Armstrong for the first manned mission to the moon in 1969, for $1.8 million.
That sale took place after NASA lost a court battle to retrieve the artifact from a private collection.
Most other known samples taken from the moon remain with the two entities that collected them: the United States during the Apollo 11-17 missions and the Soviet Union via the unmanned Luna-16, Luna-20, and Luna-24 missions.
A number of other countries were gifted with Apollo 11 samples and Apollo 17 goodwill moon rocks on behalf on the Nixon administration, and in most places the law bars transferring such gifts to individuals.
The particles being sold in November were retrieved in September 1970 by Luna-16 which drilled a hole in the surface to a depth of 13.8 inches (35 cm) and extracted a core sample.
They are encased under glass below an adjustable lens and labeled "ЧАСТИЦЫ ГРУНТА ЛУНЫ-16" [SOIL PARTICLES FROM LUNA-16]."
Tests on similar samples have dated the bits as being as much as 3.4 billion years old.
Quelle: Reuters
+++
Sotheby's to offer Soviet robot-retrieved moon rocks at auction, again

October 30, 2018
— The only known pieces of the moon to be collected from the lunar surface and be legally sold are returning to the auction block, 25 years after they were first offered.

The three tiny lunar pebbles, which were among a small cache of moon material brought back to Earth by a Soviet robotic probe in 1970, will headline Sotheby's space exploration-themed auction on Nov. 29 in New York City. The same moon rocks were previously sold by Sotheby's for $442,500.

"The sale of this item is exciting for me because I remember when the rocks first came up in 1993 and it was a huge deal," said Cassandra Hatton, vice president and senior specialist for science and technology at Sotheby's. "To have the opportunity to be involved with offering the same item again is really tremendous."

The lunar samples were originally presented by the Soviet government to Nina Ivanovna Koroleva, the widow of Sergei Korolev, the "Chief Designer" of the Russian space program. Under Korolev's direction, the Soviet Union successfully put the world's first satellite into Earth orbit and launched the first human into space. His unexpected death in 1966 came before he could see the outcome of the space race to the moon.

Four years after Korolev died, the Soviets launched Luna 16, the first of three robotic lunar sample return missions. Touching down after the U.S. Apollo 11 and Apollo 12 astronauts had come and gone from the moon, Luna 16 deployed an extendable arm to drill and extract a core sample 14 inches (35 centimeters) deep. The 3.5 ounces (101 grams) of soil and rocks that it collected were then deposited into a capsule for their return to Earth.

The display gifted to Koroleva contains three grains of the Luna 16 material, weighing about 0.0007 ounces (0.2 grams). The central fragment is basalt, typical of the moon's mare (or "seas") terrain while the adjoining two larger fragments are regolith with glass coatings caused by an micrometeoroid impact, according to Sotheby's.

The pebbles are presented under glass with an integrated lens for magnified viewing. A plaque attached to the display reads "Soil Particles From Luna-16" in Russian ("ЧАСТИЦЫ ГРУНТА ЛУНЫ-16").

In 1993, the lunar samples were estimated to sell for $30,000 to $50,000 before commanding eight times the higher valuation. The display, which has been held in the same private American collection for the past quarter century, is now expected to sell for $700,000 to $1 million.

The Luna 16 moon rocks would need to surpass $1.8 million to break the record for the most ever paid for a space exploration artifact, currently held by a moon dust-stained lunar sample return pouch sold by Sotheby's in 2017.

"There are only a handful of items in this collecting field that I think are so rare — the Apollo 11 bag, for example, being one — that being able to offer real lunar material at auction is the ultimate peak for selling in this category. So I am thrilled to be able to offer it again," Hatton told collectSPACE.

The Soviet Union's Luna 16, Luna 20 and Luna 24 probes retrieved 0.7 pounds (0.3 kilograms) of lunar material. By comparison, NASA's six Apollo missions to land on the moon returned a total of 842 pounds (382 kilograms) of moon rocks, soil (regolith) and dust.

Unlike the Russians, the U.S. has never gifted any individual with Apollo-collected moon rock. The only lunar samples relinquished from U.S. federal property were two sets of public goodwill presentations to 135 foreign nations and the 50 states.

It is unclear how many, if any, additional Luna 16 sample displays were presented (a photo of a purported example, differing in style, has surfaced online), but the Koroleva example remains the only one to have clear legal title for sale. It will be on public exhibit at Sotheby's New York City gallery beginning Nov. 25.
Quelle: CS
2901 Views