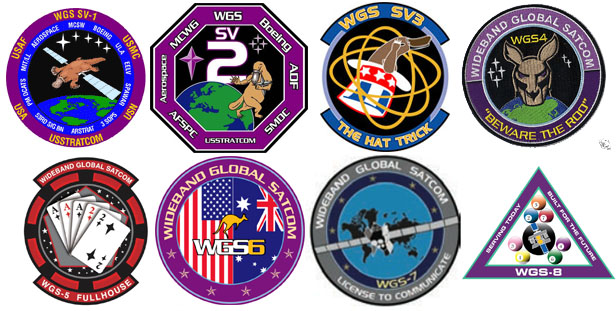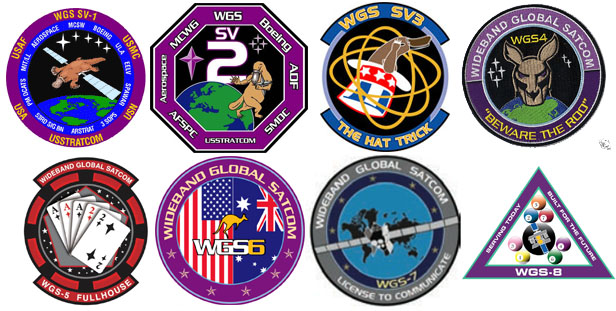 CAPE CANAVERAL — The next satellite to launch from Cape Canaveral — an essential communications satellite for the U.S. military and allied nations — was moved to the pad and mounted atop its Delta 4 rocket today.
The eighth Wideband Global SATCOM spacecraft will be boosted into a super-synchronous transfer orbit more than 41,000 statute miles high by the Delta 4 Medium+ (5,4) configured rocket with four strap-on solids.
Liftoff is planned for Dec. 7 during a window of 6:53 to 7:42 p.m. EST (2353-0042 GMT).
WGS is the Department of Defense's highest capacity communications satellite system. The spacecraft create a global constellation to provide the needed coverage and connectivity in support of operations by U.S. and allied forces around the world.
Boeing builds the WGS satellites, which began launching in 2007.
The new bird, valued at $426 million, will be maneuvered into a circular geosynchronous orbit 22,300 miles above the equator to enter serviced from an undisclosed position.
It carries the first Wideband Digital Channelizer at the heart of its communications package, enabling a 90 percent improvement in available bandwidth compared previous WGS satellites.
WGS supports all branches of the U.S. military, plus Australia, Canada, Denmark, the Netherlands, Luxembourg and New Zealand. The international partners have paid for two of the 10 satellites in the series in exchange for access to the entire constellation.
Already shrouded in the rocket's 47-foot-tall, 17-foot-diameter composite nose cone, the WGS 8 spacecraft was hauled to Complex 37 overnight and hoisted atop the Delta 4 launch vehicle today.
The fully assembled rocket stands 217 feet tall.
The satellite was flown to Florida on Oct. 12 from Boeing's manufacturing facility in El Segundo, California. After arriving, it was taken to the commercial Astrotech processing facility to undergo pre-flight preps.
Final testing, loading of maneuvering propellant and encapsulation in the Delta 4's nose cone was accomplished with the satellite.
Today's transfer to the pad saw the 13,000-pound satellite move from Titusville, through the Kennedy Space Center and over to Cape Canaveral Air Force Station's Complex 37 where the Delta has undergo attachment of the four solid boosters, a fueling exercise and pre-launch testing since rolling from its hangar a month ago.
This will be the fourth and final Delta rocket launch of 2016.
Quelle: SN
-
Update: 5.12.2016
.
Favorable weather forecast for Wednesday's Delta 4 launch from Florida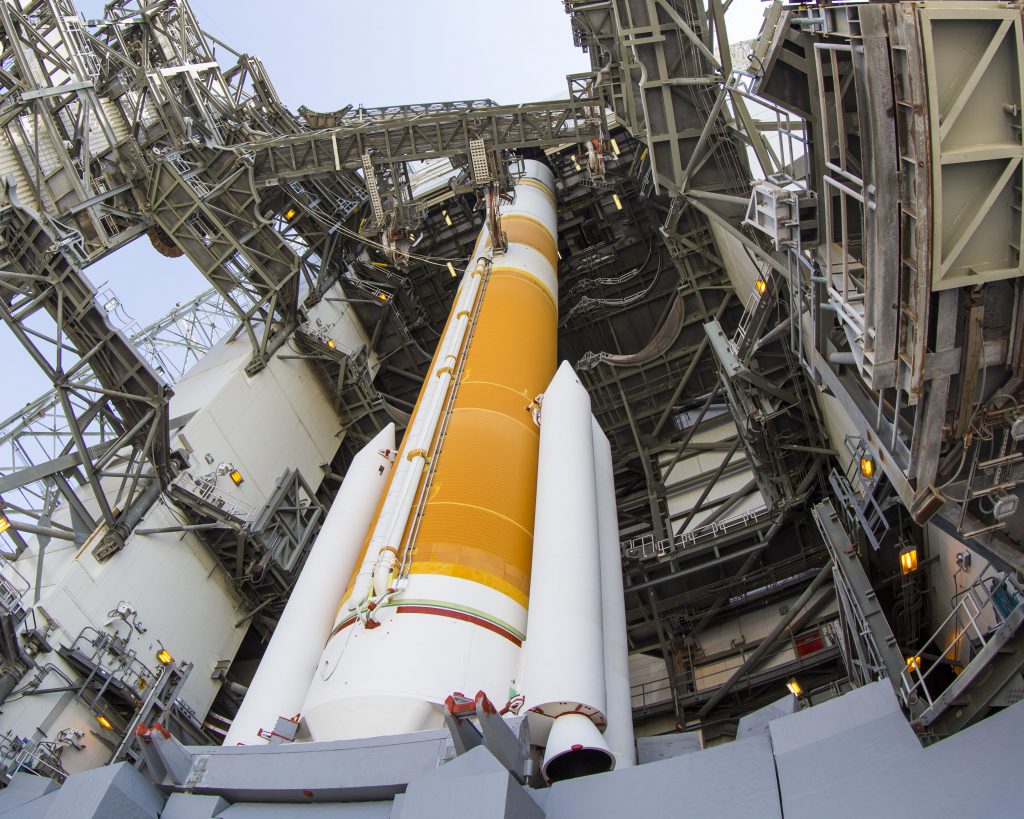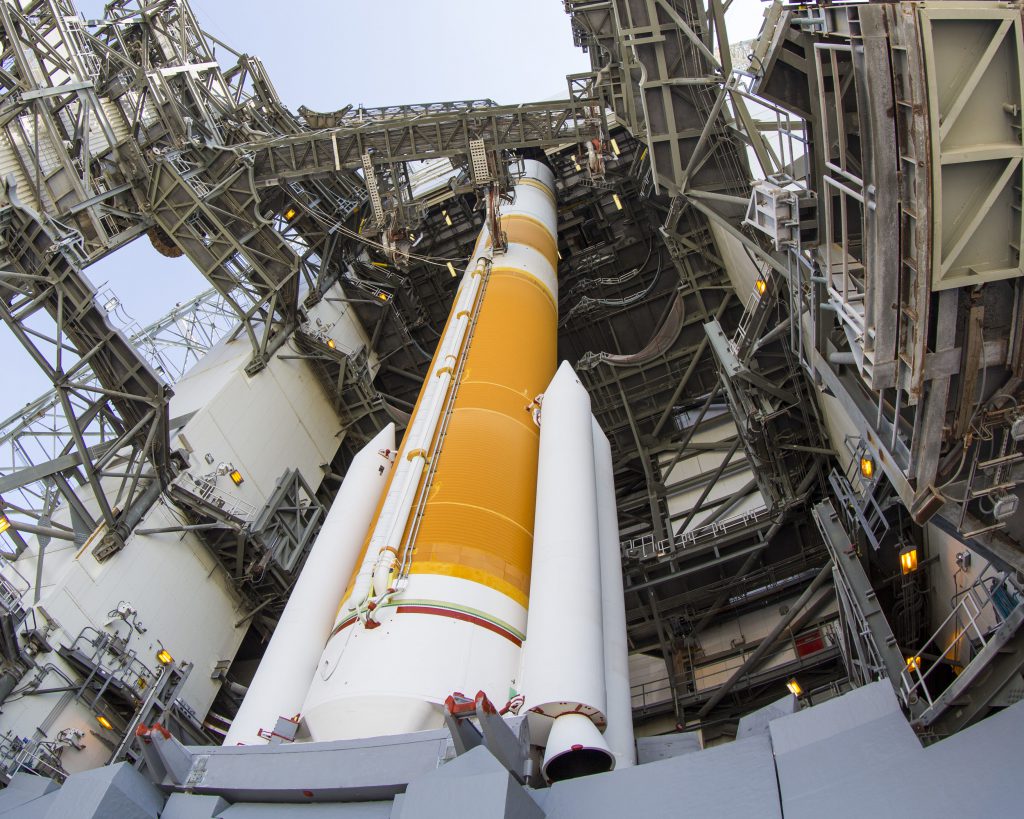 CAPE CANAVERAL — Air Force meteorologists are expecting good weather to launch the Delta 4 rocket with a military communications satellite Wednesday evening from Cape Canaveral.
Liftoff of the United Launch Alliance booster carrying the Wideband Global SATCOM 8 spacecraft is scheduled to occur at 6:53 p.m. EST (2353 GMT). The launch window will remain open for 49 minutes.
The chances of allowable weather stand at 80 percent, with only a slight concern for cloud thickness during the launch opportunity.
"An upper-level low over northwest Mexico is causing a surface low to develop over Texas. This system will move across eastern Texas Monday, and then Tuesday will increase in speed and move through Louisiana to Virginia, dragging a cold front into northern Florida. This weather will bring showers and possibly thunderstorms across the Space Coast Tuesday through the day," forecasters at the 45th Weather Squadron say.
"The front will pass through Central Florida overnight Tuesday night and cause morning fog Wednesday morning as it moves to the south. Weather will improve Wednesday, and winds will be light from the northwest. With the upper-level support moving off to the northeast, there is a chance the front will stall just to the south. If this occurs, cloud cover will increase causing concern for thick cloud layers. Still, this will likely be more of a factor Thursday in the event of a 24-hour delay."
The launch time conditions are expected to include a broken layer of cirrus clouds at 25,000 feet, good visibility, ground winds from the northwest at 8 knots, a relative humidity of 68 percent and a temperature of 69 degrees F.
Quelle: SN
-
Update: 6.12.2016
.
Forecast favorable for Wednesday night Delta IV launch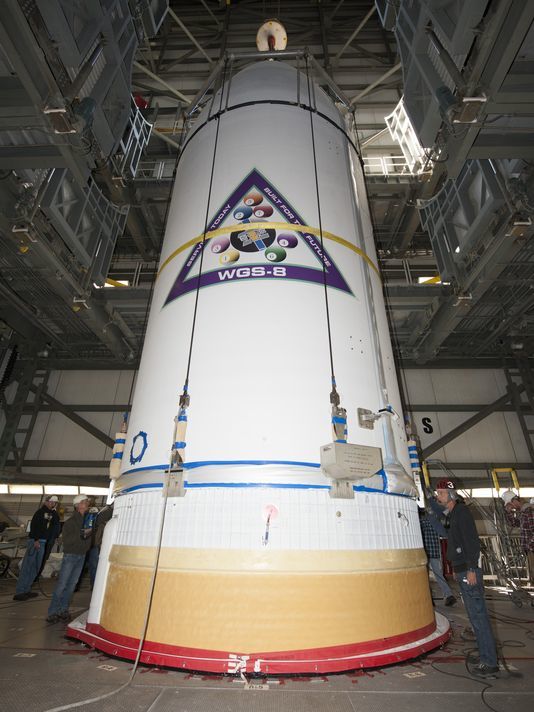 The weather odds are good for a 6:53 p.m. Wednesday blastoff of a United Launch Alliance Delta IV rocket and military communications satellite from Cape Canaveral Air Force Station, though clouds could hamper viewing.
The Air Force's 45th Space Wing anticipates an 80 percent chance of acceptable conditions during a 49-minute launch window that extends to 7:42 p.m.
After storms on Tuesday, low clouds are expected in the area through Wednesday.
"Since the clouds will be only near the surface and not reach the freezing level, weather is still favorable for launch," reads the official forecast from the 45th Weather Squadron.
The odds drop to 60 percent "go" if the launch slips to Thursday, with thick cloud layers a bigger concern.
The Delta IV is launching in a powerful configuration being flown for the sixth time, with a single booster bolstered by four strap-on solid rocket motors that will combine to generate 2.1 million pounds of thrust at liftoff.
The rocket is launching the Air Force's eighth Wideband Global SATCOM satellite, or WGS-8, to a high orbit more than 22,000 miles over the equator.
The $425 million, Boeing-built satellite will add to the backbone of military space-based communications networks, which faces ever-growing demand for greater bandwidth.
The launch could be the first of three from Cape Canaveral within 10 days, all by different rockets. Orbital ATK's air-launched Pegasus XL is scheduled to boost a NASA science mission to orbit on Dec. 12, while ULA returns to the Eastern Range on Dec. 16 for an Atlas V launch of a commercial communications satellite.
SpaceX also is targeting a Dec. 16 launch, but from California. That mission for Iridium Communications aims to return the Falcon 9 rocket to flight three-and-a-half months after one exploded on its Cape Canaveral launch pad during fueling for a practice countdown on Sept. 1.
Quelle: Florida Today
-
Update: 7.12.2016 / 16.55 MEZ
.
Delta IV WGS-8 Mission Overview

Rocket/Payload: A United Launch Alliance Delta IV Medium+ (5,4) configuration will launch the eighth Wideband Global SATCOM (WGS-8) mission for the U.S. Air Force.
Date/Site/Launch Time: Wednesday, Dec. 7, 2016, from Space Launch Complex-37 at Cape Canaveral Air Force Station, Florida. The launch window is 6:53-7:42 p.m. EST.
Live Broadcast: ULA's live launch broadcast will begin at 6:33 p.m. EST.
Mission Description: WGS satellites are important elements of a high-capacity satellite communications system providing enhanced communications capabilities to America's troops in the field for the next decade and beyond. WGS enables more robust and flexible execution of Command and Control, Communications Computers, Intelligence, Surveillance, and Reconnaissance (C4ISR), as well as battle management and combat support information functions. The WGS constellation augments the existing service available through the UHF Follow-on satellite by providing enhanced information broadcast capabilities.
Launch Notes: WGS-8 will mark the sixth flight in the Medium+ (5,4) configuration; all launches in this configuration were WGS missions.
Erfolgreicher Start von Delta-IV mit WGS-8