The Trace Gas Orbiter — part of the joint ExoMars mission run by the European Space Agency (ESA) and Russia — beamed back the images gathered on Nov. 22, during the spacecraft's first close flyby of the world.
Some of the new photos — spliced together in video form — show the details of the Martian surface when the spacecraft was only 235 kilometers (about 146 miles) from the planet's surface. Others were taken when the spacecraft was flying thousands of kilometers from Mars.
The flyover video shows craters, mountains and dark streaks dotting various regions, including one known as Arsia Chasmata, near the large Martian volcano known as Arsia Mons.
But perhaps the most stunning image shows a crater within the rim of a larger crater near Mars' equator, according to the ESA.
The new photos were taken as part of an instrument test for the spacecraft, which successfully made it to Mars on Oct. 19.
"We are extremely happy and proud to see that all the instruments are working so well in the Mars environment, and this first impression gives a fantastic preview of what's to come when we start collecting data for real at the end of next year," Håkan Svedhem, Trace Gas Orbiter scientist, said in a statement.
The ExoMars mission as a whole is designed to hunt for signs of life on the red planet. The Trace Gas Orbiter itself is built to sniff out gases in the atmosphere like methane that could indicate either extinct or living life on Mars.
The orbiter launched to Mars with the Schiaparelli lander, however, Schiaparelli failed in its attempt to softly touch down on the red planet. Due to a malfunction with its navigation system, the lander ended up crashing into the planet's surface.
In 2020, the ESA and Russia are planning to launch another ExoMars mission that is expected to deliver a rover and landing platform to the planet's surface.
The next mission is designed to drill beneath the surface of Mars and search for signs of life.
Quelle: Mashable
-
Update: 6.12.2016
.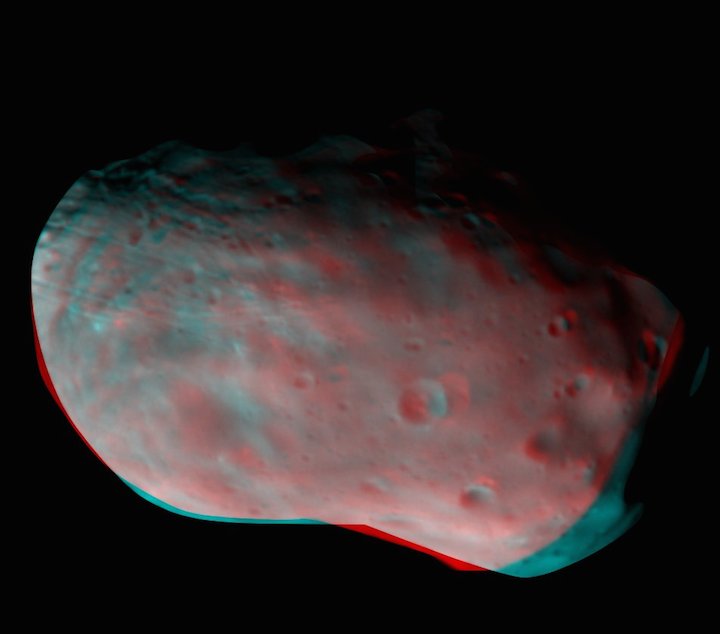 Title Phobos in 3D
Released 06/12/2016 3:00 pm
Copyright ESA/Roscosmos/CaSSIS
Description

A red–blue anaglyph image of Phobos composed from the stereo pair acquired by the ExoMars orbiter's Colour and Stereo Surface Imaging System (CaSSIS) on 26 November 2016. The image should be viewed using red-blue 3D glasses.
Quelle: ESA