.
8.02.2014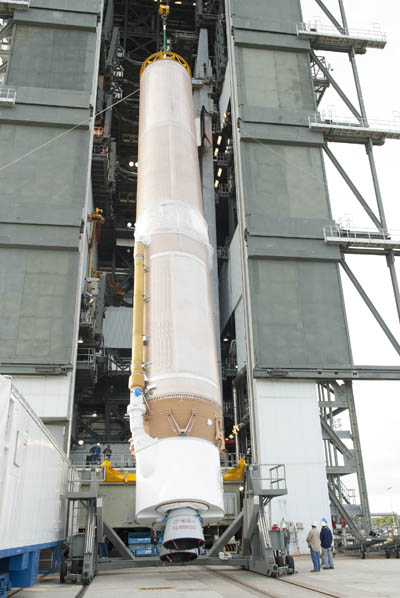 File image of first stage stacking. Credit: NASA-KSC
.
United Launch Alliance preparing for its next Atlas 5
.
Assembly of a Atlas 5 rocket kicked off Friday morning at Cape Canaveral to stack a powerful version of the vehicle launching next month.
Liftoff of the Atlas 5-541 configured rocket is planned for March 25. The exact launch time is withheld for security reasons.
The mission will launch the NROL-67 mission for the U.S. National Reconnaissance Office, the secretive government agency responsible for the country's fleet of spy satellites.
The 541 version of the Atlas 5 is nearly the most powerful, with four of five available strap-on boosters employed for added thrust at liftoff. The vehicle also has a five meter nose cone and a single engine Centaur upper stage.
It is the same configuration that hurled NASA's Curiosity rover to Mars in 2011.
The NRO has three missions planned in 2014. NROL-67 will be followed by NROL-33 in May and a California launch of NROL-35 at year's end, all on Atlas 5 rockets.
The stacking work began Friday with erection of the first stage onto the mobile launch platform at the Complex 41's Vertical Integration Facility. The stage is equipped with an RD-180 main engine.
Next week will be spent attaching the solid-propellant boosters. The Centaur and its RL10 cryogenic engine will be installed the following week.
Meanwhile, workers have assembled another Atlas at Vandenberg Air Force Base in California to launch an Air Force weather observatory on April 3.
The Atlas program recently completed its first flight of the year in successful fashion -- the Jan. 23 launch of NASA's Tracking and Data Relay Satellite L.
Quelle: SN
.
Update: 24.03.2014
.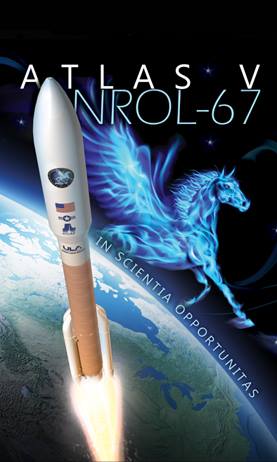 .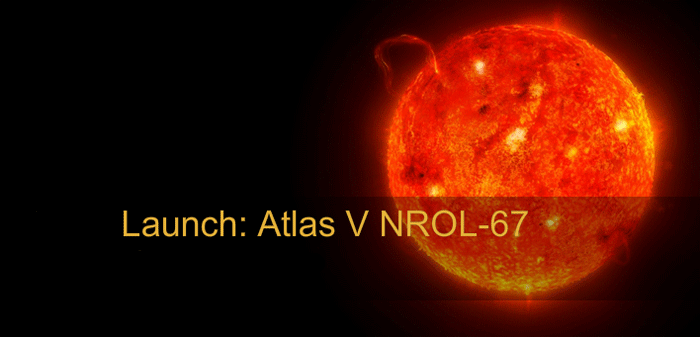 .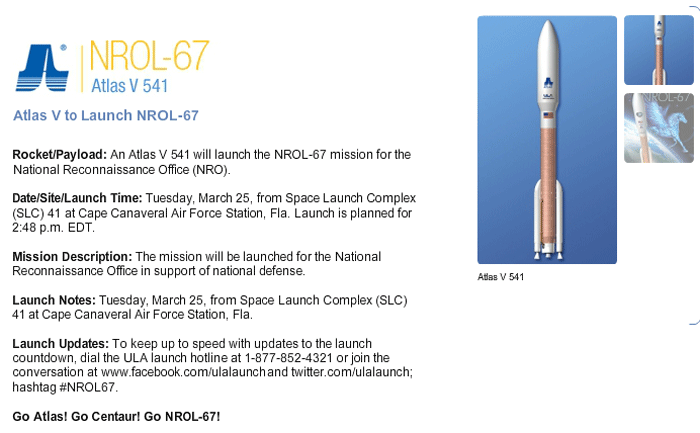 Quelle: ulalaunch
.
Update: 25.03.2014
.
Update: Range outage postpones Tuesday Atlas V launch attempt
.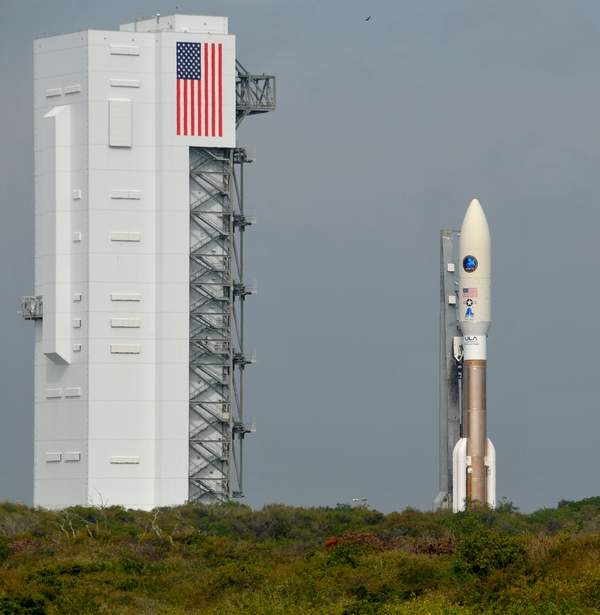 A ULA Atlas V rocket rolled out from the Vertical Integration Facility to Space Launch Complex 41 Monday morning in advance of a National Security Launch scheduled for Tuesday at 2:48 p.m., depending on weather.
.
An range instrumentation outage has postponed Tuesday afternoon's planned launch of an Atlas V rocket and National Reconnaissance Office satellite from Cape Canaveral Air Force Station.
No new date and time have been set as the 45th Space Wing works to assess the situation and determine how long repairs will take, according to a statement.
The United Launch Alliance rocket rolled to its Launch Complex 41 pad this morning in preparation for the launch.
On Sunday, SpaceX plans to launch cargo to the International Space Station for NASA from neighboring Launch Complex 40.
Tomorrow's NROL-67 launch has been delayed due to a range instrumentation outage. 45th Space Wing personnel are currently assessing the situation and working to identify the extent of repairs needed.
A United Launch Alliance Atlas V rocket rolled to its pad this morning at Cape Canaveral Air Force Station in preparation for a 2:48 p.m. Tuesday launch attempt.
Atop the rocket is a classified National Reconnaissance Office satellite.
The rocket and its payload emerged from a vertical integration tower around 10:15 a.m. and took about a half-hour to reach the pad at Launch Complex 41.
The launch weather forecast is not ideal: Air Force meteorologists predict a 40 percent chance of conditions favorable for a liftoff.
.
UPDATE:
CAPE CANAVERAL --
An Atlas V rocket launch scheduled for Tuesday has been delayed due to a range instrumentation outage, the U.S. Air Force 45th Space Wing said Monday.
Air Force crews have begun working to identify the extent of the repairs needed before the rocket can carry a classified satellite into orbit for the National Reconnaissance Office.
The United Launch Alliance released the following statement Monday:
The launch of a United Launch Alliance Atlas V carrying the National Reconnaissance Office (NROL-67) payload has been delayed to no earlier than Wednesday, March 26.
The 45th Space Wing range experienced an issue with a mandatory range asset needed to support the launch. The Atlas V and NROL-67 spacecraft have been secured.
More information will be provided as it becomes available.
When it does launch from Cape Canaveral Air Force Station, the rocket will send a top-secret payload dubbed NROL-67 into space. The National Reconnaissance Office builds and operates intelligence satellites for the U.S. government.
.
Update: 26.03.2014
.
Glitch puts secret NRO satellite launch on hold
An Atlas V rocket won't lift off from Cape Canaveral with a classified intelligence-gathering satellite before Thursday afternoon.
The Air Force's 45th Space Wing said Tuesday evening that it would take at least another day to repair an outage in unspecified range equipment needed to support the launch, which ruled out an attempt today.
The United Launch Alliance rocket rolled to its pad Monday morning with a National Reconnaissance Office satellite in preparation for a planned launch at 2:48 p.m. Tuesday.
But the range glitch put that on hold.
The Air Force's Eastern Range provides tracking and safety oversight of Cape launches, including destroying rockets if they veer off course.
ULA said the Atlas V and spacecraft were secure at Launch Complex 41 while the range issue was being sorted out.
The problem came up during a busy week for the range, with two launches scheduled.
Late Sunday, SpaceX plans to launch a Falcon 9 rocket and Dragon capsule carrying NASA cargo to the International Space Station.
It was not immediately clear if the faulty range instrumentation was needed for both launches, or if further delay in the national security launch could affect the timing of the NASA mission.
.
Update: 27.03.2014
.
Atlas V launch delayed to mid-April
A damaged Eastern Range radar will prevent an Atlas V rocket from launching this week from Cape Canaveral Air Force Station.
The United Launch Alliance rocket and its classified payload will roll back Thursday morning from their launch pad to a processing tower.
Launch of the National Reconnaissance Office satellite will now be targeted for mid-April launch, following ULA's planned April 3 launch of an Air Force weather satellite from California.
The Air Force's 45th Space Wing announced Monday that "range instrumentation" needed to support the Cape launch had suffered an outage.
Fire apparently damaged a radar down range, an it turned out not to be an easy fix.
The issue is not expected to impact SpaceX's planned Sunday night launch of International Space Station cargo for NASA, but the Air Force has not confirmed that.
Quelle: Florida Today
.
Update: 31.03.2014
.
Atlas 5 ready for launch with military payload
WEATHER SATELLITE WILL BE ABOARD VAFB'S FIRST LIFTOFF OF 2014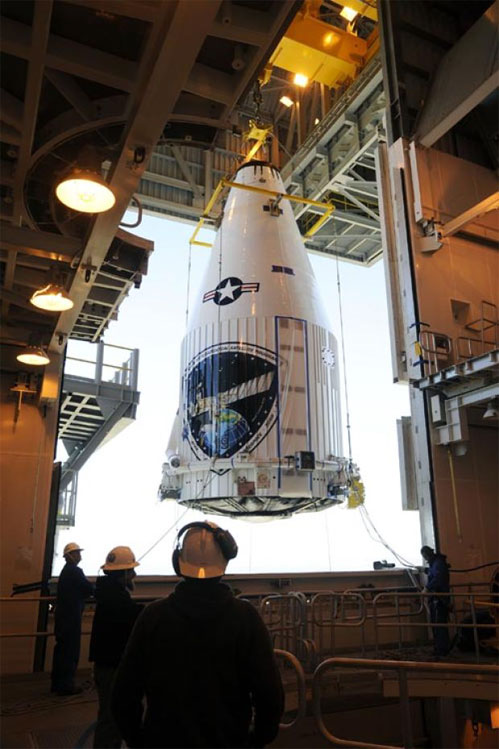 An Atlas 5 rocket carrying a military weather satellite, part of a series that has been flying for five decades, will mark Vandenberg Air Force Base's first blastoff of 2014.
Liftoff of the United Launch Alliance rocket, which stands some 19 stories tall, is scheduled for between 7:46 and 7:56 a.m. Thursday, April 3, from Space Launch Complex-3 East on South Base.
Atlas is set to carry a Defense Meteorological Satellite Program spacecraft, dubbed DMSP-19, for the Air Force in a mission with a price tag of $518 million.
Crews at the base have been busy readying the newest rocket and spacecraft for liftoff, including encapsulating the satellite for transport to the launch pad in time for lifting the spacecraft into its place on the rocket March 19. Work began immediately after another Atlas 5 rocket launched in December from the same site.
The campaign to liftoff has been "remarkably smooth," according to Lt. Col. James Bodnar, 4th Space Launch Squadron commander.
"Right now, everything is on schedule ...," he said. "Now we have a fully built rocket, with satellite, a completed assembly, sitting on the launch pad. There are some minor processing that still needs to be done, but all of the parts are there for the launch."
For his squadron, this mission has meant more responsibilities. The 4th Space Launch Squadron members handled satellite processing duties, in addition to rocket, for the first time since the unit's reactivation in 2003.
"I had my breath held for quite a few months," Bodnar said. "We are rocket people. Our entire squadron is built around knowing every detail there is to know about the Atlas 5 and Delta 4 rocket systems. So this was a unique challenge for us."
They dusted off documentation used by the former satellite processing unit and trained 4th SLS members on the essential steps to do the tasks. While the details are different, the mission assurance procedures were very familiar, he said.
The DMSP spacecraft have provided critical weather data to the military for some 50 years. Although it's a military mission, DMSP also supplies data for civilian use, too.
The previous DMSP craft launched in 2009, also aboard an Atlas 5 rocket from Vandenberg.
The satellite set to launch April 3 isn't exactly brand-new, with some components having been built in 1993 — before some of today's youngest airmen were even born.
The manufacturer Lockheed Martin Corp. handed it over to the Air Force in 1998. The craft sat in long-term storage for 10 years at the Lockheed Martin facility in Sunnyvale.
Ironically, the program's success led to a delay for this satellite's launch. When orbiting DMSP spacecraft operated long beyond their design life, Air Force officials postponed sending up replacement craft.
"The satellite ... lasted significantly longer than anyone had projected," he said. "When this satellite originally was scheduled to be built, the plan was for it to be launched shortly after it was finished. But with some of the satellites lasting 10, 12, 14 years, it just caused a slowdown in the need to launch replacement satellites."
The newest satellite could provide data through 2020, he noted.
While NASA missions and spy satellites attract different levels and types of attention, the launch is sparking its own excitement.
"The 30th Space Wing and Vandenberg Air Force Base, in general, are more excited about this launch than any other launch that I've witnessed," Bodnar said. "And the reason is because Space Command has both parts of the mission — the launch vehicle and the satellite vehicle. With that comes that additional responsibility."
Col. Keith Balts, 30th Space Wing commander, has encouraged members of Team Vandenberg to take time to see the rocket they support, Bodnar noted.
"Colonel Balts has said it takes a thousand miracles to launch a rocket and he's identified the fact the vast majority of the miracles come from people who support the mission, not just turning wrenches on the launch pad, the launch squadron overseeing these launches, but it's the security forces troops, civil engineering squadron, personnel section. The entire base really has a part in this."
During a previous stint at Vandenberg 18 years ago, Bodnar worked on missions to launch a civilian weather satellite that is the sister program to DMSP.
"I feel tied to this mission as something I did on my very first tour in the Air Force," he said. "I feel lucky. I feel honored to be part of it. I can't believe I am where I am right now."
.
Update: 9.04.2014
.
Delayed Atlas V Ready for Classified NROL-67 Mission Thursday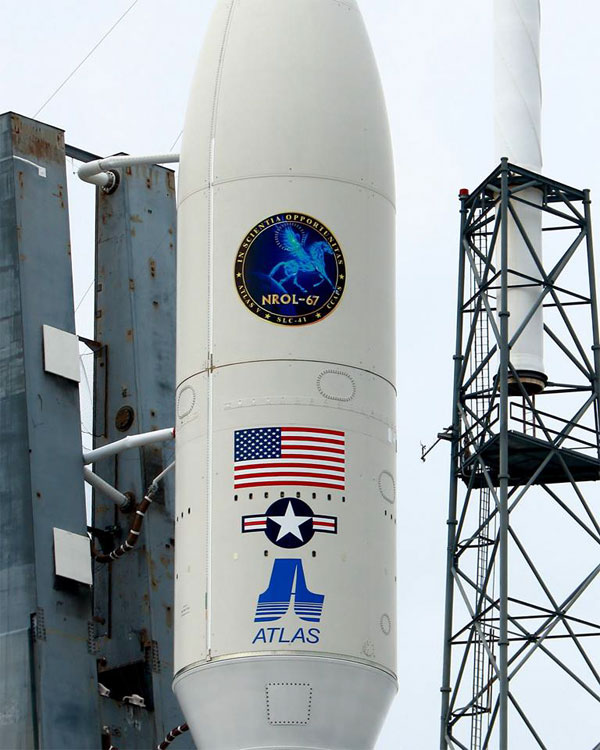 More than two weeks later than planned, the Eastern Range is primed to support two launches from Space Launch Complexes (SLC)-40 and 41 at Cape Canaveral Air Force Station, Fla., in the next few days, the first wholly shrouded in secrecy and the second a highly visible commercial cargo delivery flight to the International Space Station (ISS). Originally slated to fly in mid-March from SLC-40, SpaceX's third Dragon mission—designated "CRS-3″ or "SpX-3″—was postponed until the end of the month, then pushed into mid-April, following a fire which impacted an Eastern Range radar tracking asset. Also affected was United Launch Alliance's (ULA) Atlas V mission from SLC-41, carrying the classified NROL-67 payload for the National Reconnaissance Office. The radar issue has since been resolved and ULA is pressing ahead with plans to launch NROL-67 on Thursday, 10 April, with SpaceX scheduled to launch Dragon atop its Falcon 9 v1.1 rocket on Monday, 14 April.
According to ULA, the Atlas V will fly during a 41-minute "window", which extends from 1:45 p.m. until 2:26 p.m. EDT Thursday. The NROL-67 mission was originally planned for launch on 25 March, but was postponed by 24 hours, then another 24 hours, when the 45th Space Wing experienced what it described as "an issue with a mandatory range asset". The nature of the issue, and recognition of the fact that it would require around three weeks to fix, prompted an announcement that the Atlas V would remain on the ground until at least 10 April. ULA reported that the 19-story rocket had been transferred from the SLC-41 launch complex to the Vertical Integration Facility (VIF) and that both the vehicle itself and the classified NROL-67 payload had been secured.
Present estimates predict a 90-percent likelihood of acceptable weather conditions for tomorrow's launch, with Patrick Air Force Base meteorologists highlighting "thick cloud" as one of the primary concerns. It was stressed that a cold front would bring cloudy skies, gusty south-westerly winds and showers, together with isolated thunderstorms, but that by the time of the NROL-67 opening launch attempt on Thursday the areas of high pressure would begin to move eastward, leaving mostly sunny skies, dry conditions and easterly winds over the Cape Canaveral area. Winds are expected to be within limits early Thursday morning for the planned rollout of the Atlas V stack, atop its Mobile Launch Platform (MLP), from the VIF to SLC-41. The vehicle should be "hard down" on the pad about 7.5 hours ahead of the opening of the launch window, after which engineers will set to work establishing electrical and fluid connections and performing flight control system checks and weather briefings.
Quelle: AS
.
Update: 10.04.2014
.
Atlas V Launches Classified NROL-67 Satellite Into Orbit
.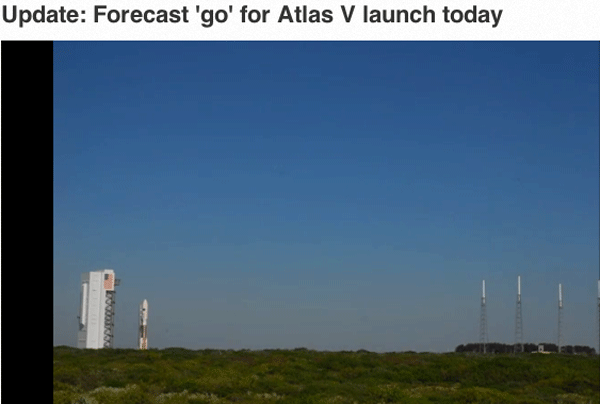 .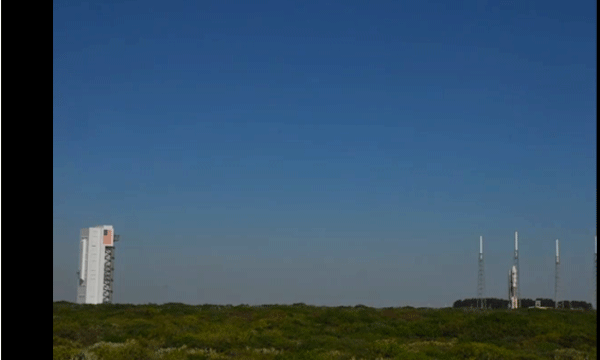 .
.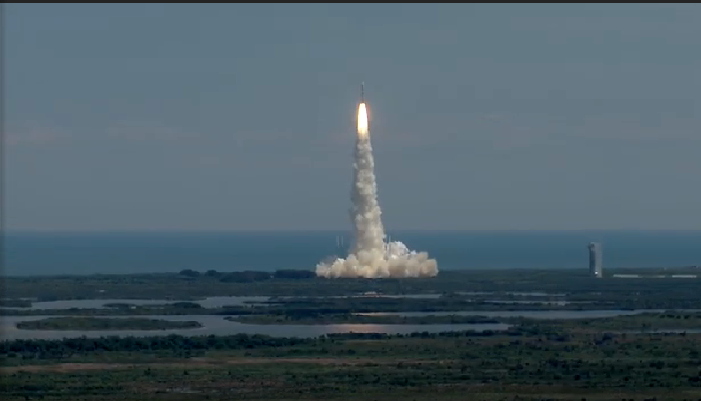 Not since the flight of NASA's Mars Science Laboratory (MSL) and the Curiosity rover in November 2011 has the powerful Atlas V 541 supported a launch. Today's flight of NROL-67 is only the second 541 launch ever conducted by United Launch Alliance. Photo Credit: ULA
.
Frams von ULA-Start:
.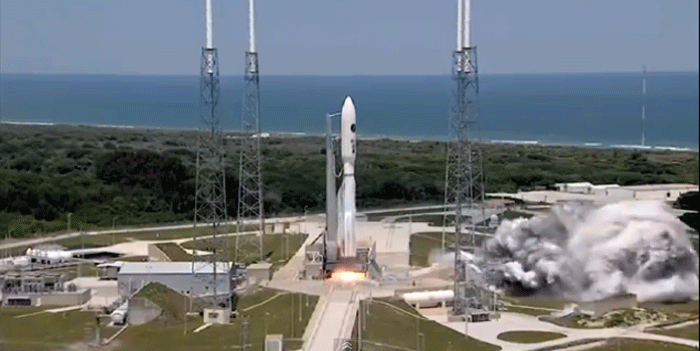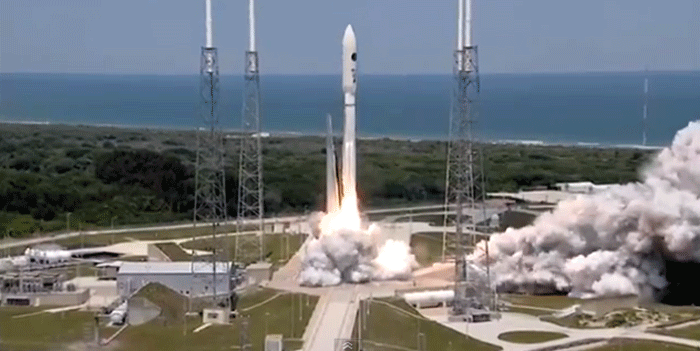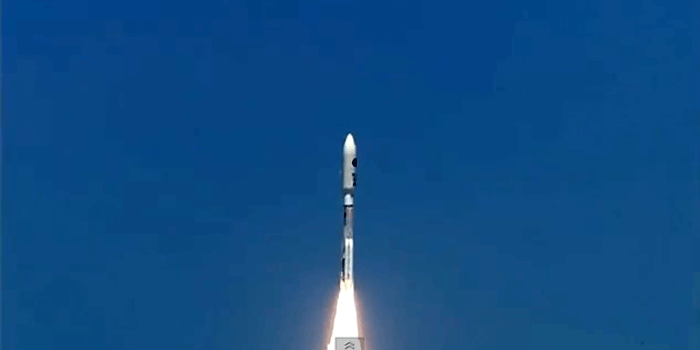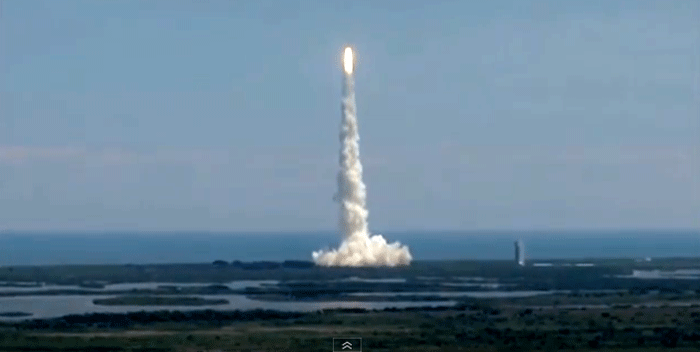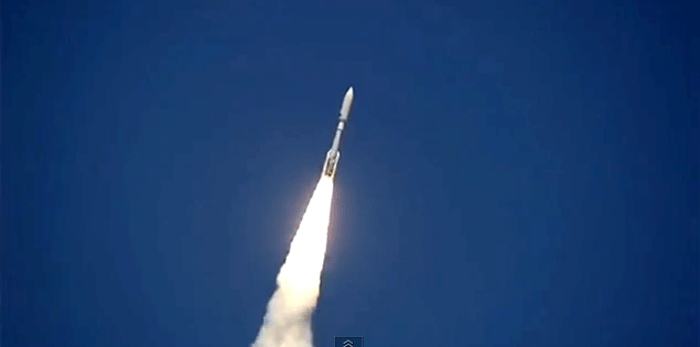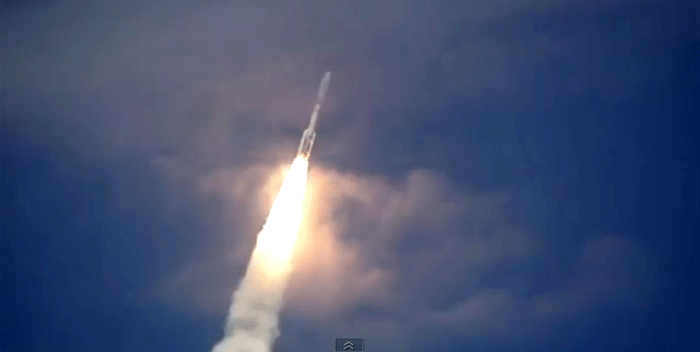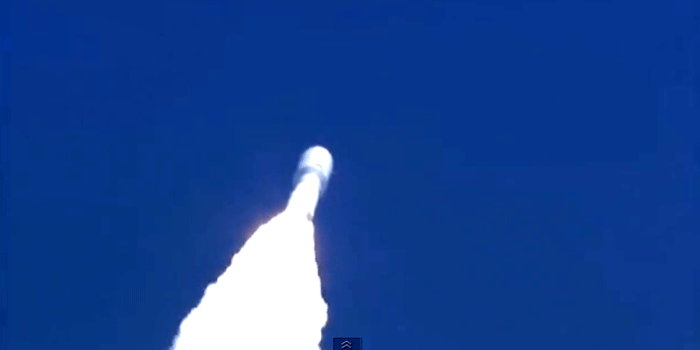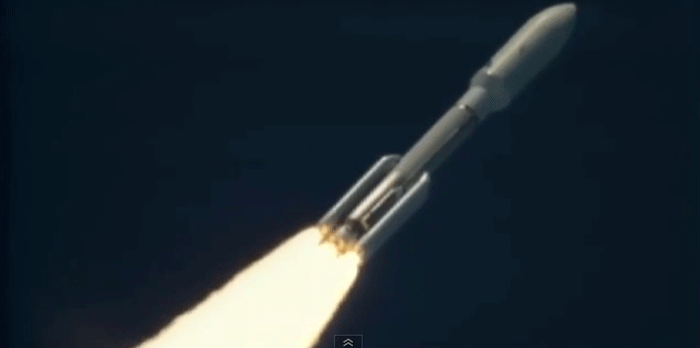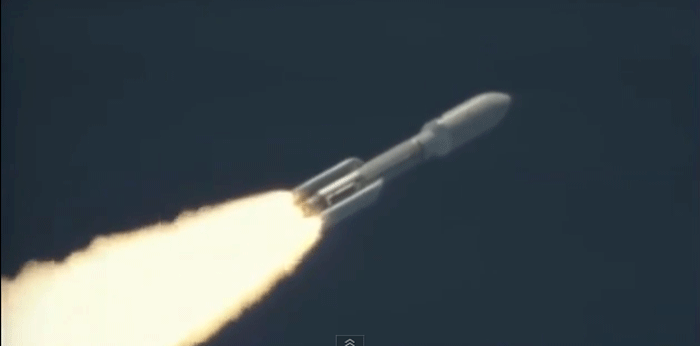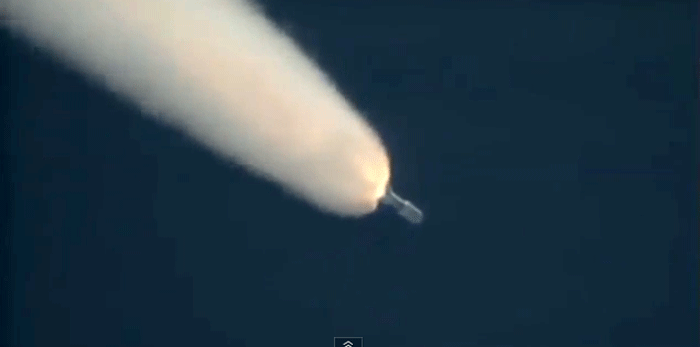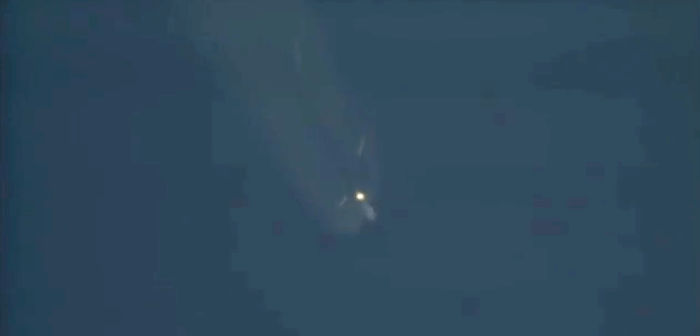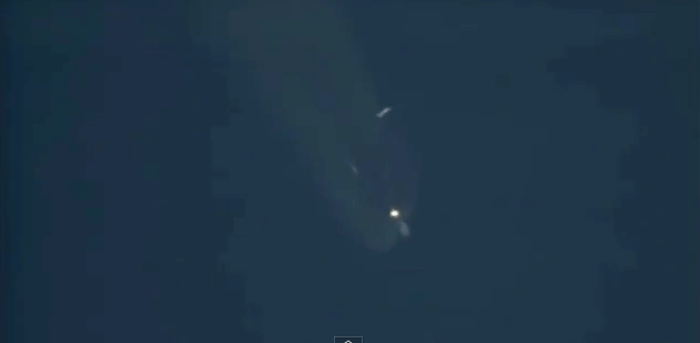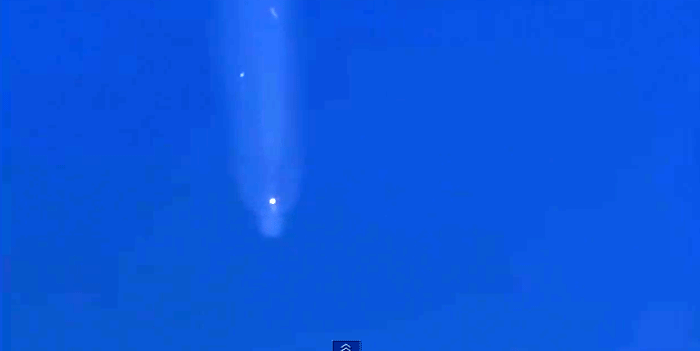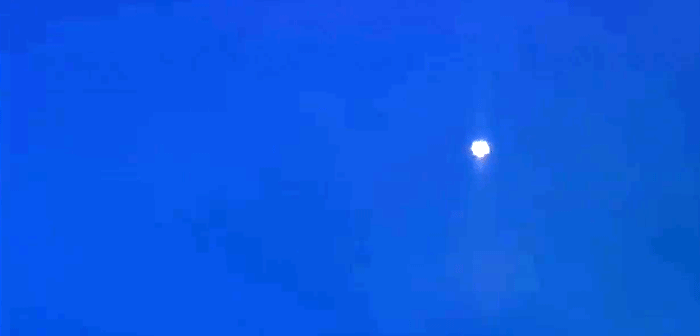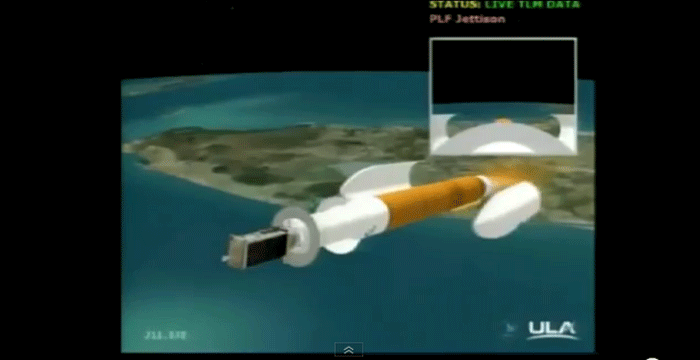 Quelle: Ulalaunch
.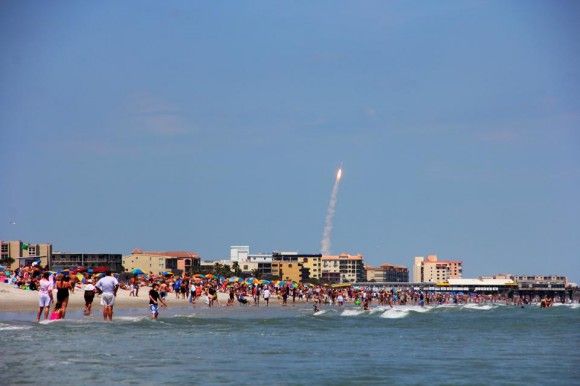 .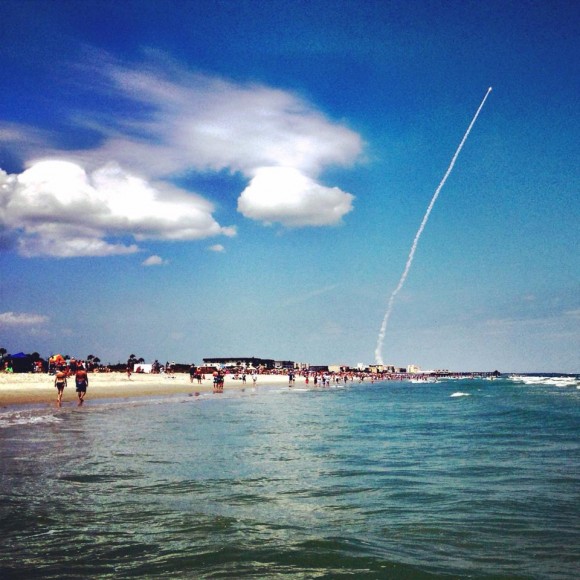 Atlas V NROL-67 launch photographed by iPhone from Cocoa Beach on April 10, 2014 while swimming. Credit: Nicole Solomon
.
Quelle:universetoday
4610 Views