.
Rendlesham's holy relics and prophets
.
On December 28th, a special presentation occurred at the Woodbridge community hall, which featured Nick Pope, John Burroughs, Jim Penniston, Larry Warren, Peter Robbins and Linda Moulton Howe. This special "gathering" was a stage for Jim Penniston and John Burroughs to present their latest version of what happened back in 1980 and turn the case in a new direction. What they presented seems to have cast serious doubt on their credibility and has turned the Rendlesham case into a circus with both Burroughs/Penniston playing the role of the clowns jumping out of the small car.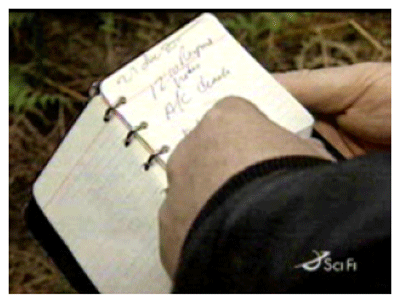 The magic notebook
Since Penniston started officially speaking to interviewers, he has made mention of his notebook, which contained information relating to the events that happened that fateful morning in 1980. When he used the pseudonym of James Archer, the notebook was never mentioned.
Even after it was mentioned, it was not presented for viewing. It was not until the Sci-Fi channel's 2003 expose' on the Rendlesham case, where some of the pages were presented for all to see.
Ian Ridpath points out that the pages seen on the program present a puzzling mystery. The page describing the beginning of the incident gives the date of 27 December and the time of 12:20 am. The page showing the end of the event states it was at 2:45 am. This is in complete disagreement with the statements made shortly after the incident by Penniston, Cabansag, Burroughs, Buran, and Chandler.
Those that gave dates and times stated the event started around 0300 on the 26th of December. Even Halt's memo states the events occurred at 0300. Therefore,
there is something wrong with the notebook. Why is Penniston's notebook in disagreement with this information?
Even more confusing is what Penniston said was written in the notebook to A.J.S. Rayl of Omni magazine. Triangular in shape. The top portion is producing mainly white light, which encompasses most of the upper section of the craft. A small amount of white light peers out the bottom. At the left side center is a bluish light, and on the other side, red. The lights seem to be molded as part of the exterior of the structure, smooth, slowly fading into the rest of the outside of the structure, gradually molding into the fabric of the craft.
Ridpath points out that the notebook seen in the Sci-Fi channel program (as well as "I know what I saw" and "Britain's Roswell") does not contain this statement.
Instead of extensive notes, most of what appeared were scribblings that appeared to have been written in haste. Completely missing is what Penniston states was in the book at the time of the Rayl interview.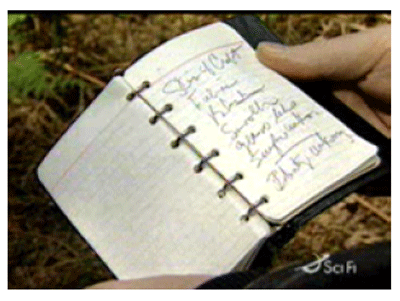 To add to this problem, Ian Ridpath states that John Burroughs told him two years ago that Penniston had no time to write into a notebook that night. How was James Penniston able to write in the book under such conditions? Is it possible these notes were written years later after he started telling his story about examining a craft? The notebook itself uses binding rings so the pages can be added and removed with ease.
Another interesting point brought up by Ridpath has to do with a drawing made by Penniston of the craft. This drawing has been circulating for over a decade and was dated either 27 or 29 December 1980. The paper is different from the notebook's paper. Was this a sketch Penniston made days after the event and why is it significantly different than the one he had made in his original statement?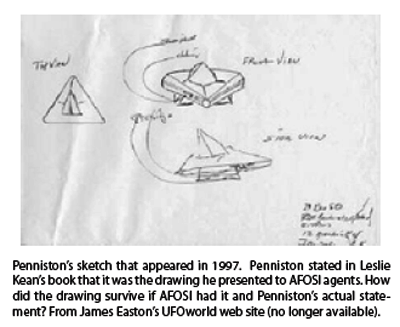 While Ian makes note that the military time is not used (i.e. 0020), I can understand Penniston using civilian notation especially if it is not an official document. However, Ridpath is correct in that these times and dates are wrong. When he asked Penniston in the Rendlesham forum about the inconsistency in the dates, Penniston told him that the dates and times are correct.
Finally, we have the recent testimony of Colonel Conrad, the base commanding officer. He actually talked to Penniston shortly after the events of that night. Penniston
did not present the notebook. According to Colonel Conrad, the drawings he saw were not of a triangular object and appeared consistent with the sketch made in his statement.
0100100001101111011000010111100000111111
.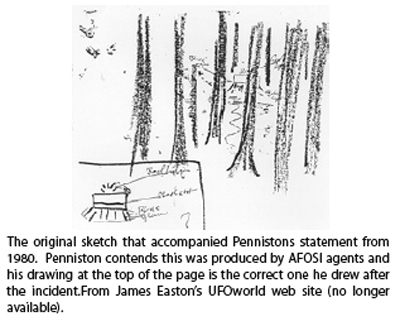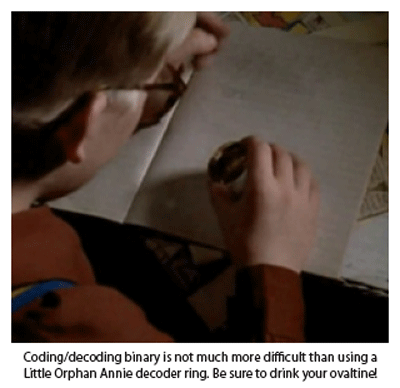 At the December 28th conference, Jim Penniston revealed that he hadreceived a download of information into his brain that night when he touched the craft. It was all ones and zeros according to him and he did not understand it. On the 27th, he chose to write down all of these ones and zeros into his notebook.
Twenty-four hours had elapsed and, amazingly, Penniston was still able to reproduce the information easily in his magic notebook.
For thirty years, Penniston was relatively quiet about this code in the notebook and barely mentions binary code in a 1994 hypnosis session. If he knew back then it was binary, why didn't he produce the data at that moment? In Leslie Kean's book, he never mentioned it at all even though he showed some of the pages in his notebook. Instead, he miraculously produces the code on the 30th anniversary of the incident. Was it because he finally figured out how to transfer the message he wanted to say into binary code by using a converter or a simple conversion table of ASCII to binary?
In the Sci-Fi Channel's "UFO invasion at Rendlesham", Penniston gives a reasonable showing of the contents of his notebook. Several times, you get to see various pages. Watching the video and looking at all the frames, I counted ten pages (one additional page was partially visible). Sometimes, you can see pages beyond the ones he is showing. Some are blank and some have bits of writing on them. In the film, "I know what I saw", we saw an additional two more pages that were not shown in the Sci-Fi channel program.
None of these pages or partial pages that were visible showed any strings of binary numbers. I am not sure why Penniston doesn't make copies of all the pages in his notebook
and then present them as evidence. Instead, he hides the book from public scrutiny as if he wants to add/subtract information from it.
Even more confusing is that there are two different interpretations of the data in these pages. According to the History Channel's "Ancient Aliens" program, the code gave longitude and latitude of 52deg 09' 42.532"N 13deg 13' 12.69"W2
This is a location west of the country of Island.
The program stated this was where the island of "Hy Brasil" existed. Like Atlantis, it disappeared and the people who lived there were of an advanced race. It is interesting to note that there is no scientific evidence whatsoever of a land mass existing in this location. Hy Brasil is nothing more than a myth but the "Ancient Aliens" crowd tried to sell it as something that existed. Meanwhile, Linda Moulton Howe's Earthfiles web site says the coordinates read:
52.0942532 deg N 1.3131269W3
According to Howe and Penniston, these coordinates are for downtown Woodbridge.
However, they use EAST longitude when the code is for WEST longitude. The coordinates above are for a location near Banbury, England.
There problems with the interpretation has to do with the problems with the actual binary code. The individual who created it, did not know a decimal point had its own binary value. So, Howe's interpreters simply put a decimal point where they felt it was necessary. Who is to say it isn't 5.20942532 deg N or 131.31269 west?
Additionally, in the code as deciphered by Howe's experts (two scientists that have strong ties to crop circle research meaning they are not unbiased in how they interpret the data), certain strings of numbers are ignored. Every character is represented by a string of eight zeros and ones in a binary code (this is called 8-bit ASCII).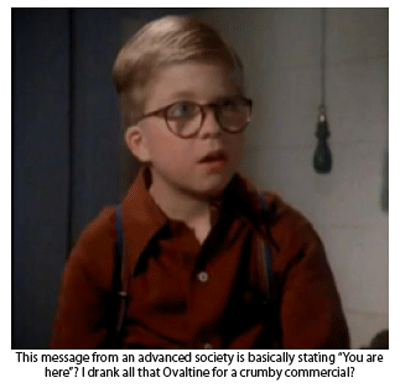 On page one, twenty-one values are neglected (implying these are the 7older 7-bit ASCII values). On page two, three more values are simply dropped. The researchers are simply picking and choosing what they want the message to state.
Howe attempts to explain all of this as an effort to find what numbers and letters actually fit into their desired interpretation. As a result, they are simply picking strings that make sense. That is not that big a deal until you start making significant leaps of logic like inserting the decimal points where they desired and changing a west longitude into an east longitude.
Assuming their interpretation is correct, what does it mean? If you enter the coordinates given by Howe's experts into Google earth, you arrive at an interesting location.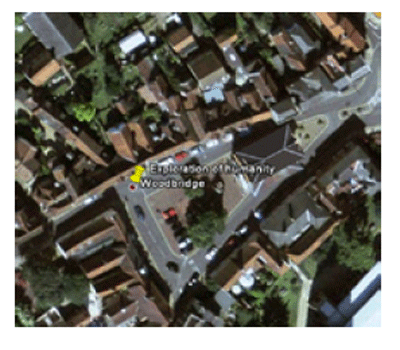 This message seems to be saying "You are here". Does this mean this message is promoting Penniston/Burroughs or the town of Woodbridge as humanity's best/last/only hope? Is Jim Penniston the equivalent of Luke Skywalker or a prophet as suggested by the History channel program? To me the message is nothing more than a promotional gimmick
dreamed up by Penniston and, possibly, a few others. They were not even original in choosing their coordinates. All they did was select the town of Woodbridge on Google Earth and copy the latitude and longitude (and then incorrectly by using west vice east). Why not give the location of the presumed landing site? Maybe it was because Penniston and Burroughs wanted to change it...again.
Switching sites
Back in 2003, for the Sci-Fi channel, James Penniston chose to revise the location of the landing site. The accepted site had been on the eastern edge of the forest but Penniston put it closer to the base such that the lighthouse was invisible from view. This new site convinced Vince Thurkettle that the lighthouse could not have been seen from this location.
However, it completely disagreed with the statements made in 1980 and where Halt had gone to examine the landing site, which Penniston and others had identified on the morning of the 26th.
In 2010, Penniston chose to revise the location again. This time he puts it south of the accepted location on the eastern side of the forest. This still makes it difficult to see the lighthouse, which is important for Penniston and Burroughs and their present story. Both Penniston and Burroughs claimed to have examined the site in daylight (Penniston even made plaster casts of the impressions) back in 1980. Burroughs supposedly was present the second night with Halt when the crash site was examined by his investigative team. One has to wonder why they have to keep changing where the landing site was located and why Colonel Halt's location is completely different than theirs?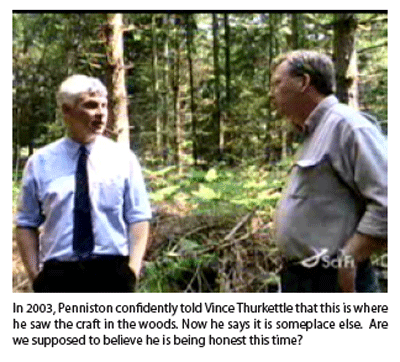 Was Halt's investigation a different landing site or just a hoax?
The real Rendlesham cover-up
Reviewing the Rendlesham-incident forum, I notice that Fred Buran has spoken up. His opinion about that night was made clear when he wrote a comment
on the page that is titled, "Justice for the 81st security police". Buran bluntlywrote:
The real justice would be to thoroughly debunk this non-event.
His comments were not very well received by Penniston and Burroughs. Penniston's comments were most interesting as he indicated that the statements that were supposedly made by him were manufactured by the Air Force Office of Special Investigations (AFOSI). This is a new approach by Penniston since his original statements to investigators never mentioned this. However he did state:
John and I decided that we could not tell them everything that had happened. It was too fantastic. Arriving at the Lieutenant's office we just told him that we had seen some lights in the woods and found impressions on the ground. We felt it best to leave it at that.
In his interview with Rayl, he added that AFOSI did interview him but sometime after he returned from a six day authorized break:
After the debriefing, Airman Burroughs and I were put on authorized break for six days, so we drove home to Ipswich...After that incident (the night Halt went out), however, I was directed to report to OSI [Office of Special Investigations] at 0900 in the morning. I met with a couple of agents, whom I had known because they had an office on the base. They debriefed me for about an hour and a half about the incident. It was an oral debriefing where I basically just told them what had happened, and they seemed quite content with the information that I provided them at the time. They seemed to have no problem with the fact that I had seen a craft. And, of course, there was no evidence,
hard evidence, or so they thought. I did not tell them at this point that I had approached the craft, touched the craft, but I did tell them about the photos I had taken. But all this was, in their minds, I think, another unconfirmed UFO sighting, though the term `UFO' was not used -- by them or me. I think they felt assured at this point that containment was going to be maintained and that there was not going to be a problem. Damage control was at a minimum, and I think they felt that at that point they had met their objective.
Under hypnosis, Penniston states he was given "truth serum" by agents and that memory had been suppressed somehow. He has now modified this story:
On the morning of the 29th of December, AFOSI building, meeting with two American Agents, more likely Defense Intelligence Agency (DIA), and/or National Security Agency (NSA), Penniston writes a four page written statement to the agents. He dates it and signs the document.
Agents then give Penniston a typed statement, which is generic, and is limited on details. For example, observation of a metallic craft, and not getting with in 50 yards of it. Penniston is instructed by the Agents that an official investigation is underway, and he is to tell all who asks, the cover story that was provided to him. He reads it several times and then agrees to do so. Penniston, Burroughs, Cabanzak, are debriefed at the Deputy Base Commanders office, Colonel Halt. Statements written and then drawings made. Penniston,
Burroughs and Cabanzak are taken into Wing Commanders Office with Base and Deputy Base Commanders present. The NSA account is briefed to the officers. The Wing Commander, thanks the Security Policemen for the report, and asks no questions. all direct witnesses are briefed to treat all discussion about Rendlesham as Top Secret.7
It is interesting that he states this happened on the 29th but told Rayl they went on a six-day break on the morning of the 26th! Was he asked to come in or is this a case of getting his dates wrong?
Looking at the five statements as a whole, in conjunction with the testimony of Colonel Conrad, we find a story of confusion about lights in the woods but no craft. Buran's recent statements to Ian Ridpath indicate that Penniston was never told to alter his statement or lie about what happened. It also indicated Buran's state
ment is an accurate representation of what transpired. His statement in January
1981 confirms the statements of the others. What Penniston is attempting to do is rewrite history in order to cover-up the fact that he has not be accurate when retelling what transpired that night.
If the AFOSI really was interested in tampering with the statements, as Penniston has indicated, it seems they did an awful job of it. Why didn't they simply make Penniston's statement agree with Burroughs and Cabansag's, which stated they chased the lighthouse. The fact that Penniston's statement does not include the lighthouse chase shows that, even at this early date, Penniston did not want it revealed that he was fooled by the lighthouse.

Lt. Buran's statement confirms the comments made in Penniston's. When he suggested it may have been the lighthouse that caused them to go out into the woods, he states Penniston became agitated. All of this indicates that this was Penniston's actual statement and not something "planted" as part of a cover-up, which is Penniston's present position.
Motivation
It is not that difficult to speculate why the details regarding Penniston's and Burroughs experience seem to have shifted over the last three decades. One can only assume that after stepping into the public eye, they want to avoid the embarrassment of having to reveal what they have told is not exactly truthful or accurate. When their 1980 statements became public knowledge over a decade ago, there has been a lot of damage control trying to explain why they stated what they did. The excuse manufactured by Penniston and Burroughs that they did not tell the whole story to investigators at the time just does not ring true looking at the statements. It is the shifting details that make it appear that Penniston/Burroughs are not being truthful today.
Burroughs and Penniston also claim they want "justice" for the 81st security police at Bentwaters in 1980. They blame the chain of command but give Colonel Halt
htmla pass even though he was part of that chain and should have taken care of it right away. Are they really out for justice for the entire unit, which does not seem to be affected, or just in it for their own personal interests? Penniston complains that he suffers from post traumatic stress from the incident. Burroughs and Larry Warren also claim medical problems associated with the incident. If they were really interested in justice, they should file a lawsuit. I am sure there are hundreds
of lawyers out there that would take up a case if it had actual merit. Failure to take this approach indicates they do not think their case is that good. As a result, they have resorted to stirring up UFO proponents for sympathy since they will believe just about anything they say.
On their facebook page, John Burroughs states the time for debate is over and now it is time for things that matter. When asked questions on the Rendlesham Incident forum, Burroughs simply quotes Albert Einstein/Winston Churchill or criticizes those who question his story. Is John Burroughs going to add psychiatric
problems to his list of ailments he suffered from the Rendlesham event?
Revelations to come???
Penniston has promised to have the notebook tested by experts. Unless it is somebody independent of UFOlogy, I would not consider it adequate. I seriously doubt that Penniston will allow the book to be tested under controlled conditions, where the result may come up negative. A good magician never allows his tricks to be closely studied.
Jim Penniston also states that he has more pages of binary code. Perhaps it will appear on another television program, where it will reveal the longitude and latitude for the base latrine.
The Rendlesham Ruse
Penniston, Warren, Burroughs, Halt, et al, will continue to claim aliens/future beings/whatever were in the woods that night. Like Roswell, they are too far in the quagmire to exit gracefully. Either they admit they have exaggerated/misrepresented what happened or they simply keep fooling themselves and others to save face. They know that they can always claim there is a cover-up (even when there isn't one) to convince those willing to believe it.
I have read that the incident was called RendleSHAM at one point. In her section in "UFOs that never were" (coauthored with Andy Roberts and David Clarke), Jenny Randles called it RendleSHAME. Others have referred to it as RendleSCAM.
I think the latter name is probably the most appropriate based on the recent actions of the principle witnesses.
.
Quelle: SUNlite 2/2011
.
When we got within a 50 meter distance. The object was producing red and blue light. The blue light was steady and projecting under the object. It was lighting up the area directly under extending a meter or two out. At this point of positive identification I relayed to CSC, SSgt Coffey. Positive sighting of object...colour of lights and that it was definitely mechanical in nature. This is the closest point that I was near the object at any point. We then proceeded after it. It moved in a zig-zagging manner back through the woods then lost sight of it. - Jim Penniston January 1981 statement
.
We climbed over the fence and started heading towards the red and blue lights and they just disappeared. Once we reached the farmer's house we could see a beacon going around so we went towards it. We followed it for about 2 miles before we could see it was coming from a lighthouse. - John Burroughs January 1981 statement
.
As we entered the forest, the blue and red lights were not visible anymore. Only the beacon light was still blinking. We figured the lights were coming from past the forest, since nothing was visible as we passed through the woody forest. We could see a glowing near the beacon light, but as we got closer we found it to be a lit-up farmhouse. After we had passed through the forest, we thought it had to be an aircraft accident. So did CSC as well. But we ran and walked a good 2 miles past our vehicle, until we got to a vantage point where we could determine that what we were chasing was only a beacon light off in the distance. Our route through the forest and field was a direct one, straight towards the light. - Ed Cabansag January 1981 statement
.
Penniston relayed that he was close enough to the object to determine that it was definitely a mechanical object. He stated he was within approximately 50 meters....Each time Penniston gave me the indication that he was about to reach the area where the lights were, he would give an extended estimated location. He eventually arrived at a "beacon light", however, he stated that this was not the light or lights he had originally observed. He was instructed to return. - J. D. Chandler January 1981 statement
.
I monitored their progress (Penniston, Burroughs and Cabansag) as they entered the wooded area. They appeared to get very close to the lights, and at one point SSgt Penniston stated that it was a definite metallic object. Due to the colors they had reported, I alerted them to the fact that they may have been approaching a light aircraft crash scene. ...SSgt Penniston reported getting near the "object" and then all of a sudden said they had gone past it and were looking at a marker beacon that was in the same general direction as the other lights. I asked him, through SSgt Coffey, if he could have been mistaken, to which SSgt Penniston replied that had I seen the other lights I would know the difference. SSgt Penniston seemed agitated at this point. Fred Buran January 1981 statement
.
...we're looking at the thing, we're probably about 2-3 hundred yards away. It looks like an eye winking at you, it's still moving from side to side and when we put the starscope on it, it's sorta a hollow centre right, a dark centre,......It's like the pupil of an eye looking at you, winking . ....and the flash is so bright to the starscope, that err.... it almost burns your eye. - Colonel Halt taped observations as he looked in the direction of the Orford Ness lighthouse on December 28th, 1980
.
Whilst some puzzles remain, we can probably say that no unearthly craft were seen in Rendlesham Forest. We can also argue with confidence that the main focus of the events was a series of misperceptions of everyday things encountered in less than everyday circumstances.
Rendlesham investigator Jenny Randles
"The UFOs that never were"
Quelle: SUNlite 6/2010

4941 Views