8.01.2021
Launch Demo 2 will loft 10 small cubesats to orbit, if all goes according to plan.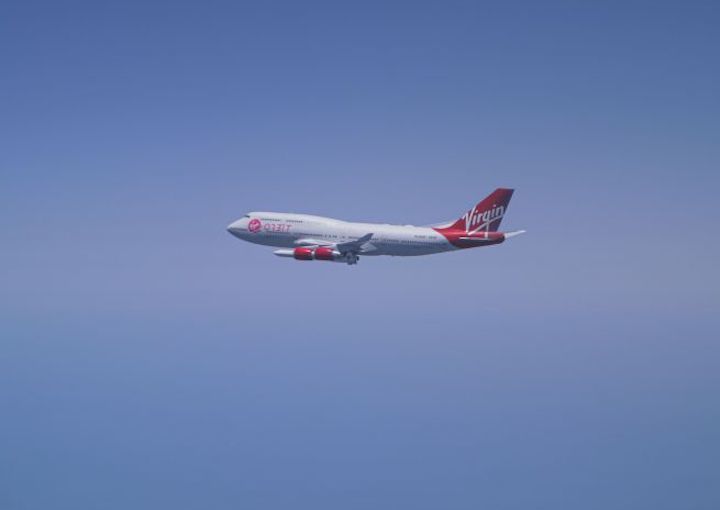 (Image: © Virgin Orbit via Twitter)
Virgin Orbit will reach the final frontier for the first time this weekend, if all goes according to plan.
The company is targeting Sunday (Jan. 10) for Launch Demo 2, its second attempt to send its LauncherOne rocket to space.
"Our team is hitting the ground running in 2021! The window for our Launch Demo 2 mission opens this Sunday, January 10th, with opportunities to launch throughout January," Virgin Orbit, part of Richard Branson's Virgin Group, said via Twitter on Tuesday (Jan. 5).
Launch Demo 2 will lift off from Mojave Air and Space Port in southeastern California. The window on Sunday runs from 1 p.m. to 5 p.m. EST (1800 to 2200 GMT; 10 a.m. to 2 p.m. local time in California), company representatives said.
Virgin Orbit has developed an air-launch system that can loft satellites weighing up to 1,100 lbs. (500 kilograms). That system consists of a modified Boeing 747 carrier plane, known as Cosmic Girl, and the two-stage, 70-foot-long (21 meters) LauncherOne rocket.
Cosmic Girl takes off from a runway with LauncherOne under one wing and drops the rocket at an altitude of about 35,00 feet (10,700 m). LauncherOne then makes its own way to orbit. This air-launch strategy — which is similar to the one employed by SpaceShipTwo, the passenger space plane flown by Virgin Orbit sister company Virgin Galactic — offers improved flexibility and responsiveness compared with standard vertical-launch rockets, Virgin Orbit representatives have said.
As its name indicates, Launch Demo 2 will be Virgin Orbit's second crack at reaching space. During the first try, in May of last year, LauncherOne successfully separated from Cosmic Girl and fired up its first-stage engine. But a propellant line ruptured shortly after the first-stage burn began, and the flight was terminated.
That May mission didn't carry any operational satellites, but Launch Demo 2 will: LauncherOne will be topped with 10 small cubesats that are flying via NASA's Educational Launch of Nanosatellites program.
Launch Demo 2 was originally supposed to launch on either Dec. 19 or Dec. 20. However, the surging COVID-19 pandemic scuttled that plan; Virgin Orbit halted pre-launch preparations last month for safety's sake, ultimately rescheduling the test flight for this weekend.
Quelle: SC
----
Update: 12.01.2021
.
Smallsat launch providers readying for first missions of 2021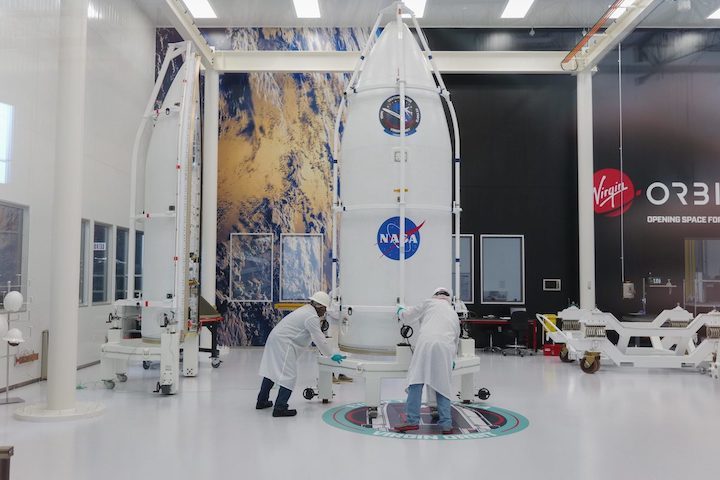 Virgin Orbit and Rocket Lab teams are gearing up for their first missions of the year in the coming days, with Virgin's air-launched rocket set for its second demonstration flight and Rocket Lab's Electron booster poised to launch a small German-owned communications satellite.
The second test flight of Virgin Orbit's air-dropped LauncherOne vehicle is scheduled no earlier than Wednesday, Jan. 13. Ten CubeSats from U.S. universities and a NASA research center are aboard the rocket, which will be released from Virgin Orbit's Boeing 747 carrier aircraft over the Pacific Ocean off the coast of Southern California.
Rocket Lab's first flight of 2021 is scheduled for a 10-day window opening Saturday, Jan. 16. A two-stage Electron launcher will carry a European tech demo satellite into orbit from Rocket Lab's base in New Zealand for OHB Group, an aerospace company based in Bremen, Germany.
Virgin Orbit, part of Richard Branson's Virgin Group, is seeking to prove out its commercial LauncherOne rocket after its first orbital launch attempt in May failed seconds after dropping from the 747 jumbo jet. The company said a break in a liquid oxygen feed line to the LauncherOne's first stage engine caused the failure a few seconds after the engine ignited.
The LauncherOne vehicle can deliver up to 1,100 pounds (500 kilograms) of payload to a low-altitude equatorial orbit, or up to 661 pounds (300 kilograms) to a 310-mile-high (500-kilometer) polar orbit, according to Virgin Orbit.
Virgin Orbit is seeking to join Rocket Lab as the only companies in a new wave of privately-funded smallsat launch providers to successfully place a payload into orbit. Astra, another launch startup, successfully launched a rocket into space from Alaska last month, but the upper stage shut down prematurely just shy of orbital velocity.
Rocket Lab successfully reached orbit for the first time in 2018. The company's Electron rocket family has launched 17 times to date, with two failures, deploying nearly 100 small satellites for commercial clients, NASA, and the U.S. military.
The 18th Electron launch, set for no earlier than Jan. 16, will loft a small communications satellite for OHB.
The seven-minute launch window Jan. 16 opens at 2:38 a.m. EST (0738 GMT), according to Rocket Lab. The mission will take off from Launch Complex 1A at Rocket Lab's privately-run spaceport on Mahia Peninsula, located on the North Island of New Zealand.
Rocket Lab is headquartered in Long Beach, California, but performs final rocket assembly and launch operations in New Zealand. Later this year, Rocket Lab plans to launch its first mission from a new facility at the Mid-Atlantic Regional Spaceport in Virginia, and will send a small NASA-funded spacecraft to the Moon.
Teams at Rocket Lab's launch base in New Zealand are also completing construction of Launch Complex 1B near the company's first launch pad. The company says the first launch from the new pad in New Zealand is also scheduled later this year.
Rocket Lab has nicknamed first mission of 2021 "Another One Leaves the Crust."
OHB Group, which builds small and medium-sized satellites, procured the launch from Rocket Lab through its subsidiary OHB Cosmos, according to Rocket Lab.
The payload from OHB is a "single communication microsatellite that will enable specific frequencies to support future services from orbit," Rocket Lab said in a statement. OHB and Rocket Lab have released no additional details about the satellite, which was built by OHB divisions in Germany, Sweden, and the Czech Republic.
Peter Beck, Rocket Lab's founder and CEO, said the launch will take place within six months of the contract signing with Rocket Lab and OHB, a relatively fast turnaround for a launch service agreement.
"By flying as a dedicated mission on Electron, OHB and their mission partners have control over launch timing, orbit, integration schedule, and other mission parameters," Beck said in a statement.
Rocket Lab does not plan to recover the Electron's first stage booster on the mission set for Jan. 16. The company retrieved an Electron first stage for the first time following a launch in November, an initial step in eventually reusing Electron boosters to increase Rocket Lab's launch rate.
Rocket Lab's seven Electron flights in 2020 set a record for the company, which says it has a "packed" launch schedule from three pads in 2021.
Virgin Orbit, meanwhile, is seeking to join Rocket Lab in the small satellite launch market.
A dedicated launch on Virgin Orbit's LauncherOne rocket sells for about $12 million, according company managers. Rocket Lab's Electron rocket, which has a somewhat lower lift capacity than Virgin's LauncherOne, is priced at about $7 million per mission.
The effort to develop the LauncherOne rocket began as a project of sister company Virgin Galactic, which focuses on the suborbital space tourism market.
Virgin Galactic says it first studied the LauncherOne concept in 2007, and development began in earnest in 2012. Engineers in 2015 scrapped initial plans to drop the rocket from Virgin Galactic's WhiteKnightTwo carrier aircraft, and kicked off development of a redesigned system using a 747 jumbo jet taken from Virgin Atlantic's commercial airline fleet.
Based in Long Beach — near Rocket Lab's corporate headquarters — Virgin Orbit was established in 2017 as a spinoff of Virgin Galactic. Virgin Orbit's investors include Branson's Virgin Group and Mubadala, Abu Dhabi's sovereign wealth fund.
Virgin Orbit's first demonstration launch in May carried a small spherical satellite named Starshine 4, a passive payload covered in 1,000 small mirrors polished by students through an educational program nearly two decades ago.
The 40-pound (18-kilogram) Starshine 4 satellite was supposed to launch on space shuttle mission, but it got bumped after other payloads took priority as the final shuttle flights focused on completing the International Space Station.
The Starshine 4 payload got a free launch on Virgin Orbit's first test flight, but the satellite never made it to orbit.
NASA is the customer for the second LauncherOne test flight, which Virgin Orbit calls "Launch Demo 2." Virgin Orbit delayed the mission from December due to concerns related to the coronavirus pandemic.
The U.S. space agency signed a contract with Virgin Galactic, Virgin Orbit's previous parent company, in 2015 through the Venture Class Launch Services program. NASA established the VCLS program to provide rides to orbit for small research nanosatellites, and help give business to startup companies developing smallsat launchers.
Rocket Lab also received a VCLS contract in 2015. The launch provider successfully completed the VCLS mission in December 2018, when an Electron mission delivered 13 NASA-sponsored CubeSats to orbit.
The 10 CubeSats aboard Virgin Orbit's Launch Demo 2 mission were built by university students in California, Colorado, Florida, Louisiana, Maryland, Michigan, Tennessee, and Utah. NASA is paying for the launch of the university-built CubeSats.
Another NASA CubeSat mission, named TechEdSat 7, from the agency's Ames Research Center is also aboard the LauncherOne rocket.
Quelle: SN
+++
After our first Launch Demo earlier this year, we set a goal to return to flight before the end of 2020, and we're proud that we remain on target. Now, we're excited to announce that, pending some additional tests and operations, the launch window for our Launch Demo 2 mission will open on Saturday, December 19th, with an opportunity to launch from 10:00 AM to 2:00 PM Pacific. We also have a similar launch window available on Sunday, December 20th, with further opportunities available in the following weeks, if needed.
In our first Launch Demo, we demonstrated the entire prelaunch sequence, flyout, rocket separation and unpowered flight, engine start and first stage powered flight. Our team is fired up to build on those steps and to demonstrate the rest of the rocket system, including our upper stage. Again, we're poised to collect terabytes of data from LauncherOne as it flies, further enhancing our knowledge and proving out our system's capabilities.
We're taking another big first step with this mission too, as we'll be carrying customers' satellites on board for the first time. We are immensely grateful to our friends at NASA's Venture Class Launch Services (VCLS) and NASA's Launch Service Program (NASA LSP) for what has been an incredibly collaborative team effort. NASA created VCLS to foster the development of new commercial launch capabilities for innovative, risk-tolerant payloads; and working with them has given us the opportunity to learn about their journey while bringing them some of Virgin's unmatched heritage of customer service, and enabling us both to build upon and enhance future missions.
Being first in line — and what's more, flying on a demonstration flight — always carries with it a special relationship. It's been a true honor working with NASA on this mission as we opened the doors to our new payload processing facility, received and processed our first customer spacecraft, verified our integration processes, and more. Having a customer like NASA on board as we realize our vision of creating a new game-changing capability for spacelaunch has been inspiring for the whole Virgin Orbit team.
All along, we've been focused, dedicated and driven by the responsibility to get these experimental spacecraft on their way. At the same time, we all understand the risks and uncertainties inherent in flying a demonstration flight. We're proud to become part of NASA's long history of taking measured risks to bring new spaceflight capabilities to humankind. That is what Virgin Orbit is all about.
Flight Manifest
9 CubeSat missions comprising 10 total spacecraft are set to fly on LauncherOne during Launch Demo 2, which will also mark the 20th mission in NASA's Educational Launch of NanoSatellites (ELaNa XX) series. NASA is using small satellites, including CubeSats, to advance exploration, demonstrate emerging technologies, and conduct scientific research and educational investigations. Nearly each payload on this flight was fully designed and built by universities across the US.
The manifest for this flight includes the following:
CACTUS-1 — Capital Technology University, Laurel, Maryland

A 3U CubeSat carrying out two technology demonstrations. The primary payload, TrapSat, is tackling the issue of space debris by using aerogel to capture and profile orbiting microdebris. The mission also includes the first secondary stand-alone payload for a CubeSat, the Hermes module, which demonstrates commanding via Internet as an cost-saving communications and command subsystem for gathering scientific data.
CAPE-3 – Unversity of Louisiana Lafayette, Louisiana

This educational mission will fly the Smartphone CubeSat Classroom, which allows anyone with a smartphone to set up a ground station with a kit. Interactive educational activities will give students the ability to interact with the CubeSat via an app on their smartphone and use their smartphone to design their own CubeSat experiments.
EXOCUBE-2 – California Polytechnic University, San Luis Obispo, California
This 3U CubeSat is equipped with a space weather platform that will measure a number of atomic and ionic substances in the exosphere. Knowledge of the composition and the current state of activity in the exosphere can be useful in the prediction of space weather phenomena in order to forecast potential effects on satellite communications and spacecraft performance.
MiTEE – University of Michigan, Ann Arbor, Michigan

MiTEE is a series of two CubeSat missions developing the capability to deploy a pico/femto (i.e. very small) satellite-tether system. The missions will allow students to work on a real-world, research-driven mission to assess the key dynamics and electrodynamic fundamentals of a very short tether system for flying pairs of smallsats.
PICS – Brigham Young University, Provo, Utah

A pair of two satellites, PICS is a technology demonstration of a spacecraft that can perform inspection, maintenance and assembly on another spacecraft. The two flight systems deployed simultaneously will enable the collection of image data from each other as well as the parent spacecraft.
PolarCube – University of Colorado at Boulder, Boulder, Colorado

PolarCube is a small radiometer that will collect Earth surface and atmospheric temperature data. Its purpose is to collect brightness temperature spectra at a low cost, useful for applications like storm cell observations and the study of sea ice fractions near the poles.
Q-PACE – University of Central Florida, Orlando, Florida

Q-PACE will facilitate long-duration microgravity experiments to study collisions in the early protoplanetary disk. The CubeSat will observe low-velocity collisions between cm-scale and smaller particles, addressing the decades-old question of how bodies grow past the meter-size barrier into planetesimals that can become planets through gravitational accretion.
RadFXSat-2 – Vanderbilt University, Nashville, Tennessee

RadFxSat-2 has two mission objectives: to study the effects of space radiation on a specific kind of Static Random Access Memory (SRAM) for the purpose of validating single-event error rate predictions, and to test a design for two-way amateur radio communications.
TechEdSat-7 – NASA Ames Research Center, Moffett, California

The overall goal of TECHEDSAT is to evaluate, demonstrate, and validate two new technologies for future experiments aboard smallsats. After 60 days in orbit, the satellite will be commanded to quickly re-enter the atmosphere utilizing a new device called an Exo-Brake.
Launch Readiness
After a rigorous investigation, then modification and test program — both alongside some true luminaries in the launch business — we're delighted to be back on the runway in Mojave just 7 months after our first demonstration. And this is despite the complexities of working in a global pandemic!
As we've outlined in previous blogs, our team has performed a battery of critical tests to give us the best chance possible for success. Throughout these activities, we've seen the benefits from all of the learning and operational refinements that came from moving through Launch Demo 1.
As our team works with a new level of experience and efficiency, milestones have been falling like dominoes, with all pre-launch activities to date looking picture-perfect from beginning to end.
Before we recently mated the rocket, our flight crew took Cosmic Girl out for one final test flight to simulate the mission. Not only did this flight provide valuable practice for both our pilots and launch engineers, it also gave us the opportunity to send simulated rocket data back and forth from the plane to mission control on the ground.
We also recently conducted a cryo-load on the rocket after mating it to the plane, fully loading the rocket with both fuel and LOX at super-cold temperatures. The system health report was excellent.
Like any other rocket, the last piece of the puzzle before we fly is wet dress rehearsals, which essentially combines all of the operations from the dry run with propellant loading. If those go well, we'll be ready to fly out and light this candle.
We know you all are just as excited as we are to see LauncherOne fly again, so we'll keep you in the loop as Launch Demo 2 approaches. We'll also post real-time updates as the mission progresses — just follow us on Twitter (@Virgin_Orbit) so you don't miss a thing. And as always, we'll follow up with photos and videos as quickly as we can.
Quelle: Virgin-Orbit
----
Update: 15.01.2021
.
Virgin Orbit now targeting Sunday for 1st spaceflight
The four-hour launch window opens at 1 p.m. EST (1800 GMT).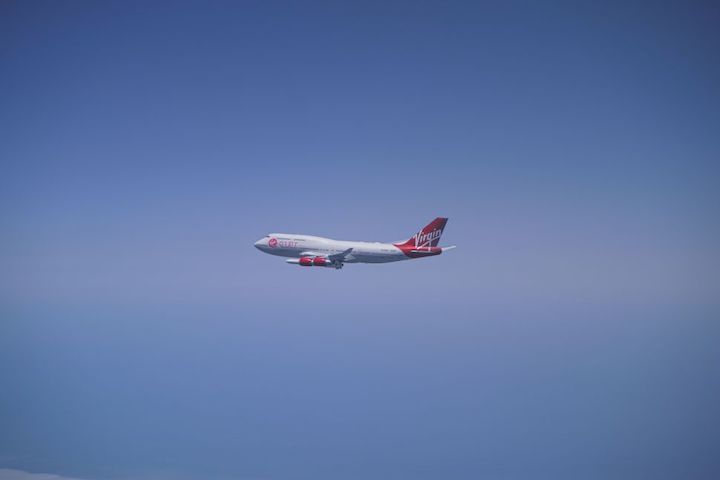 (Image: © Virgin Orbit via Twitter)
We'll have to wait until this weekend to see Virgin Orbit take another crack at reaching space.
The company is now targeting Sunday (Jan. 17) for Launch Demo 2, its second attempt to reach orbit with its air-launched LauncherOne rocket. (The booster didn't make it on its first try, which occurred in May 2020.)
If all goes according to plan, Virgin Orbit's carrier plane, Cosmic Girl, will lift off from California's Mojave Air and Space Port on Sunday during a four-hour window that opens at 1 p.m. EST (1800 GMT; 10 a.m. local time in California), with LauncherOne tucked beneath one wing.
At an altitude of about 35,000 feet (10,700 meters), LauncherOne will drop free and make its own way to orbit. You can follow the mission's progress via Virgin Orbit's Twitter feed.
Virgin Orbit had been eyeing mid-December for Launch Demo 2, but complications arising from the ongoing coronavirus pandemic pushed the date to Jan. 10. Last week, the company announced that the target had slipped to Jan. 13. And we got another update on Tuesday (Jan. 12).
"Our Launch Readiness Review is complete, our hardware looks great, and our customers are ready. We're following through on the last actions identified at our LRR. Our launch is now targeted for NET [no earlier than] Sunday, Jan. 17, with additional windows in January if needed," Virgin Orbit said via Twitter on Tuesday (Jan. 12).
Quelle: SC
----
Update: 18.01.2021
.
Branson's Virgin rocket takes satellites to orbit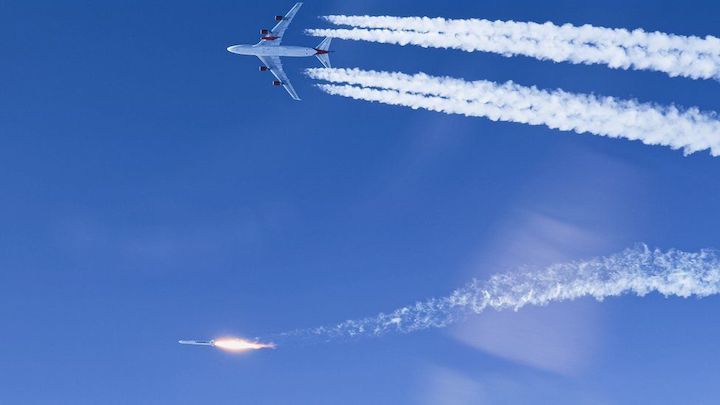 Sir Richard Branson's rocket company Virgin Orbit has succeeded in putting its first satellites in space.
Ten payloads in total were lofted on the same rocket, which was launched from under the wing of one of the entrepreneur's old 747 jumbos.
Sir Richard is hoping to tap into what is a growing market for small, lower-cost satellites.
By using a jet plane as the launch platform, he can theoretically send up spacecraft from anywhere in the world.
In reality, of course, his Virgin Orbit system has to be licensed in the locality where it is used, which at the moment is solely California. But there are well-advanced plans to bring the 747 and its rockets to Cornwall in south-west England, for example.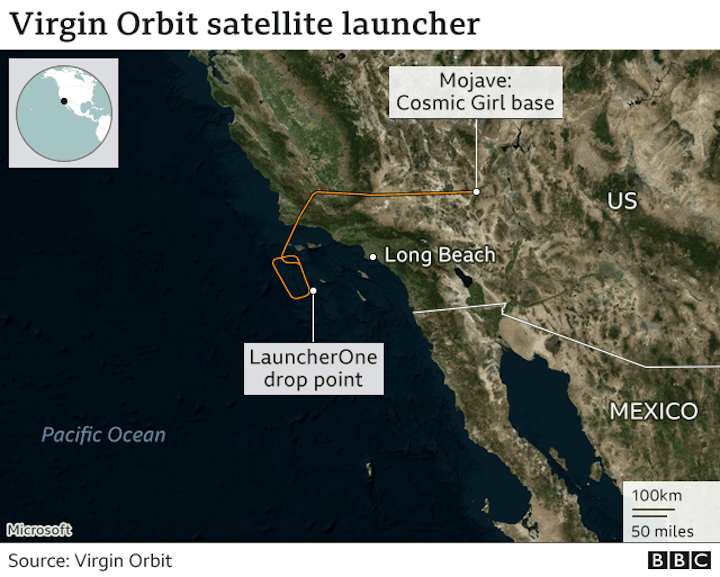 Sunday's success was a big fillip for Sir Richard's team who had tried and failed to launch a rocket in May last year. That effort was thwarted by a breached propellant line feeding liquid oxygen to the booster's first-stage Newton-3 engine.
No such problems occurred this time.
The modified 747, named Cosmic Girl, left its base in California's Mojave desert at 10:50 PST (18:50 UTC) to fly out over the Pacific Ocean.
A little under 60 minutes later, and cruising at 35,000ft (10,500m), the jet banked hard to the right, dropping as it did so the 21m-long rocket that had been clamped to its underside.
Within seconds this booster, called LauncherOne, had ignited its engine and was climbing to space.
Correct deployment of the various spacecraft onboard at an altitude of roughly 500km was confirmed a couple of hours later.
"A new gateway to space has just sprung open," said Virgin Orbit CEO Dan Hart. "That LauncherOne was able to successfully reach orbit today is a testament to this team's talent, precision, drive, and ingenuity."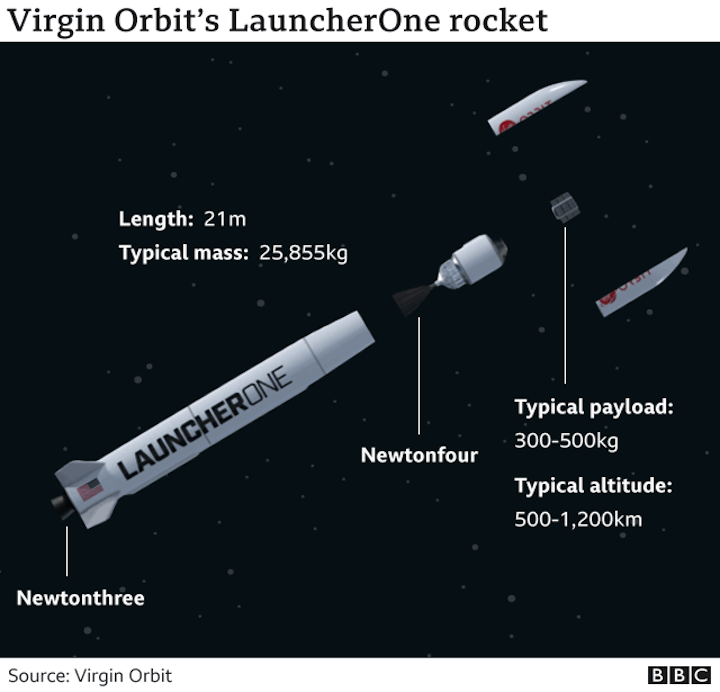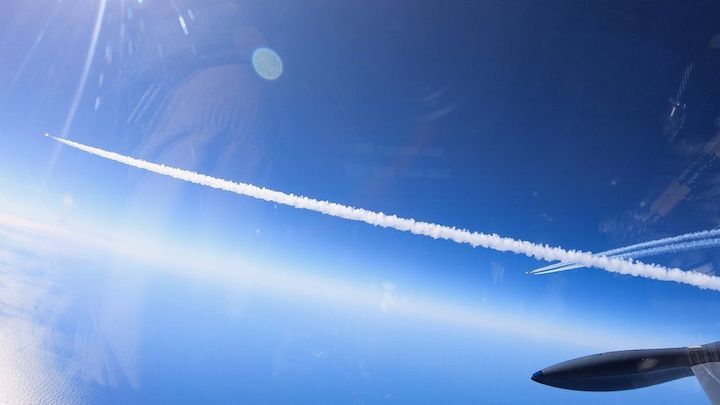 Sir Richard has been trying to find the right solution to get into the satellite launch business since 2009. His concrete proposal was first put before the public at the Farnborough International Air Show three years later.
There is an emerging market for small, lower-cost spacecraft, whose developers are seeking more flexible and affordable ways of getting their assets above the Earth.
Virgin Orbit is one of a number of companies now racing to meet this demand. Other contenders include the Rocket Lab outfit, which sends up its vehicles from a ground launch pad in New Zealand. But there are tens of other small rocket start-ups at various stages of maturation, and some of these plan to operate from the UK as well.
"Virgin Orbit has achieved something many thought impossible. It was so inspiring to see our specially adapted Virgin Atlantic 747, Cosmic Girl, send the LauncherOne rocket soaring into orbit," Sir Richard said.
"This magnificent flight is the culmination of many years of hard work and will also unleash a whole new generation of innovators on the path to orbit. I can't wait to see the incredible missions Dan and the team will launch to change the world for good."
Will Whitehorn is the president of UKSpace, the trade body representing the space industry in Britain. He's also a former president of Virgin Galactic, Sir Richard's other space company which hopes soon to start flying fare-paying passengers above the atmosphere in a rocket plane.
He said Virgin Orbit's success on Sunday was hugely significant.
"This is a momentous day for the small satellite world, as we will be able to launch satellites responsively; and for the UK this event promises sovereign launch capability very soon," he told BBC News.
"I plan to push hard for a launch from Cornwall to coincide with the G7 meeting this year if at all possible!"
Quelle: BBC
+++
Virgin Orbit LauncherOne launches NASA's ELaNa 20
+++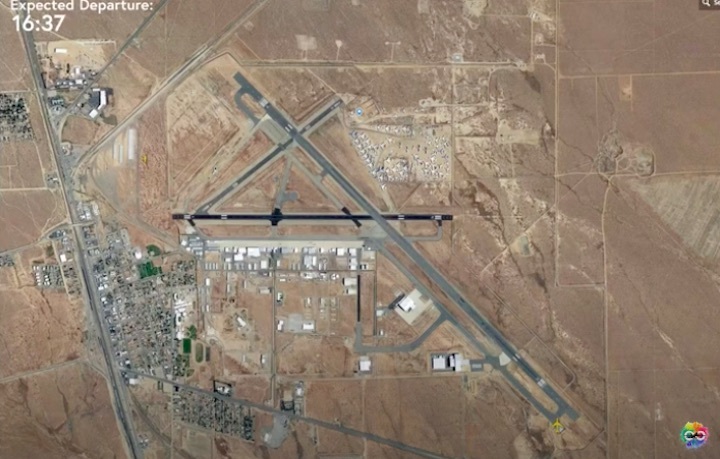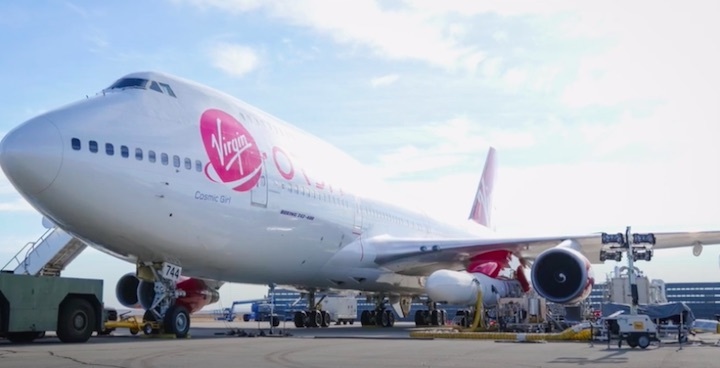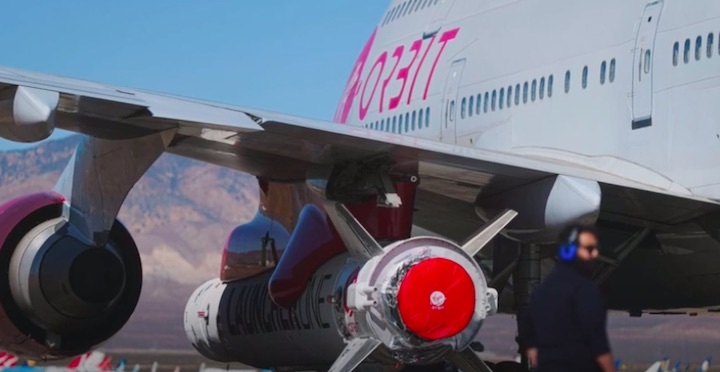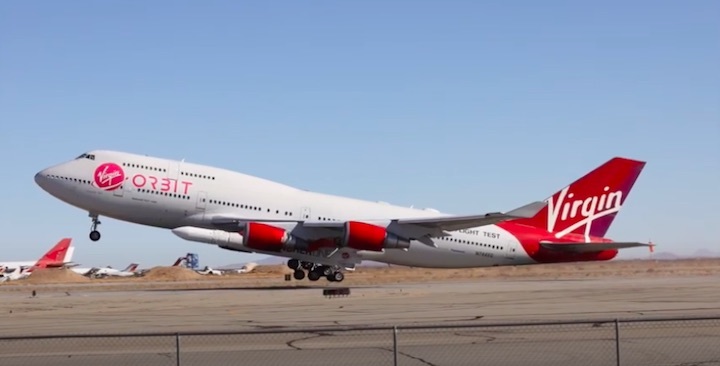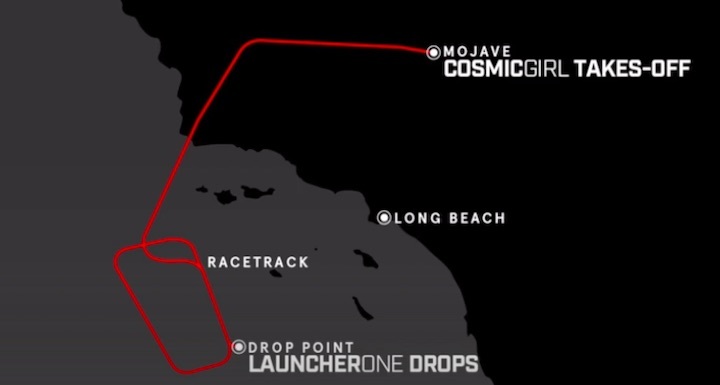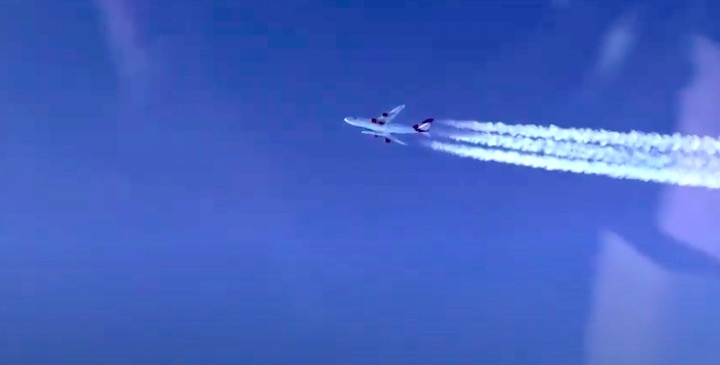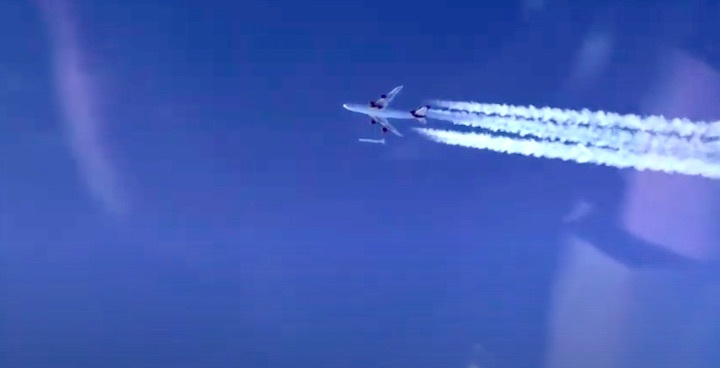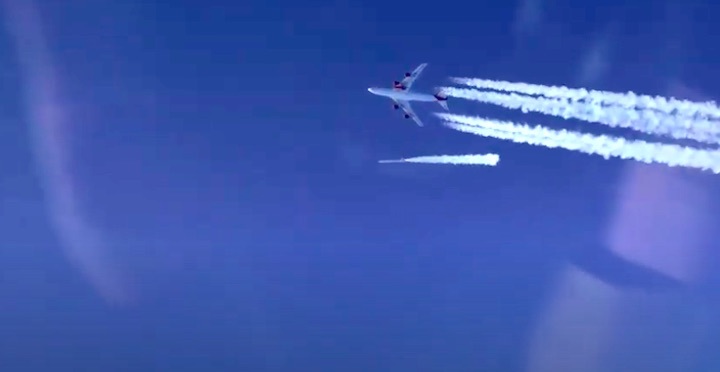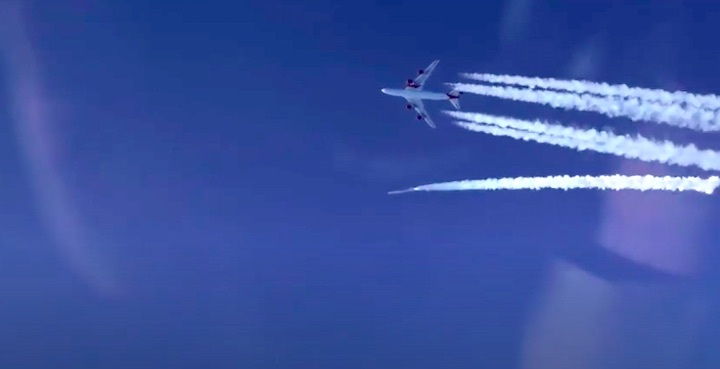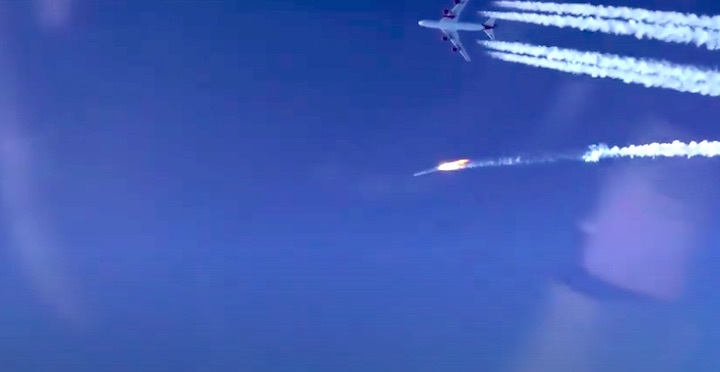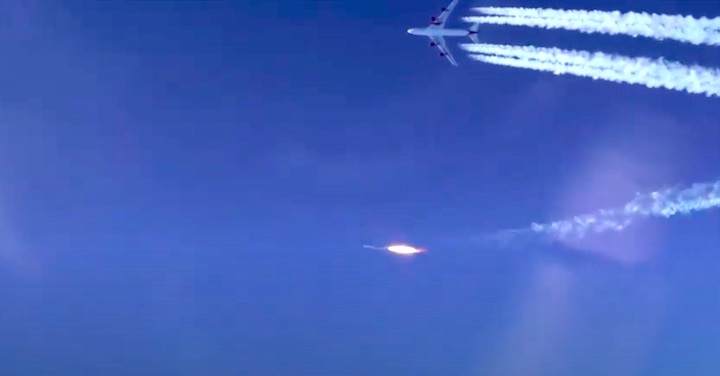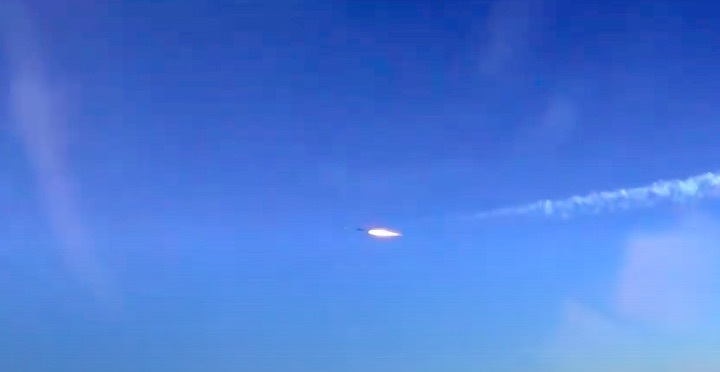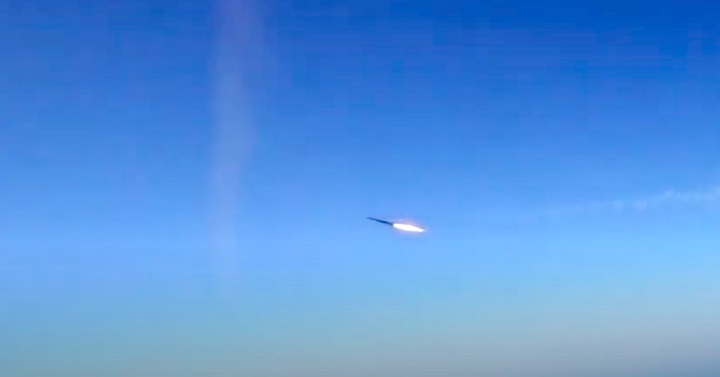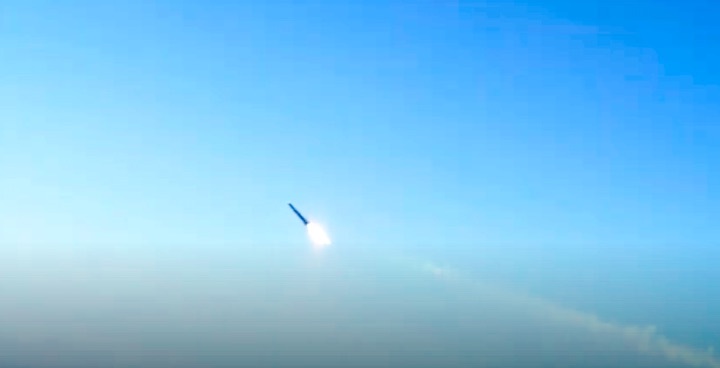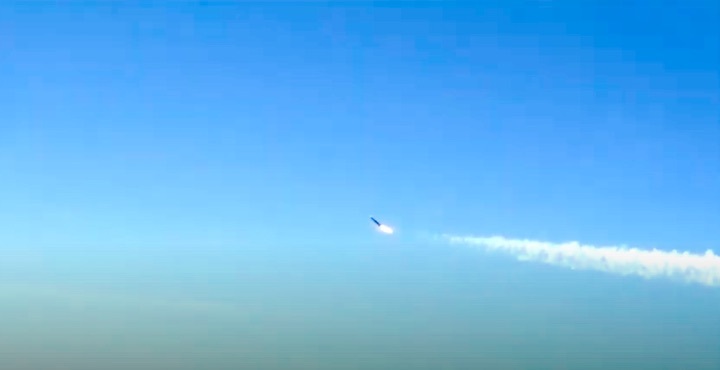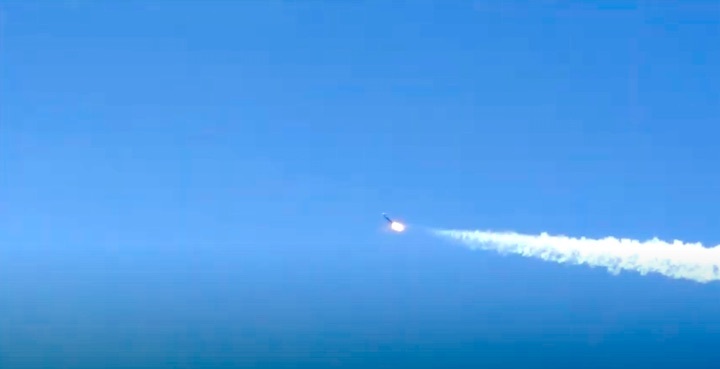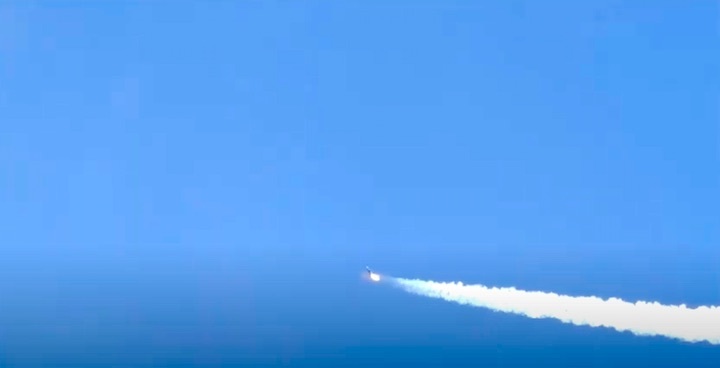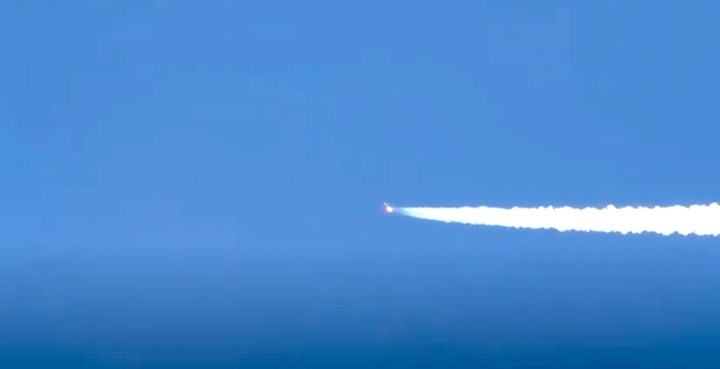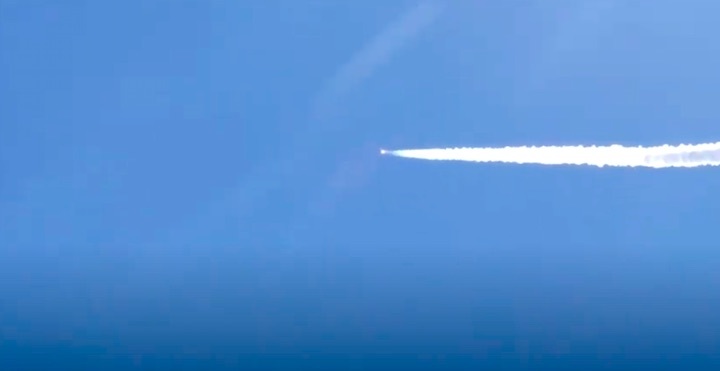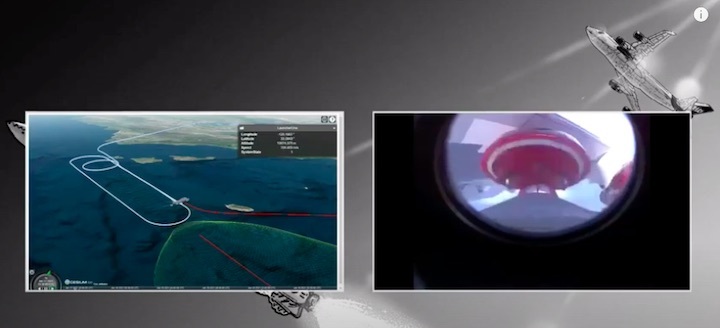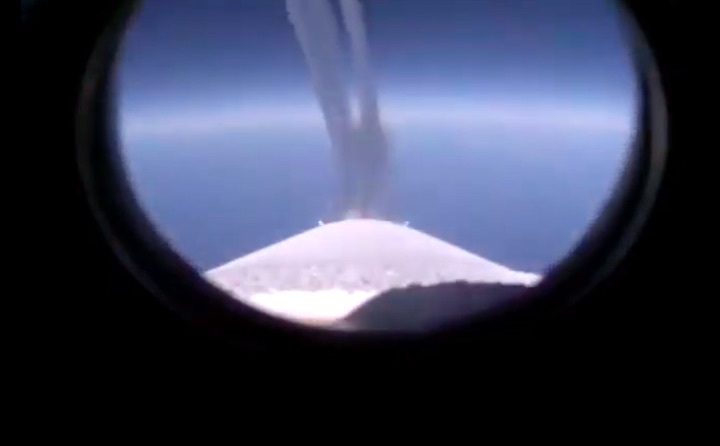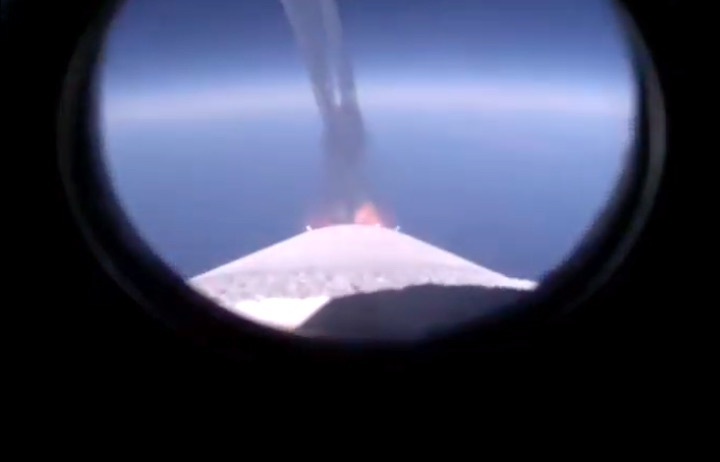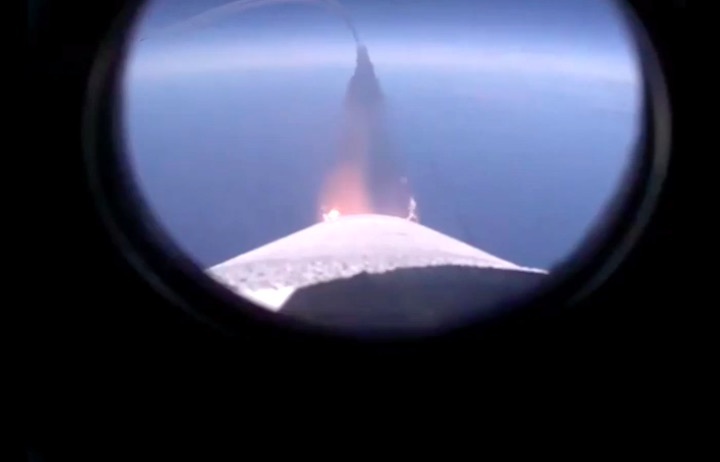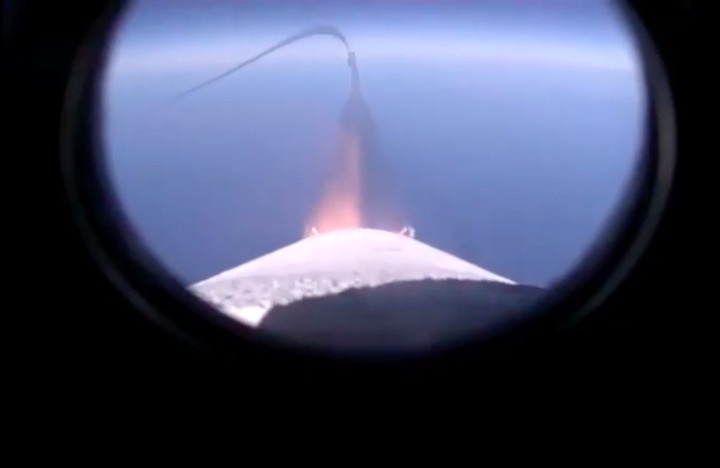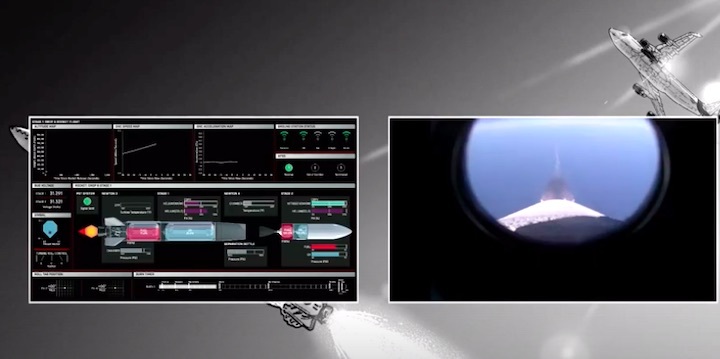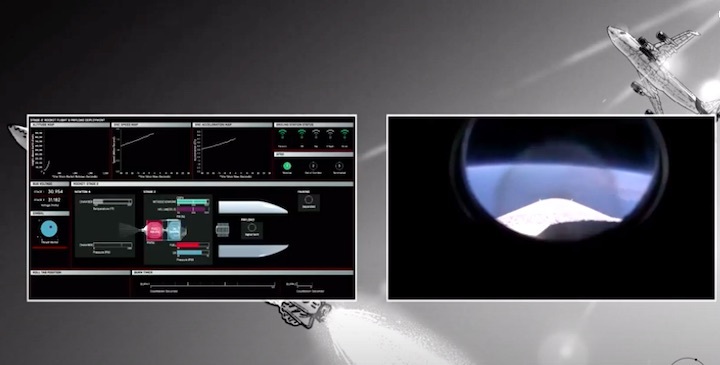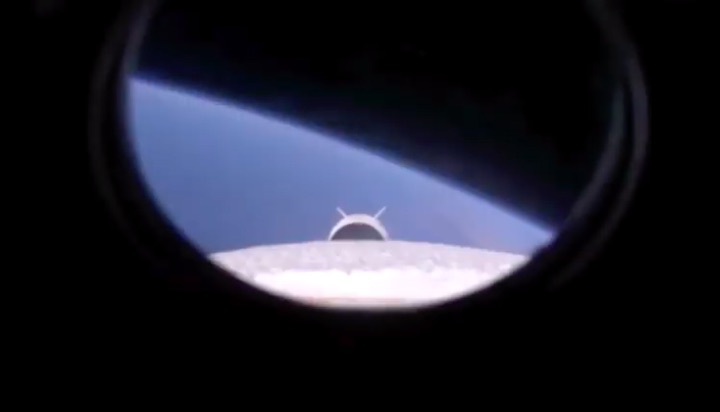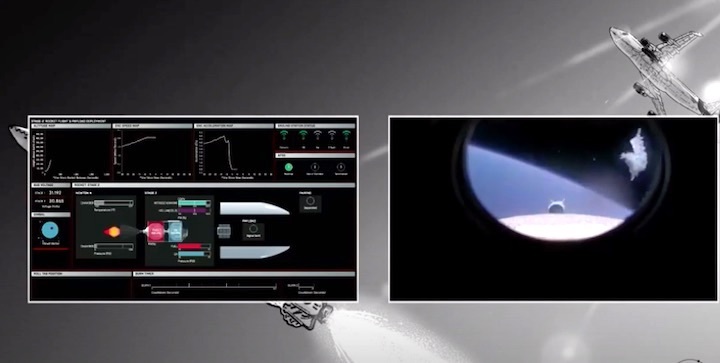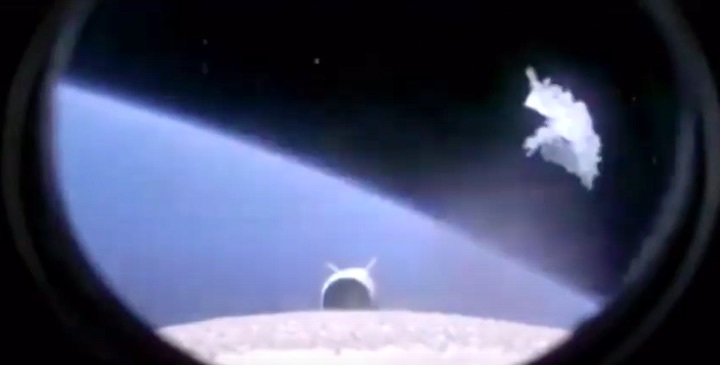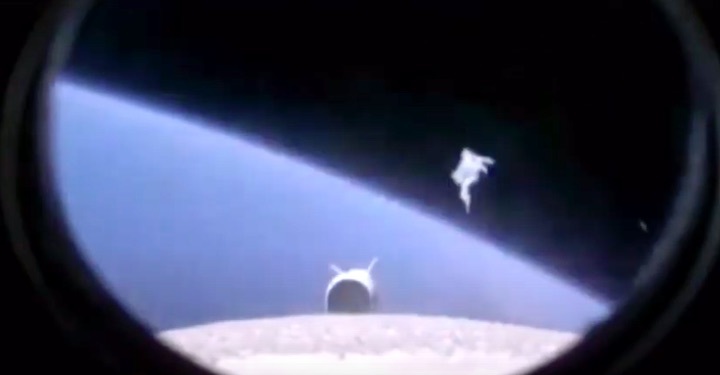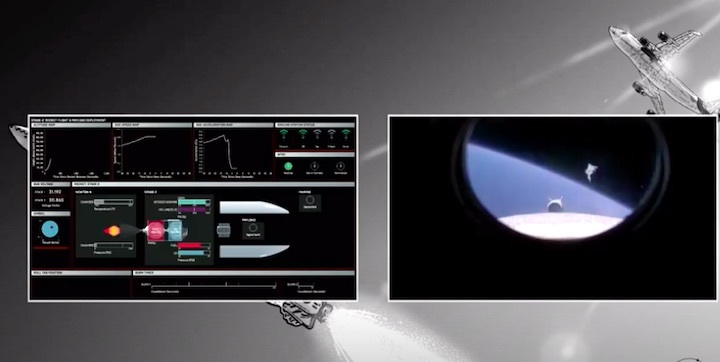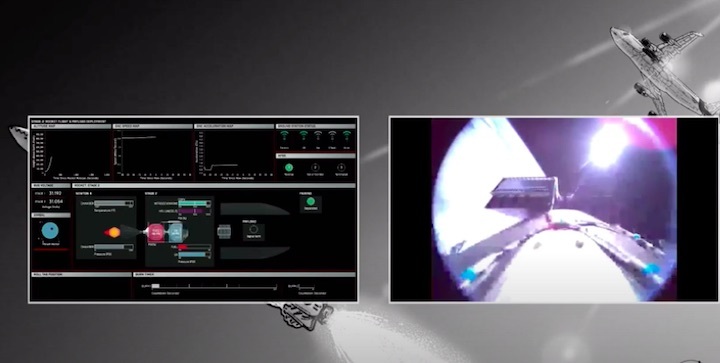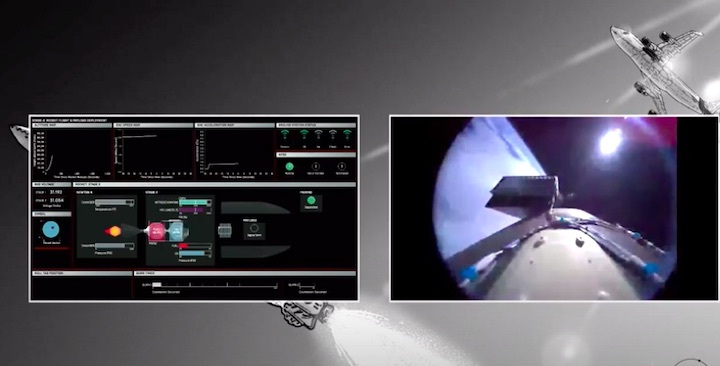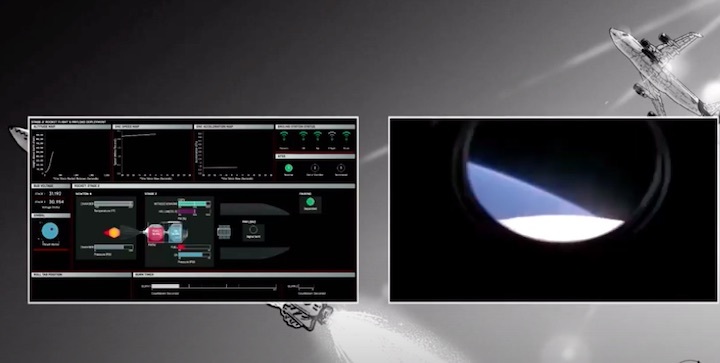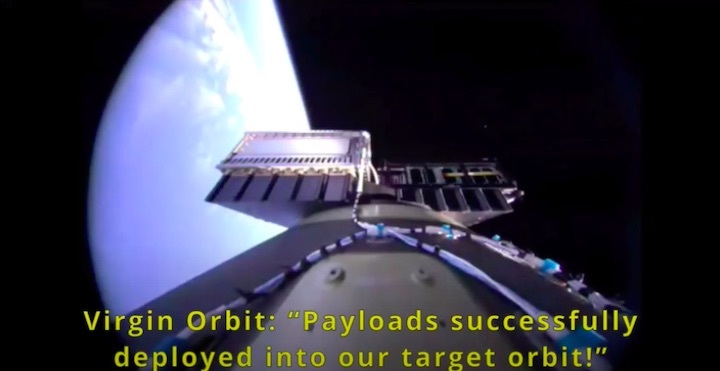 Quelle: Virgin Orbit
1782 Views