23.01.2021
ISS Russian Segment head Vladimir Solovyov underscored that air loss due to the crack are insignificant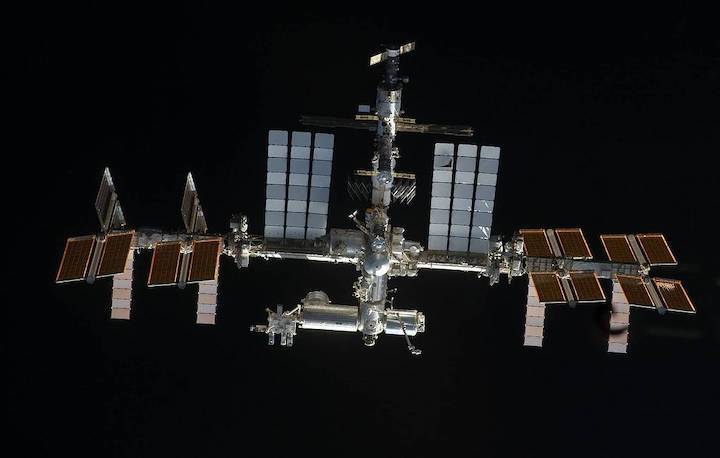 The specialists have discovered one more crack at the International Space Station and suspect that yet another one exists, ISS Russian Segment head Vladimir Solovyov told Rossiya-24.
"So far, we have found one place and suspect another, where as some kind of leak exists. We must bring a powerful microscope on a cargo spacecraft and use to examine this place. We are not totally certain so far," Solovyov said.
He underscored that air loss due to the crack are insignificant.
"This leak is like as if you'd drill the hull with a 0.2 mm diameter drill. I'm not sure such drills even exist in household. As for the leak it causes, our [space air] pressure is 750 mmHg, and this alleged crack causes us to lose 0.3 to 0.4 mmHg every day," the official said, adding that emergency leak starts when pressure falls at 0.5 to 1 mmHg per minute.
"We are working on it, of course. We understand clearly that these places are at issue. The are indeed not airtight, we understand that there could be some other places, but there is no horror in that, I can say it responsible as the mission head," he assured.
The leak·
On September 29, the Mission Control Center reported during communication with the ISS about a possible new air leak in the Zvezda module, adding that it is unclear what part of the module exactly leaks air.
On October 15, the ISS crew reported that the possible leak location was located; according to cosmonaut Anatoly Ivanishin, the crack appeared like a jagged scratch about 2-3 cm in length. Later, cosmonaut Sergey Ryzhikov disclosed that the crack is actually about 4.5 cm long.
In November, Russian cosmonauts photographed the suspected leak location on the outside of the ISS, but found no hull damage at where the crack is supposed to be.
Quelle: TASS
861 Views