7.12.2019
Relocating the human race to a more hospitable planet would mean that multiple generations would be born in-transit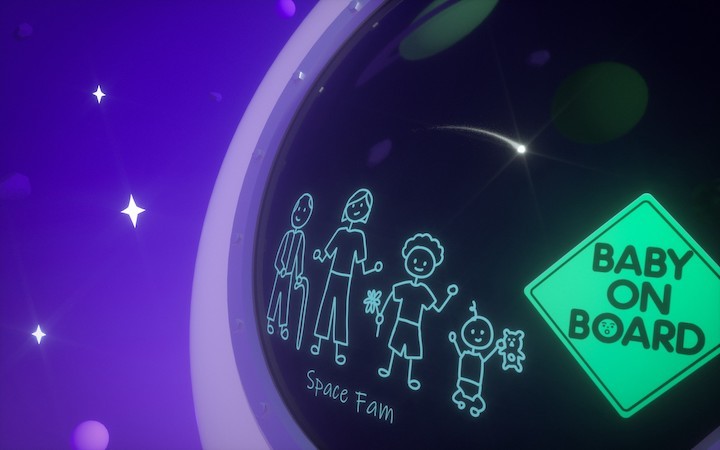 fter 200,000 years or so of human existence, climate change threatens to make swathes of our planet unlivable by the end of the century. If we do manage to adapt, on a long enough timeline the Earth will become uninhabitable for other reasons: chance events like a comet strike or supervolcano eruption, or ultimately — if we make it that long — the expansion of the sun into a red giant in around five billion years, engulfing the planet completely or at a minimum scorching away all forms of life. Planning for potential escape routes from Earth is, if not exactly pressing, then at least a necessary response to a plausible threat.
The most obvious destination is our nearest neighbor, Mars. We've already sent multiple probes there, and NASA is planning another moon landing in 2024 with the eventual plan of using it as a waypoint on a mission to Mars. Elon Musk's Space X claims to be aiming for a crewed trip to Mars in the same year. But Mars is a desert planet, cold and barren, with no atmosphere save for a thin blanket of CO2. Sure, we could survive there, in protective suits and hermetically sealed structures, but it's not a great place to truly live.
Some scientists have another favorite relocation candidate: Proxima b, a planet that orbits a star called Proxima Centauri, some 4.24 light years distant from our sun. Located in the triple-star Alpha Centauri solar system, Proxima b has a mass 1.3 times that of Earth and a temperature range that allows for liquid water on the surface, raising the possibility that it could support life.
The biggest challenge is getting there. Proxima b is almost unimaginably far away. There is a program underway, Breakthrough Starshot, to send a probe to Alpha Centauri with a journey time of just 20 years, but the entire craft will weigh only a few grams, being propelled by a 100-billion-watt laser fired at it from Earth rather than carrying any of its own fuel or, for that matter, human passengers. Even by generous estimates, traveling one light year in a vessel large enough to transport humans will take centuries; reaching a planet in the range of Proxima b would take a thousand years or more.
This means that no one cohort of crew members would be able to survive the journey from start to finish, so those on the craft for the launch would have to pass on the torch to the next generation, and the next, and the next, and the next.
While it might sound like science fiction, a small network of researchers is tackling the problem of multi-generation space travel in a serious way. "There's no principal obstacle from a physics perspective," Andreas Hein, executive director of the nonprofit Initiative for Interstellar Studies — an education and research institute focused on expediting travel to other stars — tells me in a call from Paris. "We know that people can live in isolated areas, like islands, for hundreds or thousands of years; we know that in principle people can live in an artificial ecosystem like Biosphere2. It's a question of scaling things up. There are a lot of challenges, but no fundamental principle of physics is violated."
As one might expect from such an undertaking, the difficulties are many and broad, spanning not just physics but biology, sociology, engineering, and more. They include conundrums like artificial gravity, hibernation, life support systems, propulsion, navigation, and many problems that are nowhere near to being solved. But even if we never make it to Proxima b, in the process of exploring the question of how to escape Earth, some of the scientists involved in the work may stumble upon solutions for surviving on our planet, as resources like energy and water become increasingly scarce.
---
When it comes to traveling beyond our solar system to colonize the planets of a nearby star, the most basic question is whether it's possible at all on a biological level.
Frédéric Marin, an astrophysicist at the Université de Strasbourg and a global expert on the radiation created by black holes, decided to address this question in a series of research papers produced without funding and in his spare time.
He was inspired to look into the issue by the work of Nick Kanas, a professor of psychiatry who studied NASA crew members to understand the psychological effect of months spent in the International Space Station. Kanas has published many papers and books on the subject, assessing the impact on the human mind of confinement, stress, zero gravity and isolation from Earth. He describes his own work as a precursor to mounting long-duration space missions. This body of research posed questions about whether manned journeys to the outer planets of the solar system and beyond are feasible, and Marin realized that very few people had tried to seriously address the question from a biological and sociological point of view. He also realized that he had the skills to try.
As an astrophysicist, Marin was accustomed to building simulated models of particle interaction in space. He designed a simulation in which each unit would represent not a particle but a human in a closed environment, with a certain probability of living healthily, succumbing to disease, and finally passing on genetic material to the next generation. In turn, humans of the next generation were born with some random attributes, and others based on the "consanguinity" of their parents — how closely related they were. The guiding question was whether an initial crew of a given size would be sufficient to complete a 200-year journey without outgrowing the ship's capacity, dying off en masse, or arriving with excessive inbreeding. "You can use data from biology, anthropometry, anthropology, mathematics, to compute it," Marin says. "This is a theoretical step, but it's the first step."
In 2017 Marin published a paper unveiling a software system, dubbed HERITAGE, that could simulate the growth of an isolated human population over time to predict whether an initial crew of a given size would be sufficient to complete a journey over multiple generations, and arrive with enough genetic diversity to populate a new planet. In 2018 he and co-author Camille Beluffi, a physicist at scientific data startup CASC4DE, applied the same technique to calculate the crew size needed for travel to Proxima b, estimating that just 98 crew members at departure from Earth would be enough to successfully navigate a 6,300-year voyage. At least theoretically, Marin reasoned, this proved that it was not impossible for humans to sustain a healthy gene pool on the trip to Proxima b. "And after that," he explains, "you ask, how can we do it?"
He estimated next how much space would be required to produce food. The trick, he surmised in a paper from this year, would be to farm vegetables through aeroponics — a highly efficient growing system where nutrient mists are sprayed onto the roots of hanging plants — and derive some additional protein from animals, which have greater space requirements. Using these techniques, the total space needed to feed a crew of 500 would be 0.45 km2, or 111 acres: the same area as Vatican City, or roughly an eighth the size of Central Park. This area would be distributed around a slowly rotating cylinder in order to produce artificial gravity, crucial for humans to retain muscle mass and normal bodily functions over a prolonged period in space, and span multiple floors too. One architecture plan Marin suggests is a cylinder just 25 metres tall but with a radius of 224 metres, not dissimilar to NASA's iconic Stanford Torus concept.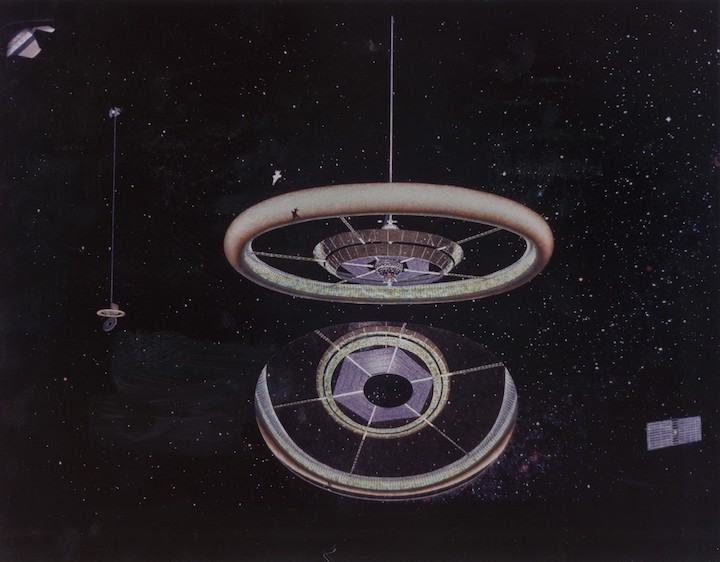 ---
---
---
2445 Views