Engineers are preparing Orion for the mission, known as Artemis 1, by putting the capsule through a series of tests to see if it's ready to take on space. Over the next two months at NASA's Plum Brook Station, Orion will be subjected to extreme temperatures in the largest vacuum chamber in the world. The vehicle will experience temperatures from -250 to 300 degrees Fahrenheit to simulate the wide range of environments it will experience off of Earth. Orion's electronics systems will also be tested to make sure they all function as they should at the same time.
Once all of this is done, the Super Guppy will take Orion back to Florida where it will be mounted on top of its future ride, the SLS. However, the SLS is still in development for its debut flight, and it's unclear exactly when it'll be ready to launch. A recent government audit suggested it wouldn't fly until 2021 at the earliest, and one NASA official also indicated that was likely. But if all goes well with testing, at least Orion will be ready once the rocket is finally finished.
Quelle: The Verge
----
Update: 29.11.2019
.
Orion spacecraft arrives at Plum Brook
The Orion spacecraft that will fly farther from Earth on the Artemis I mission than any human-rated vehicle has ever flown before, arrived at NASA's Plum Brook Station yesterday. This was the first voyage of the assembled spacecraft – the size of a two-storey house – that includes NASA's Crew Module and Crew Module Adapter as well as ESA's European Service Module.
The European Service Module arrived at NASA's Kennedy Space Center in Florida, USA, from Bremen, Germany, last November where the three main parts of the spacecraft were assembled, joined and tested.
Further testing to ensure the spacecraft will withstand the extremes of spaceflight requires specialist facilities such as the world's largest thermal vacuum chamber at NASA's Plum Brook Station in Ohio, USA, where Orion will get its first feel of space.
Plane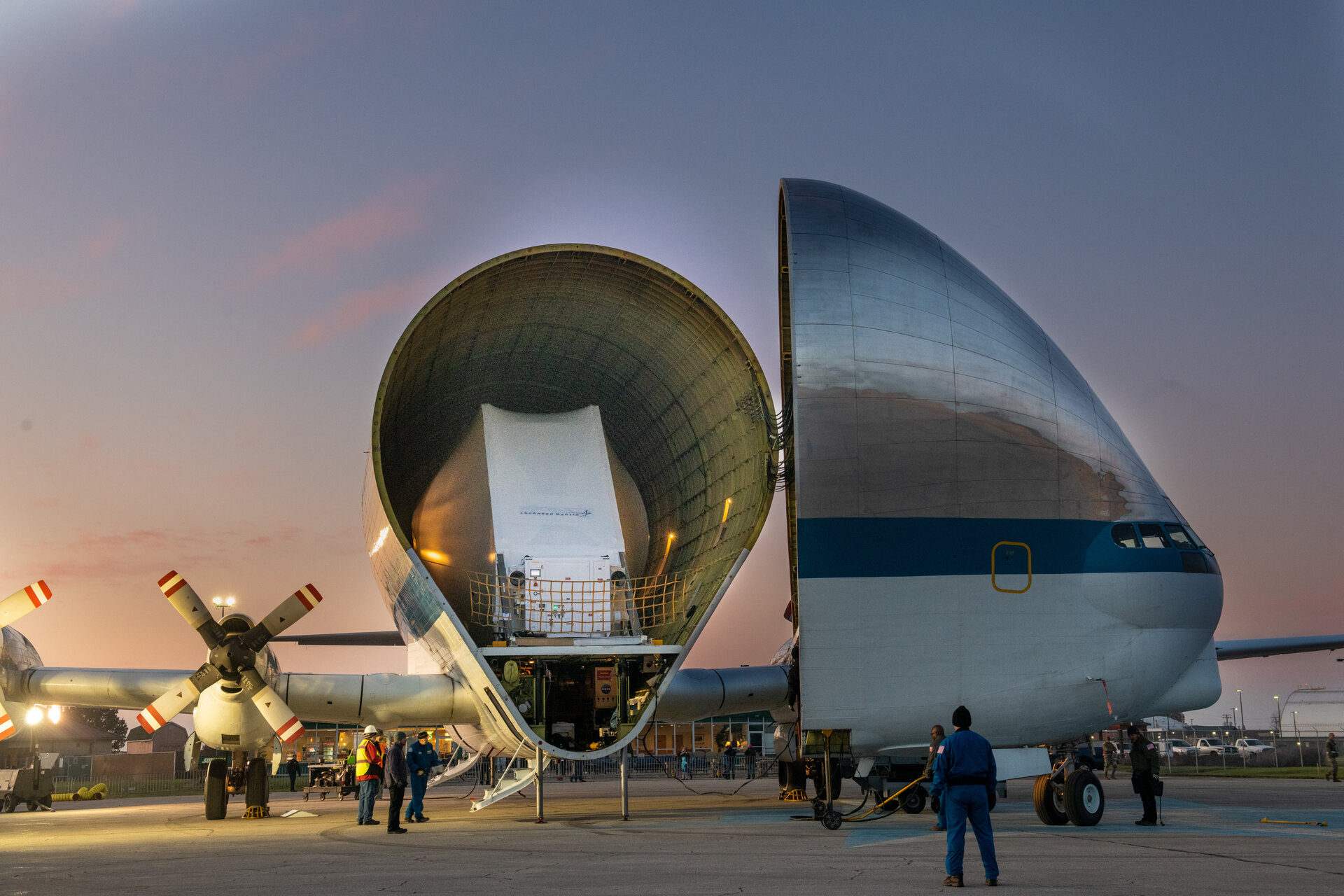 The voyage to Plum Brook started over the weekend where Orion was carefully rotated from its vertical position and 'shrink-wrapped' for protection before being loaded into NASA's 'Super Guppy' aircraft, one of the only air transport carriers capable of hauling such a large load.
Landing at Mansfield airport in Ohio, the spacecraft was secured to the interior of the aircraft cargo hold with attachment rings.
Truck
For the next 80 km of its journey Orion was hoisted onto a truck travelling north to Plum Brook Station. A 'space corridor' was cleared to allow the truck safe passage. Notably over 700 overhead lines were removed that would otherwise block the spacecraft's way.
A team of engineers and technicians from both sides of the Atlantic Ocean will now put the spacecraft through elements of extremes it will withstand during its uncrewed maiden flight around the Moon. They will work 24 hours a day, seven days a week to complete the intensive test programme on time.
Apply vacuum and alternate cold, heat
"The tests that will be run over the next few months will show that the spacecraft works as planned and adheres to the strictest safety regulations for human spaceflight," explains ESA Service Module Manager for Orion, Philippe Berthe. "The European Service Module has 33 thrusters, 11 km of electrical wiring, four propellant and two pressurisation tanks that all work together to supply propulsion and everything needed to keep astronauts alive far from Earth – there is no room for error."
Orion will be subjected to temperatures at Plum Brook ranging from –115°C to 75°C in vacuum for over two months non-stop – the same temperatures it will experience in direct sunlight or in the shadow of Earth or the Moon while flying in space.
Electromagnetic compliance
Every electronic component emits an electromagnetic field that can affect the performance of other electronics – including your phone, computer and even an induction cooker. A second round of tests will check Orion's resistance to these electromagnetic disturbances over two weeks to ensure that its electronics all function properly together, while in operation.
The tests are planned to start in December and will run for four months after which Orion will return to Kennedy Space Center for final preparations before launch.
"This voyage and the tests are another milestone in the trip beyond the Moon, but it is especially wonderful to see the complete spacecraft on the move," says Nico Dettmann, ESA's head of development at Human and Robotic Exploration. "Out of the clean rooms and out of context, you can really marvel at the size of the spacecraft and the feat of technical engineering that created the next-generation of human exploration.
"It is a testament to the wonderful teamwork of NASA, ESA and prime contractors Airbus and Lockheed Martin who designed and built it.
"The second European Service Module that will power Artemis II, Orion's first crewed mission around the Moon, should be shipped to Kennedy Space Center in less than a year from now."
This week Ministers are convening at the Space19+ in Seville, Spain, to decide the future course of the Agency and Europe's exploration of our Solar System – including the funding for the next three service modules.
Quelle: ESA
----
Update: 2.12.2019
.
NASA testing next-generation Orion spacecraft in Ohio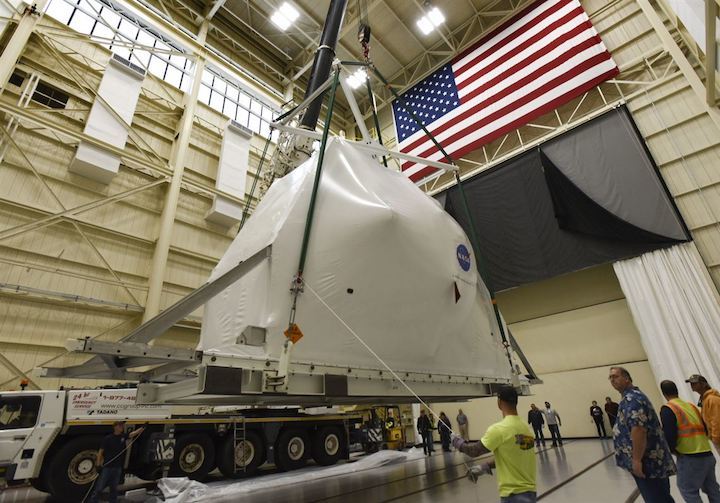 With the arrival of the Artemis 1 Orion spacecraft at NASA's Plum Brook Station in Erie County's Perkins Township, America is moving forward with plans to return to the moon and, eventually, go to Mars and beyond.
And Ohio is once again having a key role in that space exploration.
This particular spacecraft was designed by U.S. and European scientists. It is to undergo four months of testing at Plum Brook, which is just south of Sandusky. Engineers will analyze how the Orion spacecraft holds up under extreme temperature variances akin to what's in outer space, as well as how resilient the spacecraft is to electromagnetic influences.
"This next-generation Orion spacecraft is being tested at NASA Plum Brook because of our region's world-class workforce and unrivaled experience in space exploration," U.S. Rep. Marcy Kaptur (D., Toledo) said. "NASA Plum Brook has a long and storied history at the center of America's leadership in space exploration."
Artemis, like Apollo of the 1960s and '70s, is the name for a series of future space missions. In Greek mythology, Artemis was the twin sister of Apollo. NASA chose Artemis as the name for its new era of missions to recognize how women have become more involved with science and technology over the past half-century.
Orion, the spacecraft developed for those missions, is designed to carry up to four astronauts at a time. No astronauts will be aboard during the Artemis 1 mission when the spacecraft is to encircle the moon without humans in the fall of 2020 as a test run.
But Orion is to have astronauts on board for NASA's Artemis 2, Artemis 3, and other Artemis missions. Plans call for Orion to encircle the moon with four astronauts during the Artemis 2 mission in 2022. Then the plan is to have the spacecraft land in 2024 on the lunar surface.
It is to be the first time astronauts will walk on the moon since the final Apollo mission in 1972, three years after Ohio native Neil Armstrong made history in July 1969 as the first man to walk on the moon. NASA vows to have at least one female astronaut aboard Artemis 3 and, thus, make history as the first woman to step on the moon.
NASA's goal is to establish an outpost on the moon by 2028, one that will lay the foundation for a manned spacecraft to Mars sometime in the 2030s and, eventually, beyond the Red Planet. The space agency has said there could be as many as 12 Artemis missions.
"I think everyone's excited, but they're also a bit anxious to get started," Jimi Russell, NASA Glenn Research Center spokesman said. "Nothing goes to the moon until it goes through Ohio."
The transfer of Orion to Plum Brook last week went something like this: the spacecraft — all 48,000 pounds of it — was loaded into an oddly shaped NASA plane called the "Super Guppy" at the Kennedy Space Center in Florida. It was then flown to Mansfield Lahm Regional Airport near Mansfield, Ohio, where it was greeted by 1,500 people. The plane, with a wrapped-up Orion inside its belly, landed there Sunday.
Because of its size — it's roughly 23 feet tall and 20 feet wide — the Ohio Department of Transportation worked with NASA to develop a route as a "space corridor" for Tuesday morning's drive up to Sandusky, Mr. Russell said.
Utility companies cleared more than 700 overhead lines from the 41-mile stretch of rural highway between Mansfield and Plum Brook.The spacecraft was hauled by a 135-foot truck, NASA said.
"The space corridor creates new opportunities for Ohio by enabling Plum Brook to conduct large-scale testing of agency and commercial spacecraft previously unachievable due to logistics challenges," the space agency said.
Once the truck hauling Orion arrived on the Plum Brook campus, the spacecraft was unloaded and its packaging was removed in preparation for the series of tests. Scientists will learn more about Orion's durability when they subject it to simulated space conditions inside a massive chamber.
"This is the final critical step before the spacecraft is ready to be joined with the Space Launch System rocket for this first test flight in 2020," Marla Perez-Davis, acting director of NASA Glenn, said. "Our team at Plum Brook has been upgrading the Space Environments Complex to prepare for this test, and we are thrilled that it is here."
The NASA Glenn Research Center, based in Cleveland, is one of 10 field centers the space agency has across the country. The Plum Brook facility in Sandusky is part of NASA Glenn.
During a visit to Cleveland last June, NASA Administrator Jim Bridenstine said the space agency plans to use the moon as a "proving ground" for scientists to learn more about how astronauts can live in other worlds.
Instead of going alone, the United States will lead "a coalition of nations" on its Artemis missions. Some will include manned visits to the mysterious dark side of the moon; others harvesting water ice. Hydrogen and oxygen from the water ice could be used to help make rocket fuel, he said.
Mr. Bridenstine has said astronauts will have "access to every part of the moon" with robots, lunar landers, and lunar rovers.
Water ice — hundreds of millions of tons of it — was discovered on the south pole of the moon after the Apollo program. The discovery could provide a significant gateway to other space travel while offering more clues about the early days of the solar system, he said.
Quelle: THE BLADE