8.12.2019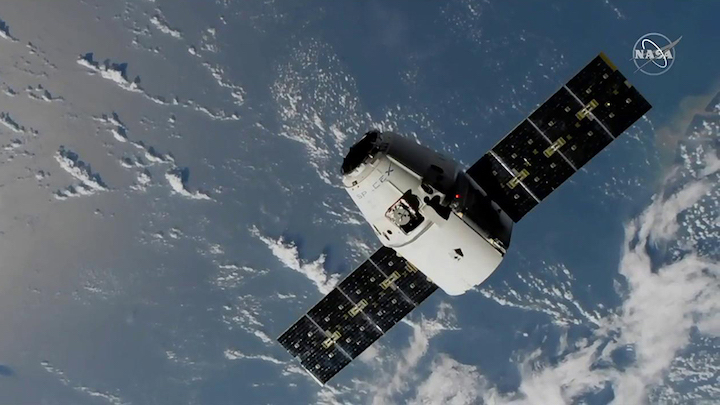 SpaceX Dragon Installed on Space Station's Harmony Module
A SpaceX Dragon cargo spacecraft arrived at the International Space Stationand was installed at 7:47 a.m. EST, Sunday, Dec. 8. Dragon was captured by the Canadarm2 robotic arm operated by astronauts Luca Parmitano and Andrew Morgan at 5:05 a.m. The spacecraft is delivering more than 5,700 pounds of NASA cargo and science investigations, including studies of malting barley in microgravity, the spread of fire, and bone and muscle loss.
Three days after its launch from Florida, the SpaceX Dragon cargo spacecraft was installed on the Earth-facing side of the International Space Station's Harmony module at 7:47 a.m. EST.
The 19th contracted commercial resupply mission from SpaceX delivers more than 5,700 pounds of research, crew supplies and hardware to the orbiting laboratory.
Here's some of the science arriving at station:
Keeping Bones and Muscles Strong
Rodent Research-19 (RR-19) investigates myostatin (MSTN) and activin, molecular signaling pathways that influence muscle degradation, as possible targets for preventing muscle and bone loss during spaceflight and enhancing recovery following return to Earth. This study also could support the development of therapies for a wide range of conditions that cause muscle and bone loss on Earth.
Checking for Leaks
NASA is launching Robotic Tool Stowage (RiTS), a docking station that allows Robotic External Leak Locator (RELL) units to be stored on the outside of space station, making it quicker and simpler to deploy the instruments. The leak locator is a robotic, remote-controlled tool that helps mission operators detect the location of an external leak and rapidly confirm a successful repair. These capabilities can be applied to any place that humans live in space, including NASA's lunar Gateway and eventually habitats on the Moon, Mars, and beyond.
After Dragon spends approximately one month attached to the space station, the spacecraft will return to Earth with cargo and research.
Next up, the station crew will be preparing for the arrival early Monday morning of a second resupply spacecraft. The Russian Progress 74 that launched Friday at 4:34 a.m. is expected to dock to the Pirs compartment on the station's Russian segment at 5:38 a.m. Monday, Dec. 9. NASA TV and the agency's website will provide live coverage of Progress rendezvous and docking at 4:45 a.m.
Keep up to date with the latest news from the crew living in space by following https://blogs.nasa.gov/spacestation/, @space_station and @ISS_Research on Twitter, and the ISS Facebook and ISS Instagram accounts.
Quelle: NASA
2834 Views