9.10.2019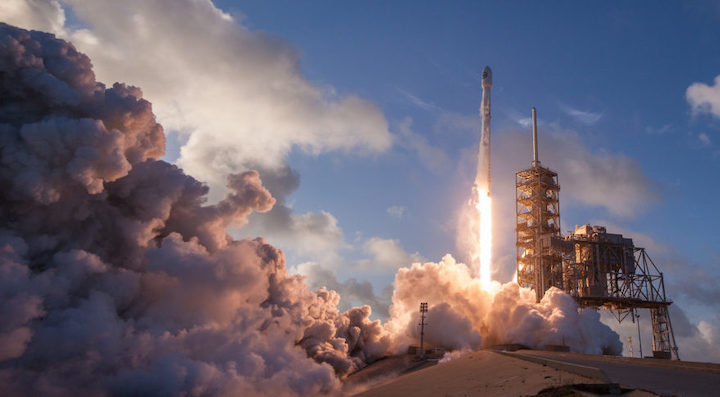 MOUNTAIN VIEW, California — SpaceX plans to launch regular Falcon 9 rideshare missions starting in March and won't delay launches for tardy customers, a company executive said Oct. 8.
Tom Ochinero, vice president of commercial sales at SpaceX, said that the launch provider learned the importance of setting firm departure dates for rideshare missions by seeing the challenges customer Spaceflight had coordinating the 64 satellites that ultimately flew on the SSO-A mission SpaceX launched in December.
The SSO-A mission, also known as SmallSat Express, was originally planned to launch in 2017 and at one point had more than 70 satellites manifested.
Spaceflight has said SSO-A was a logistical headache since customer readiness tends to fluctuate and the Falcon 9 — capable of carrying 22,800 kilograms to low Earth orbit — is a relatively big rocket to fill.
Ochinero, speaking at the Satellite Innovation 2019 conference here, said SpaceX won't stop mission timelines to fill empty space or wait for late smallsat operators.
"We're going to fly even if it's not full," Ochinero said. "We are just going to set it up so that the ride is a reliable thing that people can count on."
Ochinero said smallsat aggregators face a challenge akin to "herding cats" when trying to get several customers all ready at the same time.
"It's a tough place for an aggregator to be in, [and] it's a tough place for the end customer to be in," he said. "That's why we're taking the risk."
SpaceX's first self-managed rideshare mission, a Falcon 9 mission to sun-synchronous orbit, is scheduled for March. After that, SpaceX intends to launch dedicated rideshare missions to sun-synchronous or polar orbits every quarter.
Also starting next year, SpaceX will offer monthly rideshare opportunities using room on launches of its own Starlink broadband satellites. Smallsat operators that booked missions and miss them can put their payments towards another launch, subject to a 10% fee, according to the SpaceX website.
Other launch providers are also marketing rideshare missions. Arianespace's first all-smallsat Vega mission is scheduled for the first quarter of 2020, Stella Guillen, Arianespace's vice president of sales and marketing, said here. That mission was delayed from this year due to a Vega failure in July that was traced to the rocket's second stage.
"You have to take the risk as the launch service provider to fly not completely full," she said. "It's not an easy thing to do."
Vega is a light-lift vehicle designed to carry around 1,500 kilograms to low Earth orbit. Arianespace also has a rideshare mission to geosynchronous orbit using the Ariane 64 in 2022, but Guillen said the company still wants to use rideshare aggregators to fill space on other missions.
"I think what we are going to see more and more is not necessarily fully rideshare missions, but missions that have anchor customers or main payloads and rideshares," she said. "I think [launch] brokers could help a lot in those areas."
Spaceflight has booked some space on Vega missions, plus additional dedicated vehicles, but all smaller than the Falcon 9. The company secured three Electron missions from Rocket Lab, the second of which launched in August.
Spaceflight has also booked and fully manifested the first commercial mission for India's new Small Satellite Launch Vehicle, and at least one mission with Relativity Space's upcoming Terran 1 rocket for a late 2021 launch.
Josh Brost, Relativity Space's vice president of government business development, said Spaceflight is working on filling that first mission, but that it shouldn't be as difficult as the SpaceX SSO-A launch.
"They are still trying to aggregate enough small satellites, but again, by buying a smaller launch vehicle for less money, they need to herd fewer cats together to make a mission work," Brost said.
Quelle: SN
2384 Views