11.10.2019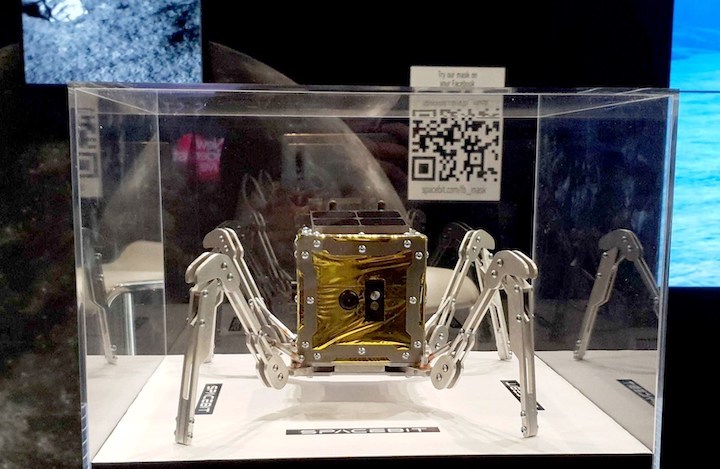 Spacebit's moon rover on display at the New Scientist Live event in London on Oct. 10, 2019.
The U.K. is sending a robotic space exploration rover to the moon, in what will be a first for the country.
The rover is a four-legged robot developed by British start-up Spacebit. It has sensors that can take measurements and collect exploration data for researchers to analyze.
The robot also comes equipped with cameras — one of which can take "robot selfies" — and can withstand big swings in temperature, from 130 degrees Celsius (266 degrees Fahrenheit) in the day to minus 130 degrees Celsius at night.
It will also eventually be able to navigate through so-called lunar lava tubes, which are tunnels beneath the surface of the moon thought to have once been filled with lava. Spacebit says this is something that hasn't been achieved before.
The company signed an agreement with U.S. firm Astrobotic to launch its first mission in 2021 on Astrobotic's Peregrine lunar lander. The American lander will be launched on a Vulcan rocket from a site at Cape Canaveral Air Force Station in Florida.
Spacebit co-founder and CEO Pavlo Tanasyuk said the launch "will carry the first lunar lander from American soil since Apollo."
Britain's rover will be the country's first to be sent to the moon, and will see it join the ranks of the U.S., China and Russia which have all previously accomplished that mission. The U.K. has built another rover, called the Rosalind Franklin, which it hopes will one day land on Mars.
India recently tried to send a rover to the moon, but it lost contact moments before it was set to touch down. The vehicle was reported to have crashed into the lunar surface.
Private companies are hoping to capitalize on the business opportunities presented by space exploration. Morgan Stanleyestimates the space economy could be worth more than $1.1 trillion by 2040.
Richard Branson's Virgin Galactic announced earlier this year that it will become the first company to go public, with a stock market listing expected to take place later this year thanks to a merger with Chamath Palihapitiya's special purpose acquisition company Social Capital Hedosophia.
Quelle: CNBC
2433 Views