Science is littered with tales of visionaries who paid for pioneering research to prove their theories, and this weekend "Mad" Mike Hughes is hoping to join them. He plans to launch a homemade rocket in California as part of a bid to eventually prove that the Earth is flat.
Hughes has spent $20,000 (£15,000) building the steam-powered rocket in his spare time, and will be livestreaming the launch over the internet. The self-described daredevil says he switched his focus to rockets after twice breaking his back doing stunt jumps in cars.
"I don't believe in science," declared the 61-year-old. "I know about aerodynamics and fluid dynamics and how things move through the air. But that's not science, that's just a formula."
The rocket, which Hughes aims to reach an altitude of 1,800ft (550 metres) over California, will be launched from the back of a converted motorhome purchased from Craigslist. It is sponsored by a flat Earth research group, and Hughes plans a subsequent trip to try and observe the flatness of the Earth for himself.
Speaking about the risks of the flight, Hughes said: "It's scary as hell, but none of us are getting out of this world alive."
Hughes' website describes him as "the only man to design, build and launch himself in a rocket" – he previously flew in his own rocket in 2014, as this footage shows.
Hughes has stated that once he lands at the weekend, he intends to announce that he is running for the governorship of California.
Flat Earth theory has seen a resurgence in recent years, fuelled by online message boards and some high-profile endorsements from celebrities. The Flat Earth Society, founded in 1956 and relaunched online in the 2000s, currently boasts of having over 500 members, although the group has splintered into two separate factions with competing websites.
In the NBA, Boston Celtics' Kyrie Irving made headlines for appearing to endorse the idea that the Earth is flat, and former basketball star Shaquille O'Neal surprised everyone in March by declaring the same. "I drive from Florida to California all the time, and it's flat to me," he said in a March podcast, before later retracting the claim saying he'd been joking. Irving has also recently distanced himself from the belief.
But Hughes is not alone in his quest to reach the sky to test established science. Rapper BoB has made social media posts supporting the theory in the past, and is currently attempting to raise $1m to place "multiple weather balloons and satellites into space, for experimental exploration". He has so far only managed to gather nearly $7,000 for the project.
Quelle: theguardian
---
Update: 27.11.2017
.
Flat-Earther Delays Launch In His Homemade Rocket, Saying 'It's Not Easy'
It appears we will need to wait a while longer to find out whether more than two millennia of thinkers and explorers — from Aristotle and Ferdinand Magellan, to Neil deGrasse Tyson and John Glenn — have been wrong about the shape of the Earth.
"Mad" Mike Hughes, limousine driver and self-proclaimed flat-Earther, announced that he had to delay his plan to launch himself 1,800 feet high in a rocket of his own making. The launch, which he has billed as a crucial first step toward ultimately photographing our disc-world from space, had been scheduled for Saturday — before the Bureau of Land Management got wind of the plan and barred him from using public land in Amboy, Calif.
Also, the rocket launcher he had built out of a used motor home "broke down in the driveway" on Wednesday, according to Hughes. He said in a YouTube announcementthat they'd eventually gotten the launcher fixed — but the small matter of federal permission proved a more serious stumbling block (for now).
The BLM "informed me that they were not going to allow me to do the event there — at least at that location," Hughes said.
Hughes asserted that the BLM last year had tacitly left the matter of permissions to the Federal Aviation Administration, and "of course, they can't honestly approve it," he added. The FAA "just said, 'Well, we know that you're going to do it there.' "
It turns out the BLM wasn't satisfied with that explanation — particularly after The Associated Press first reported on the launch for a national audience.
"Someone from our local office reached out to him after seeing some of these news articles [about the launch], because that was news to them," a spokeswoman for the agency told The Washington Post, adding that Hughes had not applied to the local BLM field office for the necessary permit.
"So, it turned out to be not a good thing," Hughes said.
Still, Hughes has not relented in his quest to launch himself roughly 500 mph on a mile-long flight across the sky above the Mojave Desert. He said he has found private property near his original launch site, where he anticipates finally taking off as early as this coming week.
For Hughes, this launch would not be his first in a homemade rocket. In 2014, the 61-year-old sent himself flying a quarter-mile across the Arizona desert before pulling out several parachutes of questionable quality on his fall to Earth. He was "in a walker for a couple weeks" after that launch, he told a flat-Earth community Web show.
He also hopes it will not be his last such attempt. Since converting to the flat-Earth belief after "research[ing] it for several months in between doing everything else," Hughes has seen a marked uptick in fundraising contributions to his rocket projects. And he has big plans, hoping eventually to launch himself into space, where he believes he can overturn a scientific understanding that predates NASA by at least 2,300 years.
"I don't believe in science," Hughes told the AP earlier this month. "I know about aerodynamics and fluid dynamics and how things move through the air, about the certain size of rocket nozzles, and thrust. But that's not science, that's just a formula. There's no difference between science and science fiction."
For now, his mission will have to wait.
"It's been very disappointing and, I guess, enlightening — this whole week. It really has been," he said. "But it's not easy because it's not supposed to be."
Quelle: npr
---
Update: 7.02.2018
.
A flat-earther finally tried to fly away. His rocket didn't even ignite.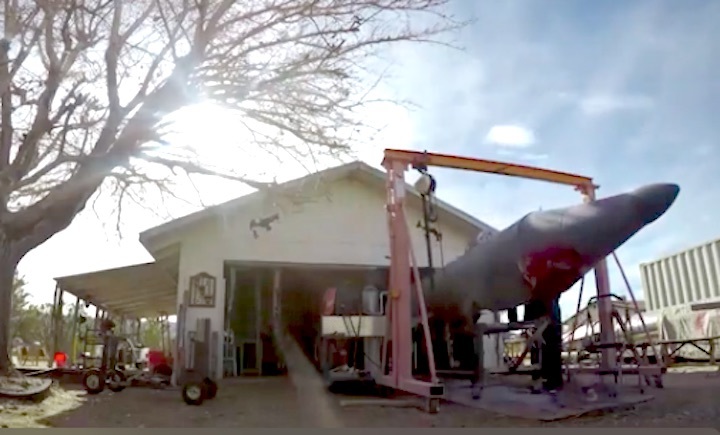 Mike Hughes planned to launch his homemade rocket on Feb. 3, after he canceled a launch in November. The second version failed, too.
-
A man who claims that Earth is flat tried to leave it in a homemade rocket Saturday but failed to overcome the gravitational force of a 13,166,800,000,000,000,000,000,000-pound sphere directly beneath him.
In fairness to Mike Hughes, he knows how to build a rocket. He built them for many years under the precepts of classical physics, when he was still a relatively conventional daredevil, which is to say, one who believed Earth is round.
But Saturday marked Hughes's third aborted launch since he declared himself a flat-earther last year and announced a multipart plan to fly to space by the end of 2018 so he could prove astronauts have been lying about the shape of the planet.
The Washington Post, like many news outlets, covered Hughes's plan. In retrospect, we admit, there was never any chance he'd pull it off.
Hughes blamed technical difficulties — possibly a bad O-ring — for his steam-powered rocket's failure to ignite this weekend in the Mojave Desert. But even if it had, and even if he managed to subsequently rocket-pack himself into space by the end of the year, his mission would have ended at worst in death, and at best in disappointment as he realized what ancient Greeks and schoolchildren already knew: The world is round; it has always been round; Mike Hughes will never see its edges.
If you were already caught up on the saga, feel free to skip directly to our coverage of Saturday's sad launch. If you need a recap, here are parts 1, 2, 3and 4 of The Post's coverage of Hughes's flat-Earth space mission.
It began last year, as the daredevil struggled to raise money for a follow-up to his last successful homemade rocket launch in 2012. He gave an interview to a flat-Earth group about his newfound skepticism in the planet's shape and subsequently raised thousands of dollars from a community that believes we all live, basically, on a big Frisbee.
The money was enough for Hughes to build a rocket. The slogan on that rocket, "RESEARCH FLAT EARTH," drew attention not only from this newspaper but also from the Associated Press, Fox News, the Guardian, the Australian Broadcasting Corporation . . . truly from every corner of Earth, pun intended.
It was more attention than Hughes, whose previous stunts had drawn only modest coverage, planned for. It might have been more attention than was good for him, as the Bureau of Land Management subsequently contacted him and forbade him from flying a mile across the Mojave in November, as he had planned.
To pile on problems, his rocket/rocket launcher/mobile home broke downthe same week.
While of no scientific value to either classical or flat-Earth physics, the Mojave stunt was intended to publicize Hughes's mission and raise the $2 million necessary for his final mission later this year: to ride a hot-air balloon many miles into the sky, then use a rocket-pack to fly even higher and assess the shape of the horizon.
"It'll shut the door on this ball Earth," as Hughes put it in one of his pitches.
But as he spent months rebuilding his rocket and working through government red tape, the world threatened to shut the door on his ambitions. When The Post updated on Hughes last month, he was arguing with trolls on Facebook who questioned his ability to launch the rocket or his commitment to flat-Earth philosophy, or both.
All critics would be silenced, Hughes promised then, when he finally launched on private property outside the town of Amboy, Calif., on Saturday.
Obviously, it didn't work out that way.
Hughes started a GoFundMe to offset the cost of the much-delayed launch, which by Saturday had raised no more than $100 of its $10,000 goal.
The press was still interested, though there were mostly obscure and independent outfits that towed cameras out to Amboy on the big day. The crowd gave wide berth to Hughes's rocket, which stood in the desert, pointed at the sky. California mountains were visible behind it. Much taller mountains beyond them were not, because Earth is definitely round.
The Web channel Noize TV live-streamed the would-be launch. "The sun is up, the moon is up, and soon we're going to find out if the Earth is flat," said the host, Paul Zero, when optimism still ran high.
"No, I'm just kidding," Zero said. He was not himself a believer in the flat Earth. "But what we will see is the most amazing f---ing thing I've ever f---ing seen in my life: a man make his own g---damn rocket, put himself in it, and then launch it in the f---ing air!"
Because of the international attention, Zero said, he had with him a translator called the Baron.
For some reason, the Baron mostly spoke English as he and Zero stood in the desert for the entire day, waiting.
"I feel like NASA right now," Zero said. "I wonder how fast he's going to go."
"They were saying between 300 and 500 mph," Baron said.
"Jesus Christ!"
Off in the distance, Hughes stood on a ladder in front of the rocket and fiddled with his helmet.
More time passed. Struggling to fill the silence, Zero began talking about a free chicken dinner he expected would be provided after the launch. But spectators were getting frustrated.
"What's up with your boy?" asked a man in a Chubb Life T-shirt, who had come all the way from Texas for the launch.
Zero didn't know what was up, but believed in Hughes, if not his conception of Earth.
"F--- your complaints," he told the camera. "Build a rocket, shoot yourself up in it and shut the f--- up."
The host perked up when Hughes finally climbed inside the rocket and closed the hatch before sundown. "This is f---ing about to be amazing," Zero said.
He paused to have a coughing fit.
"I hear words!" he said.
"I hear numbers!" said the Baron.
But the rocket just sat there, pulled directly down toward Earth's core, as Isaac Newton predicted, not going up and not sliding sideways toward the infinite cliffs of ice that ring the edge of the world in flat-Earth models.
"The launch ain't happening," Zero finally admitted.
Hughes climbed out of the rocket to face the cameras. He scratched his head. "Maybe I left a plug in there," he said. Maybe an O-ring melted. Who knew?
"I pulled the plunger five different times," Hughes said. "I considered beating on the rocket nozzle from the underneath side. But you can't get anyone under there. It'll kill you. It'll scald you to death. It'll blow the skin and muscle off your bones."
But at this point he could not even sell the drama of his hypothetical death to the demure crowd.
Two women walked up and gave Hughes a hug. "You did your best," a man told him, "and you haven't gave up yet."
Hughes's plans are unclear now. He said he'd take apart the rocket to see what went wrong, but he has commitments to think of besides science. He was supposed to be in court on Tuesday, he told the crowd, because he was suing the governor of California for unspecified reasons. He was also trying to claim the legal right to Charles Manson's guitar. He is a man of many ambitions.
"Guys, I'm sorry," Hughes said. "What can you do?"
Only what is possible, we now know.
Quelle: The Washington Post