.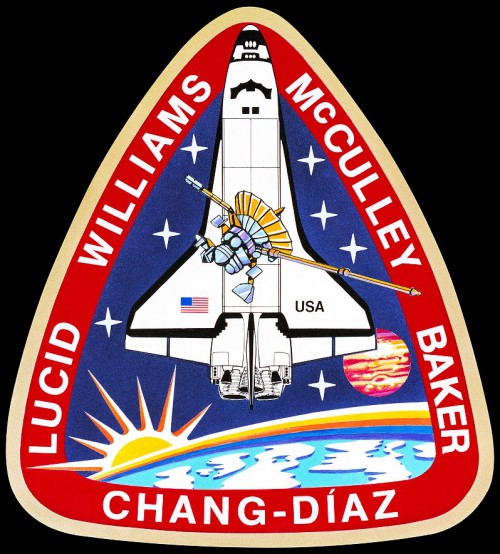 Mission: Galileo; Shuttle Solar Backscatter Ultraviolet Experiment
Space Shuttle: Atlantis
Launch Pad: 39B
Launch Weight: 257,569 pounds
Launched: October 18, 1989, 12:53:40 p.m. EDT
Landing Site: Edwards Air Force Base, Calif.
Landing: October 23, 1989, 9:33:01 a.m. PDT
Landing Weight: 195,954 pounds
Runway: 23
Rollout Distance: 9,677 feet
Rollout Time: 60 seconds
Revolution: 79
Mission Duration: 4 days, 23 hours, 39 minutes, 21 seconds
Returned to KSC: October 29, 1989
Orbit Altitude: 185 nautical miles
Orbit Inclination: 34.3 degrees
Miles Traveled: 2 million
Crew Members
Image above: STS-34 Crew photo with Commander Donald E. Williams, Pilot Michael J. McCulley, Mission Specialists Franklin R. Chang-Diaz, Shannon W. Lucid and Ellen S. Baker. Image Credit: NASA
Launch Highlights
The launch set for October 12 was rescheduled due to a faulty main engine controller on number the two main engine. The launch set for October 17 was rescheduled due to weather constraints for a return-to-launch-site landing at KSC's Shuttle Landing Facility.
Mission Highlights
The primary payload, Galileo/Jupiter spacecraft and attached Inertial Upper Stage (IUS), was deployed six hours, 30 minutes into the flight. IUS stages fired, placing Galileo on trajectory for six-year trip to Jupiter via gravitational boosts from Venus and Earth and possible observational brushes with asteroids Gaspra and Ida. Secondary payloads included Shuttle Solar Backscatter Ultraviolet (SSBUV) experiment carried in cargo bay, and in crew cabin, Growth Hormone Crystal Distribution (GHCD); Polymer Morphology (PM), Sensor Technology Experiment (STEX); Mesoscale Lightning Experiment (MLE); IMAX camera; Shuttle Student Involvement Program (SSIP) experiment that investigated ice crystal formation in zero gravity; and ground-based Air Force Maui Optical Site (AMOS) experiment.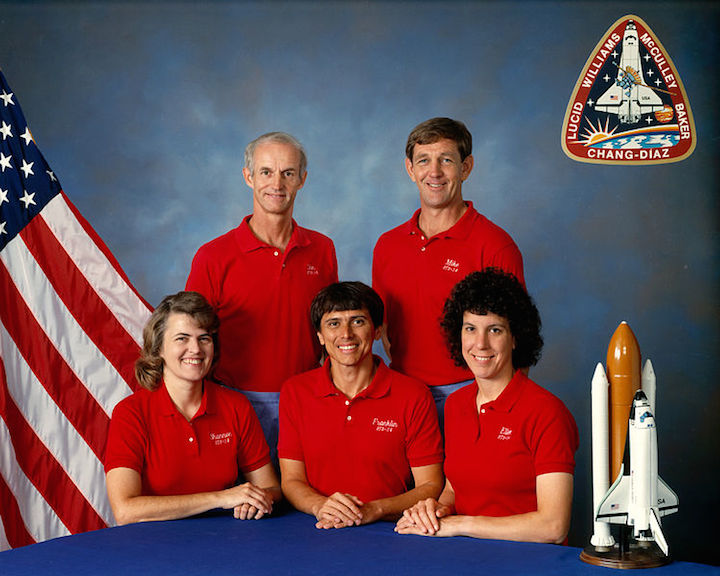 The STS-34 crew portrait includes 5 astronauts. Pictured left to right are Shannon W. Lucid, mission specialist; Donald E. Williams, commander; Franklin R. Chang-Diaz, mission specialist; Michael J. McCulley, pilot; and Ellen S. Baker, mission specialist. The crew of 5 launched aboard the Space Shuttle Orbiter Atlantis on October 18, 1989 at 12:53:40pm (EDT). The primary payload was the Galileo Jupiter Spacecraft and attached inertial upper stage (IUS). Deployed 6 hours and 30 minutes into the flight, the IUS stages fired, boosting Galileo on trajectory for a 6 year trip to Jupiter.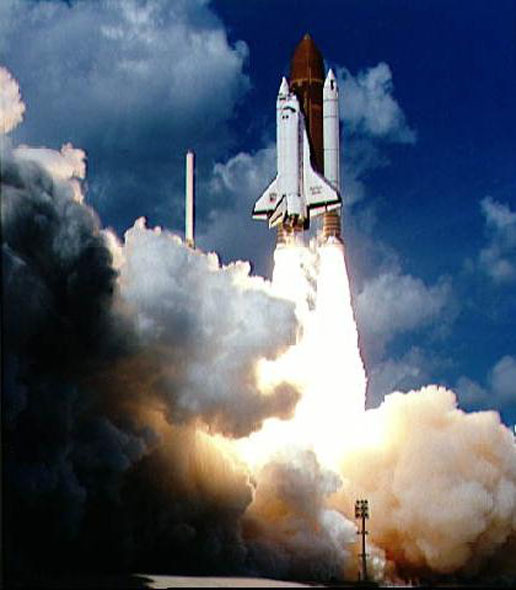 Liftoff of STS-34 Atlantis, carrying the Galileo spacecraft and its Inertial Upper Stage (IUS) booster on October 18, 1989 at 12:35 p.m. EDT. P-35036BC.

The shuttle mission was commanded by Donald E. Williams and piloted by Michael J. McCulley. Mission specialists were Shannon W. Lucid, Franklin W. Chang-Diaz, and Ellen S. Baker.

NASA policy in the early 1980's was to launch all spacecraft from the shuttle, unlike earlier, expendable-rocket-launched interplanetary missions such as Voyager (which visited Jupiter, Saturn, Uranus and Neptune).

Initially, it seemed as though Galileo's launch was fated to be delayed. Worries over whether Hurricane Hugo would come onshore at the Kennedy Space Center mounted until, at the last moment, the destructive force of the storm swept north of the launch site, allowing engineers to relax. Then, the day before the rescheduled launch, a 7.1 earthquake, centered just 25 kilometers (15 miles) south of Sunnyvale, California, caused evacuation of the Inertial Upper Stage control center there, which was crucial to mission operations. The control center crew recovered as the night progressed, allowing the countdown to continue.

Rocket Power

It wasn't a trivial matter to get Atlantis and its launch vehicle-2,056,277 kilograms (4,523,810 pounds) at launch-into orbit. Each of the three main engines in tail of the shuttle can provide almost a half-million pounds of thrust. The thrust to weight ratio for these engines (about 70:1) is the best in the world-each engine weighs less than 3,200 kilograms (7,000 pounds) but puts out the power equivalent of seven Hoover Dams! The shuttle experiences a maximum of 3 g's of gravity (that is, three times the gravitational force that we feel here on Earth) during ascent; due to vibration, loads on parts of the spacecraft may exceed 10 g's.

Since the shuttle needs to have a daylight landing opportunity at the trans-Atlantic landing abort sites, and since there are performance constraints on Galileo's inertial upper stage, spacecraft liftoff could only occur during certain periods of time. The launch opportunity opened on Oct. 12, 1989 for a 10-minute period. The launch window then grew each day, reaching a maximum of 47 minutes on Nov. 2. The window then decreased each day through the remainder of the launch opportunity, which ended on November 21, 1995.

Aiming at Jupiter

To get to Jupiter, Galileo had to be inserted into its interplanetary trajectory at the correct time so that, when it arrives at Jupiter's orbit, Jupiter is right there (and not, say, half an orbit away!). This task might be compared to throwing a water balloon at someone running in front of you. You have to lead the aim point by just the right amount to hit the target; if you aim at where the person is right when you throw the balloon, you'll end up missing the target. If an interplanetary spacecraft misses its launch opportunity, we have to wait for the orbital motion of the planets to realign them into the "correct" geometry for a successful launch opportunity.

Because Galileo used a VEEGA (for Venus-Earth-Earth Gravity Assist) trajectory to fly to Jupiter (rather than a direct trajectory), its launch opportunities did not repeat at regular intervals the way direct trajectories do. This is because there are many ways to combine a launch from Earth with one Venus and two Earth flybys to get to Jupiter. The next three VEEGA opportunities to Jupiter after the one Galileo used occurred in November 1989 and May/June 1991. There were actually two different opportunities in the May/June 1991 time period.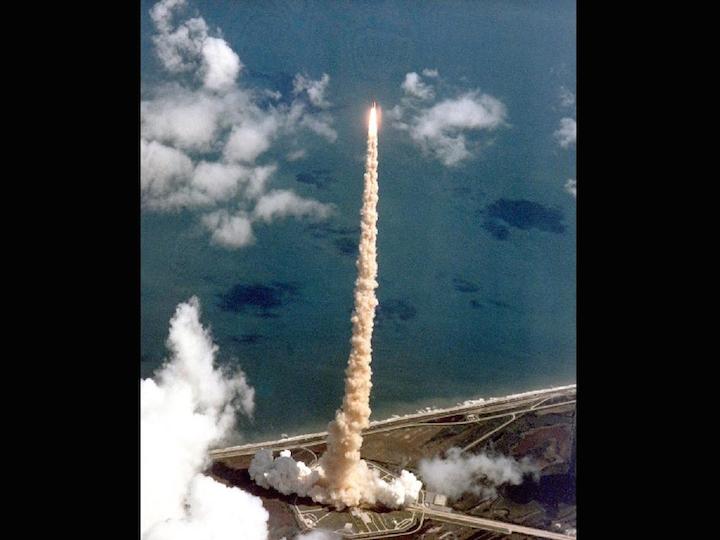 Atlantis Delivers Galileo to Space
Space Shuttle Atlantis lifted off from Launch Pad 39B at NASA's Kennedy Space Center in Florida at 12:53 p.m. EDT, Oct. 18, 1989 on the STS-34 mission.
Atlantis carried a crew of five and the spacecraft Galileo which was deployed on a six-year voyage to Jupiter.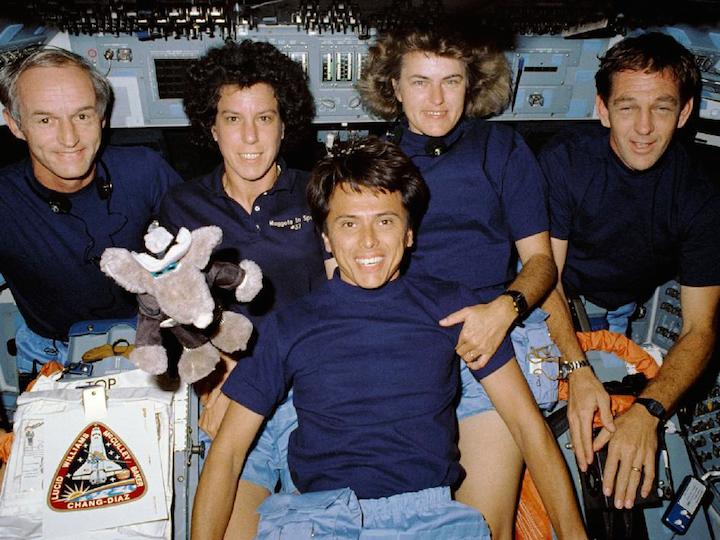 STS-34 Crew Portrait
The five STS-34 astronauts for pose for an in-space crew "portrait."
From left to right are Commander Donald E. Williams, Mission Specialists Ellen S. Baker and Shannon W. Lucid, Pilot Michael J. McCulley and in front, Mission Specialist Franklin R. Chang-Diaz.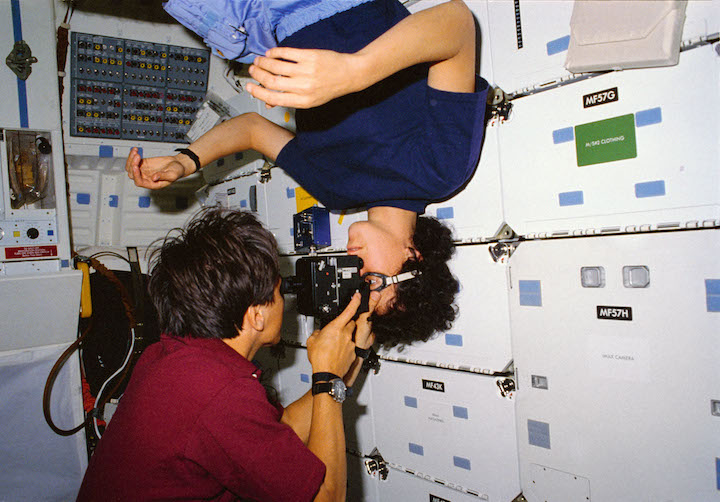 STS034-10-015 (18-23 Oct. 1989) --- Astronaut Franklin R. Chang-Diaz performs an eye examination on astronaut Ellen S. Baker, both STS-34 mission specialists, on the middeck of the Earth-orbiting space shuttle Atlantis.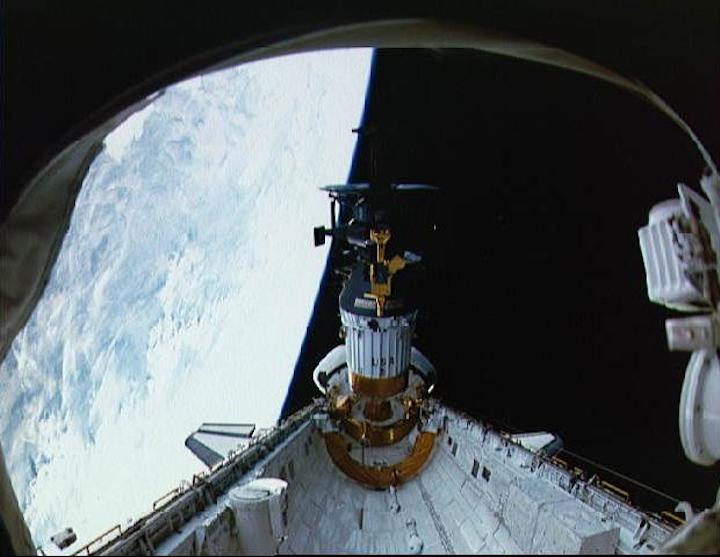 Deployment of Galileo and the IUS from the cargo bay of STS-34 Atlantis at 7:15 p.m. EDT on October 18, 1989. P-35213

Mission Specialist Shannon Lucid started Galileo's deployment by pushing a button; automatic systems then took over to separate Galileo from the shuttle. As deployment finished Commander Donald E. Williams declared "Galileo is on its way to another world. It's in the hands of the best flight controllers in this world-fly safely."

Beginning an hour after deployment, two rocket stages of Galileo's IUS booster fired one after the other. Galileo separated from the IUS's second stage at 9:05 p.m. and began its ballistic (or "freefall") flight to Venus for the first of three gravity assisted flybys, which would take Galileo to Jupiter.

Galileo was the second spacecraft to be launched using the IUS ( Magellan, the Venus radar mapping mission, was the first. Interestingly, even though Magellan was launched first (in April of 1989), Galileo reached Venus first.). Built by Boeing for the Air Force, the IUS, which uses solid (as opposed to liquid) fuel, gave Galileo an additional speed of 4.0 kilometers per second (8,640 miles per hour).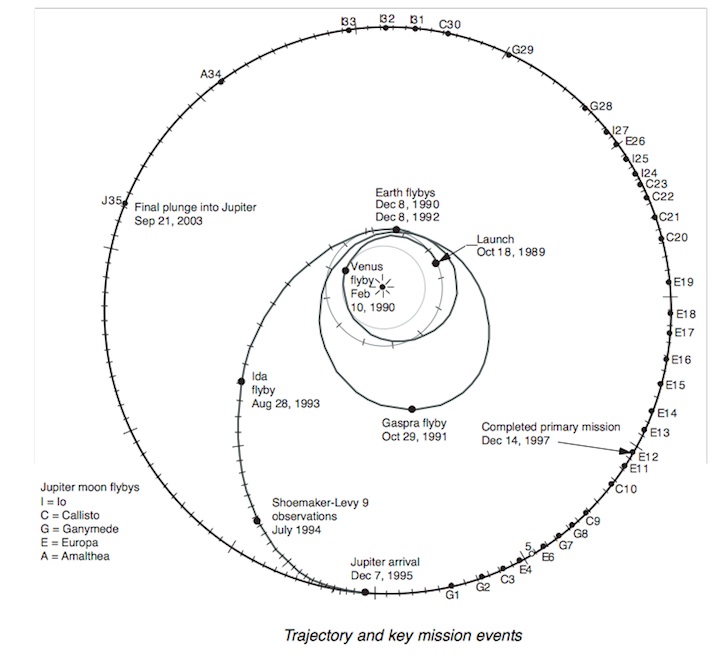 ---
Frams von STS-34 Atlantis Mission NASA-Video: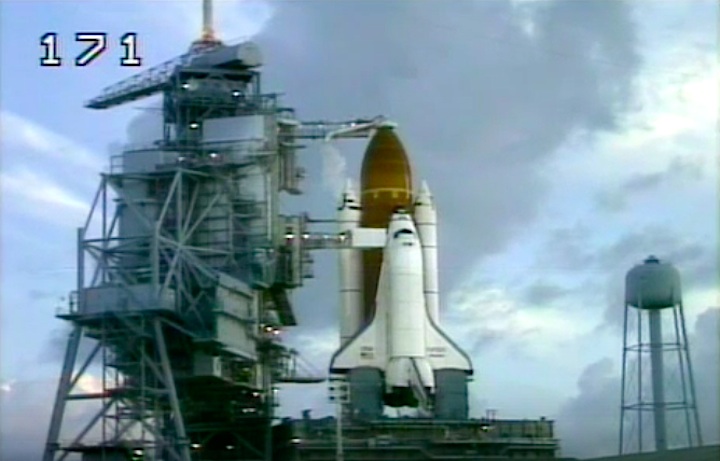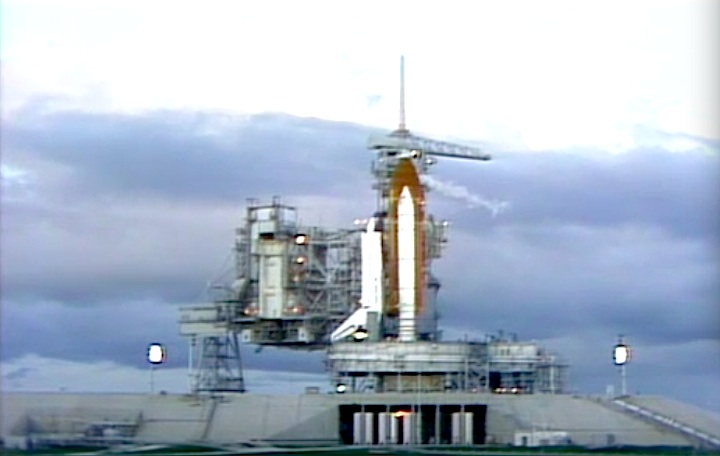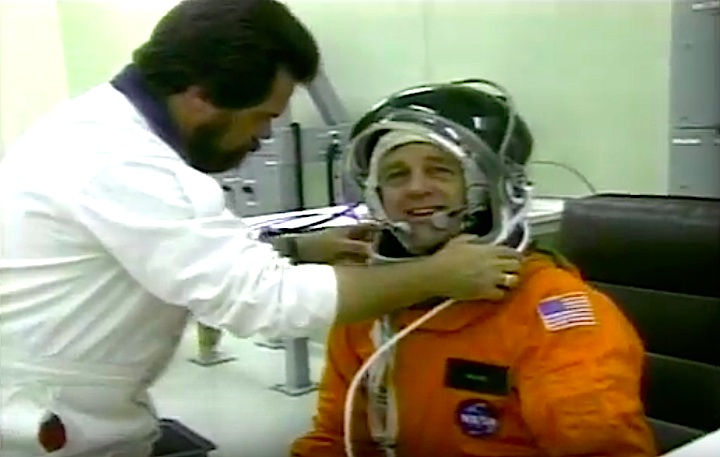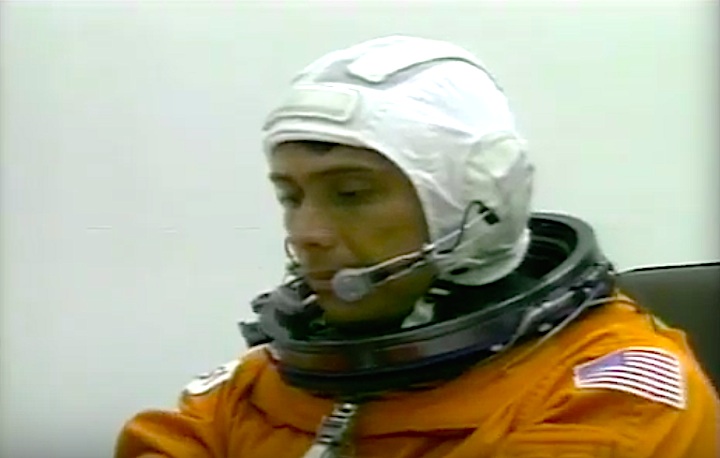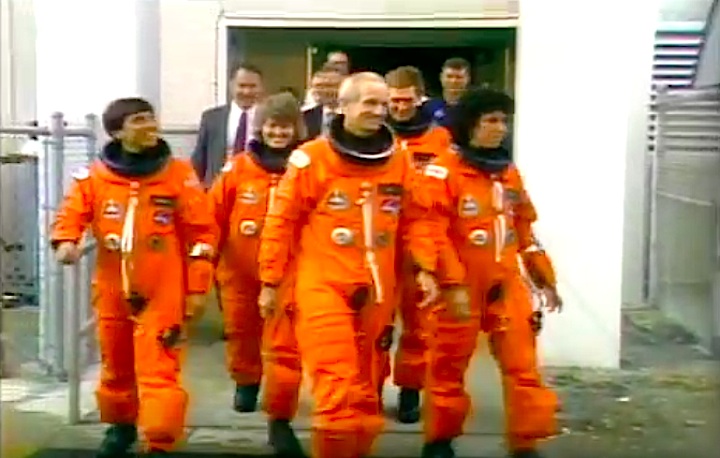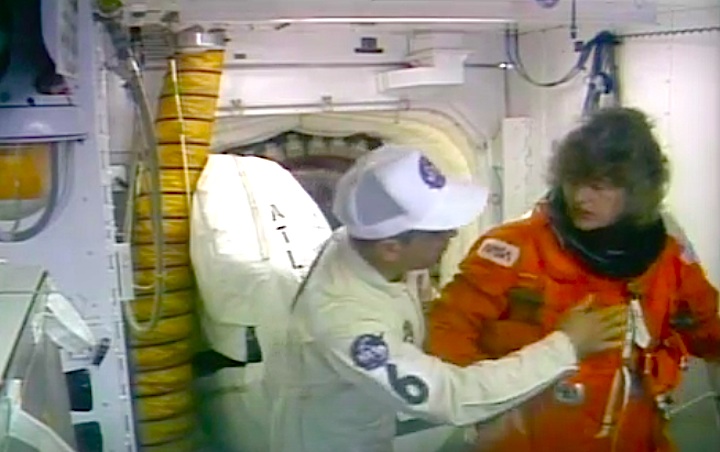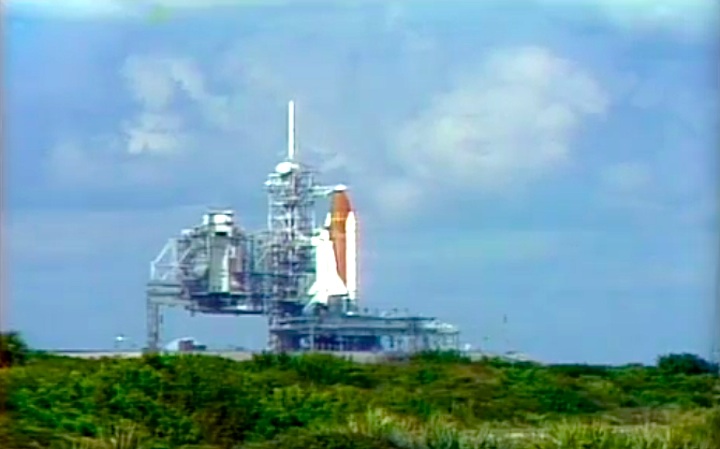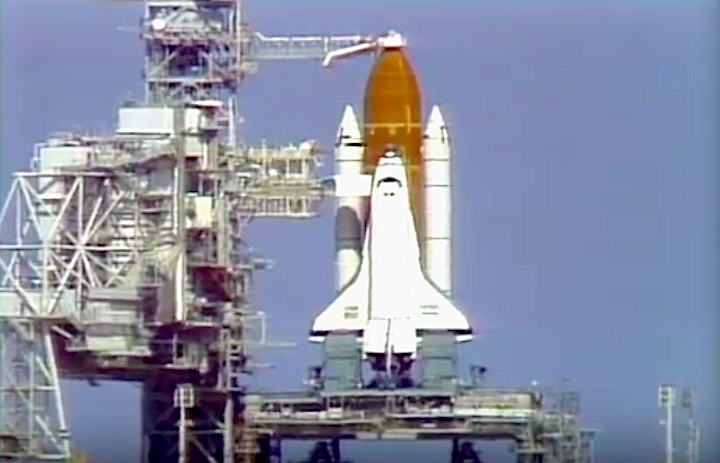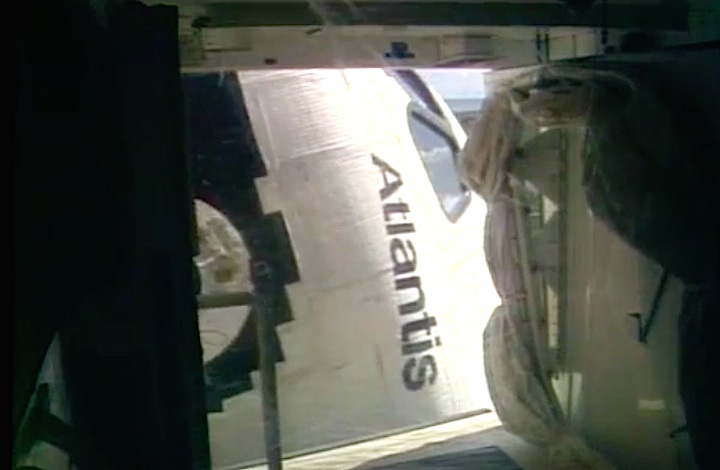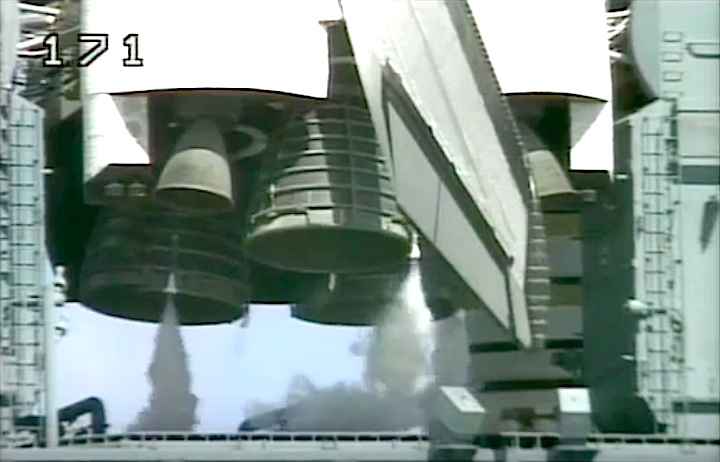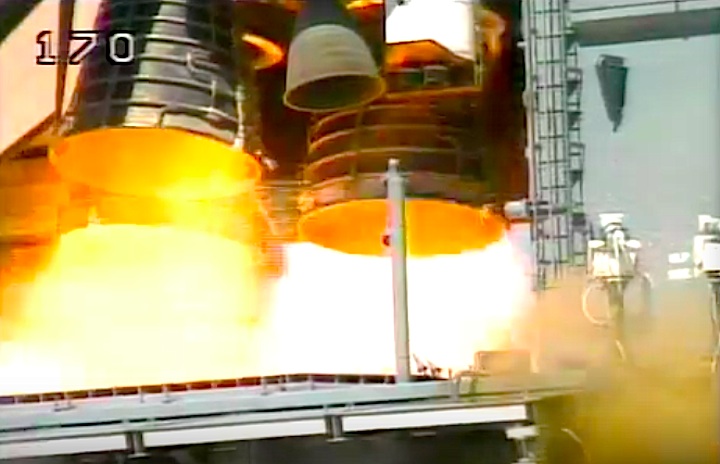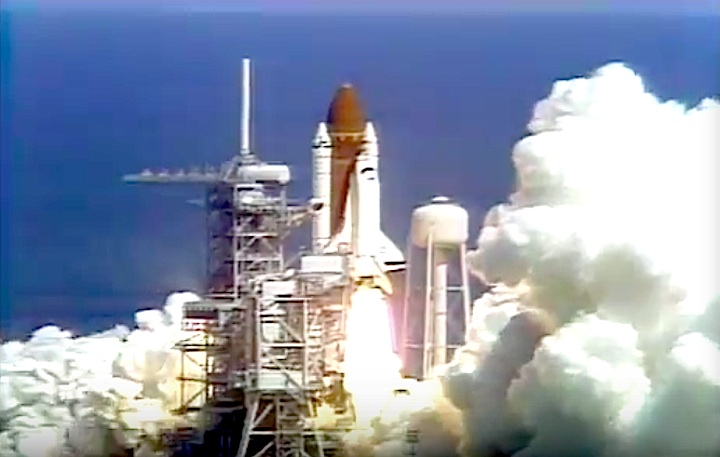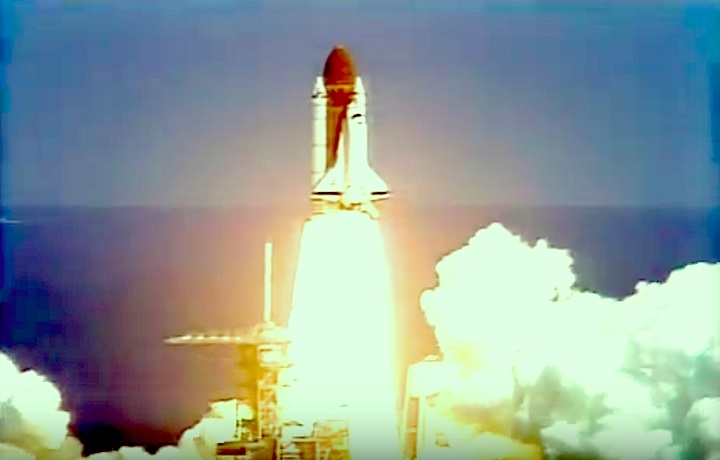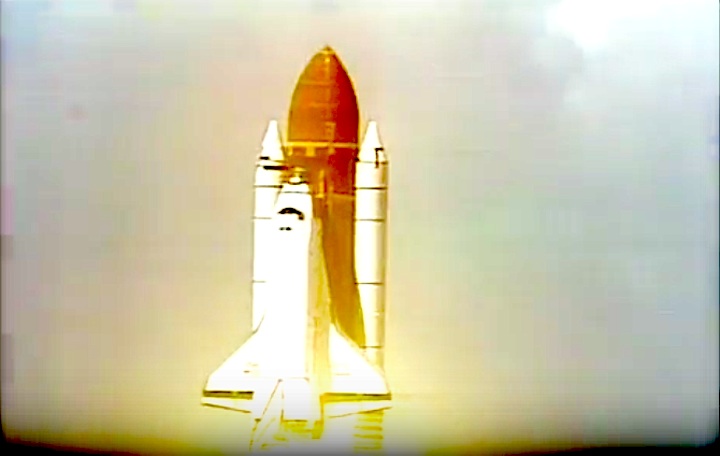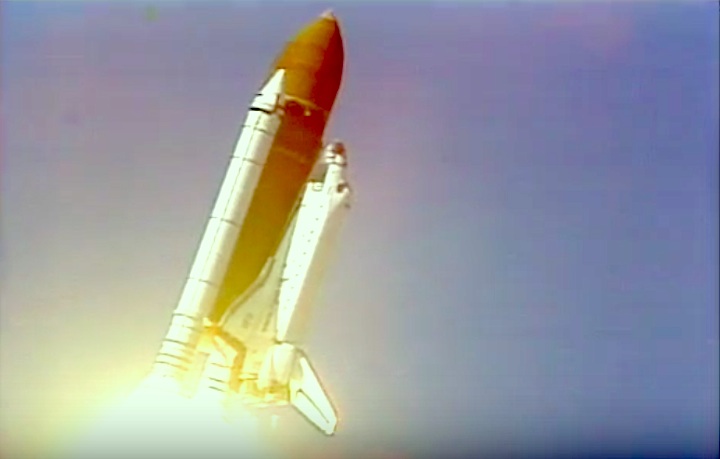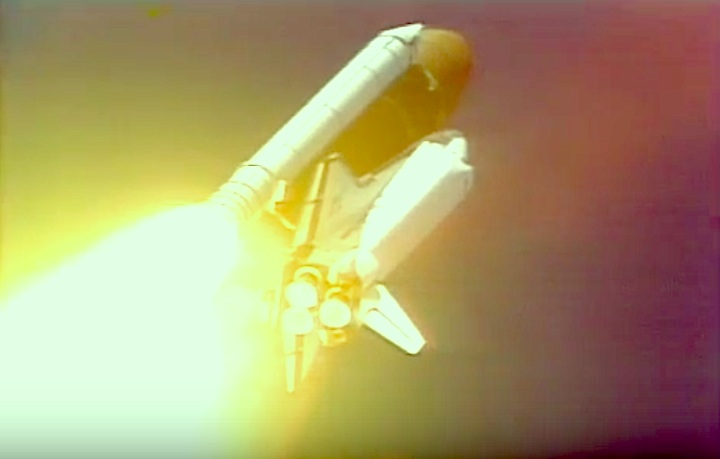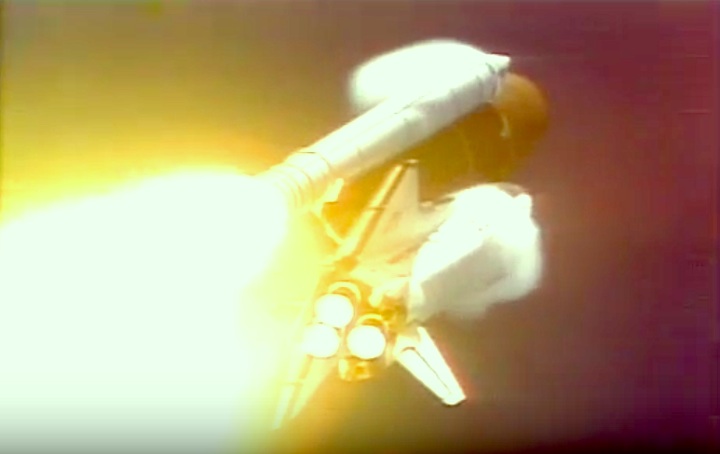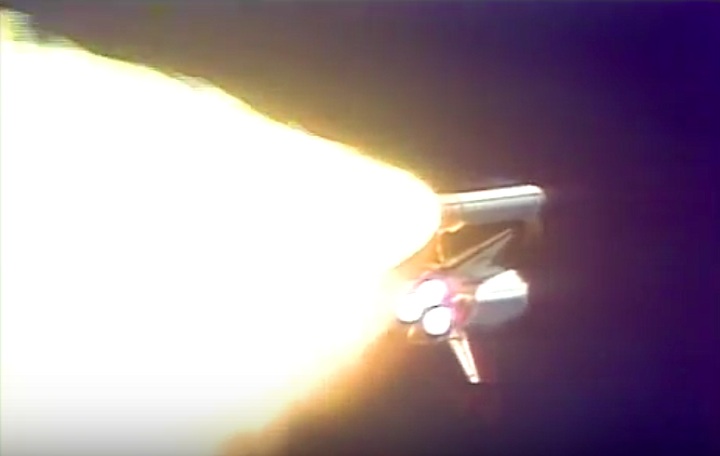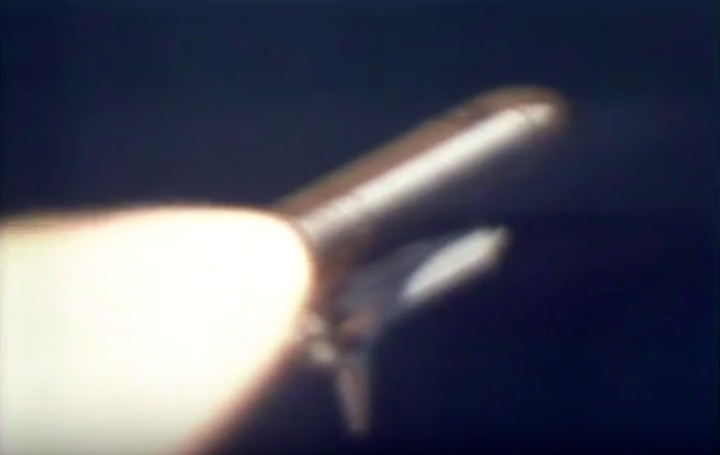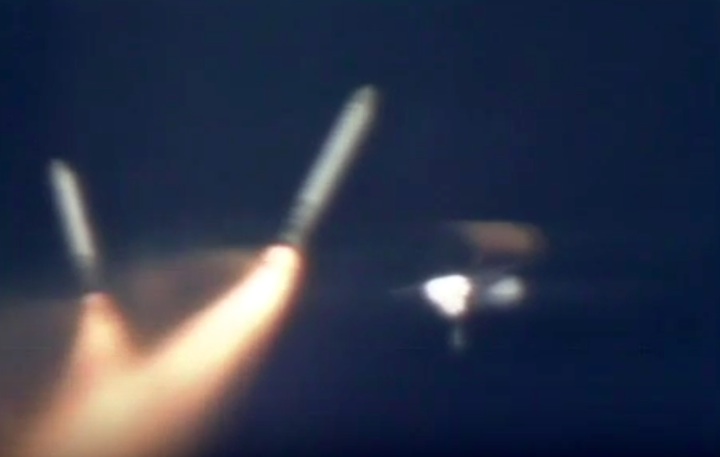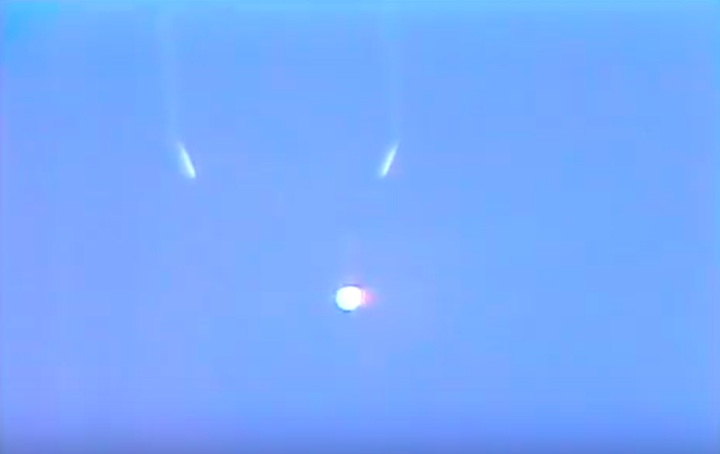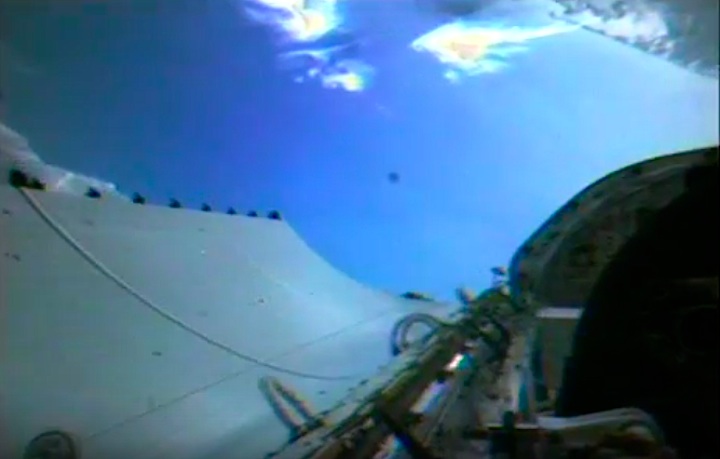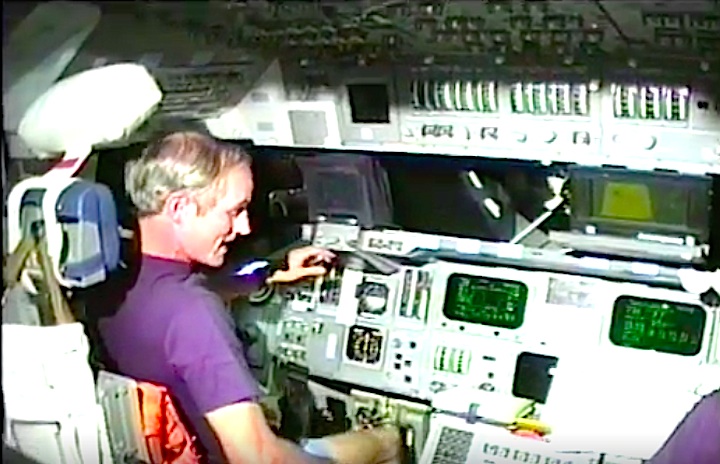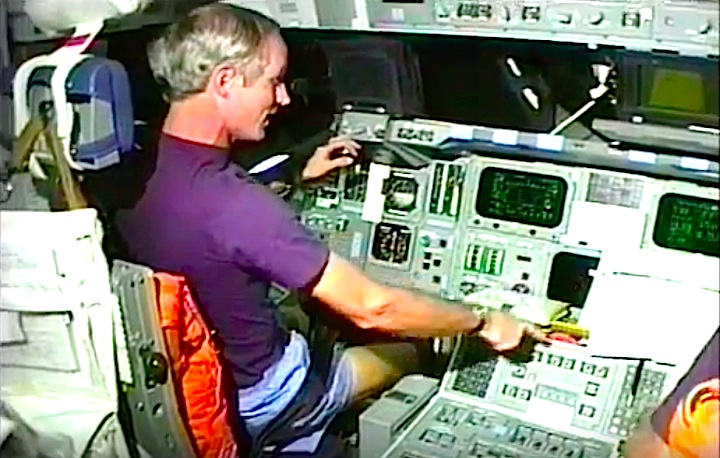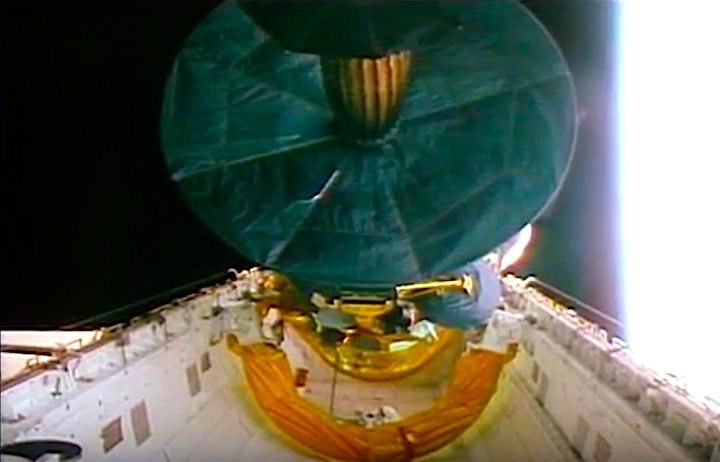 Jupiter-Sonde Galileo vor Launch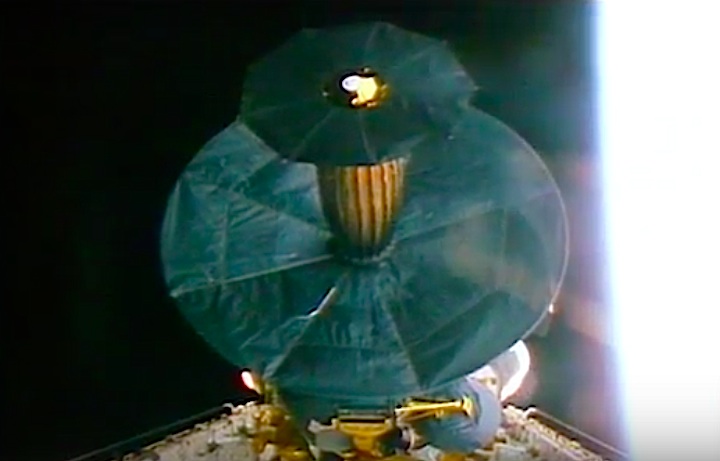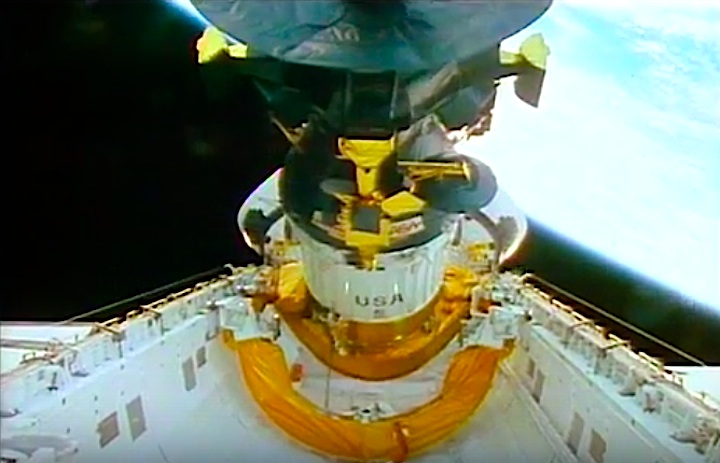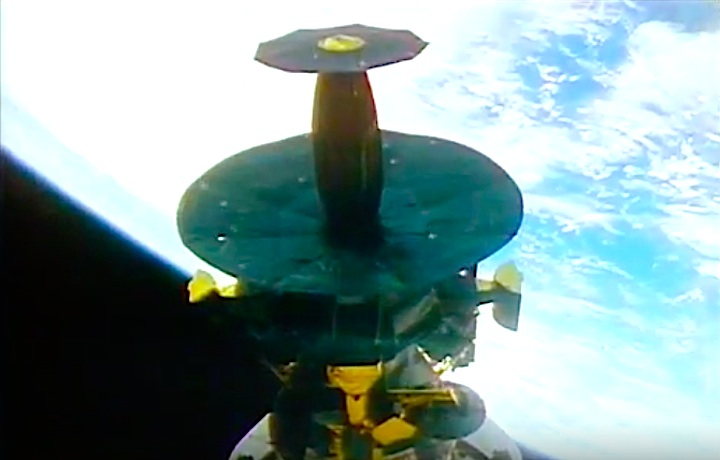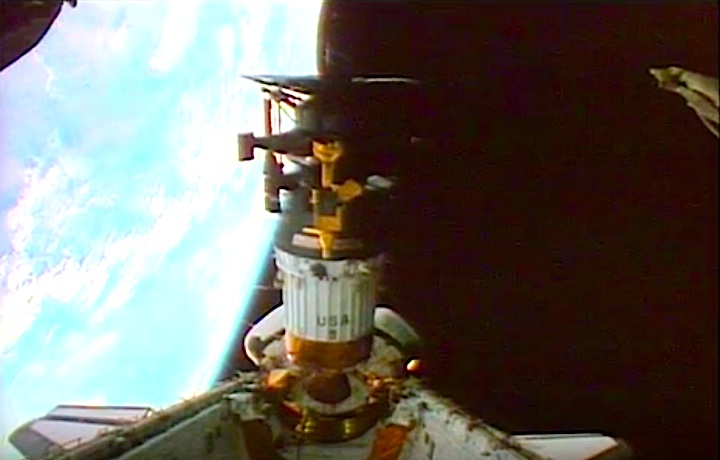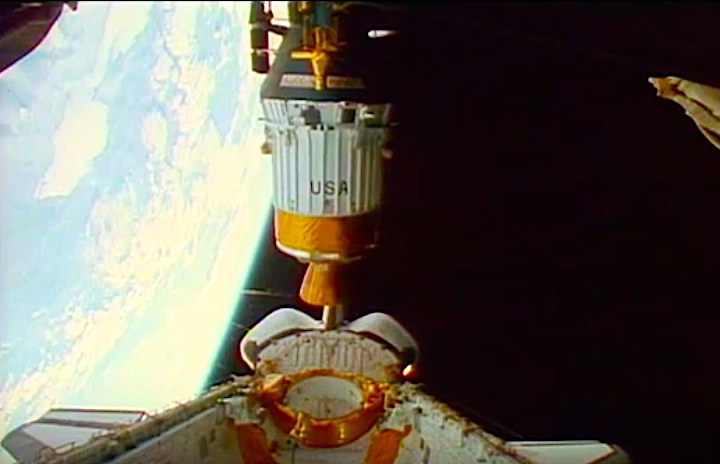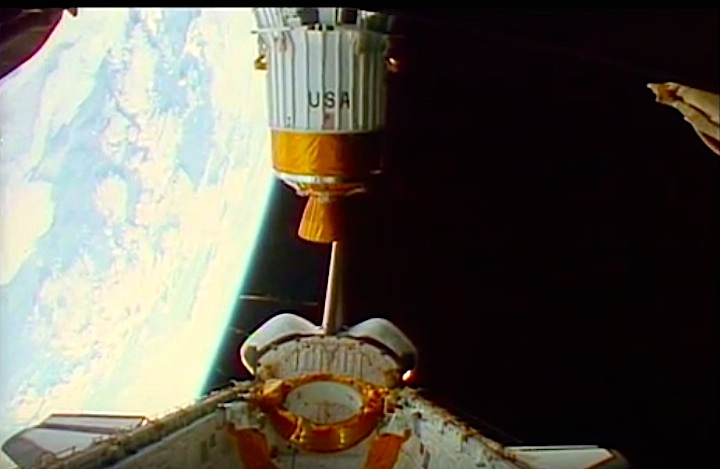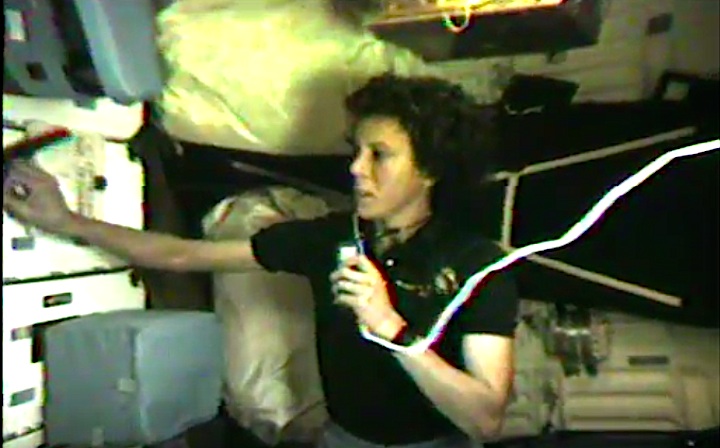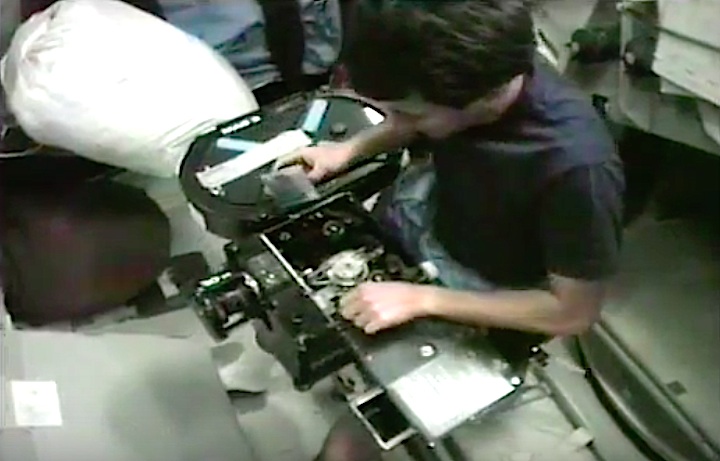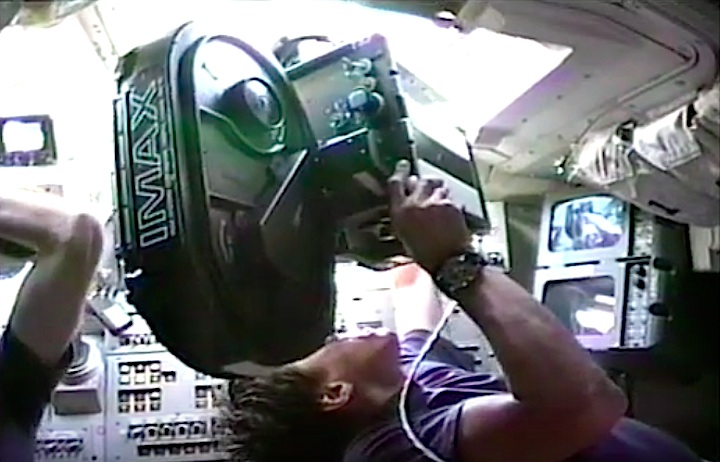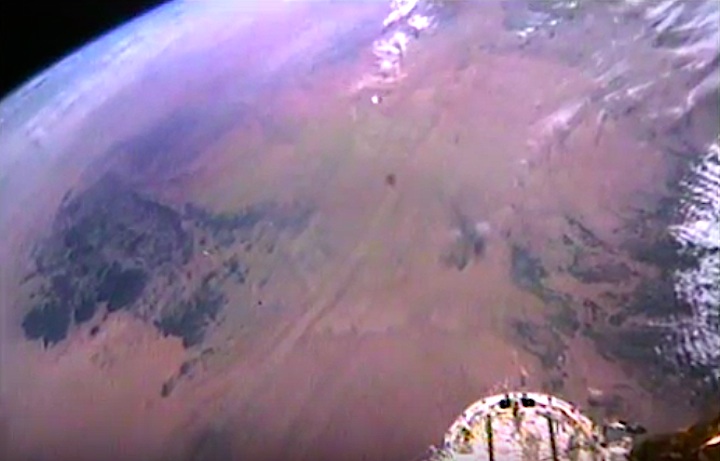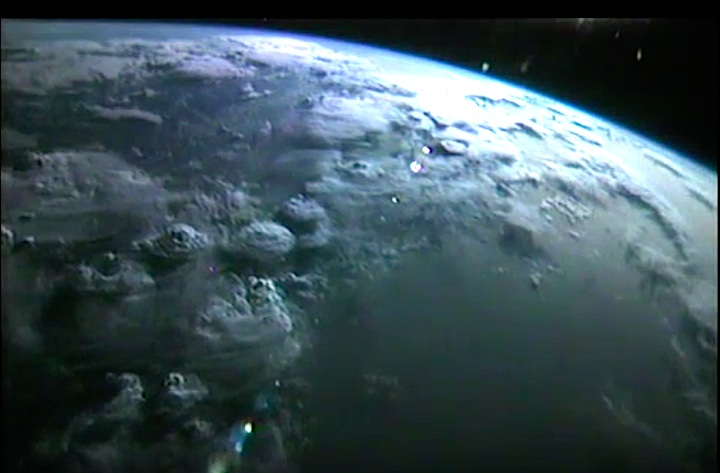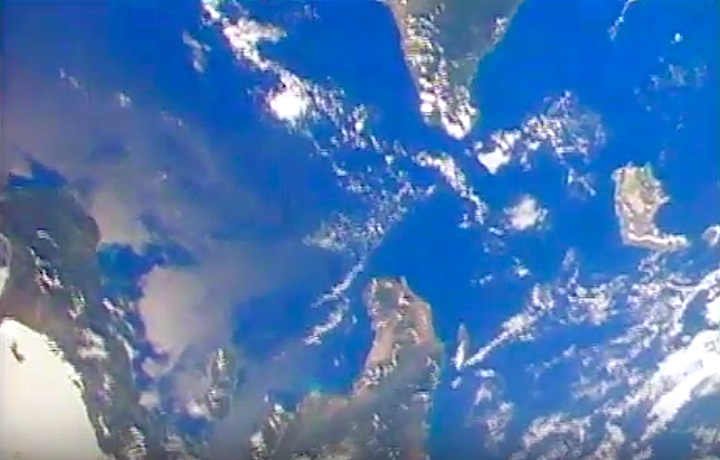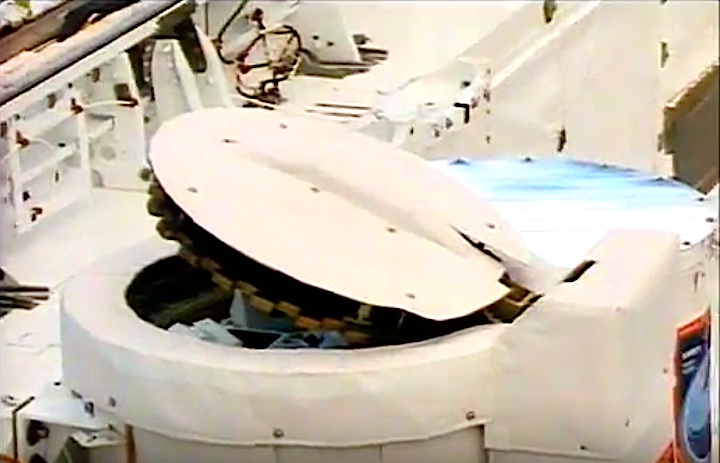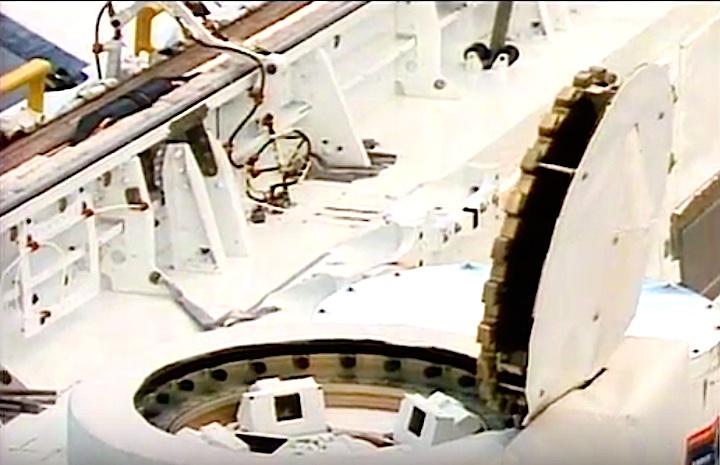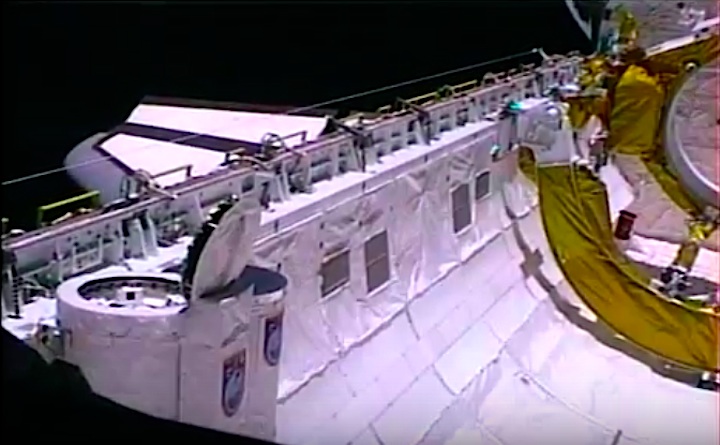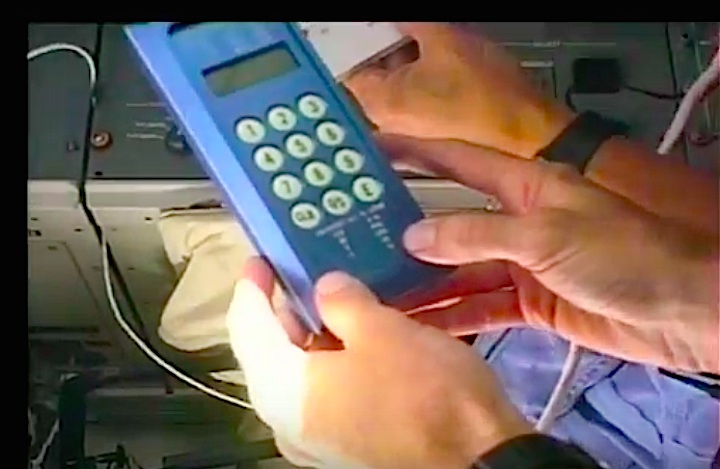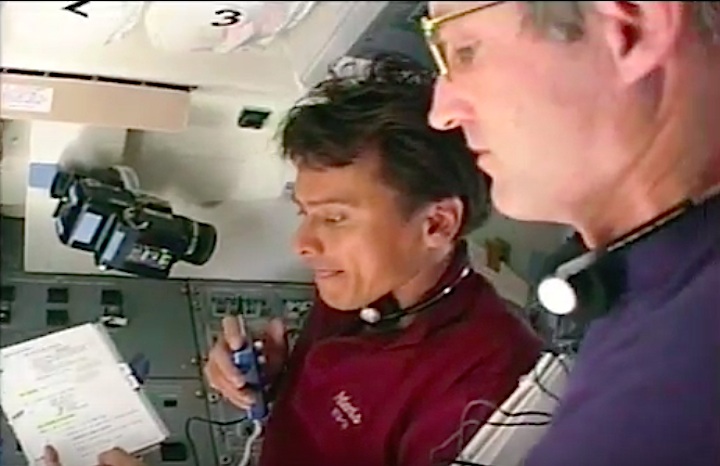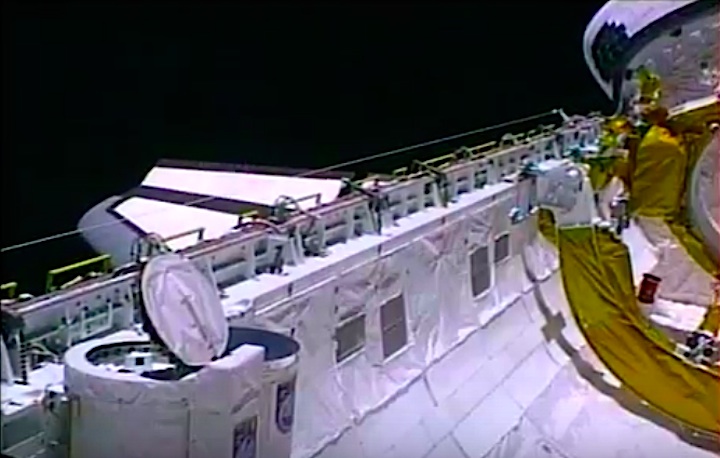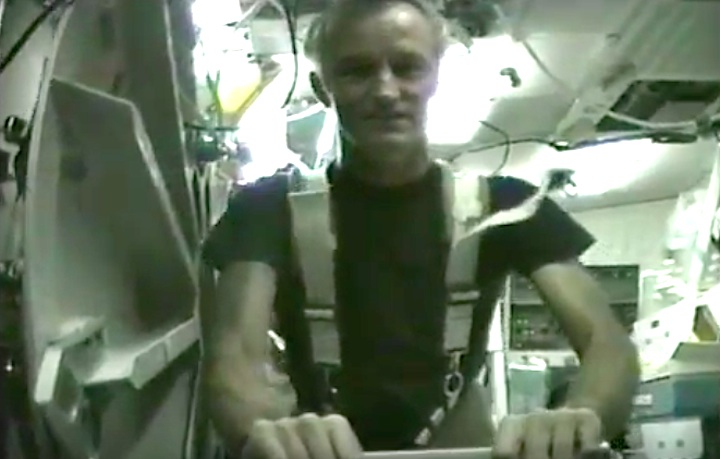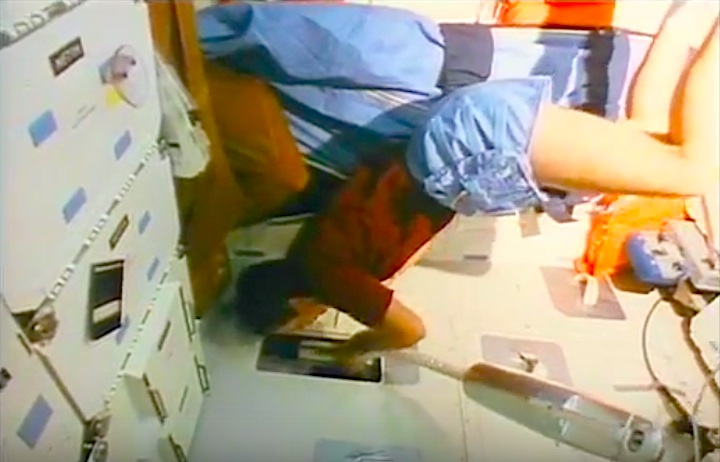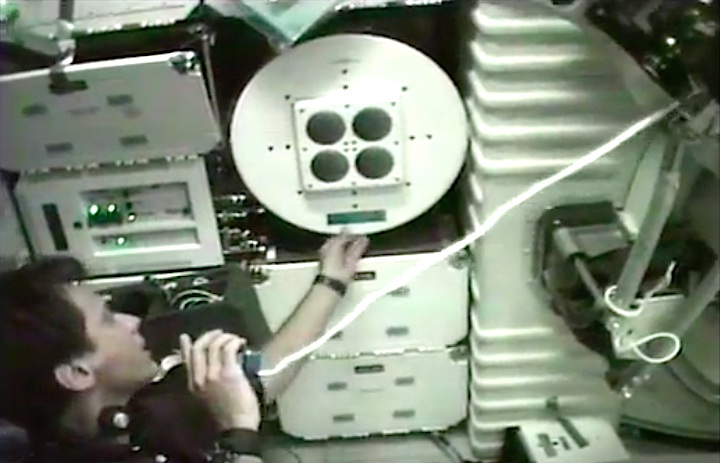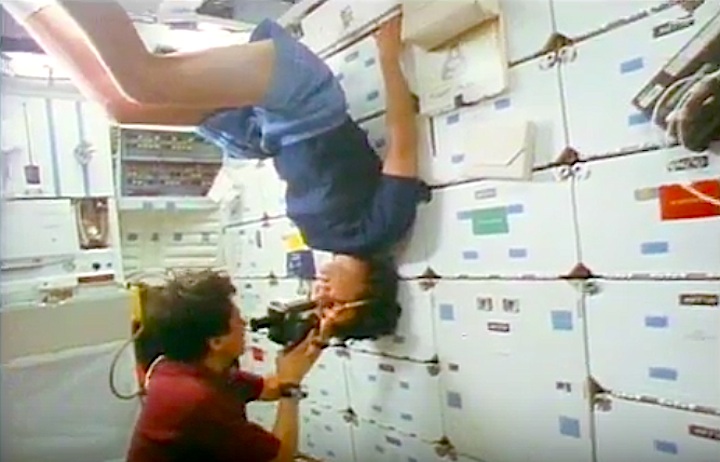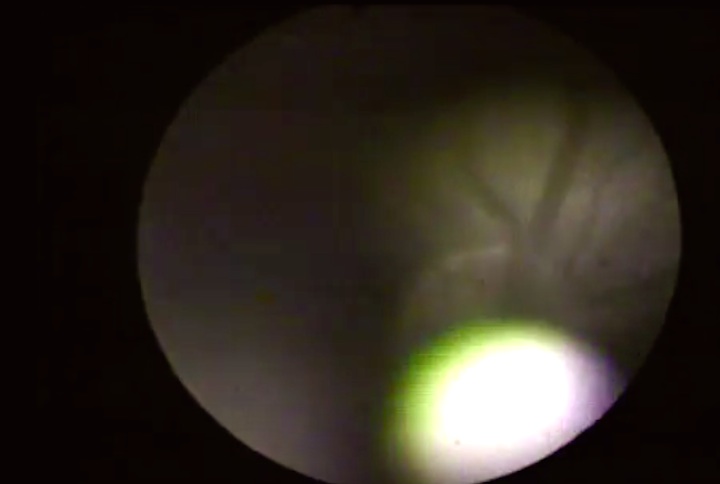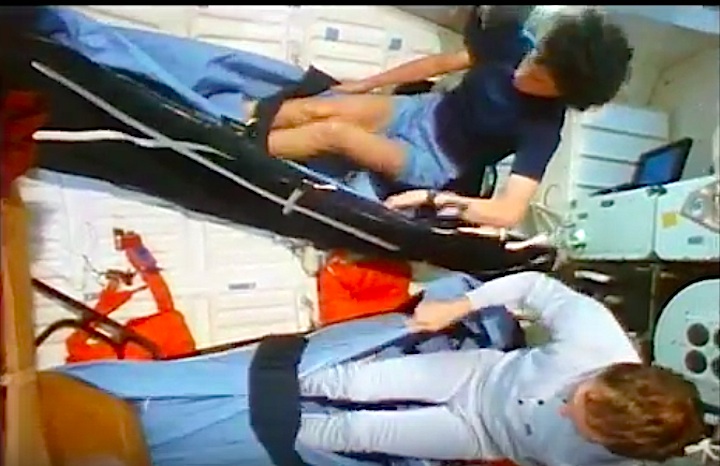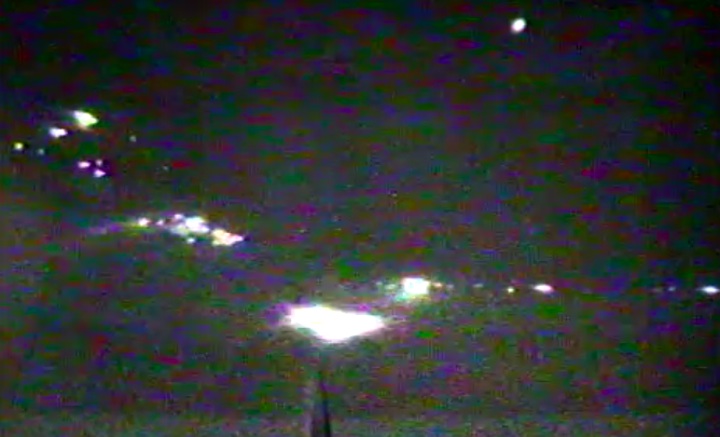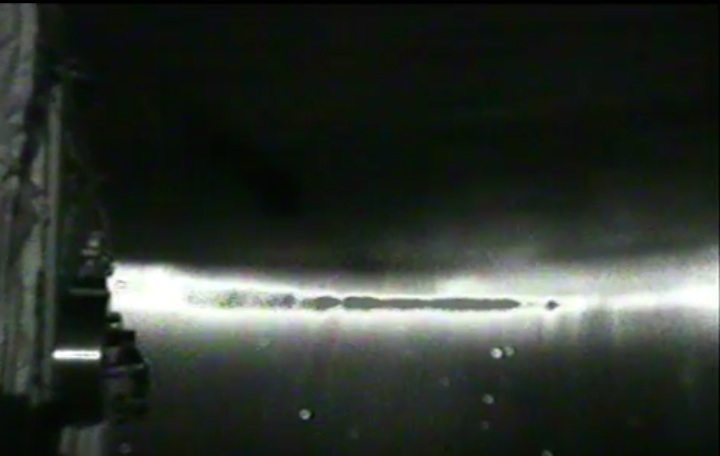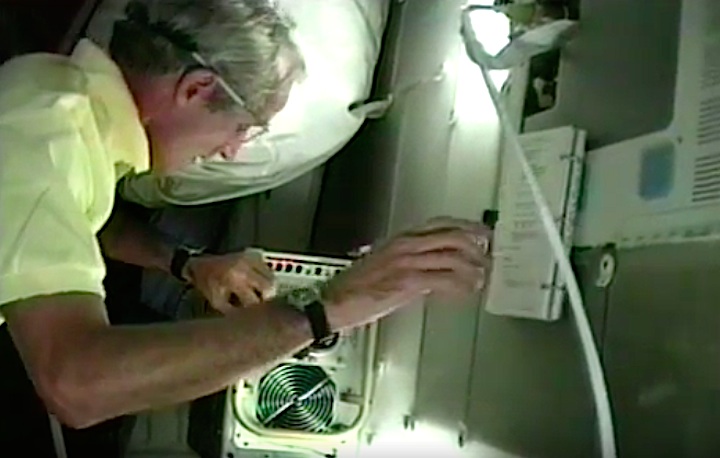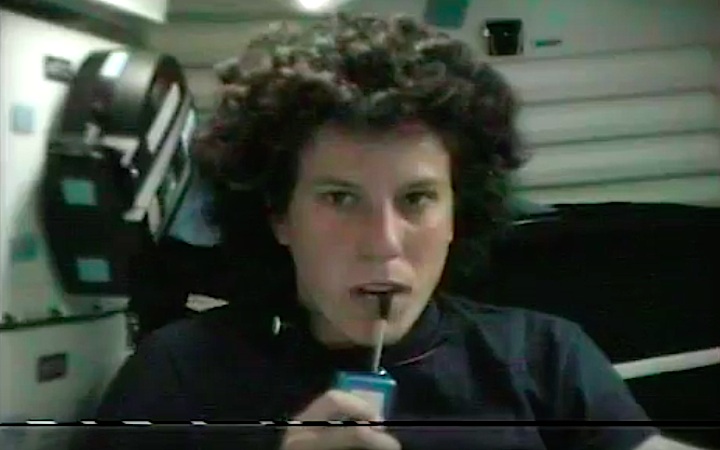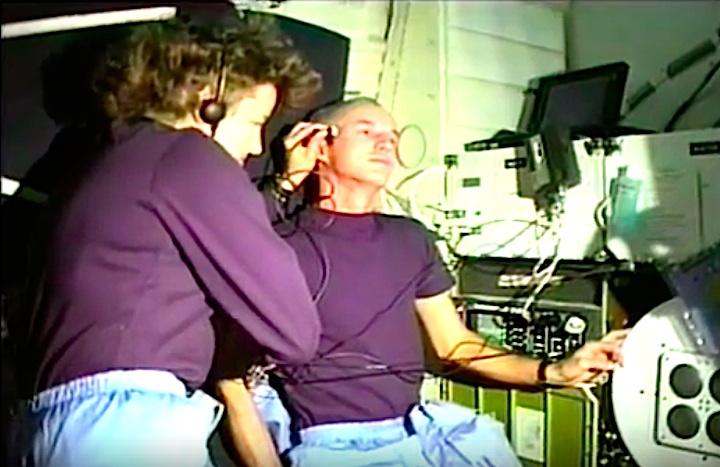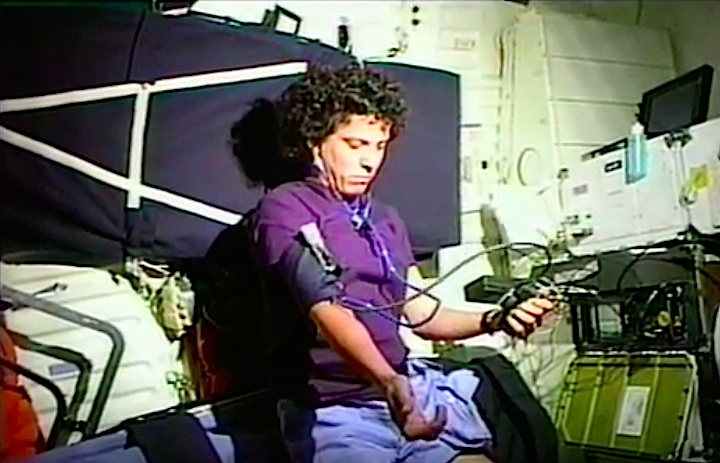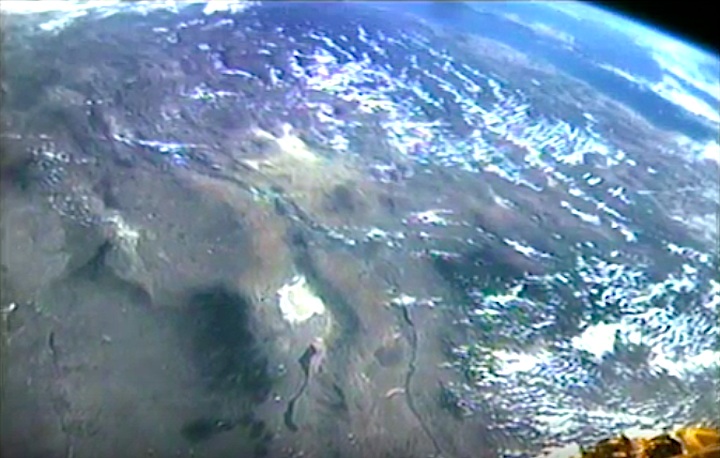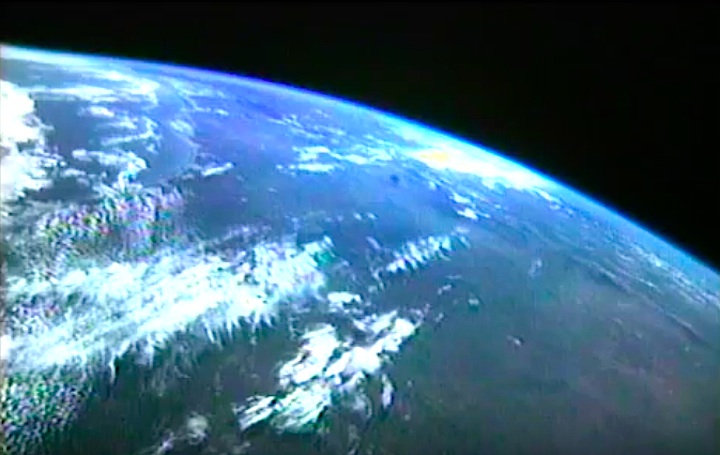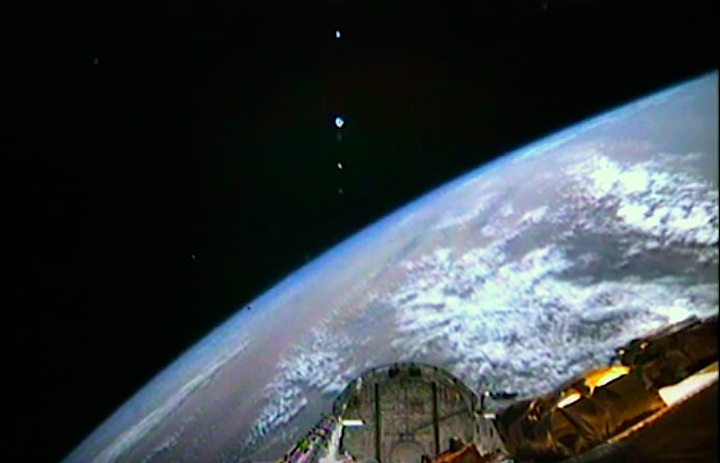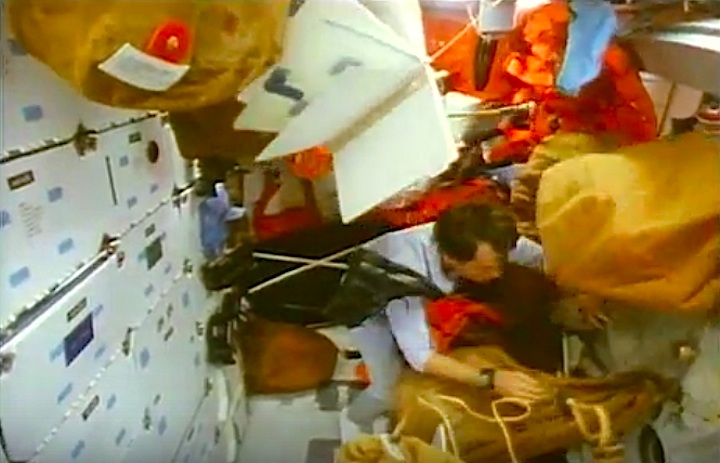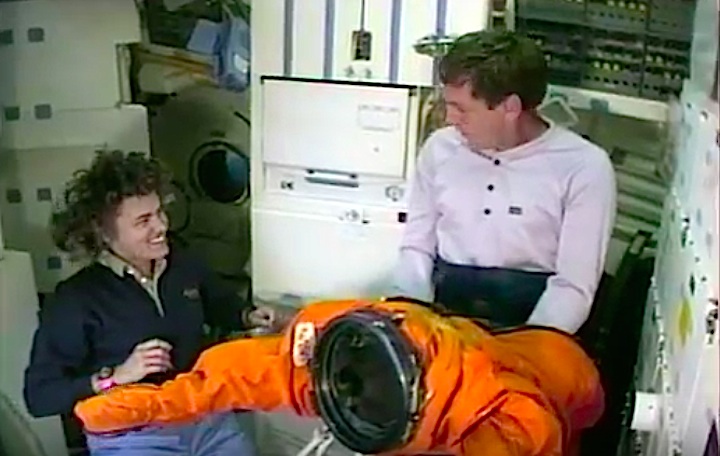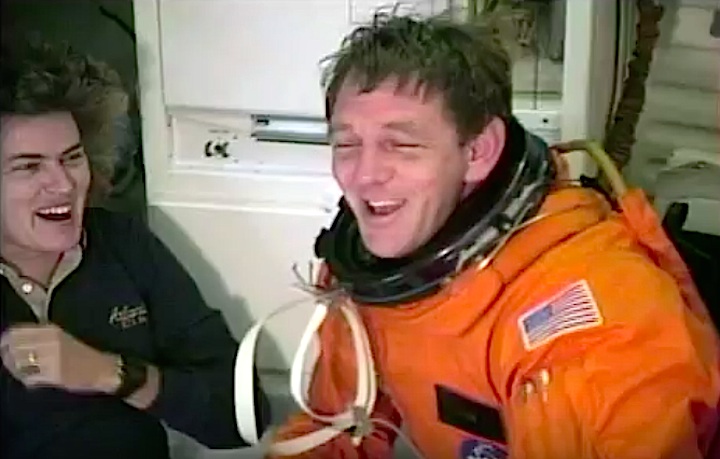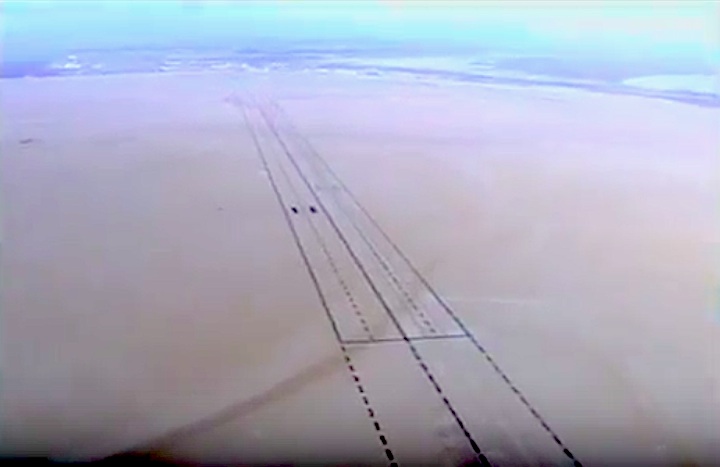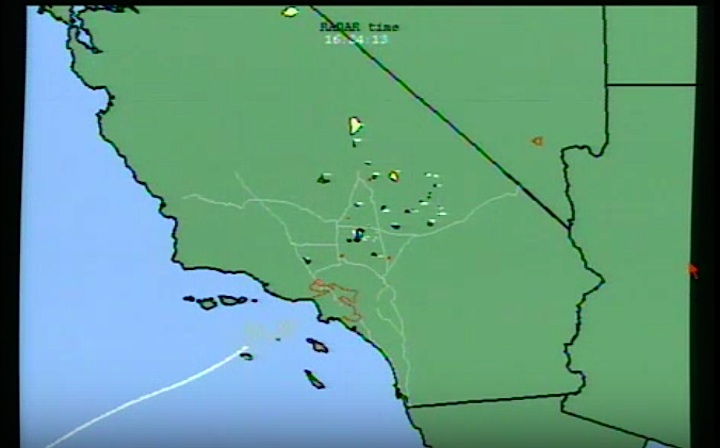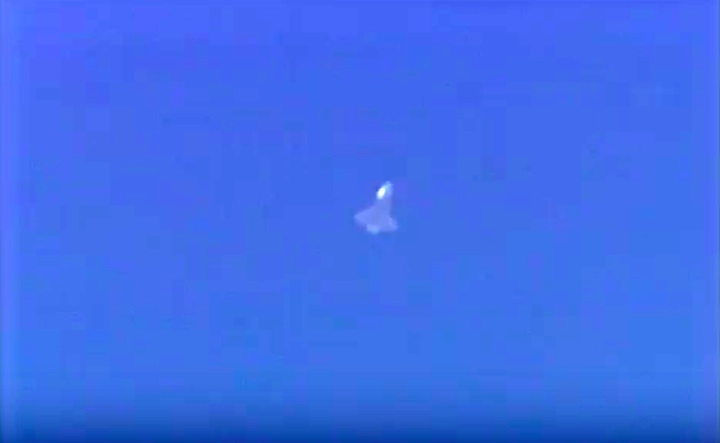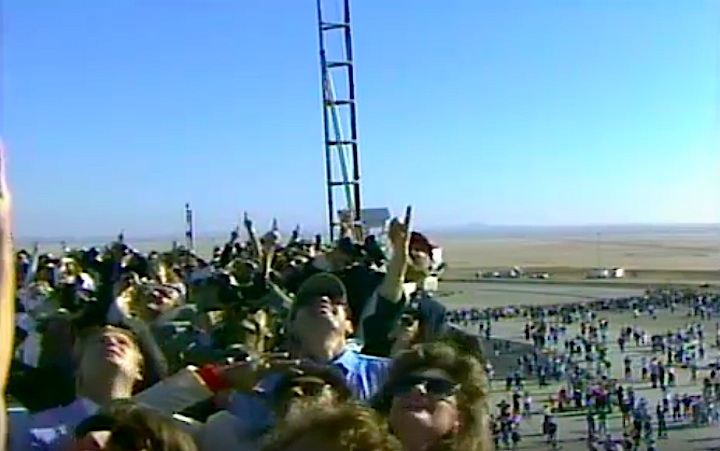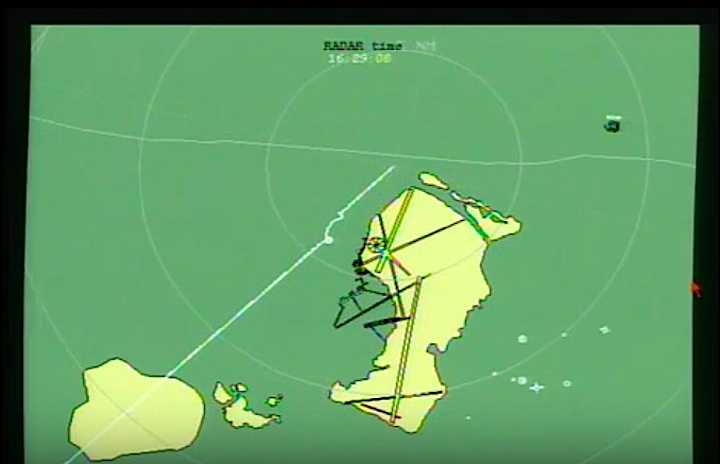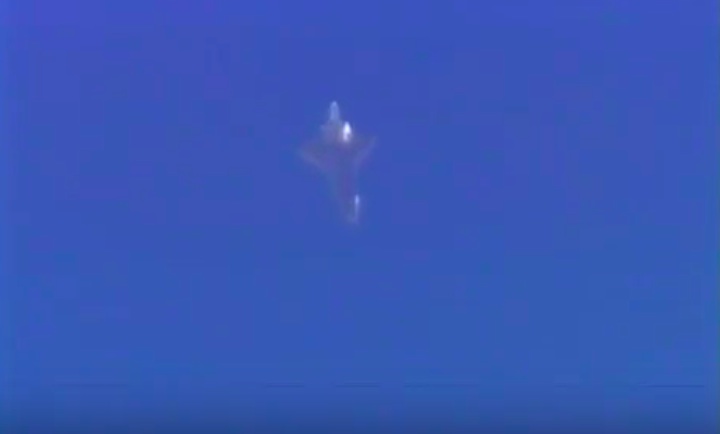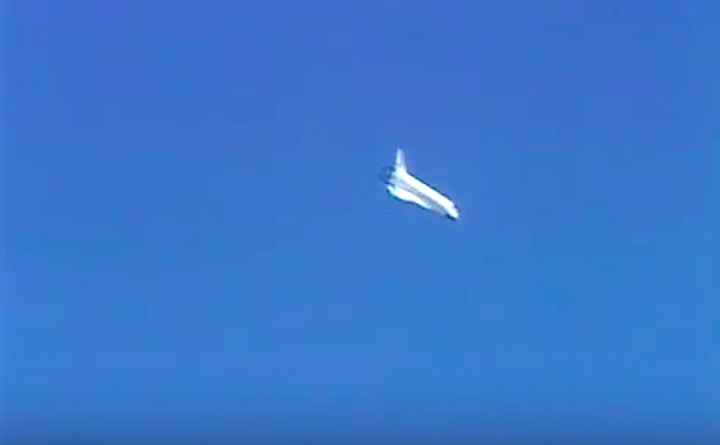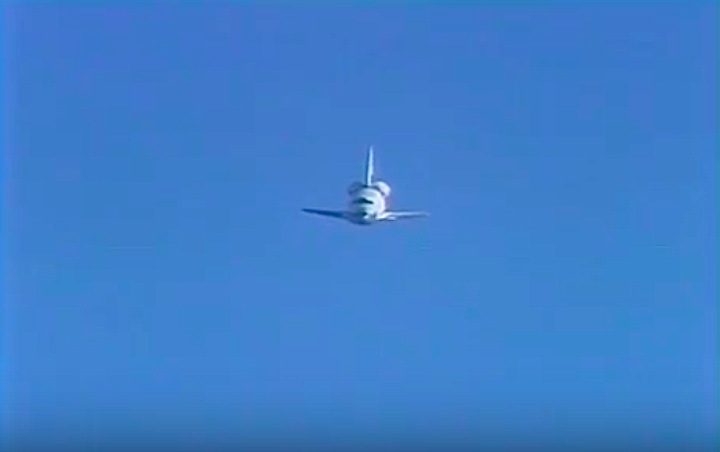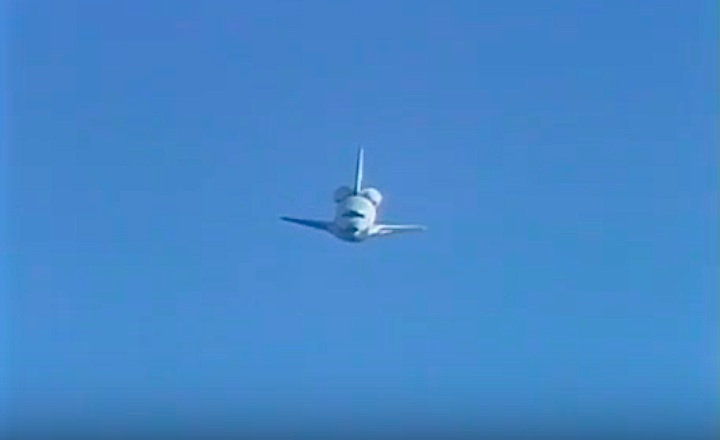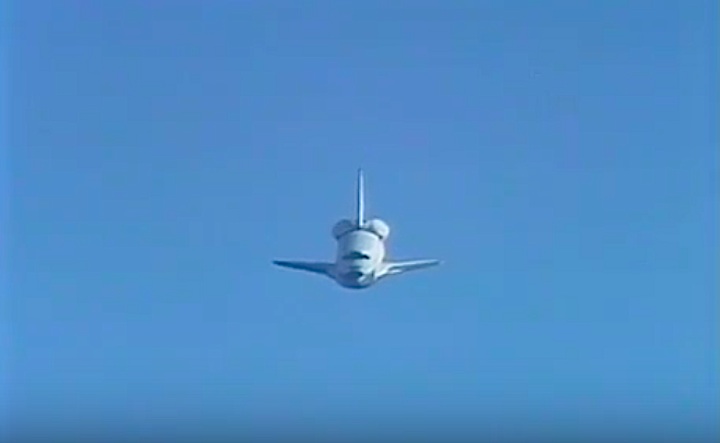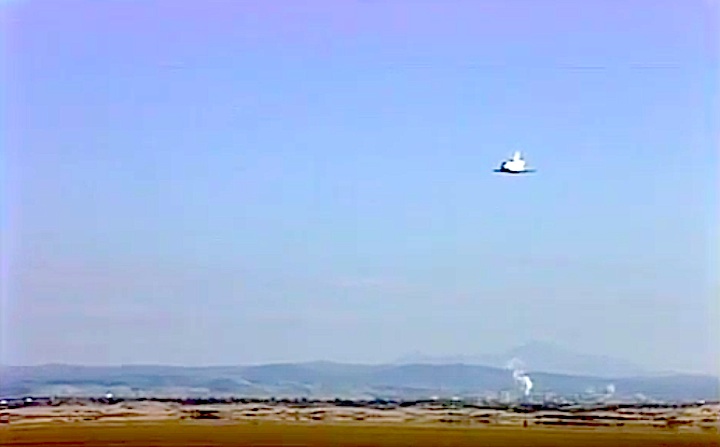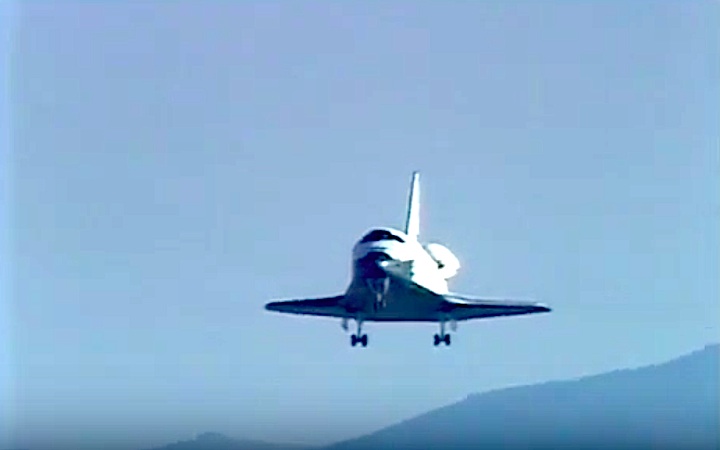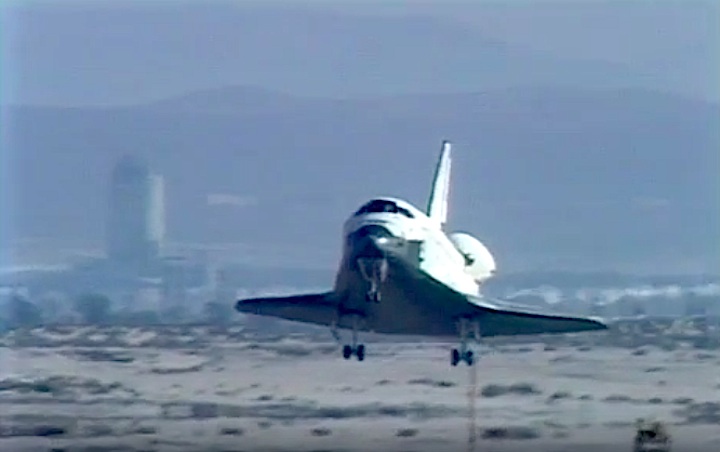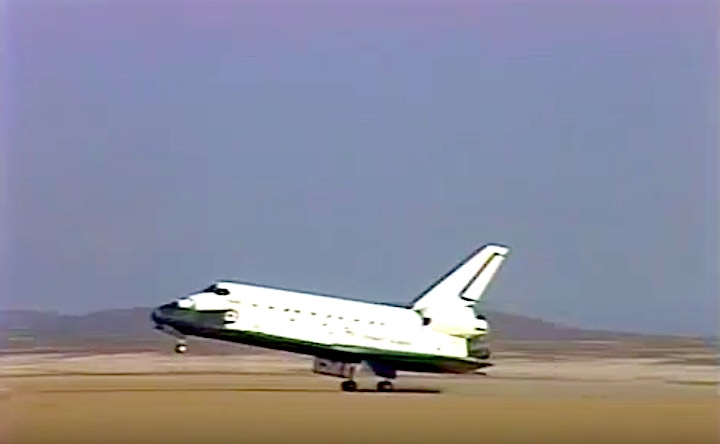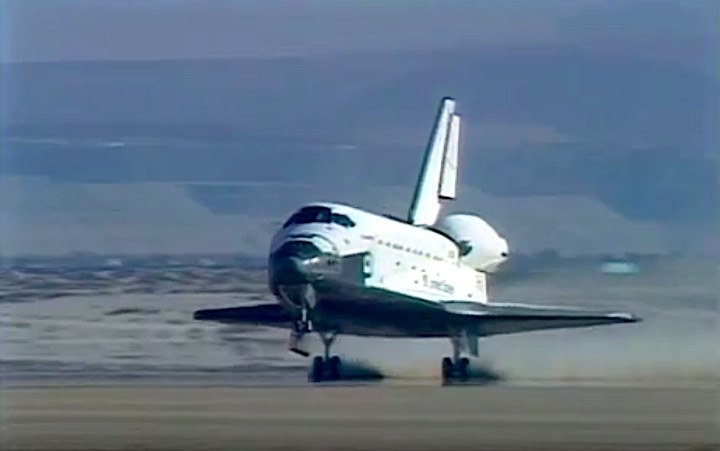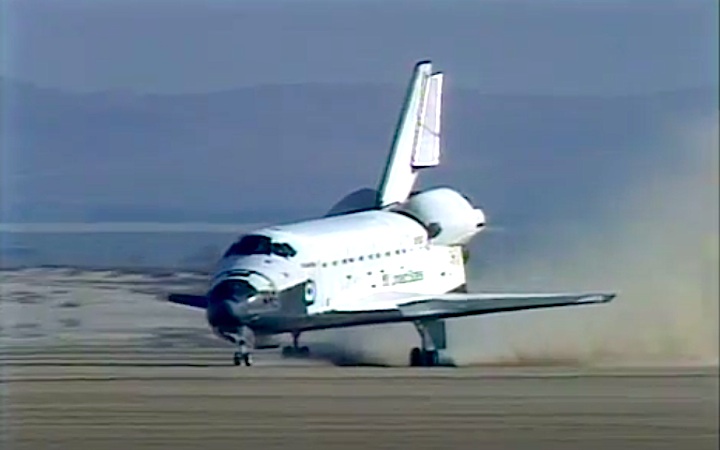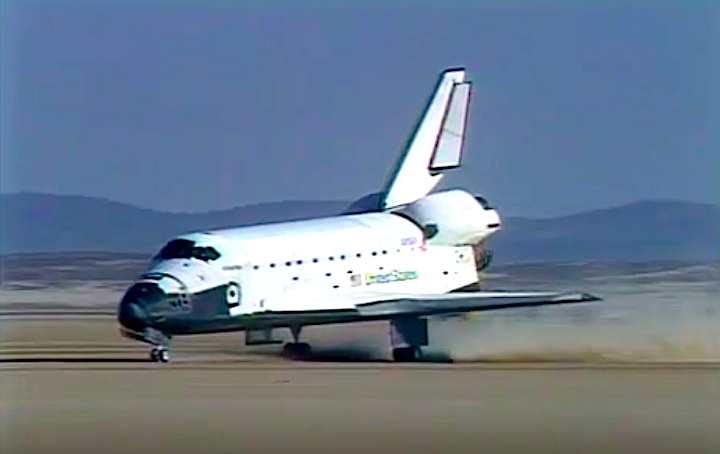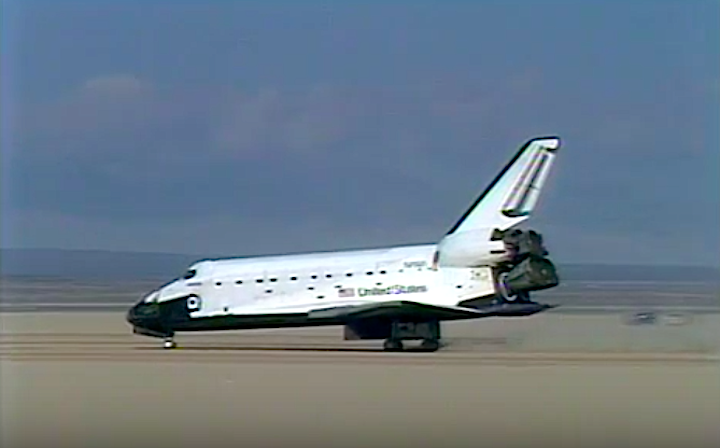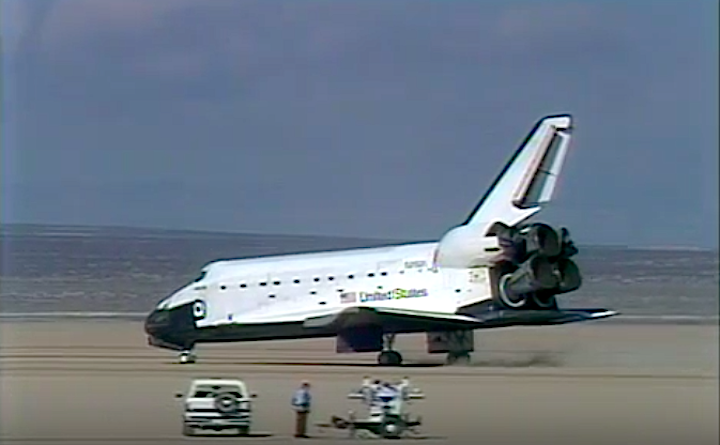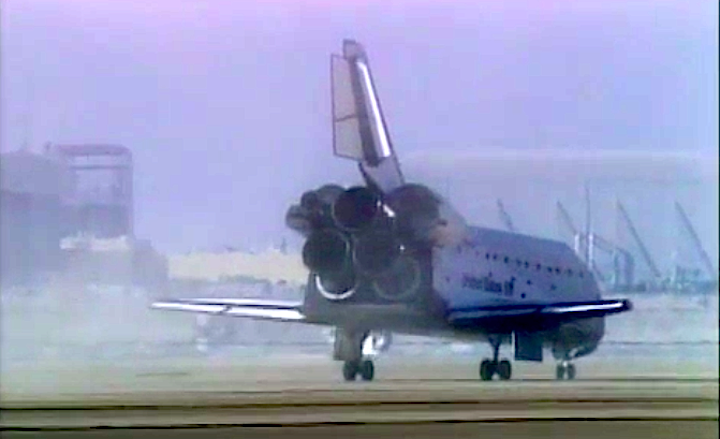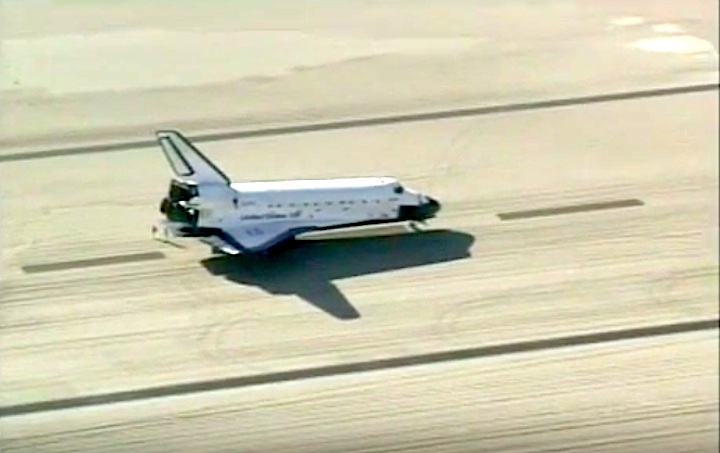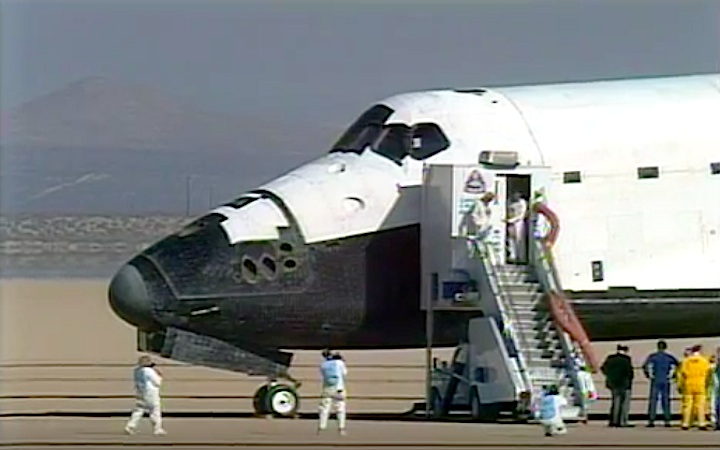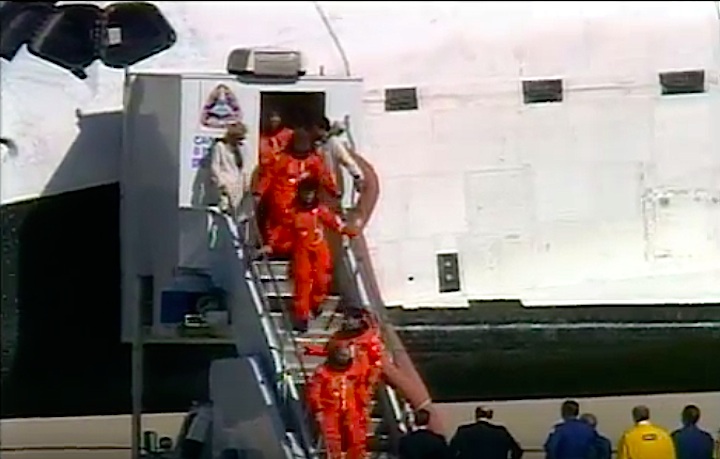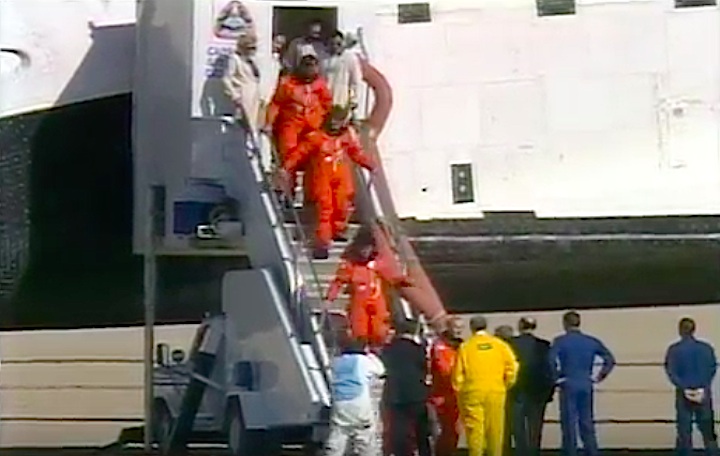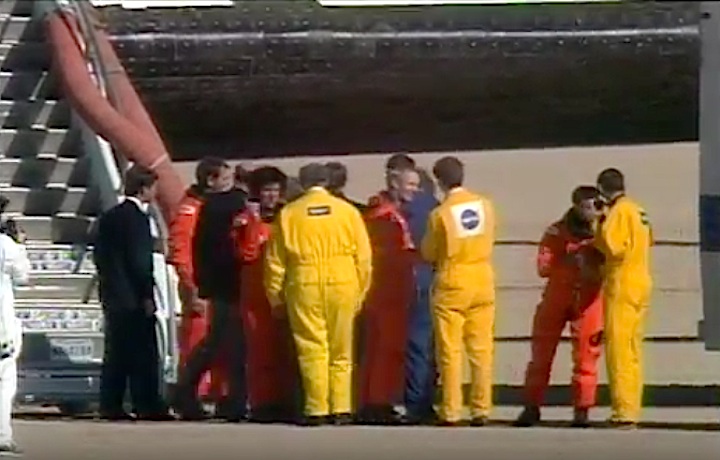 Quelle: NASA
3169 Views