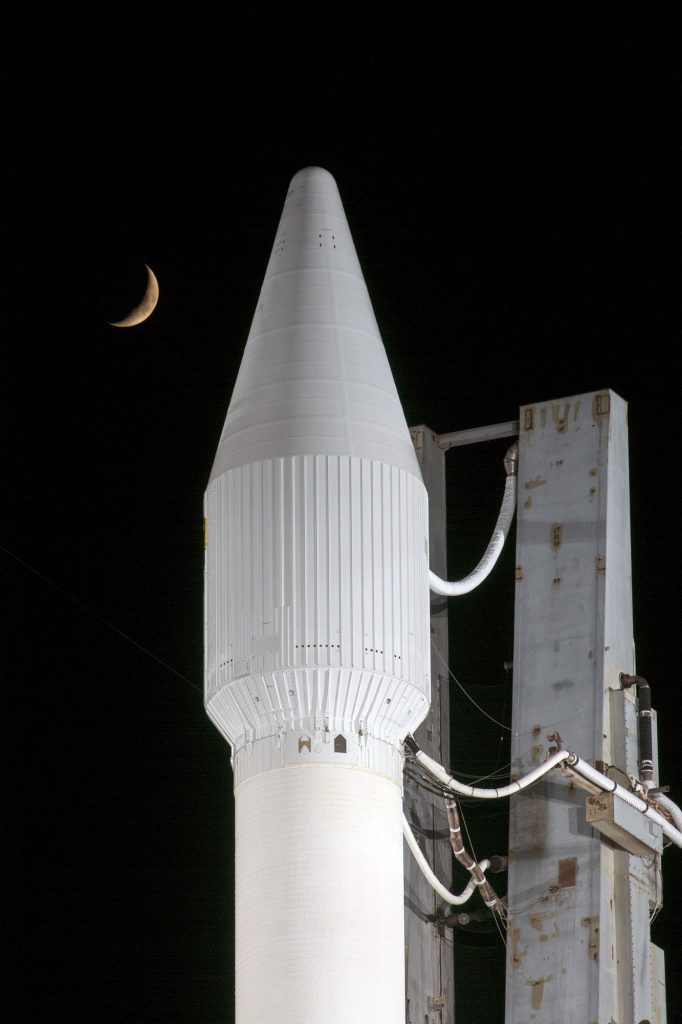 Note: Updated Monday with improved forecast details
CAPE CANAVERAL — Meteorologists are anticipating favorable odds of good weather during the countdown to launch an Atlas 5 rocket and U.S. military satellite on Thursday evening from Cape Canaveral.
The day's 40-minute launch opportunity that is timed to deliver the satellite into the correct orbital position opens at 7:46 p.m. EST (0046 GMT).
The United Launch Alliance booster will deploy the Space Base Infrared System Geosynchronous Earth Orbit satellite No. 3, or SBIRS GEO Flight 3, to provide missile detection and early-warning notices of incoming threats.
The Air Force's 45th Weather Squadron at the Cape predicts an 80 percent chance of acceptable launch conditions. The only area of concern for launch will be cumulus clouds.
The specifics for the launch window include scattered low-level and broken high-level clouds, good visibility, winds from the east at 8 to 12 knots, a relative humidity of 80 percent and a temperature of 71 degrees F.
"On launch day, a weak surface trough pushes into Central Florida with a gradual increase in moisture through the day. There is a slight threat of isolated showers mid to late afternoon. Westerly winds in the steering levels will bring any interior showers toward the east coast. Near sunset and with the loss of diurnal heating, the limited shower threat trends down.," Air Force meteorologists said Monday.
"The primary concern for launch is cumulus clouds."
In the event of a 24-hour delay, the forecast for Friday evening calls for increasing clouds in the mid- and upper-levels are expected as another surface trough approaches Florida's Big Bend area, meteorologists say.
There is a 70 percent chance of acceptable launch conditions on Friday due to cumulus clouds and cloud thickness.
The flight will originate from Complex 41, and the rocket will be rolled from its assembly building to the pad on Wednesday morning.
Public viewing options for the evening launch are somewhat limited given the timing of liftoff.
The optimal spot — Playalinda Beach– closes at sundown, nearly two hours before the launch window opens.
That leaves the Kennedy Space Center Visitor Complex as having the closest available spots. Its main campus 7.1 miles away (although without a direct view of the pad) and the Apollo/Saturn V Center located 5.4 miles away. Either site has admission fees, however.
The nearest free public viewing location offering the best view is Route 401 in Port Canaveral, some 11.7 miles from the launch pad.
Viewing options are described by LaunchPhotography.com.
Get directions there.
The Atlas 5 will generate 860,000 pounds of thrust from its main engine, rising on a pillar of fire to lift the 10,000-pound SBIRS GEO Flight 3 satellite into space.
The rocket will head due east from the Cape en route to a geosynchronous transfer orbit.
It will be the year's first launch from Cape Canaveral.
Quelle: SN
-
Update: 17.01.2017
.
Atlas V Rocket Glitch Delays Mission From Vandenberg Air Force Base
West Coast launch planned for Jan. 26 is under review as United Launch Alliance works to resolve booster issue