11.09.2019
NASA reschedules long-delayed space science mission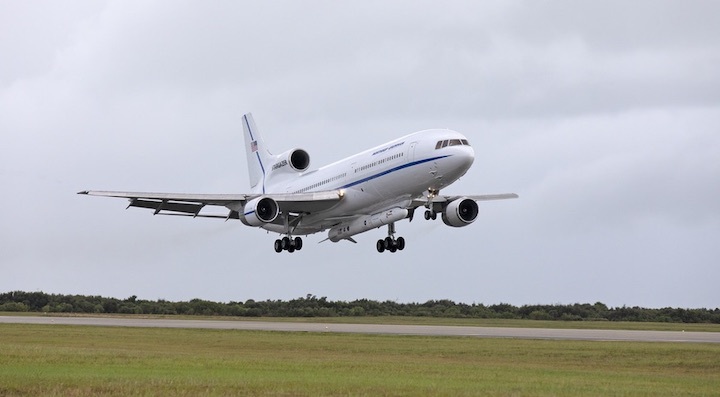 PARIS — A NASA space science mission grounded for nearly two years by problems with its Pegasus rocket is now set to launch in October amid questions about the future of that rocket.
In a statement distributed Sept. 9, NASA said it was now targeting an Oct. 10 launch of the Ionospheric Connection Explorer (ICON) satellite from Cape Canaveral Air Force Station in Florida. The launch vehicle and satellite will be ferried from California to Florida on Northrop Grumman's L-1011 carrier aircraft Oct. 1.
ICON was originally scheduled to launch in late 2017 from Kwajalein Atoll in the Pacific, a launch that then slipped to June 2018 because of issues with the rocket's separation system. While en route to Kwajalein for the June 2018 launch, engineers detected "off-nominal" data from the rocket, prompting a return to California.
NASA rescheduled the launch for November 2018, moving the launch to Cape Canaveral because of improved range access. However, after the rocket's L-1011 aircraft took off for a Nov. 7 launch attempt, engineers again detected off-nominal data from the rocket and scrubbed the launch.
Neither NASA nor Northrop Grumman, the rocket's manufacturer, have disclosed details on the anomaly, although agency officials said at one meeting that it was linked to the control system for the rocket's fins. In the new statement, NASA said a joint investigation with Northrop studied "a Pegasus sensor reading that was not within normal limits," but didn't discuss what part of the vehicle that sensor was associated with.
"The cause of the issue is understood, and the flight hardware has been modified to address the issue," NASA said. That includes two captive-carry flights of the Pegasus, attached to its L-1011 aircraft, "to verify the effectiveness of the modification with no issues."
ICON is a 288-kilogram satellite that will observe the interaction between terrestrial and space weather in the upper atmosphere. Studying that interaction can help scientists better predict the impacts of space weather phenomena that can disrupt radio and navigation transmissions.
The launch is the only Pegasus mission on Northrop Grumman's manifest for the small rocket, which has flown only infrequently: three times in the last decade, most recently in December 2016. Despite the growing interest in small satellites, the high cost of the Pegasus has prevented it from winning additional business.
The latest sign of Peagsus' market woes was when NASA awarded a contract in July to SpaceX for a Falcon 9 launch of the Imaging X-Ray Polarimetry Explorer (IXPE) mission even though the satellite, similar in mass to ICON, was baselined to launch on the Pegasus XL. The value of the SpaceX contract, $50.8 million, was less than the $56.4 million for the Pegasus launch of ICON, yet the Falcon 9 has a far greater payload capacity.
Northrop also appears to have lost another customer for Pegasus in Stratolaunch. That venture, funded by the late Paul Allen, planned to use a giant aircraft it developed to launch Pegasus rockets, with the ability to carry three such rockets at a time. That aircraft, though, has not flown since an initial test flight in mid-April and industry sources say Stratolaunch appears to be winding down its operations.
Quelle: SN
----
Update: 17.09.2019
.
NASA Opens Accreditation for Launch of Mission to Explore Ionosphere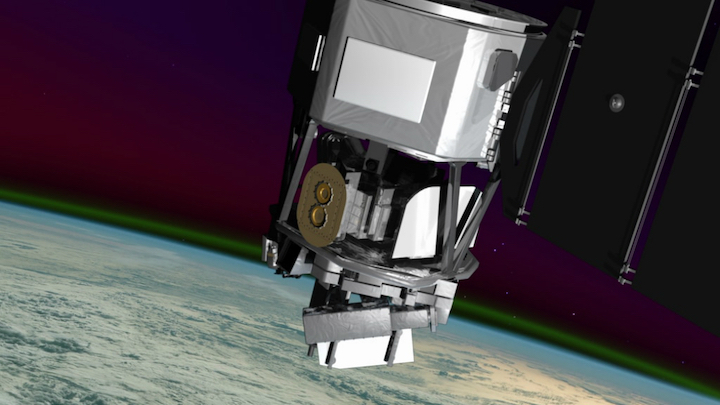 NASA's Ionospheric Connection Explorer will study the frontier of space: the dynamic zone high in our atmosphere where terrestrial weather from below meets space weather above.
NASA has opened media accreditation for the launch of its Ionospheric Connection Explorer (ICON) mission, targeted to be air-launched over the Atlantic Ocean on a Northrop Grumman Pegasus XL rocket Wednesday, Oct. 9.
Media prelaunch activities will take place at NASA's Kennedy Space Center and neighboring Canaveral Air Force Station in Florida, with details of the activities to be announced closer to the launch date. Credentialing deadlines are as follows:
U.S. media must apply by 4:30 p.m. EDT Friday, Sept. 20.
The deadline for international media to apply has passed.
All media accreditation requests should be submitted online at:
For questions about accreditation, please email ksc-media-accreditat@mail.nasa.gov. For other questions, contact Kennedy's newsroom at 321-867-2468.
ICON and Pegasus will take off aboard the L-1011 Stargazer aircraft from Cape Canaveral Air Force Station for a 90-minute launch window opening at 9:25 p.m. ICON will be launching off the coast of Daytona at 39,000 feet at a heading of 105 degrees.
The ionosphere, where Earth's weather meets space weather, can be a source of great beauty, but also can be disruptive to radio communications and satellites, and astronaut health. ICON will help determine the physical processes at play in this frontier of space, and help find ways to mitigate their negative effects.
Quelle: NASA
327 Views