7.06.2022
Hamish Harding says earth looks very beautiful from space and there are no borders visible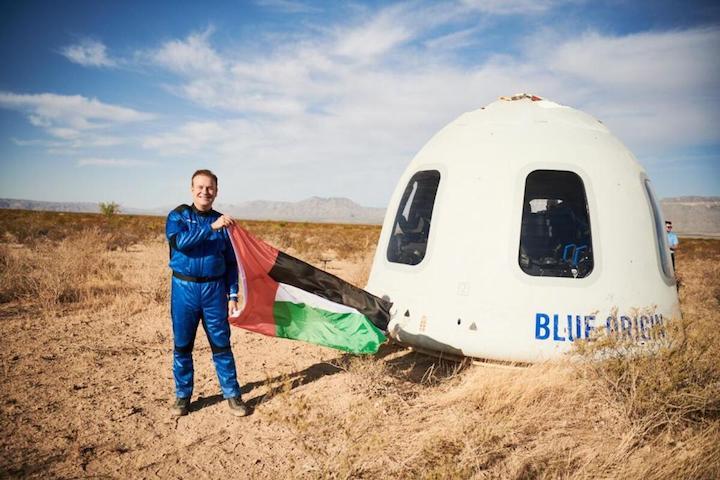 Hamish Harding holding up the UAE flag. Photo: Supplied
Harding fulfilled his childhood dream of travelling to space on Saturday, June 4. Although Harding was spellbound during his out-of-the-world experience, he knows precisely how he feels back on earth. "People ask me to describe the experience in one word, and for me, that is addictive. I am now addicted to space, and I have to go back."
Harding spoke to Khaleej Times from the Airstream trailers at the astronaut village of Blue Origin in West Texas. "The earth looks very very beautiful from space. From up there, the borders are not visible. It is all one big earth. Why do we then spend so much time in unproductive conflicts and petty disputes in the world?"
"It was everything I was hoping for and more," he gushed. "It was the little things that amazed me the most, like how the sky was black. It was a real reminder that there is no atmosphere and that I am in space. We were at 350,000 feet at the apogee above the Karman Line, which is the highest point of the parabola. Looking down from there and seeing how beautiful the planet looked, with a little layer of the atmosphere below us, it was an amazing feeling. We should be taking more care of our atmosphere because it looked very fragile from up there."
Zero gravity plan
Harding went on the flight with six other crew members. Investor and NS-19 Astronaut Evan Dick, electrical engineer and former NASA test lead Katya Echazarreta, civil production engineer Victor Correa Hespanha, adventurer and Dream Variation Ventures co-founder Jaison Robinson; and explorer and co-founder of private equity firm Insight Equity Victor Vescovo.
288 Views