8.03.2022
Frosty Texas vehicles and groundwork in Florida ahead of Starship evolution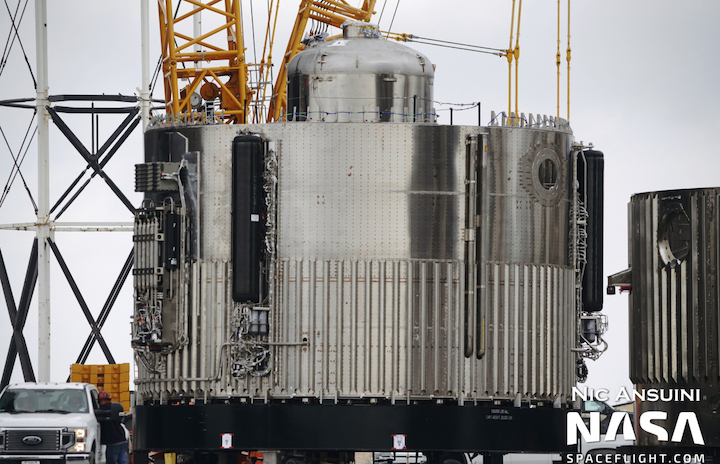 Future vehicles are continuing to take shape in what appears to be a multi-flow of preparations at SpaceX's Starbase facility in South Texas. While Booster 4 and Ship 20 continue to provide valuable ground test data at the launch site, modifications are being employed on future Boosters and Ships undergoing preparation down the road at the production site.
Over in Florida, the opening elements of Starship's East Coast future are focusing on the infrastructure for production and launch.
Starship Groundwork:
While Elon Musk is yet to officially rule out a test flight for Booster 4 and Ship 20, the duo was always going to provide milestone objectives via ground testing.
This has now included two full-stack milestones, one via a crane and the most recent via the use of the Mechazilla chopstick "stack and catch" system.
Since being destacked, both Ship 20 and Booster 4 have enjoyed a series of cryo proofing tests, mainly with the former.
Utilizing Liquid Nitrogen (LN2), the tests provide data on the vehicle and the Ground Support Equipment (GSE) plumbing that supplies the vehicle. Booster 4's cryo proofing test involved the Orbital Launch Mount (OLM) on which it still resides, with fueling taking place via connections attached from the Quick Disconnect (QD).
A key future test will be a full-stack proof test, with Ship 20 being supplied with commodities from the Ship QD located halfway up the Launch Tower.
SpaceX will also want to fully test the OLS Tank Farm, which now includes several new CH4 tanks that are currently being installed.
With the forward plan yet to be revealed, along with the fluidity of SpaceX's test program plans, the potential of Booster 4 then conducting a Static Fire test on the OLM remains an open question.
Should SpaceX opt to conduct a series of Static Fire tests with Booster 4, the current record of a six-engine firing – an honor that went to Ship 20 when it fired up its three Sea Level and three RVacs last November – would likely be broken.
The path would likely see an incremental increase of engines firing up ahead of the ultimate goal of all 29 Raptors currently installed in its aft.
The alternative scenario sees SpaceX conclude its current ground testing objectives with Booster 4 and Ship 20 before their retirement and likely relocation at the ever-growing Rocket Garden near the production site, currently occupied by Ships SN15, 16, and 22 along with Booster 5.
Upcoming Vehicles:
SpaceX's evolution of its prototype vehicles has been at the center of its Starbase roadmap.
With Starhopper – the "OG" of Starbase – watching the comings and goings of numerous vehicles, the progress made since its 150-meter hop is already astounding. However, the last liftoff from the Boca Chica site was over ten months ago.
The pause in test launches is in part thanks to the success of SN15, concluding the high altitude test flight objectives, allowing SpaceX to press toward the full-stack orbital velocity test.
However, such a test requires numerous worlds to align, from a vehicle readiness standpoint – again noting the Super Heavy Booster has yet to conduct a multi-engine Static Fire test – along with paperwork, with a continued wait for the FAA to complete its report.
The only reference to a "delay" came just a few days ago, with Musk citing the need for SpaceX to prioritize "cyber defense & overcoming signal jamming" in relation to unspecific concerns revolving around the use of Starlink in Ukraine.
Musk has not yet clarified if the "slight delays" include the immediate test program or just the initial operational missions of Starship.
The initial operational launches will be tasked with launching large batches of Starlink V2 satellites.
Regardless, there is a high likelihood the orbital velocity test will be refocused to Booster 7, likely with Ship 24.
This would increase the chances of success via the incremental upgrades employed on future vehicles based on lessons learned from ground testing.
Preparations for Booster 7 are being carried out in the High Bay, with a highlight of its production flow involving the rollout and stacking of its aft/thrust section.
With a large Header Tank inside the section and sporting a highly designed Quick Disconnect (QD) plate, the section also has its Hydraulic Power Unit (HPU), and Composite Overwrap Pressure Vessels (COPVs) are already installed onto the side of this section.
While parts for Booster 8 and Ship 25 have also been observed at the Production Site, the focus on Booster 7's assembly was further amplified by the arrival of its four grid fins.
The continued pace of production shows SpaceX is ready to hit the ground running once it gains permission to conduct orbital launches from Starbase.
Numerous domes are the main clue, with a collection already outside the production tents and far more behind closed doors.


With a variety of welding robots hard at work inside the production tests, Starbase is staging parts for numerous upcoming vehicles.
Several nosecones are being worked on, including cargo payload door prototypes required for operational launches with Starlink satellites.
Additional production capacity is also being created, with the Wide Bay now taller than its High Bay neighbor, aided by an increased stretch of the LR11000 "Bucky" crane that now towers over the build site.
In tandem, space is being cleared to build a new production facility that will take over the role of the tents.
This is a further sign that, despite the concerns Starbase will become more of an R&D facility, as per Musk's recent update presentation – it will be capable of the impressive production and launch cadence that had been previously envisioned.
Over at the East Coast site, Roberts Road is continuing to prepare to construct a vast production facility to cater to the Florida Starship ambitions.
Most of the work has been groundwork, although SpaceX is wasting no time in utilizing the area to start construction of the sections that will make up the launch tower for LC-39A.
The KSC pad will host a Starship tower, allowing for launches to take place alongside Falcon 9 and Falcon Heavy launches. While Musk noted there would be some differences, it will still be a near-mirror of the Starbase tower, with its Mechazilla stack and catch system.
Oceans-based assets are also back in play, with Deimos departing South Texas for refurbishment work alongside Phobos.
The former oil rigs were officially renamed Deimos (formerly ENSCO/Valaris 8500) and Phobos (formerly ENSCO/Valaris 8501) and are now owned by Lone Star Mineral Development LLC.
Lone Star was incorporated in June 2020, just before the two rigs were purchased, and a principal of the company is Bret Johnsen. He is also the CFO and President of the Strategic Acquisitions Group at SpaceX.
Phobos was the first to make the trip to Pascagoula, Mississippi – where most of the work has involved stripping it of its infrastructure.
Deimos will undergo the same operation prior to both being updated with the latest alliteration of a launch tower on deck.
Quelle: NASASpaceFlight
----
Update: 15.03.2022
.
Why Starship is the holy grail for SpaceX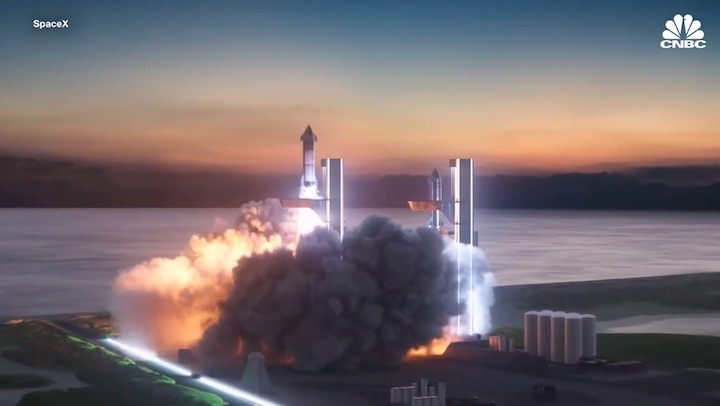 SpaceX CEO Elon Musk has said that the "holy grail" to making human life multiplanetary lies in our ability to make a completely reusable rocket system that can carry a massive amount of equipment, supplies — and people — deep into space.
That's why SpaceX created Starship.
The vehicle is composed of two stainless steel components, with the company's first-stage Super Heavy booster at the bottom and the second-stage Starship spacecraft on top. It will be able to carry more than 100 metric tons of cargo and crew per launch.
Collectively referred to as Starship, the two components loom nearly 400 feet into the air, almost 100 feet taller than the Statue of Liberty.
Getting all that weight off the ground is no easy task and requires 33 of SpaceX's Raptor engines for the booster. For good measure, the spacecraft carries an additional seven engines.
The project could be alluring to investors. According to McKinsey & Co., private funding in space-related companies topped $10 billion in 2021 — a tenfold increase over the past decade. Traditionally, most of that funding has concentrated on activities closer to Earth, such as building out satellite communications, but there's some evidence that may be changing.
"Recently, there's been increased focus on lunar," Brooke Stokes, associate partner at McKinsey, said in an interview. "So the moon and beyond. Think moon, Mars [and] deeper planetary exploration. Lunar and beyond investment was about $1 billion from private investors in 2021, the highest sum we'd seen to date."
Some experts have estimated that if SpaceX succeeds with Starship alongside its global satellite internet venture Starlink, the company's valuation could skyrocket into the trillions of dollars.
Watch the video above to find out more about what Starship could mean for the future of space travel and for Elon Musk's SpaceX.
Quelle: CNBC
----
Update: 18.03.2022
.
Starship undergoing full-stack cryoproofing while Florida ramps up
Preparations are underway for the next milestone for the Starship program, following the stacking of Ship 20 atop Booster 4. For the third time, the second using the Mechazilla chopstick system, Starbase has a full-stack at the Orbital Launch Site, this time setting up a cryoproofing test with both the Booster and Ship stacked together.
With Booster 7 waiting in the wings, along with sections for Booster 8 and 9, the current duo is paving the way for a potential orbital flight test, likely with one of the future stacks.
Meanwhile, groundwork at the Kennedy Space Center (KSC) continues apace, focusing on the launch tower that will rise out of the ground at the historic LC-39A.
Full Stack Take 3:
Although Elon Musk is yet to officially update the status of Booster 4 and Ship 20, even if it becomes confirmed the duo won't be conducting the orbital velocity test, they will have provided a wealth of ground test data.
Having first been stacked last summer via an LR11350 crane for an initial fit check and photo opportunity before being destacked, the second full-stack provided a crucial test of the Mechazilla system.
The second stacking provided a backdrop for Musk's most recent program overview, as much as it did not give any reference to the orbital velocity test being conducted by the vehicle behind him.
The vehicle was soon destacked before Booster 4 and Ship 20 underwent cryoproof tests as standalone vehicles, which preempted the likely next step in the test program.
With Ship 20 moved into position and "grabbed" by the chopsticks, the lift took place Tuesday night for a stunning sunset mate with Booster 4 for a third full-stack.
This time the full-stack is likely to test "Stage Zero" systems for loading LN2 into Ship 20 via the Ship QD (Quick Disconnect) plumbing, which will be a new first for the impressive launch tower.
Booster 4 will either join in with the loading of LN2 or at least be highly pressurized to cope with Ship 20 receiving a bellyful of nitrogen.
Once this test is complete and providing all goes to plan, the next test step would be to load LOX (Liquid Oxygen) and CH4 (Liquid Methane) into the vehicle.
This would set the stage for a Static Fire test, although it is still far from certain that the test will be conducted with Booster 4 despite having its full suite of Raptor engines.
The primary indicator of an upcoming Static Fire test will be an overpressure notice delivered to Mary (@bocachicagal) as one of the nearby Boca Chica Village residents.
These letters inform residents there is always a tiny chance the vehicle could fail during such a test and thus advise to stay away from windows when the police siren sounds at T-10 minutes. This has become the leading indicator of a Static Fire test, with no letter delivered during the evening equating to no Static Fire test the following day.
Future Starships:
Past the current duo out at the Orbital Launch Site (OLS), Booster 7 is now stacked inside the High Bay, all while Booster 8 has also begun the stacking process.
SpaceX's typical advances in design were on show during the preparations on Booster 8, with the aft section flip showing the bottom of the Booster Header Tank. Also on view were the Methane Manifold and pipes for the 13 inner Raptors.
Additional design changes are down the line, with Mary (@bocachicalgal) spotting the more rounded dome design alongside some of the other domes at the Production Site this week.
With parts for Booster 9 also spotted, SpaceX is preparing to line up several vehicles ahead of the hope of FAA approval for launches out of Starbase, with the results of the Environmental Assessment still expected at the end of this month.
They will be hosted in Starbase's growing capacity, such as the "Wide Bay," which continues to grow into the South Texas skyline with extra sections added this week.
McGregor:
One potential bottleneck for SpaceX hitting the ground running should the FAA assessment come back positive is the supply of Raptor 2 engines.
Although production of the engines has increased, SpaceX still needs a fleet of flight-ready units to be installed into these future boosters.
Testing of the engines is taking place on a daily basis at SpaceX's McGregor test facility, although it is currently unknown how many have passed the test phase for shipping to Starbase.
As of this week's flyby from NSF's Gary Blair for L2's McGregor section, sea level Raptors and an RVac were in the test stand bays, although their serial numbers weren't clearly visible.
Starship Florida:
With the Kennedy Space Center (KSC) confirmed to be Starship's East Coast launch site, work is now in full swing in preparing two areas of the Space Coast to cater for SpaceX's monster rocket.
SpaceX's Roberts Road facility has cleared a vast area of land next to its Falcon 9 facility to prepare for constructing a Starship build site. However, they are wasting no time utilizing the area, with the fabrication of the launch tower sections already taking place.
These sections will head out to the nearby KSC launch facility for installation at 39A. The Starship area next to the pad's ramp is undergoing concrete pouring to set the stage for the mount and tower similar to the one already constructed at Starbase.
For live updates, follow NASASpaceFlight's Twitter account and the NSF Starship Forum Sections.
**Support NSF's youtube channel by subscribing and/or joining here** Red Team and above includes preview clips, daily photos, and more. CAPCOM and above includes our very active member discord, with includes additional perks and more in work.
Quelle: NS
----
Update: 19.03.2022
.
SpaceX tests fully stacked Starship rocket for the first time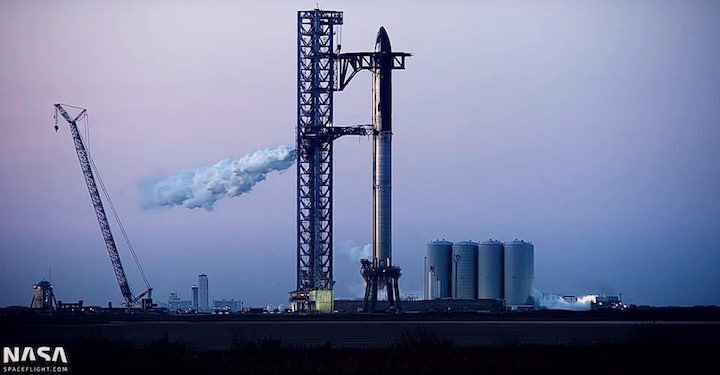 After rapidly stacking Ship 20 and Booster 4 the evening prior, SpaceX appears to have begun testing a fully stacked Starship rocket for the first time ever.
Though the test SpaceX subjected Starship to was by no means ambitious and in spite of the fact that it no longer appears that Ship 20 and Booster 4 will ever fly, the first test of the first fully integrated prototype of a new rocket is still an immensely significant achievement – particularly so for the largest rocket ever built.
Standing around 119 meters (~390 ft) tall, Starship is unequivocally the largest and most voluminous rocket ever built. With its 29 Raptor V1 engines, the fully assembled Ship 20 and Booster 4 (B4) stack would have likely weighed around 4000-5000 tons (9-11M lb) and been able to produce around 5400 tons (11.9M lbf) of thrust at liftoff – substantially heavier and more powerful than Saturn V or N1, the largest rockets ever successfully and unsuccessfully launched.
For its first fully-integrated test, though, SpaceX appears to have put Starship through a fairly limited cryogenic proof – a test where flammable propellant is replaced with a similarly cold (cryogenic) fluid that's similar enough to subject a rocket to similar thermal and mechanical stresses. For Ship 20 and Booster 4's combined debut, Super Heavy was filled maybe 10-20% and Starship around 25-50% of the way with either liquid nitrogen (LN2) or a combination of LN2 and liquid oxygen (LOx). It's difficult to tell but it's unlikely any methane (LCH4) fuel was involved.
Back on the ground, Starship S20 completed five separate cryogenic proof tests before its first test on top of Super Heavy. More importantly, Ship 20 successfully completed several static fire tests, each of which also functioned as a wet dress rehearsal with LCH4/LOx propellant. Booster 4 had also passed several cryogenic proof tests. In that sense, it's unlikely that SpaceX had a great deal of uncertainty as to whether either prototype would be able to complete yet another test.
Beyond the basic mechanical demonstration that Super Heavy Booster 4 is strong enough to support a partially loaded Starship, which probably wasn't in doubt, it's likely that the main purpose of this first full-stack cryoproof was to ensure that all the systems required to fuel Starship on top of Super Heavy were working as expected. That's no small feat given that Starship is both the tallest rocket and largest upper stage ever assembled. To fully fuel a Starship for an orbital launch, around 1200 tons (~2.65M lb) of propellant (or LN2 for a cryoproof) – equivalent to the weight of more than two entire Falcon 9 rockets – must be pumped around 85 meters (~275 ft) up Starbase's integration tower.
That requires thousands of feet of plumbing and a symphony of giant valves and pumps, all of which must work in concert – without leaking, jamming, or freezing – to fuel Starship. As such, the first full-stack cryoproof was just as much – or more – of a test of the orbital launch site's launch/integration tower and tank farm. That first test is just the start of a long process, though, and it's likely that SpaceX will attempt an increasingly ambitious series of tests with Booster 4 and Ship 20 over the next week or two.
That could involve simply filling the rocket further and raising its tank pressures or it could potentially culminate in a partial wet dress rehearsal with methane and oxygen propellant in place of liquid nitrogen. There's an even smaller chance that SpaceX could attempt to static fire Super Heavy B4 for the first time, although sources like NASASpaceflight are no longer confident that Booster 4 will be static fired before retirement. More to the point, it would be uncharacteristically risky behavior from SpaceX to perform the very first static fire of a new prototype with an already proven Starship sitting on top of it. An anomaly as small as an uncontrolled fire – far from uncommon for Starships – could easily risk the catastrophic destruction of both stages, which would itself run the risk of significantly damaging the orbital launch site, which could easily take months to repair.
Nonetheless, there's still a chance. SpaceX has opportunities for additional testing on March 17th, 18th, 21st, and 22nd.
Quelle: TESLARATI
----
Update: 23.03.2022
.
See SpaceX's Starship Mars rocket fully stacked for testing on the pad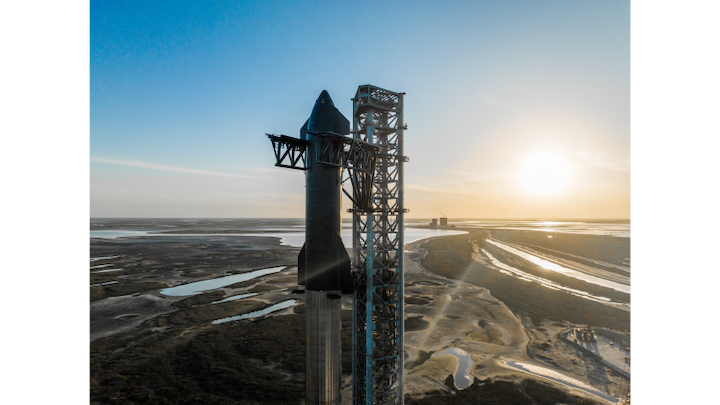 SpaceX tweeted this photo of a stacked Starship prototype on the launch pad in South Texas on March 18, 2022. (Image credit: SpaceX)
SpaceX is gearing up for the first orbital test flight of its huge Starship Mars rocket, as new photos show.
"Starship full stack propellant load testing at Starbase," the company wrote on Twitter on Friday (March 18), referring to its South Texas facility near the Gulf Coast village of Boca Chica. The post included images of a fully stacked Starship prototype, the tallest launch vehicle ever built.
SpaceX hopes to attempt Starship's first orbital test flight soon but is awaiting a positive result from a U.S. Federal Aviation Administration (FAA) environmental review.
The review has been delayed several times and is now expected to come out no earlier than March 28, due to increased consultations and the large number of public comments, the FAA has said.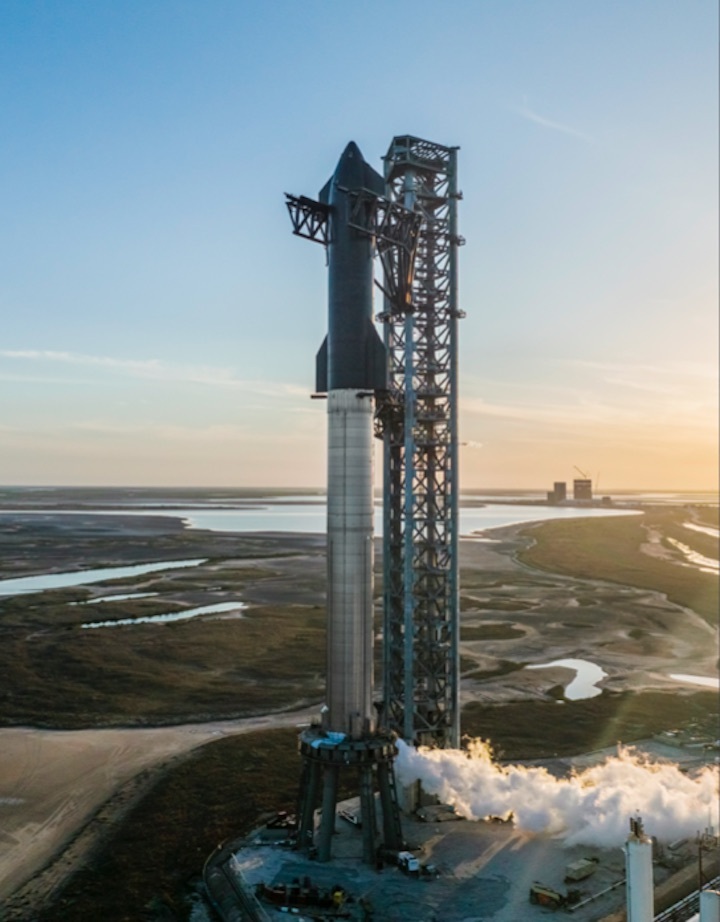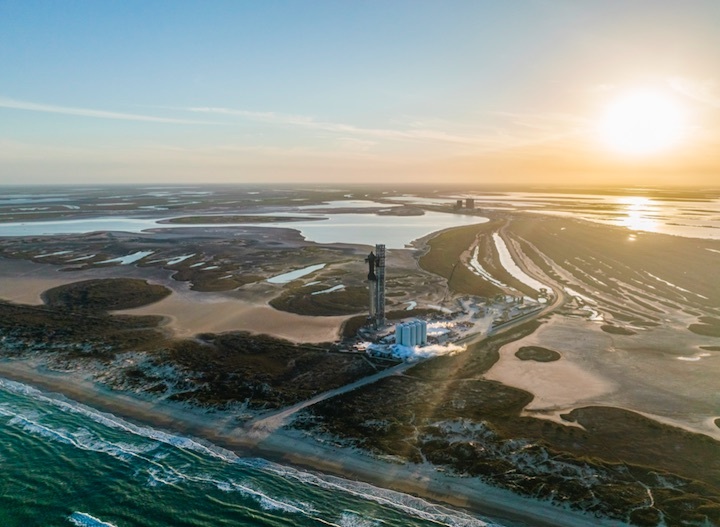 Starship consists of a giant first-stage booster called Super Heavy and an upper-stage spacecraft known as Starship. SpaceX is developing the system to take people and cargo to Mars, the moon and other distant destinations.
This isn't the first time this Starship pair — Booster 4 and Ship 20 — have been stacked. SpaceX has assembled the duo several other times, including earlier this year, to perform fit checks and other procedures.
While Starship is still in the testing phase, it has attracted industry attention. The system has been tapped to help land astronauts on the moon as part of NASA's Artemis program.
Development of Starship as NASA's initial crewed lunar lander was delayed by seven months, however, in part due to a now-overturned legal protest by Blue Origin, Jeff Bezos' spaceflight company. NASA's inspector general now warns that a NASA crewed moon landing is likely now possible in 2026 at the earliest, a year later than the timeline the agency has been targeting.
Starship has also been tapped as one of the vehicles of the Polaris Program, which is a privately funded series of space missions organized by billionaire Jared Isaacman. Isaacman, the founder of payment provider Shift4, is best known for commanding the Inspiration4mission to Earth orbit with an all-civilian crew in 2021.
An independently funded billionaire mission from Yusaku Maezawa, called dearMoon, is scheduled to use a Starship to fly nine people around the moon. Maezawa said as late as last year that he hopes to do that flight in 2023. There's no official word yet on whether the FAA's lengthened review has affected the target launch date.
Quelle: SC
----
Update: 16.04.2022
.
SpaceX rapidly constructing Starship's first Florida launch pad and tower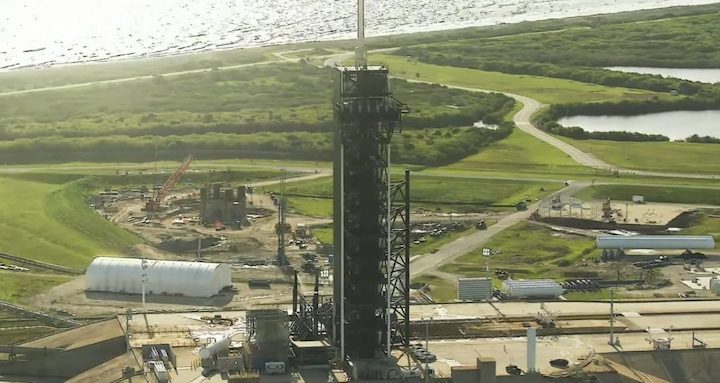 After restarting work on the project a few months ago, SpaceX appears to have gotten back up to speed and begun to make rapid progress on the construction of Starship's first Florida launch pad and tower.
Located at NASA's Kennedy Space Center (KSC) Launch Complex 39A facilities, SpaceX has intended to construct a Starship launch site there for several years. A serious attempt was made in late 2019 but SpaceX soon abandoned the effort and redirected its energy towards Starship prototyping and a much different launch pad design. Two years later, SpaceX's second attempt shares only a little in common with the first. Both are to be located within the eastern half of Pad 39A's shield-like footprint, although the specific location of the tower and launch mount has been modified. If this attempt comes to fruition, Starship's first East Coast launch facilities will still sit just a few hundred feet away from the only SpaceX pad capable of launching Crew Dragon, Cargo Dragon, or Falcon Heavy.
Beyond those two characteristics, SpaceX's second attempt is almost entirely different.
Instead of continuing with an older launch pad design, Starship's 39A facilities will likely be close to a direct copy of Starbase's first orbital launch site (OLS), which SpaceX began constructing in earnest in late 2020. It's safe to assume that some lessons have been learned from Starbase OLS construction and that some modifications will be made to the Florida pad's design, but no obvious changes are thus far visible.
Most of the visible work SpaceX has done this year centers around the company's KSC-based Roberts Road facilities, where it has built a major Falcon processing facility and a staging yard for Starship pad construction and broken ground on a massive East Coast Starship factory. At that staging yard, SpaceX began assembling prefabricated sections of Starship's Pad 39A 'launch tower' around March 10th after tower parts began arriving at KSC sometime in February. Within two weeks, SpaceX had completed the basic structure of two tower sections. Another two more weeks after that, around April 11th, a third section had reached a similar level of completion and SpaceX had begun assembling a fourth.
Compared to SpaceX's Starbase tower assembly, Florida Starship work appears to be proceeding at a similar pace. SpaceX began assembling the fourth Florida tower section about 30 days after starting the first, while Starbase took about 25 days to reach the same point. However, SpaceX does appear to be taking a slightly different approach for Pad 39A. On top of tower section assembly, SpaceX is constructing an extra four sets of the small concrete foundations and steel frames each tower section is assembled on, implying that Starship's Florida launch tower could be almost entirely prefabricated before SpaceX begins to combine those sections.
That differs from Starbase, where SpaceX rarely constructed more than two or three tower sections at a time before removing and stacking each completed section and beginning to assemble the next on the same foundation and jig. However, while undeniably efficient, SpaceX workers then had to spend months outfitting the tower with plumbing, wiring, additional structure, and more. It's likely that SpaceX has concluded that it's better to do as much of that work as possible before the tower is assembled, in which case each Florida section may end up spending more time on the ground. Given the obvious challenges imposed by attempting a major construction project at an active, one-of-a-kind launch pad like LC-39A, it would make even more sense for SpaceX to want to complete as much work as possible before moving Starship pad hardware into the line of fire.
Nonetheless, work will still have to be done at the pad itself. In recent weeks, SpaceX has made significant progress on the foundations 39A's Starship launch tower and mount require. The bottom half of the concrete base that each steel tower section will eventually sit on has also progressed rapidly. All told, SpaceX is will on its way to replicating Starbase's orbital Starship launch site on the East Coast, hopefully ensuring that Starship will be able to begin orbital test flights within the next 6-12 months even if the company's Starbase environmental review continues to be bogged down by bureaucracy.
Quelle: TESLARATI
----
Update: 1.05.2022
.
FAA delays environmental review of SpaceX's Starship yet another month, to May 31
591 Views