1.05.2022
It was the second launch in 2 days for China.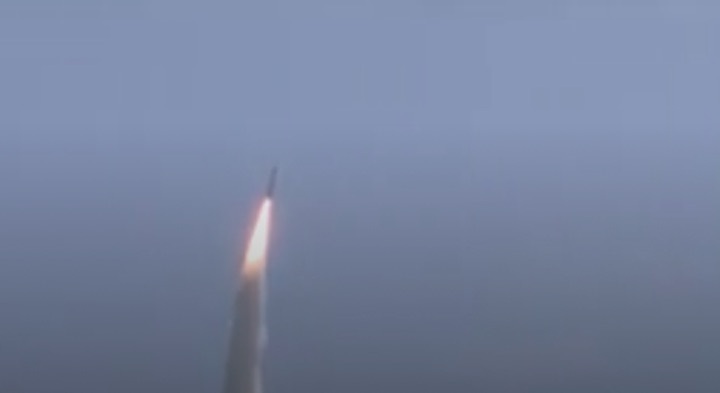 China launched five satellites into orbit on a rocket that lifted from a platform at sea on Saturday (April 30), setting a new distance record for the country's offshore launches.
A Long March 11 solid-fueled rocket successfully launched from ocean platform in the East China Sea to deliver its payloads into orbit. It was the second launch in as many days for the China National Space Administration, which launched two other satellites from a land-based spaceport on Friday.
Saturday's sea launch marked the farthest offshore liftoff yet for China. It was the third sea launch for the country, which has launched Long March 11 boosters from its De Bo 3 platform since 2020.
"The launch site is the farthest from the port for us so far," Zhang Ming, deputy chief designer of Long March 11, told the state-run CCTV news channel, though he did not state how far the platform was offshore. "The mission will accumulate technologies and experience for our sea launch in the future."
The five satellites launched by the Long March 11 "will mainly provide commercial remote sensing services for industries such as land census, urban planning, and natural disaster monitoring," CCTV reported.
Saturday's mission was originally slated to launch Friday (April 29) but was delayed due to weather, according to SpaceNews. It came on the heels of a Long March 2 C rocket launch from the Jiuquan Satellite Launch Center on land to deliver two remote-sensing satellites into orbit.
On Friday, the Long March 2C rocket lifted off from the Jiuquan Satellite Launch Center at 12:11 p.m. Beijing Time carrying the Siwei 01 and Siwei 02 remote sensing satellites.
"The two satellites will provide commercial remote sensing data services for domestic industries including natural resources, surveying and mapping, marine and environmental protection, as well as emerging markets such as urban security and digital rural development," China's state-run CCTV news channel reported.
In addition to its traditional land-based launches like the one on Friday, China aims to launch up to three sea-based missions with the Long March 11 in 2022, officials with the China Aerospace Science and Technology Corporation said in a translated statement.
Quelle: SC
+++
Chang Zheng 11 sea-launches five Earth observation satellites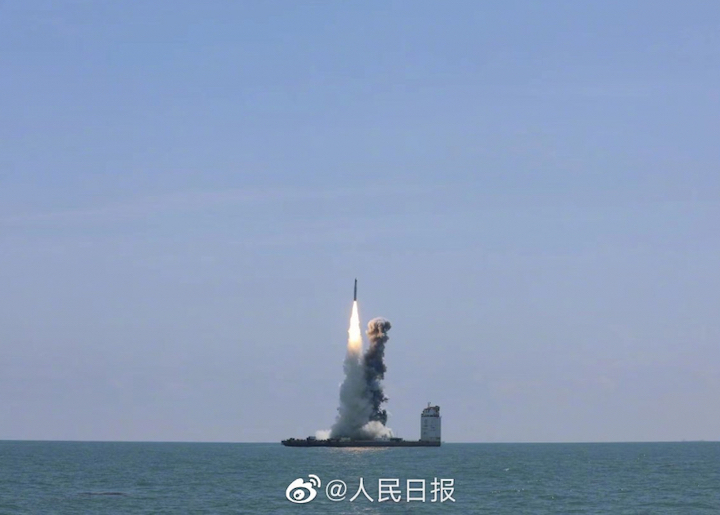 The China Aerospace Science and Technology Corporation (CASC) has launched the 13th Chang Zheng 11 (CZ-11) to deliver five Jilin-1 Gaofen Earth observation satellites to a Sun-Synchronous Orbit (SSO). This launch is the third CZ-11 (CZ-11H) to be launched from an offshore launch platform off the coast of China. CZ-11H Y3 launched on April 30 at 03:30 UTC from the Tai Rui launch platform just offshore of China.
This was the 13th launch from China in 2022 and the 418th overall launch of the Chang Zheng series of rockets.
CZ-11 is the first and only all-solid Chang Zheng rocket currently in operation. The rocket was developed by the China Academy of Launch Vehicle Technology (CALT) as a cheap, simple, and reliable launch vehicle to enable a quick-reaction launch. Due to its all solid-based stages, CZ-11 can be placed into storage and launched when needed.
The rocket is classified as a small-satellite launch vehicle able to lift 700 kg to low-Earth orbit (LEO) and 350 kg to a 700 km SSO. The rocket uses four stages with a reaction control system on the fourth stage. At the time of its first launch, the first stage was the largest solid rocket motor developed as a first stage by China. At liftoff, CZ-11 can generate 1,176 kN of thrust.
The rocket itself is 20.8 meters tall with a diameter of 2.0 meters. CZ-11 has two optional fairing sizes of 1.6 meters and 2.0 meters.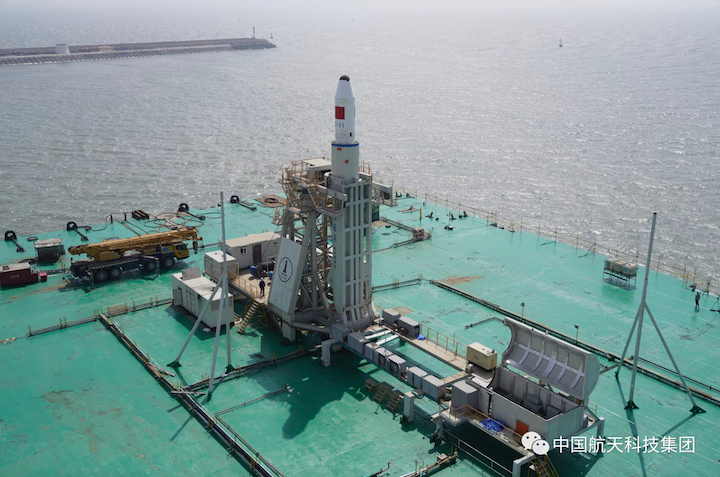 If launching from an offshore launch platform, CZ-11 takes the designation of CZ-11H. This time, CZ-11H used the Tai Rui launch platform. The platform is roughly 110 meters by 80 meters in size. Tai Rui was positioned off the coast of Shanghai at 123.8E 32.2N.
CZ-11H has also launched from the De Bo 3 launch platform. De Bo 3 was used for the second CZ-11H launch.
Normally, the CZ-11 launches from land-based launch sites in China. Its primary launch site is Site 95 at the Jiuquan Satellite Launch Center. Site 95 has supported eight launches. Another CZ-11 launch site is the Xichang Satellite Launch Center with three launches.
On September 25, 2015, the maiden flight of a CZ-11 took place from Site 95 at Jiuquan. From the same launch site, on January 19, 2018, CZ-11 launched its first set of Jilin-1 satellites and rideshare payloads to SSO.
On June 6, 2019, the first CZ-11H launched from Tai Rui with a Jilin-1 satellite plus other rideshare payloads. The most recent launch of a CZ-11H was on September 15, 2020, from the De Bo-3 with a set of nine Jilin-1 satellites. CZ-11 currently has a perfect launch record of 13 launches and 13 successes.
Jilin-1 is a series of Earth observation satellites operated by Chang Guang Satellites Technology Corporation. The first four Jilin-1 satellites were launched on a CZ-2D in October 2015. Over 40 Jilin-1 satellites have been successfully launched to orbit. The plan is to launch 138 satellites by 2030.
Jilin-1 has launched across multiple different launch vehicles since its first launch. These satellites have launched on CZ-2D, Kuaizhou-1A, CZ-6, CZ-11, Kuaizhou-11, Hyperbola-1, and CZ-8. Jilin-1 has a planned upcoming launch from Site 95 at Jiuquan on the Hyperbola-1 rocket.
On this mission was a set of Jilin-1 Gaofen (High Resolution)-03D satellites. Satellites 04 to 07 were launched along with a single Jilin-1 Gaofen-04A. Jilin-1 Gaofen-03D is a 42 kg satellite set to get a narrow field-of-view image of the Earth's surface. These satellites use new cameras, structures, and electronic systems to keep costs and weight low. The Jilin-1 Gaofen-03D will have imagery of 0.75 meters.
Jilin-1 Gaofen-04A is a prototype satellite for the Jilin-1 Gaofen-04 series. This satellite will use static push-broom images with a resolution better than 0.5 meters. The images collected with has a width greater than 15 km to provide high-resolution imagery. It will also use onboard mission autonomous planning, real-time data transmission, and onboard AI functions. Using the new software and single-tracking multi-point imaging with rapid information return.
The satellites will be launched into roughly a 535 km SSO. For the five satellites onboard, the mission was named "one arrow and five stars."
Once the 138 satellites are launched, the full constellation will enable round-the-clock, all-weather, and full-spectrum data acquisition to provide geospatial information and services of high temporal and spatial resolution.
This year, more CZ-11s are expected to launch. In 2022, five to eight launches are planned with up to three sea launches.
CZ-11 will soon see a major upgrade. Named the CZ-11A, it will see a new 2.4-meter first stage to increase its payload capability. This CZ-11A rocket will make its first launch in late 2022.
Quelle: NS
268 Views