12.05.2021
NASA, Axiom Agree to First Private Astronaut Mission on Space Station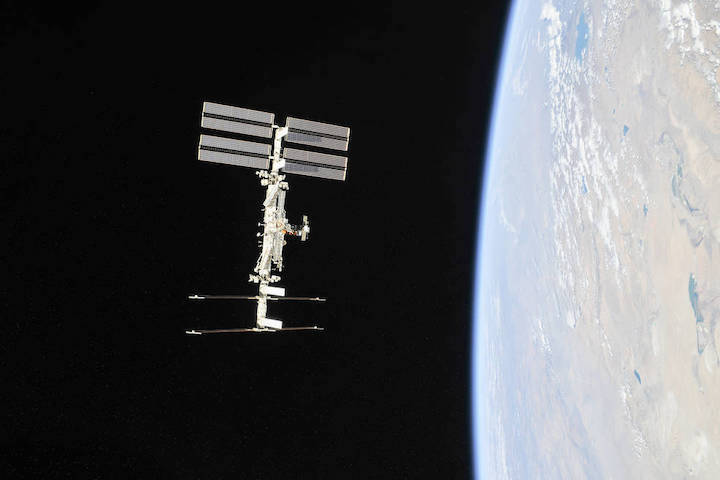 NASA and Axiom Space have signed an order for the first private astronaut mission to the International Space Station to take place no earlier than January 2022.
"We are excited to see more people have access to spaceflight through this first private astronaut mission to the space station," said Kathy Lueders, associate administrator for human exploration and operations at NASA Headquarters. "One of our original goals with the Commercial Crew Program, and again with our Commercial Low-Earth Orbit Development Program, is that our providers have customers other than NASA to grow a commercial economy in low-Earth orbit."
The spaceflight, designated as Axiom Mission 1 (Ax-1), will launch from NASA's Kennedy Space Center in Florida and travel to the International Space Station. Once docked, the Axiom astronauts are scheduled to spend eight days aboard the orbiting laboratory. NASA and Axiom mission planners will coordinate in-orbit activities for the private astronauts to conduct in coordination with space station crew members and flight controllers on the ground.
Axiom will purchase services for the mission from NASA, such as crew supplies, cargo delivery to space, storage, and other in-orbit resources for daily use. NASA will purchase from Axiom the capability to return scientific samples that must be kept cold in transit back to Earth.
"The first private crew to visit the International Space Station is a watershed moment in humanity's expansion off the planet and we are glad to partner with NASA in making it happen," said Axiom President and CEO Michael Suffredini. "A thriving commercial marketplace in low-Earth orbit begins with expanding access to serious, nontraditional users and that is exactly the aim of our private astronaut missions."
NASA has opened up the space station for commercial activities, including private astronaut missions, as part of its plan to develop a robust and competitive economy in low-Earth orbit. The agency's needs to achieve that goal – such as research on the effects of the space environment on humans, technology development, and in-flight crew testing – will remain in place after the retirement of the International Space Station. Commercial entities can meet those needs, providing destinations and transportation capabilities. Enabling Ax-1 is an important step to stimulate demand for commercial human spaceflight services so NASA can be one of many customers in low-Earth orbit.
For the Ax-1 mission, Axiom has proposed Michael López-Alegría, Larry Connor, Mark Pathy, and Eytan Stibbe as prime crew members. These private astronauts will be reviewed by NASA and its international partners, as is standard for any space station crew, and undergo NASA medical qualification testing to be approved for flight. López-Alegría will serve as the mission commander, with Peggy Whitson and John Shoffner as backups.
Once the proposed crew passes review and qualification, the four members will train for their flight with NASA, international partners, and SpaceX, which Axiom has contracted as launch provider for transportation to the space station. Trainers will familiarize the private astronauts with systems, procedures, and emergency preparedness for the space station and the Crew Dragon spacecraft. Based on current mission planning, training is scheduled to begin this summer.
The development and growth of the low-Earth orbit economy continues. In January 2020, NASA selected Axiom to provide at least one habitable commercial module to be attached to the forward port of the International Space Station's Harmony node in late 2024. Most recently, NASA announced the agency is seeking input from industry on future commercial low-Earth orbit destinations that will provide services, such as crew training, scientific research, and advanced systems development for both government and private-sector astronauts and customers.
For more than 20 years, NASA has supported a continuous U.S. human presence in low-Earth orbit. The agency's goal is a low-Earth orbit marketplace where NASA is one of many customers, and the private sector leads the way. This strategy will provide services the government needs at a lower cost, enabling the agency to focus on its Artemis missions to the Moon and on to Mars while continuing to use low-Earth orbit as a training and proving ground for those deep space missions.
Quelle: NASA
+++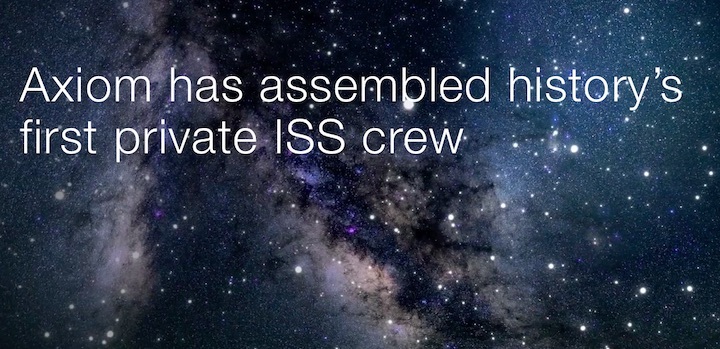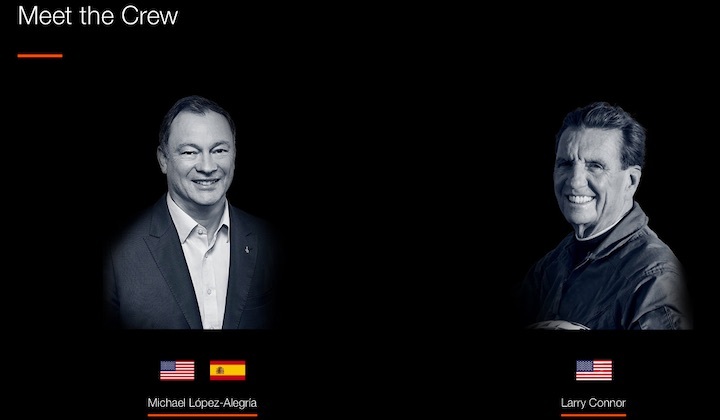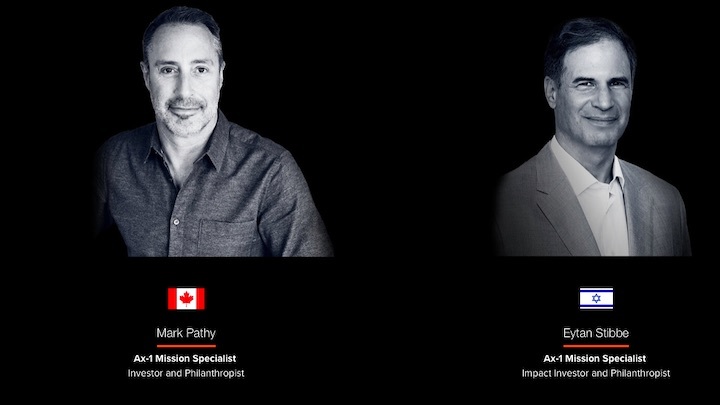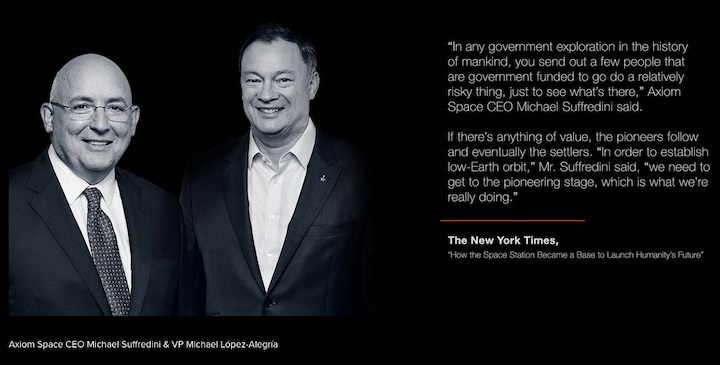 HOUSTON – Axiom Space on Tuesday announced its crew for humankind's first flight of a group of private individuals to a Low Earth Orbit destination – the first-ever entirely private mission proposed to fly to the International Space Station (ISS).
The proposed historic Axiom Mission 1 (Ax-1) will consist of: former NASA astronaut and Axiom vice president Michael López-Alegría as commander; American entrepreneur and non-profit activist investor Larry Connor as pilot; Canadian investor and philanthropist Mark Pathy; and impact investor and philanthropist Eytan Stibbe of Israel.
López-Alegría, who flew to space four times over a 20-year, record-setting career at NASA and last visited the ISS in 2007, will become the first person to ever command both a civil and a commercial human spaceflight mission. Connor will be the first private mission pilot in the annals of spaceflight.
Pathy will be Canada's 11th astronaut. Stibbe, a close personal friend of Columbia astronaut Ilan Ramon and a former Israeli Air Force pilot, will be Israel's second. Both will fly as mission specialists.
"This collection of pioneers – the first space crew of its kind – represents a defining moment in humanity's eternal pursuit of exploration and progress," López-Alegría said. "I know from firsthand experience that what humans encounter in space is profound and propels them to make more meaningful contributions on returning to Earth. And as much as any astronaut who has come before them, the members of this crew have accomplished the sorts of things in life that equip them to accept that responsibility, act on that revelation, and make a truly global impact.
"I look forward to leading this crew and to their next meaningful and productive contributions to the human story, both on orbit and back home."
Former NASA astronaut Peggy Whitson will serve as Ax-1's backup commander, while John Shoffner of Knoxville, Tenn. is the backup mission pilot. Carrying a time-honored approach over from the civil spaceflight era to the private one, the prime and backup crews are slated to go through Axiom's full training program together.
Axiom Mission 1 (Ax-1)
The proposed Ax-1 mission will include the crew living aboard the U.S. segment of the ISS for approximately eight days, participating in research and philanthropic projects.
Connor, who has founded and led organizations in the real estate, fintech, and non-profit sectors, will collaborate with Mayo Clinic and Cleveland Clinic on research projects. He also intends to provide instructional lessons to students at Dayton Early College Academy in his hometown of Dayton, Ohio.
Pathy is collaborating with the Canadian Space Agency as well as the Montreal Children's Hospital, who are helping identify health-related research projects that could be undertaken during the mission.
Stibbe plans to conduct scientific experiments of Israeli researchers and entrepreneurs coordinated by the Ramon Foundation and the Israel Space Agency at the Ministry of Science & Technology and to undertake educational activities from orbit to inspire Israeli children, youth, and educators.
"We sought to put together a crew for this historic mission that had demonstrated a lifelong commitment to improving the lives of the people on Earth, and I'm glad to say we've done that with this group," Axiom Space President & CEO Michael Suffredini said. "This is just the first of several Axiom Space crews whose private missions to the International Space Station will truly inaugurate an expansive future for humans in space – and make a meaningful difference in the world when they return home."
Axiom Space is the commercial space industry's only full-service orbital mission provider for private and national astronauts. Its all-inclusive offering provides services such as training, transportation, mission planning, hardware development, life support, medical support, crew provisions, safety and hardware certifications, on-orbit operations, and overall mission management.
Precursor to commercializing Low Earth Orbit (LEO)
With the first launch opportunity no earlier than January 2022 aboard a SpaceX Crew Dragon, Ax-1 is the first of Axiom Space's "precursor" private astronaut missions to the ISS – subject to approval from NASA and its international partners. Axiom Space and NASA are working together on the final approvals of a formal Basic Ordering Agreement (BOA) to enable private astronaut missions, with further discussions underway to agree on and authorize the Ax-1 mission profile.
Houston-based Axiom intends to offer private and national astronaut flights to ISS at a rate of up to two per year to align with flight opportunities as they are made available by NASA, while simultaneously constructing its own privately funded space station. The Axiom Station's modules will be attached to the Harmony node of the ISS beginning as early as 2024, a commercial expansion of the orbiting lab for which NASA selected Axiom in January 2020.
At ISS retirement, the Axiom Station will separate to form the world's first free-flying, privately developed, internationally available space station – the central node of a near-future network of research, manufacturing, and commerce in LEO.
About Axiom Space
Axiom Space was founded in 2016 with the vision of a thriving home in space that benefits every human, everywhere. While building and launching the Axiom Segment of the International Space Station to one day form the world's first free-flying commercial space station, Axiom provides access to the ISS today by conducting full- service, end-to-end crewed missions for professional and private astronauts. More information about Axiom can be found at www.axiomspace.com.
Quelle: Axiom Space
----
Update: 25.02.2022
.
NASA, Axiom to Discuss First Private Astronaut Space Station Mission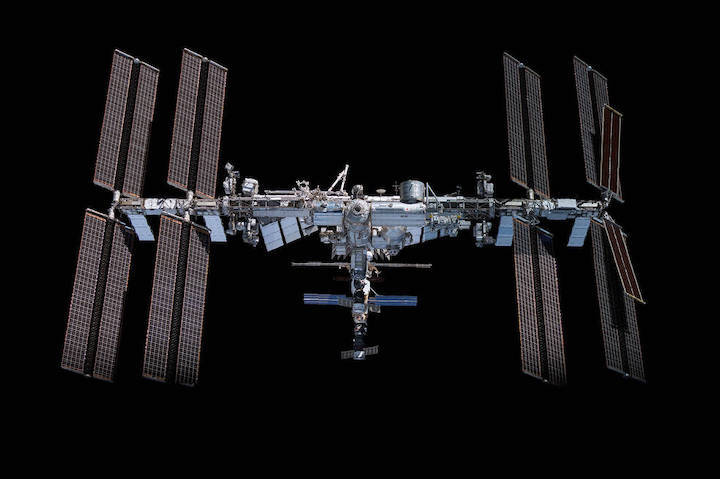 NASA experts will join a virtual news conference hosted by Axiom Space to preview the launch of Axiom Mission 1 (Ax-1), the first private astronaut mission to the International Space Station. The briefing will take place at 11 a.m. EST Monday, Feb. 28.
The virtual press conference will be available on Axiom Space's YouTube channel at:
https://www.youtube.com/axiomspace
The Ax-1 launch aboard a SpaceX Falcon 9 rocket and Crew Dragon spacecraft is targeted for 2:46 p.m. EDT Wednesday, March 30, at from Launch Complex 39A at NASA's Kennedy Space Center in Florida.
During the 10-day mission, which includes eight days aboard the space station, the four-person multi-national crew will complete more than 25 research experiments developed for microgravity in collaboration with health and science organizations across the globe.
Briefing participants are:
Kathy Lueders, associate administrator, Space Operations, NASA
Robyn Gatens, director, International Space Station, NASA
Phil McAllister, director, Commercial Spaceflight, NASA
Michael Suffredini, president and chief executive officer, Axiom
Michael López-Alegría, Ax-1 crew commander, Axiom
Christian Maender, director, In-Space Research and Manufacturing, Axiom
Benjamin Reed, senior director, Human Spaceflight Programs, SpaceX
To participate, media must contact: media@axiomspace.com by 5 p.m. Sunday, Feb. 27, to receive call-in details.
Axiom Space astronauts Michael López-Alegría, Larry Connor, Mark Pathy, and Eytan Stibbe, are prime crew members of the Ax-1 mission. López-Alegría, who was born in Spain, raised in California, and is a former NASA astronaut, will serve as the mission commander. Connor, of Dayton, Ohio, will serve as pilot. Pathy, from Canada, and Stibbe, from Israel, will serve as mission specialists.
NASA continues to make rapid progress in its efforts to build a robust low-Earth orbit economy. The agency recently announced its selection of Axiom Space to begin negotiations for the second private astronaut mission. NASA also recently announced its selection of companies to develop designs of space stations and other commercial destinations in low-Earth orbit.
Prior to these new awards, NASA selected Axiom Space in January 2020 to design and develop commercial modules to attach to the station. Axiom recently completed the preliminary design review of two modules as well as the critical design review of the modules' primary structure with NASA participation. Flight hardware for the first Axiom module is currently undergoing fabrication.
Quelle: NASA
----
Update: 1.03.2022
.
NASA, Axiom plan update on private astronaut mission to ISS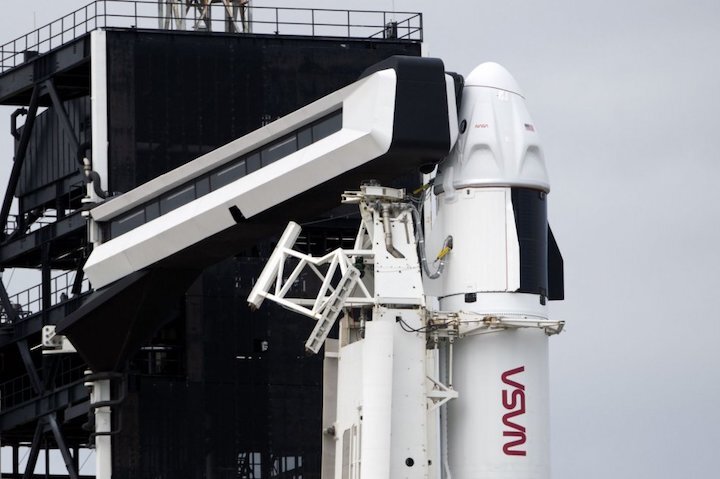 A SpaceX Crew Dragon spacecraft sits on top of a Falcon 9 rocket as it is being prepared to launch NASA's SpaceX Crew-3 to the International Space Station from Florida in November. File Photo by Joe Marino/UPI
NASA and Houston-based Axiom Space are expected to provide more details Monday about their plan to launch the first all-private astronaut mission, Ax-1, to the International Space Station in late March.
Former NASA astronaut Michael López-Alegria will command the crew that also includes three paying passengers to launch on a SpaceX Falcon 9 rocket March 30. Liftoff is set for 2:46 p.m. EDT from Complex 39-A at Kennedy Space Center in Florida.
NASA and Axiom's virtual press conference about the mission will start at 11 a.m. EST on Monday.
The paying crew members are billionaire businessmen who spent $55 million apiece on the excursion -- Larry Connor, Mark Pathy, and Eytan Stibbe.
1556 Views