23.10.2020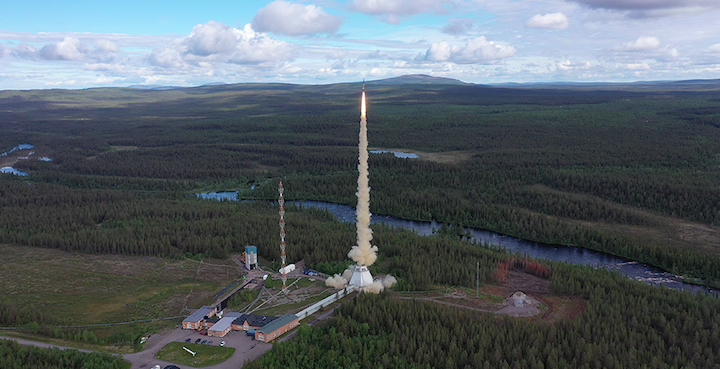 VALLETTA, Malta — The Swedish government has committed to investing 90 million krona ($10.2 million) over the next three years to upgrade the Esrange Space Center to host small satellite launches starting in 2022.
This fresh round of funding comes just two years after the government invested 60 million krona to outfit the suborbital rocket range with propulsion test facilities that could soon be put to use by a pair of German launch startups.
The announcement of the 90-million-krona investment was made by Swedish Space Minster Matilda Ernkrans during the Oct. 14 inauguration of the recently completed test facilities at Esrange. Ernkrans said that the investment would allow Sweden to become one of the relatively few countries with the capability to launch satellites into orbit.
Sweden is not the only European nation seeking to host orbital launches. The United Kingdom, for example, is laying the regulatory groundwork for commercial spaceports and is working with Sir Richard Branson's Virgin Orbit to host flights of the company's air-launch system from an English airport. Currently, Europe's only orbital launch facility, the Guiana Space Centre, is in French Guiana, a French overseas territory on the northeast coast of South America.
Sweden began exploring the possibility of hosting orbital launches from the Esrange Space Center in 2013 with the completion of an initial feasibility study. This study was followed by several others that aimed to outline a business plan for the facility and garner political support in order to secure funding.
One of the primary draws of launching rockets from the Esrange Space Center is a 5,200-square-kilometer impact area located north of the facility in the Swedish tundra region. Swedish law restricts access to the region for everything but space activities, reindeer herding, and mobile recreational activities. This ensures that spent rocket stages can be safely dropped without concern for populated areas, a challenge for inland launch facilities.
The push to develop satellite launch capabilities at the Esrange Space Center is part of a 300-million-krona modernization project.
The first phase of the project included an infrastructure modernization effort that was completed in 2018. This was followed by the construction of two vertical test stands for test firing rocket stages. The planned construction of orbital launch facilities marks the third phase of the ongoing modernization.
The Swedish Space Corporation (SSC), a state-owned space company that owns and operates the Esrange Space Center, hopes to host Sweden's first orbital launch in 2022. Although the facility does not yet have a commitment from a launch provider for its maiden flight, SSC spokesman Stefan Gustafsson said that it was in contact with several small launch vehicle providers.
Despite not yet securing a customer for its orbital launch facilities, SSC has signed contracts with German launch startups Isar Aerospace and Rocket Factory Augsburg (RFA) for rocket engine and stage testing at Esrange.
Both Isar and RFA, the launch arm of German space technology company OHB SE, were founded in 2018 and are independently developing small launch vehicles. The two-stage Isar Spectrum vehicle, which is designed to carry payloads of up to 1,000 kilograms to low Earth orbit, is slated to debut sometime in 2021, although the company has not selected a launch site. The RFA One, which is designed to carry 1,300 kilograms to a 300-kilometer polar orbit, is slated for a late 2021 launch from Norway's Andøya Spaceport, another suborbital launch range being upgraded for orbital launches.
Esrange Space Center was founded in 1966 by the European Space Research Organization, the predecessor of the European Space Agency. Ownership of the facility was then transferred to SSC in 1972. The facility is currently utilized by both governmental and commercial customers to launch sounding rockets and high altitude balloons as well as to perform drop tests. To date, the facility has hosted the launch of more than 550 sounding rockets and over 600 balloons.
Quelle: SN
1091 Views