22.10.2020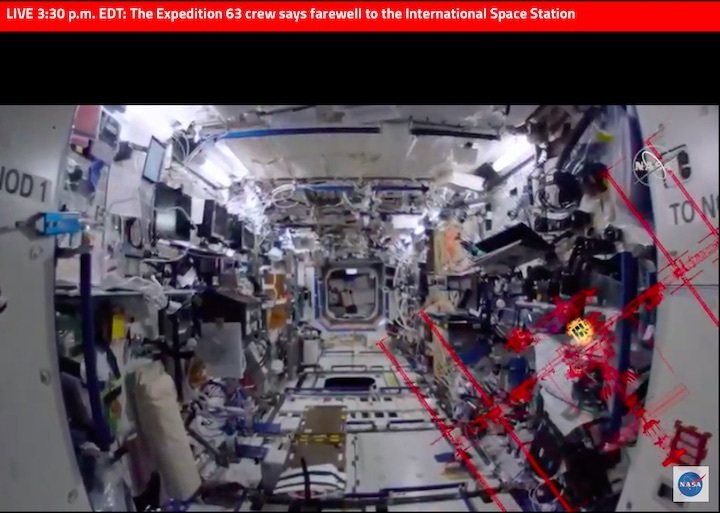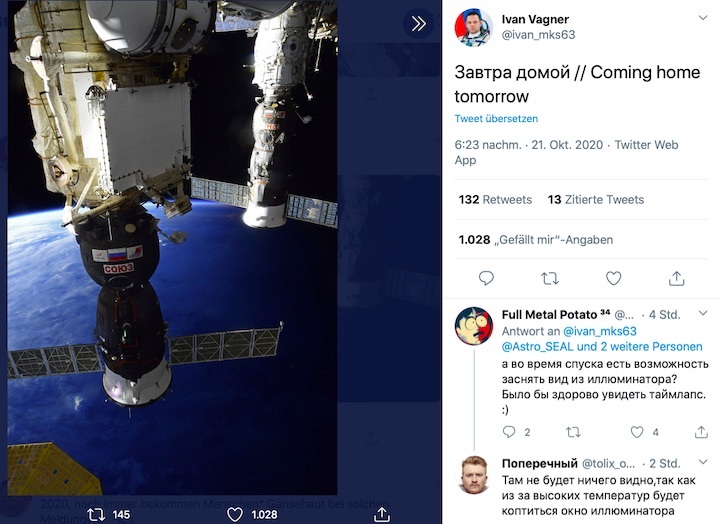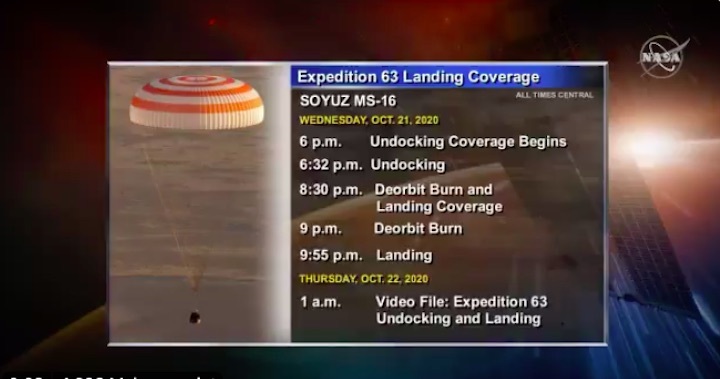 NASA Astronaut Chris Cassidy, Crewmates Land Safely Back on Earth
After 196 days living and working in Earth's orbit aboard the International Space Station, NASA astronaut Chris Cassidy returned from his third space mission Wednesday, Oct. 21, with cosmonauts Ivan Vagner and Anatoly Ivanishin of the Russian space agency Roscosmos.
The crew departed the station at 7:32 p.m. EDT Wednesday and landed just south of the town of Dzhezkazgan, Kazakhstan, at 10:54 p.m. (8:54 a.m. Kazakhstan time). They will undergo preliminary medical checks at the landing site, and then split up to return home. Cassidy will board a NASA plane back to Houston, while Vagner and Ivanishin will fly home to Star City, Russia.
During this latest mission, Cassidy served as commander of Expedition 63 and welcomed SpaceX Demo-2 crew members Robert Behnken and Douglas Hurley of NASA – the first astronauts to launch to the space station on an American spacecraft from American soil since the retirement of the space shuttle in 2011.
Cassidy and Behnken completed four spacewalks, totaling 23 hours and 37 minutes, to upgrade station batteries. The final spacewalk was the 10th for both astronauts, making them two of only four only U.S. astronauts to complete 10 spacewalks. Cassidy now has spent a total of 378 days in space, the fifth highest among U.S. astronauts.
While on station, he contributed to hundreds of experiments, including a study of the influence of gravity on electrolytic gas evolution, which looks at bubbles created using electrolysis. Gravity is a key factor in creating buoyancy for bubbles, so microgravity makes it possible to single out bubble growth and study its effect in processes. Using this method to better understand how bubbles grow could improve devices like medicine delivery through small, bandage-like skin patches.
Cassidy also worked with Astrobee, cube-shaped, free-flying robots that may one day assist astronauts with routine duties, and conducted research for the Onco-Selectors experiment, which leverages microgravity to identify targeted cancer therapies.
When Cassidy, Ivanishin, and Vagner departed the space station, Expedition 64 officially began on station, with Roscosmos cosmonaut Sergey Ryzhikov serving as station commander and NASA's Kate Rubins and Roscosmos' Sergey Kud-Sverchkov serving as flight engineers.
In November, the Expedition 64 crew is scheduled to welcome NASA's SpaceX Crew-1 – NASA astronauts Michael Hopkins, Victor Glover, and Shannon Walker, and Japanese Aerospace Exploration Agency astronaut Soichi Noguchi. Crew-1 will be the first long-duration mission to fly as part of NASA's Commercial Crew Program and mark the return of America's capability to regularly launch astronauts from U.S. soil.
For nearly 20 years, the International Space Station has been inhabited continuously by astronauts testing technologies, conducting research, and developing the skills needed to explore farther from Earth, including to the Moon and Mars. As a global endeavor, 241 people from 19 countries have visited the unique microgravity destination that has hosted more than 3,000 scientific and educational investigations from researchers in 108 countries and areas.
Quelle: NASA
+++
Soyuz crew lands from space station ahead of ISS 20-year milestone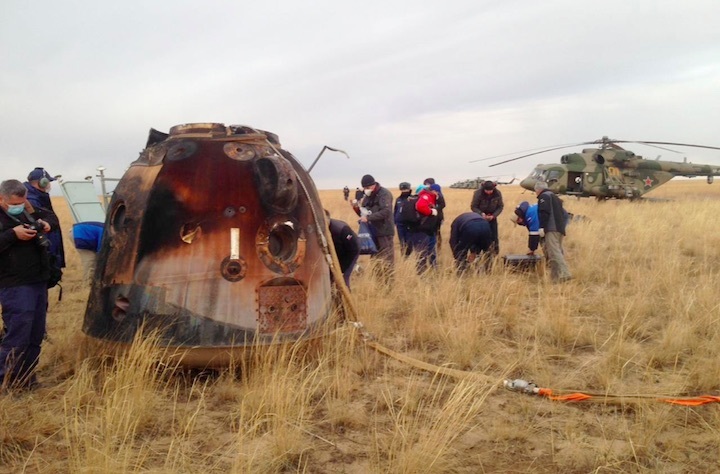 Russia's Soyuz MS-16 spacecraft is seen after landing from the International Space Station with NASA astronaut Chris Cassidy and cosmonauts Anatoli Ivanishin and Ivan Vagner of Roscosmos on Oct. 21, 2020 on the steppe of Kazakhstan. (Roscosmos)
A NASA astronaut "sealed" 20 years of crewed operations on the International Space Station with his and his two crewmates' safe return to Earth.

Chris Cassidy, a former U.S. Navy SEAL, left the space station and landed on the steppe of Kazakhstan with cosmonauts Anatoli Ivanishin and Ivan Vagner of the Russian federal space corporation Roscosmos on Wednesday (Oct. 21). Their Russian Soyuz MS-16 spacecraft touched down southeast of the Kazakh town of Dzhezkazgan at 10:54 p.m. EDT (0254 GMT or 8:54 a.m. Oct. 22 Kazakh time).

The trio's landing came just 10 days before the 20th anniversary of the launch of the first crew to take up residency aboard the International Space Station (ISS), an expedition that was also comprised by one American and two Russians.

"Twenty years ago my astro-SEAL mentor, Captain Bill Shepherd, assumed command of Expedition 1. Now we are book-ending those two decades of manned ISS operations with U.S. Navy SEAL astronauts in space," Cassidy wrote on Twitter a day before his return to Earth.

Cassidy, Ivanishin and Vagner's departure from the space station marked the end of Expedition 63, with NASA astronaut Kate Rubins and cosmonauts Sergey Ryzhikov and Sergey Kud-Sverchkov of Roscosmos on board the ISS to start Expedition 64. The Soyuz MS-16 crew undocked their spacecraft from the space-facing port of the station's Russian Poisk module at 7:32 p.m. EDT (2332 GMT).

Cassidy, Ivanishin and Vagner were met after landing by recovery forces, who helped them out of the Soyuz and provided initial medical checks as they began to readjust to the pull of gravity after 196 days off the planet.

Launched in April, Cassidy, Ivanishin and Vagner initially joined the Expedition 62 crew of Oleg Skripochka of Roscosmos and NASA astronauts Drew Morgan and Jessica Meir before beginning Expedition 63. Over the course of their six months, they were joined by five more crewmates.

"Our time on board has been very interesting," Cassidy said during a change of command ceremony on Tuesday. "We've had some time as a three-person crew, some time as a six-person crew, both at the beginning with Drew and Jessica and Oleg, and now with Sergey, Sergey and Kate. In the middle, we had time as a five-person crew with Bob [Behnken] and Doug [Hurley], and we had the privilege of welcoming the SpaceX Demo mission on board the International Space Station."

The SpaceX Dragon Demo-2 mission marked the first commercially-operated crewed flight to the space station and the first flight of NASA astronauts from a U.S. launchpad in the nine years since the retirement of NASA's space shuttle.

"Sprinkle in there some spacewalks and some Progress cargo vehicles and some American cargo vehicles and some crazy situations with the space station's systems, it has just been an incredible six months of our lives," Cassidy said, referencing a broken toilet, a faulty Russian oxygen supply system and the recently-concluded search for the source of a slow air leak that was first detected in September 2019 (the leak was ultimately traced to a small fracture inside the Russian Zvezda service module.)

The Expedition 63 crew also helped conduct hundreds of science experiments and technology demonstrations. Cassidy worked on many research investigations, including one that leveraged microgravity to identify targeted cancer therapies and the evaluation of water droplet formation and water flow for Delta Faucet's shower head technology.

Back on Earth, the Soyuz MS-16 crew will be taken by Russian helicopters to the recovery staging city in Karaganda, Kazakhstan. From there, Cassidy will board a NASA plane for a flight back to Houston, while a Gagarin Cosmonaut Training Center aircraft will return Ivanishin and Vagner to their homes in Star City, Russia.

Cassidy, 50, has now logged 378 days in space over the course of his three missions, including a 2009 space shuttle flight and a previous ISS stay in 2013. He now ranks fifth among all NASA astronauts for time in space.

Ivanishin, 51, also completed his third spaceflight, adding to his previous ISS expeditions in 2012 and 2016 for a total of 476 days. This was the first spaceflight for Vagner, who is 35.

Soyuz MS-16 was the 62nd Soyuz to launch for the International Space Station. It traveled 83 million miles (133.5 million km) spanning 3,136 orbits of Earth.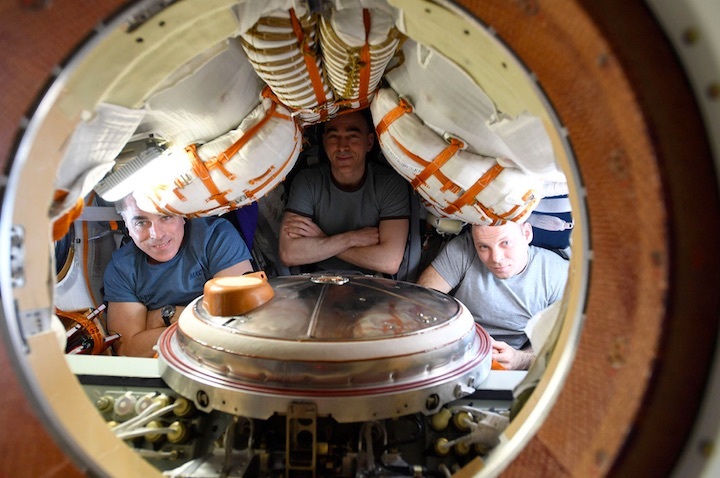 NASA astronaut Chris Cassidy and cosmonauts Anatoli Ivanishin and Ivan Vagner of Roscosmos on the Soyuz MS-16 spacecraft before putting on their Sokol spacesuits and undocking from the International Space Station on Wednesday, Oct. 21, 2020. (NASA)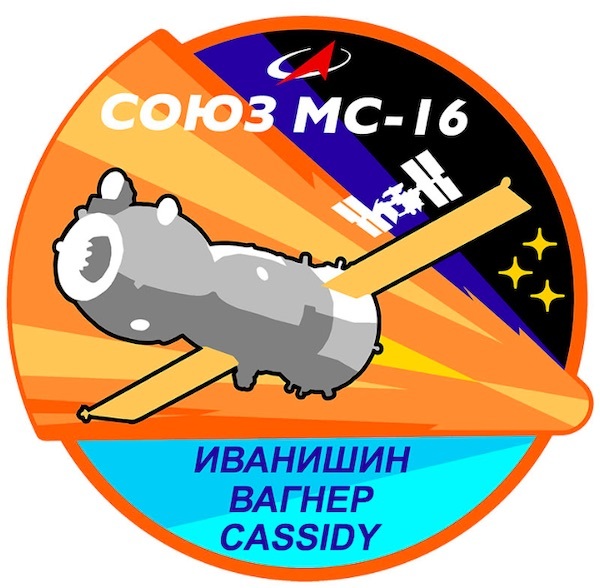 Soyuz MS-16 crew mission patch. (Roscosmos/spacepatches.nl)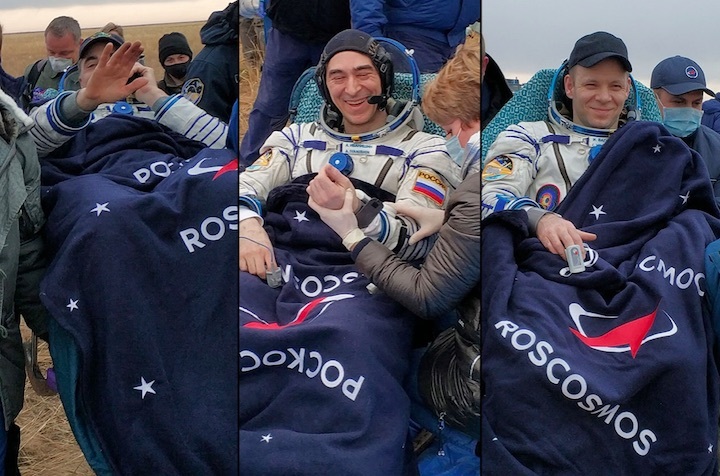 NASA astronaut Chris Cassidy (at left) and Roscosmos cosmonauts Anatoli Ivanishin (at center) and Ivan Vagner rest in chairs after landing aboard Soyuz MS-16 from the International Space Station on Wednesday, Oct. 21, 2020 on the steppe of Kazakhstan. (Roscosmos)
Quelle: CS
1549 Views