26.12.2019
China's 15-tonne reusable liquid oxygen-methane engine completed a run test with a duration of 500 seconds in Beijing on Wednesday.
The engine, named JD-1, was developed by the Beijing-based rocket company i-Space, which is China's first private developer to send a rocket into orbit.
As the key to the reuse of carrier rockets, the engine was designed to be used up to 30 times. It can save more than 70 percent in manufacturing cost for the rockets, according to the developer.
The engine can meet multi-mission requirements such as deceleration, landing, as well as long time in orbit and deep space exploration. It has a strong adaptability to missions, the developer said.
The engine will be assembled on the reusable liquid oxygen-methane carrier rocket Hyperbola-2, which was developed by i-Space.
The rocket, with a takeoff weight of 90 tonnes, is capable of sending 1.9 tonnes of payloads to the low-Earth orbit. It is expected to be launched for the first time in 2021.
Quelle: Xinhua
+++
Chinese company successfully tests reusable liquid rocket engine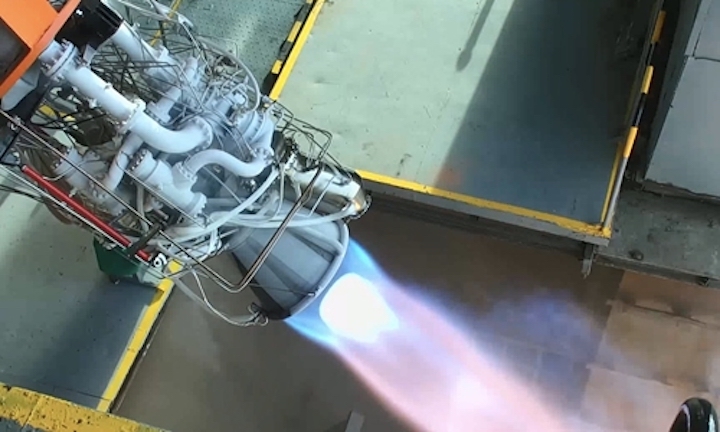 China's private rocket sector has achieved another major breakthrough as Beijing-based firm i-Space successfully conducted a 500-second, whole-process test run of its 15-ton reusable liquid oxygen-methane engine on Wednesday.

The test marks a national first for a private firm and lays a technological foundation for the upcoming take-off and landing experiment of a reusable liquid carrier rocket in 2020, the developer told the Global Times on Thursday.

It was China's first liquid oxygen-methane engine to have completed a whole process 500 second test, i-Space said. The company will perform an extended reliability test later.

Wednesday's test included pre-cooling, start-up and simulation after repeated uses, and was said to be a complete success.

The JD-1 engine was independently developed by i-Space and is designed to be used up to 30 times.

Reusing a rocket engine can save 70 percent of the cost of a launch, the company said.

The engine will be used on the carrier rocket Hyperbola-2, also developed by i-Space.

The rocket, with a takeoff weight of 90 tons, is capable of sending a 1.9 ton payload into low-Earth orbit. Its first launch is expected in 2021.

"It's quite remarkable, and a reliable, reusable rocket engine capable of large payloads will significantly improve [the prospects of] private rocket firms," said Wang Yanan, chief editor of Aerospace Knowledge magazine.

Previous rockets made by private firms could only carry payloads the size of a football and so couldn't meet client demand for heavier payloads, Wang said.

Firms with stronger launch capabilities will help further unleash the private rocket sector's potential, he said.

The Beijing-based private firm became the first in July to send satellites into orbit from Jiuquan Satellite Launch Center in Northwest China's Gansu Province.

The orbital launch is a milestone in demonstrating that China's privately developed carrier rockets are capable of delivering payloads into space.

By the end of 2018, China has seen over 100 registered private companies in the commercial space industry, according to a market report.

China's commercial space sector is growing rapidly and its development is reaching a climax this year with domestic players making technology breakthroughs, executives and industry analysts told the Global Times.

The overall atmosphere is very dynamic, they said.
Quelle: Global Times
2314 Views