15.12.2019
Largest carrier rocket in Chinese fleet understood to be standing by after setbacks
On its maiden mission in November 2016, the rocket failed to reach the speed required for the early phase of the flight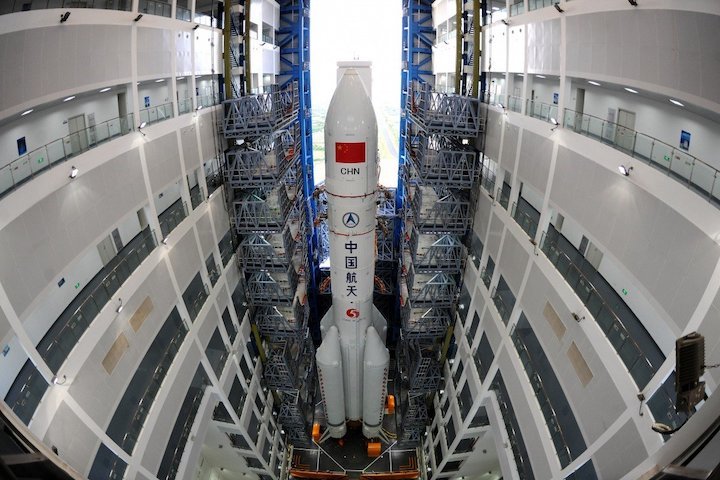 A Long March 5 stands by at the Wenchang Space Launch Centre in Hainan. Photo: Xinhua
A Long March 5 rocket is expected to blast off from a site in southern China this month carrying not only a next-generation communications satellite, but the hope that the mission will restore pride in the programme after a series of setbacks.
One of the sources who confirmed the plan said that the atmosphere at Wenchang Space Launch Centre on the northern tip of Hainan Island was "so tense there seems to be a shortage of oxygen".
The Long March 5 – also known as the CZ-5 – is the largest launch vehicle in China's space fleet. It can carry 25 tonnes into low Earth orbit, typically 645-1,610km (400-1,000 miles) from the surface.
Engineers designed the CZ-5 to carry up to 32 tonnes, but it has not been tested with such a payload. If it could lift off with 32 tonnes, the CZ-5 would carry more than the US' Delta IV Heavy, Russia's Proton, and Europe's Ariane 5.
But the CZ-5 is also the least reliable, as earlier missions showed.
On its maiden mission in November 2016, the rocket failed to reach the speed required for the early phase of the flight; still, extra booster fuel burned in the final stage lifted its satellite cargo into orbit and allowed China to declare the trip a success.
In the second flight a few months later, though, the main engine died minutes after take-off, and the rocket plunged into the sea.
In comparison, the Delta IV Heavy – first launched in 2002 – has made nine successful flights and one partial failure.
The setback of the CZ-5 dealt a huge blow to China's space industry and national prestige. Before the failure, morale was high because China had just launched the world's first quantum satellite and its astronauts had lived and worked in orbit for more than a month on the Tiangong space lab.
China was catching up to Russia and the United States with more that 20 space launches annually.
After the failure, however, many programmes were put on hold for quality and safety reviews.
In 2017, a mission to bring back lunar rock samples – the first since the US' last Apollo mission in 1972 – was postponed. Without the CZ-5, construction of a Chinese space station was suspended and a plan to land a rover on Mars to explore areas untouched by the US was shelved.
3825 Views