21.12.2019
Physicists extend Rice Convection Model with details of magnetospheric buoyancy waves
The solar wind that pummels the Earth's dayside magnetosphere causes turbulence, like air over a wing. Physicists at Rice University have developed new methods to characterize how that influences space weather on the nightside.
It's rarely quiet up there. The solar wind streams around the Earth and cruises off into the night, but closer to the planet, parcels of plasma get caught in the turbulence and sink back toward Earth. That turbulence causes big ripples in the plasma.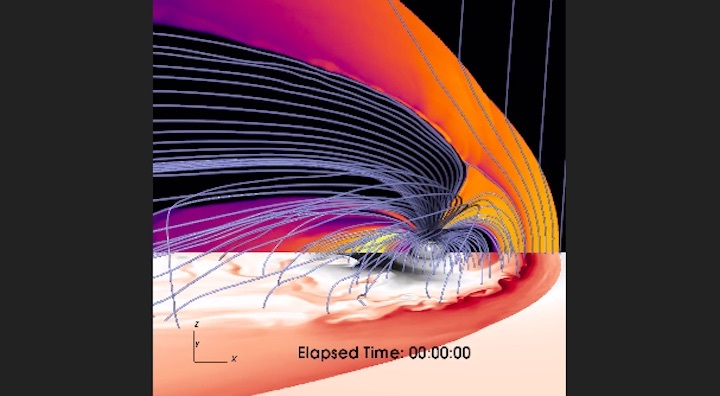 A magnetohydrodynamic simulation by the Gamera project at the Johns Hopkins Applied Physics Laboratory shows bursty bulk flows (in red and brown) in the plasma sheet approaching Earth on the nightside. Rice University space plasma physicists have developed algorithms to measure the buoyancy waves that appear in thin filaments of magnetic flux on the nightside. Courtesy of Gamera/JHUAPL)
With the help of several spacecraft and computational tools developed over the past decade, Rice scientists led by space plasma physicist Frank Toffoletto can now assess the ripples, called buoyancy waves, caused by the turbulence.
These waves, or oscillations, have been observed in the thin layer of magnetic flux along the base of the plasma sheet that tails away from the planet's nightside. The Rice theory is the first to quantify their motion.
The theory adds another element to the Rice Convection Model, an established, decades-in-the-making algorithm that helps scientists calculate how the inner and middle magnetosphere will react to events like solar storms that threaten satellites, communications and power grids on Earth.
The new paper in JGR Space Physics by Toffoletto, emeritus professor Richard Wolf and former graduate student Aaron Schutza starts by describing the bubbles — "bursty bulk flows" predicted by Wolf and Rice alumnus Duane Pontius in 1990 — that fall back toward Earth through the plasma tail.
2421 Views