12.12.2019
Ready for an action-packed week? SpaceX schedules next launch from Cape Canaveral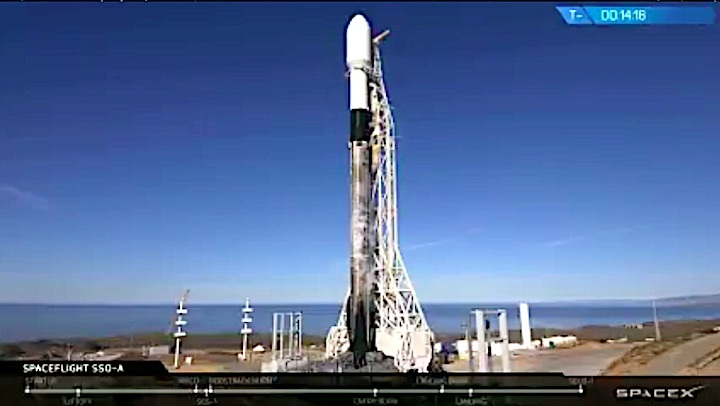 SpaceX is targeting no earlier than next week for the launch of a Falcon 9 rocket and communications satellite from Cape Canaveral Air Force Station, according to a warning issued to pilots and mariners on Tuesday.
The Air Force's 45th Space Wing issued a Launch Hazard Area, or region of the Atlantic Ocean that boats and aircraft will need to vacate, for Monday, Dec. 16. The restricted area around the Cape will be in effect from 5 p.m. to 9:30 p.m.
An exact launch window within that timeframe was not made available.
SpaceX is tasked with launching the JCSAT-18 / Kacific-1 commercial communications satellite from Launch Complex 40, a mission that will include a drone ship landing about eight minutes after liftoff. The Boeing-built spacecraft will provide coverage primarily for Asia and the Pacific.
A launch on Monday would tee up an action-packed week for the Eastern Range: Boeing and United Launch Alliance are targeting no earlier than 6:36 a.m. that Friday for the launch of an uncrewed Starliner capsule on its maiden flight to the International Space Station. If successful, its eight-day stay at the ISS will pave the way for a crewed flight sometime next year.
Also on Tuesday, SpaceX's Just Read the Instructions drone ship arrived at Port Canaveral and joined its Of Course I Still Love You sibling ship.
Quelle: Florida Today
----
Update: 14.12.2019
.
Weather is excellent for SpaceX Falcon 9 launch from Cape Canaveral Air Force Station
As promised, December is gearing up to be a busy week for rockets launching from the Space Coast.
Starting next week, there's not only supposed to be one launch, but two and it all kicks off Monday with SpaceX sending its Falcon 9 rocket from Cape Canaveral Air Force Station Launch Complex 40 to space.
The aerospace company will launch the JCSAT-18 / Kacific-1 commercial communications satellite no earlier than 7:10 p.m. The launch window remains open until 8:38 p.m.
The Boeing-built satellite will provide internet coverage for Asia and the Pacific.
Approximately eight minutes after liftoff, the rocket's first stage booster will target an automatic drone ship landing.
Weather is currently 90% "go" for Monday's launch as calculated by the U.S. Air Force with the primary weather concerns being "cumulus clouds associated with the showers moving onshore," according to the 45th Weather Squadron.
If the launch is pushed to another day, weather drops to 60% "go" for a Tuesday launch.
The primary weather concerns if the launch gets pushed are "cumulus clouds and disturbed weather," according to the 45th Weather Squadron.
Following this launch, Boeing is set to send its Starliner capsule atop United Launch Alliance' Atlas V rocket no earlier than 6:36 a.m. Dec. 20, from Launch Complex 41.
This will be the uncrewed orbital flight test as the company gets ready to send astronauts to space once again from U.S. soil. Upon success of the mission, the next step would be to send a crewed flight sometime next year.
SpaceX meanwhile already conducted the uncrewed flight test of its Crew Dragon capsule back in March and is now targetting the "in-flight abort test" no earlier than Jan. 4.
Contact Jaramillo at 321-242-3668 or antoniaj@floridatoday.com. Follow her on Twitter at @AntoniaJ_11.
Launch Monday
Rocket: SpaceX Falcon 9
Mission: JCSAT-18 / Kacific-1
Launch Time: 7:10 p.m.
Launch Window: until 8:38 p.m.
Location: 40 at Cape Canaveral Air Force Station:
Landing: drone ship
Weather: 90% "go"
Join floridatoday.com/space at 6 p.m. Monday for countdown chat and updates including streaming of SpaceX's launch webcast.
Quelle: Florida Today
----
Update: 15.12.2019
.
SpaceX performs hold-down firing for heavyweight satellite launch Monday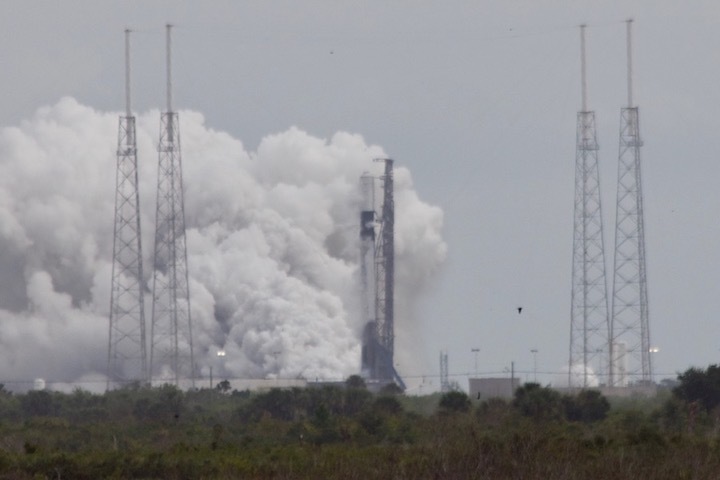 A test-firing of a twice-flown Falcon 9 booster Friday at Cape Canaveral paved the way for SpaceX's next launch, scheduled for Monday night with a heavyweight Boeing-built communications satellite to beam broadband signals to Japan and the Pacific islands.
SpaceX is readying the Falcon 9 rocket for liftoff with the JCSAT 18/Kacific commercial communications satellite Monday at 7:10 p.m. EST (0010 GMT Tuesday). The launch window extends for 88 minutes.
There is a 90 percent chance of favorable weather during Monday night's launch window, according to U.S. Air Force meteorologists.
But first, SpaceX performed a hold-down test-firing of the Falcon 9's first stage Merlin engines Friday. The test-firing is a customary pre-launch checkout before every SpaceX mission, providing a test of launch vehicle systems and a rehearsal for the company's launch team.
The Falcon 9 was raised vertical at pad 40 without its satellite payload or fairing Friday in preparation for the static fire test. SpaceX loaded super-chilled, densified kerosene and liquid oxygen propellants into the two-stage Falcon 9 rocket, and the countdown proceeded through through the final steps before launch, including retraction of the strongback structure into position for liftoff and pressurization of the rocket's propellant tanks.
The nine Merlin 1D engines at the bottom of the Falcon 9's first stage ignited for several seconds at 1:20 p.m. EST (1820 GMT) Friday, throttling up to full power to generate some 1.7 million pounds of thrust as hold-down restraints keep the rocket firmly on the ground.
SpaceX engineers will perform a data review after the static fire as technicians at Cape Canaveral roll the rocket back to the hangar and prepare to mate it with the JCSAT 18/Kacific 1 communications satellite inside a climate-controller hangar.
The Falcon 9 rocket slated to launch the JCSAT 18/Kacific 1 spacecraft is a veteran of two previous missions. It first launched in May on a space station cargo mission, then landed on SpaceX's drone ship in the Atlantic Ocean. On its second flight, the rocket again powered a Dragon supply ship toward the space station, and returned to Cape Canaveral for an onshore landing.
SpaceX is expected to recover the first stage again after Monday's launch aboard a drone ship in the Atlantic east of Florida's Space Coast.
The 15,335-pound (6,956-kilogram) JCSAT 18/Kacific 1 spacecraft will launch into an elliptical transfer orbit, then use its on-board liquid-fueled engine to maneuver into a circular geostationary orbit more than 22,000 miles (nearly 36,000 kilometers) over the equator.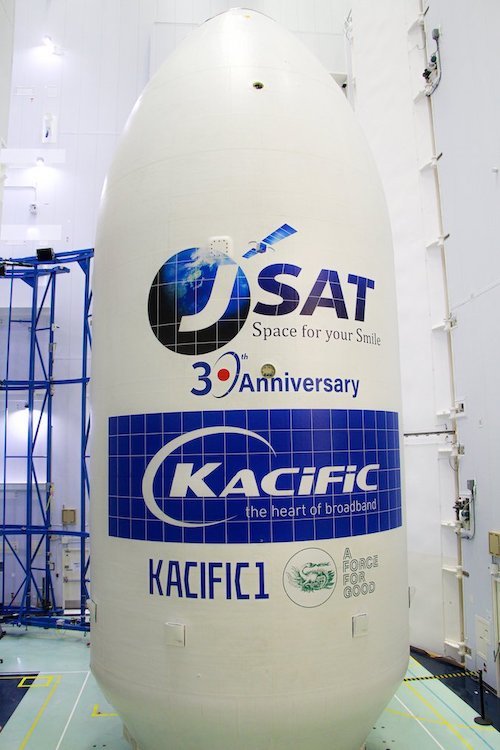 Based on Boeing's 702MP satellite design, the communications station is a shared spacecraft between Sky Perfect JSAT Corp. of Japan and Kacific, a startup telecom company headquartered in Singapore.
JSAT will use the satellite's Ku-band capacity to provide communication services over Japan and the broader Asia-Pacific region, with a coverage range extending from Indonesia and Southeast Asia to coastal China and Eastern Russia.
Kacific's mission will utilize the satellite's Ka-band payload, which includes 56 spot beams delivering up to 60 gigabits per second of data throughput capacity, the company said.
The new satellite will "provide the most powerful signal level ever achieved in a commercial satellite in the (Asia-Pacific) region," Kacific said in a statement. Founded in 2013, Kacific says the JCSAT 18/Kacific 1 spacecraft will stream broadband to 25 nations in Southeast Asia and in the Pacific islands, where dispersed populations and rugged terrain pose roadblocks for building terrestrial Internet links.
Kacific says education, health care and emergency response services will benefit from the company's satellite broadband network.
The mission set for launch Monday will mark SpaceX's 13th flight of the year, and the second in 11 days from the same launch pad at Cape Canaveral Air Force Station. If the Falcon 9 takes off Monday night, it would mark the fastest turnaround between SpaceX missions from the same launch pad.
Quelle: SN
----
Update: 16.12.2019
.
SpaceX Primed for Monday Night Launch With JCSAT-18/Kacific-1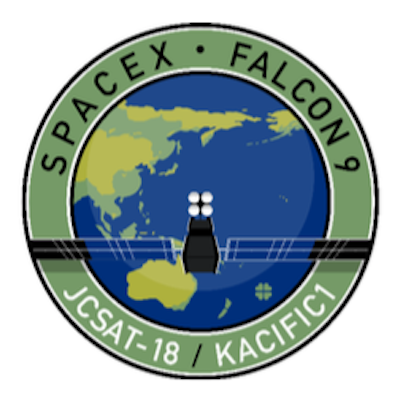 A twice-used Falcon 9 core stage stands ready on Space Launch Complex (SLC)-40 at Cape Canaveral Air Force Station, Fla., primed for a Monday evening mission to deliver the heavyweight JCSAT-18/Kacific-1 communications satellite to geostationary transfer orbit. The frequently-flown core—tailnumbered "B1056"—had previously seen service to deliver the CRS-17 and CRS-18 Dragon cargo ships to the International Space Station (ISS) in May and July 2019, respectively.
Monday's launch will occur during an 88-minute "window" which extends from 7:10 p.m. through 8:38 p.m. EST and B1056 will be the fifth Falcon 9 to record three launches to its name.
Principal payload is JCSAT-18/Kacific-1, a high-throughput communications satellite jointly belonging to Kacific Broadband Satellites of Singapore and Japan's SKY Perfect JSAT Corp. When operational, the satellite will spend a minimum of 15 years providing mobile telephone, data and internet services to users in the Asia-Pacific region. Its 56 Ka-band narrow beams each carry a capacity of up to 1.25 Gbps, which will afford the highest signal power ever achieved in the region. Specifically, JCSAT-18/Kacific-1 will target precise "pockets of demand" across a wide geographical area which encompasses 20 Pacific and Southeast Asian nations.
Based upon Boeing's tried-and-true 702MP "bus", the 15,000-pound (6,800 kg) satellite was ordered in February 2017. "The scalable Boeing 702 satellite is a flight-proven design that we are evolving to meet the future needs of our customers," said Mark Spiwak, president of Boeing Satellite Systems International, at the time of the contract award. "The combined JCSAT-18 and Kacific-1 satellite has the flexibility to accommodate various business requirements to meet the demands of both SKY Perfect JSAT and Kacific."
The 702MP is a "medium-power" bus with a modularity that allows a reduced development time; less than three years will have elapsed since the contract award until JCSAT-18/Kacific-1 reaches orbit. Its tailored payload module interfaces with the bus at four key points and with just a handful of electrical connectors, affording it greater simplicity and cost efficiency. It also benefits from a Xenon-Ion Propulsion System (XIPS), reportedly ten times more efficient than regular liquid fuel, and this will be employed to achieve final orbital insertion. Historically, the 702MP has performed well, although several early missions—launched since 1999—sustained problems with outgassing-induced "fogging" of their solar array concentrators. This prompted the development and implementation of high-power, six-paneled triple-junction gallium arsenide cells.
Contracts to launch JCSAT-18/Kacific-1 aboard a SpaceX Falcon 9 were signed back in September 2017. "SpaceX has a breadth of vision that appeals to us," said Christian Patouraux, chief executive officer of Kacific. "The company is committed to changing the way people think about space and the possibilities it presents. Signing with SpaceX as our launch service provider is a major step towards delivering our own vision."
As SpaceX's 13th launch of 2019, it might have seemed that performing the customary Static Fire Test of the nine Merlin 1D+ engines on Friday, 13 December risked ill-fortune. But against gloomy Florida skies, the 230-foot-tall (70-meter) booster—its first stage distinctly blackened from two previous launches and high-speed re-entries—trundled out from the Horizontal Integration Facility (HIF) to the SLC-40 pad surface early that morning. The static fire test occurred without incident and the Falcon 9 was returned to the horizontal and taken back undercover for the installation of the bullet-like payload fairing and JCSAT-18/Kacific-1. The complete stack was then returned to the pad for final preparations.
Weather conditions for Monday's opening launch attempt are predicted to be highly favorable, with a 90-percent probability that the gods will align during the 88-minute window. "High pressure will move across the region this weekend, bringing clearing skies and dry conditions behind a departing frontal boundary," noted the 45th Space Wing at Patrick Air Force Base in its L-3 briefing, issued Friday. "The high center will move into the Atlantic on Monday, allowing increasing southeasterly flow which may bring a few showers moving onshore Monday afternoon and evening."
Primary meteorological issues for Monday include a cumulus clouds, although a 24-hour scrub and turnaround to Tuesday offers a much more iffy outlook, with only a 60-percent chance of acceptable weather. "Another frontal boundary will move into the region on Tuesday, bringing additional showers and the potential for a few storms to the Space Coast," it was added. "While the exact timing of the front remains uncertain, it looks likely that increasing cloudiness associated with the boundary will reach the area by the launch window. The main weather concerns will be cumulus clouds and disturbed weather."
Following launch, SpaceX will attempt to land the rocket offshore on their drone ship "Of Course I Still Love You (OCISLY)," while both ships "GO Ms Tree" and "GO Ms Chief" will attempt to recover the payload fairings.
With an expectation that SpaceX will loft its third batch of Starlink internet communications satellites before the end of December, the closing weeks of the year raise the possibility of 14 overall launches in 2019. Achievements to date—notwithstanding an unusual three-month quiet spell at the Cape between August and November—have included three ISS-bound Dragon cargo ships, two missions by the mammoth Falcon Heavy and the long-awaited maiden voyage of the Crew Dragon capsule. Fourteen missions promises to put 2019 into third place behind the 21 launches achieved in 2018 and 18 flights in 2017.
Quelle: AS
----
Update: 17.12.2019
.
JCSAT-18/KACIFIC1 MISSION
On Monday, December 16 at 7:10 p.m. EST, SpaceX launched JCSAT-18/Kacific1 from Space Launch Complex 40 (SLC-40) at Cape Canaveral Air Force Station, Florida. The satellite was deployed approximately 33 minutes after liftoff.
Falcon 9's first stage for the JCSAT-18/Kacific1 mission previously supported the CRS-17 mission in May 2019 and the CRS-18 mission in July 2019. Following stage separation, SpaceX landed Falcon 9's first stage on the "Of Course I Still Love You" droneship, which was stationed in the Atlantic Ocean.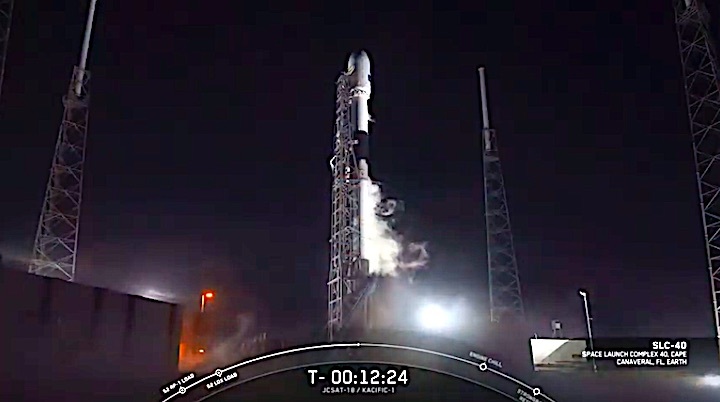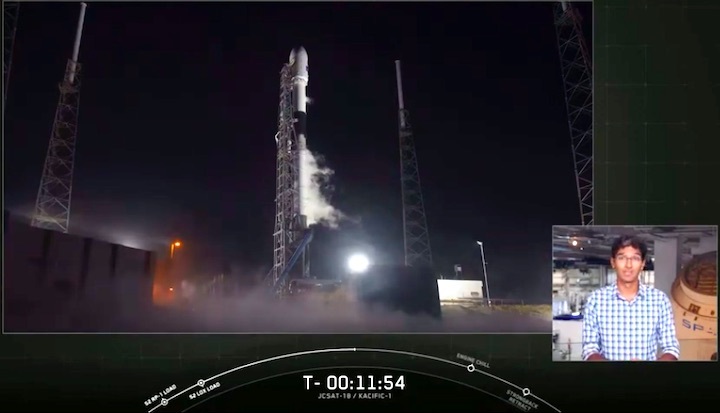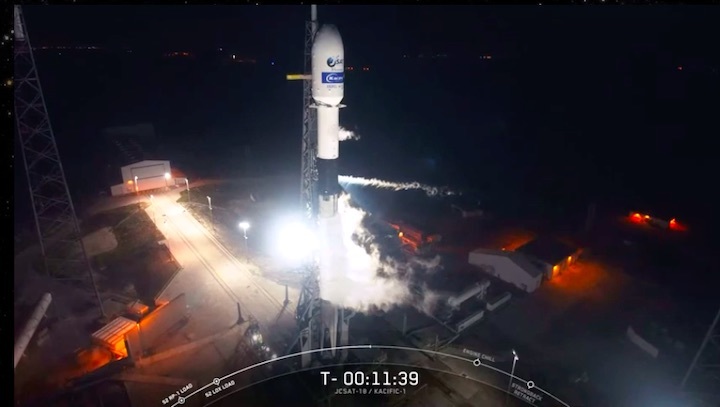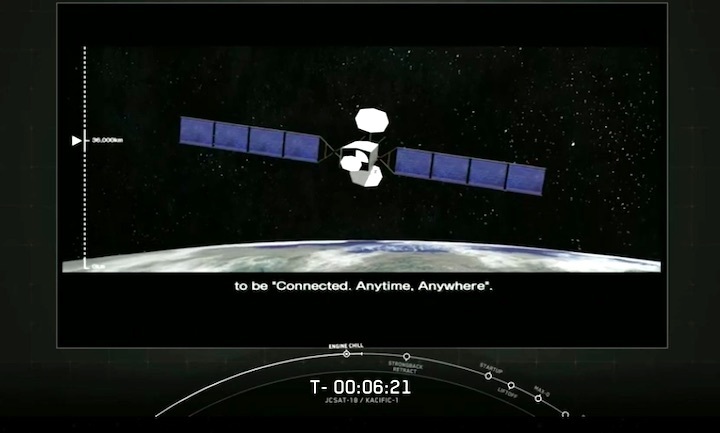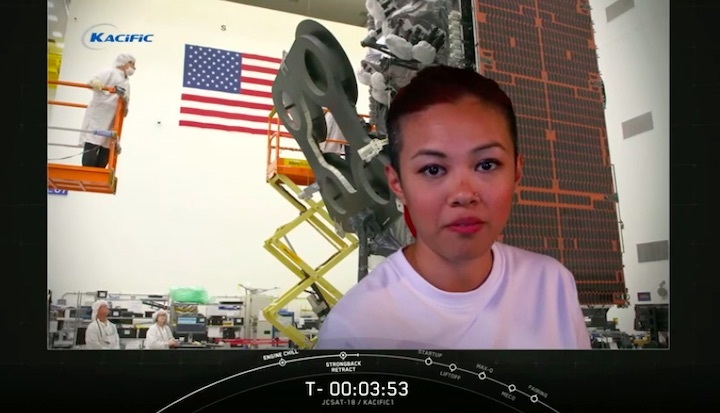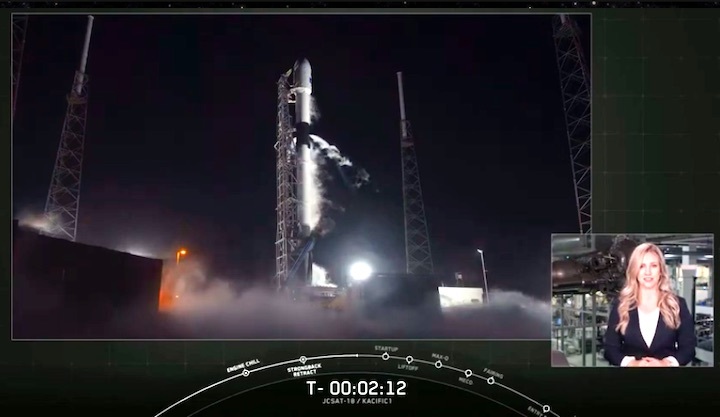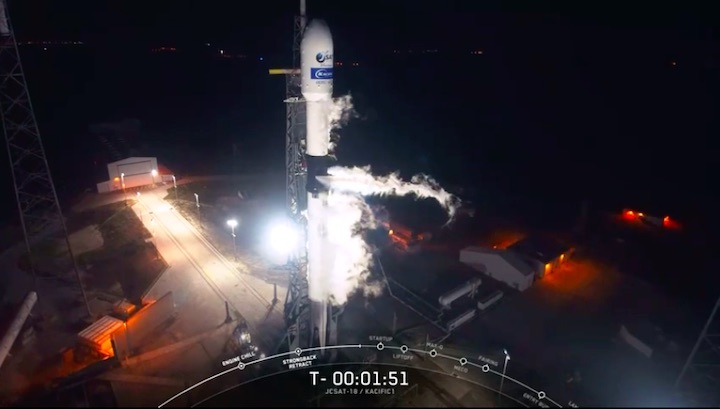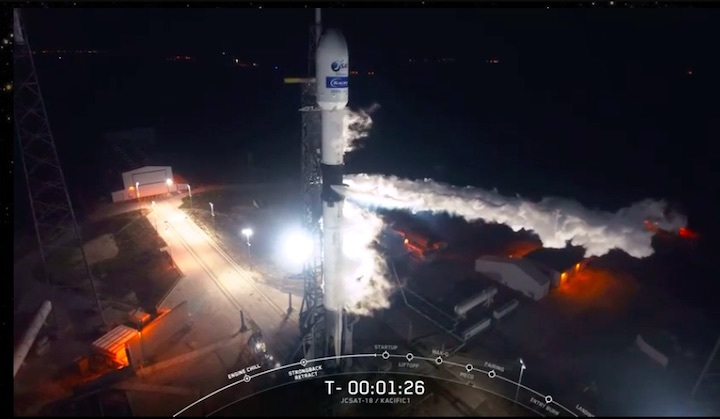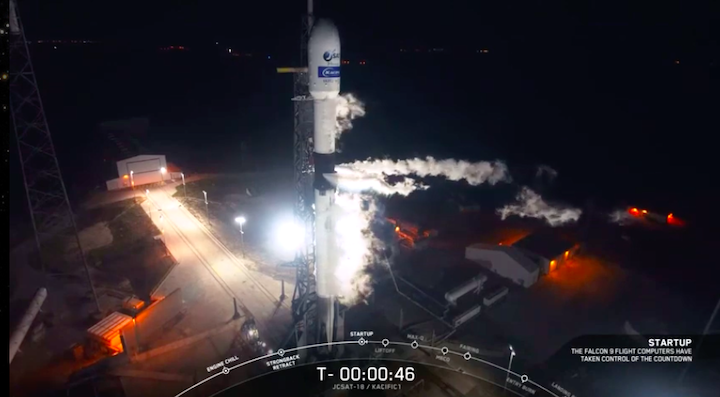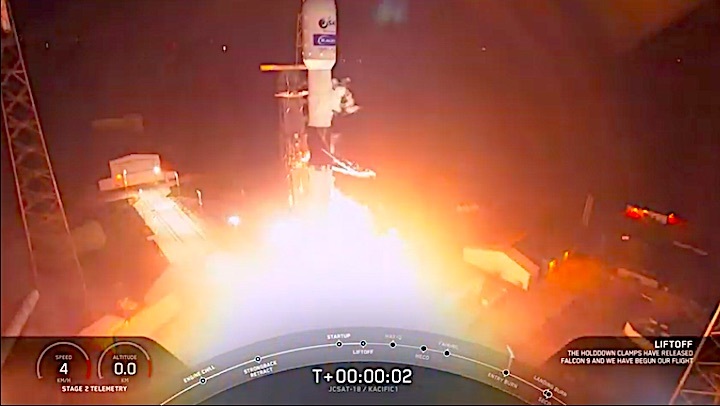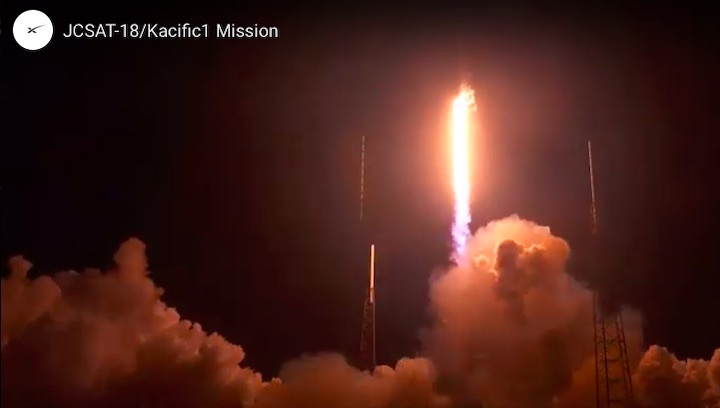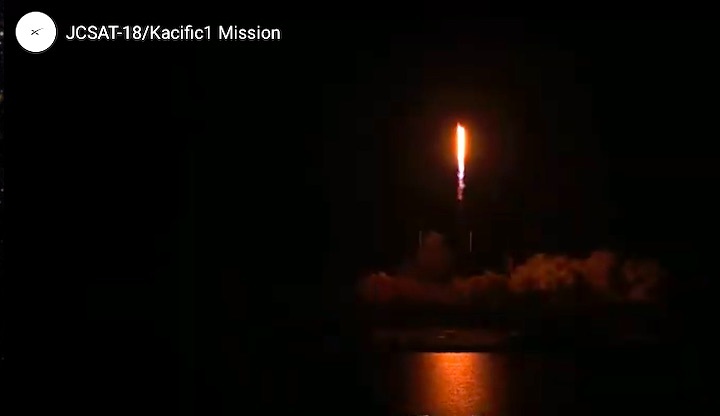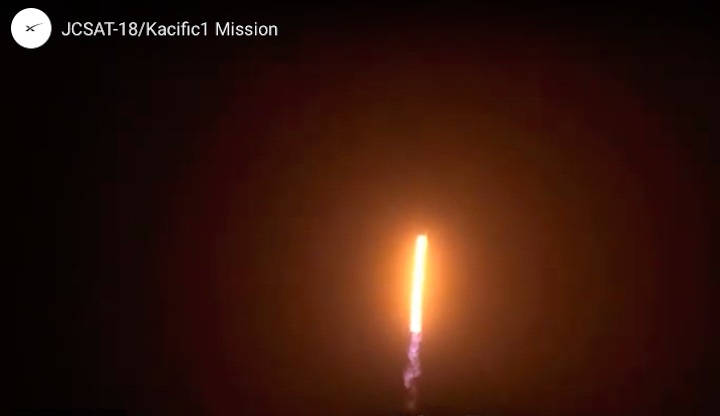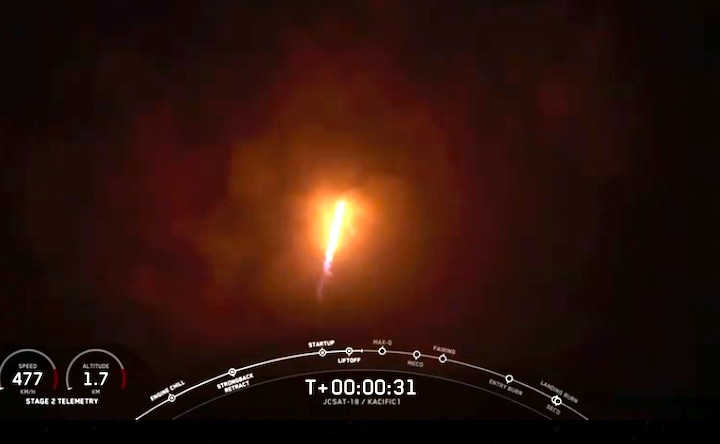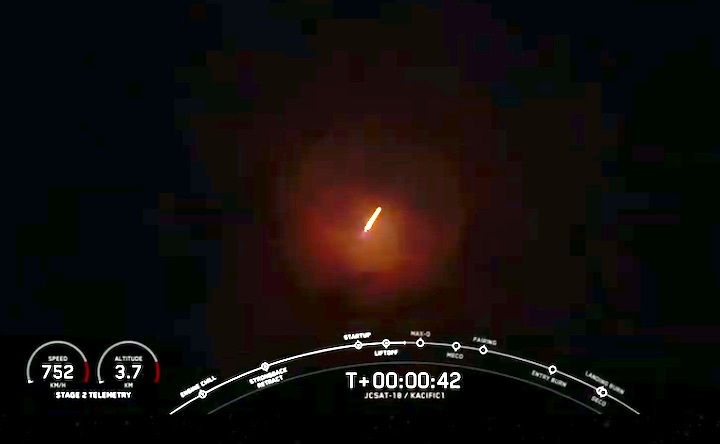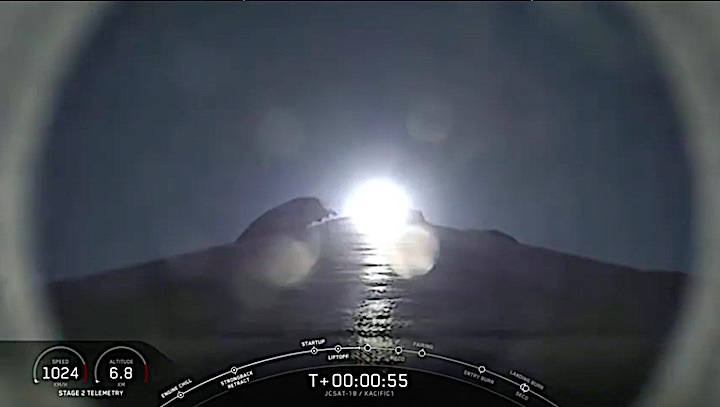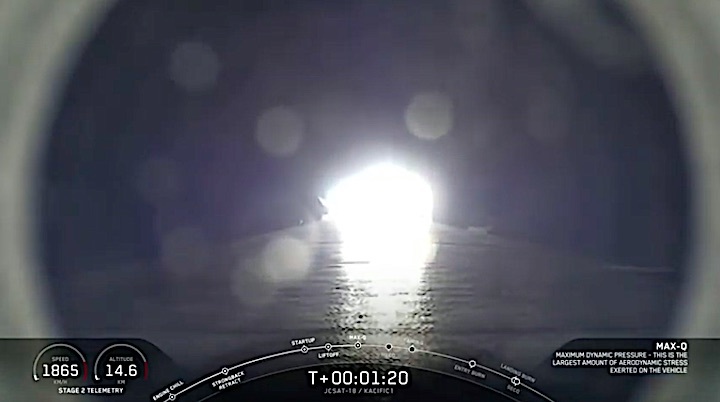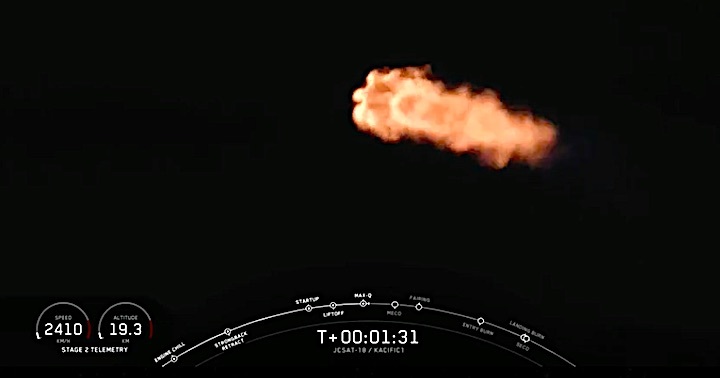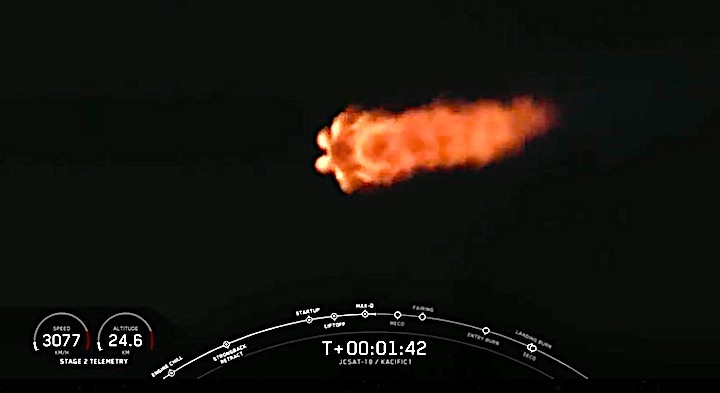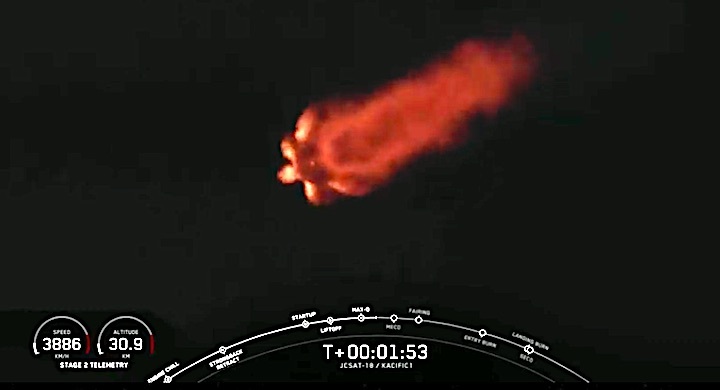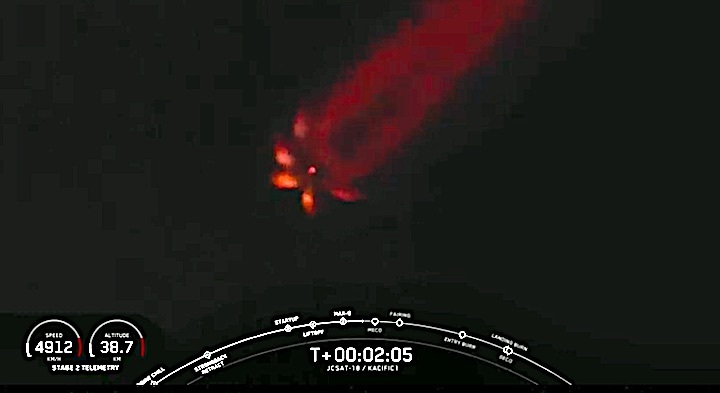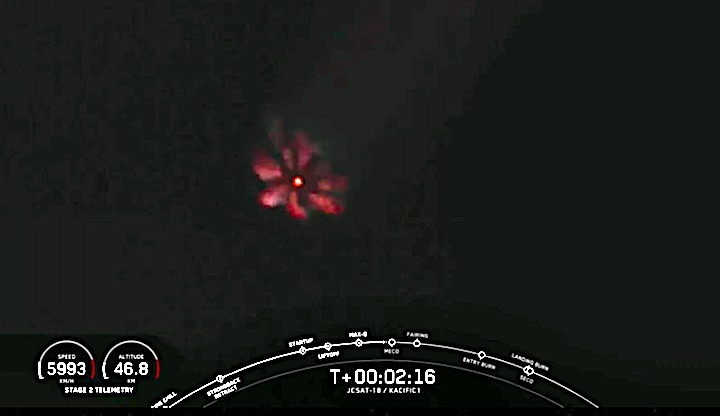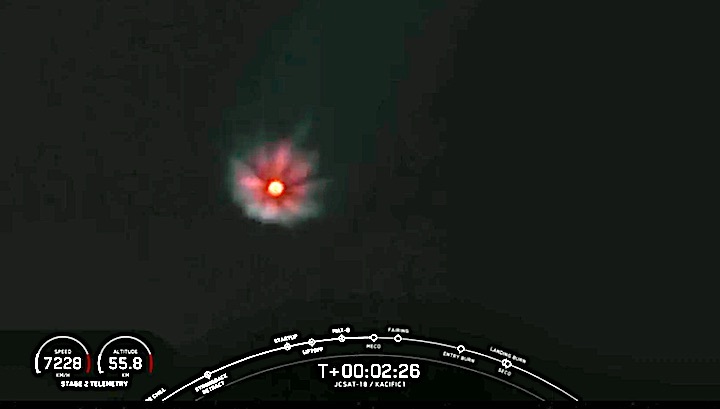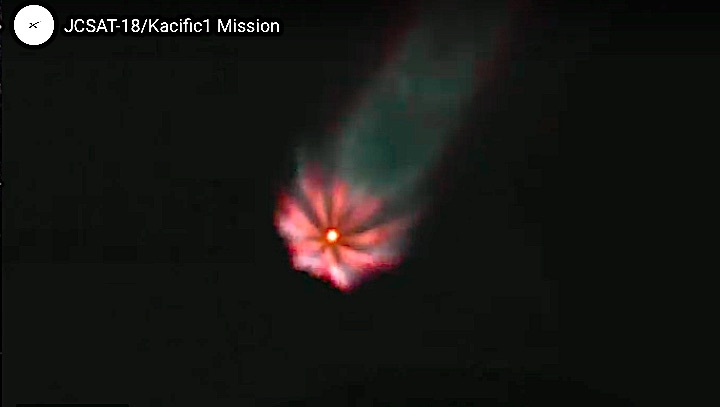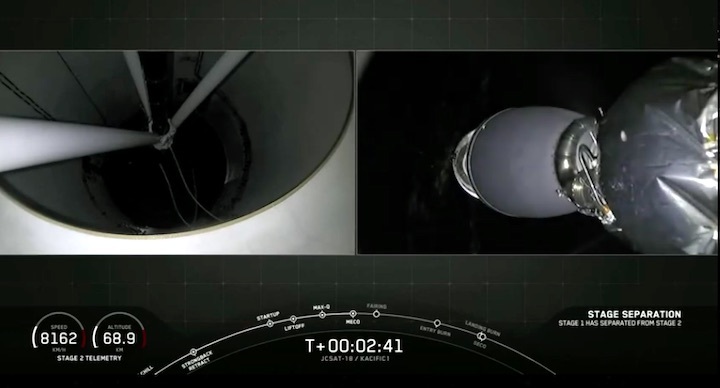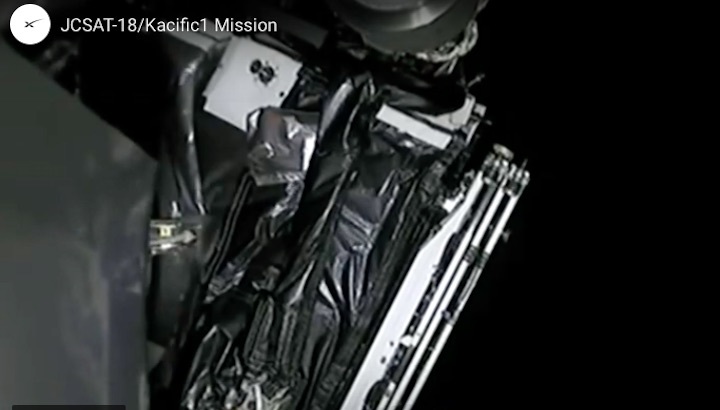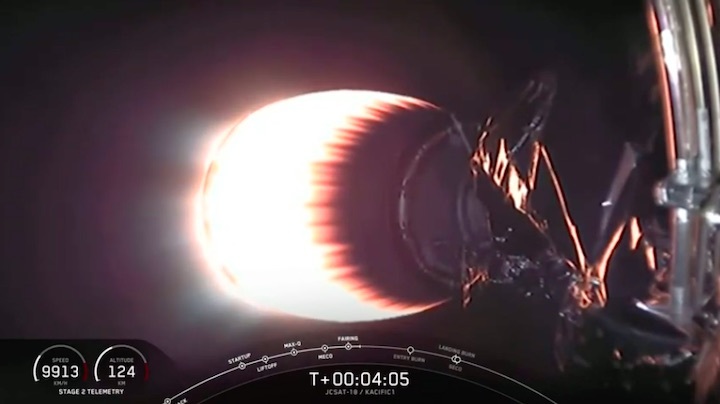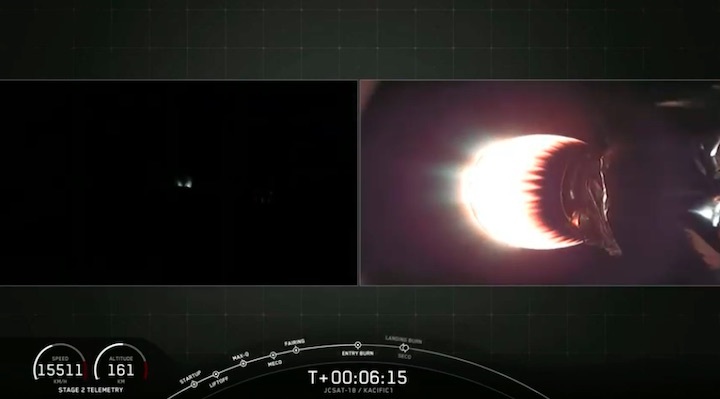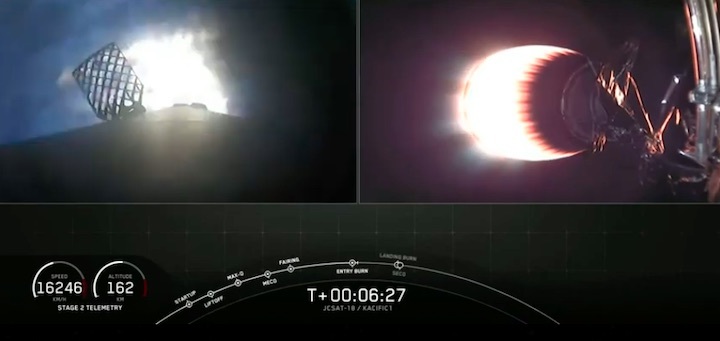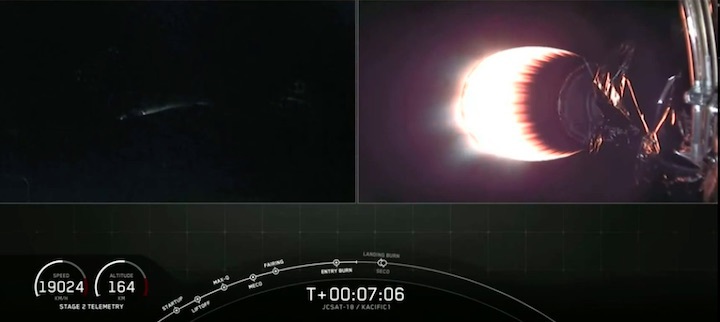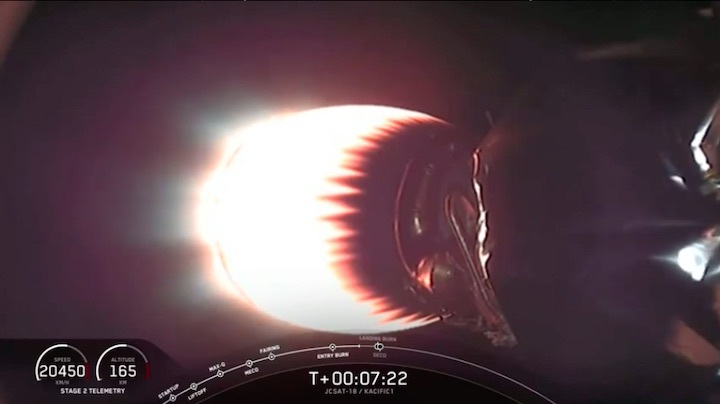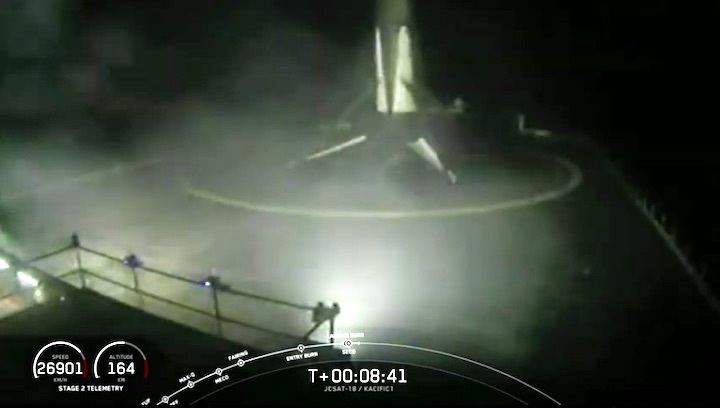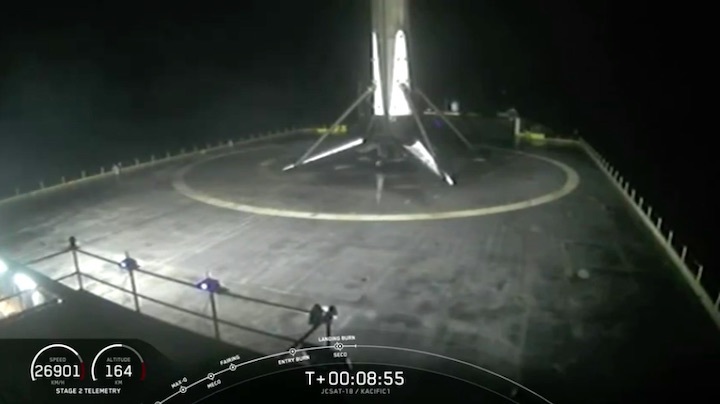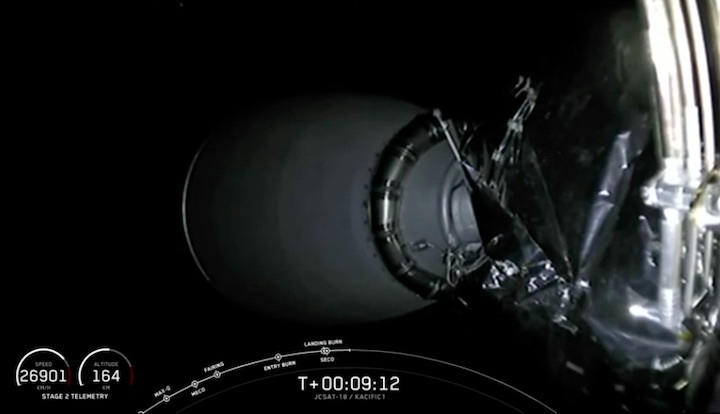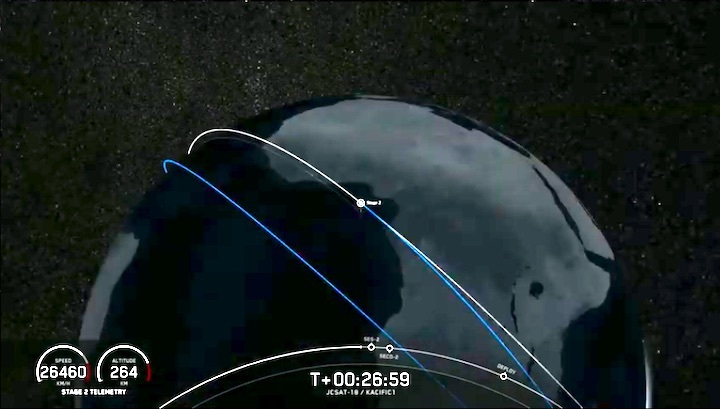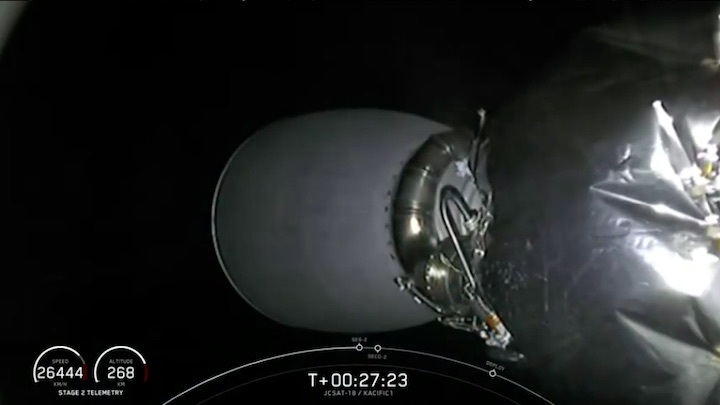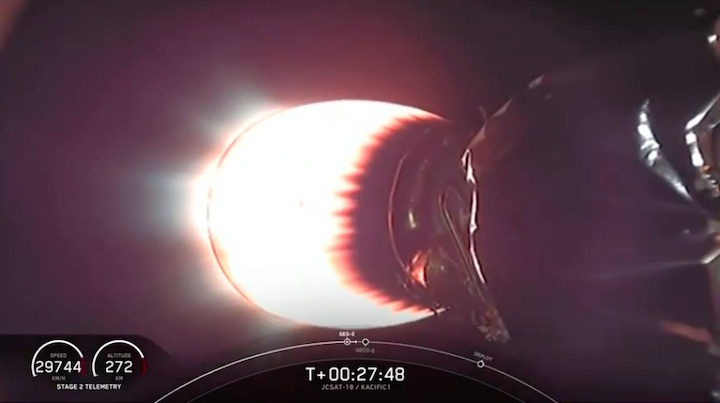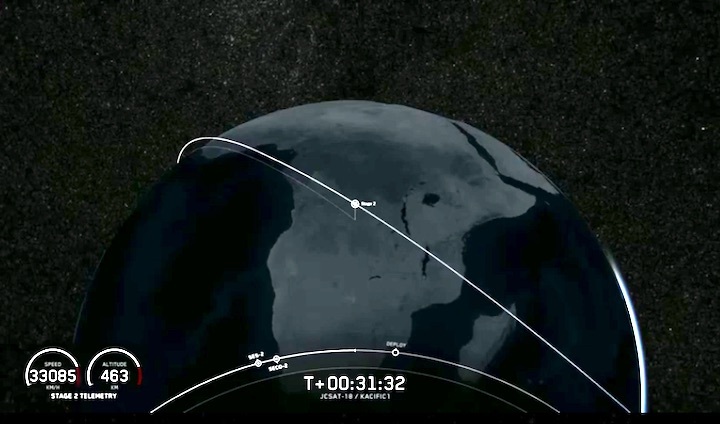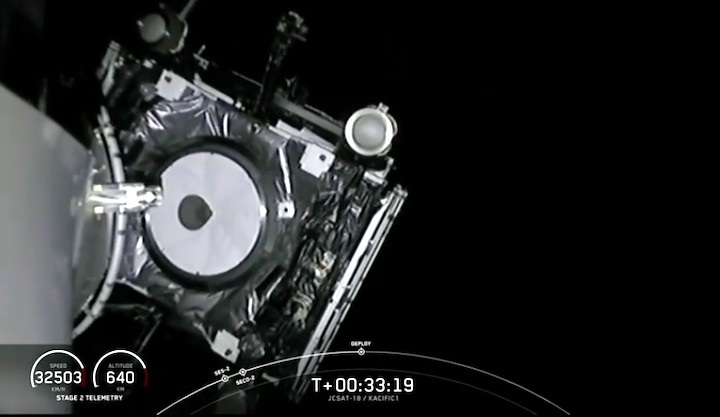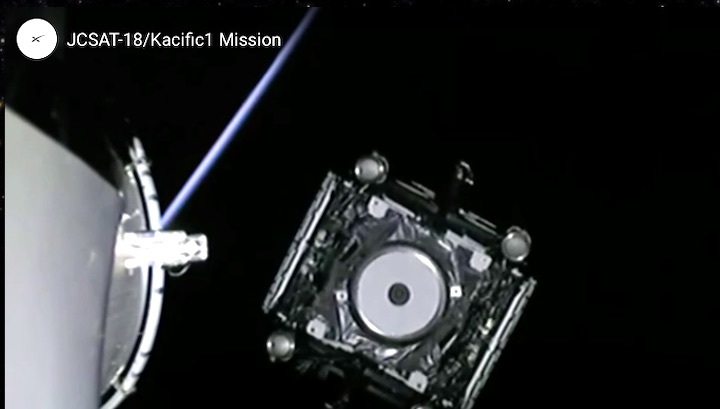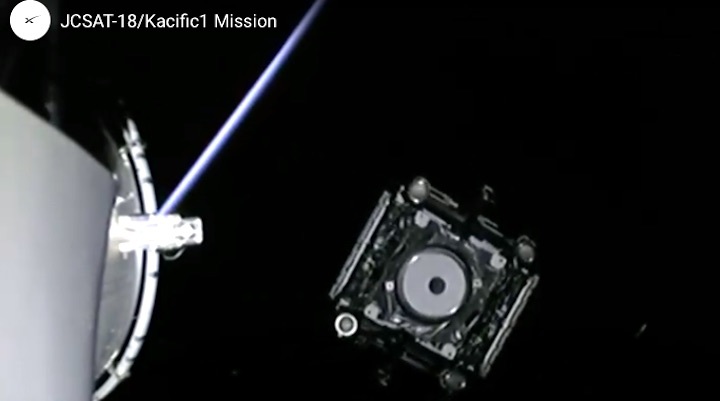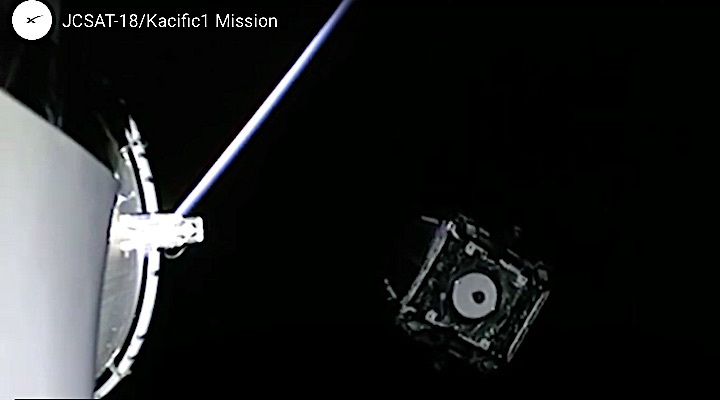 Quelle: SpaceX
4622 Views