31.10.2019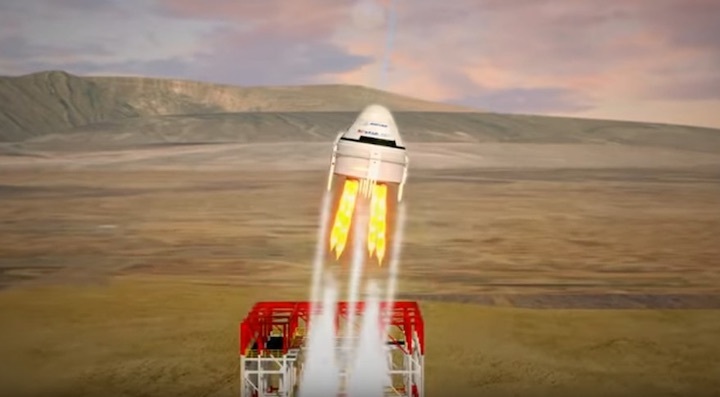 WASHINGTON — Boeing and SpaceX are on schedule to perform two critical tests of their commercial crew vehicles in the next week with hopes that both vehicles will be ready to carry astronauts by early next year.
In an Oct. 30 presentation to the NASA Advisory Council's Human Exploration and Operations committee, Kathy Lueders, manager of NASA's commercial crew program, said that Boeing was still working towards a Nov. 4 pad abort test of its CST-100 Starliner spacecraft that the company announced three weeks earlier.
In that test, at the White Sands Missile Range (WSMR) in New Mexico, the Starliner will fire the abort engines in its service module to simulate escaping a launch vehicle on the pad. The Starliner will fly about 1.5 kilometers high, landing 1.5 kilometers downrange 90 seconds later.
"The vehicle is stacked up on the stand, getting ready to go," Lueders said. "We, right now, are on the range at WSMR for next Monday morning to do this check-out. It's a huge, huge test for us."
Besides testing the abort motors themselves, she said key areas of interest for the test will be the separation of the Starliner's crew module from its service module after the motors shut down, as well as the deployment of parachutes for the crew module.
The Starliner that will fly an uncrewed orbital test flight, called the Orbital Flight Test (OFT) by Boeing, doesn't have an abort system, but Lueders said the pad abort test was critical for it nonetheless. "The way the system separates will reflect on our OFT progress," she said. "It's critical for us to get this test going, and that we understand it prior to us doing rollout of the spacecraft" for the orbital test flight.
That OFT mission is scheduled for launch Dec. 17 on a United Launch Alliance Atlas 5 from Cape Canaveral. That rollout of the Starliner from a Boeing facility at the Kennedy Space Center to a ULA processing center for integration onto the Atlas 5 will take place about a week after the pad abort test, she said.
The Boeing pad abort test will take place just days before SpaceX performs a static-fire test of the SuperDraco abort engines on its Crew Dragon spacecraft. Lueders said that test, in Florida, is expected to occur in the middle of next week.
An explosion took place during preparations for a similar static-fire abort test in April, destroying the Crew Dragon spacecraft that flew the Demo-1 uncrewed mission to the International Space Station in March and was being readied for an in-flight abort test planned for the summer. An investigation, still being wrapped up, implicated a leaky valve that allowed nitrogen tetroxide (NTO) oxidizer into part of the propulsion system, which, when pressurized, was hurled into a titanium check valve, igniting it.
"Having something like that happen is a big wakeup call for the team, that they have to be diligent and careful about this," Lueders said, noting that even NASA wasn't aware of the "compatibility issue" between NTO and titanium components at those conditions.
She added both NASA and SpaceX were fortunate the accident took place on the ground during a test with no one on board, and with access to video and other telemetry to aid the investigation. "It would have been a bad thing for us to have found out on orbit."
If the static-fire test is successful, SpaceX will be ready to perform an in-flight abort test using that Crew Dragon spacecraft in early December. That test will involve the spacecraft, which was originally built for the Demo-2 crew test, escaping a Falcon 9 nearly 90 seconds after liftoff from the Kennedy Space Center.
Both Boeing and SpaceX, Lueders said, could be ready for crewed test flights to the ISS in early 2020. The Starliner for Boeing's Crew Test Flight is expected to be completed by the end of the first quarter of 2020, while the new Crew Dragon spacecraft for Demo-2 should be completed and ready to ship to Florida by late December of this year.
Setting a launch date for those crewed test flights, though, will depend on the completion of the upcoming tests as well as other work to qualify the vehicles for carrying astronauts. That includes completion of parachute testing, a milestone neither company has achieved according to a chart Lueders showed in her briefing.
Boeing officials have previously said that they have completed testing of their parachutes, but that final certification of them is pending the outcomes of the pad abort test and Orbital Flight Test. SpaceX recently announced it was testing a new version of the Crew Dragon parachutes, called Mark 3, that have higher safety margins than earlier versions, which suffered at least one failure in a test earlier this year.
Lueders said little about either company's parachute work in her presentation, beyond a passing reference to SpaceX work. "SpaceX guys did 12 chute tests in week as we're working to perfecting the Mark 3 design," she said. "We're continuing to work with them on what that schedule is and finalizing that."
Both SpaceX and NASA have provided few details about that Mark 3 parachute work, which SpaceX Chief Executive Elon Musk and NASA Administrator Jim Bridenstine emphasized when they met Oct. 10 at SpaceX's headquarters in California. "The highest priority has been the parachutes," Bridenstine said then. "Elon has told me, and he's showed me, that that's where their priority is. They're putting as much resources and manpower as they can to getting those parachutes ready."
A SpaceX official, speaking on background several days after that event, confirmed that testing of the Mark 3 parachute was underway, but didn't respond to questions about the number of tests completed to date and whether all the tests were successful. A NASA spokesperson, asked about SpaceX parachute testing Oct. 25, referred questions to SpaceX.
The lack of information about the status of parachute testing stands in contrast to comments by Musk at the media appearance with Bridenstine, where he said the company would be more transparent about Crew Dragon testing. "We'll be doing a lot of tests of the Mark 3 parachutes," he said. "We'll keep the public informed, so you'll know what goes wrong and what goes right, and what we're doing about it."
Quelle: SN
2263 Views