17.06.2019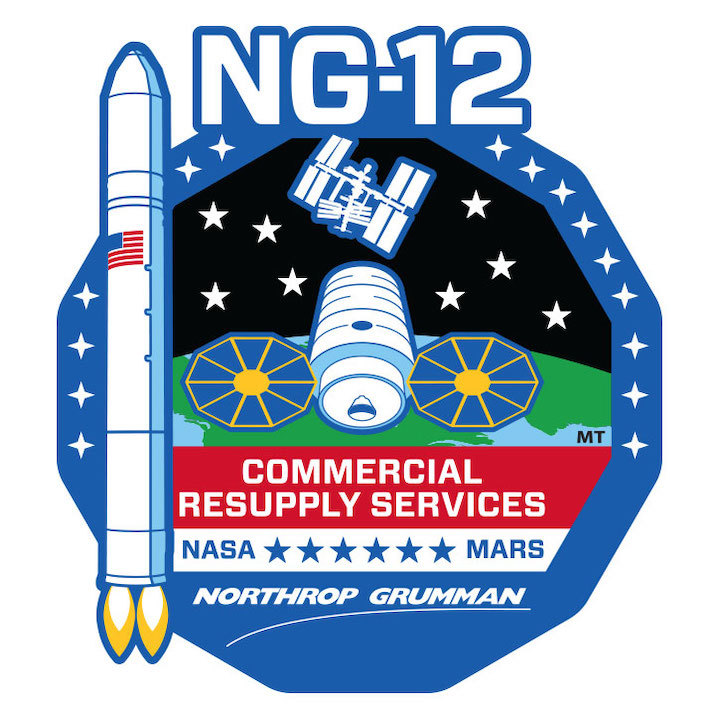 CRAIGX LAUNCH SCHEDULED FOR OCTOBER 2019 ON NG-12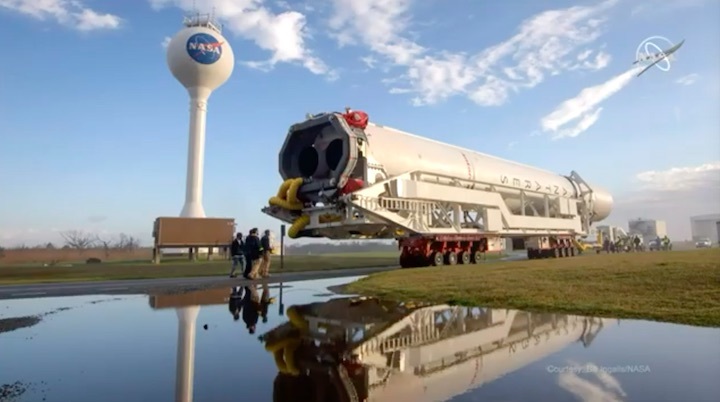 CAPE CANAVERAL, FL – Craig Technologies Aerospace Solutions (Craig) is pleased to announce the upcoming launch of CraigX, their on-orbit external experimental facility hosted on the NanoRacks International Space Station External Platform (NREP). The mission is scheduled to launch in October 2019 on the Northrop Grumman Antares rocket mission NG-12 under the NASA Commercial Resupply Services (CRS2) contract.
The CraigX Flight Test Platform (FTP) is designed to mount externally to the International Space Station (ISS) and promote electronics testing to raise Technology Readiness Levels (TRL) at a low cost and a reduced time frame. The interchangeable panel design minimizes hardware changes between missions while maximizing flexibility to accommodate customer requirements. Additive manufactured hardware is used internally to reduce manufacturing cost and schedule. Some of the features include:
Flight computer with a custom power distribution board capable of scheduling multiple payloads

Data downlink and uplink availability to analyze data during missions with the option to modify

operational software and test parameters while the payload is deployed

2TB onboard data storage

Wake facing camera with limited streaming

Two 2.4 in. spiral antennae (nadir and zenith facing)

GPS patch antenna for position data

Volume: ~ 18U

Payloads are not required to conform to standard CubeSat footprints

Typical mission duration: 15-24 weeks
The first CraigX mission includes multiple payloads ranging from additive manufactured material sample exposure to software defined radio testing to a STEM thermal dissipation experiment. Mission 1 customers include Rincon Research, Quest Institute, Alfred University, Second Baptist School, Cobra Puma Golf, Explore.org, Genesis Dimensions, and Lamborghini in partnership with the Houston Methodist Research Institute.
In addition to CraigX, NG-12 will be carrying the DoD Space Test Satellite-4 (STPSat-4) which is made up of five distinct experiments from the Air Force Research Lab (AFRL), the United States Air Force Academy (USAFA), and the U.S. Navy. These experiments include Radio Frequency (RF) Module Tiles, the Modular Array Technology for Reconfigurable Spacecraft (MATRS) the Integrated Miniaturized Electrostatic Analyzer (iMESA), Navy Interferometric Star Tracker Experiment (NISTEx), and Nanosat Tracking Experiment (NTE).
STPSat-4 will be launched from the ISS using the Space Stations Integrated Kinetic Launcher for Orbital Payload Systems (SSIKLOPS). Craig currently provides turnkey services to manage and perform the work for integration and on-orbit operations of payloads using SSIKLOPS for both government and commercial customers. The SSIKLOPS platform robotically deploys satellites from the ISS and is designed to provide a method to transfer internally stowed satellites to the external environment.
Founded in 1999 by CEO Carol Craig, Craig Technologies (and subsidiaries) is a Woman-Owned Small Business (WOSB), Economically Disadvantaged Woman-Owned Small Business (EDWOSB), Veteran Owned Small Business (VOSB), Service-Disabled Veteran-Owned Small Business (SDVOSB), Small Disadvantaged Business (SDB) and a Hispanic Minority-Owned Small Business. Craig is ISO 9001:2015 and AS9100 Rev. D certified and ITAR compliant. Craig leads nationwide operations with associates in approximately 20 different states with Headquarters in Merritt Island, Florida and regional business offices in Texas and California.
Craig Technologies' wide scope of engineering, technical and manufacturing solutions include Software Design/Development, Systems Engineering, Multidisciplinary Engineering, Training and Courseware Development, Modeling & Simulation, IT Support, Integrated Logistics Support, Satellite Payload Integration and Operations support, Wire/Fiber Cable Harness and Electronics Assembly, and Precision Machining, Fabrication and Assembly.
Quelle: CRAIGX
----
Update: 20.10.2019
.
Next Northrop Grumman Cygnus Launch NET November 2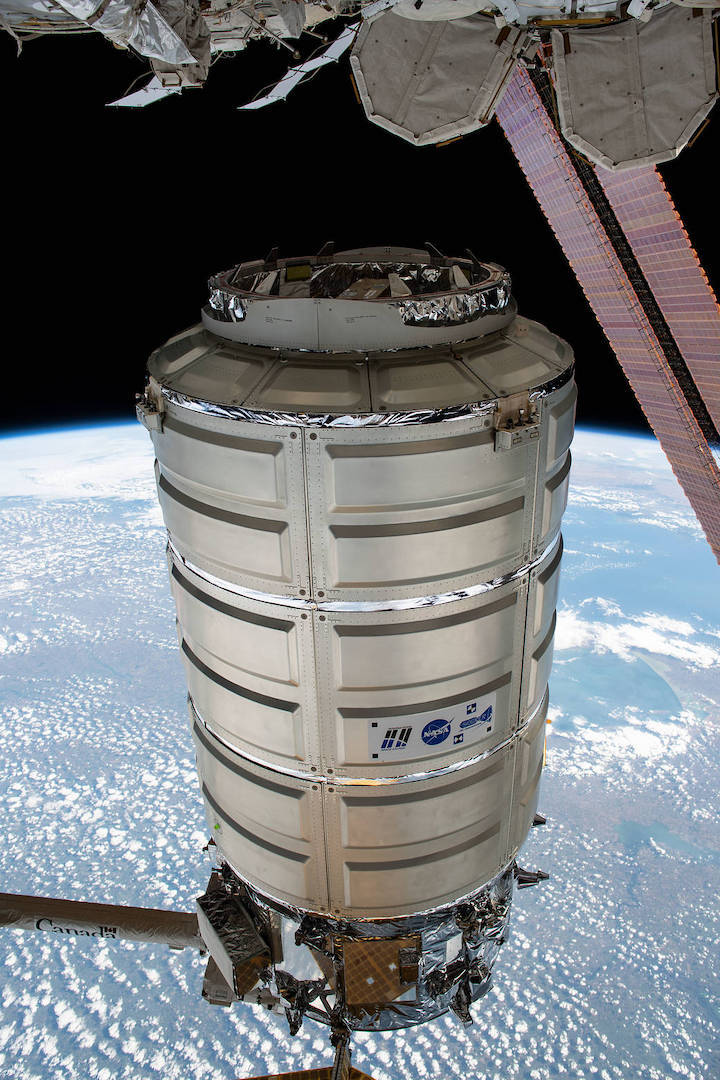 Northrop Grumman's 12th commercial resupply NASA-contracted mission to deliver cargo to the International Space Station is now scheduled for no earlier than Nov. 2, 2019. The Antares rocket carrying the Cygnus cargo spacecraft will launch from Virginia Space's Mid-Atlantic Regional Spaceport at NASA's Wallops Flight Facility in Virginia.
This NET date is reflective of the expected departure of the Japan Aerospace Exploration Agency (JAXA) HTV-8 cargo vehicle in October, as well as other station activities.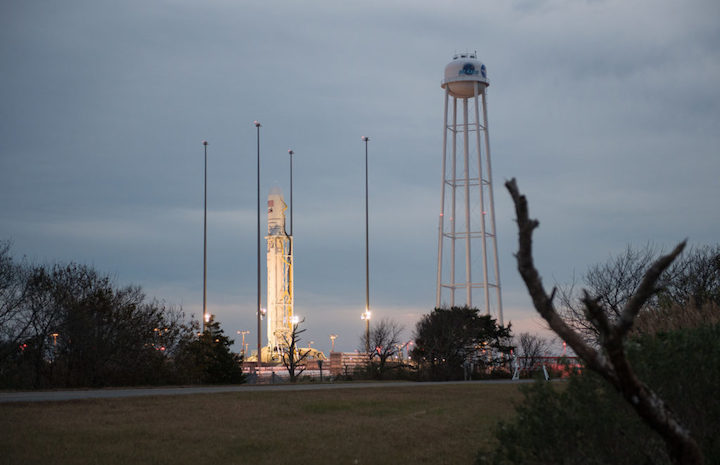 A Northrop Grumman Antares rocket, with Cygnus resupply spacecraft onboard, is seen on Pad-0A, Nov. 14, 2018 at NASA's Wallops Flight Facility in Virginia. Northrop Grumman's next contracted cargo resupply mission for NASA to the International Space Station, CRS-12, is currently scheduled for no earlier than Nov. 2, 2019. Photo Credit: (NASA/Joel Kowsky)
+++
NASA Invites Media to Northrop Grumman's Space Station Launch from Virginia
Media accreditation is open for the launch of Northrop Grumman's 12th commercial resupply services mission aboard its Cygnus spacecraft to deliver NASA science investigations, supplies, and equipment to the International Space Station.
Northrop Grumman is targeting liftoff of its Antares rocket for no earlier than 9:59 a.m. EDT Nov. 2 from the Mid-Atlantic Regional Spaceport's Pad-0A at NASA's Wallops Flight Facility on Wallops Island in Virginia. This is the first mission under Northrop's Commercial Resupply Services-2 contract with NASA.
To cover the prelaunch and launch activities at Wallops, international media without U.S. citizenship must apply for credentials by Wednesday, Sept. 18. The application deadline for media who are U.S. citizens is Oct. 15. All accreditation requests must be sent to Keith Koehler at keith.a.koehler@nasa.gov.
Each resupply mission to the station delivers scientific investigations in the areas of biology and biotechnology, Earth and space science, physical sciences, and technology development and demonstrations.
Highlights of space station research that will be facilitated by research aboard this Cygnus mission include:
The Alpha Magnetic Spectrometer-02 (AMS-02), mounted on the exterior of the International Space Station, looks for evidence of dark, strange and anti-matter to help us understand how our universe was formed. A series of spacewalks are planned for later this year to prolong the operational life of the AMS-02. Astronauts will cut and reconnect fluid lines, a feat not done before in space, which could prove valuable for future missions at NASA's upcoming lunar Gateway or missions to Mars.
The AstroRad Vest tests a special vest designed to protect astronauts from radiation caused by unpredictable solar particle events. Astronauts will provide input on the garment as they wear it while performing daily tasks, including how easy it is to put on, how it fits and feels, and the range of motion it allows. Garment developers can use this input to improve design. Use of the vest could protect crew members on missions to the Moon and Mars.
The Zero-G Oven examines heat transfer properties and the process of baking food in microgravity. It uses an oven designed specifically for use aboard the space station, and may have application on future long-duration missions by offering a way to increase variety in flavor and nutrition of food for crew members.
The Made in Space Recycler will test systems needed to reprocess plastic into 3D printing filament that can then be transferred for use to the Made in Space Manufacturing Device, a 3D printer that has operated on the orbiting laboratory since 2016. This has implications for space conservation and deep space missions.
Northrop Grumman will use a new 24-hour late load capability on this mission. This innovative system includes a mobile clean room and a removable portion of the payload fairing that will permit time-sensitive science experiments to be loaded into Cygnus as late as 24 hours before liftoff.
Cargo resupply from U.S. companies ensures a national capability to deliver critical science research to the space station, significantly increasing NASA's ability to conduct new investigations at the only laboratory in space.
Quelle: NASA
----
Update: 25.10.2019
.
Northrop Grumman names 12th Cygnus ship for Apollo 12 astronaut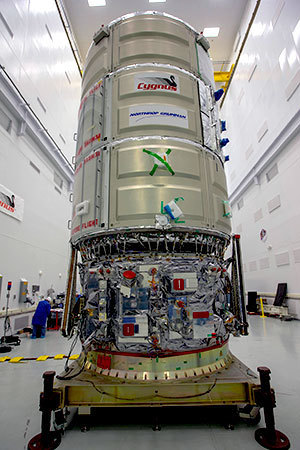 Northrop Grumman's 12th Cygnus cargo resupply ship, christened the "S.S. Alan Bean" in honor of the Apollo 12 astronaut, stands ready for mating to a Northrop Grumman Antares rocket at NASA's Wallops Flight Facility in Virginia. (Northrop Grumman)
Northrop Grumman is honoring an Apollo 12 moonwalker with the naming of its 12th spacecraft to resupply the International Space Station.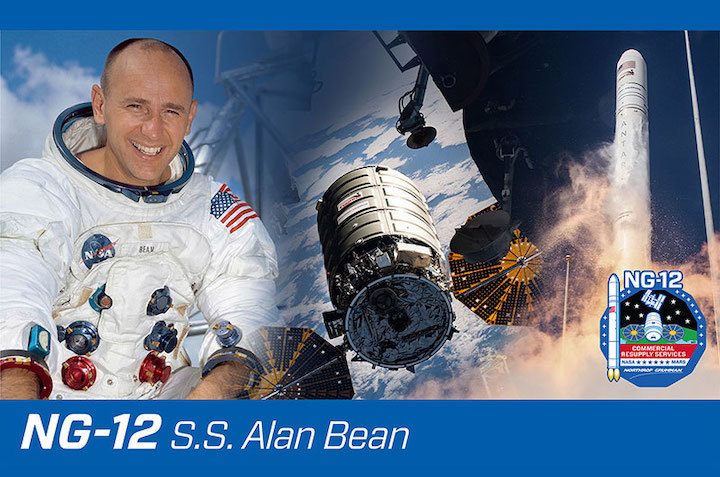 Northrop Grumman's flight patch for the S.S. Alan Bean's NG-12 mission to the International Space Station. (Northrop Grumman)
The "S.S. Alan Bean," a Cygnus spacecraft, pays tribute to the late astronaut who became the fourth person to walk on the moon on Nov. 19, 1969. The capsule is scheduled to launch atop a Northrop Grumman Antares rocket from the Mid-Atlantic Regional Spaceport (MARS) at NASA's Wallops Flight Facility in Virginia on Nov. 2.

"Fifty years ago, he walked on the moon during Apollo 12. Fifty years later, we honor him on our NG-12 mission," said Frank DeMauro, vice president and general manager of Northrop Grumman's Space Systems Division, in a video statement released online on Thursday (Oct. 24). "Northrop Grumman is proud to celebrate the life of Alan Bean with the naming of our NG-12 Cygnus."

A member of NASA's third group of astronauts selected in 1963, Alan Bean flew into space twice, first as the lunar module pilot on the Apollo 12 moon landing mission and then as the commander of the second crewed expedition to the first U.S. space station, Skylab, in July 1973. In total, he logged 69 days, 15 hours and 45 minutes in space, including 31 hours and 31 minutes on the lunar surface.

"Bean's dedication to advancing capabilities that allowed humans to explore space in greater length paved the way for today's International Space Station," said DeMauro.

Following his career as an astronaut, Bean became a celebrated artist, creating an extensive portfolio that captured what it was like for he and his fellow Apollo astronauts to explore the moon. Bean embedded in his paintings small pieces of his moon dust-stained mission patches and textured his canvases using the sole of a replica lunar boot and head of a geology hammer that he used on the moon.

Bean died in May 2018 at the age of 86 after a sudden illness.

"He shared the gift of exploration and inspired future generations to travel back to the moon and beyond," said DeMauro.

The tradition of naming spacecraft after astronauts and other individuals who made an impact in the aerospace industry dates back to Northrop Grumman's (then Orbital Sciences') first Cygnus launch in 2014. (Orbital Sciences and ATK merged to become Orbital ATK in 2015, which was then acquired by Northrop Grumman in 2018.)

The most recent Cygnus, which was berthed to the space station from April through August, was named the S.S. Roger Chaffee after the Apollo 1 astronaut who died in a fire on the launchpad in NASA's pursuit of the first moon landing.

"Our NG-11 Cygnus that launched in April of this year is currently in orbit conducting a long-duration, free-flying demonstration mission," said DeMauro. "A unique aspect of [the S.S. Alan Bean] mission is that for the first time, we'll be handling mission operations for two Cygnus spacecraft at the same time."

Other astronauts who served as the namesakes for Cygnus spacecraft included David Low, Gordon Fullerton, Janice Voss, Deke Slayton, Rick Husband, Alan Poindexter, John Glenn, Gene Cernan and John Young. The ninth Cygnus, the last to fly before Northrop Grumman's acquisition of Orbital ATK, was named the S.S. J.R. Thompson after the president and chief operating officer of Orbital Sciences.

The S.S. Alan Bean is the first Cygnus spacecraft to launch under Northrop Grumman's Commercial Resupply Services-2 (CRS) contract with NASA, which provides for at least five more resupply missions delivering an additional 44,000 pounds (20,000 kg) of cargo to the space station.
Quelle: CS
----
Update: 26.10.2019
.
NASA Television Coverage Set for Cygnus Resupply Mission to International Space Station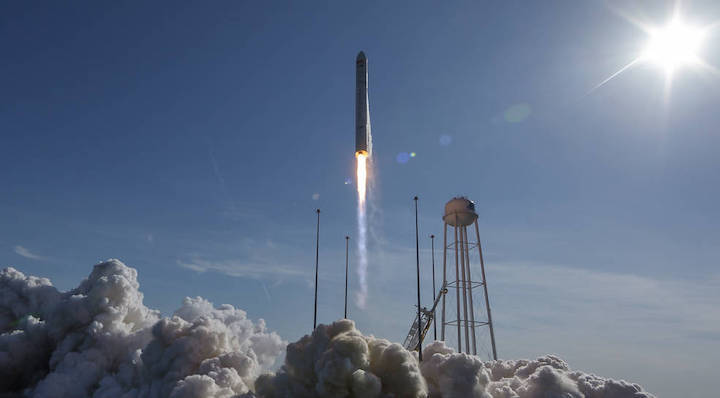 Credits: NASA/Bill Ingalls
NASA commercial cargo provider Northrop Grumman is scheduled to launch its next resupply mission to the International Space Station at 9:59 a.m. EDT Saturday, Nov. 2. NASA's prelaunch coverage will air live on NASA Television and the agency's website beginning Friday, Nov. 1.
Loaded with around 8,200 pounds of research, crew supplies, and hardware, Northrop Grumman's 12th commercial resupply mission for the space station will launch on the company's Cygnus cargo spacecraft on an Antares rocket from Virginia Space's Mid-Atlantic Regional Spaceport at NASA's Wallops Flight Facility.
The Cygnus spacecraft, dubbed the SS Alan Bean, is named after the late Apollo and Skylab astronaut who died on May 26, 2018, at the age of 86. This Cygnus will launch 50 years to the month after Bean, Pete Conrad and Dick Gordon flew to the Moon on NASA's Apollo 12 mission, during which Bean became the fourth human to walk on the lunar surface. Bean was the lunar module pilot aboard Intrepid with mission commander Conrad when they landed on Moon at the Ocean of Storms on Nov. 19, 1969.
With a Nov. 2 launch, the Cygnus spacecraft will arrive at the space station Monday, Nov. 4 at about 5:45 a.m., Expedition 61 NASA astronaut Jessica Meir will grapple the spacecraft using the station's robotic arm. She will be backed up by NASA astronaut Christina Koch. After Cygnus capture, ground controllers will command the station's arm to rotate and install Cygnus on the bottom of the station's Unity module.
Complete NASA TV coverage of activities is as follows:
Friday, Nov. 1
11:30 a.m. – What's on Board science briefing

Pete Hasbrook, manager of International Space Station Program Science Office at NASA's Johnson Space Center in Houston
Liz Warren, associate program scientist with the U.S. National Lab
Sam Ting, Alpha Magnetic Spectrometer-02 (AMS-2) principal investigator at the Massachusetts Institute of Technology in Cambridge, and Ken Bollweg, AMS project manager at Johnson
Kathleen Coderre, principal investigator for AstroRad Vest at Lockheed Martin Space, Littleton, Colorado, and Oren Milstein, co-founder and chief scientific officer for StemRad
Alessandro Grattoni, chairman of the Department of NanoMedicine at the Houston Methodist Research Institute, and Maurizio Geggiani, chief technology officer at Automobili Lamborghini, for the CraigX Flight Test Platform
Mary Murphy, senior internal payloads manager for the Zero-G Oven at Nanoracks LLC in Washington

2:30 p.m. – Prelaunch news conference

Kirk Shireman, manager of NASA's International Space Station Program at Johnson
Pete Hasbrook
Jeff Reddish, Wallops Range Antares project manager
Frank DeMauro, vice president and general manager of Space Systems at Northrop Grumman
Kurt Eberly, Antares vice president at Northrop Grumman
Saturday, Nov. 2
9:30 a.m. – Launch coverage begins for a 9:59 a.m. liftoff
Monday, Nov. 4
4:10 a.m. – Coverage of Cygnus capture with the space station's robotic arm
6:30 a.m. – Cygnus installation operations coverage
Media registration for the launch and associated activities has closed. However, media may participate via phone in the What's on Board briefing and prelaunch news conference. Media interested in participating must contact Gina Anderson at gina.n.anderson@nasa.gov for call details.
The Cygnus spacecraft is scheduled to remain at the space station until Jan. 13, 2020, when it will depart the station, deploy Nanoracks customer CubeSats, deorbit and dispose of several tons of trash during a fiery re-entry into Earth's atmosphere around Jan. 31.
This will be the first mission under Northrop Grumman's Commercial Resupply Services-2 contract with NASA, for which the company will fly a minimum of six missions to the International Space Station through 2024.
Quelle: NASA
----
Update: 30.10.2019
.
Upgraded Antares rocket rolled out for launch on space station resupply mission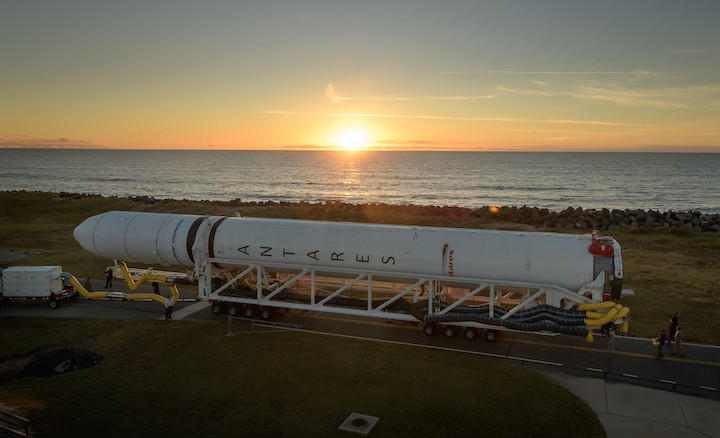 A Northrop Grumman Antares rocket rolled out to its launch pad on Virginia's Eastern Shore early Tuesday, setting the stage for liftoff Saturday on a resupply flight to the International Space Station that will debut an upgraded launcher and Cygnus cargo vehicle capable of hauling heavier payloads into orbit.
Northrop Grumman's next cargo delivery flight to the space station, designated NG-12, is the first in the company's follow-on Commercial Resupply Services-2 contract with NASA. It follows 11 resupply launches under a previous CRS contract.
Riding a self-propelled transporter, the two-stage Antares rocket emerged from its Horizontal Integration Facility at Wallops Island, Virginia, around sunrise Tuesday to begin the mile-long journey to pad 0A at the Mid-Atlantic Regional Spaceport, a facility run by the Virginia Commercial Space Flight Authority.
After guiding the Antares rocket up the ramp at pad 0A, ground teams engaged a hydraulic lift to raise the 139-foot-tall (42.5-meter) rocket vertical later Tuesday to begin a series of preflight checks.
A combined systems test is planned Wednesday morning to verify interfaces between the Antares rocket, the Cygnus cargo carrier and the NASA-operated range at Wallops, according to Kurt Eberly, Northrop Grumman's vice president of the Antares program.
Workers will then lower the Antares rocket back to a horizontal position and position a mobile clean room over the top of the launcher's payload shroud. Technicians will open the top of the fairing to access the forward hatch of the Cygnus spacecraft for loading of time-sensitive cargo and experiments Friday morning.
The Antares team will close the Cygnus hatch, re-install the top of the Antares payload fairing, and raise the rocket vertical again late Friday in time to commence the five-hour launch countdown at 4:59 a.m. EDT (0859 GMT) Saturday, Eberly said.
The launch team will oversee final activation, readiness checks and filling of the Antares rocket's first stage with kerosene and liquid oxygen propellants before liftoff at 9:59 a.m. EDT (1359 GMT) Saturday, roughly the moment that Earth's rotation brings the Wallops launch site under the International Space Station's ground track.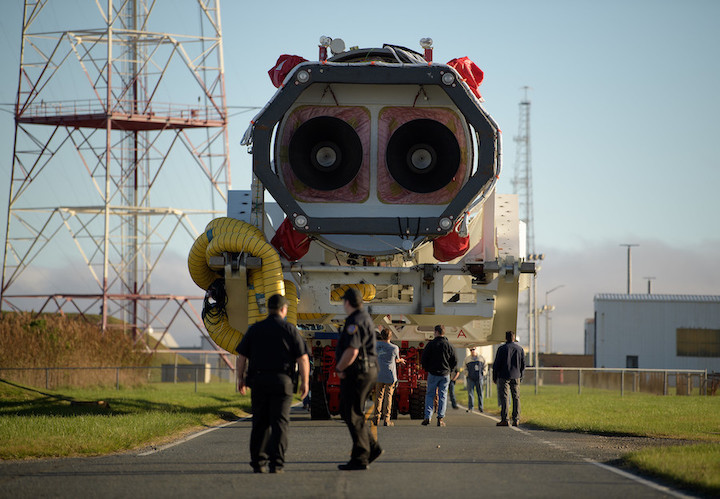 Saturday's scheduled launch will mark the 11th flight of an Antares rocket since 2013, and sixth to fly in the Antares 230 configuration with two Russian-made RD-181 main engines, which replaced the AJ26 first stage engines used on first five Antares missions.
The AJ26s were modified decades-old NK-33 engines originally developed for the ill-fated Soviet-era N1 moon rocket, then kept in storage until their import to the United States in the 1990s. Investigators traced the cause of a dramatic Antares rocket explosion during a 2014 launch to an AJ26 engine, and officials from Orbital Sciences — now part of Northrop Grumman — elected to purchase newly-built RD-181 engines for future Antares flights.
The Antares rocket and Cygnus spacecraft, both owned and developed by Northrop Grumman, sport several upgrades debuting on Saturday's flight.
The twin RD-181 engines on the Antares first stage will be able to fly at full throttle through the period of maximum aerodynamic pressure on the rocket, a phase of flight called Max-Q.
"On the last five flights with what we call the 230 configuration we throttled down at Max-Q for about 18 to 20 seconds, and starting with NG-12, we're going to plan to fly at a 100 percent throttle setting throughout the first stage burn until we hit the maximum g-force limit, and then we throttle down at that point," Eberly said Tuesday in an interview with Spaceflight Now.
The higher throttle setting is possible thanks to modifications to strengthen the Antares rocket's first stage structure, which is made by Yuzhmash in Ukraine.
Eberly said Northrop Grumman also improved the "mass fraction" of the Antares first and second stages by removing unnecessary insulation, structures and pressurization systems. He said engineers also redesigned the Antares launch trajectory beginning with NG-12 to deliver the Cygnus cargo craft into a slightly lower orbit, an altitude difference the Cygnus will make up using its own engines.
The NG-12 mission is set to deliver some 8,200 pounds of supplies and experiments to the space station, nearly 10 percent more than the previous Antares/Cygnus flight. The cargo tally will set a new record for the heaviest payload launched by a commercial U.S. resupply ship.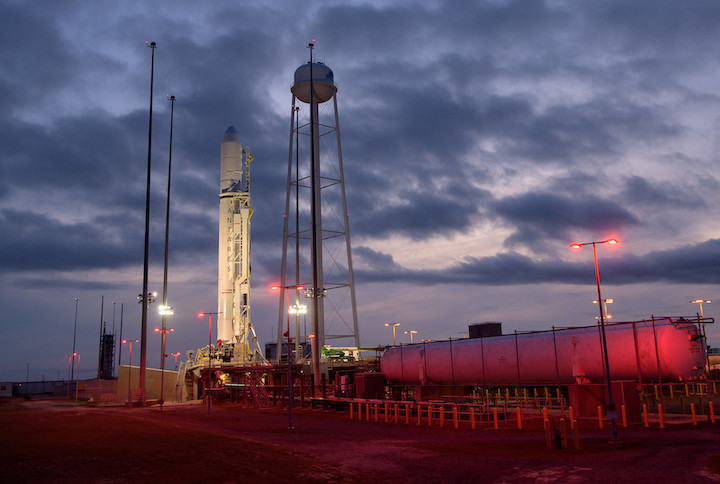 After separation from the Antares rocket's solid-fueled, U.S.-built second stage, the Cygnus spacecraft will unfurl its two fan-shaped solar arrays and begin maneuvers to set up for an automated rendezvous with the space station. The Cygnus supply ship will arrive at the station Monday, Nov. 4, assuming an on-time launch Saturday.
Under manual control by an astronaut, the space station's Canadian-built robotic arm will capture the Cygnus spacecraft and berth it to a port on the orbiting lab's Unity module to begin a stay scheduled to last more than two months.
Like the Antares, the Cygnus spacecraft set for launch Saturday features upgrades, said Frank DeMauro, vice president and general manager of Northrop Grumman's space systems sector.
"Over time, we're continually upgrading the system, not only to add more cargo but to add more capability to the spacecraft," DeMauro told Spaceflight Now. "For CRS-2, I think the best way to describe it is we're taking a step function up and even further increasing our focus on our ability to support science to the ISS."
The Cygnus spacecraft for the NG-12 mission will launch with 10 mid-deck lockers for stowage and experiments, and six of the lockers will be powered throughout the flight to the space station. That's an improvement from six lockers — and four powered lockers — on the NG-11 mission.
"Primarily, that's the cargo that gets loaded in the final load because it's the science that gets delivered to the ISS for the crew to run the experiments on," DeMauro said.
The Cygnus spacecraft launching Saturday also carries additional communications and telemetry equipment to connect scientists with their experiments throughout the mission, from liftoff through arrival at the space station. In the past, scientists would be unable to communicate with their experiments until they were unloaded and connected inside the station.
Northrop Grumman and NASA have also established new life science laboratories close to the Wallops launch site, DeMauro said.
In another first for Cygnus, the NG-12 mission will dispose of two decommissioned experiments mounted outside the space station, a role previously reserved for SpaceX's Dragon and Japan's HTV cargo vehicles.
The Cygnus spacecraft will depart the space station in January with NASA's Space Debris Sensor, an experiment that failed soon after its installation on the orbiting complex in 2018, and the European Space Agency's SOLAR instrument, which monitored the sun's output for more than nine years.
The two experiment packages will burn up during re-entry with the Cygnus spacecraft, once the Cygnus completes a series of CubeSat deployments after flying away from the station.
"That really helps NASA on the logistics side, cleaning out the disposal cargo from outside the ISS in additional to the critical role we play in getting rid of the disposal cargo from inside the ISS," DeMauro said.
Northrop Grumman has named the next Cygnus spacecraft the "S.S. Alan Bean" after the Apollo and Skylab astronaut who died last year.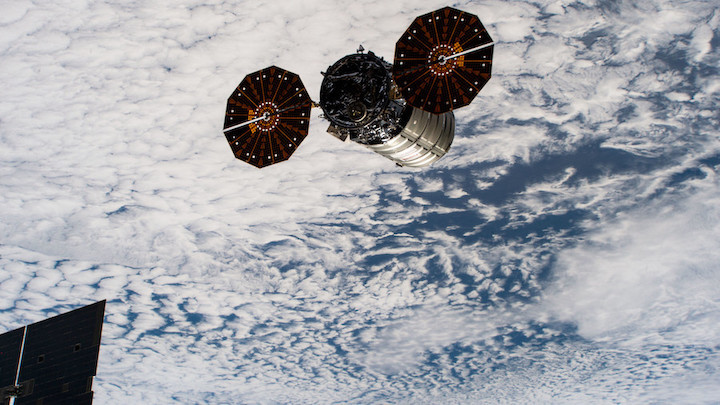 The Cygnus spacecraft from Northrop Grumman's previous cargo flight, NG-11, has remained in orbit since leaving the space station Aug. 6 to begin an extended technology demonstration mission.
After Saturday's launch, Northrop Grumman will operate two Cygnus vehicles in space at the same time. DeMauro said the company wants to demonstrate the dual-operations capability before deorbiting the NG-11 Cygnus to burn up during re-entry in the atmosphere.
The NG-11 Cygnus deployed several CubeSats in August, and since then has demonstrated the performance four control moment gyroscopes to govern the spacecraft's pointing in space. The gyros reduce the supply ship's fuel consumption, allowing it to remain in orbit for a longer mission.
"That experiment has gone very well," DeMauro said. "We've shown very minimal fuel use."
DeMauro said Northrop Grumman is eager to prove its ability to fly two Cygnus missions at the same time.
"That's important for us because we want to demonstrate to NASA, other government agencies, as well as commercial companies that Cygnus does have the capability to carry on it all sorts or rideshare payloads or science that will benefit from the microgravity environment we can provide, being a free-flyer, and do that for an extended period of time and downlink the data from those experiments," he said.
NASA has ordered six additional Cygnus cargo missions Northrop Grumman under the CRS-2 contract, according to DeMauro. All six are slated to launch on Antares rockets from Wallops Island, Virginia.
NASA has also committed to a minimum of six cargo missions with the agency's other two CRS-2 transportation providers — SpaceX and Sierra Nevada Corp.
Northrop Grumman has evolved the Cygnus design over the last few years, first by lengthening its pressurized cargo module — built by Thales Alenia Space in Italy — then by expanding the supply ship's power and telemetry capacity.
Engineers have developed the upgrades with a long-term goal of growing the Cygnus spacecraft's market potential beyond space station resupply missions. The Cygnus now has a niche in deploying CubeSats and hosting standalone science experiments.
NASA has selected Northrop Grumman to develop a mini-habitation module derived from the Cygnus spacecraft for the space agency's planned Gateway station in lunar orbit, a waypoint for astronauts on lunar landing missions in NASA's Artemis program. And resupply vehicles based on the Cygnus spacecraft could ferry logistics to the Gateway in the future.
"We've always felt that Cygnus would be a great building block for the next generation of vehicles that go to the moon," DeMauro said.
Earlier this year, NASA announced its selection of Northrop Grumman for a sole-source contract to build and launch the Habitation and Logistics Outpost, or HALO, module derived from the Cygnus spacecraft to join the Gateway station in 2023, a year before NASA hopes to attempt a crewed lunar landing.
The first piece of the Gateway, a power and propulsion element built by Maxar, is scheduled to launch in 2022.
DeMauro said HALO contract negotiations with NASA are ongoing, with discussions centered on the agency's requirements for the habitation module, which will offer limited life support functions for astronauts on short-duration stints aboard the Gateway.
The HALO will also be designed for a longer lifetime than a typical Cygnus spacecraft.
Quelle: SN
----
Update: 1.11.2019
.
Antares Ready for Saturday Launch from Virginia to Resupply ISS (NG-12)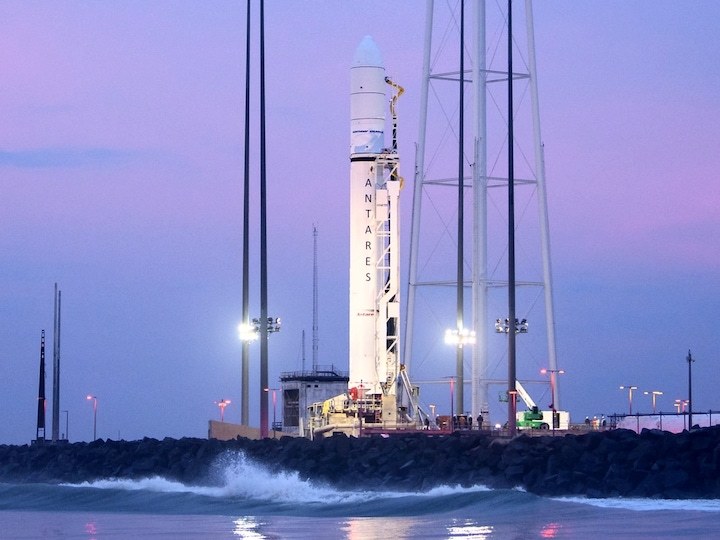 The Northrop Grumman Antares rocket is seen in the early morning on launch Pad-0A, Wednesday, Oct. 30, 2019, at NASA's Wallops Flight Facility in Virginia. Northrop Grumman's 12th contracted cargo resupply mission with NASA to the International Space Station will deliver about 8,200 pounds of science and research, crew supplies and vehicle hardware to the orbital laboratory and its crew. Launch is scheduled for 9:59 a.m. EDT Saturday, Nov. 2. Photo Credit: (NASA/Bill Ingalls)
Quelle: AS
+++
How you can watch NASA Wallops' upcoming rocket launch
A rocket carrying supplies for the International Space Station is set to lift off on Nov. 2 from Wallops Island, and residents throughout the mid-Atlantic may be able to see it, weather permitting, says NASA.
The NG-12 mission, part of Northrop Grumman's Antares program, is scheduled to lift off at 9:59 a.m. Saturday, from the Virginia Eastern Shore facility.
The rocket will transport the Cygnus cargo spacecraft, which will deliver around 8,200 pounds of research, crew supplies and hardware to the International Space Station.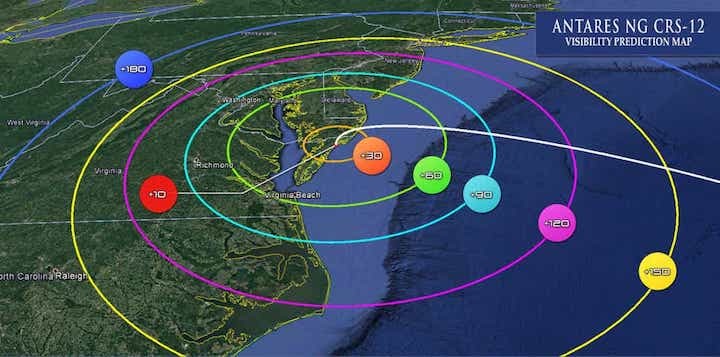 On Delmarva, public viewing options include from the Visitor Center at Wallops and Chincoteague.
Depending on weather, the launch may also possibly be visible along the East Coast of the United States, NASA said in a release.
And the National Weather Service has clear skies reported Friday through Sunday, as of Thursday afternoon.
The NASA Visitor Center at Wallops will open at 6 a.m. on launch day for public viewing. Additional locations for catching the launch are Robert Reed Park in Chincoteague or Beach Road spanning the area between Chincoteague and Assateague Islands.
The beach at the Assateague Island National Seashore/Chincoteague National Wildlife Refuge will not be open during the launch.
Quelle: USA TODAY
----
2.11.2019
Launch-NASA-TV-Live-Frams: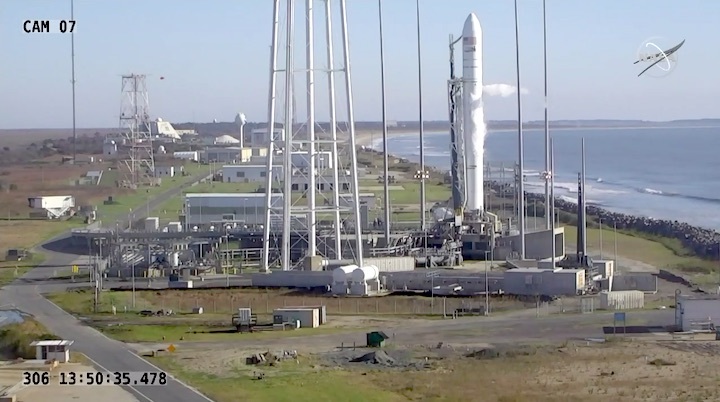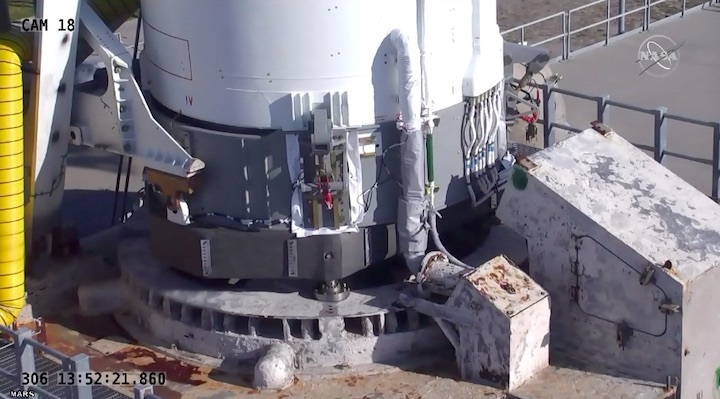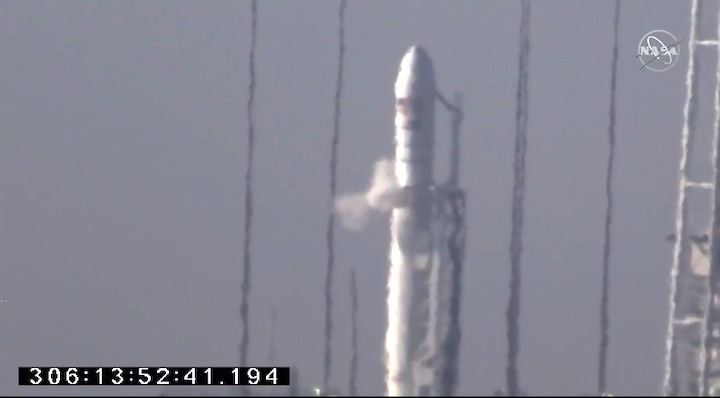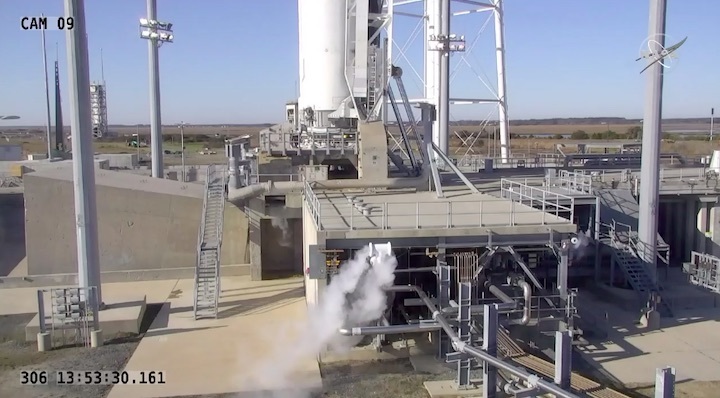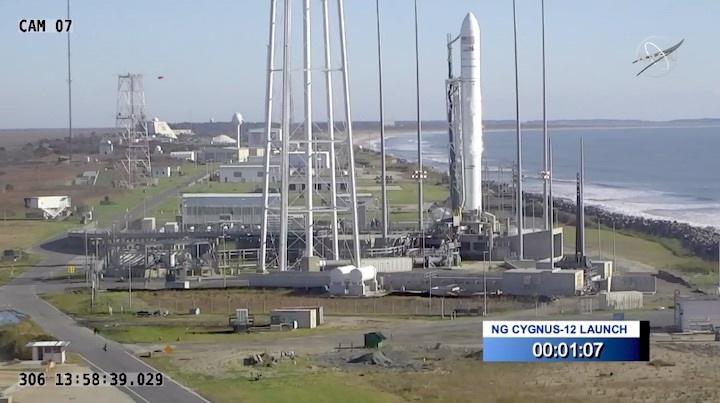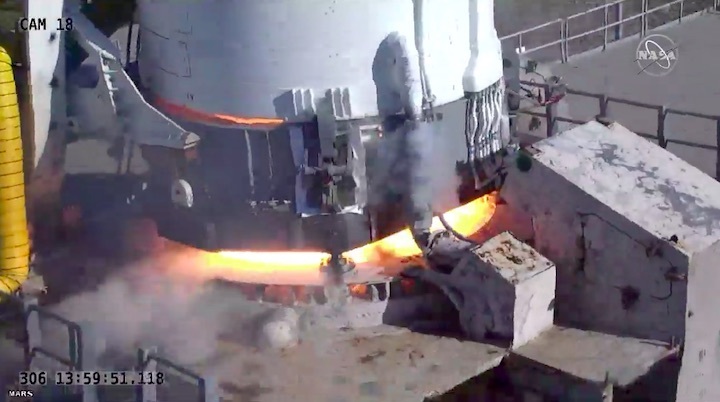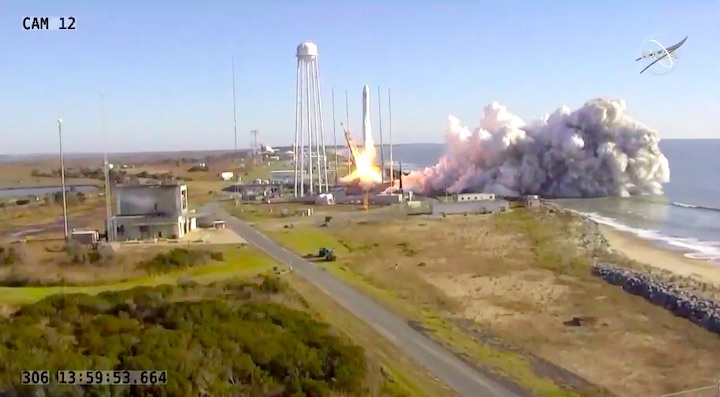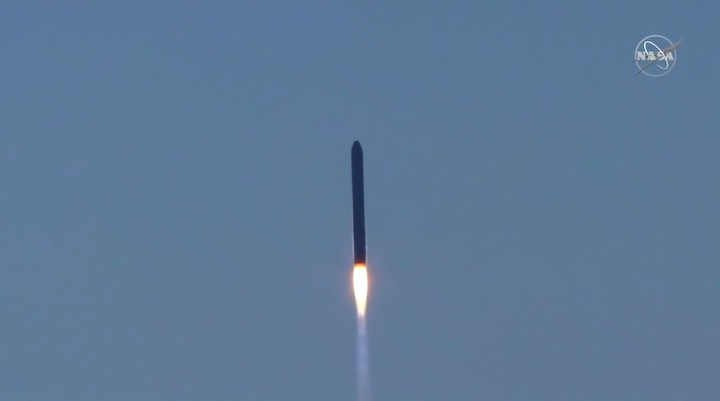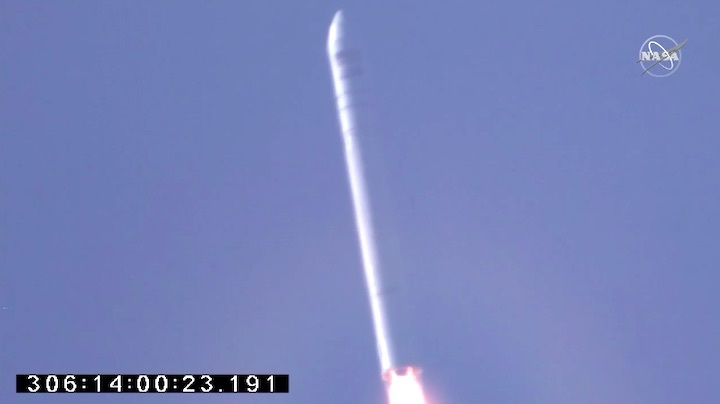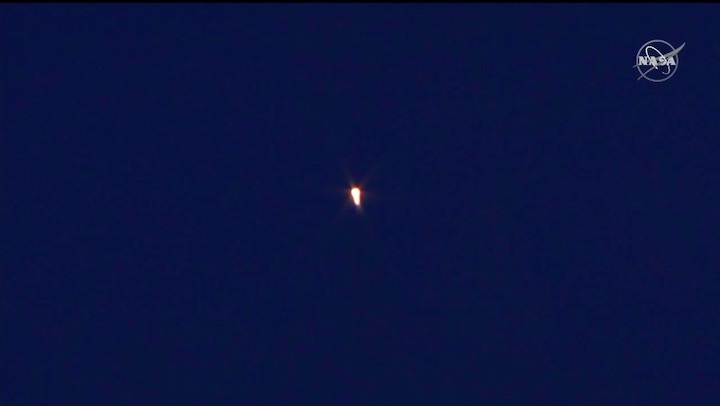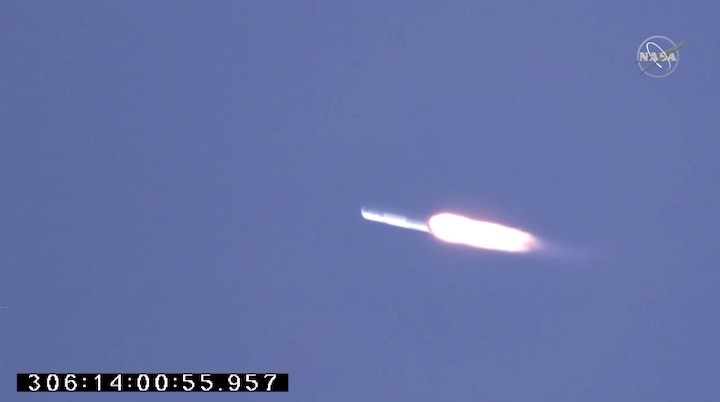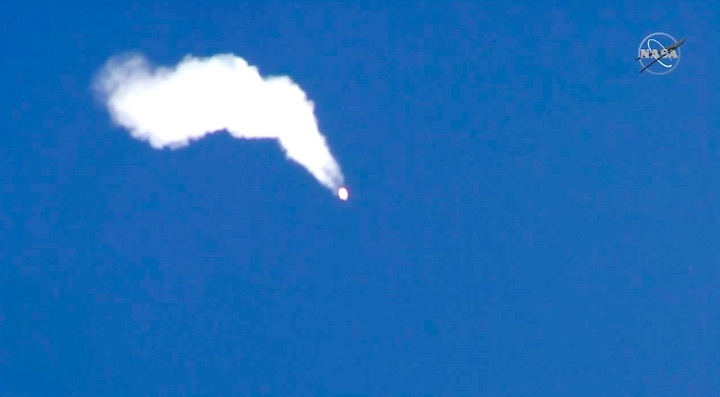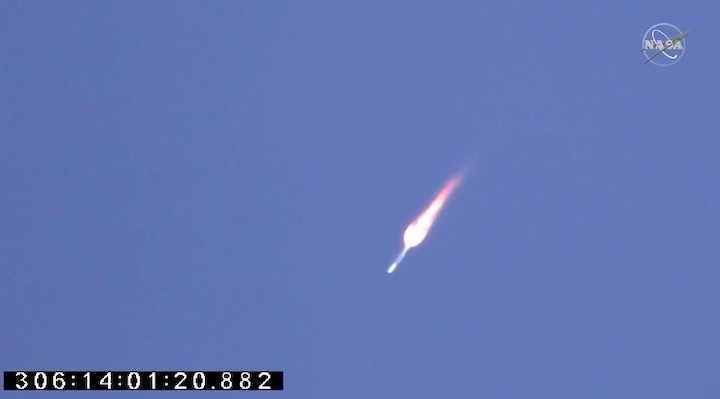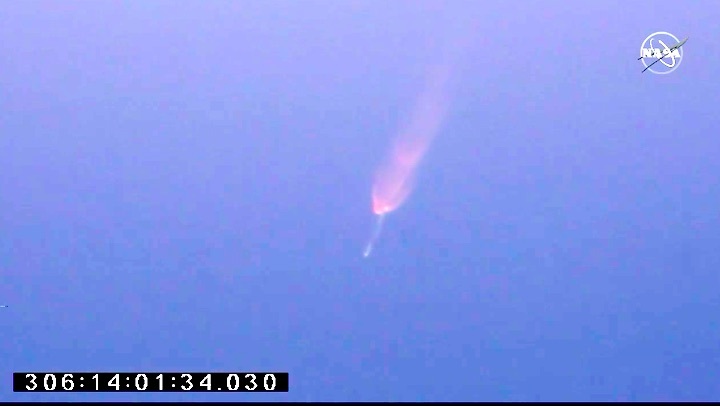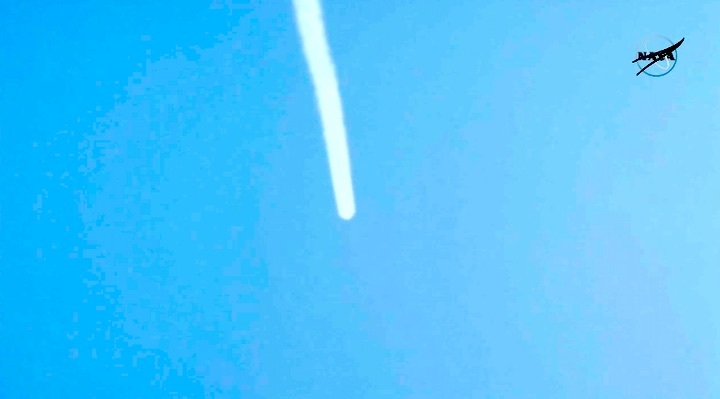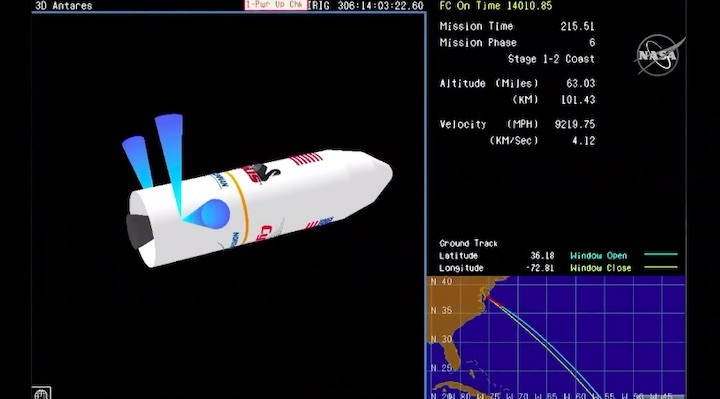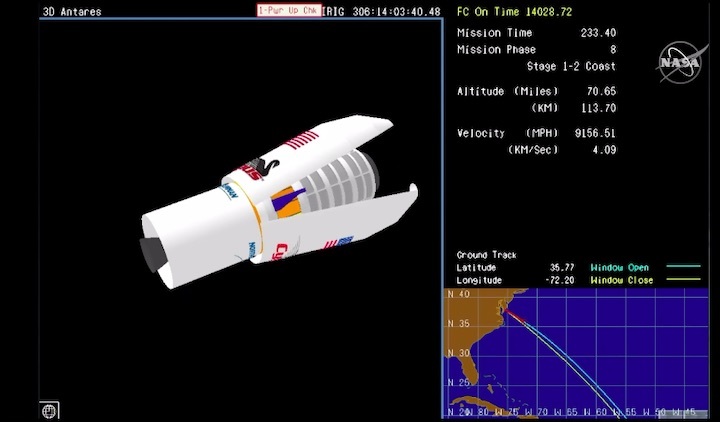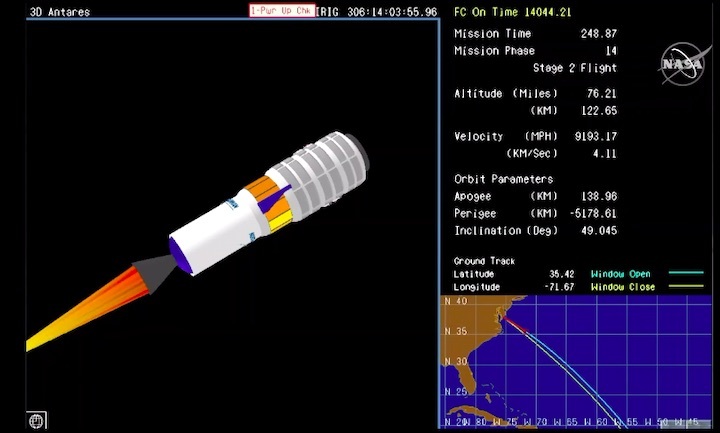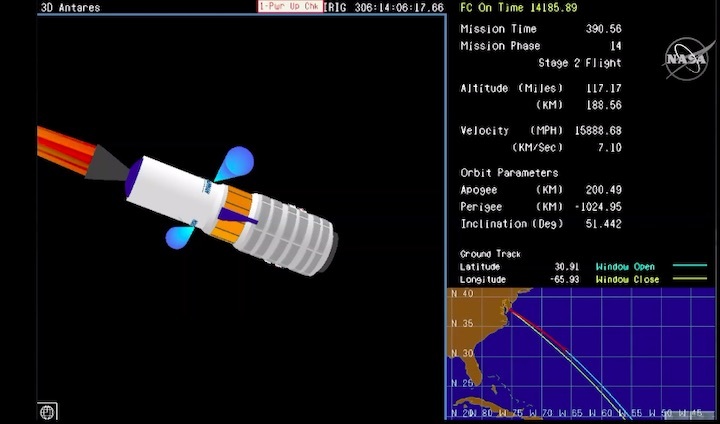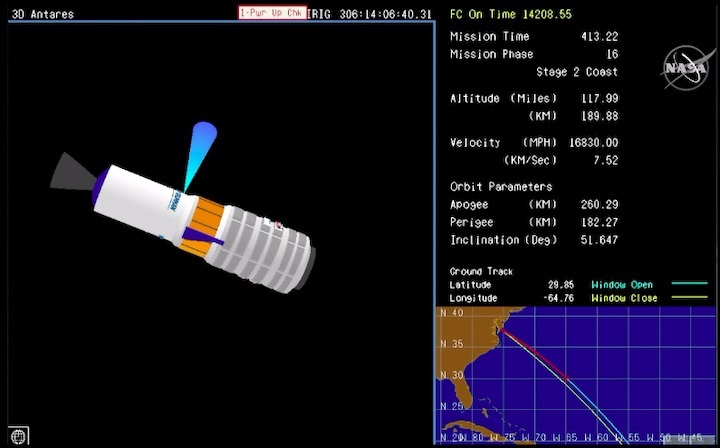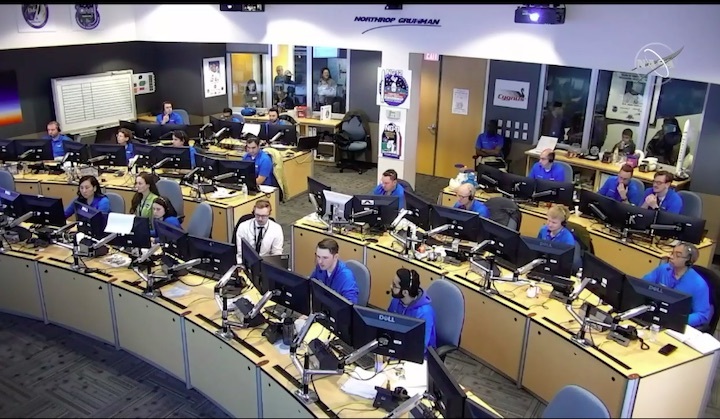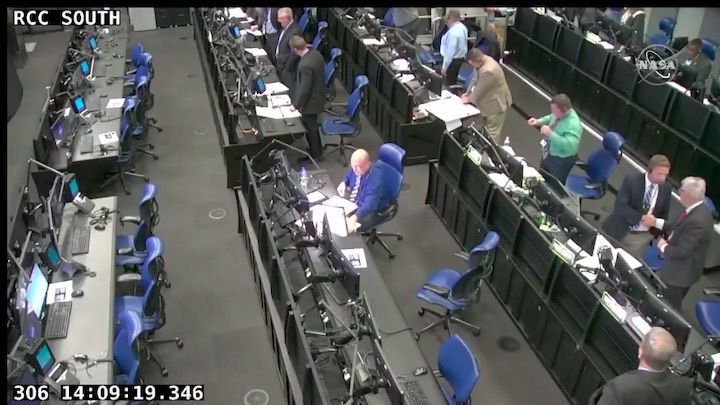 Quelle: NASA-TV
7602 Views