29.10.2019
Arianespace and the European Space Agency (ESA) today announced the signature of a launch services contract with a Vega launch vehicle for the Earth Explorer Biomass.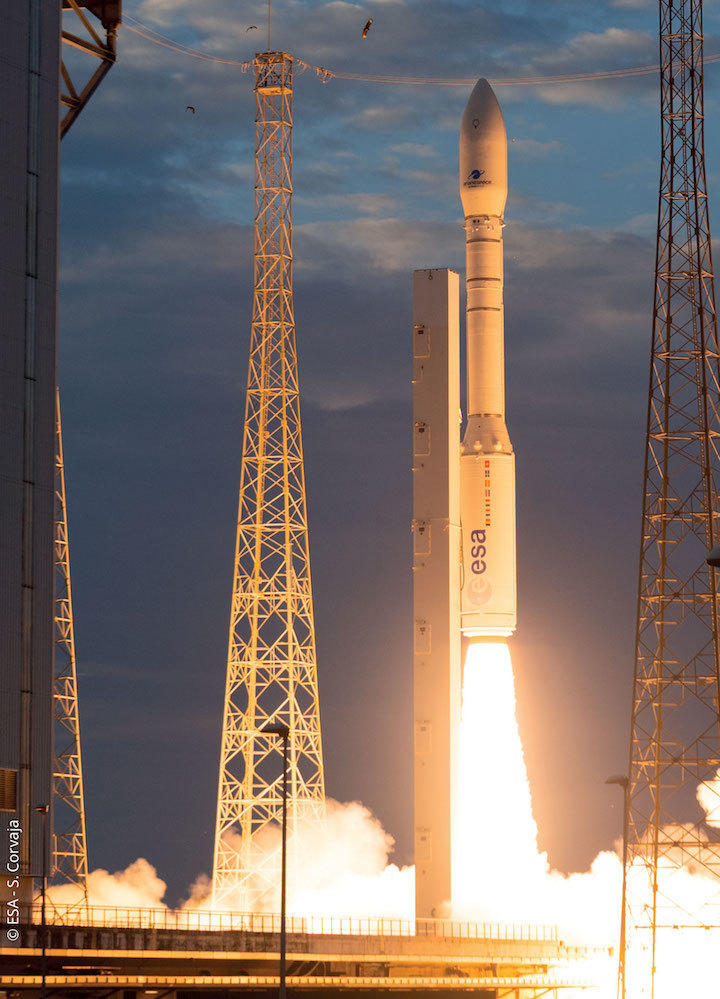 The Earth Explorer Biomass – the seventh mission in ESA's Earth Explorer program – will provide global maps of the amount of carbon stored in the world's forests and how it changes over time, mainly through absorbing carbon dioxide from fossil fuel burning, deforestation and change in land use.
Biomass also will provide essential support to United Nations treaties on the reduction of emissions from deforestation and forest degradation.
The Biomass mission will utilize a Vega launch vehicle, with the launch period starting in October 2022 from the Guiana Space Center, Europe's Spaceport in French Guiana (South America).
Vega is part of the Arianespace launcher family, along with the Ariane 5 heavy launcher and the medium-lift Soyuz; all three are operated from the Guiana Space Center. The industrial prime contractor for Vega is Avio, based in Colleferro, Italy.
The satellite will have a mass at liftoff of approximately 1,200 kg. and will be placed in a dawn-dusk, Sun-synchronous orbit at an altitude of 666 km.
Forest type and forest cover worldwide can be detected by today's satellites, but Biomass will take the information to the next level.
The satellite will carry the first P-band synthetic aperture radar (SAR), able to deliver accurate maps of tropical, temperate and boreal forest biomass in terms of tons/hectare with a resolution of 50 to 100 meters. The global mass of trees is not obtainable by ground measurement techniques.
Other innovative applications that can be explored for the first time from space with the Biomass radar are the mapping of topography under dense vegetation and subsurface geology in deserts.
Biomass will spend at least five years making detailed observations and witnessing at least eight growth cycles in the world's forests. Observations from this new mission will also lead to better insight into the rates of habitat loss and, as a result, the effect this may have on biodiversity in the forest environment.
Airbus Defence and Space (UK) is developing and building the Biomass spacecraft using a bespoke structure embedding the AS250 avionics. The Explorer is based on the Astrobus Platform Line used, notably, on the following missions: SPOT6/7, KazEOSat-1, SEOSAT/Ingenio, PeruSAT-1 and Sentinel-5 Precursor.
Following the contract signature, Josef Aschbacher, Director of Earth Observation at ESA, said: "We are all aware of the climate crisis and how important forests are for our planet. Mapping forest biomass from space is a technical challenge because forests are complex structures. Nevertheless, the Biomass mission is up to the task and will spend at least five years in orbit, to deliver critical data to understand more about the carbon cycle and how our forest resources are changing."
Stéphane Israël, Chief Executive Officer of Arianespace, added: "We are very proud to fly the Biomass satellite with Vega. Once again, Vega guarantees autonomous European access to space, enabling ESA to carry out a crucial mission as we face the challenge of climate change."
About Arianespace
Arianespace uses space to make life better on Earth by providing launch services and solutions for all types of satellites (institutional and commercial) into all orbits. It has orbited more than 600 satellites since 1980, using its family of three launchers, Ariane, Soyuz and Vega, from launch sites in French Guiana (South America) and Baikonur (Central Asia). Arianespace is headquartered in Evry, near Paris, and has a technical facility in Kourou at the Guiana Space Center, Europe's Spaceport in French Guiana, plus local offices in Washington, D.C., Tokyo and Singapore. Arianespace is a subsidiary of ArianeGroup, which holds 74% of its share capital, with the balance held by 15 other shareholders from the European launcher industry.
Quelle: arianespace
2165 Views