22.10.2019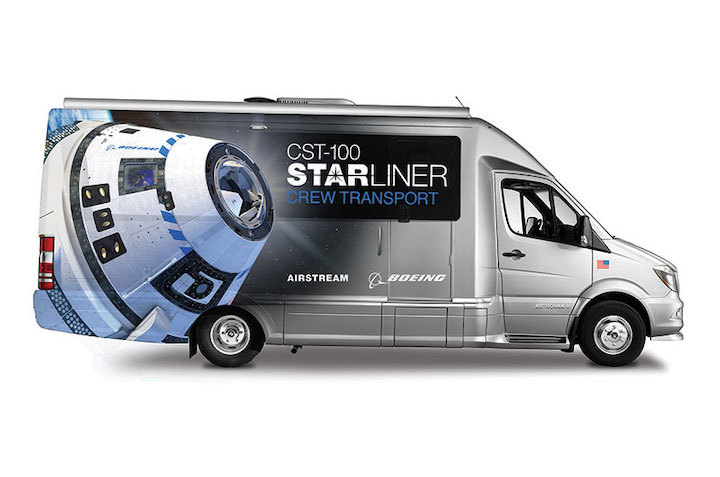 When Chris Ferguson last left for a launchpad to lift off into space, he rode on a modified Airstream motorhome that NASA used for decades to transport its astronauts. Now, eight years after Ferguson commanded the final space shuttle mission, there is a new Airstream vehicle ready to take him, his crew and future astronauts to the pad to fly on Boeing's new commercial spacecraft.

The newly-revealed Astrovan II, built in partnership by Airstream and Boeing, will take crews — beginning with Ferguson's, as soon as early 2020 — to Complex 41 at the Cape Canaveral Air Force Station in Florida where Boeing's CST-100 Starliner spacecraft will be poised for launch atop a United Launch Alliance (ULA) Atlas V rocket.

The Astrovan II made its debut Monday (Oct. 21) at the International Astronautical Congress (IAC) in Washington, DC.

"Astronaut Chris Ferguson was a member of three space shuttle crews, including commanding the final shuttle program flight in 2011. He has a personal affinity for the original Astrovan and he was one of the folks who first advocated for Airstream to build this new vehicle for Starliner crew transport," said Bob Wheeler, the CEO and president of Airstream, in an interview with collectSPACE. "We're excited that Chris is a member of this Starliner crew, and Airstream is truly proud to continue supporting adventures beyond our planet — we couldn't have a better partner than Boeing."

The original Airstream Astrovan became iconic for its chrome metal body and red, white and blue stripes. The Astrovan II stands out for its bold graphics.

"We knew from the beginning that we wanted to decorate the side of the vehicle with a graphic vinyl wrap and Boeing provided a lot of guidance on that design," described Wheeler. "We eventually landed on a dramatic rendering of the Starliner capsule in orbit and chrome stripes running from the hood to the back in Boeing blue and silver chrome."

Eight months in the making, the eight-seat Astrovan II was built on an Airstream Atlas Touring Coach. The one-of-a-kind vehicle was handcrafted by the workforce at Airstream's production facility in Jackson Center, Ohio.


"We settled on the Atlas chassis because we knew we could build the interior to Boeing's specifications and the vehicle would deliver dependability and security," Wheeler explained. "The seats are custom built and incorporate the same Boeing blue in the stitching and the Boeing logo is embroidered on the headrests."

The bucket-type seats are arranged across a central aisle. Room was left between each seat for a small suit pressurization device that each Starliner crew member will carry out to the pad. The vehicle is also equipped with power outlets and high definition television.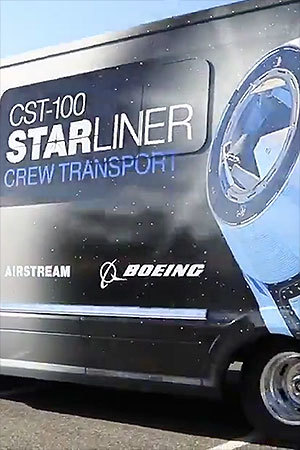 "It will also be equipped with live streaming capability from Airstream's partners at AT&T. Boeing plans to livestream from inside the vehicle during [the] transport on launch day to NASA TV," said Wheeler.

Ferguson, who serves as Boeing's director of crew and mission systems for the CST-100 Starliner and is the company's first commercial astronaut, is assigned to fly with NASA astronauts Mike Fincke and Nicole Mann on what will be the first crewed flight test of the new spacecraft. Before they launch to the International Space Station, Boeing plans to carry out a pad abort test in early November and an uncrewed orbital flight test in December.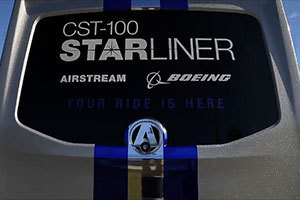 Boeing's choice of crew transport vehicle continues a more than 50-year-old history that began with Airstream providing modified travel trailers to NASA for use as mobile quarantine facilities during the Apollo moon landing program. Then, in 1983, Airstream was commissioned to build three modified Excella Motorhomes to be used as the Astrovans for the space shuttle program.

Now the Astrovan II is ready to enter service.

"Here at Airstream, there's a team of almost a hundred people who played some role in building Astrovan II. Many of them first encountered Airstream through the original Astrovan watching that familiar silver bullet make its way out to the launchpad for shuttle launches," said Wheeler. "To be a part of this next step for America's space program is a dream come true for many of them. The Boeing crew will go from an Airstream to a rocket to the space station, and we couldn't be more excited to be one leg of that journey into orbit."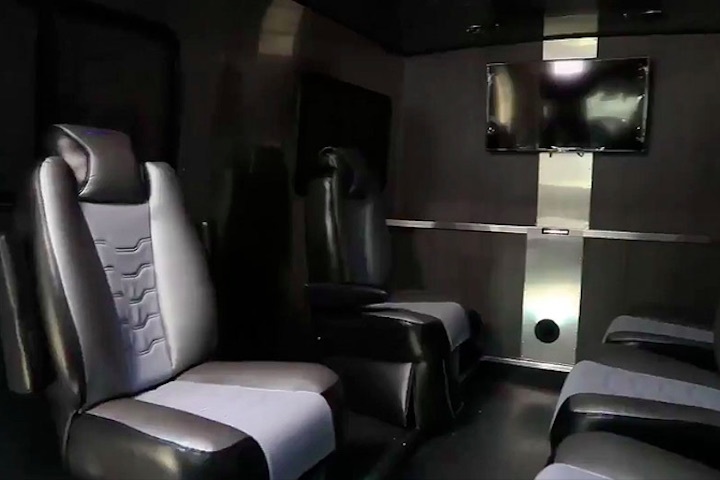 Quelle: CS
2183 Views